This Simple Iced Coffee is made using cold brew coffee. Learn just how easy it is to make a perfect large batch of iced coffee for a fraction of the coffee house price!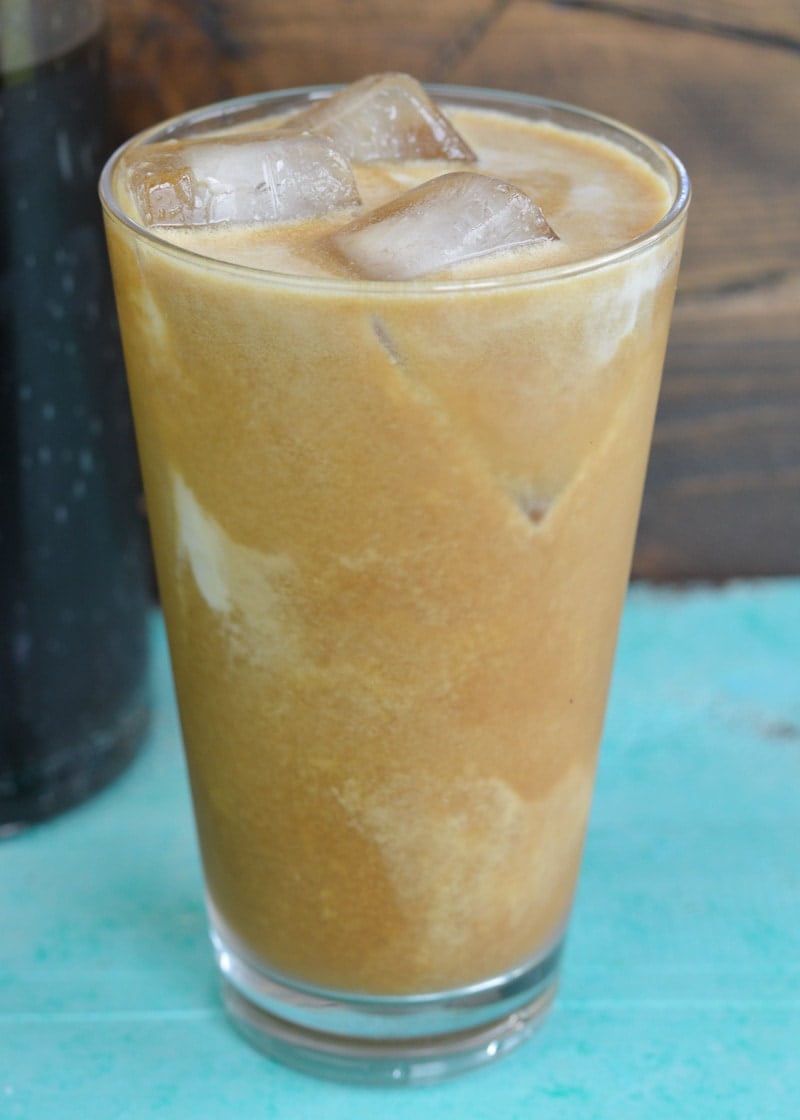 Today we are talking coffee. I find people fall into three distinct categories when it comes to a cup of Jo. They love it, hate it, or load it with sugar, chocolate, and various syrups and whipped creams until it no longer actually tastes like coffee.
Which one are you? I fall firmly into the first category. I go to bed at night looking forward to my piping hot cup of heaven every morning. I used to use fabulous sweet creamers, especially those fancy seasonal ones, but over time I have become a purist and drink it black or with just a smidgen of cream. I told you, I take my coffee seriously.
Every year I run into the same predicament, I live in the South where summers are knock your socks off hot and humid. There is no way you can gulp down a regular cup of coffee when it is 100+ degrees outside. So this cold brew coffee is the perfect answer
Ingredients to make Simple Iced Coffee
As always, you will find the complete recipe and instructions listed below. However, this is a quick overview of the items you will need:
Cold Brew Coffee: made with coffee and water, tutorial is below
Simple Syrup: this can be any flavor you prefer such as vanilla, caramel, hazelnut, the possibilities are endless
Milk, Creamer or Heavy Cream: gives the perfect creamy consistency
Ice
Everyone has their own personal preferences when it comes to iced coffee. Experiment with your favorite flavors, mixtures and add ins to create your perfect drink.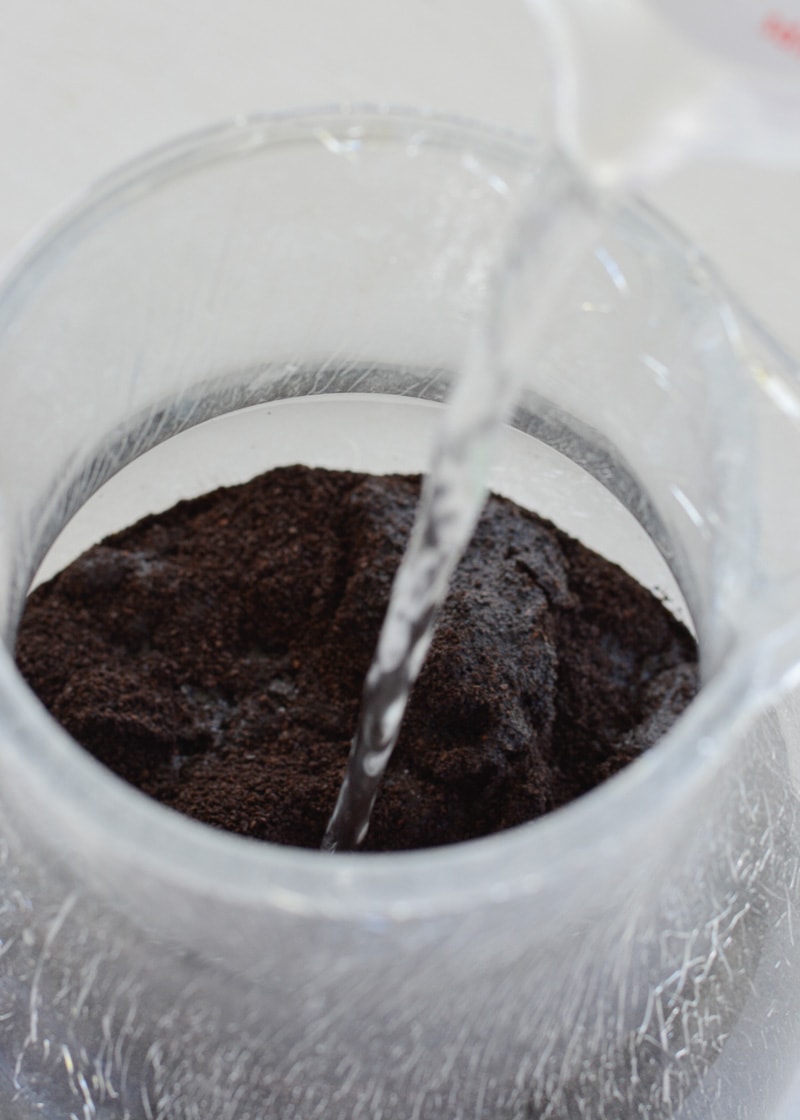 How do you make Cold Brew Coffee?
Cold Brew Coffee is made in two steps. It is incredibly simple, but you will need a few of the right kitchen tools to successfully make cold brew.
To make cold brew coffee combine 1 (12 ounce) bag of ground coffee with one gallon of water in a pitcher with a lid. Stir the mixture so all the grounds are saturated. Secure with a lid and allow it to sit 24 hours.
After 24 hours stir the mixture again and fit a strainer with several layers of cheesecloth. Strain the coffee to remove all grounds. If you feel you need to repeat this step to get ultra smooth coffee.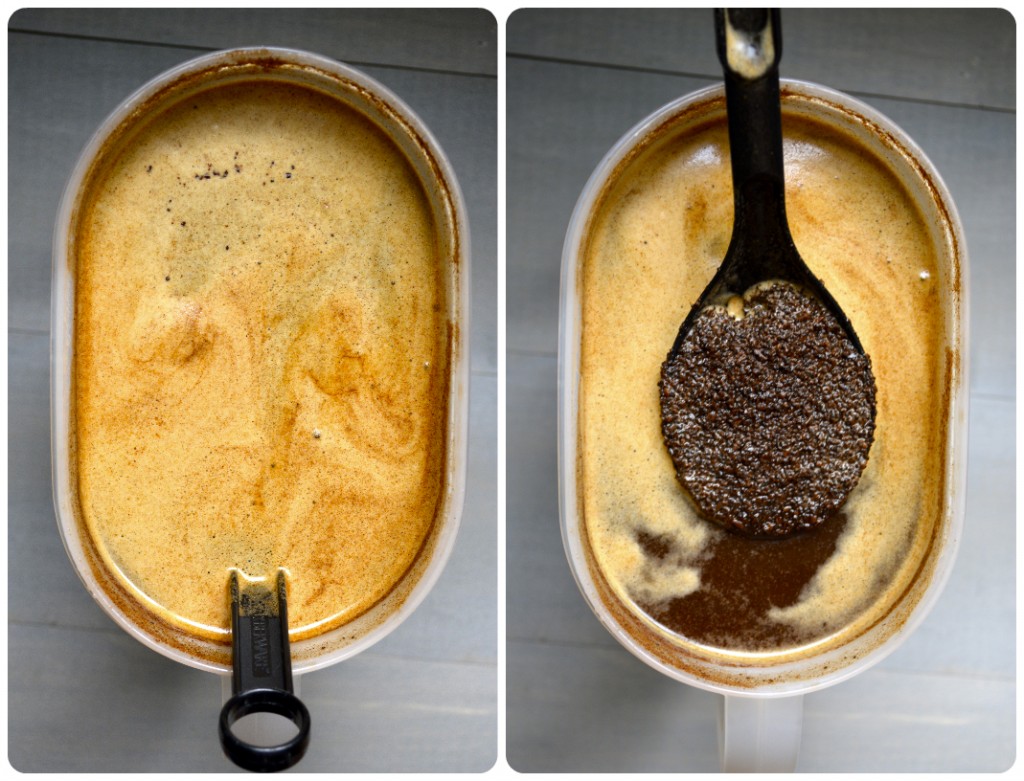 Tips for the Best Iced Coffee
Quality of coffee matters, choose at least a medium roast. But remember, the bolder the better!
Flavored Coffees work really well. I like the hint of chocolate or cinnamon from some of the flavored coffees. They normally aren't strong enough to over power your drink. They just add a little something extra.
Stir it around for a minute or so as soon as you mix it to make sure the coffee grounds are completely saturated.
When you strain the mixture use cheese cloth and a wire mesh strainer. I triple layer my cheese cloth.
I normally strain my mixture twice, but when in doubt do it again. Nobody wants coffee grounds in the bottom of your cup!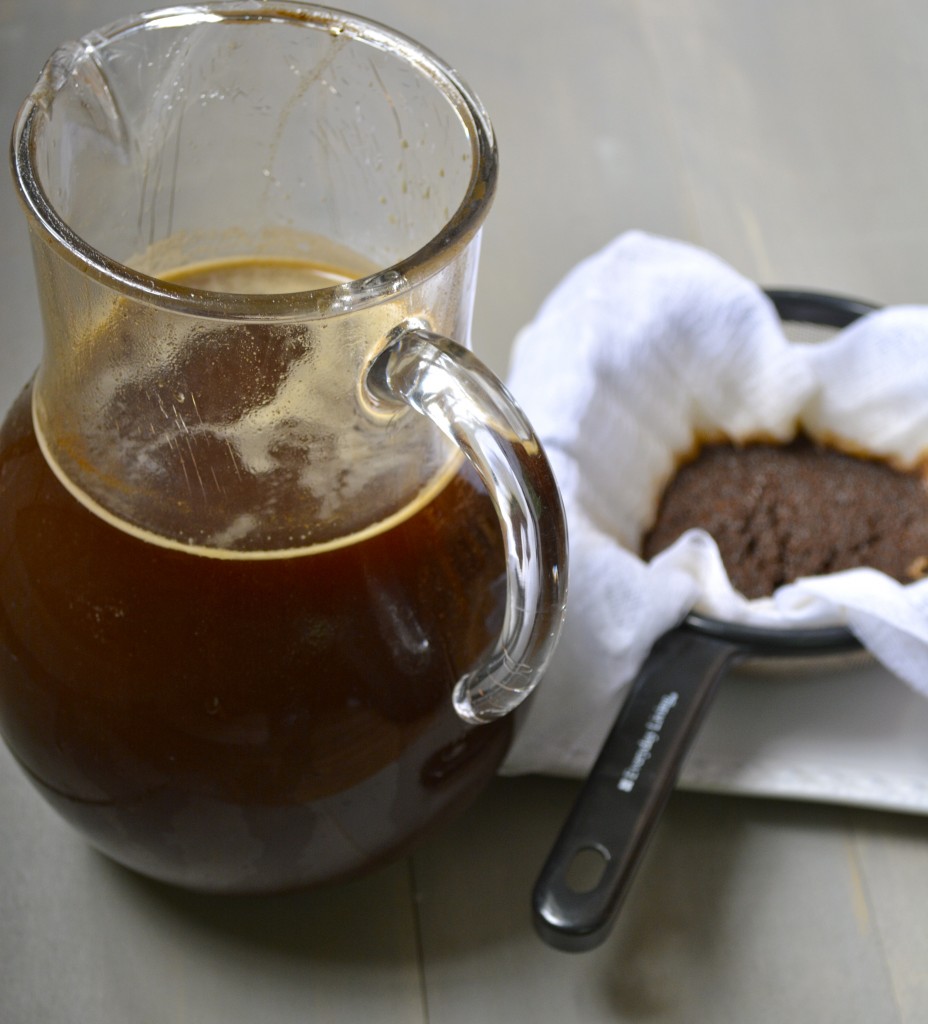 How do you make Iced Coffee with Cold Brew Coffee?
The great thing about this method is it gives you a whole pitcher of ready to go iced coffee which makes grab and go mornings so easy. This is my general recipe for iced coffee, but adjust based on your preferences:
8 ounces cold brew coffee
1 tablespoon sugar free vanilla simple syrup
3 tablespoons half and half


Other Coffee Recipes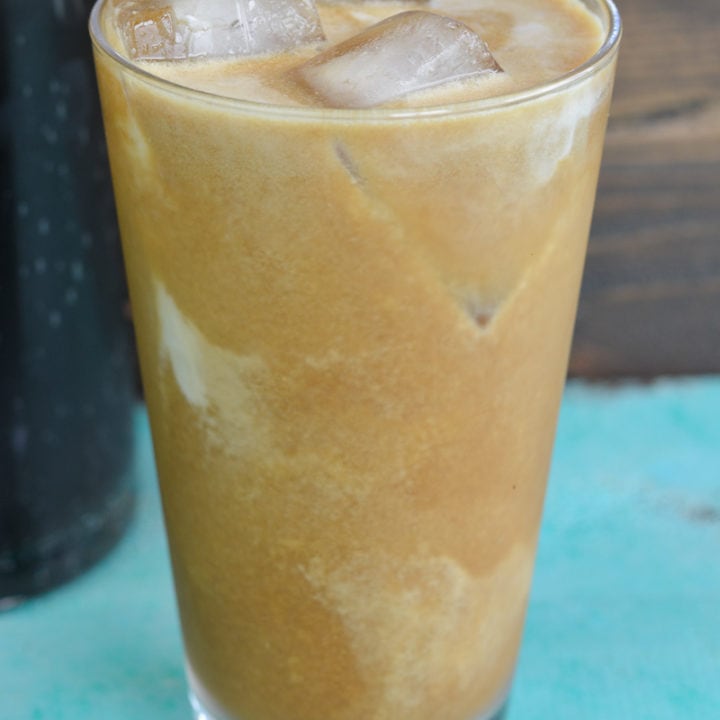 Simple Iced Coffee
This Simple Iced Coffee is made using cold brew coffee. Learn just how easy it is to make a perfect large batch of iced coffee for a fraction of the coffee house price!
Ingredients
For Cold Brew Coffee
1 gallon of water
(12 ounce) package of ground coffee
For Simple Iced Coffee
8 ounces Cold Brew Coffee
1 tablespoon Vanilla simple syrup (sugar free for keto)
3 tablespoons half and half
Ice
Adjust ingredients for iced coffee based on your personal preference.
Instructions
Combine coffee and water in a large pitcher, stir coffee several times to make sure all grounds are completely saturated. Cover and chill 24 hours.
Using a mesh strainer and a triple layered cheese cloth strain the coffee into a clean pitcher. If needed pour the coffee through the strainer twice, to ensure all of the grounds have been removed from the coffee.
Discard cheesecloth and the coffee grounds. Enjoy!
Nutrition Information:
Yield:

16
Serving Size:

1
Amount Per Serving:
Calories:

43
Total Fat:

0g
Saturated Fat:

0g
Trans Fat:

0g
Unsaturated Fat:

0g
Cholesterol:

1mg
Sodium:

12mg
Carbohydrates:

2g
Fiber:

0g
Sugar:

10g
Protein:

0g
To avoid any confusion I remove erythritol from the final carb count and net carb count, as it is not known to affect blood glucose levels. To calculate Keto recipes listed on this site carbs - fiber = net carbs. I use Nutrifox as my nutrition calculator. This nutrition information is an estimate based on the information provided by Nutrifox and the specific ingredients I used.