These five ingredient Cheddar Stuffed Meatballs are the low carb perfect appetizer or easy dinner recipe!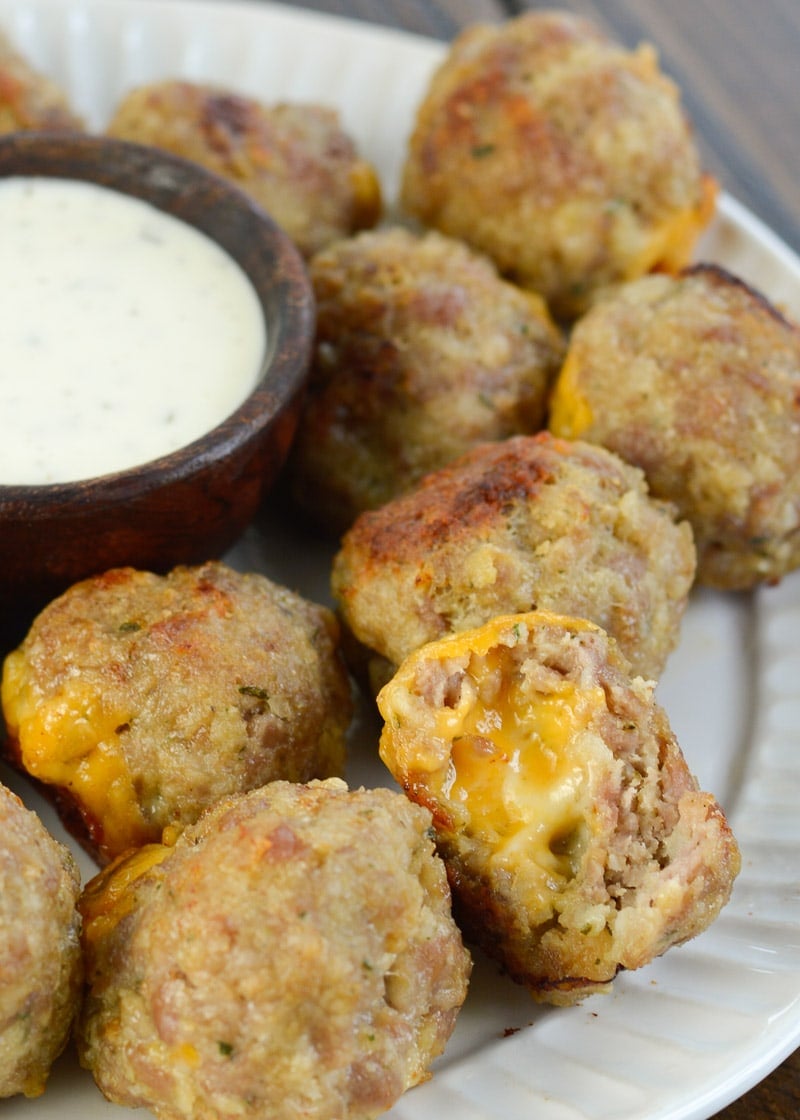 If you want to know the way to my heart, it's food. Specifically, appetizers. I will love you even more if said appetizer involves cheese. But digging into loads of delicious cheesy appetizers kind of prevents me from fitting into skinny jeans, SO sometimes I just have to find a way to feel like I'm indulging, without really indulging! These Cheddar Stuffed Meatballs can be made low carb, keto-friendly and even pretty low calorie, depending on the protein you use!
These stuffed meatballs reheat really well, making them perfect for meal prep! Serve these with a nice side salad and dipping sauce for a delicious, grab and go lunch!
Ingredients for Stuffed Meatballs
As always, you will find the complete recipe below, just keep scrolling.
Ground Meat: you can use ground beef, turkey, chicken, or pork in this recipe.
Ranch Seasoning: adds excellent flavor.
Egg: this adds moisture and helps to hold the meatballs together.
Breadcrumbs or Keto-Friendly Panko: you can use regular breadcrumbs, gluten free breadcrumbs, or Pork Rind Panko if keto.
Cheese: cheddar cubes, or cheese sticks cut into cubes.


How do you make Cheddar Stuffed Meatballs?
These meatballs are so easy to make. Simply combine the meat, seasoning, egg and breadcrumbs in a mixing bowl. Chill the meatball mixture for 15 minutes.
Meanwhile, slice the cheddar into 24 small cubes. Take a heaping spoonful of the meatball mixture and pat it out flat in your hand, place a cheese cube in the middle and fold the meatball around the cheese. Squeeze it a little bit so that you really get the cheese enclosed in the meatball, otherwise it will just ooze out when you cook them. Bake or air fry the meatballs according to the directions below.
Are these meatballs keto-friendly?
These meatballs can be made keto and low carb. The recipe calls for breadcrumbs, but you can easily sub my favorite keto breadcrumbs. If using pork rind panko instead of traditional breadcrumbs a serving of four stuffed meatballs comes to 0.6 net carbs, making this an amazing keto meal!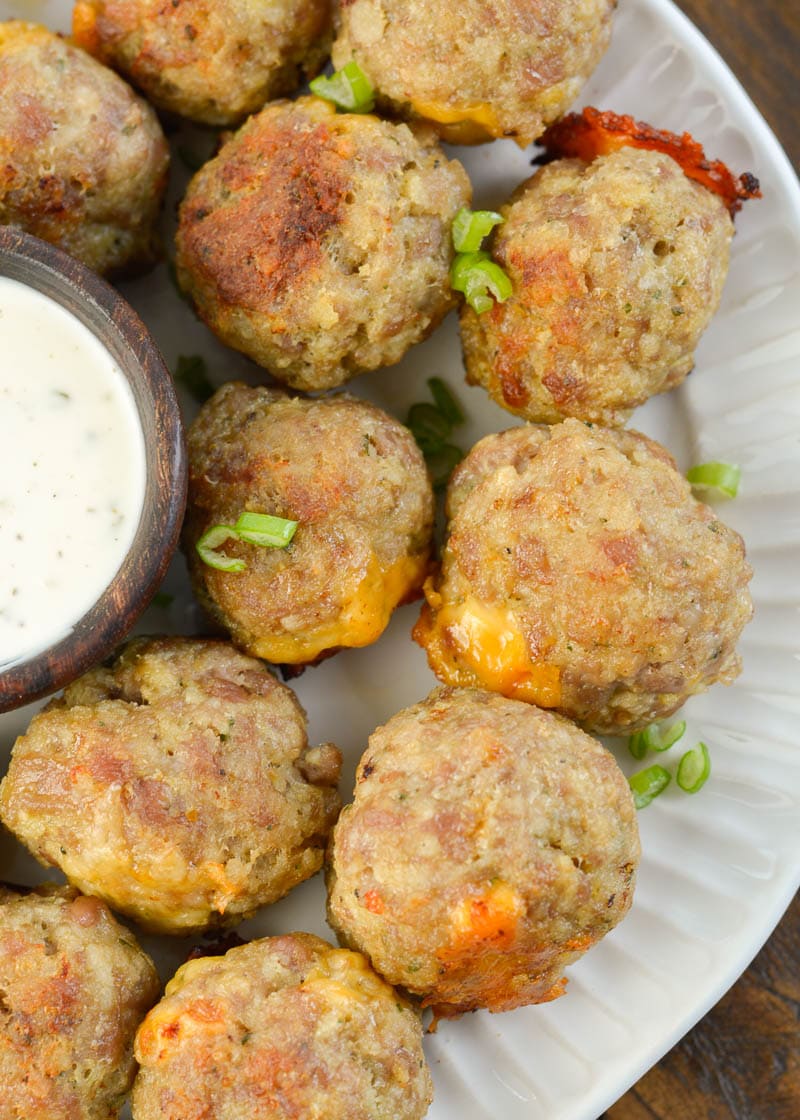 What should I serve with Stuffed Meatballs?
We love to have these meatballs with a large salad that consists of greens, cucumber, tomatoes, bell pepper, cheese and homemade ranch dressing. The flavors pair perfectly! You can also serve these meatballs with some of our other favorites: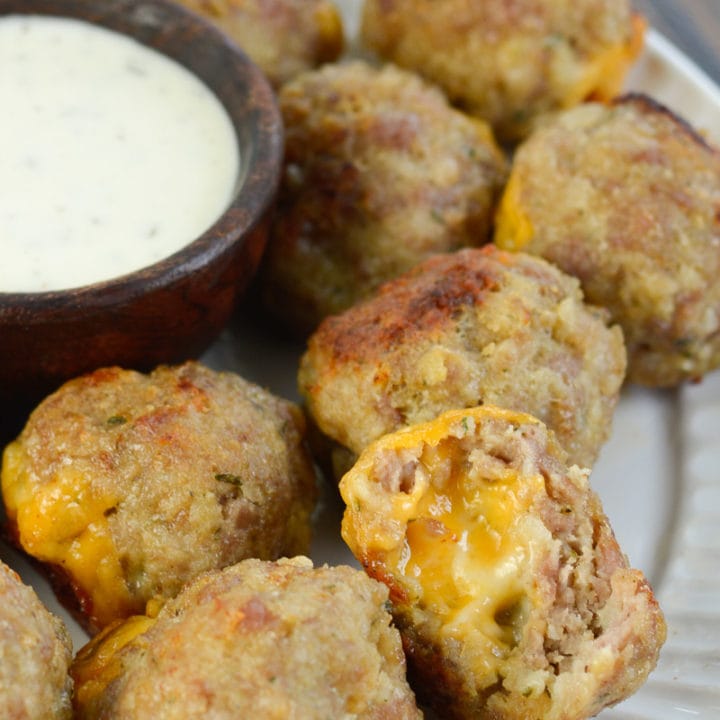 Skinny Cheddar Stuffed Meatballs
These five ingredient Cheddar Stuffed Meatballs are the low carb perfect appetizer or easy dinner recipe!
Ingredients
1 pound ground meat (beef, pork, turkey or chicken all work)
1 (1 ounce) packet Hidden Valley ranch seasoning
1/2 cup bread crumbs (keto-friendly breadcrumbs linked below)
1 egg, beaten
24 small cheddar cheese cubes (3 cheese sticks cut into cubes)
Instructions
Preheat the oven to 400 degrees
Spray a large cooking sheet with cooking spray and set aside.
Mix the meat, seasoning, breadcrumbs (keto option here) and egg together until it is completely combined.
Working with about a spoonful of meatball mixture at a time pat it flat in your hand. Place a cheese cube inside and form a ball around the cheese.
Squeeze the meatball a bit to make sure the cheese is totally enclosed.
Lay evenly separated on the cookie sheet, bake 20- 25 minutes.
Air Fryer Instructions

Preheat the air fryer to 375 degrees F for 3 minutes.

Add the meatballs in a single layer in the air fryer (this may require two batches depending on the size of your air fryer).

Cook the meatballs for 5 minutes, flip and cook an additional 3-4 minutes until cooked through.


Nutrition Information:
Yield:

6
Serving Size:

4 Cheddar Stuffed Meatballs (calculated with keto breadcumbs and ground pork as the meat)
Amount Per Serving:
Calories:

282
Total Fat:

22g
Trans Fat:

334g
Cholesterol:

100mg
Carbohydrates:

0.6g
Net Carbohydrates:

0.6g
Fiber:

0g
Sugar:

0.2g
Protein:

19g