This Slow Cooker White Bean Chicken Chili is always a crowd pleaser! By using your Crock Pot this dish is a true dump and go dinner that your entire family will love!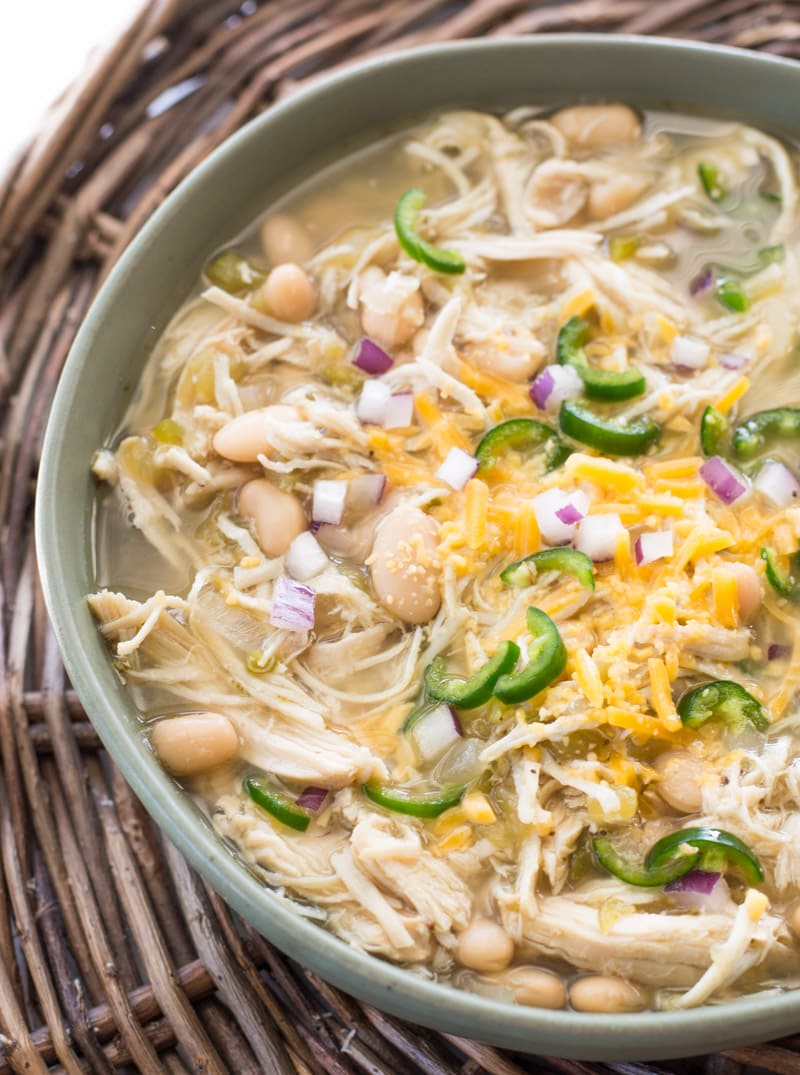 Yesterday was cold, windy, and rainy. I couldn't have been happier!
I know that might sound strange, but I have been longing for some nice cool weather and the big thunderstorm we had was so calming. It made me just want to curl up on the couch with a big bowl of warm soup!
So even though I did have to go to work, I absolutely did make that big warm bowl of soup! I opted for a White Bean Chicken Chili made extra special with salsa verde and lime juice. This will definitely become one of our favorite soups this fall. It was super filling, extra tasty and required hardly any effort at all! Since this is a slow cooker recipe you just toss in your ingredients and go!
Ingredients for White Bean Chicken Chili
This slow cooker white chicken chili recipe is very easy and loaded with basic ingredients you probably already have. The ingredients you will need are:
Garlic
Onion
Jalapeno
Chicken
Canned Green Chilies
Salsa Verde
Chicken Broth
Spices (cumin, oregano, garlic powder, black pepper, onion powder, salt)
Lime juice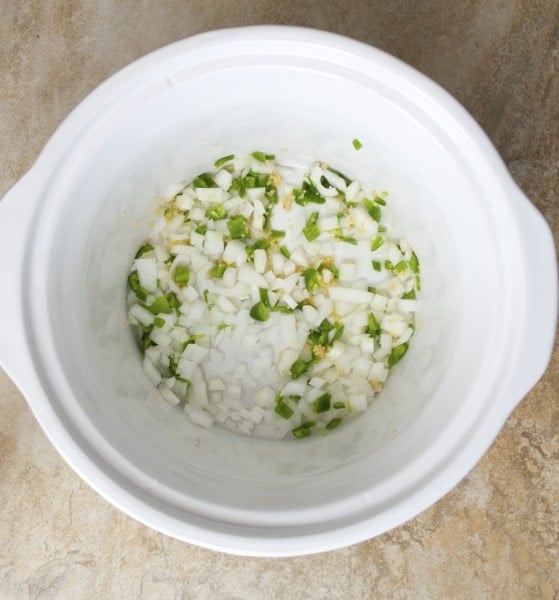 How to Make Slow Cooker White Bean Chicken Chili
Begin my placing minced garlic, chopped onion and chopped, seeded jalapeño in the bottom of your slow cooker.
Place boneless, skinless chicken breast right on top of the vegetables in the slow cooker. There is no need to pan sear them or chop ahead of time, they will cook and shred perfectly in the slow cooker. Top the chicken with the spices.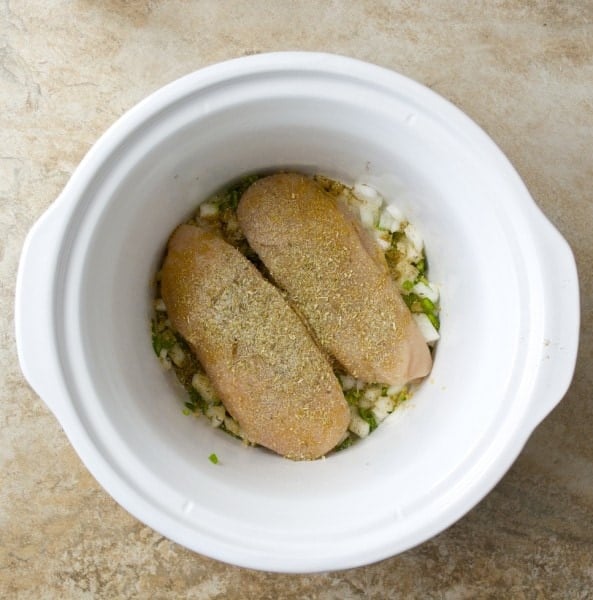 Then add in the salsa verde and the canned green chilies, you do not have to drain or do any other prep work. Just dump them right on top of the chicken.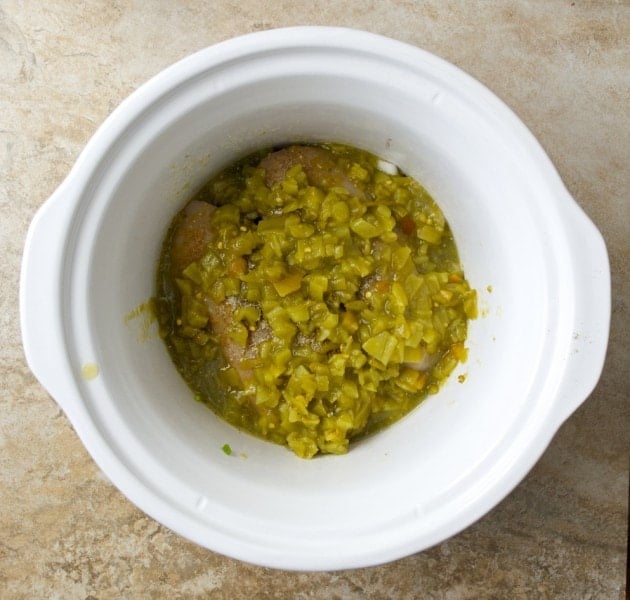 You're almost done! Add the white beans and the chicken broth. Stick a lid on that baby and let it simmer all day! This really is the perfect dump and go meal.
When I came home, I pulled the chicken out of the crock pot and shredded it with a fork. Really, I kind of just poked at it a because it is so tender it just falls apart.
Then, I added the chicken back into the slow cooker, squeezed a whole lime over the top and a sprinkle of seasoned salt. I let it simmer another 30 minutes or so.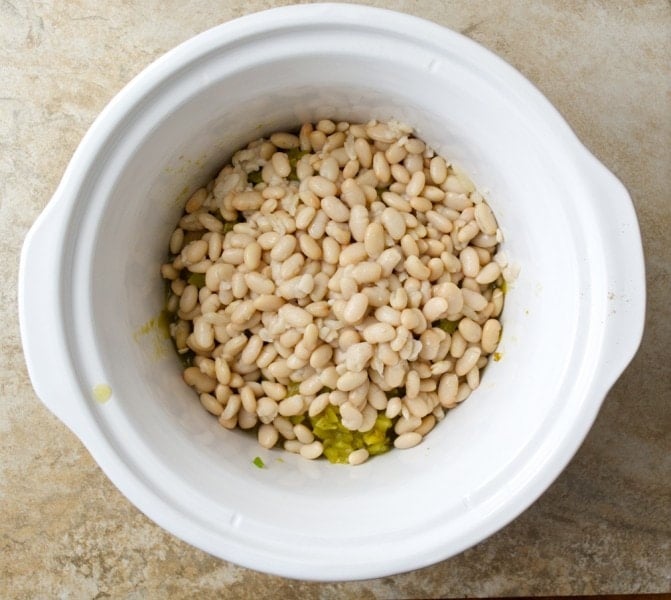 What beans for white chicken chili?
White beans refers to a small group of white beans that includes Cannellini Beans, Navy Beans, Great Northern Beans, and White Kidney Beans. I use Cannellini Beans for this recipe, however any of the other white bean options will work as they are all very similar in taste and texture.
Can I use a dry bean in this recipe?
This recipe is formulated for already soft, canned beans. If you want to use dry beans you will need to prepare them ahead of time separately.
How do you thicken White Bean Chili?
This soup is very hearty, but if you want to thicken things up further you can blend an extra can of white beans and add the bean puree to the soup and simmer at least 10 minutes, stirring occasionally.
Can I Freeze Chicken Chili Verde?
Yes! This Crockpot white bean chicken chili freezes well. Simply let it cool to room temperature, then store in freezer bags or freezer-safe containers. To thaw, place in the fridge overnight.
What to Serve with Crockpot White Chicken Chili
Serve this white bean chili with tortilla chips or with a side of cornbread. To garnish, I recommend using sour cream, green onions, shredded cheese, and other Mexican favorites!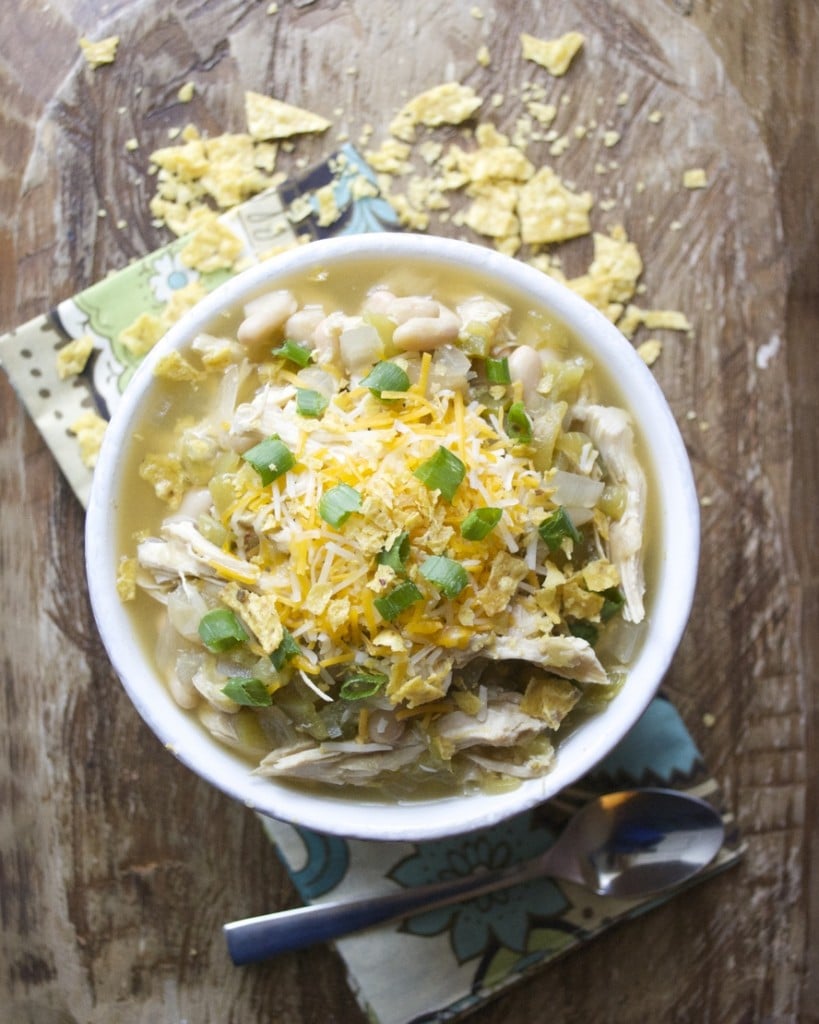 Tips for Making the Best White Bean Chicken Chili
Since the jalapeño is seeded it does not have a lot of spice. However, you can use 1/2 of a chopped green bell pepper in place if you are sensitive to jalapeños.
Trim the chicken breasts of any excess fat before placing them in the slow cooker.
I prefer making this chicken chili verde in my Crockpot so I can set it and forget it. However, if you don't have a Crockpot you can easily make this recipe on the stovetop over low heat (it'll cook faster, just FYI).
More Gluten-Free Soup Recipes: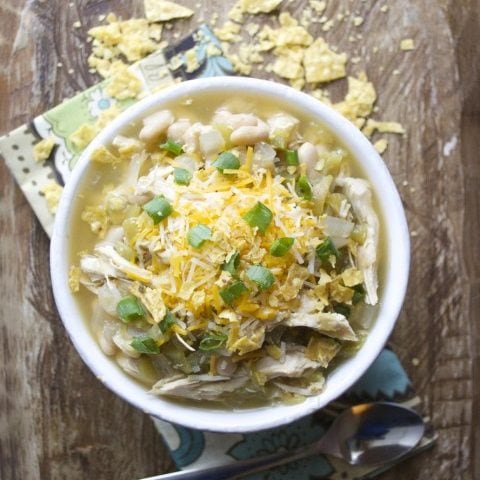 Slow Cooker White Bean Chicken Chili Verde
Total Time:
8 hours
10 minutes
Using your Slow Cooker makes this White Bean Chicken Chili Verde a cinch! Just toss in your ingredients, and let it simmer all day! Come home to a warm, filling bowl of soup!
Ingredients
2 pounds chicken breast, fat removed
1 small onion, chopped
2 fresh jalapeños, seeded and diced
2 teaspoons minced garlic
1 teaspoon cumin
1/2 teaspoon oregano
1/4 teaspoon garlic powder
1/4 teaspoon black pepper
1/4 teaspoon onion powder
2 cans green chilis (4.5 ounce)
1 cup salsa verde
2 cans white beans, drained and rinsed (15 ounces)
1 (32 ounce container) of chicken stock
1 lime, juiced
1 1/2 teaspoons season salt, garlic salt or salt based cajun seasoning
Instructions
Place the chopped onion, diced and seeded jalapeno peppers, and minced garlic in the bottom of your slow cooker.
Top with Chicken breast and spices
Add undrained cans of green chills and salsa verde
Add the cans of drained and rinsed white beans and chicken broth.
Let mixture simmer on low for 8 hours or on high for 4 hours.
Before you serve, remove the chicken breast and shred, add the shredded chicken back to the crock pot.
Squeeze lime juice into the soup and sprinkle season salt, stir, and let simmer an additional 20-30 minutes.
Notes
Since the jalapeño is seeded it does not have a lot of spice. However, you can use 1/2 of a chopped green bell pepper in place if you are sensitive to jalapeños. 
Trim the chicken breasts of any excess fat before placing them in the slow cooker. 
Nutrition Information:
Yield:

6
Serving Size:

1 1/2 cup
Amount Per Serving:
Calories:

382
Total Fat:

7.4g
Saturated Fat:

2g
Trans Fat:

0g
Cholesterol:

115mg
Sodium:

689mg
Carbohydrates:

31g
Net Carbohydrates:

22.8g
Fiber:

8.2g
Sugar:

8.4g
Protein:

45g
To avoid any confusion I remove erythritol from the final carb count and net carb count, as it is not known to affect blood glucose levels. To calculate Keto recipes listed on this site carbs - fiber = net carbs.
Save
Save