An insanely easy FOUR ingredient meal! You will love this Crockpot Salsa Chicken. It's perfect for tacos, wraps, burrito bowls, and more!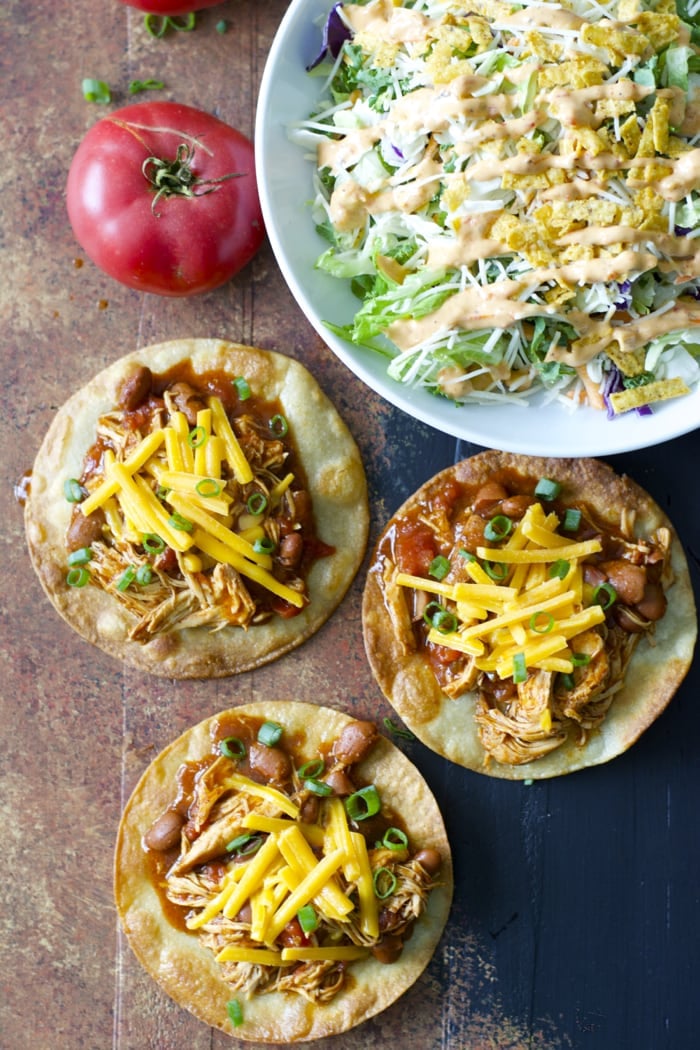 Mondays. Ugh. Mondays are a day of more for me.
You know what I mean, one more cup of coffee, just 10 more minutes of sleep, a few more minutes to get ready.
I pretty much need more of everything on a Monday, except anything that requires effort. Like cooking — on Monday, cooking is for the birds. I need something that is going to cook itself, something hearty, tasty, something that seems like I put more effort forth than I did.
That is where this little wonder comes into play. I came up with this salsa chicken breast recipe a couple years ago in college, it was during that blissful time in life when you get down to your last $16 the Thursday before payday so you had to make do with what you had on hand.
We never seem to eat this Crockpot salsa chicken the same way twice. Sometimes we eat with chips or use this as taco filling or in wraps, and sometimes we just pour over rice and throw some shredded cheddar on top. The versatility is what I love about this dish.
So, the next time your Mondays just happen to come a bit too quickly and leave too slowly throw this in your slow cooker, kick back and have one more cup of coffee.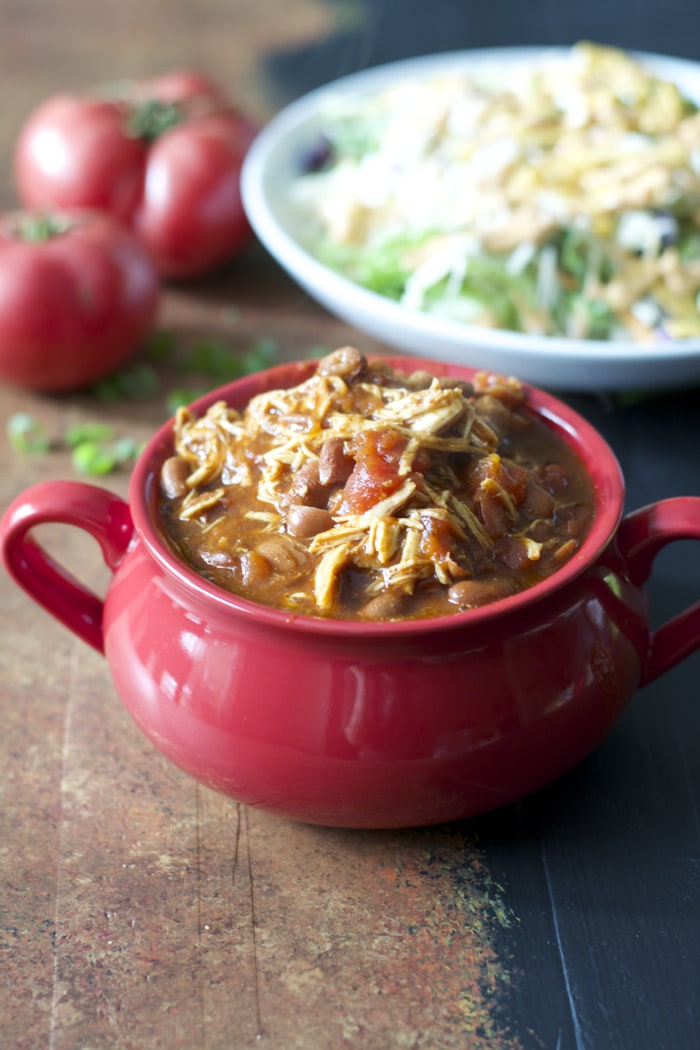 Ingredients in Crockpot Salsa Chicken
This Crockpot salsa chicken recipe requires exactly four ingredients. Yes, four!
Just one package of chicken breast, a can of tomatoes with green chili's (Ro-tel), chili powder, and a can of grillin' beans.
Sometimes I use the Texas Ranchero, and sometimes I use the Black Bean Fiesta. This particular night I used the black bean version.
How to Make Crockpot Salsa Chicken
This is one of those "recipes" that's hardly even a recipe. Simply dump all the ingredients into your slow cooker, then cook until done! The chicken needs either 8 hours on low or 4 on high.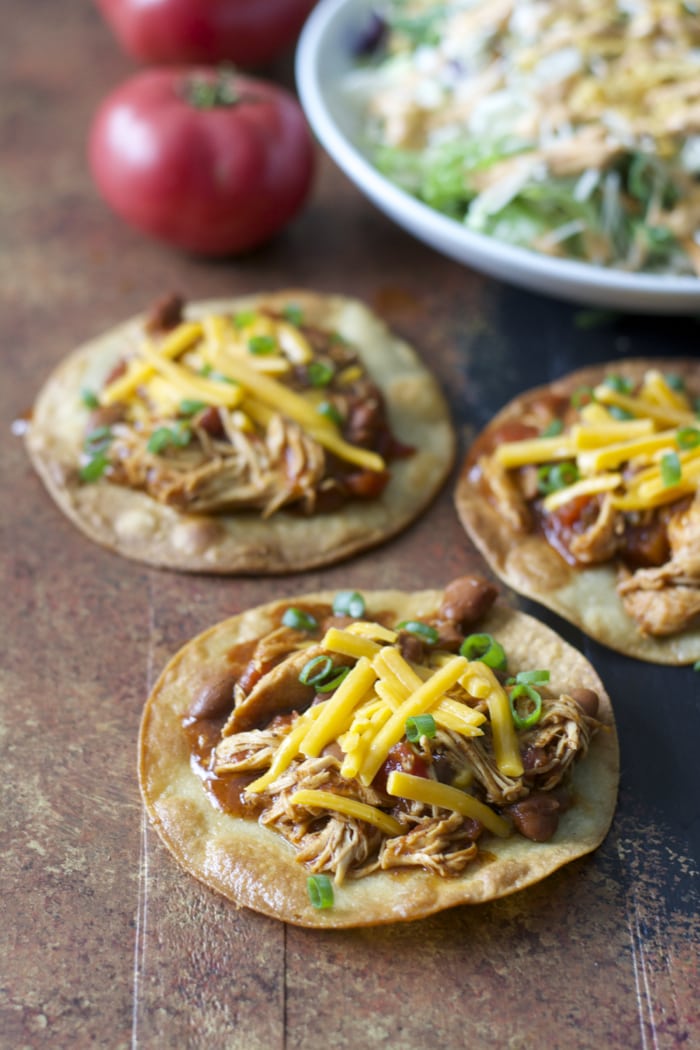 Ways to Eat Salsa Chicken
This slow cooker salsa chicken can be subbed into so many Mexican recipes! A few of my favorite ways to enjoy this dish include:
Chicken tacos
Chicken burritos
Chicken burrito bowls
Tostadas
Nachos
Stuffed peppers
Stuffed zucchini boats
Can I Use Chicken Thighs?
Most likely, yes. Just make sure to use boneless, skinless thighs. Also note that the cook time may vary slightly.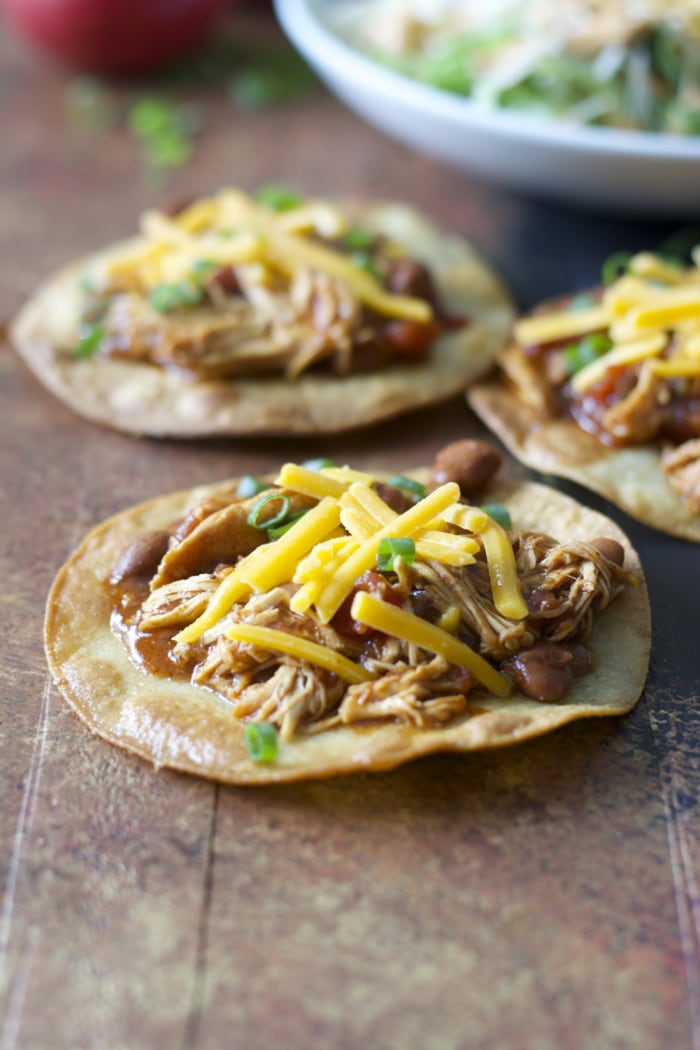 Tips for Making Slow Cooker Salsa Chicken
For spicier salsa chicken, use spicy Ro-Tel and add extra chili powder.
This dinner pairs perfectly with a green side salad, rice, and / or roasted veggies.
You can freeze this Crockpot salsa chicken for later! Let it cool completely, then seal inside a freezer bag for up to 3 months. When ready to use, let defrost overnight in the fridge.
More Easy Mexican Dinners: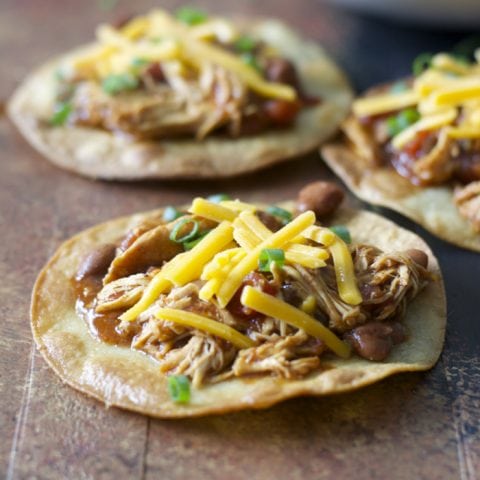 Crockpot Salsa Chicken
Total Time:
8 hours
5 minutes
An insanely easy FOUR ingredient meal! You will love this Slow Cooker Salsa Chicken!
Ingredients
1 pound boneless skinless chicken breasts
1 can Ro-tel
1 can Bush's Grillin' Beans (the Texas Ranchero or the Black Bean Fiesta)
1 tablespoon chili powder
Instructions
Place all ingredients in a small slow cooker, cook on low for 8 hours or high for 4.
Remove chicken and shred and add back to the slow cooker and stir well.
Serve with chips, salsa, sour cream, cheese, or rice.
Enjoy!