This low carb Keto Taco Casserole has all the flavor of taco mac without the carbs! Zucchini noodles, taco meat and a rich cheese sauce are baked until bubbly! The ultimate keto comfort food, under 6 net carbs per serving!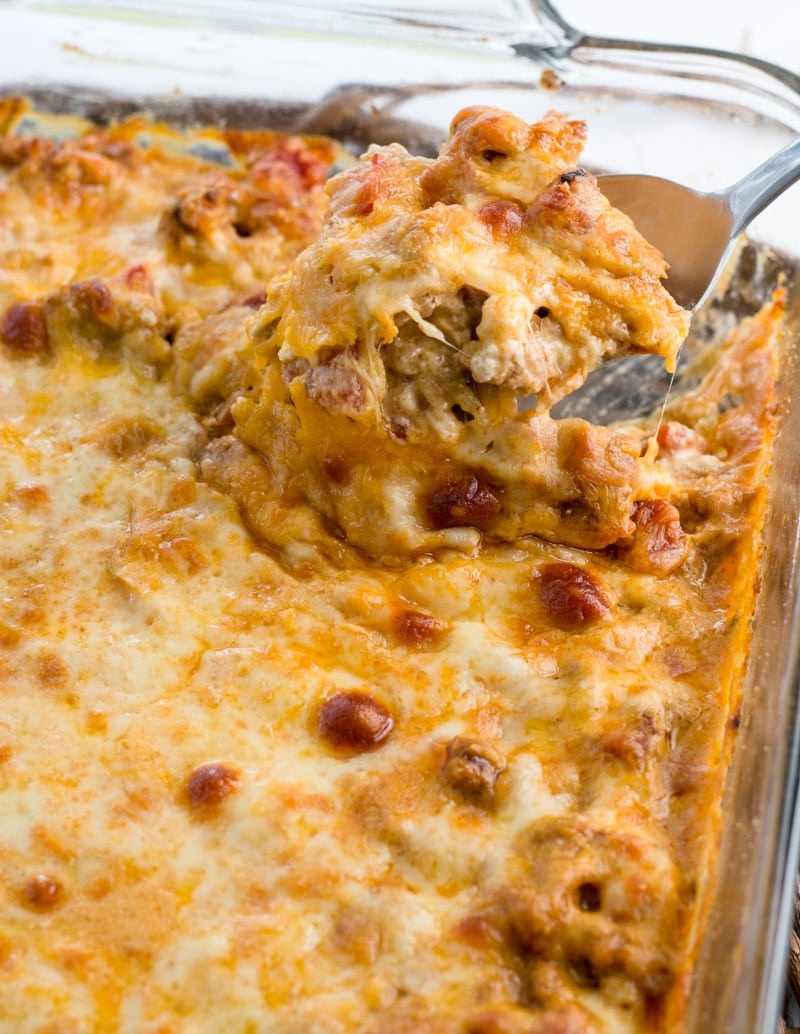 This is officially our new favorite dinner. We have had Keto Taco Casserole on repeat the last month. It is easy, loaded with flavor, low in carbs — perfect for a keto diet.
One of the most popular non-keto recipes on this site is my One Pan Taco Mac. I have always loved how easy and comforting a good pasta dish is. This recipe is a spin on taco mac, but instead of using regular pasta noodles I made zucchini noodles (aka zoodles).
Zoodles are zucchini spiraled into noodle form. Sadly, noodles are a no go on a keto diet. I have found that when properly prepared zoodles really are the perfect low carb replacement!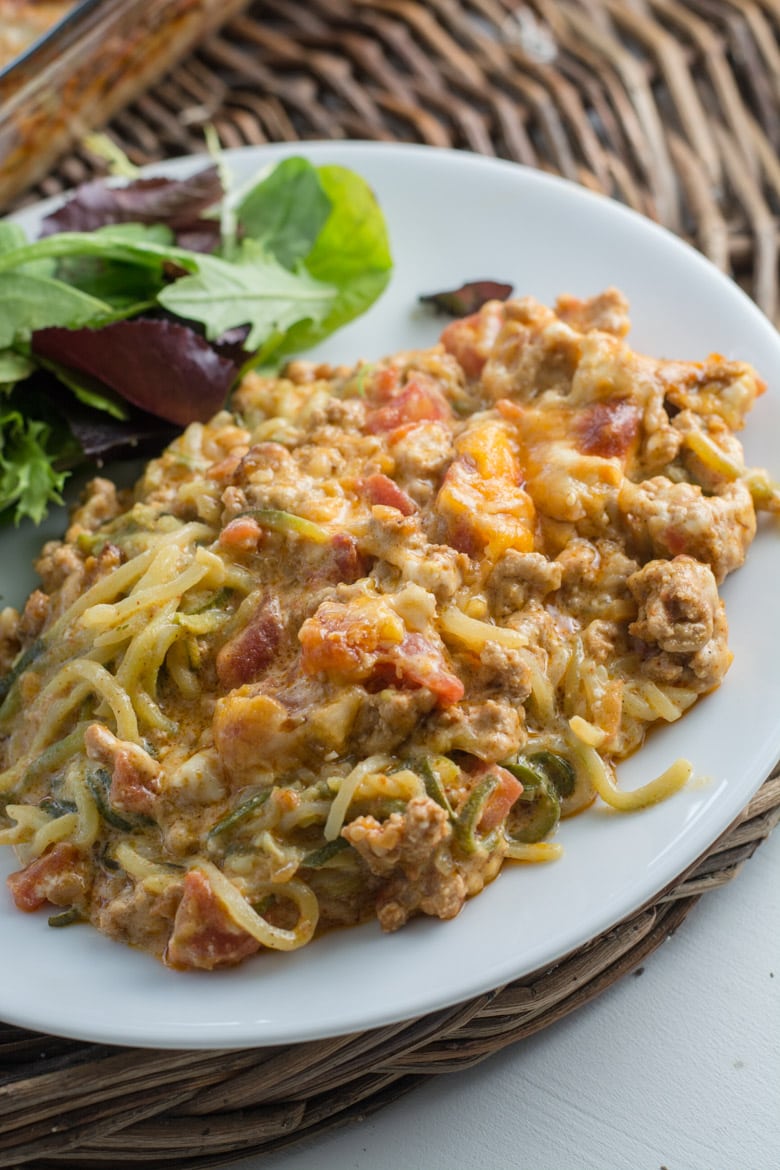 Ingredients in Keto Taco Casserole
This low carb taco casserole has three main components: the zucchini noodles, the cheese sauce, and the taco meat. Here's what you'll need to make the healthy taco casserole:
Zucchini
Ground beef (or ground turkey)
Canned tomatoes with green chiles
Butter
Garlic
Unsweetened almond milk
Heavy cream
Cream cheese
Cheddar cheese
Mozzarella cheese
Can I Substitute the Ground Beef?
Of course! You may use any ground meat you'd like in this recipe.
Can I Substitute the Almond Milk?
Almond milk is used to keep the carb count low. If you aren't concerned with carbs you can use any variety of milk you prefer.
How to Make Keto Taco Casserole
Like most people, I have tried zucchini lasagna or other dishes with zucchini in place of pasta and am always disappointed by how much moisture there is. I have tried salting them and letting them set out, grilling, etc but nothing seems to work. The trick to solving it seems to be pre-baking the noodles.
The only tricky part is that there is no hard and fast rule on how long to pre-bake them. Depending on the size of the zucchini or level of moisture, it can take a little longer. For me, it has been anywhere for 10-20 minutes.
Just keep in mind that you have to be watchful and use your best judgement, remove them from the oven when the moisture has evaporated and they have shrunk in size.
After the zoodles are prepared, we just make some taco meat and a rich cheese sauce! Then we mix it all together and bake it until it is gold and bubbly! This is a great dish when you are craving comfort food.
What to Serve with Keto Taco Casserole
I served it with a side salad and it makes a great dinner and even better leftovers! Here are a few additional side dish recommendations to serve alongside this healthy taco casserole: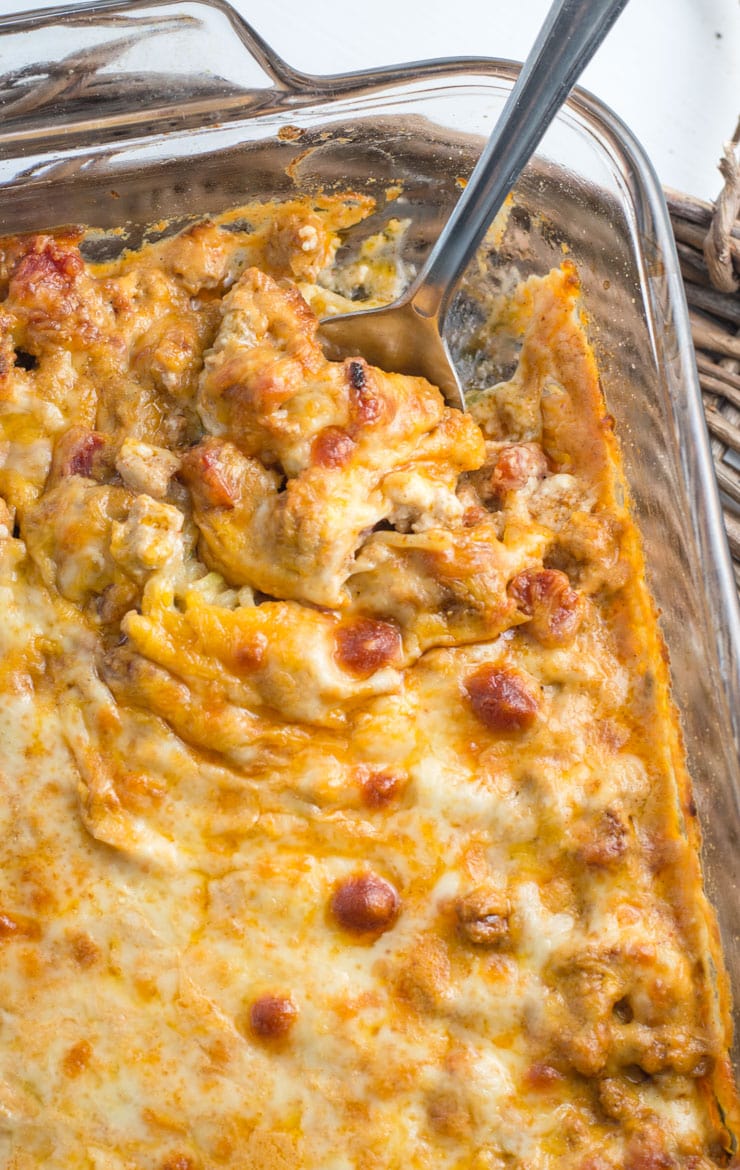 Can I Prep This in Advance?
Once assembled, I recommend baking this easy taco casserole right away. However, you can spiralize (but not bake) the zucchini in advance, and you can also prep the taco meat ahead of time. Just wait to assemble everything until you're ready to eat!
Tips for Making Low-Carb Taco Casserole
You can use ground beef or ground turkey for this recipe. If using ground beef, I recommend using 90% lean so you don't wind up with lots of excess grease to drain.
Feel free to use a different milk in the cheese sauce. If using a non-dairy milk, make sure it's unflavored and unsweetened.
Please read my notes in the recipe card below before making the recipe. Baking the zucchini noodles can take some practice, and I've given as many tips as possible to help you out.
More Keto Zucchini Recipes:
Other Easy Keto Recipes
If you are new to Keto try my favorite Sausage Egg and Cheese Bites, they contain less than one net carb per bite and they are perfect for meal prep! One of my favorite easy low carb dinners is this One Pan Cabbage Casserole. It is so easy, cheesy and delicious and it has less than 9 net carbs per serving. Some other favorites, Keto Chocolate Cookies, Pimento Cheese and Bacon Stuffed Peppers and Sausage and Cream Cheese Pinwheels!