This three-ingredient Keto Cranberry Sauce is essential for your keto holiday spread! Learn how to make small batch, large batch and three different flavors with this easy guide.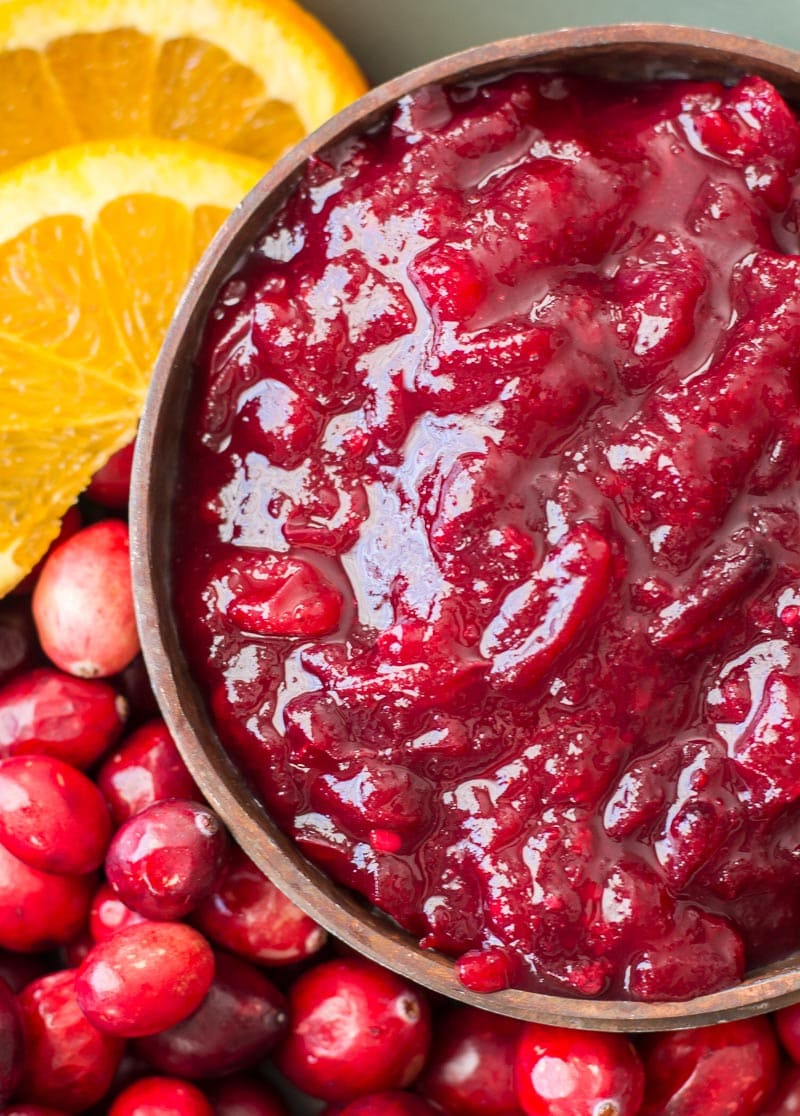 With the holidays right around the corner, you might be a little worried about sticking to your low carb diet with all those comfort foods floating around. Don't worry, I have some low-carb alternatives to help you stay on track and still enjoy delicious holiday food!
Today I'm sharing how to make low carb cranberry sauce in a small batch, a large batch, and three different flavors! Personally, I'm a purist when it comes to cranberry sauce, but I also have a cranberry orange sauce and vanilla cranberry sauce that only have four ingredients each.
Ingredients in Keto Cranberry Sauce
This fresh cranberry sauce recipe is sugar free and uses a keto-friendly sweetener. You only need three ingredients to make my basic version of low carb cranberry sauce:
The other flavor variations that I am sharing include orange zest and vanilla extract, so if you want to try one of those you would need an extra ingredient depending on the flavor.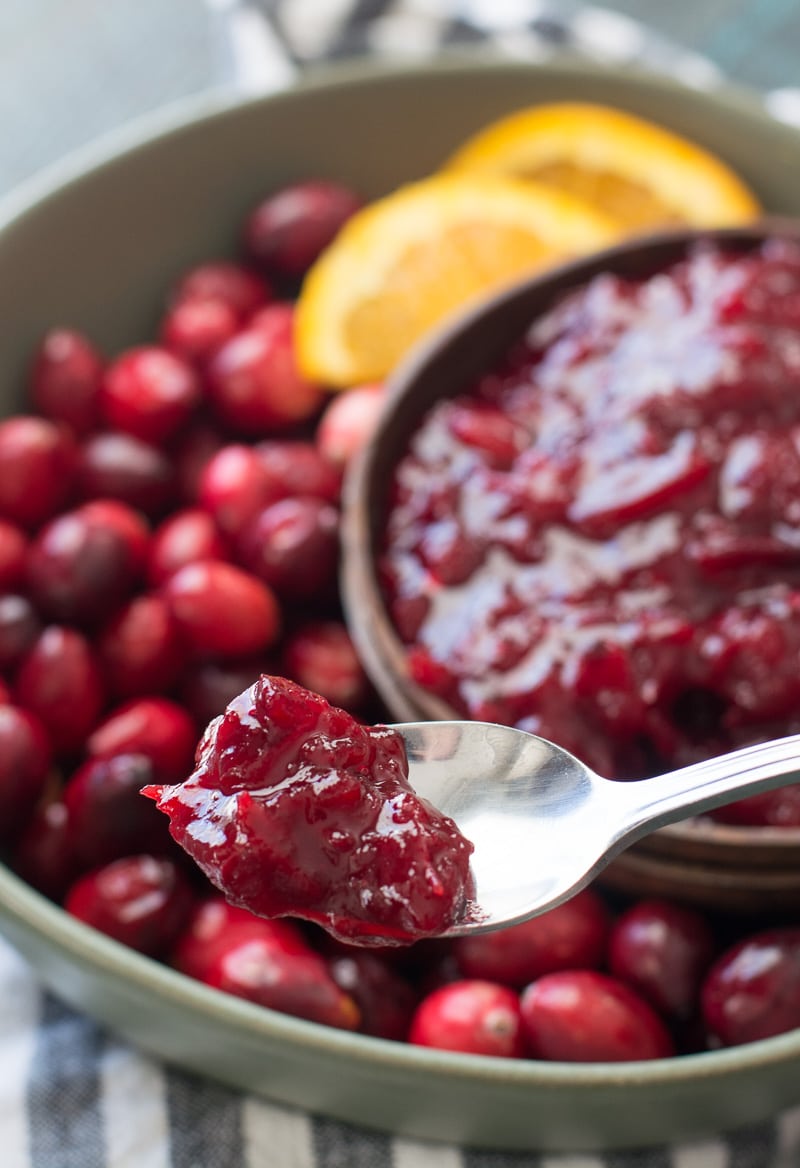 Can You Eat Cranberries on a Keto Diet?
You might be of the notion that a low carb diet means no fruit. It is true that fruit does have carbs and if you are keeping a strict low carb diet like keto you have to be mindful of the kinds of fruits and the amounts you eat.
A banana has more carbs than most keto dieters can have in an entire day! However, most berries are lower in carb and can be enjoyed in moderation.
Cranberries are fairly low in carbs and high in fiber, which makes the net carbs work within a keto diet. The only trouble with store-bought cranberry sauce is that it is loaded with sugar (hence this recipe!).
How to Make Keto Cranberry Sauce
This is a recipe is seriously so easy! All you need is a sauce pan — no fancy tools required.
Simply bring fresh cranberries, water and confectioner sweetener to a boil, then reduce the heat until it is just simmering.
Allow it to simmer 10 minutes, stirring occasionally.
If you like a very smooth cranberry sauce use your spatula to break up any berries that are still whole at the end.
Can I Use Another Type of Sweetener?
No! The only important thing to remember is that you cannot substitute the confectioner sweetener for a granulated sweetener. Granulated sweeteners will crystalize as the mixture cools and add a very unwanted crunch to your cranberry sauce. Stick to the confectioner sweetener and this recipe is as easy as it gets!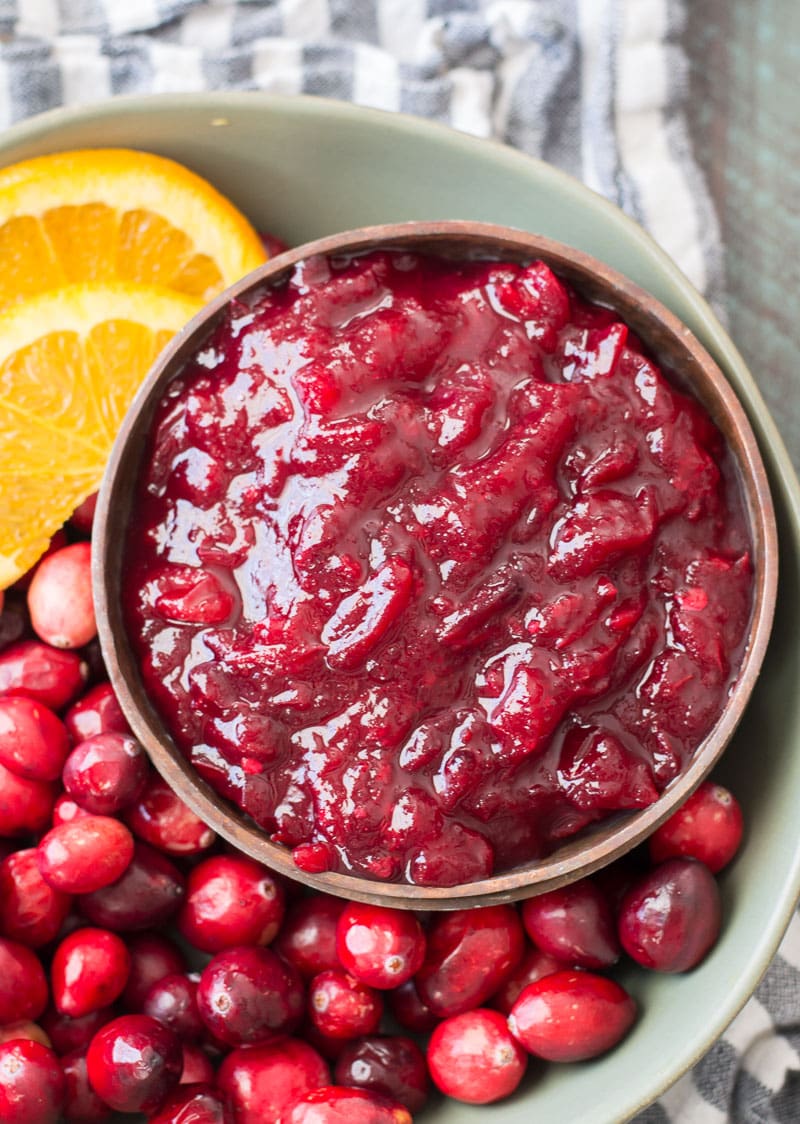 Can You Freeze Cranberry Sauce?
Yes! Let the low carb cranberry sauce cool completely, then store in a freezer-safe container for up to 3 months. To thaw, refrigerate overnight.
Tips for Making Low-Carb Cranberry Sauce
To make this cranberry sauce recipe with orange, add orange zest to the sauce while it cooks (I've given measurements in the recipe card below).
Likewise, you can add vanilla extract to the sauce to amp up the flavor.
Fresh cranberry sauce can be made up to 3 days before Thanksgiving and can be served warm or chilled.
More Keto Thanksgiving Recipes:
Plain meats like a roast turkey or smoked ham are great for a low-carb diet. Just be sure to check any sauces that might have been added or brushed on right before serving.
Sadly, those delicious honey baked hams are going to have carbs loaded into that honey crust. As far as side dishes, there are many great low-carb options that taste similar (or even better) to their carb-filled counterparts!
These are some of my favorites keto Thanksgiving recipes: