These 10+ Easy Keto Soup Recipes are perfect when you want some low-carb comfort food! Each delicious bowl works great as a make ahead keto dinner or convenient low-carb lunch recipe.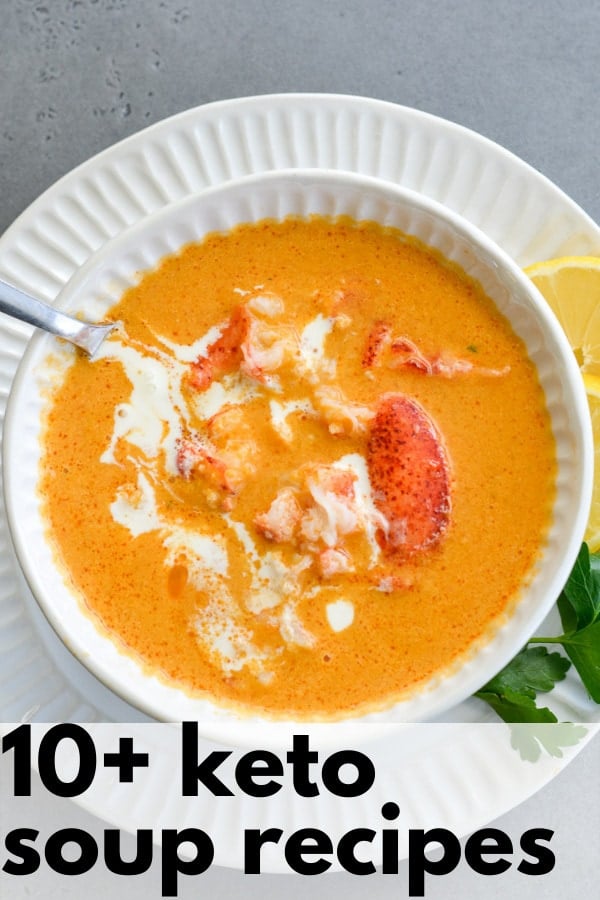 Easy Keto Soups
These keto soup recipes are hearty enough to fill you up while remaining low-carb so you still feel great! Enjoy a bowl of healthy keto chicken soup or indulge a little more with this cheesy pizza soup instead. Soups make it easy to balance out higher-carb produce (like carrots, onions, tomatoes) with lower-carb veggies (like cabbage, peppers, spinach). This means you can enjoy all your favorites with just a few smart choices!
Keeping balance in mind, I'm including soups use ingredients that may be a little "controversial" in the keto world like carrots and tomatoes. I still included them because each bowl came in under 9 net carbs. I'm not here to say whether you can or cannot have these… Ultimately, just make the choice that's right for you! We're all different–Some people may react more than others.
If you're a garnish person or someone who used to not fathom a bowl of soup without crackers, check out this list of Keto Soup Garnish & Topper Ideas! These add tons of flavor and texture without adding a bunch of carbs.
Is soup keto?
Obviously some soup is and some soup isn't! Soups that have a lot of high-carb ingredients like potatoes, corn, beans, butternut squash, etc. aren't recommended when on a keto diet, but there are still tons of delicious soups you can have!
Do you miss your beef and potato stew? Try this Instant Pot Keto Beef Stew that uses turnips instead! Think you can't have chili because of the beans? Think again–This Easy Keto Chili is SO good!
What should I serve with keto soup?
The best thing about these soups being so low-carb? You can still add your favorite low-carb bread side! You can have the Instant Pot Buffalo Chicken Soup with a large Keto Cheddar Garlic Biscuit for just under 7 net carbs!
When you try the Instant Pot Pizza Soup, add in these Keto Cheesy Zucchini Breadsticks to round out the meal. These Rosemary Garlic Keto Rolls pair super well with the Bacon Cheeseburger Soup as well!
For more keto-friendly breads to pair with your soup and other meals, check out this list of 30+ AMAZING Keto Bread Recipes! Add a couple keto soup garnishes for texture, and you're good to go!
More Keto Recipes You'll Love:
20+ Easy Keto Soup Recipes
These tasty keto soup recipes will help you stay low-carb and happy through the fall and winter! Add easy keto soup garnishes and toppers for extra flavor and textures. Whether you like your soups brothy, creamy, heavy, or light, we've got something for everyone on this list!