These Easy Keto Chicken Tenders can be made in the air fryer or oven and contain about 2 net carbs per serving!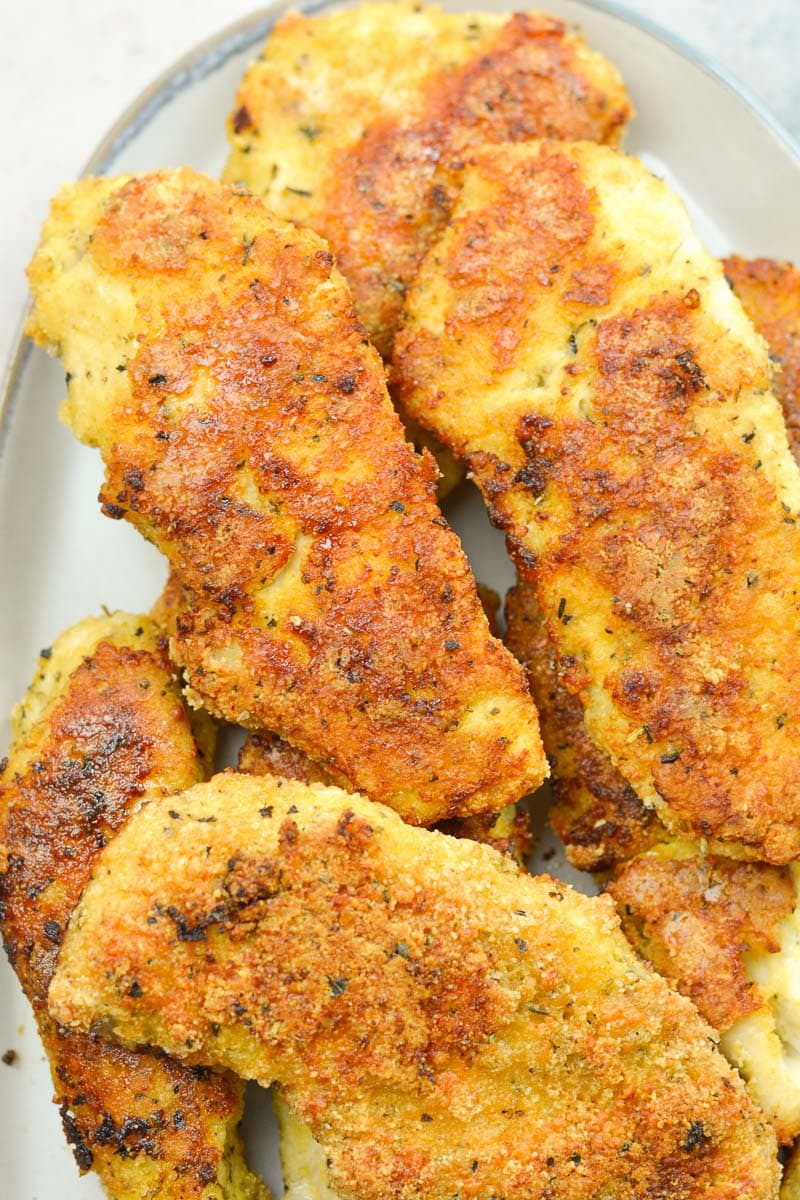 If you thought you had to give up delicious, crispy chicken tenders while on a low carb, gluten free diet, you were wrong! Oven baked and perfectly seasoned for that authentic 'fried chicken' flavor, these Keto Chicken Tenders are are suitable for a wide range of dietary needs. For kid-sized bites, check out my recipe for Keto Chicken Nuggets–The same great flavor with bite-sized pieces.
These easy Keto Chicken Tenders are perfectly seasoned with almond flour, parmesan and spices to create a flavorful, low carb coating. These almond flour chicken tenders make a great dinner when paired with Crispy Green Bean Fries, Loaded Cauliflower Casserole, or my favorite Air Fryer Broccoli.
However, if you really want to treat yourself, make a batch of my favorite Keto Red Lobster Cheddar Garlic Biscuits and enjoy a low carb Chicken and Biscuit! The possibilities with this easy recipe are truly endless.
Ingredients in Keto Chicken Tenders
Chicken Breast, cut into thin strips
Egg
Mayonnaise
Almond Flour
Parmesan: the grated or powdered variety, not shredded
Spices: Garlic powder, onion powder, paprika, Italian seasoning, garlic salt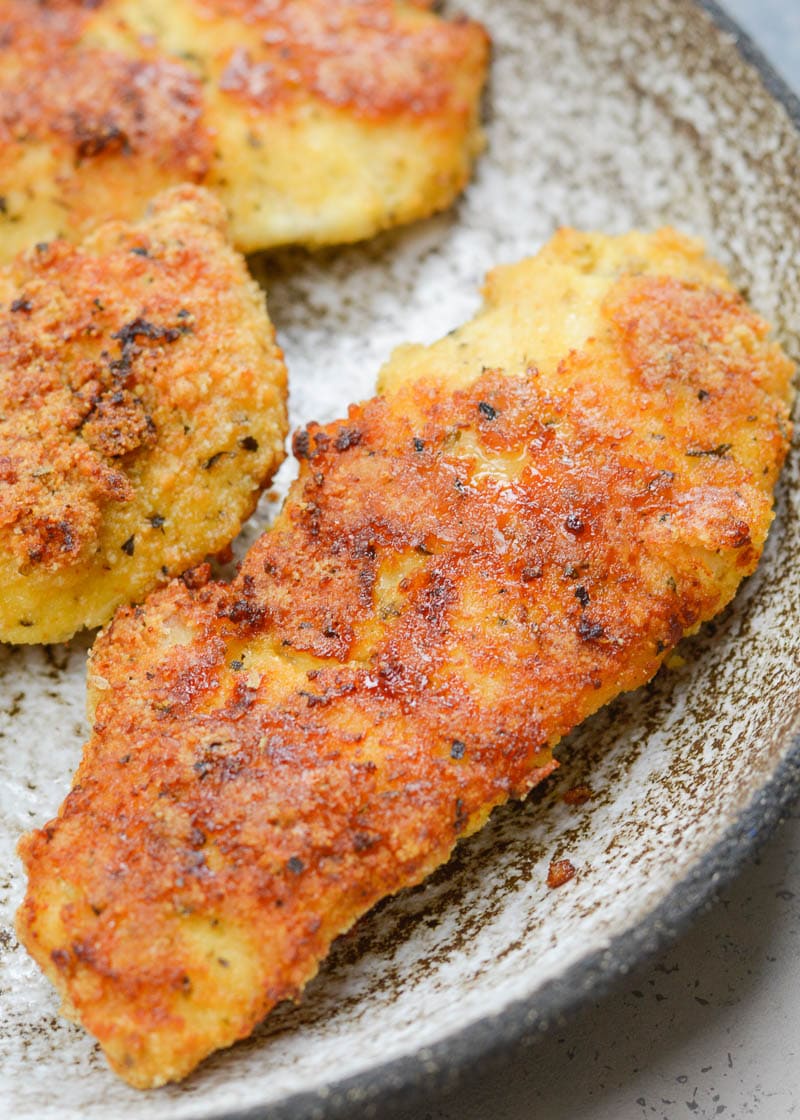 How to make Keto Chicken Tenders
Making chicken tenders is a pretty simple process. You simply need to slice your chicken into thin strips. Dip the chicken breast into an egg and mayo mixture, then dredge in a keto friendly coating of almond flour, parmesan cheese, and spices. Make sure your tenders are coated fully for the best flavor.
Then simply decide how to cook them! These low carb chicken tenders can be made in the oven, or an air fryer. You will find all of the specific cooking information in the recipe card below, but each method has its advantages. When cooking in an oven you can cook a large batch at once, which makes things easy, but does take longer.
Alternatively, if you cook in an air fryer the cooking time is a lot faster and they have that great crunchy air fryer texture. The drawback is that you do have to cook them in batches as the air fryer is smaller.
How Long to Bake Chicken Tenders
If you choose to use the oven method the chicken tenders need to cook at 425 degrees for 20-25 minutes. One thing to note is that the cooking time will depend on how thick you cut your chicken.
I prefer to make smaller, thinner tenders so they are perfectly crunchy. If you make thicker tenders you will need to increase the cooking time a few minutes.
How to Reheat Low Carb Chicken Tenders
Keto Chicken Tenders will be good in the refrigerator for a couple of days, making them perfect for a quick and tasty lunch! To reheat your Chicken Tenders, start by preheating your oven to 450-500 degrees. Wrap your chicken in foil and place onto a baking tray, leaving it out of the refrigerator until the Chicken Tenders reach room temperature.
Once your oven is preheated and the Chicken Tenders are no longer cool, place them into the preheated oven for 8 to 12 minutes, depending on how many pieces you have and how large they are. Check at regular intervals and remove from the oven when each piece is heated right the way through.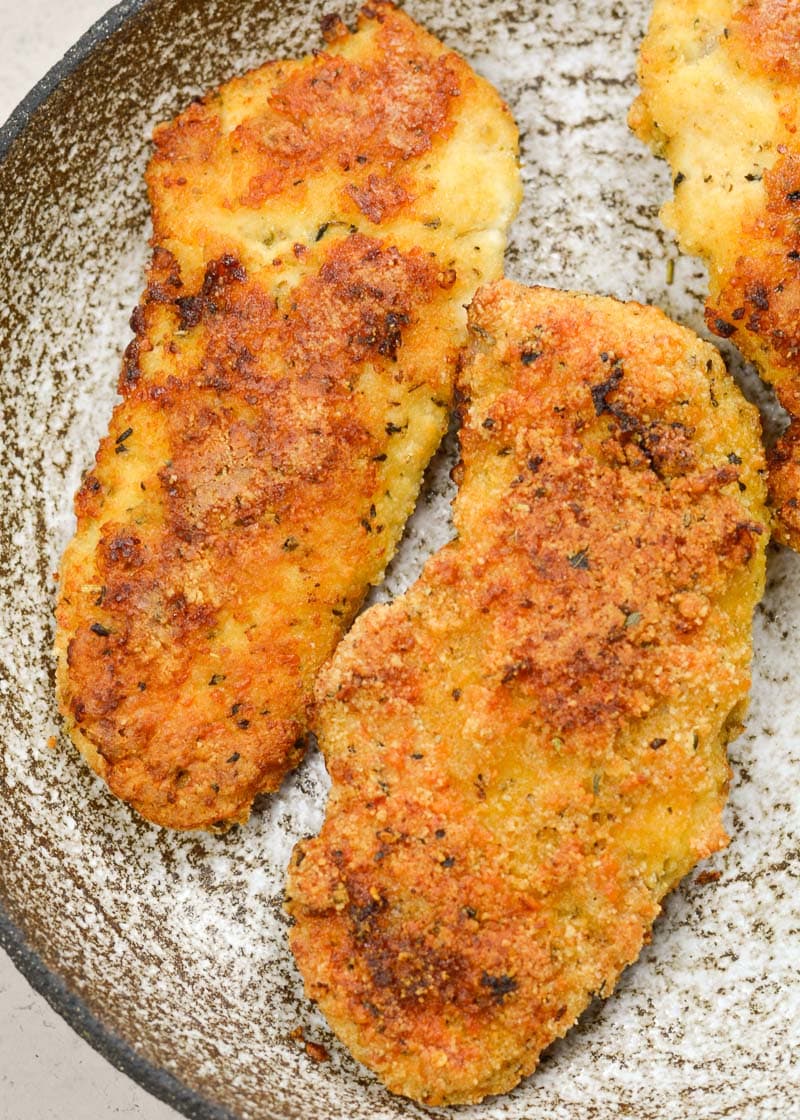 Can I Freeze Chicken Tenders?
If you plan on keeping your Chicken Tenders for longer than a few days, they're perfectly suitable for freezing. Wait until the tenders are cooled before placing them into freezer bags.
Don't fully close the bags; an airtight environment can lead to condensation that will make your lovely crispy Chicken Tenders go soggy.
Tips for Making Healthy Baked Chicken Tenders
These almond flour Chicken Tenders are low in carbs, diabetic friendly and naturally gluten-free, making them a great option to suit a variety of dietary needs at gatherings or dinner parties! Here are a few tips and tricks to make sure they come out perfect every time:
Do not overcrowd your pan. Make sure you use a large enough pan that the tenders do not touch. This ensures the tenders will get perfectly crispy.
Bread the tenders evenly. Don't be afraid to use your hands to bread the chicken. Sometimes using utensils it can be difficult to create a solid breading. Make sure the chicken is evenly covered all over.
More Keto Chicken Recipes
Chicken is incredibly protein-rich, making it a great, satisfying addition to any keto diet, and the creative options really are endless! Try out some of these keto chicken recipes to keep your diet fresh and exciting.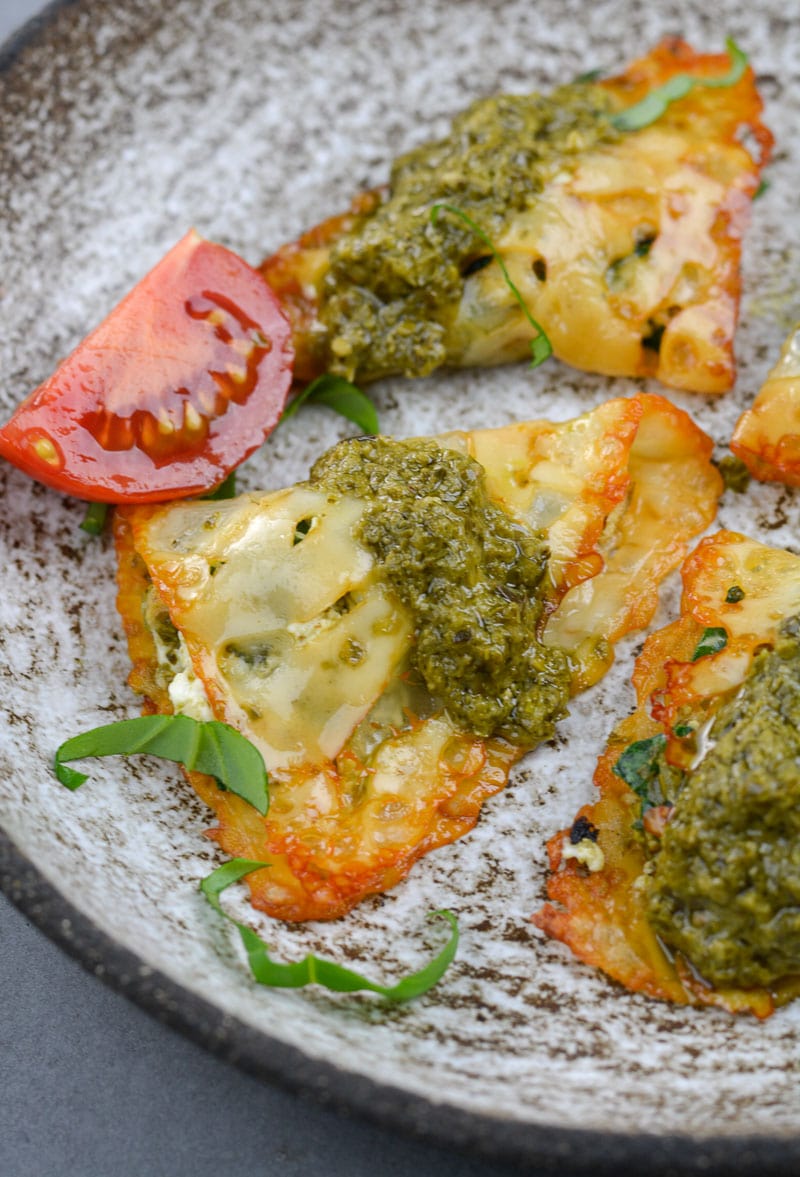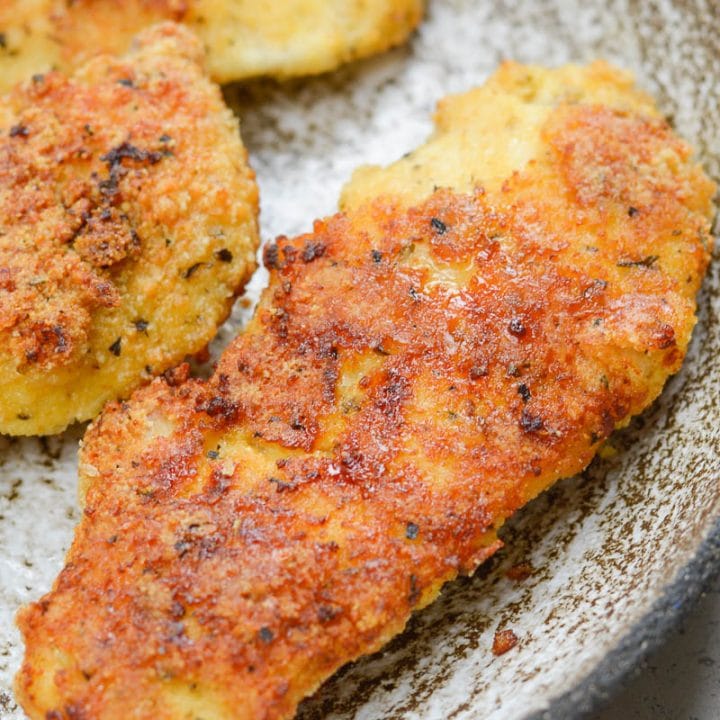 Easy Keto Chicken Tenders (baked or air fryer)
These Easy Keto Chicken Tenders can be made in the air fryer or oven and contain about 2 net carbs per serving! 
Ingredients
1 1/2 pounds chicken breast, cut into 12 strips
1 egg, beaten
1 tablespoon mayonnaise
2 tablespoons butter
For the Keto Breading
3/4 cup almond flour
3/4 cup grated parmesan cheese
1/2 teaspoon garlic salt
1/2 teaspoon garlic powder
1/2 teaspoon onion powder
1/2 teaspoon Italian seasoning
1/2 teaspoon black pepper
1/4 teaspoon paprika
Instructions
Preheat the oven to 425 degrees F
Spray a large cookie sheet with cooking spray, or line with aluminum foil.
In one shallow bowl combine the egg and mayonnaise, beat with a fork until it is completely combined. Set aside.
In another shallow bowl combine the Keto Breading ingredients. Dip each sliced chicken tender into the egg mixture, then dredge in the breading. Make sure the tenders are completely coated.
Once each tender is coated well, lay on the cooking sheet and brush with the melted butter.
Bake 15 minutes, turn the tenders carefully using tongs and bake an additional 5-10 minutes until the chicken is cooked through.
Notes
Air Fryer Instructions:
Preheat the air fryer to 390 degrees F. Place the chicken tenders (without the melted butter) and lightly spray with cooking oil. Cook for 5 minutes, flip and cook for 2-3 more minutes until chicken is cooked through.
Recommended Products
As an Amazon Associate and member of other affiliate programs, I earn from qualifying purchases.
Nutrition Information:
Yield:

6
Serving Size:

2 chicken tenders
Amount Per Serving:
Calories:

319
Total Fat:

14.6g
Cholesterol:

132mg
Sodium:

347mg
Carbohydrates:

2.9g
Net Carbohydrates:

2.4g
Fiber:

0.5g
Sugar:

0.6g
Protein:

32.4g