These Easy Keto Chicken Tenders can be made in the air fryer or oven and contain about 2 net carbs per serving!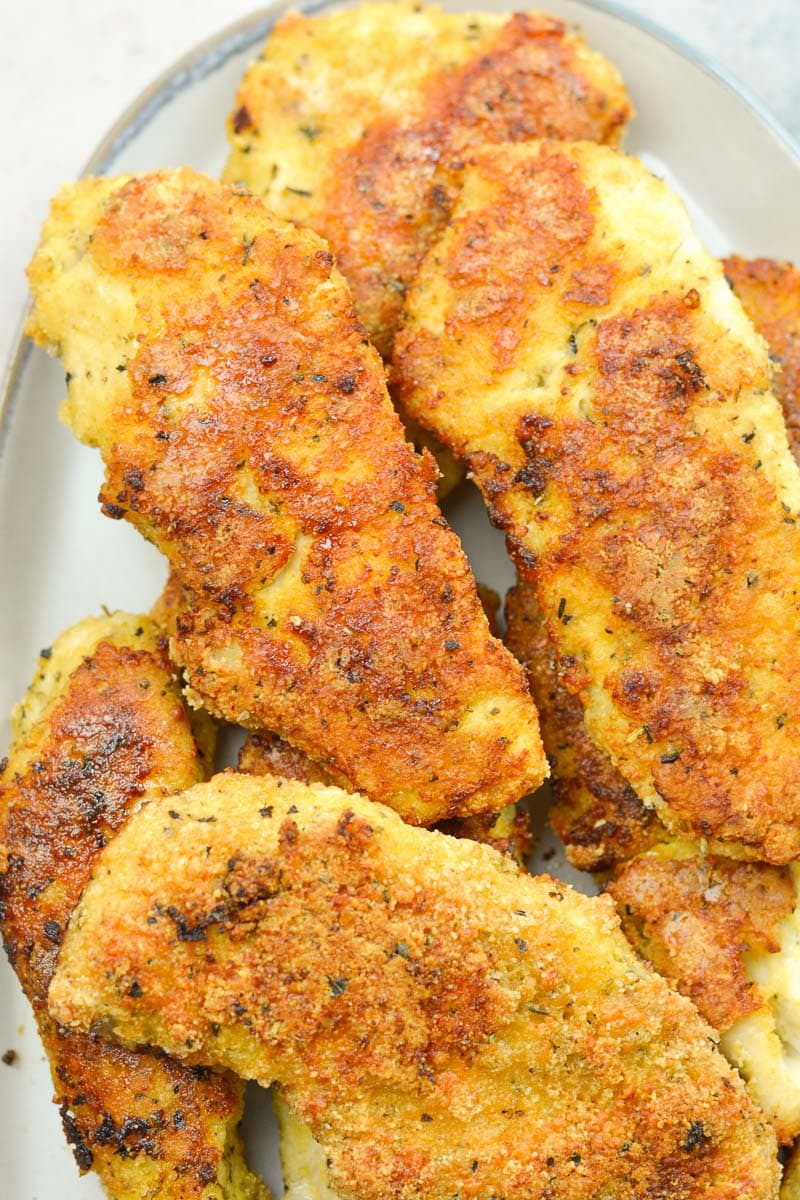 Keto Chicken Tenders
These easy Keto Chicken Tenders are perfectly seasoned with almond flour, parmesan and spices to create a flavorful, low carb coating. Oven baked and perfectly seasoned for that authentic 'fried chicken' flavor, these Keto Chicken Tenders are are suitable for a wide range of dietary needs. For kid-sized bites, check out my recipe for Keto Chicken Nuggets–The same great flavor with bite-sized pieces.
Why you'll love these low-carb chicken strips:
Customizable – You can use chicken breasts, tenderloins, or thighs. I used a pretty "all-purpose" blend of seasonings, but you could easily use your favorite mix, add some spice, or experiment if you would rather. You can also cook this in your oven or air fryer, so you can do what works best for you.
Meal prep friendly – Not only are these great reheated the next day, they also freeze well! It's the perfect "stock the freezer" recipe for busy or growing families! You can freeze before or after cooking for extra convenience.
Low-Carb & Gluten-Free – The crunchy breading is so perfect, you wouldn't guess that these are gluten-free and keto-friendly! This recipe is a lifesaver for families who love classic chicken strips but are watching their carbs.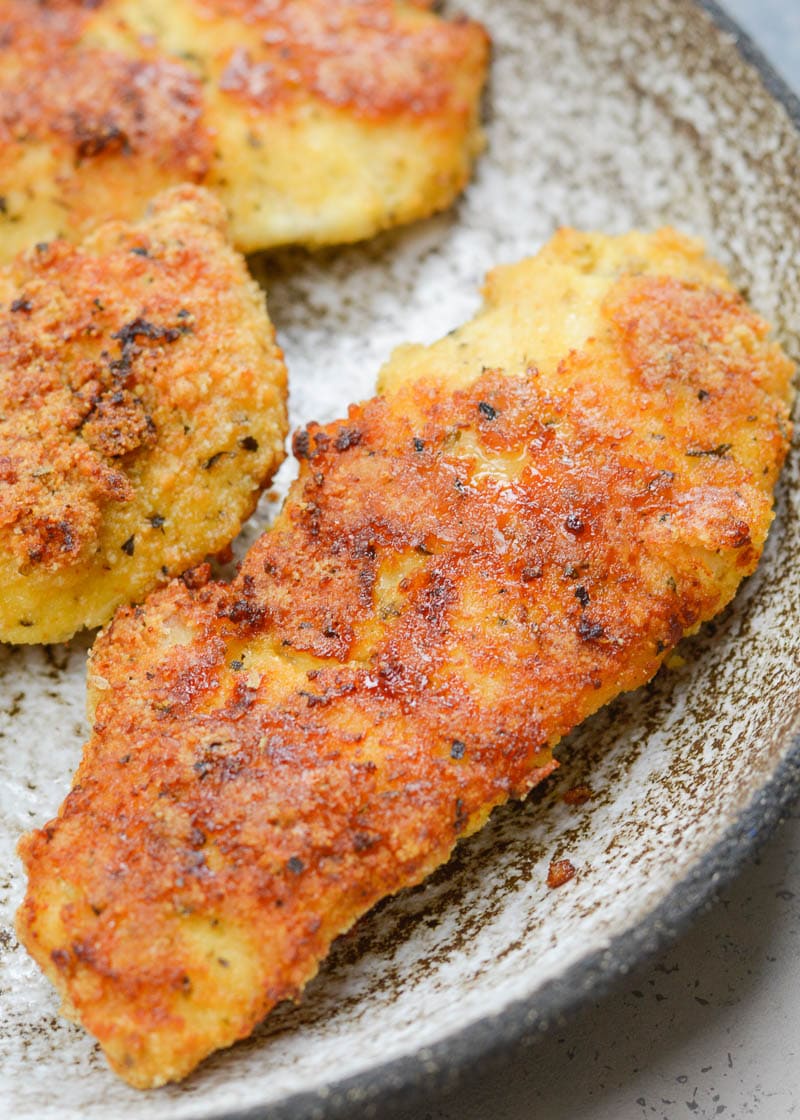 Ingredients in Keto Chicken Tenders
Chicken – I used chicken breasts, but you could use tenderloins to skip the slicing step. You could also use thighs if you prefer.
Egg – Size large. I haven't tried any egg substitutes yet. There are some egg-free options you can use too, just check this tutorial for those.
Mayonnaise – This helps the breading stick and ensures the chicken stays nice and juicy.
Almond Flour – This is a low-carb, gluten-free option! If you're nut-free, you could swap this with pork rind panko instead. It will result in a crunchier chicken.
Parmesan – You want the grated or powdered variety, not shredded. This will help create a crispy crunch!
Spices: Garlic powder, onion powder, paprika, Italian seasoning, garlic salt. These are general all-purpose seasonings, and you could swap this out with a tasty blend you prefer more.
Butter – This is melted and brushed on the chicken to make sure the breading ends up crispy and delicious! Feel free to use a dairy-free butter alternative if you'd like.
How to make Keto Chicken Tenders
Making chicken tenders is a pretty simple process. Here's a quick step-by-step guide to making these crunchy gluten-free chicken tenders.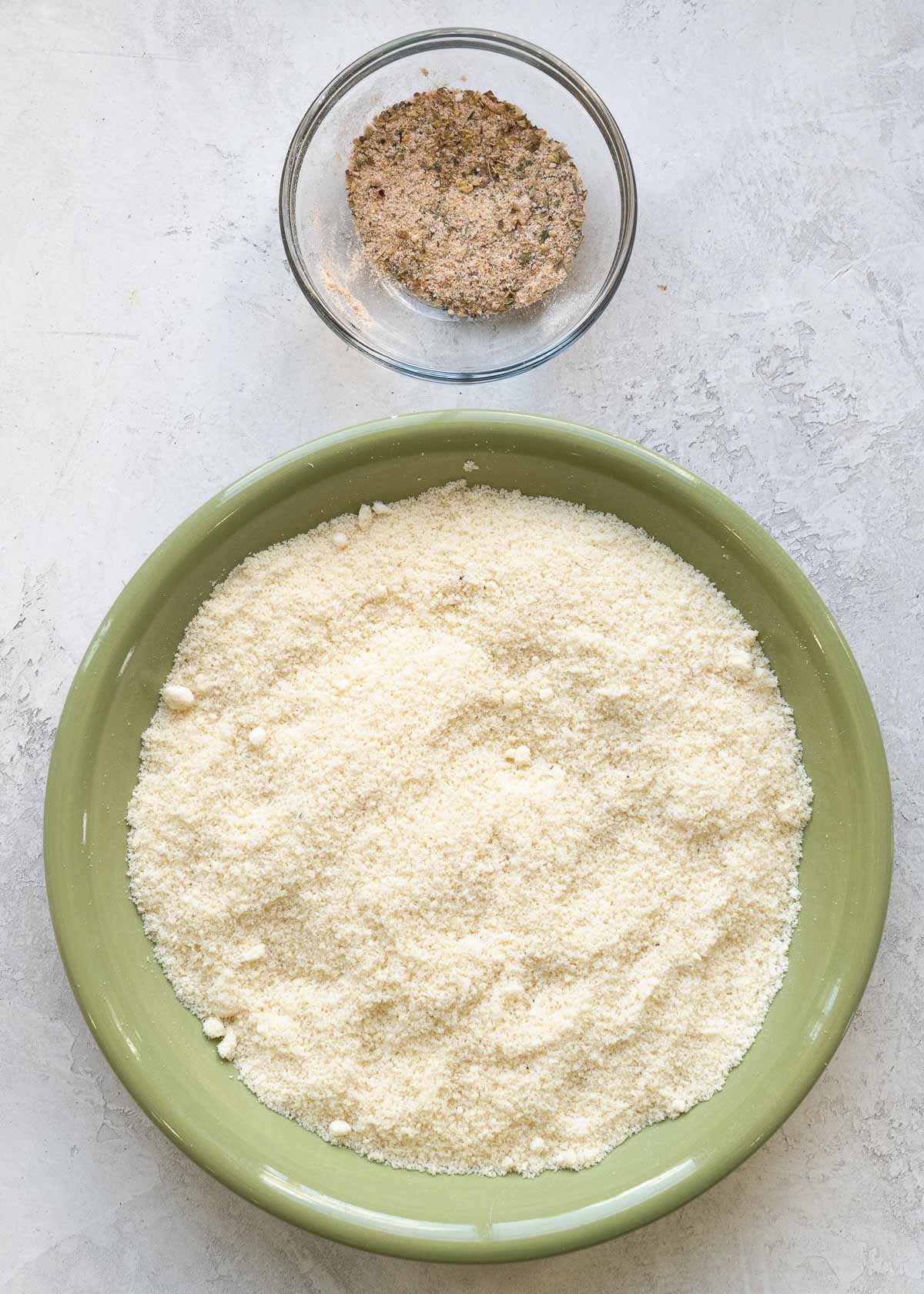 Prepare
If you're going to bake your chicken tenders, go ahead and preheat your oven to 425. If you're going to air fry them, feel free to save the preheating until 3 minutes before cooking. In a shallow dish, combine mayonnaise and eggs. In another shallow dish, mix your almond flour, parmesan, and spices. You'll also want to line a baking sheet with foil. Set these aside for now.
Slice chicken into strips
First, start by slicing your chicken. If you're starting with tenderloins, congratulations! You get to skip this step! If you're working with chicken breasts of thighs, it's important to cut each into a few thin strips, about the size of chicken tenderloins. Making sure they are all the same general size and thickness will help ensure even cooking.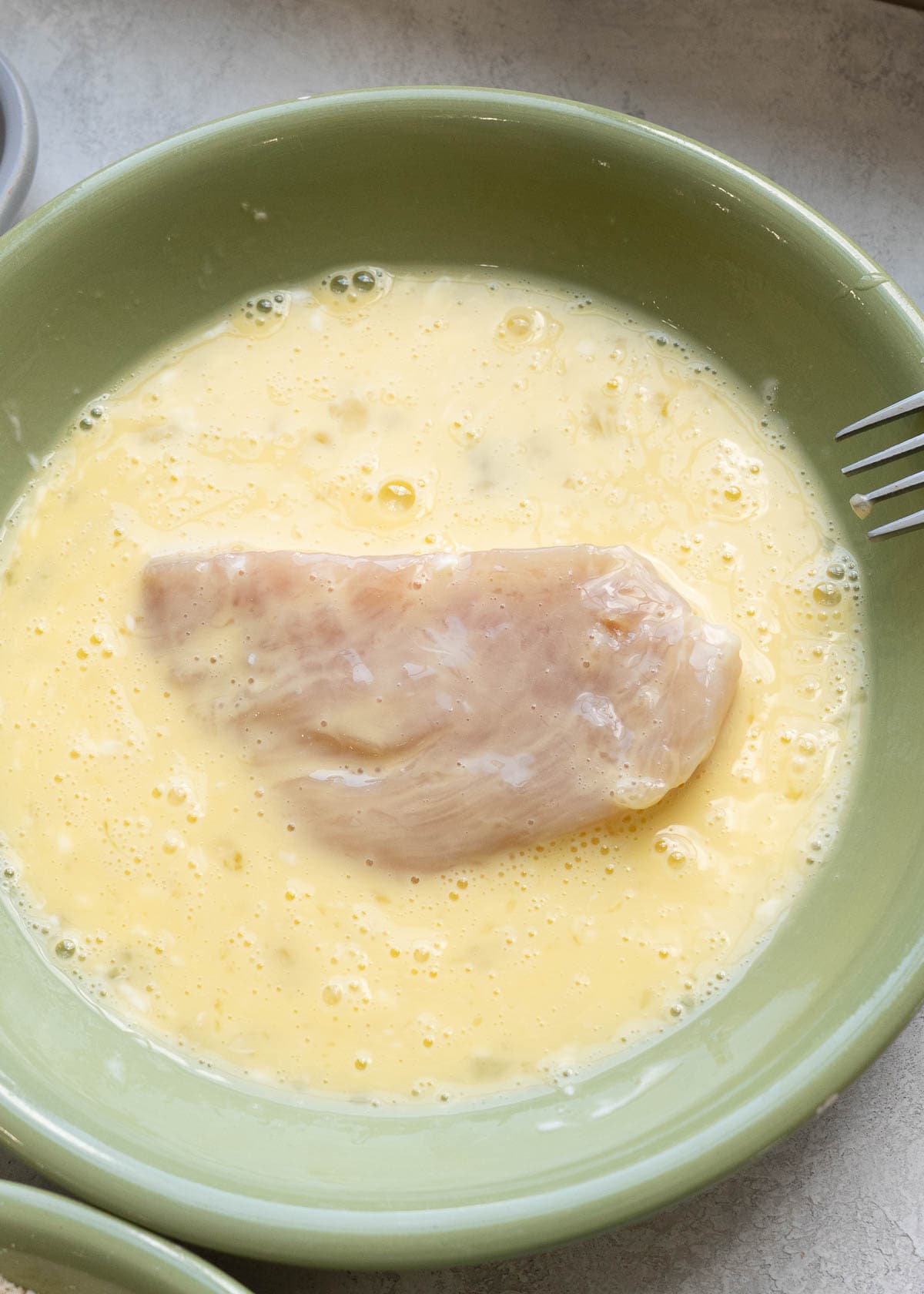 Bread chicken tenders
Set up your assembly line–You'll need your egg wash, your flour parmesan mixture, and your baking sheet. Designate one hand as the "wet" hand–It'll handle the chicken when it's coated in egg. Your other hand is the "dry" hand–It's responsible for moving the chicken when it's fully breaded. This helps keep your stations clean and the causes less waste.
Dip a chicken strip into the egg and mayonnaise mixture, making sure every little bit is covered. Let the excess egg drip back into the dish, then move the chicken to the flour mixture. Toss to coat, gently pressing it into the cheese and seasonings to make sure the coating will stick. Finally, the breaded chicken goes onto the lined baking pan. Continue on until all chicken is breaded.
Brush with butter & cook
Once chicken is breaded, melt butter and gently brush over the chicken tenders. If you're baking these, move the full baking sheet into the oven and cook 15 minutes. Carefully turn the tenders over and continue cooking another 5-10 minutes or until chicken is cooked through.
If you're air frying, cook in a single layer (not touching) at 390 degrees for about 8 minutes, flipping about halfway through. Allow cooked chicken to sit for a few minutes before serving.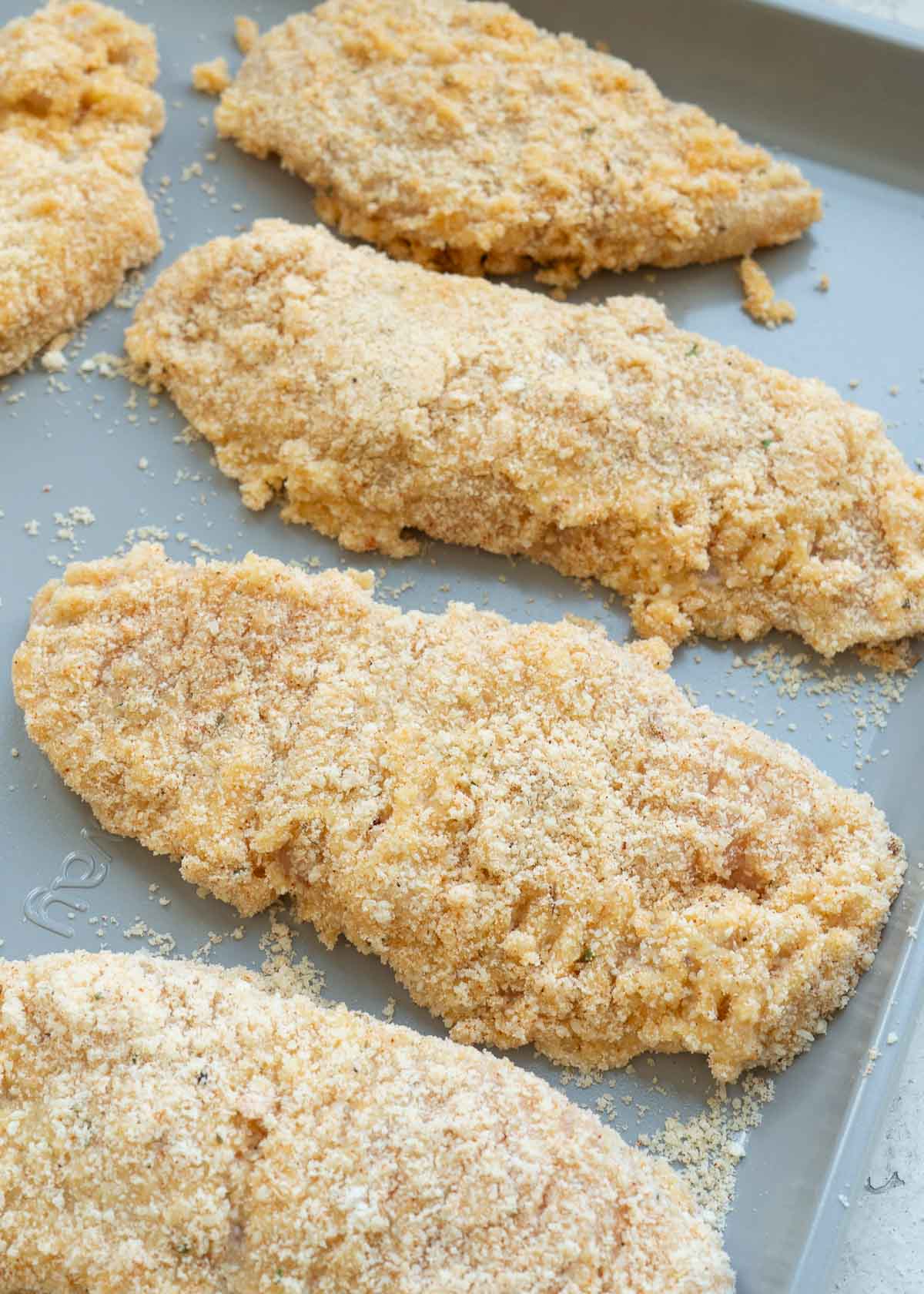 How Long to Bake Chicken Tenders
If you choose to use the oven method the chicken tenders need to cook at 425 degrees for 20-25 minutes. If you're air frying these, you can expect these to cook about 8 minutes at 390 degrees (don't forget to flip halfway through the cooking time).
One thing to note is that the cooking time will depend on how thick you cut your chicken.I prefer to make smaller, thinner tenders so they are perfectly crunchy. If you make thicker tenders you will need to increase the cooking time a few minutes. 
How to Serve Chicken Tenders
They make a great dinner when paired with Crispy Green Bean Fries, Loaded Cauliflower Casserole, or my favorite Air Fryer Broccoli. If you like a chicken and biscuit sandwich, make a batch of these Keto Red Lobster Cheddar Garlic Biscuits for a super flavorful, low-carb option. Dip chicken tenders in some Jalapeno Ranch or Smoked Queso for even more flavor.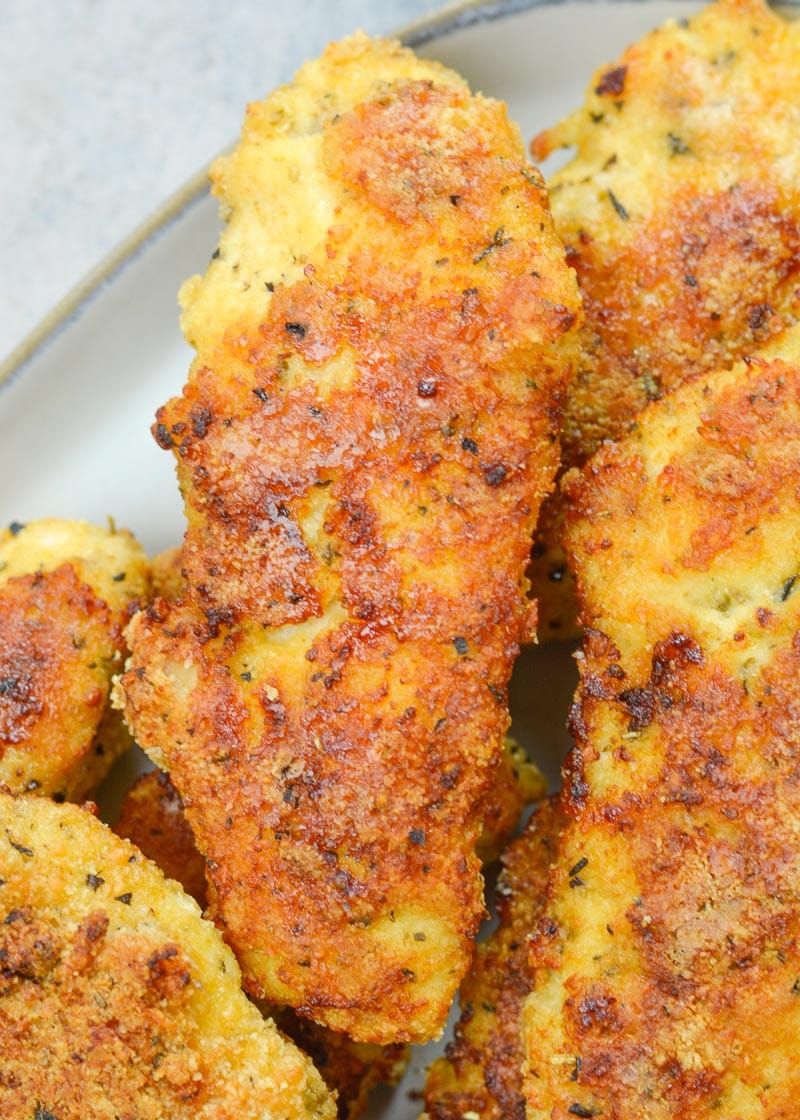 More great sides with chicken tenders:
How to Reheat Low Carb Chicken Tenders
Keto Chicken Tenders will be good in the refrigerator for a couple of days, making them perfect for a quick and tasty lunch! To reheat your Chicken Tenders, start by preheating your oven to 450 degrees. Wrap your chicken in foil and place onto a baking tray, leaving it out of the refrigerator until the Chicken Tenders reach room temperature.
Once your oven is preheated and the chicken tenders are room temperature, place them into the preheated oven for 8 to 12 minutes, depending on how many pieces you have and how large they are. Check at regular intervals and remove from the oven when each piece is heated right the way through. You can also reheat in the air fryer at 400 degrees until heated through.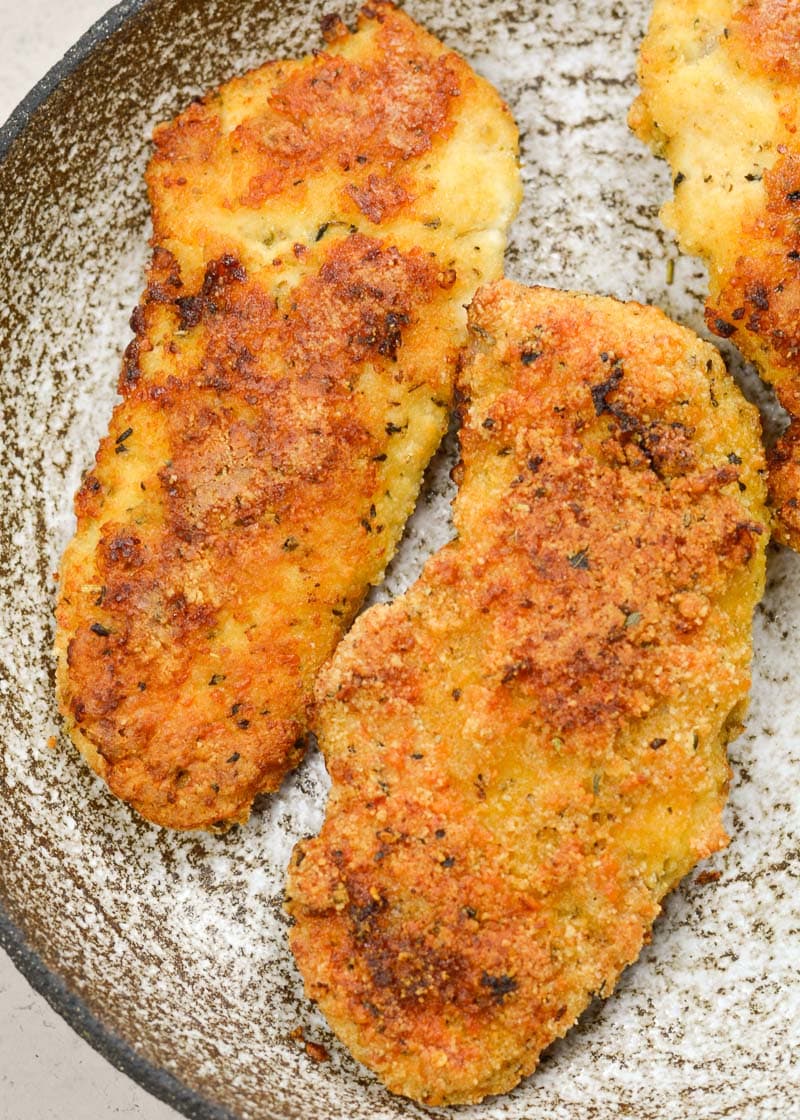 Can I Freeze Chicken Tenders?
If you plan on keeping your Chicken Tenders for longer than a few days, they're perfectly suitable for freezing. The first step is to let the tenders completely cool–Any residual heat turns into condensation which can lead to both soggy breading and freezer burn. To make it easy to pull out just the right amount at a time, first freeze on a plate in a single layer for 2 hours before bagging.
You can also freeze these after breading but before cooking–Simply place the breaded chicken on a wire rack and freeze for 2-4 hours before transferring to a freezer bag. When you're ready to cook, just pop in the preheated oven or air fryer and add a few minutes to the cooking time.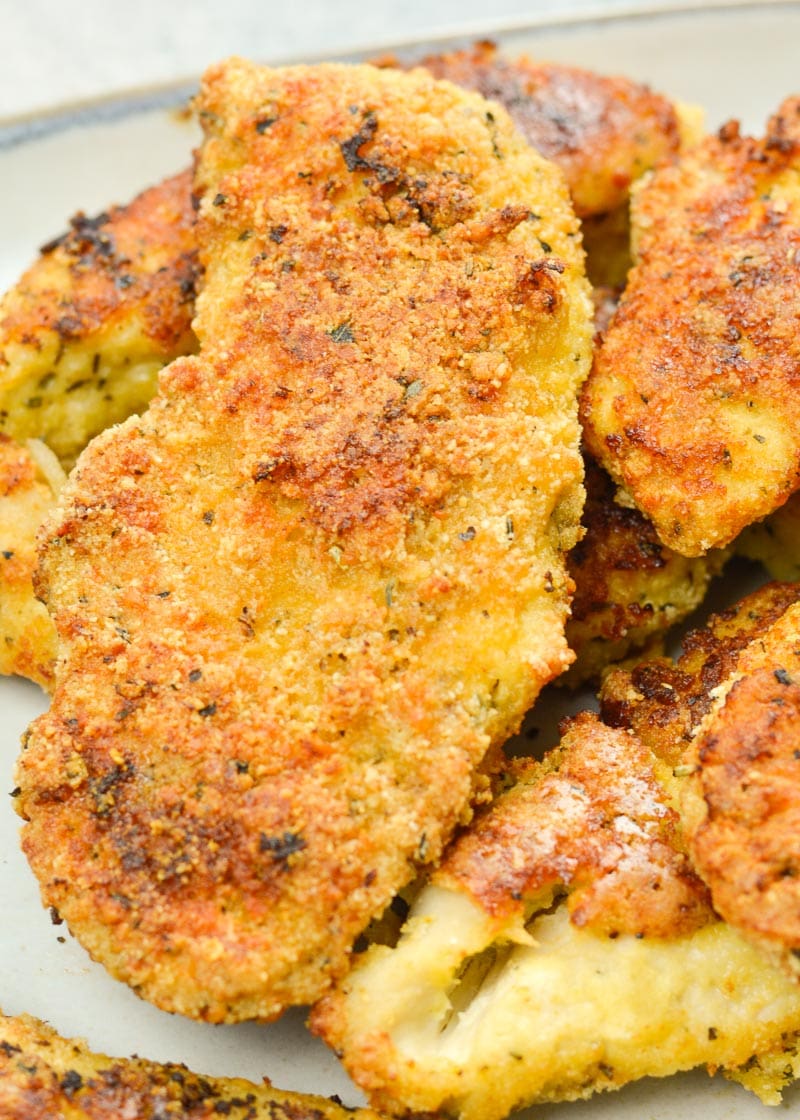 Tips for Making Healthy Baked Chicken Tenders
These almond flour Chicken Tenders are low in carbs, diabetic friendly and naturally gluten-free, making them a great option to suit a variety of dietary needs at gatherings or dinner parties! Here are a few tips and tricks to make sure they come out perfect every time:
Do not overcrowd your pan/basket. Make sure you use a large enough pan or air fryer that the tenders do not touch. This ensures the tenders will get perfectly crispy. You can always cook them in batches if they don't fit.
Bread the tenders evenly. Don't be afraid to use your hands to bread the chicken. Sometimes using utensils it can be difficult to create a solid breading. Make sure the chicken is evenly covered all over. Delegate one hand as the "wet hand" and one as the "dry hand," and it'll work pretty smoothly!
Double dip if you like it extra crispy. This breading gets nice and crispy already, but people who like the ultimate crunch might want to go a step further. To do this, send the chicken tenders into the egg wash and flour a second time before baking.
If you love these chicken tenders, you'll love these easy chicken recipes!
Chicken is incredibly protein-rich, making it a great, satisfying addition to any keto diet, and the creative options really are endless! Try out some of these keto chicken recipes to keep your diet fresh and exciting.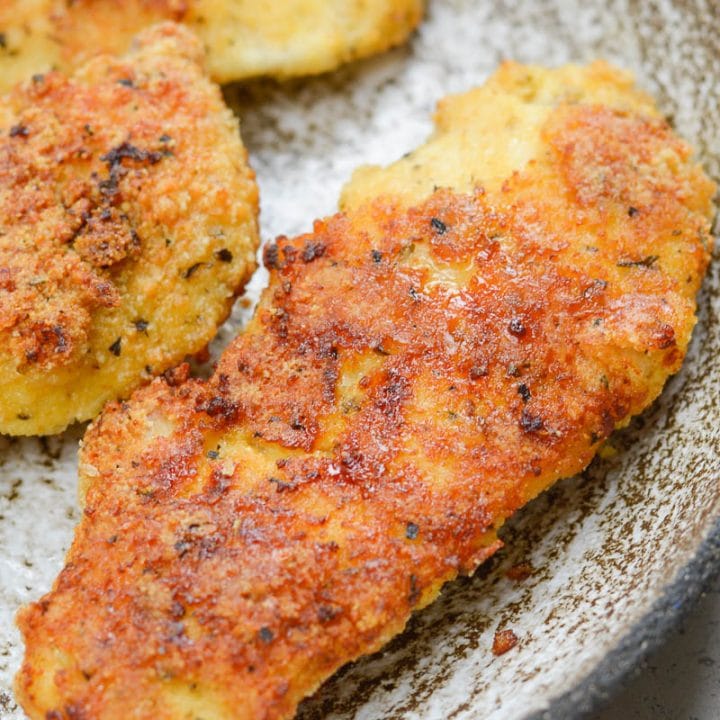 Easy Keto Chicken Tenders (baked or air fryer)
These Easy Keto Chicken Tenders can be made in the air fryer or oven and contain about 2 net carbs per serving! 
Ingredients
1 1/2 pounds chicken breast, cut into 12 strips
1 egg, beaten
1 tablespoon mayonnaise
2 tablespoons butter
For the Keto Breading
3/4 cup almond flour
3/4 cup grated parmesan cheese
1/2 teaspoon garlic salt
1/2 teaspoon garlic powder
1/2 teaspoon onion powder
1/2 teaspoon Italian seasoning
1/2 teaspoon black pepper
1/4 teaspoon paprika
Instructions
Preheat the oven to 425 degrees F
Spray a large cookie sheet with cooking spray, or line with aluminum foil.
In one shallow bowl combine the egg and mayonnaise, beat with a fork until it is completely combined. Set aside.
In another shallow bowl combine the Keto Breading ingredients. Dip each sliced chicken tender into the egg mixture, then dredge in the breading. Make sure the tenders are completely coated.
Once each tender is coated well, lay on the cooking sheet and brush with the melted butter.
Bake 15 minutes, turn the tenders carefully using tongs and bake an additional 5-10 minutes until the chicken is cooked through.
Notes
Air Fryer Instructions:
Preheat the air fryer to 390 degrees F. Place the chicken tenders (without the melted butter) and lightly spray with cooking oil. Cook for 5 minutes, flip and cook for 2-3 more minutes until chicken is cooked through.
Recommended Products
As an Amazon Associate and member of other affiliate programs, I earn from qualifying purchases.
Nutrition Information:
Yield:

6
Serving Size:

2 chicken tenders
Amount Per Serving:
Calories:

319
Total Fat:

14.6g
Cholesterol:

132mg
Sodium:

347mg
Carbohydrates:

2.9g
Net Carbohydrates:

2.4g
Fiber:

0.5g
Sugar:

0.6g
Protein:

32.4g