Green Beans Almondine is a classic side dish that goes perfectly with most entrees! Tender green beans are tossed in a rich butter sauce and toasted almonds, for only 3.6 net carbs per serving!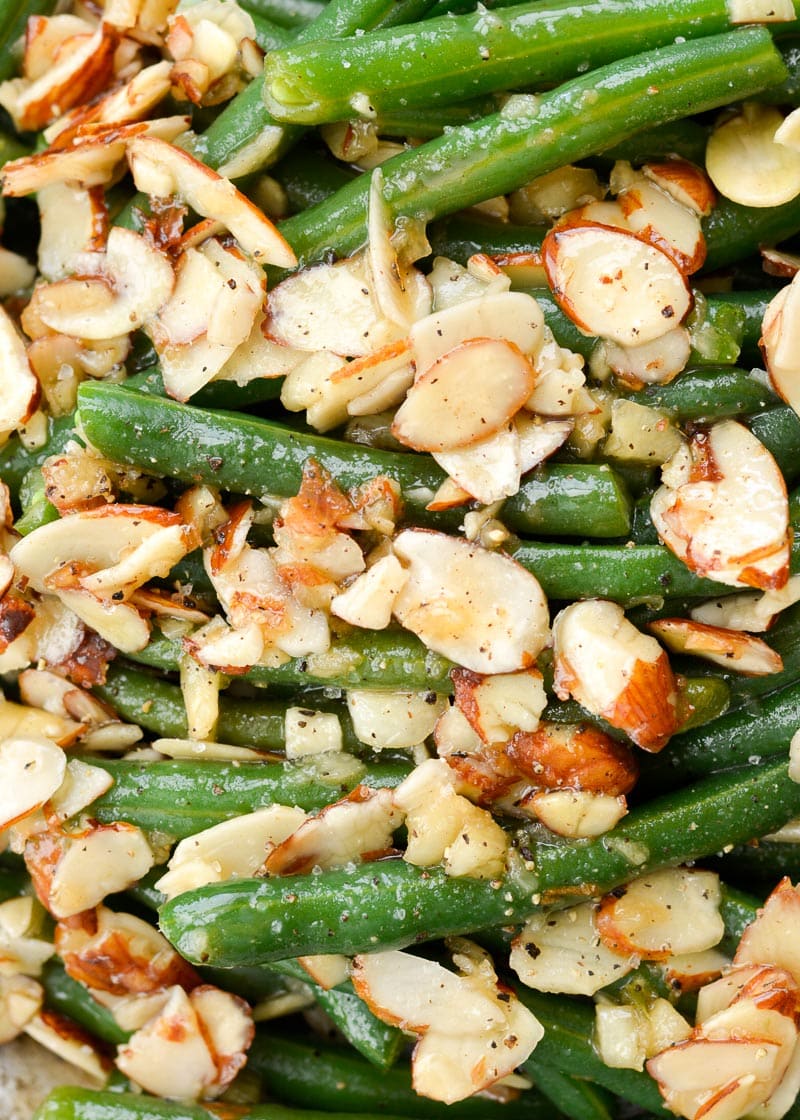 Green Bean Almondine is a great, versatile side dish that's perfectly suited to the holidays. The beautiful contrast of sweet green beans, zesty lemon juice, and creamy almonds and butter is bound to be a hit with all the family this Thanksgiving.
What's more, despite its gorgeous and varied mixture of flavors, Green Bean Almondine is super simple to make. Level up your holiday or everyday lunch with this unique and tasty side – no extra stress required!
Ingredients Needed for Low Carb Green Bean Almondine
Green Beans
Butter
Almonds
Lemon Juice
Salt and Pepper
Apple cider vinegar
Keto-friendly sweetener such as Golden Monkfruit
How to Make Green Beans Almondine
Blanch the trimmed green beans in boiling water and cook until al dente (about 6 minutes). Immediately transfer to a bowl of ice.
Heat a large skillet to medium heat, add butter, garlic, sweetener, apple cider vinegar, lemon juice, almonds, salt, and pepper. Cook the almonds until lightly toasted, approximately 4-5 minutes.
Add green beans and toss to coat until heated through, approximately 4-5 minutes.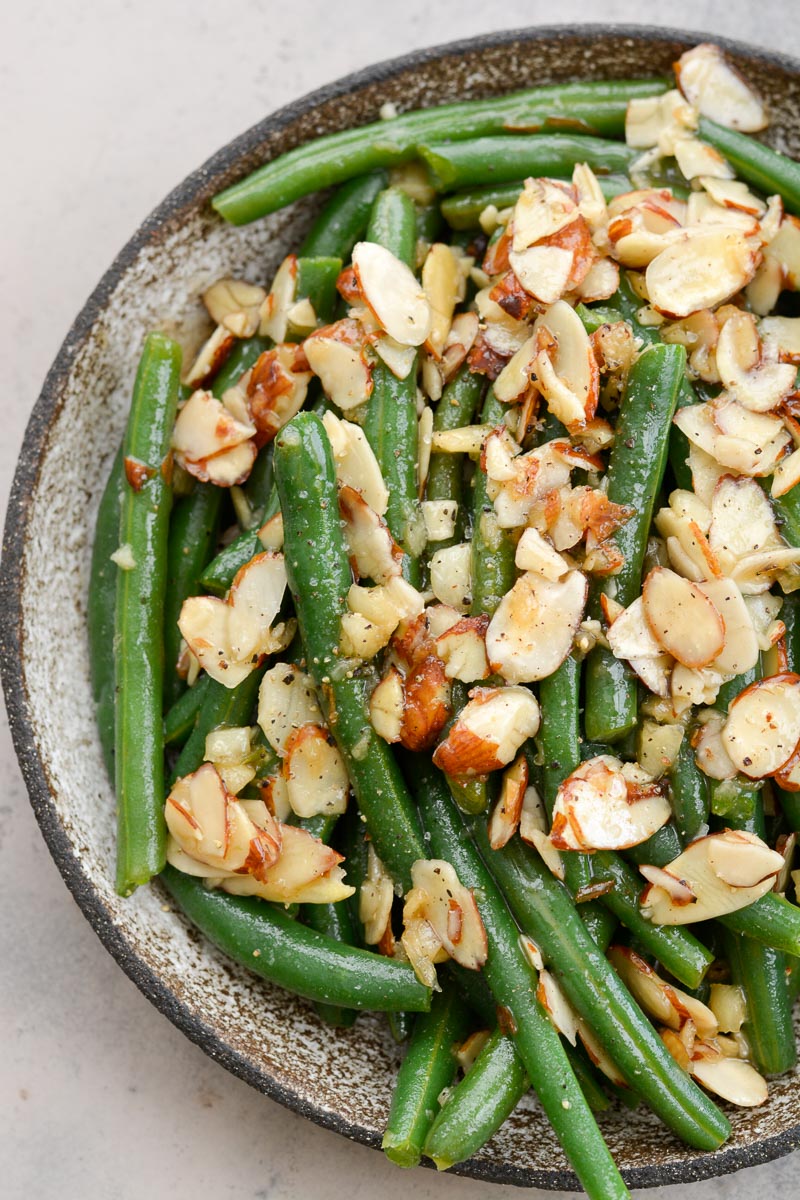 How to Prepare Fresh Green Beans
To prepare your green beans, put them in a colander and give them a good wash under running water, rubbing off any visible dirt. Transfer your beans onto a clean paper towel and gently pat them dry.
Once they're clean, trim the stems (if they're not pre-trimmed) – it's easiest to line them up in batches and cut all the stems off in one fell swoop.
How to Blanch Green Beans
Blanching is a great little tip that will help you achieve brighter, crunchier, and all-round more delicious green beans! Once your beans are prepped for cooking, generously salt a pot of water and bring it to a boil on the stove.
In the meantime, prepare an ice bath ready for when your beans have been boiled. It's super important to get this done before cooking your beans, so they can be transferred from the pot to the ice bath as quickly as possible.
When the pot of water is boiling, place your green beans into the water and boil for about two minutes until they are cooked (but still crisp). Once cooked, immediately transfer them into your ice bath and let them sit until they have cooled completely.
Can I Prepare Green Beans Almondine in Advance?
Absolutely! If you're preparing this side in advance, make sure to blanch your green beans as described above to preserve all that wonderful crispiness and flavor. Simply prepare the beans and almondine garnish separately, then combine and heat in a hot skillet just before serving.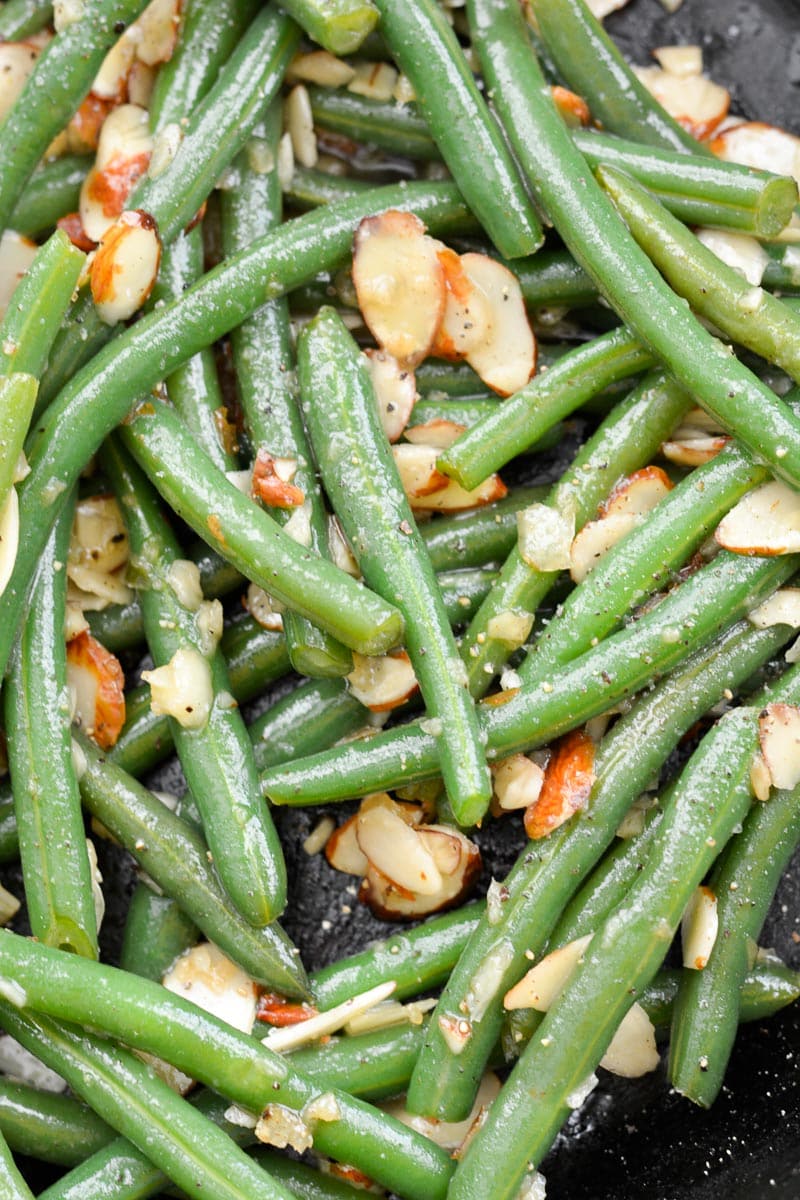 What should I serve with Green Bean Almondine?
Green Bean Almondine is a gorgeous and versatile side-dish that goes particularly well with things like this Buffalo Roast Chicken, alongside a luxurious creamy Bacon Cheddar Cauliflower Casserole. Some other ideas include:
Tips for Making Keto Thanksgiving Green Beans
Although Green Bean Almondine isn't traditionally 'keto', it does come in at only around 4 net carbs per serving. Green beans and almonds are both naturally low in carbs, and almonds can also provide plenty of healthy fats that fit perfectly with a keto diet.
Other Easy Thanksgiving Side Dishes
Need some more holiday side-dish inspiration? Take a look at these simple, low carb options!