This easy Steak Lo Mein comes together in just 30 minutes! Spicy noodles, steak, and veggies all come together for a hearty dinner the whole family will love!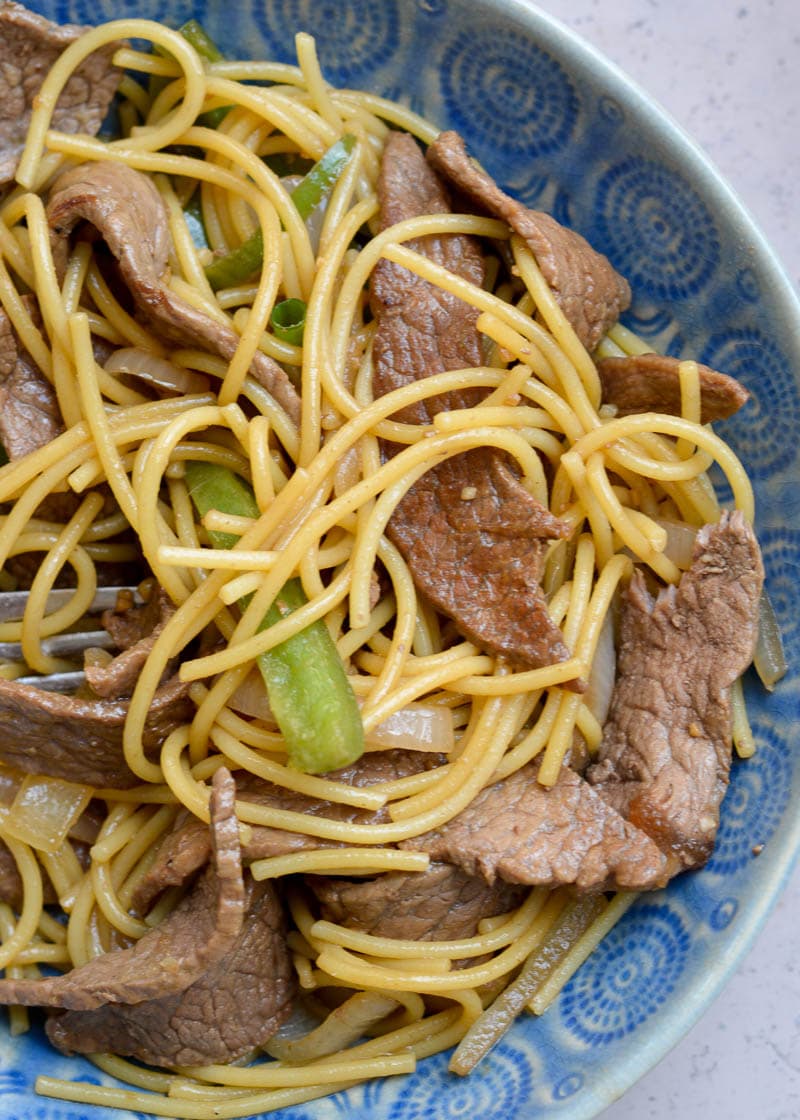 This Steak Lo Mein is so darn good I couldn't wait to share. So, I bumped a granola bar recipe for next week because I think you need to make this. Like, right now.
I used to be really intimidated by Asian foods. Have you taken a good look at the ethnic food section at the grocery? It is full of different oils, spices, and sauces (most of which, I have no idea how to use… Some of which I can't even pronounce). I just didn't grow up with a lot of these ingredients, so it's taken me some time to get comfortable!
Eventually, one day I decided to take the plunge. I purchased a handful of things and decided to experiment. Those basic ingredients were sesame oil, sriracha, rice vinegar, and (of course) soy sauce. It was this group of ingredients, plus a few extras, that I used to create the Spicy Kung Pao Chicken that I shared a while back.
This Steak Lo Mein uses those ingredients but the sauce is richer and sweeter. It is the perfect combo to pair with pan-seared steak, peppers, onions, and freshly cooked noodles. Top this with some sesame and red pepper flakes and you have perfection!
Ingredients for Steak Lo Mein:
Here's a quick overview of what you'll need for this meal. For specific measurements, keep scrolling down to the recipe card below!
Spaghetti noodles (I used Barilla gluten free)
Sliced steak (flank or top round work well)
Olive oil
Bell pepper and Onion
Soy sauce, Rice vinegar, Honey, Sesame oil, Garlic, and Sriracha
Toppings: sesame seeds and red pepper flakes to taste (optional)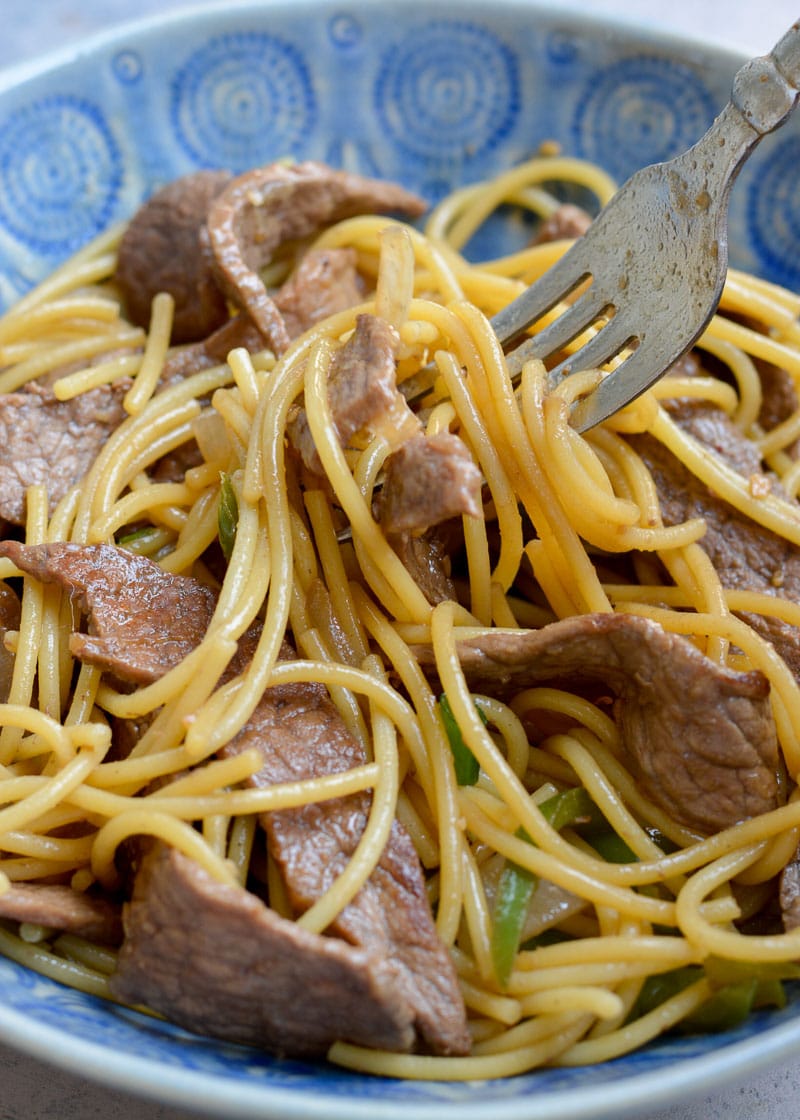 How do I make Lo Mein with Steak?
For this recipe, you'll want a large pot for the noodles and a large pan for the steak, peppers, and onions. You'll also need a small mixing bowl to prepare the sauce.
Firstly, you'll need to cook your noodles according to the package instructions. I like mine al dente with a bit of a bite, but feel free to cook to your preference. While these are cooking, mix together your tasty sauce.
Once fully cooked, drain the pasta and toss back into the pot with the sauce. Keep warm and covered so that these don't get hard and stuck together!
Next, you'll want to cook your steak (don't stir for the first 2-3 minutes to ensure you get that beautiful sear!), peppers, and onions in olive oil in a hot skillet. Once finished, add these into the pot and toss to make sure every little piece is covered in that delicious sauce!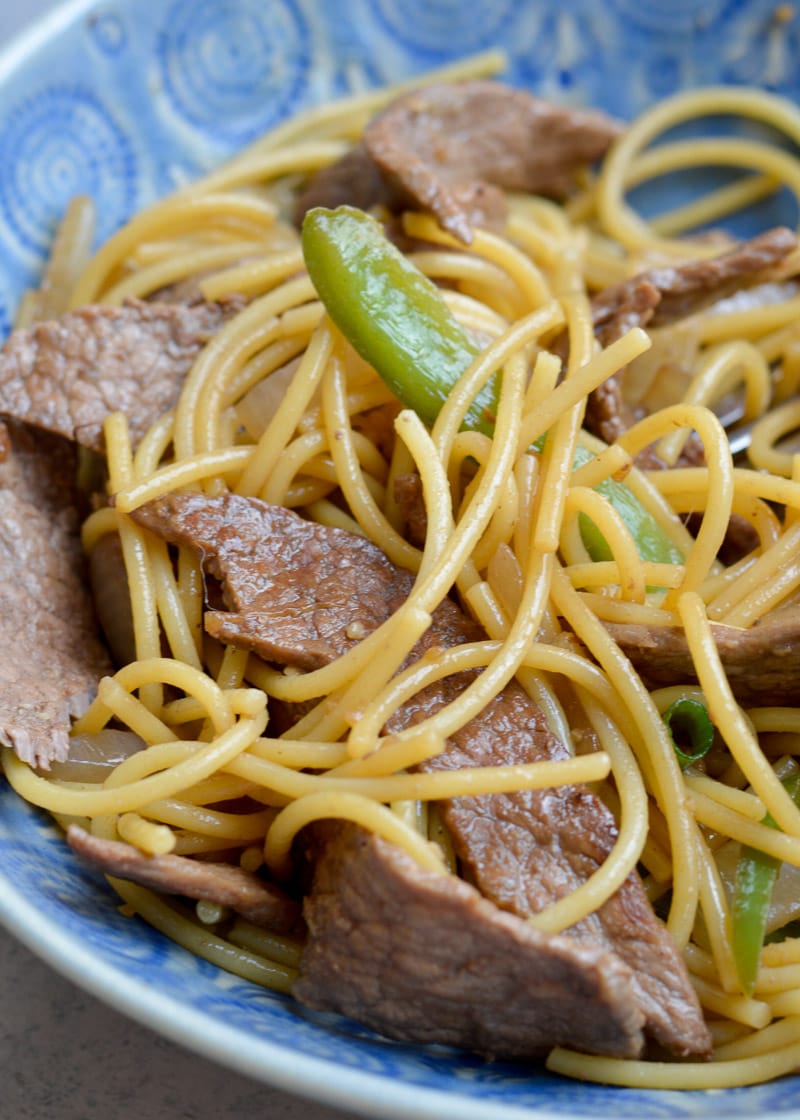 Can I prepare Steak Lo Mein ahead of time?
Yes, Lo Mein is great for meal prepping! You could prepare this entire dish up to 3 days before serving, and it would still taste fantastic after reheating! There are a few tweaks I would make if I were cooking this a day or more before serving:
Slightly undercook everything. This ensures that nothing gets overcooked during reheating.
Store the noodles and sauce separate from the steak, peppers, and onions.
To reheat, first add the steak mixture to a pot on medium high and get it nice and sizzling. Then when things are nearly heated throughout, pour a tablespoon of water and the noodles/sauce mixture into the pot, and cover. Shake the pot a bit to keep the noodles from sticking. Once the sauce is thinned and everything is warm and coated, you're ready to serve!
Save the sesame seeds and red pepper flakes until you're ready to serve.
If you don't want to make the entire thing beforehand but you'd still like to get some steps out of the way, you can do that too! The sauce can be made up to a week ahead of time and stored covered in the fridge. You could even purchase steak that is already sliced like we did with the Philly Cheese Steak Wraps!
More Easy Asian Recipes: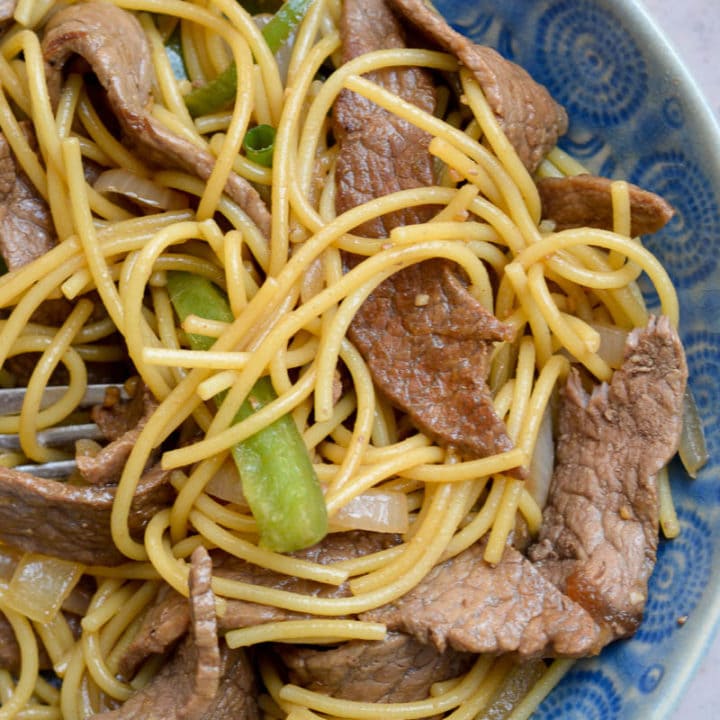 Steak Lo Mein
This easy Steak Lo Mein comes together in just 30 minutes! Spicy noodles, steak, and veggies all come together for a hearty dinner the whole family will love!
Ingredients
12 ounces of uncooked spaghetti noodles (1 package)
1 pound sliced steak (flank or top round work well)
2 Tablespoons olive oil
1 green bell pepper, seeded and sliced
1 white onion, sliced
sesame seeds and red pepper flakes to taste (optional)
The Sauce
1/4 cup soy sauce
2 Tablespoons honey
2 Tablespoons sesame oil
1 Tablespoon rice vinegar
2 teaspoons minced garlic
1-2 teaspoons sriracha
Instructions
Bring a large pot of water to boil, cook noodles according to package directions.
Meanwhile mix the soy sauce, vinegar, sriracha, honey, oil and garlic together in a small measuring cup or bowl. Stir until mixture is smooth. Set aside.
When noodles are tender, drain and rinse with warm water. Place back into pot and drizzle sauce over noodles. Toss to coat. Cover noodles and keep warm. Be careful not to let them harden.
Heat one tablespoon of olive oil over medium high heat. Place steak strips in skillet. Let the steak cook without stirring for 2-3 minutes to get a good color.
Stir steak and cook 2-3 minutes more, remove from skillet and set aside.
Heat the remaining one tablespoon of olive oil and add sliced bell pepper and onion. Let cook for approximately 5 minutes or until tender.
Add cooked steak, peppers and onion to noodle mixture.
Toss mixture so that everything is evenly coated with sauce.
Top with sesame seeds and red pepper flakes if desired.
Notes
I used Barilla gluten free spaghetti noodles.
Nutrition Information:
Yield:

4
Serving Size:

1
Amount Per Serving:
Calories:

534
Total Fat:

32g
Saturated Fat:

10g
Trans Fat:

0g
Unsaturated Fat:

18g
Cholesterol:

110mg
Sodium:

1008mg
Carbohydrates:

28g
Fiber:

2g
Sugar:

12g
Protein:

35g
To avoid any confusion I remove erythritol from the final carb count and net carb count, as it is not known to affect blood glucose levels. To calculate Keto recipes listed on this site carbs - fiber = net carbs. I use Nutrifox as my nutrition calculator. This nutrition information is an estimate based on the information provided by Nutrifox and the specific ingredients I used.