Try these Asian Steak Rolls for a delicious dinner tonight! This colorful dish are could be served as an entrée, a side dish, or serve them up as a fun appetizer at your next party!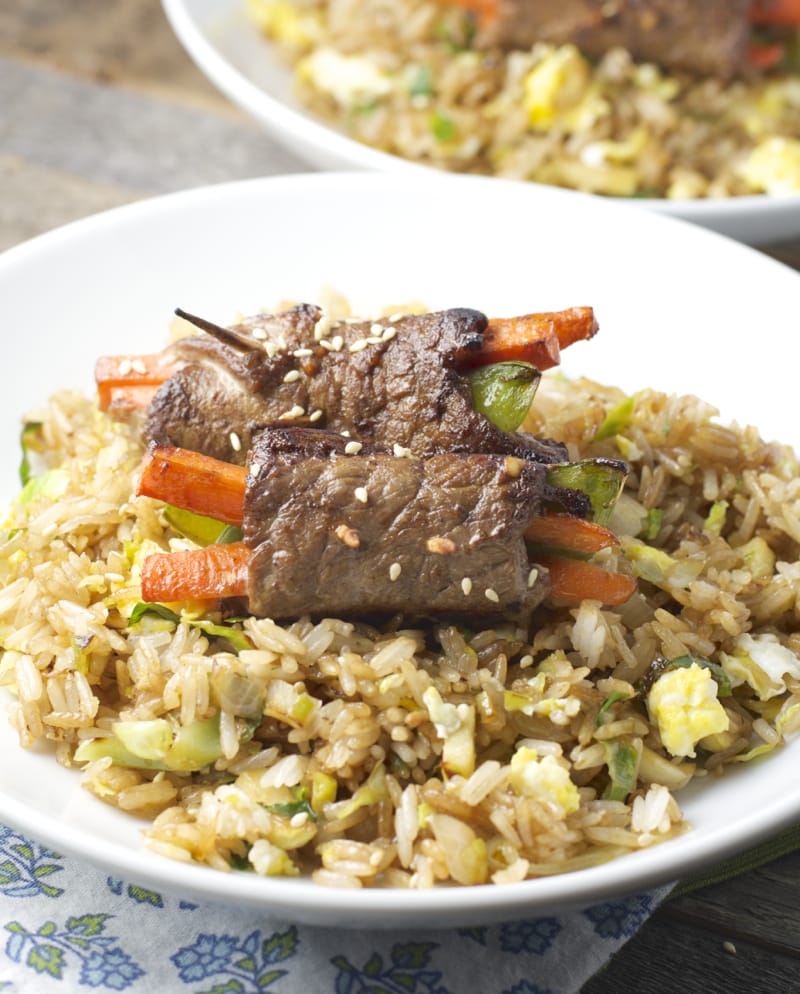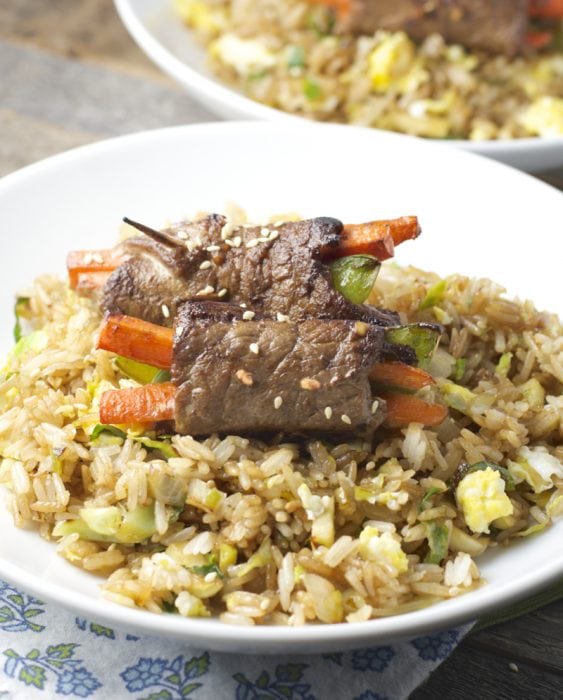 Have you tried my Steak Rolls yet? I posted them exactly a month ago, and I have made them at least a dozen times. That is saying a lot considering food bloggers generally don't make the same dishes more than once or twice.
The thing about these Steak Rolls is how EASY they are! Seriously, you just roll some steak around some veggies and cook it! On top of it being extremely simple it is healthy and super tasty.
Around the 8th or 9th batch of these, I decided I wanted to try a new route. What about Asian Steak Rolls? Delicious Asian flavors, actually mostly the flavors I use in my Kung Pao Chicken in an easy, convenient steak roll? Yep, this was a good call.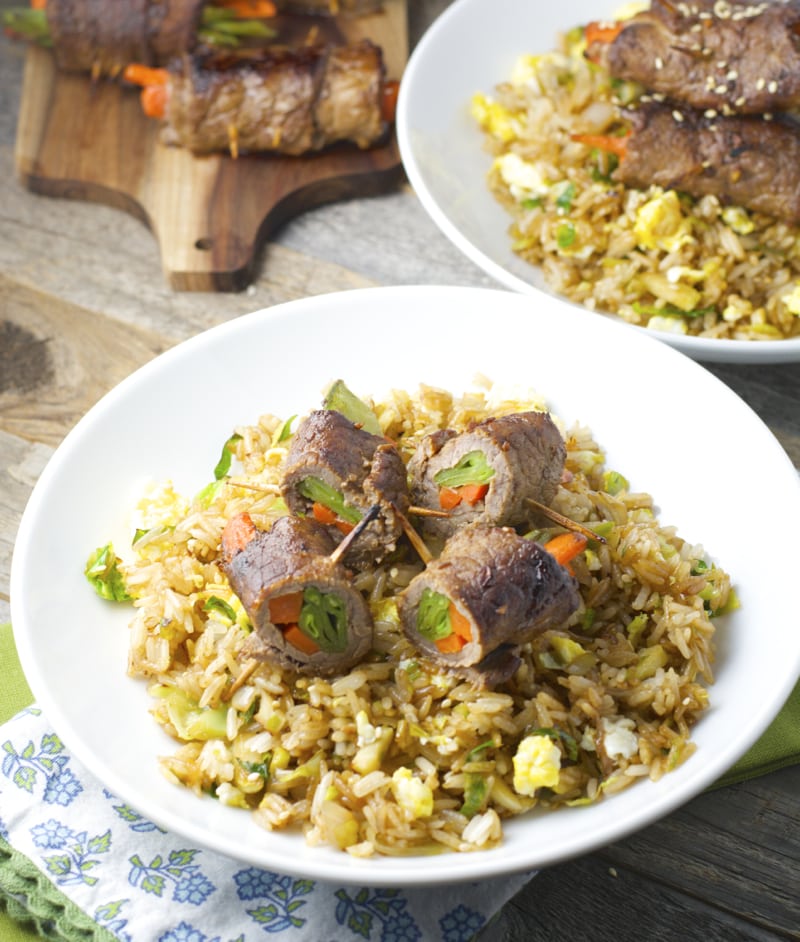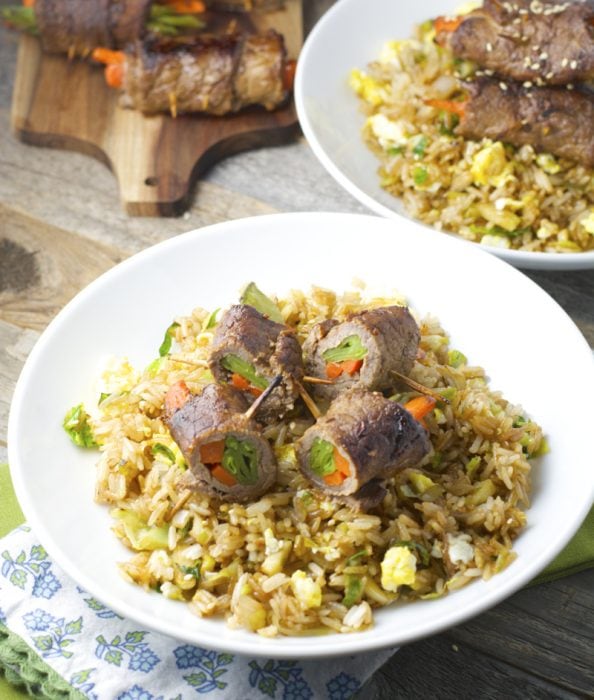 What ingredients do I need for Asian Steak Rolls?
Here's a quick overview of what you need for this recipe. As usual, keep scrolling to the recipe card for specific measurements and instructions!
Flank steak (Other cuts like skirt, round, or other lean, thin beef cuts could work, too)
Soy sauce (LaChoy is gluten free)
Toasted sesame seed oil
Honey
Rice Vinegar
Sriracha
Garlic
Carrots
Snow peas
How do I make Asian Steak Rolls?
This recipe is easier than it looks and can be completed in steps that make meal prepping very convenient if you're into that kind of thing. Here's a quick rundown on how I made these delicious rollups!
Firstly, I wanted to marinate the steak to pack a big punch of flavor. I cut the meat in half so each roll would be small and manageable. Then, I threw all of the marinade ingredients along with the steak into a sealed bag and let it sit for 30+ minutes.
Once I felt the steak had soaked up a good amount of flavor, I let it come to room temperature and patted the steak dry. I took a few pieces of thinly sliced carrots and some snow peas, rolled them up, and stuck in some toothpicks so they would stay put.
Next, I knew I wanted a good color and slightly crispy exterior, so I seared the rolls in a hot pan. Lastly, I placed the rolls on a baking sheet and let them finish in the oven for tender veggies and super juicy steak!
To see exactly how to wrap the Steak Rolls check out the step by step tutorial!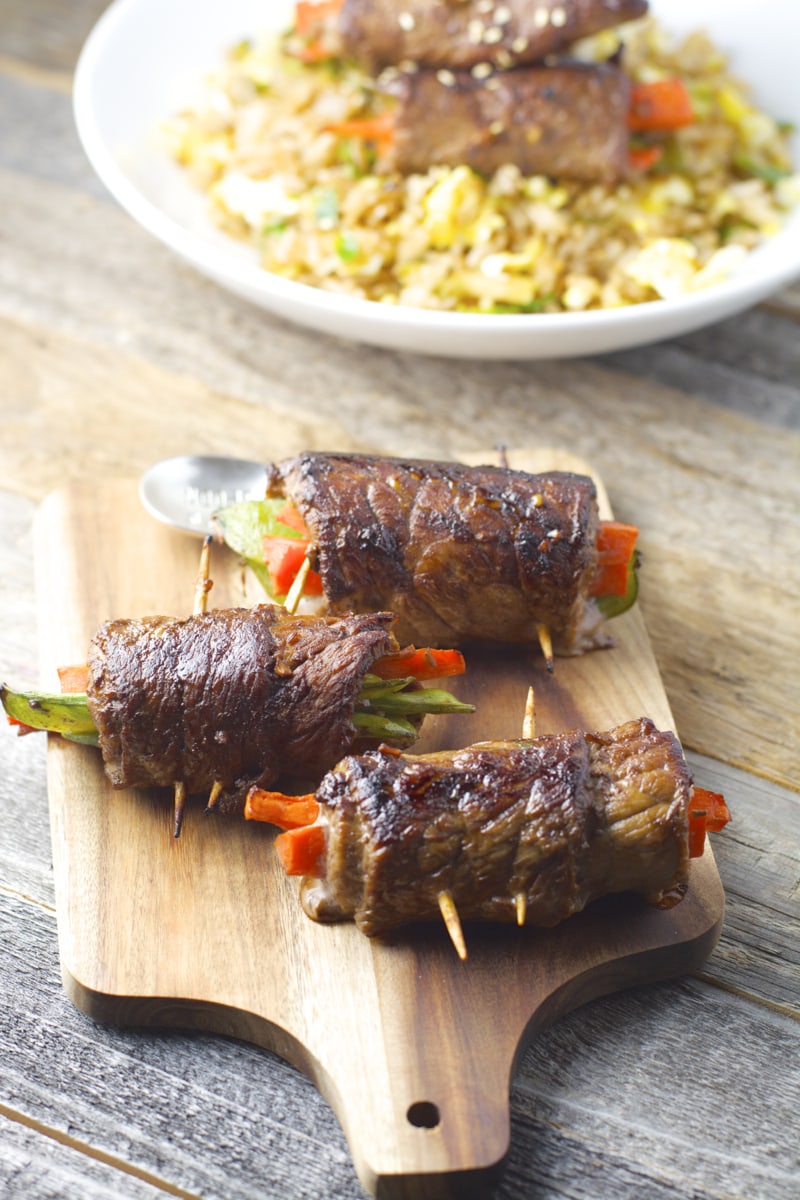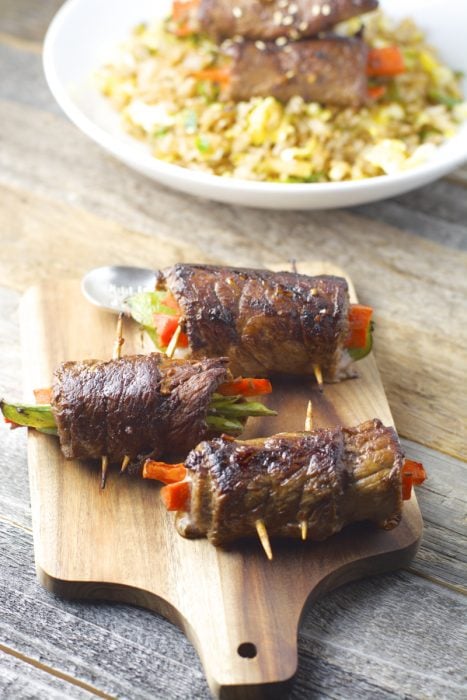 Can I use different vegetables in my rolls?
Of course you can! I chose snow peas (love the crunch!) and carrots, but you are welcome to try other veggies! Onions, peppers, asparagus, green beans, etc. would all be delicious, so do what's best for you and your family!
If you do try different vegetables, make sure you consider how long they may take to cook. Because I chose raw carrots, I had to slice them very thin to make sure they would be nice and tender by the time the steak was finished.
Can I use round steak in my Asian rolls?
Yes, this would be a great dish for that cut! An Asian round steak dish like this would be a relatively inexpensive, impressive meal to share with guests! Both flank steak and round steak are lean, soak up marinade well, and will handle these flavors beautifully. Skirt steak, thinly-cut hangar steak, or flat iron steak could also be substituted. If your cut is too thick to roll, simply butterfly the steak before marinating.
Can I meal prep Asian Steak Rolls?
Yes, you definitely can! Whether you want to prepare these days before or just save time by prepping in the morning, you can do that with this dish.
If you'd like, you could marinate and roll these babies up to 3 days ahead of time! You can even freeze these raw rolls if you prefer, but I have never personally done this. I would recommend thawing completely, then following the cooking directions.
If you're just trying to save time on tomorrow night's meal, you can do that, too! You can leave the steak in the marinade up to 24 hours, meaning you could just roll up, sear, and bake the night you'd like to serve this.
Always store in an air-tight container in the fridge. To reheat, you can microwave in 30 second increments until warmed throughout. You could also pop into the oven at 350 degrees F and check after 5-8 minutes!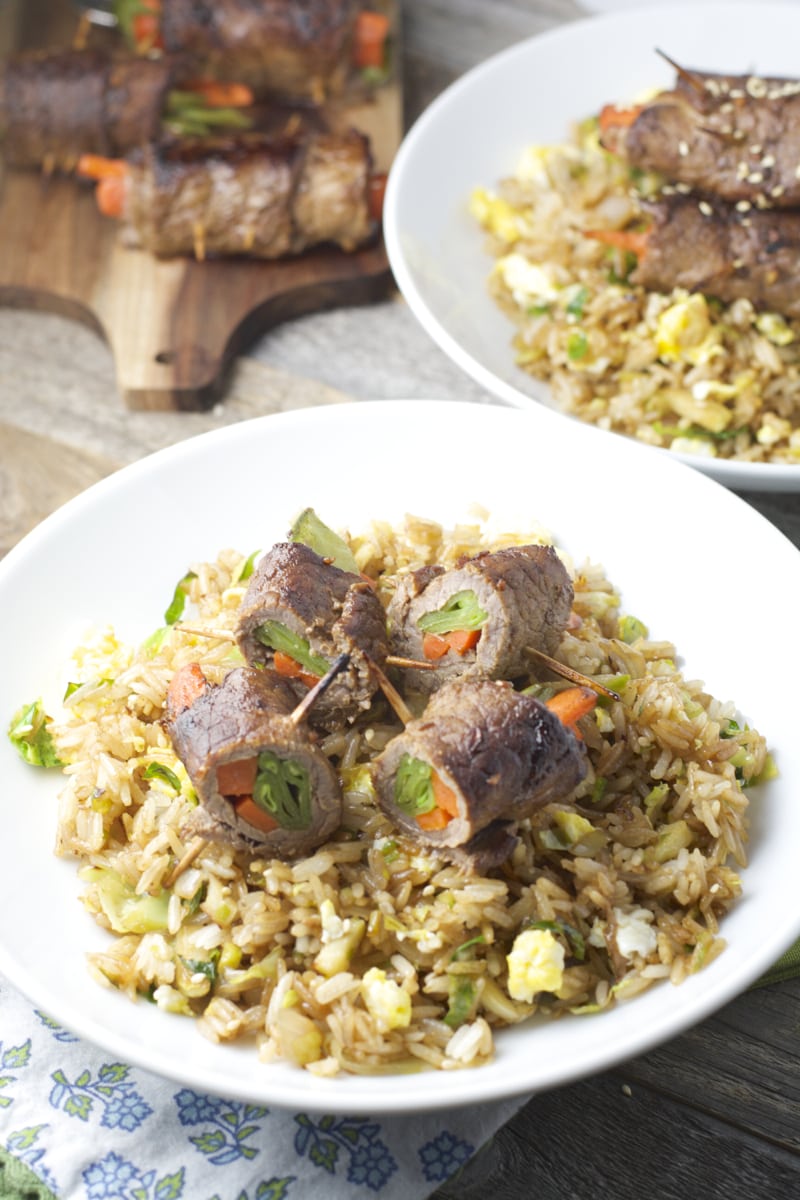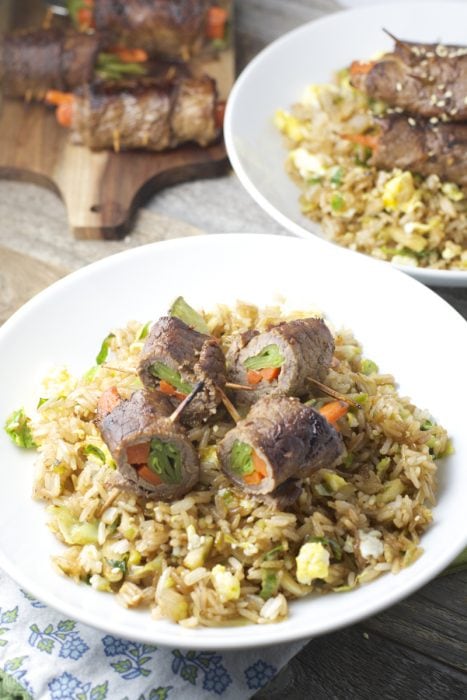 What should I serve with this Asian steak dish?
Skip the take out and make your own delicious spread with some tasty sides. You could even make your own homemade buffet of options using some of the recipes below!
Looking for more keto-friendly Asian dishes? Here are some of my favorites: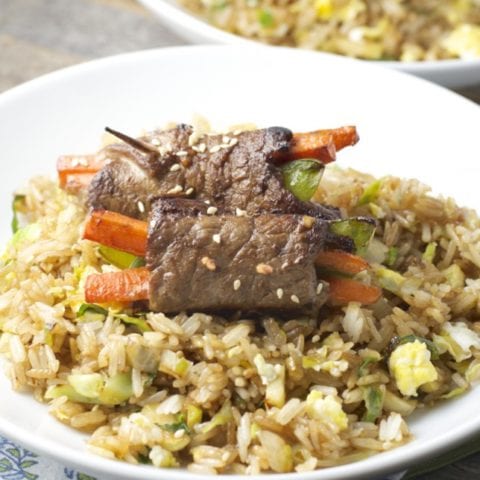 Asian Steak Rolls
Try these Asian Steak Rolls for a delicious dinner tonight! This colorful dish are could be served as an entrée, a side dish, or serve them up as a fun appetizer at your next party!
Ingredients
1.5 pounds flank steak or thinly sliced top round steak
1-2 medium sized carrots, cut into thin strips
1 large handful fresh snow peas
The Marinade
2 tablespoons soy sauce (LaChoy is gluten free)
2 tablespoons toasted sesame seed oil
1 tablespoon honey
2 teaspoons vinegar or rice vinegar
1-3 teaspoons sriracha (depending on how spicy you like things)
2 teaspoons minced garlic
Instructions
For the Marinade:
To make marinade, combine the soy sauce, sesame seed oil, honey, vinegar, sriracha and garlic in a small measuring cup. Mix well. If you're having trouble getting the honey to mix smoothly, you may need to heat this for 30-40 seconds.
Marinate your steak in a large Ziploc bag for at least 30 minutes before cooking.
For the Rolls:
Preheat your oven to 350
Heat a large skillet to medium heat. Spray with cooking spay or drizzle a little olive oil on the inside.
Cut steak into smaller strips (I cut my steaks in half)
Take a few pieces of carrots and snow peas and wrap the steak tightly around the vegetables. Secure with toothpicks.
Sear meat in skillet, about one minute, then rotate until brown on all sides.
Continue until all meat is seared.
Place steak wraps on baking sheet and let bake in oven for 10-15 minutes.
Nutrition Information:
Yield:

4
Serving Size:

1
Amount Per Serving:
Calories:

437
Total Fat:

21.2g
Cholesterol:

94mg
Sodium:

710mg
Carbohydrates:

9.9g
Net Carbohydrates:

8.5g
Fiber:

1.4g
Sugar:

7g
Protein:

49g