This Sesame Chicken Lo Mein is covered in a sweet sesame ginger and garlic sauce, easy to meal prep, and ready in under 30 minutes!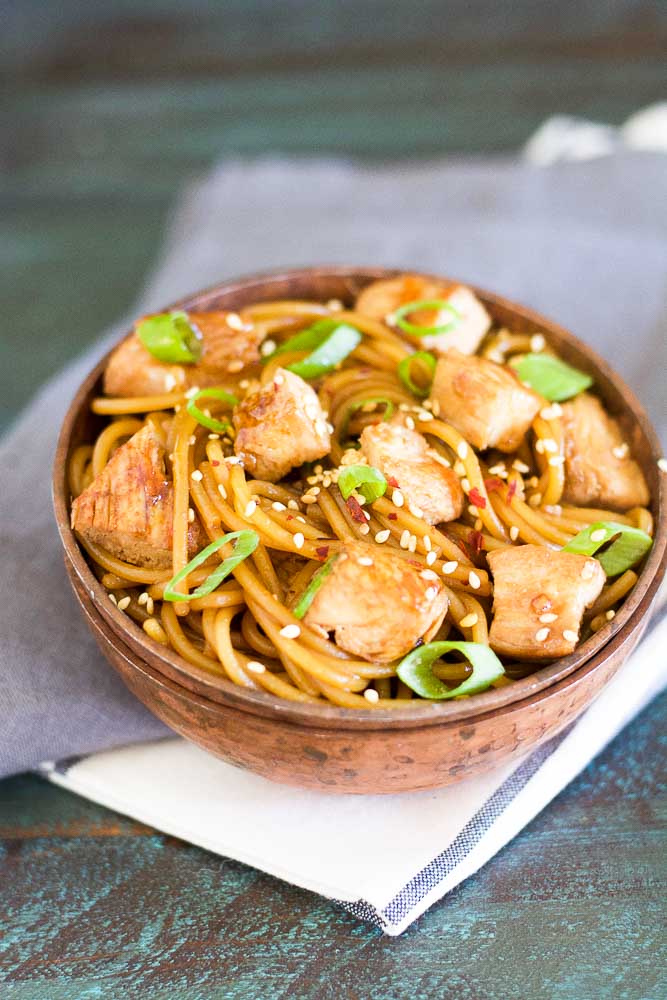 When we moved to our new farmhouse at the beginning of the Summer we had to adjust to a few things. Even though I grew up in the country I have spent the last several years living in a city.
Although my heart never left those wide open spaces I did get used to the conveniences a city has to offer, like several grocery stores within a mile, Starbucks, Target and of course fun date night options. Now, we are out in the middle of nowhere with no grocery store and no coffee places to be found.
We have had to get a little creative with our entertainment! So for date nights, we've found that an easy meal we can cook together while enjoying a nice glass of wine goes a long way. This dish is one of our favorites!
Not only is it perfect for date night, it's also extremely practical for a weeknight. It's quick and doesn't use a crazy amount of dishes. It can be meal prepped, and it's easy to substitute different proteins or add veggies so we never get sick of it!
Ingredients for Sesame Chicken Lo Mein:
As usual, this is just a quick overview of what you'll need for this meal. For specific measurements and instructions, keep scrolling down to the recipe card!
Chicken breast (skinless, boneless)
Olive oil
Gluten Free spaghetti noodles (we love Barilla)
Soy sauce
Rice vinegar
Sesame oil
Brown sugar
Garlic (minced)
Ginger (minced)
Garnish: Sesame seeds, Green onions, Red pepper flakes (optional)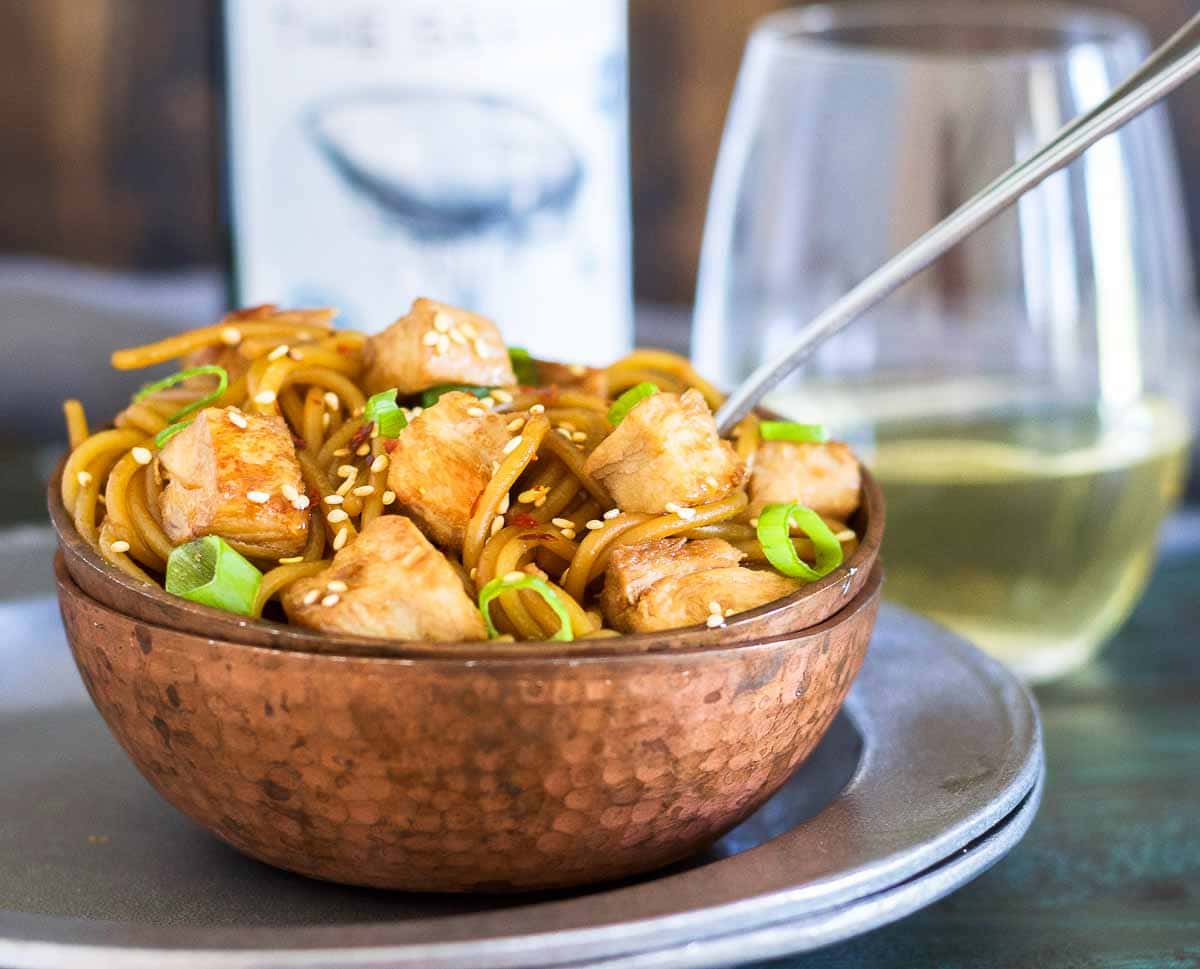 How do I make Chicken Lo Mein?
You'll need a large pot, a medium-to-large skillet, and a small mixing bowl for this dish.
First you'll want to get a pot of water boiling for your spaghetti noodles. While this is warming up, heat your skillet to medium-high heat. Add your cubed chicken, searing all sides until cooked through completely. Set this aside.
Cook pasta according to the package instructions. Meanwhile, mix up your sauce ingredients and set it aside as well.
When pasta is finished, drain and place back into the pot. Toss in the sauce and chicken, mixing gently to ensure everything is coated. If you prefer, serve with a garnish of sesame seeds, chopped green onions, and red pepper flakes (if you like it spicy).
Can I prepare Sesame Chicken Lo Mein ahead of time?
Yes! This is an easy dish to prepare ahead of time and store either short-term in the fridge or long-term in the freezer. If refrigerating, you can store the cooked dish in an air-tight container up to 4 days.
If freezing, you can place the cooked, cooled dish in a freezer-safe bag or container. This should keep up to four months. To thaw, let it sit in the fridge for 24 hours. If you need it to thaw quicker, you can submerge in freezer container in cool water until thawed, changing out the water every 20-30 minutes.
How do I reheat Chicken Lo Mein?
To reheat, I like to place in a large skillet on medium low heat, then add a tablespoon of water. This ensures that the sauce thins out a bit to cover every little bite and the chicken doesn't get dried out.
Alternatively, you could also microwave in 45-second intervals until the pasta and chicken are warmed throughout.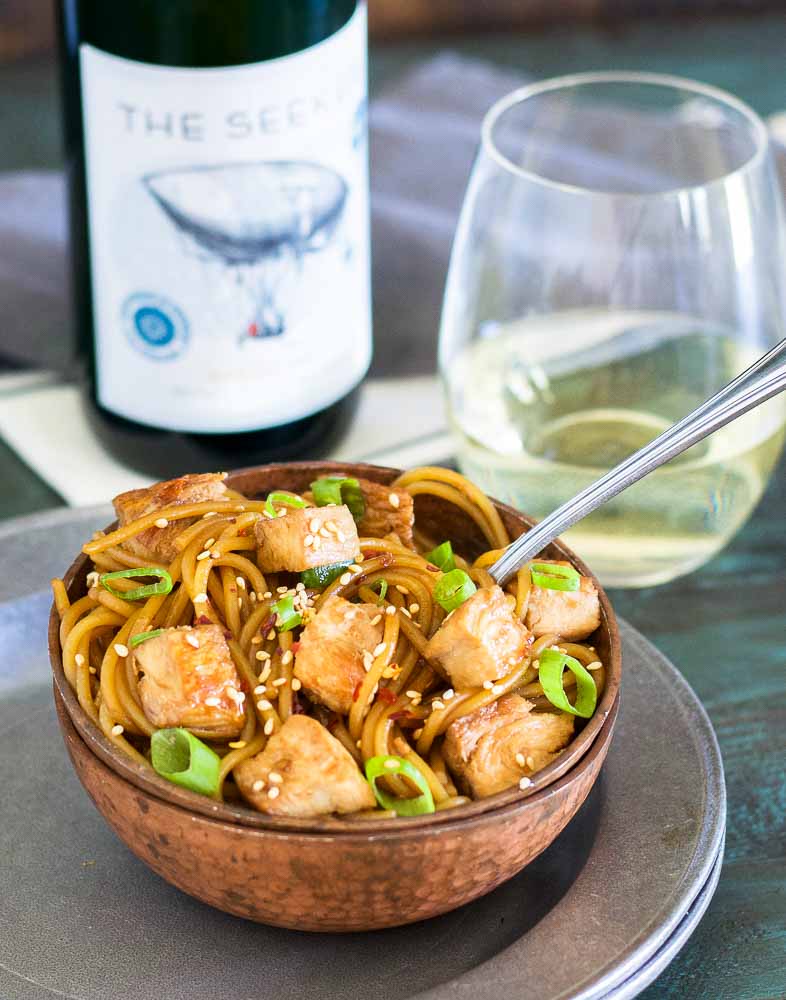 Tips for the best Lo Mein:
To save time, I cook the chicken while the water is warming to a boil, then I make the sauce while the pasta is cooking. This makes this dish super quick! Easy enough for weeknights but lovely enough for date nights!
This sauce is packed with flavor, so I don't season the chicken before cooking. Feel free to salt and pepper it before placing it in the skillet if you prefer, but you may need to adjust the sauce to keep the saltiness in check.
Try with different proteins! We've already used shrimp instead of chicken, and it was delicious. Pork tenderloin, steak, or salmon would all be amazing! If you meal-prep your proteins, you could use anything you've already prepared and save yourself some work!
Add vegetables to make it extra filling and healthier. You could add snap peas, carrots, and purple cabbage or even zucchini, asparagus, mushrooms, etc.. Many of these vegetables could be cooked with the chicken or prepared separately, then tossed in with the sauce when the pasta is finished!
More 30-Minute Meals:
These recipes make it easy to skip the fast food stop on your way home! They'll be ready in 30 minutes or less, allowing you to enjoy more time with your family. Here are some of my favorites: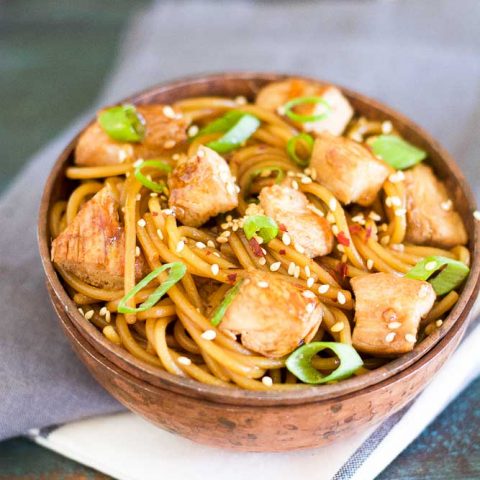 Sesame Chicken Lo Mein
This Sesame Chicken Lo Mein is covered in a sweet sesame ginger and garlic sauce and ready in under 30 minutes!
Ingredients
2 chicken breast, cut into cubes
1 tablespoon olive oil
1/2 package Gluten Free spaghetti noodles (we love Barilla)
1/4 cup soy sauce
1 tablespoon rice vinegar
2 tablespoons of sesame oil
1 tablespoon of brown sugar
2 teaspoons minced garlic
2 teaspoons minced ginger
1 teaspoon Sesame Seeds
a pinch of red pepper flakes (optional)
Instructions
Heat a large skillet to medium heat while also bringing a large pot of water to boil.
When the skillet is hot, add one tablespoon of olive oil.
Add cubed chicken and cook 3-6 minutes turning as needed, then remove from pan when the chicken is brown.
When the pot of water begins to boil, cook noodles according to package directions.
Meanwhile, mix the soy sauce, vinegar, brown sugar, sesame oil, garlic, and ginger together in a small measuring cup or bowl. Stir until mixture is smooth, then set aside.
When noodles are tender, drain and rinse with warm water.
Place back into pot along with the cooked chicken, then drizzle sauce over noodles.
Toss mixture so that everything is evenly coated with sauce.
Top with sesame seeds and red pepper flakes if desired.
Notes
This makes two large servings, making it perfect for date night! If you're serving with sides, it could easily accommodate three people.
Nutrition Information:
Yield:

2
Serving Size:

1/2 recipe
Amount Per Serving:
Calories:

728
Total Fat:

27.5g
Cholesterol:

124.1mg
Sodium:

916.9mg
Carbohydrates:

76.5g
Fiber:

3.5g
Sugar:

6.1g
Protein:

47.2g