These are the best Keto Crab Cakes! They are perfectly tender on the inside and crispy on the outside and have less than one net carb each!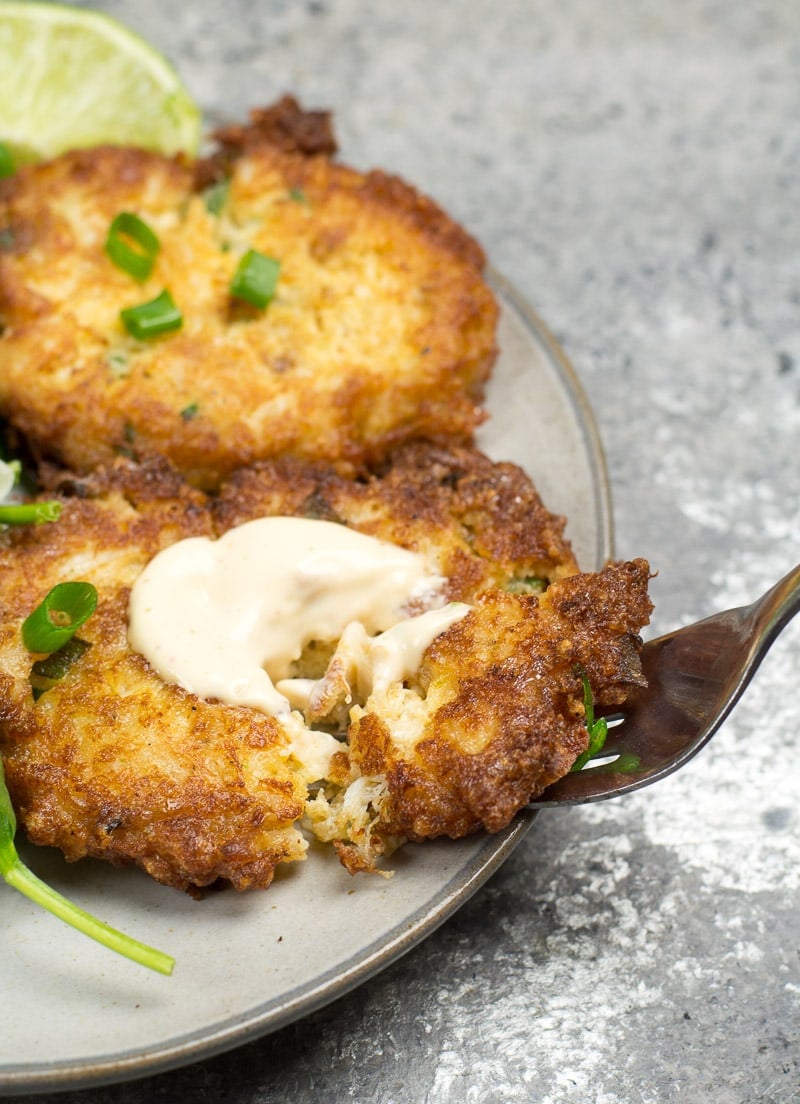 One of my favorite easy dinners are these Crispy Keto Salmon Patties. They have ingredients I usually have on hand and are ready in under 30 minutes. For that recipe I use almond flour and I wanted to try a recipe using "pork rind panko" to try to achieve an ultra crispy texture. This worked perfectly and created delicious crab cakes that are insanely low in carbs! For more great recipes using keto breadcrumbs, check out Everything You Need to Know about Pork Rind Panko!
What ingredients do you need for Keto Crab Cakes?
Premium Lump Crab
Mayonnaise
Egg
Lime zest and zest
Old Bay or your favorite all purpose seasoning
Pork Rind Panko
Green Onions
We made a zesty chipotle lime sauce to dip our crab cakes in and it contains mayonnaise, sour cream, lime zest, juice and chipotle mayo to add a bit of a kick. This is an optional step as these crab cakes are delicious on their own. You can find the recipe for this sauce in the notes section of the recipe card.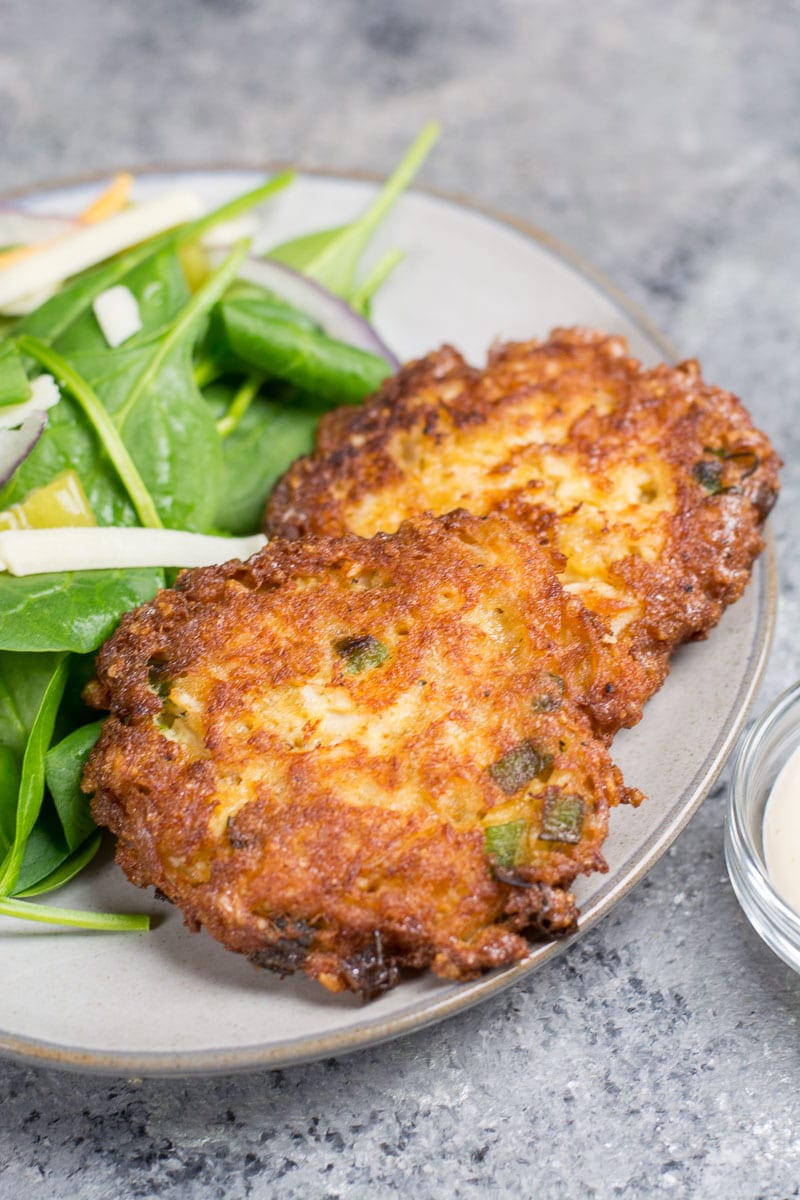 What is "pork rind panko" and how do I use it?
You are probably familiar with panko style breadcrumbs. These breadcrumbs are different than normal breadcrumbs because they are made from bread without crust and they have signature large, airy flakes. Of course traditional panko bread crumbs are off limits on a keto diet. But pork rind panko is an excellent substitute!
To make pork rind panko you need one ingredient, pork rinds. Now if this sounds strange to you, it did to me too. I am not a fan of pork rinds and the thought of using them as bread crumbs was honestly a little off putting. However, I do not find any pork taste in my dishes. It just provides a light and crunchy texture that I've been missing while on keto!
The package of pork rinds I buy is 2.5 ounces and I simply pour it into a blender or food processor and pulse 3-4 times until the consistency resembles breadcrumbs. This size bag usually produces 2.5 cups of light and airy breadcrumbs for me.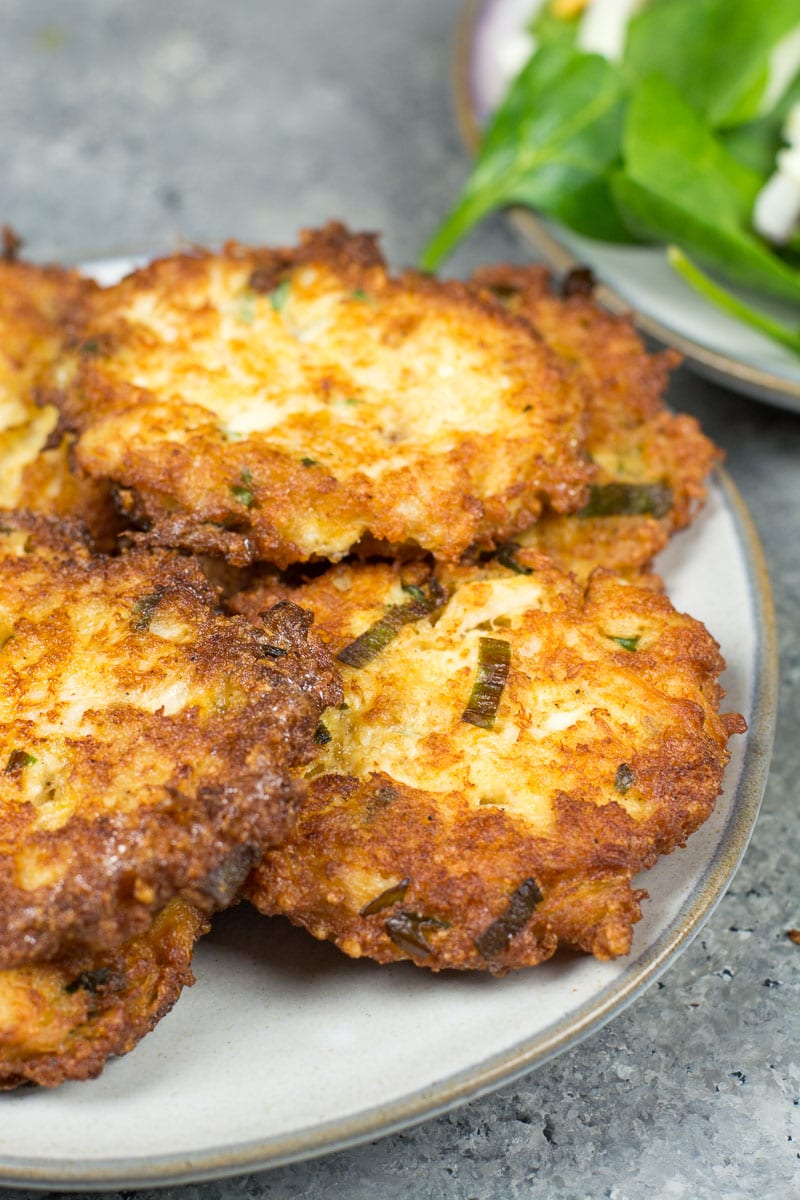 What are some other easy low carb dinners?
The most popular keto dinner on this site is my keto chili. This easy chili has no beans and very few carbs but it has tons of flavor! It is a weekly winter staple in our house! I also love these Chili Cheese Chips for a snack, just one net carb each and perfect when you need something salty and crunchy! Some of my other favorites are: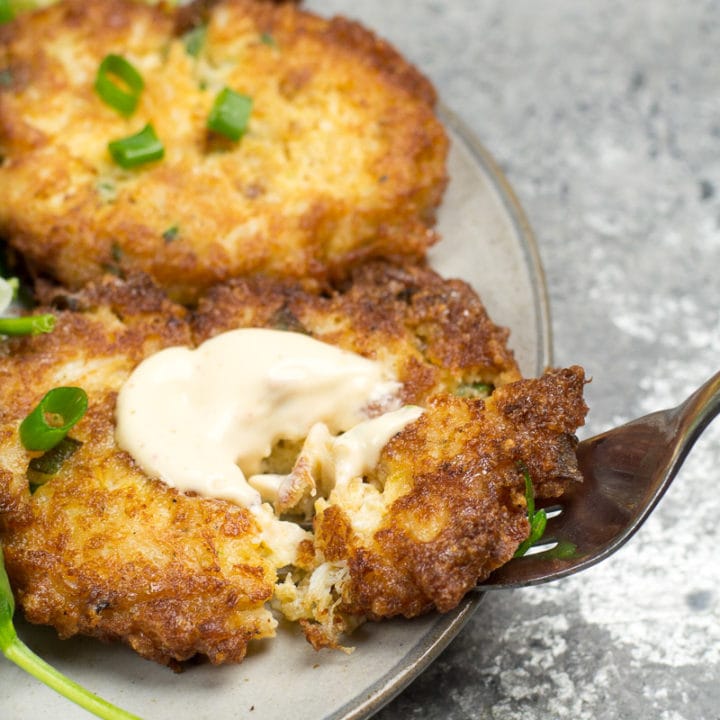 The Best Keto Crab Cakes (under 1 net carb!)
These are the best Keto Crab Cakes! They are perfectly tender on the inside and crispy on the outside and have less than one net carb each!
Ingredients
1 (6 ounce) can premium lump crab meat
1/4 cup mayonnaise
1 egg
2 tablespoons chopped green onions
1 teaspoon lime juice
1/2 teaspoon lime zest
1/2 teaspoon Old Bay (or other all purpose seasoning)
1 1/4 cup pork rind panko crumbs (see notes in post)
**Chipotle Mayo Sauce listed below under notes**
Instructions
In a mixing bowl combine all of the ingredients and chill for 10 minutes to allow the mixture to thicken slightly and the flavors time to meld.
Heat a large heavy bottom skillet to medium heat. Add 2-3 tablespoons oil.
Scoop out about 1/4 cup of the mixture at a time and pat into a patty, carefully place in the skillet. Cook 3-4 minutes on each side until crispy.
Remove from the skillet and allow to drain off any grease on paper towels.
Notes
Chipotle Mayo Sauce:
1/2 cup mayonnaise, 2 tablespoons sour cream, 1 tablespoon chipotle mayo, 2 teaspoons lime juice, 1 teaspoon lime zest.

Stir ingredients until smooth.
Recommended Products
As an Amazon Associate and member of other affiliate programs, I earn from qualifying purchases.
Nutrition Information:
Yield:

6 crab cakes
Serving Size:

nutrition per crab cake
Amount Per Serving:
Calories:

159
Total Fat:

11.1g
Carbohydrates:

0.3g
Protein:

13.7g

Other Easy Keto Recipes
If you are new to Keto try my favorite Sausage Egg and Cheese Bites, they contain less than one net carb per bite and they are perfect for meal prep! One of my favorite easy low carb dinners is this One Pan Cabbage Casserole. It is so easy, cheesy and delicious and it has less than 9 net carbs per serving. Some other favorites, Keto Chocolate Cookies, Pimento Cheese and Bacon Stuffed Peppers and Sausage and Cream Cheese Pinwheels!