This hearty Keto Chili recipe features tons of meat, peppers, spices and tomatoes! At about 8 net carbs per serving this low carb, no bean chili will become a family favorite!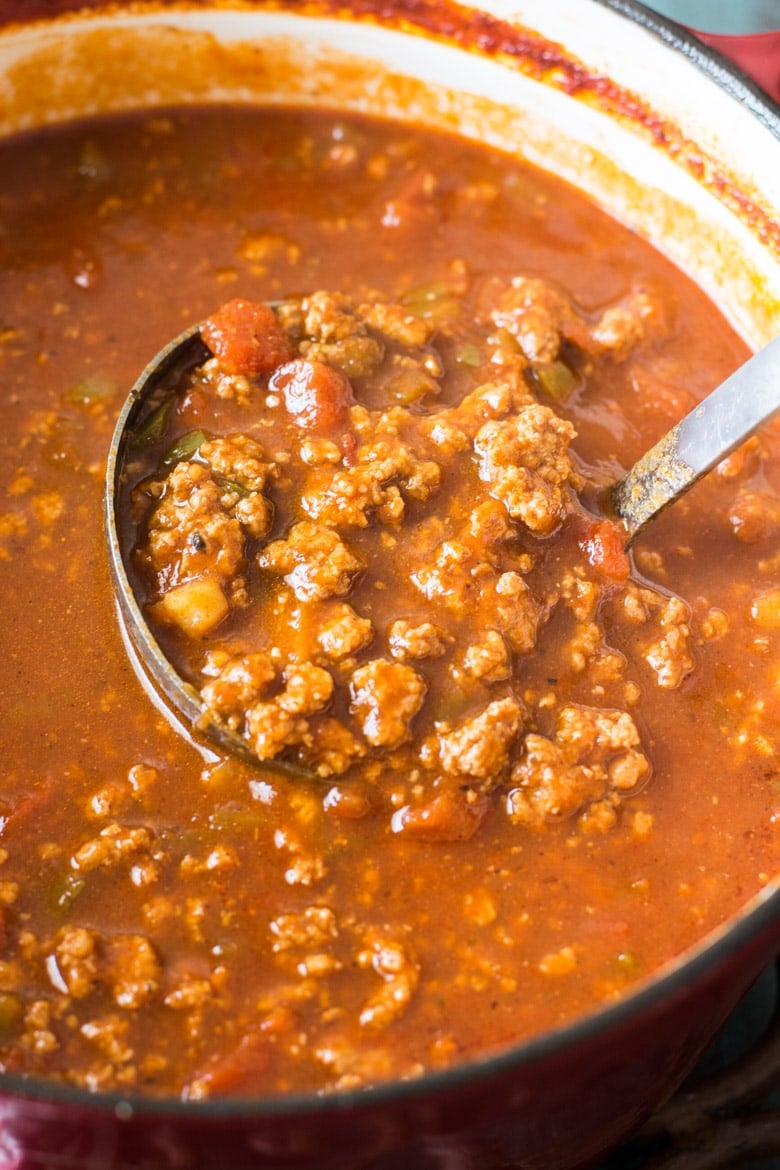 Recipe published on October 2, 2019 and updated on August 2, 2023
This keto chili recipe is going to be a new favorite! It's hearty, loaded with flavor, and exactly what you want on a chilly day. At about 8 net carbs per bowl, you can enjoy this without worrying about that keto diet. This chili is made on the stovetop and can be easily frozen and reheated for easy meal prep. If you prefer a quicker soup, try this Instant Pot No Bean Chili – It's just like this one, except it's faster with the pressure cooking!
You can also use this chili to make some other great dishes! Some of my favorites include Keto Chili Dogs, Chili Cheese Chaffles, and Keto Chili Cheese Pie!
Reasons You'll Love this Recipe
Budget-friendly: Traditional chili is known for being an economical dish because it is made with affordable ingredients like canned beans and tomatoes. This keto-friendly chili recipe is no different! It's an excellent option for feeding a family or a group without breaking the bank.
Hearty and satisfying: Chili is comforting, filling, and packed with protein! Low carb meals often get a reputation for not keeping you full. This dish is the complete opposite, it is so full of amazing ingredients you will feel totally satisfied.
Embrace the leftovers: Chili is one of those magic dishes that tastes even better the next day! As the flavors have more time to meld together, they become even more rich and enjoyable. This makes keto chili a great meal prep option.
Ingredients for the Best Keto Chili
Here's a quick overview of what you'll need. For exact measurements, just keep scrolling down to the printable recipe card.
Ground beef or turkey: This is entirely about your own preference. Either one will work fine.
Vegetables: Bell pepper, jalapeno, and garlic come together to give that classic chili flavor and texture.
Canned goods: tomatoes with green chilies, tomato sauce, and tomato paste are used to bring that punchy tomato flavor, but we don't use a wild amount to keep the carbs in check.
Beef broth: This fills out the volume of the rest of the soup. Vegetable broth or chicken broth will work, but they will change the depth of flavor in this keto chili.
Spices: I used chili powder, oregano, cumin, salt and pepper. I highly recommend taste testing before adding much salt.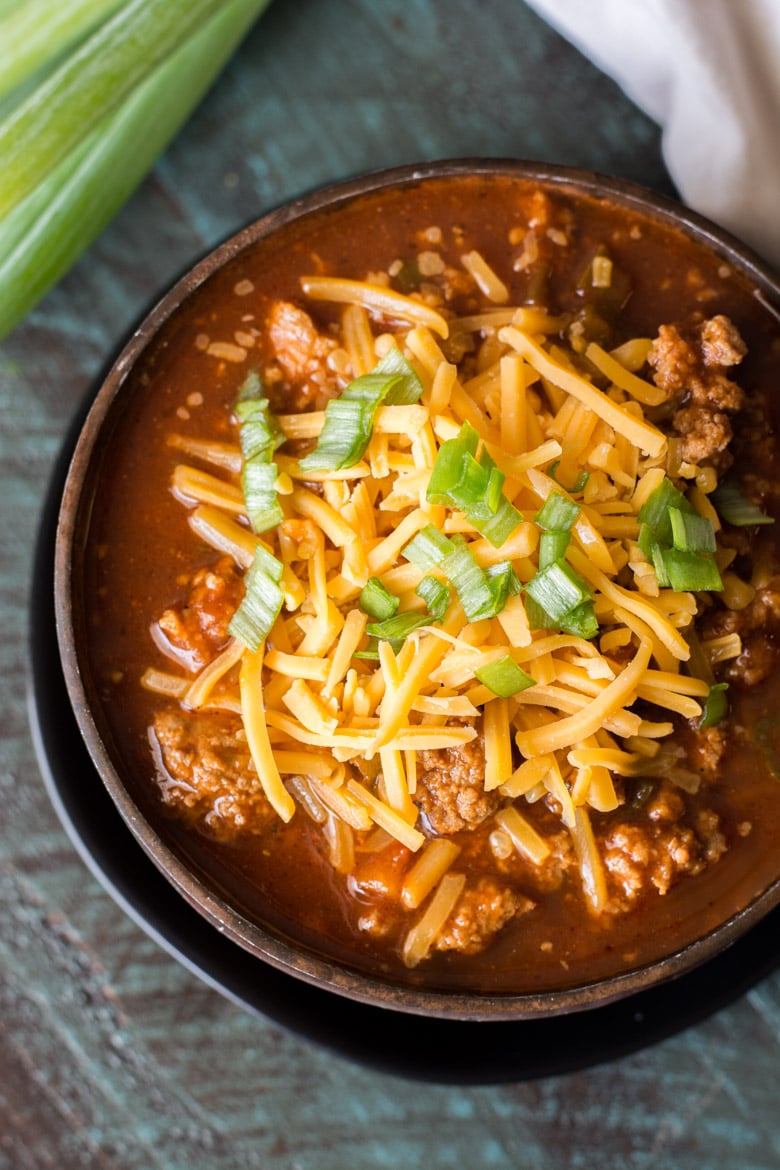 How do you make easy Keto Chili?
This is SUCH an easy recipe! In addition to the ingredients listed above you will need a large pot, or dutch oven to make this recipe. This keto chili doesn't require a lot of babysitting and doesn't need hours to come together. Here's a step-by-step breakdown:
Saute the Meat and Peppers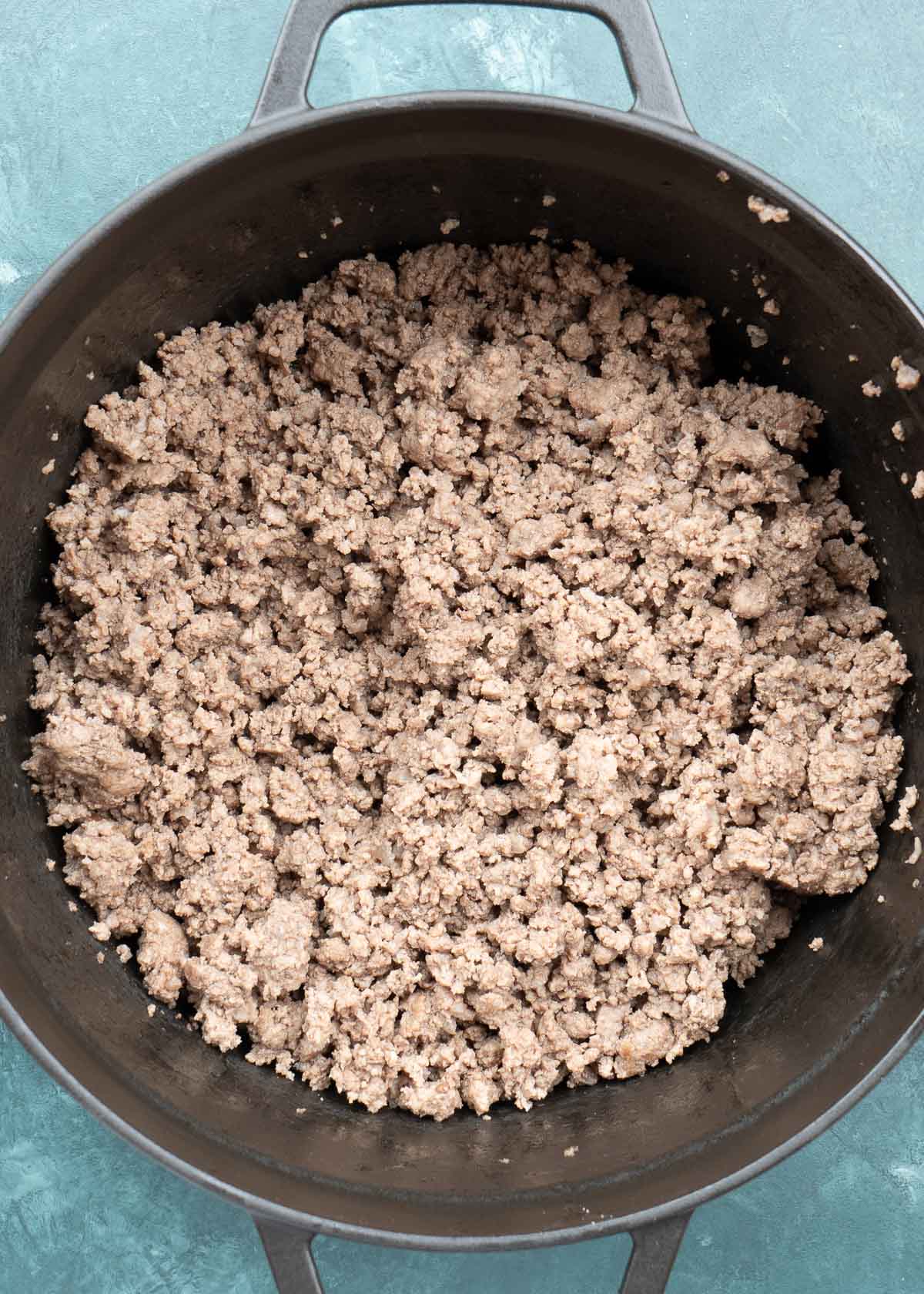 Heat a large pot or Dutch oven to medium heat. Once the pot is hot, add the ground beef and cook until browned, breaking up as you go. Drain off the grease, but keep the meat in the pan. Next, add the chopped bell peppers and jalapenos and saute 2-3 minutes. One thing to keep in mind is your spice level. I seed the peppers so there is very little heat, but if you love a spicy chili you can toss a few seeds in as well.
Add Remaining Ingredients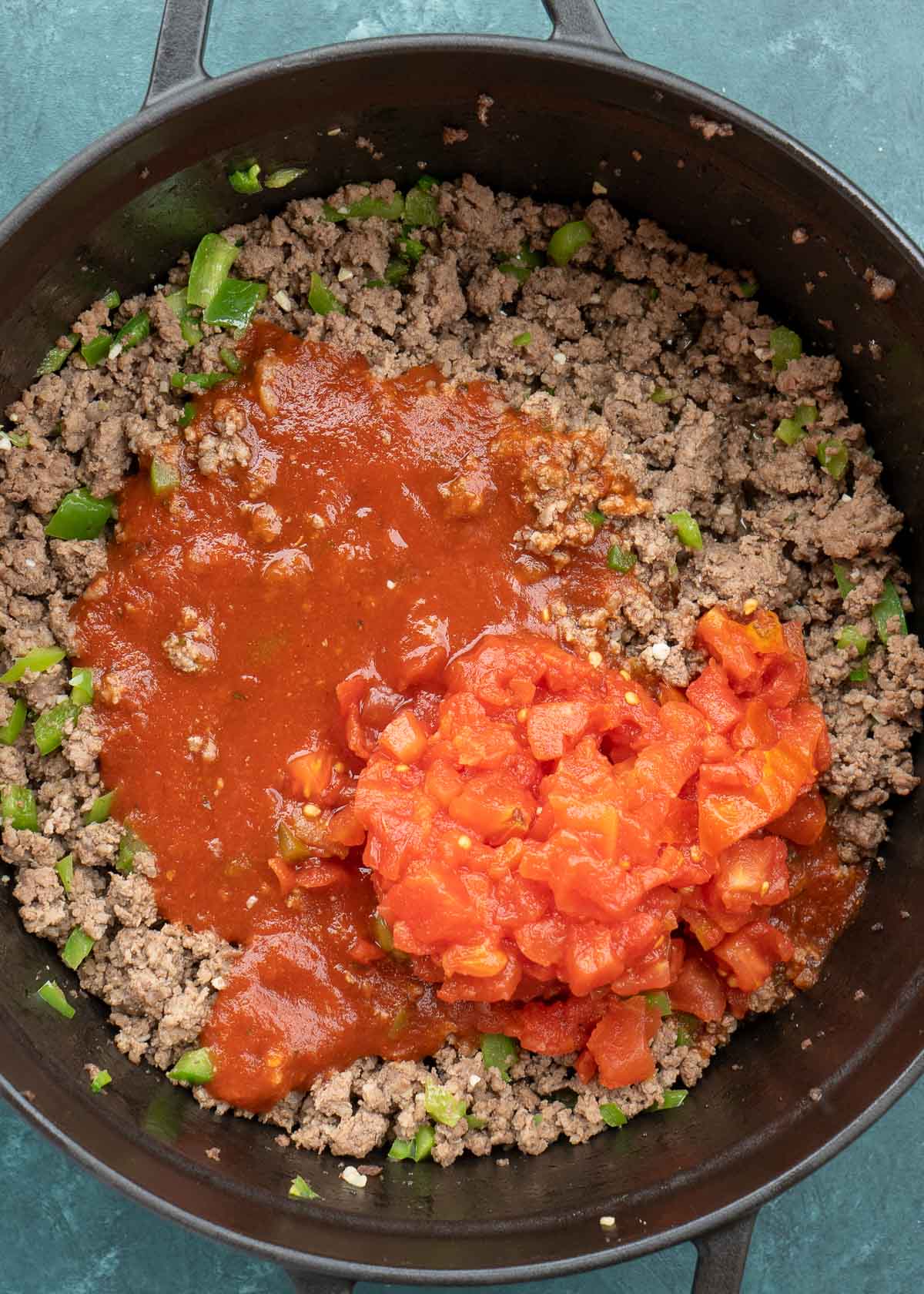 Add the tomato paste, tomato sauce, canned tomatoes, spiced and beef broth to the Stir well to make sure all the ingredients are mixed. The tomato paste can be a little tricky to breakup, just stir the mixture well, especially as it begins to simmer to fully incorporate the tomato paste into the dish.
Simmer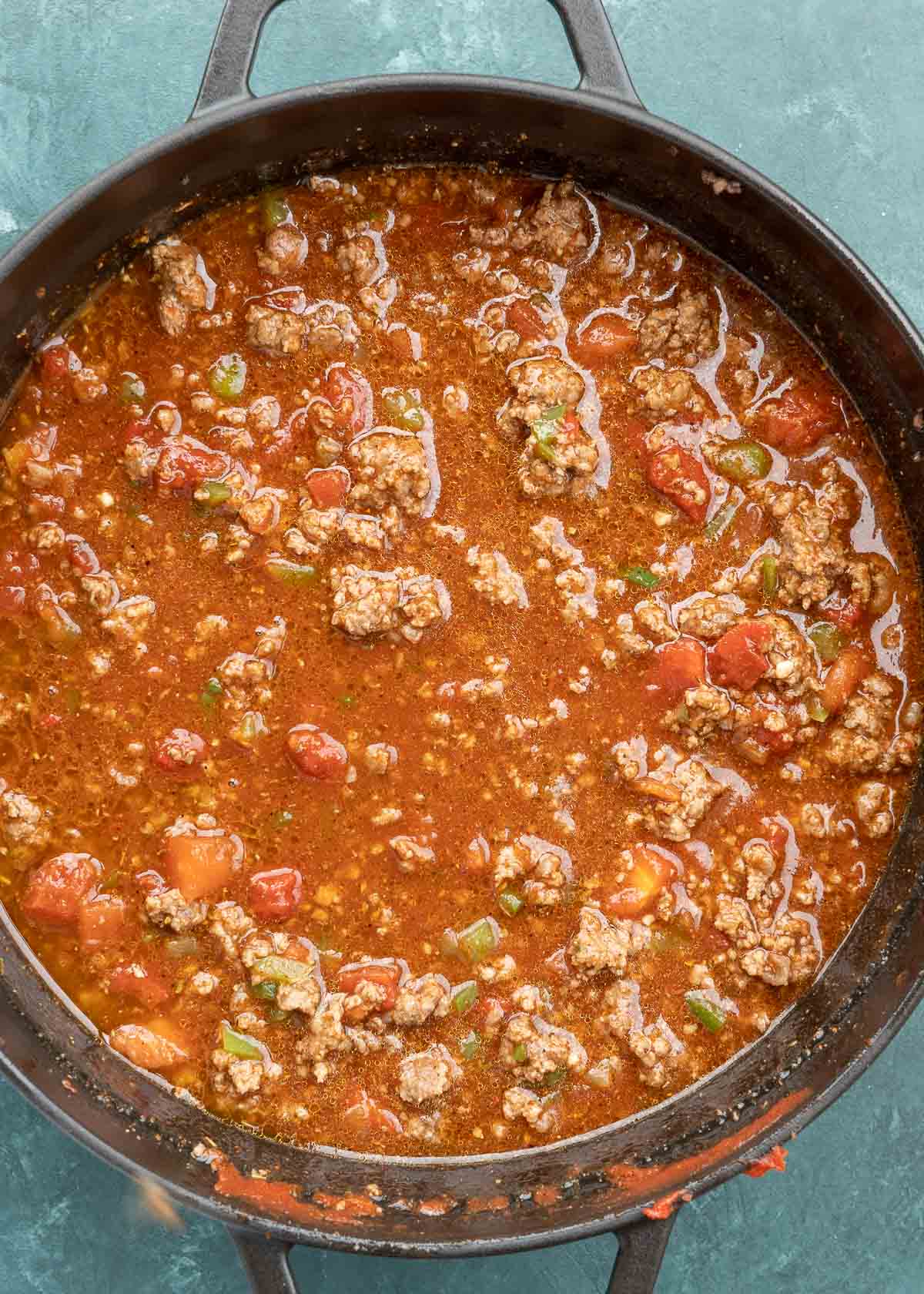 Allow chili to warm up to a simmer again, then lower the heat to low. Simmer uncovered for about 25-30 minutes or until the tomato juice has reduced and thickened. This is important, it is how you get that rich, authentic chili flavor.
Serve
This keto chili recipe is amazing on its own, but keto biscuits or bread puts it over the top! Keto Garlic Bread Chaffles, Keto Cheddar Garlic Biscuits, or even Bacon Cheddar Chive Biscuits would all be fantastic dunked in this chili. If you're used to have crackers or fritos on your chili, you might still feel like something's missing. Here's a list of some DELICIOUS soup toppers that are keto, gluten free, and easy: Keto Soup Garnish and Topper Ideas.
Storage and Reheating
Before storing allow the chili to cool completely to prevent a build up in condensation, which will result in a watery dish. Once cooled place the chili in an airtight container and store in the refrigerator up to 5 days. Alternatively, you can preportion the chili for quick and easy meal prep in these containers.
To reheat chili in single serve portions warm in 30 second increments in the microwave until warmed through. To reheat chili in large portions place in a pot or dutch oven over medium-low heat, stirring occasionally until warmed through.
Freezing Chili
To freeze the chili allow it to cool completely. Next, ladel into a freezer safe bag. Lay the bags flat and remove any excess air before sealing to prevent freezer burn. This allows the bag to lay flat and take up less room in the freezer. You can safely store chili up to 4 months in the freezer. When ready to reheat allow the chili to thaw in the fridge overnight then follow the warming instructions above.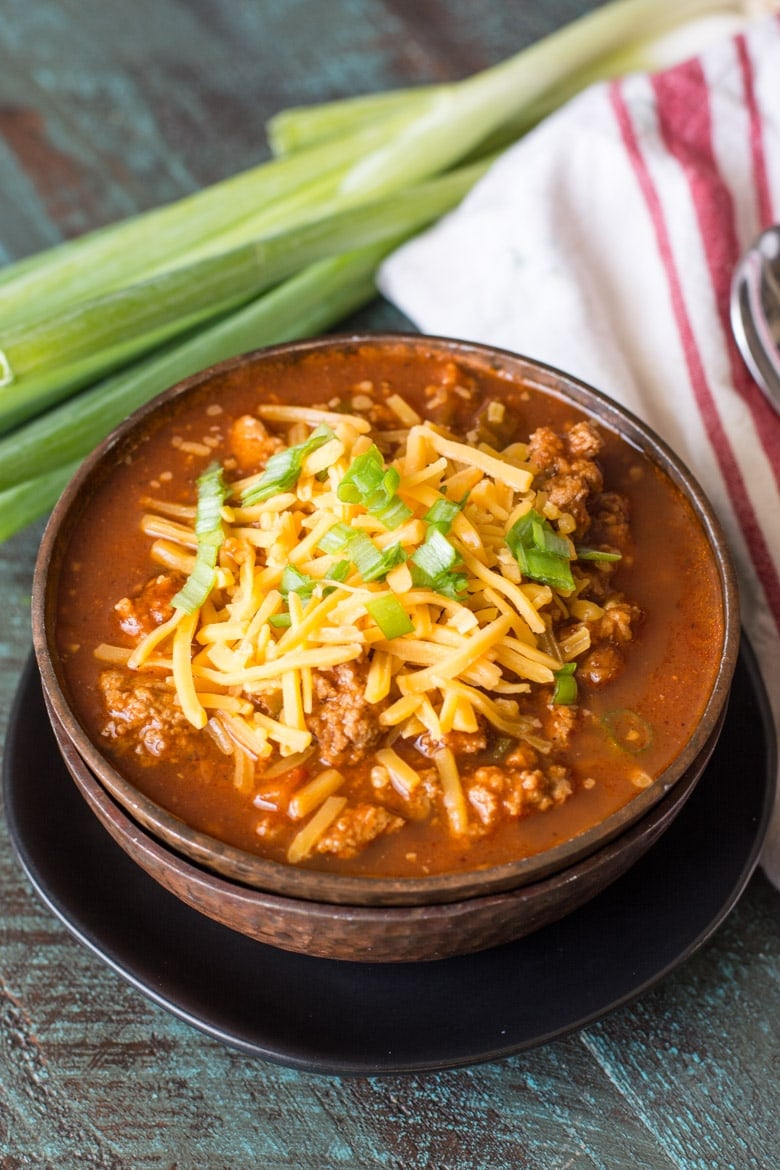 If you love this easy chili, you will love these other keto soups!
FAQ's about Keto Chili
Is chili keto?
No, normally chili is not keto. Most chilis include beans, loads of tomatoes, and more onions than are usually suggested for those on the keto diet. This recipe, however, is keto friendly and has just 8.5 net carbs.
How many carbs are in chili?
Most chilis are high in carbs, around 20+ net carbs. Even no-bean chili can be 12+ net carbs! This keto chili has only 8.5 net carbs, though, so it's a keto-friendly recipe.
Is this chili spicy?
No, I wouldn't consider this chili spicy, but if you like really mild food you can skip the jalapeno and start with just 1 tablespoon of chili powder and add additional spice as desired.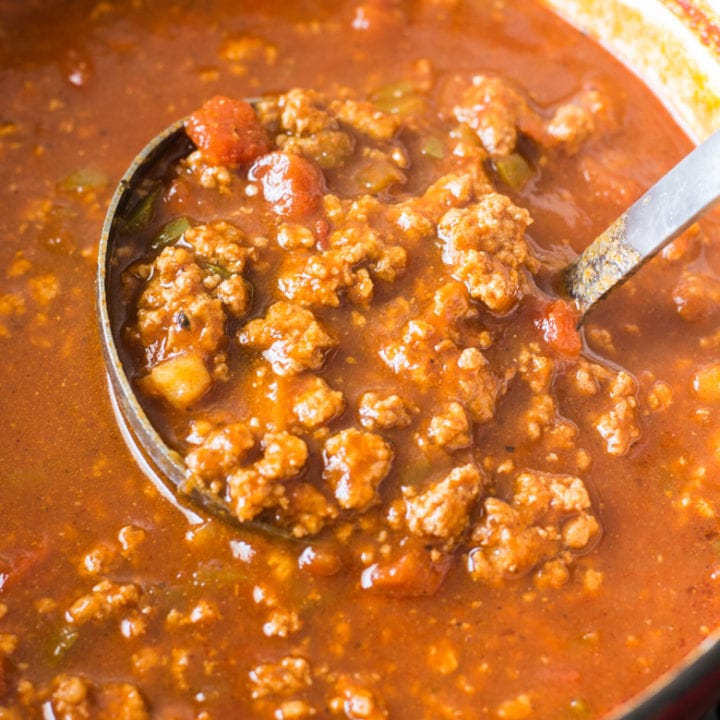 The BEST Keto Chili Recipe
This hearty keto chili features tons of meat, peppers, spices and tomatoes! At just 8.5 net carbs per serving this low carb, bean-less chili will a family favorite!
Ingredients
2 pounds ground beef or turkey
1 green bell pepper, finely chopped
1 jalapeño, seeded and finely chopped
2 cloves garlic, minced
1 (10 ounce) can tomatoes with green chilies, undrained
1 (15 ounce) can tomato sauce
1 (32 ounce) carton beef broth
1 (7 ounce) can tomato paste
2 tablespoons chili powder*
1 teaspoon EACH oregano, cumin, and garlic powder
salt and pepper to taste
*If you enjoy spicy chili I would increase this to 3 tablespoons of chili powder.
Instructions
Brown the meat over medium heat in a medium size sauce pot or dutch oven. Drain off any grease
Add the remaining ingredients and stir well.
Allow chili to simmer over low heat uncovered for approximately 25 minutes until the tomato juice has reduced and thickened.
Notes
This Chili makes amazing Keto Chili Cheese Dogs!
Slow Cooker Version:
Brown the meat as directed, drain off any grease and transfer to a slow cooker.
Add the remaining ingredients, stir well.
Cook on low for 6-8 hours.
Instant Pot Instructions can be found here.

Recommended Products
As an Amazon Associate and member of other affiliate programs, I earn from qualifying purchases.
Nutrition Information:
Yield:

8
Serving Size:

1.5 cups
Amount Per Serving:
Calories:

301
Total Fat:

17.9g
Cholesterol:

77.1mg
Sodium:

564.3mg
Carbohydrates:

11.1g
Net Carbohydrates:

8.5g
Fiber:

2.6g
Sugar:

7.6g
Protein:

24.3g