This hearty keto chili features tons of meat, peppers, spices and tomatoes! At about 8 net carbs per serving this low carb, no bean chili will become a family favorite!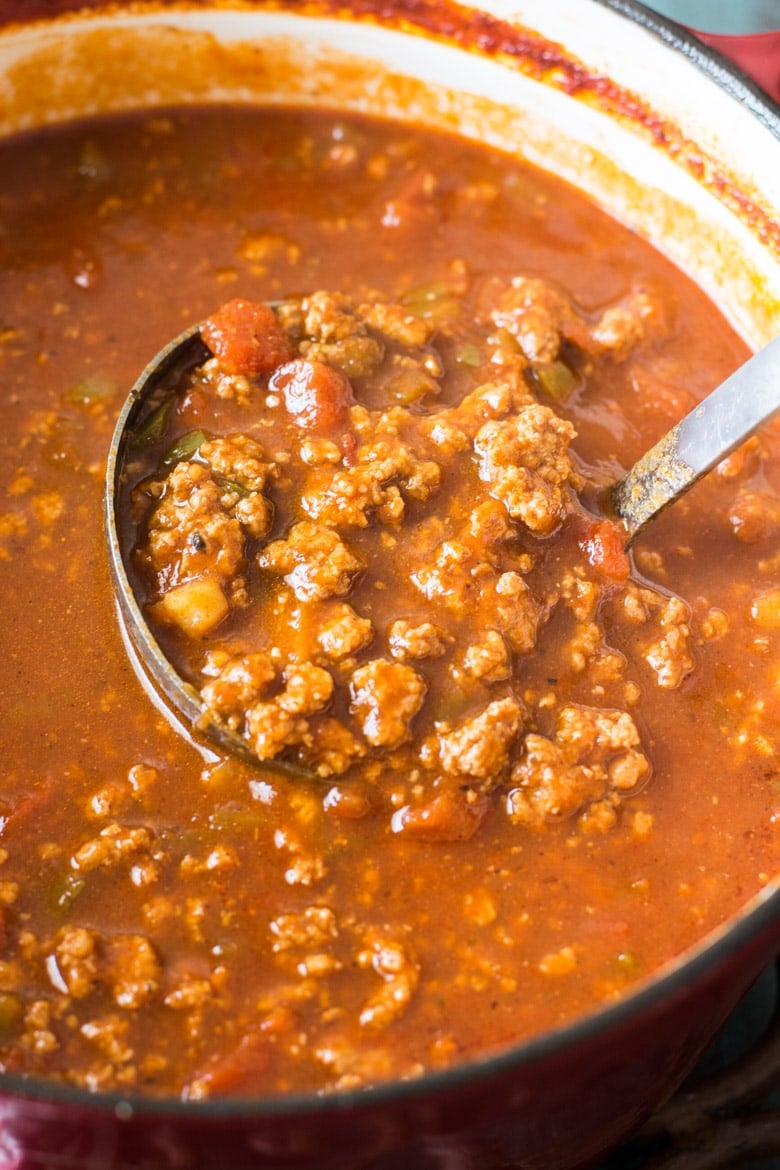 We take our chili pretty seriously here! My all time favorite is this Turkey Chili. It is hearty, loaded with flavor and perfect for the fall season. However, since it is loaded with beans and swimming in tomato juice it just doesn't work with my keto diet.
I started experimenting with a keto chili a few weeks ago and I did not have high hopes. I just didn't think I could create the same flavors without the carbs. Turns out, I was wrong. Mr. Maebell and I have been debating if we like this keto version even MORE than our regular go to chili!
What is in Keto Chili?
Most soups, stews and chilis are based on the same formula. A protein, vegetable, carb, and some sort of liquid. The tricky part about keto versions is creating a hearty enough dish without the carbs.
This keto chili features two pounds of meat, peppers, tomatoes and a rich beef broth spiked with tomato sauce. It is the ultimate hearty, protein packed dinner! You may also like this Cheesy Keto Taco Soup!
What ingredients do you need for Keto Chili?
Ground beef or turkey
Bell Pepper
Jalapeno
Garlic
Canned tomatoes with green chilies
Canned tomato sauce
Beef broth
Tomato paste
Spices: chili powder, oregano, cumin, salt and pepper
How do you make easy Keto Chili?
Brown the meat over medium heat in a medium size sauce pot or dutch oven. Drain off any grease
Add the remaining ingredients and stir well.
Allow chili to simmer over medium low heat uncovered for approximately 30 minutes until the tomato juice has reduced and thickened.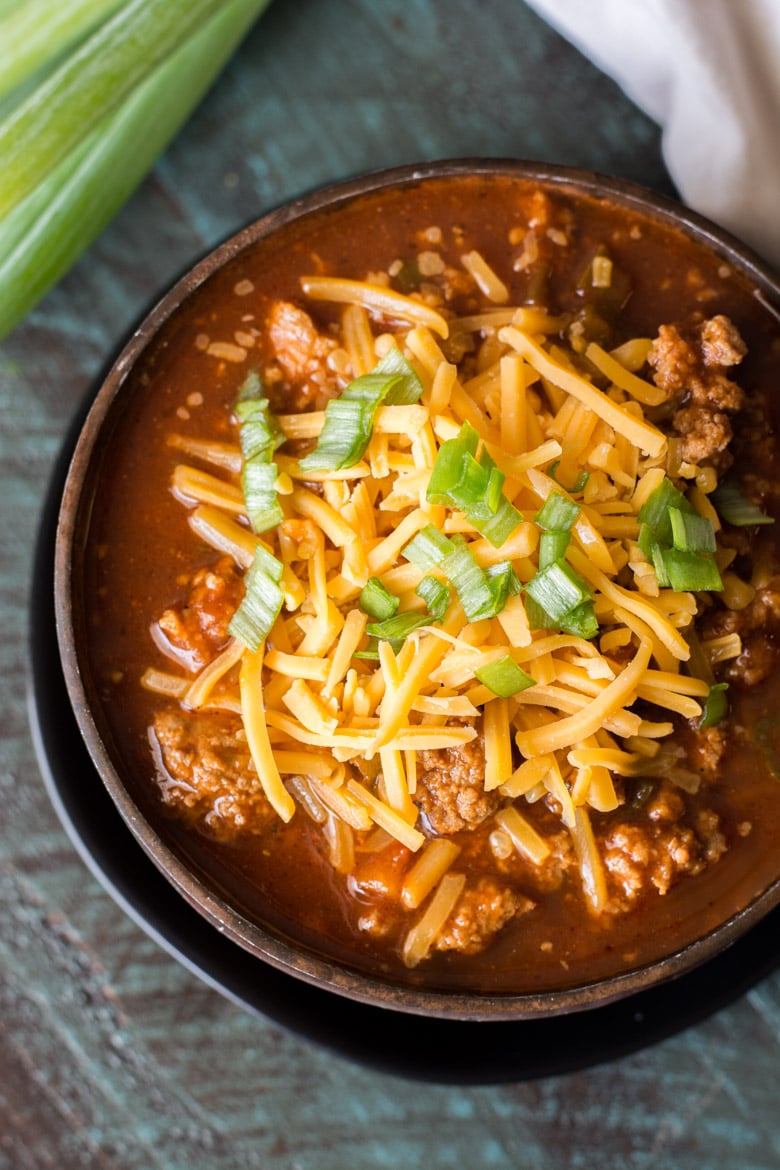 How many net carbs are in Keto Chili?
This easy keto chili comes to just 8.5 net carbs per bowl. Which is far below a traditional chili recipe! You can enjoy this all on it's own, but it also makes amazing Keto Chili Cheese Dogs!
You can top your chili with some sharp shredded cheddar, green onions and sour cream, which is my favorite combo! Some great low carb topping ideas are:
Shredded cheese
Chopped green onions
Chopped avocado
Fresh or pickled jalapeño slices
Chopped Red Onion
Sour cream
Guacamole
Low carb tortilla strips fried or toasted (I haven't been able to find a gluten free version)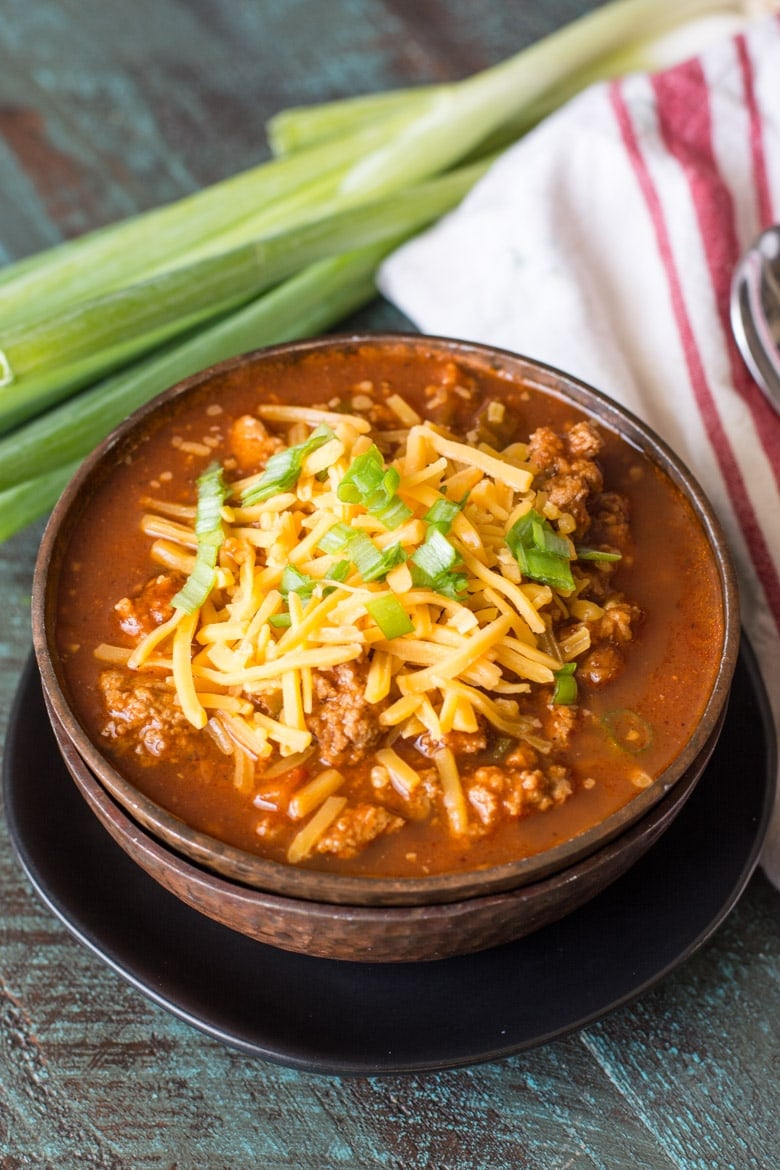 What are some other easy keto recipes?

Other Easy Keto Recipes
If you are new to Keto try my favorite Sausage Egg and Cheese Bites, they contain less than one net carb per bite and they are perfect for meal prep! One of my favorite easy low carb dinners is this One Pan Cabbage Casserole. It is so easy, cheesy and delicious and it has less than 9 net carbs per serving. Some other favorites, Keto Chocolate Cookies, Pimento Cheese and Bacon Stuffed Peppers and Sausage and Cream Cheese Pinwheels!