This Tomato Galette with Balsamic Vinegar Reduction is a simple, yet impressive dish everyone will love!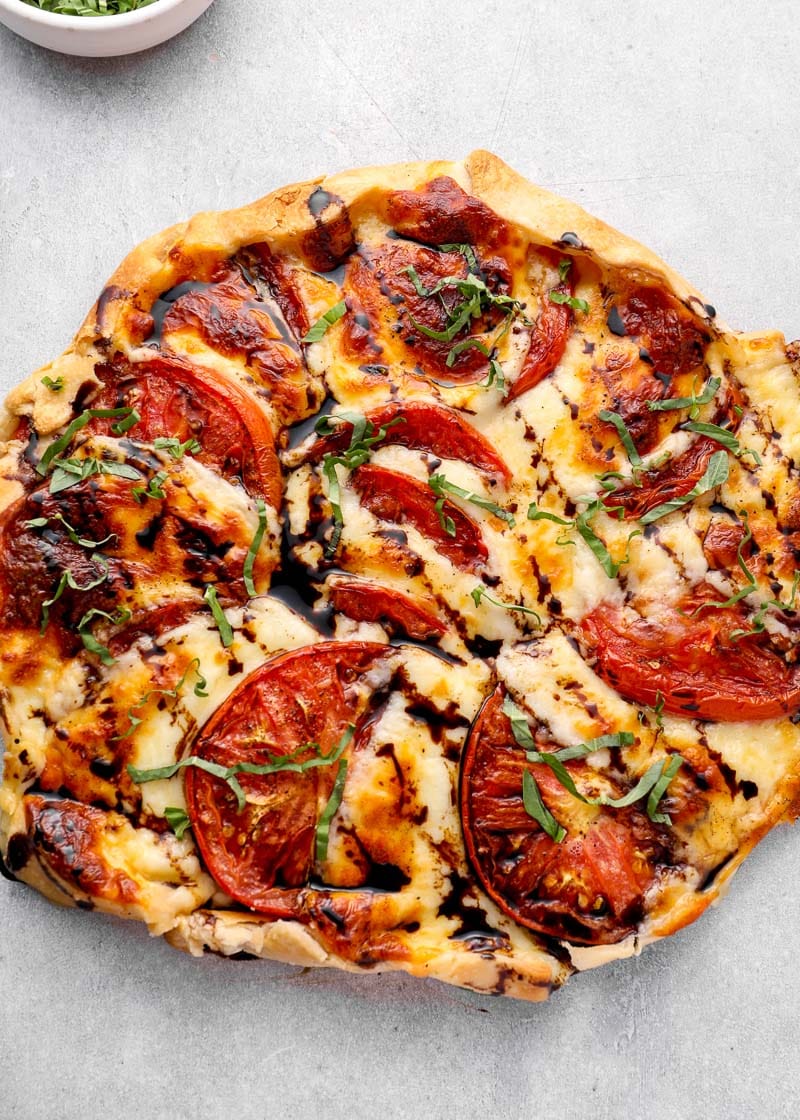 Tomato Galette
You will not be able to get enough of this meal! The flavors of this Tomato Galette compliment each other beautifully. The soft dough envelopes the creamy mozzarella, the fresh tomatoes are lightly covered by the sweet basil and then the entire pastry is drizzled with a tart homemade balsamic vinegar reduction. This meal will become one of your weeknight favorites, while still being impressive enough to serve at a dinner party!
A galette may seem intimidating, but I've made it super easy! This recipe comes together in a cinch and this dish will truly wow your guests. This easy dinner recipe is a real show stopper, but it doesn't keep you in the kitchen for hours! All you need are a few simple ingredients to make this incredibly delicious dish, which I promise will be requested again and again!
We're in the season of tomatoes and I can't get enough of them. After making Fried Green Tomatoes last week and Tomato Soup earlier this week, you'd think I would be tired of them, but nope! This is, hands down, my favorite way that I have had tomatoes all summer. I could seriously eat the whole thing!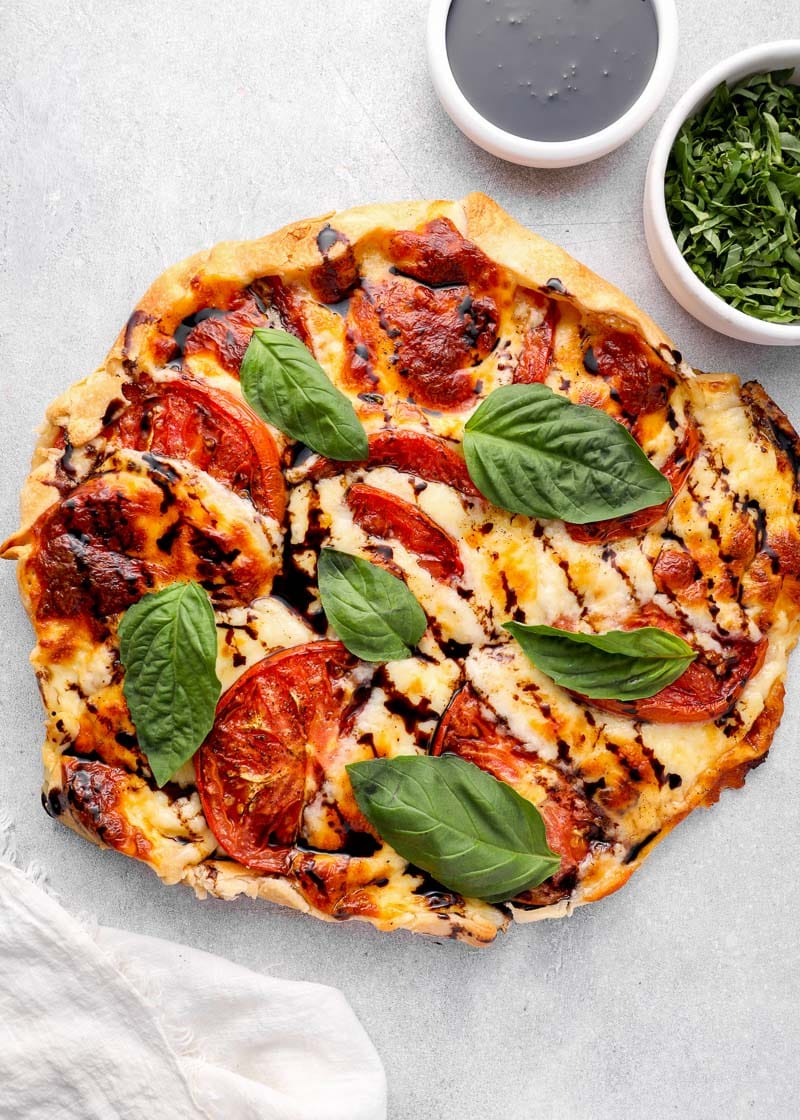 What is a galette?
A galette is a French pastry that is traditionally made with flour, butter and salt. The dough is very similar to a pie crust or a tart. The edges of the dough are slightly folded over the filling, which can be either sweet or savory. Common fillings include cheese, fruit or vegetables.
This recipe can be made with a traditional crust or my keto-friendly crust if you are low carb.
Ingredients for a Tomato Galette
As always, here is a quick overview of the ingredients used to make our Tomato Galette. For the complete recipe, just keep scrolling.
Pie Crust: a keto option like this, regular or gluten free.
Low moisture fresh mozzarella
Fresh tomatoes- sliced
Salt and pepper to taste, Balsamic vinegar, Freshly chopped basil
How do you make a galette?
To start, heat your oven to 400 degrees. Next, either spray a baking sheet with nonstick spray or line your sheet with baking paper. Roll your pie crust out as best you can- it doesn't have to be perfect! Add your mozzarella and tomatoes to your Galette dough. Add salt and pepper to your liking. Fold over the edges of the dough and bake for 20 minutes.
Next, your Balsamic Vinegar Reduction! Start by heating a skillet to medium high heat. Add Balsamic Vinegar and bring to a simmer. Reduce heat to a medium low and allow to simmer for 20 minutes, or until the liquid has been reduced by half. Remove Balsamic Vinegar from heat and allow to cool. Finally, your assembly. Once your Galette has cooked through, allow it to cool on a wire rack. Once you are ready to eat, top with your fresh Basil and Balsamic Vinegar Reduction. And you're done!
What is caprese?
Caprese is an Italian salad of fresh mozzarella, ripe tomatoes, basil, salt and olive oil. This classic dish is a perfect example of complimentary flavors and was the inspiration for this recipe! I added a balsamic vinegar reduction because it is a great accompaniment to the fresh ingredients.
What should I serve with this Caprese Galette?
Since this is such an impressive dish, I chose to go simple with the sides. I served this with an Arugula Salad with Parmesan and Italian Baked Mushrooms. Brussel Sprouts or Gouda Twice Baked Potatoes would also be delicious with this. For dessert, try this Easy Blackberry Crisp, Lemon Ice Cream or Carrot Cake Bars!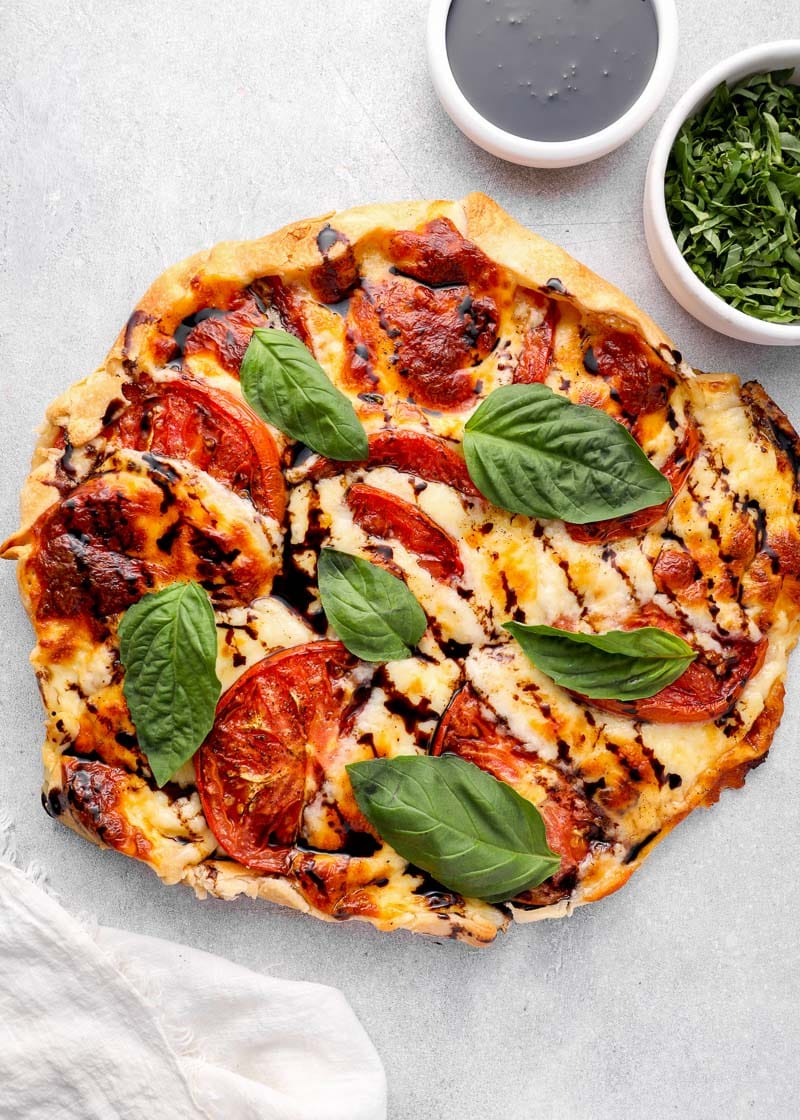 Tips and Tricks for the Best Galette
There will likely be some moisture when you remove this from the oven. That is okay, just carefully drain it off. If you use low moisture mozzarella that will help with this.
I do think the Balsamic Reduction adds a very nice touch, but I don't think it is totally necessary if you want to skip that step. Fresh tomatoes and mozzarella make an incredible combo on their own, so either way works great.
For an impressive finish, add an egg wash to the sides of your galette for a shiny finish.
For an extra pop of flavor, add some goat cheese on top!
How to Store and Reheat this Galette recipe
To store, place in a plastic or glass container with an airtight lid and keep in the fridge. This galette will stay fresh for up to three days. To reheat, warm in a 350 degree oven (or Air Fryer) for 5-7 minutes.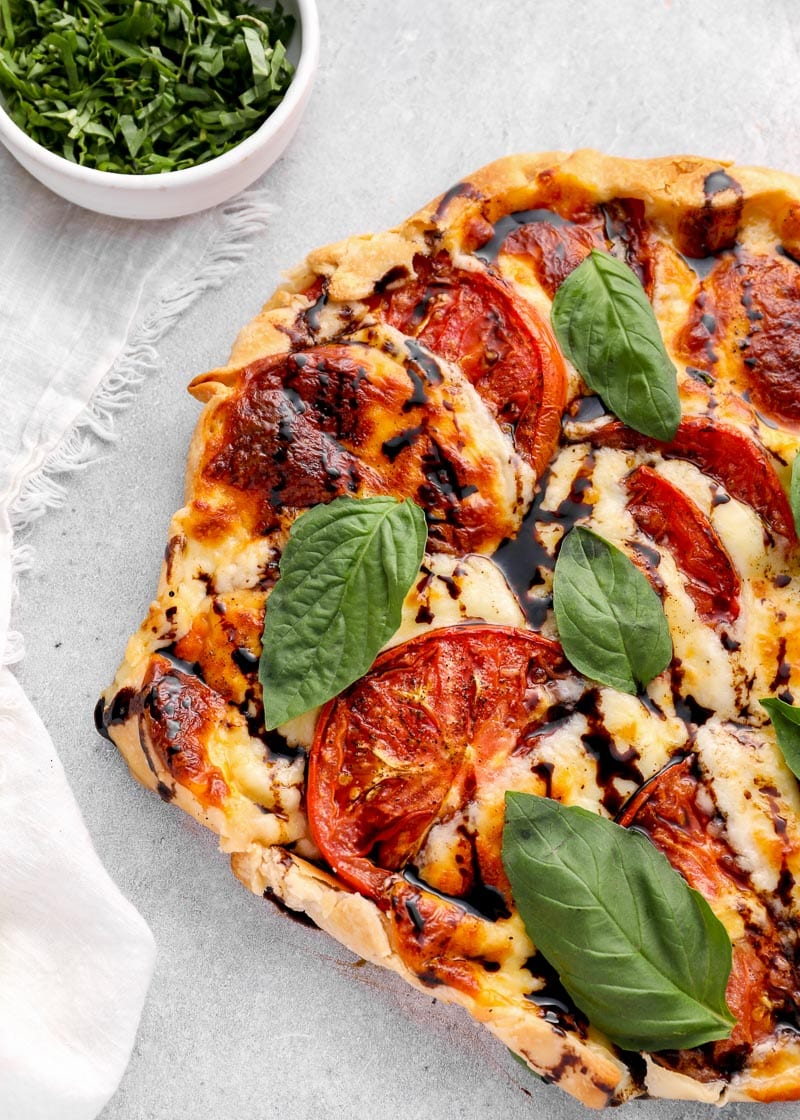 More easy dinner recipes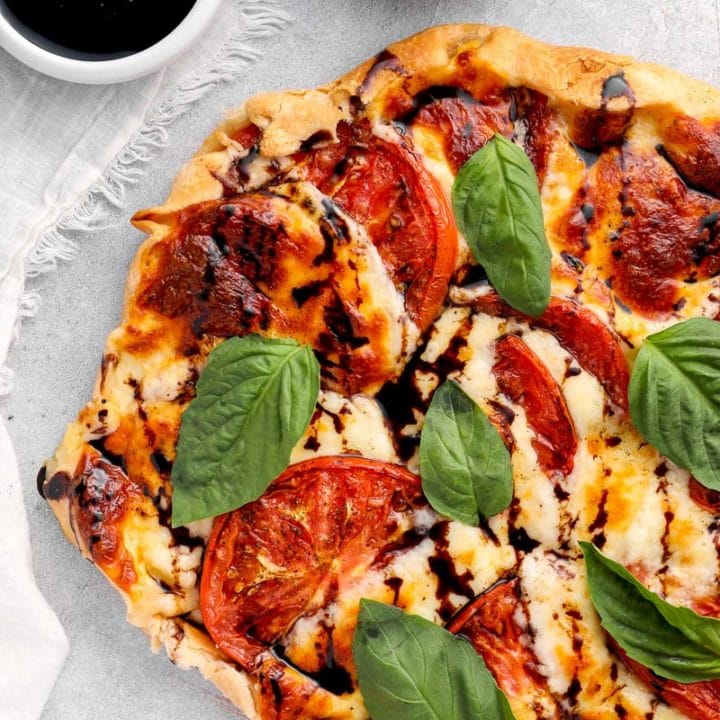 Tomato Galette
This Tomato Galette with Balsamic Vinegar Reduction is a simple, yet impressive dish everyone will love!
Ingredients
For the crust:
1 recipe keto pie crust (link below) or store bought pie crust if not low carb
For the filling:
1 (8 ounce) ball low moisture fresh mozzarella
2-3 large fresh tomatoes
Salt and pepper to taste
For the topping:
1/4 cup balsamic vinegar
1 handful freshly chopped basil
Instructions
To make the Galette:
Preheat oven to 400 degrees
Spray a baking sheet with cooking spray or line with parchment paper and spread out the pie crust with your hands. Just form a large circle, it doesn't have to be perfect.
Top with sliced mozzarella and sliced tomatoes. Add salt and pepper to taste.
Carefully fold over the edges of the dough.
Bake 20 minutes or until the edges are golden brown.
To make the balsamic reduction:
Heat a small skillet to medium high heat. Add balsamic vinegar and bring it to a simmer. Reduce heat to medium low and let mixture simmer approximately 20 minutes or until the vinegar has reduced by half. Remove vinegar from heat and let cool.
To assemble: After the Galette has cooked 20 minutes, remove from oven. If there is any moisture in your pan carefully drain it off. Let cool on a wire rack. When ready to serve top with balsamic reduction and freshly chopped basil.
Nutrition Information:
Yield:

8
Serving Size:

1 slice (nutrition calculated with keto crust)
Amount Per Serving:
Calories:

210
Total Fat:

9,8g
Cholesterol:

33.7mg
Sodium:

562.9mg
Carbohydrates:

4.8g
Net Carbohydrates:

3.3g
Fiber:

1.5g
Sugar:

1.5g
Protein:

18g