Learn how to make Keto Fat Head Dough that's perfect for keto pizzas, cinnamon rolls and more! This step-by-step tutorial will show you exactly how to make a delicious low-carb dough!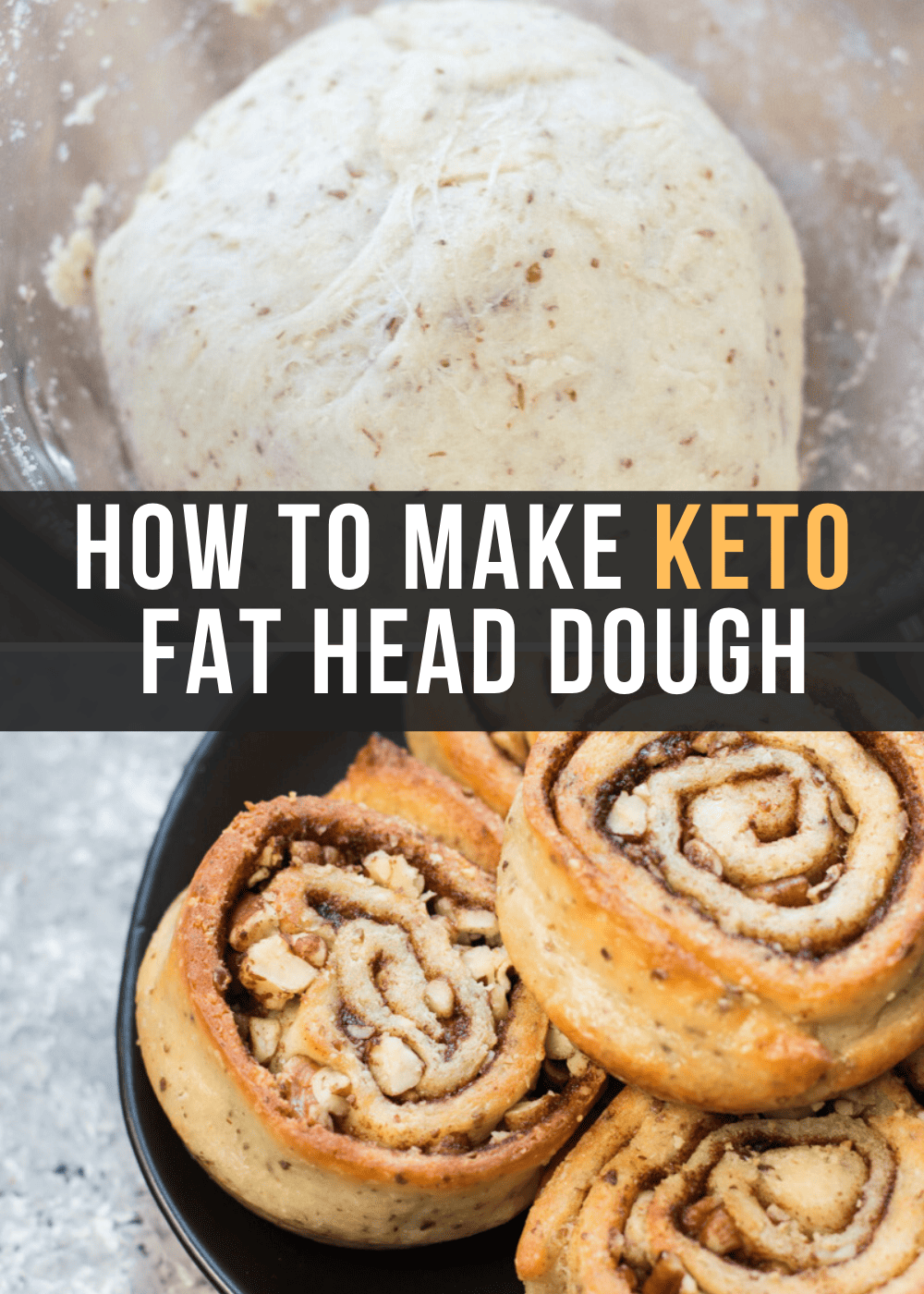 What Is Fathead Dough?
Fathead dough is essentially a low-carb, gluten-free dough that can be used for pizzas, cinnamon rolls, dinner rolls, and much more. It's a staple in the keto diet and is so easy to make!
Many fathead dough recipes call for an egg, but mine doesn't. Why no egg, you might wonder? That is a question I get pretty often. When adding an egg to fathead dough you are mixing an uncooked egg with hot melted mozzarella cheese. While it is possible to do this quickly enough that the egg doesn't cook itself, that can be tricky, and doesn't always work.
I tried several times and ended up with small little chunks of scrambled eggs in the dough. Yuck. I want to provide recipes that are easy and straightforward. I find that without an egg you can still achieve a nice crispy crust that is easy to work with.
Keto Fathead Dough Ingredients
There are many different variations out there, but all of them contain mozzarella cheese and either almond flour or coconut flour. When the mozzarella is melted and combined with a low-carb flour, a soft dough begins to form. I know it sounds crazy, but it works really well as a keto substitute!
My recipe calls for:
shredded mozzarella cheese
softened cream cheese
almond flour
ground flax meal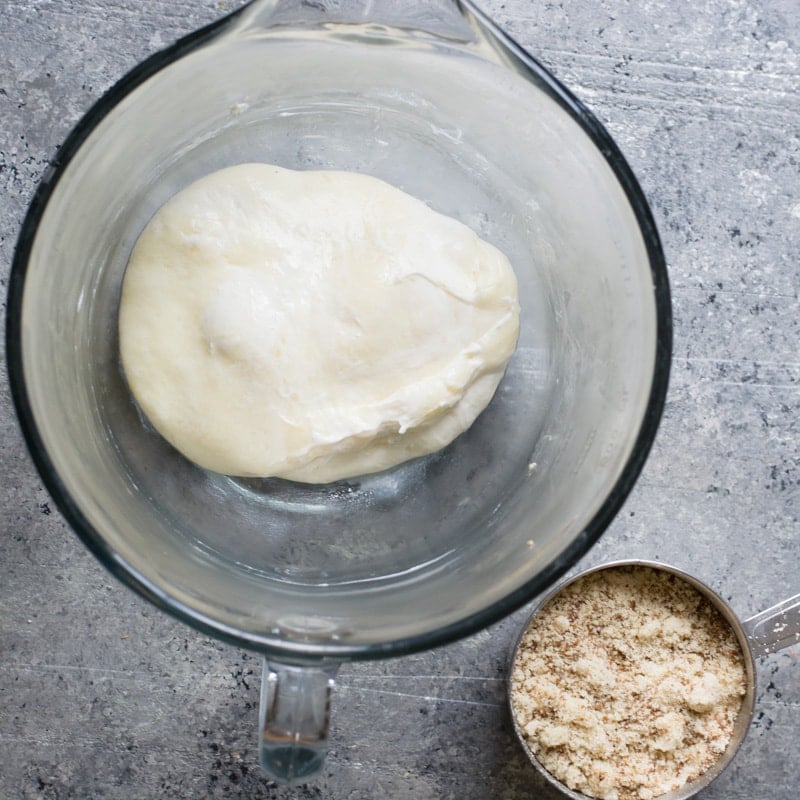 How to Make Fathead Dough
This low-carb dough recipe is much easier to make than traditional pizza dough. There's no rising involved, and everything is mixed together in one bowl!
In a microwave-safe bowl, combine the shredded mozzarella and cream cheese and heat until completely melted.
Add almond flour and ground flax seed.
Using a silicone spatula, stir the mixture folding the melted cheese into the flour. Continue until the flour is completely incorporated.
Once the flour is incorporated, you can pick the dough up with your hands and kneed it if you feel that you need to work the dough a little more. The dough should be soft and easily pliable.
You can spread your dough directly on the pan you are baking, but my favorite way to do this is to place the dough between two silicone baking mats. This makes it SO much easier because the dough never sticks and the baking mats are much sturdier than parchment paper so you don't have to chase it around your table while you work. It also has no waste.
Use the dough as desired, and enjoy!
Can I Use Another Gluten-Free Flour?
No, I've tested this recipe many times and have found that almond flour works best. If you substitute another grain-free or gluten-free flour, you won't achieve the same results.
What Does the Flax Meal Do?
You can leave the flax out and use more almond flour in its place if you prefer, but I find it creates a more stable dough that is easier to work with. Plus, it adds additional fiber.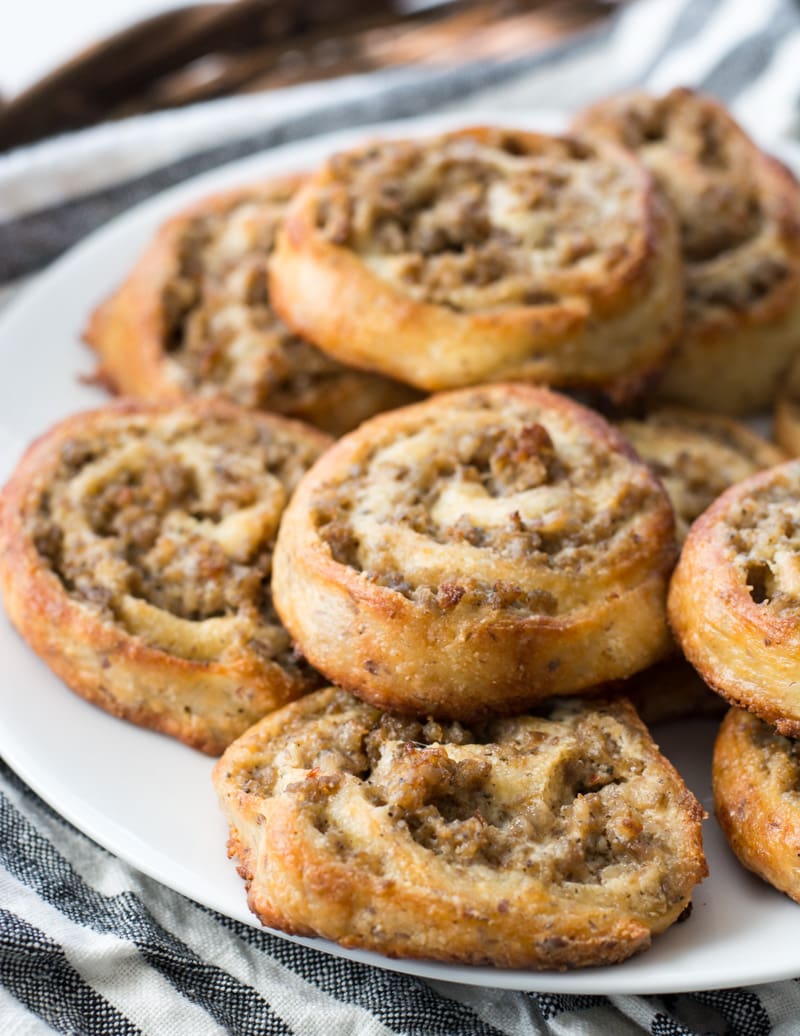 Can I Use Another Type of Cheese?
I don't recommend doing so, no. Mozzarella is super gooey and pliable once melted, but it's very mild in flavor. That's what makes fathead dough so versatile and perfect for both savory and sweet recipes!
Can You Freeze Fathead Dough?
Yes, but I prefer using it right away while the cheese is still gooey and pliable. However, you're welcome to make the dough and freeze it for up to 3 months. When ready to use, let it thaw and roll it out as desired.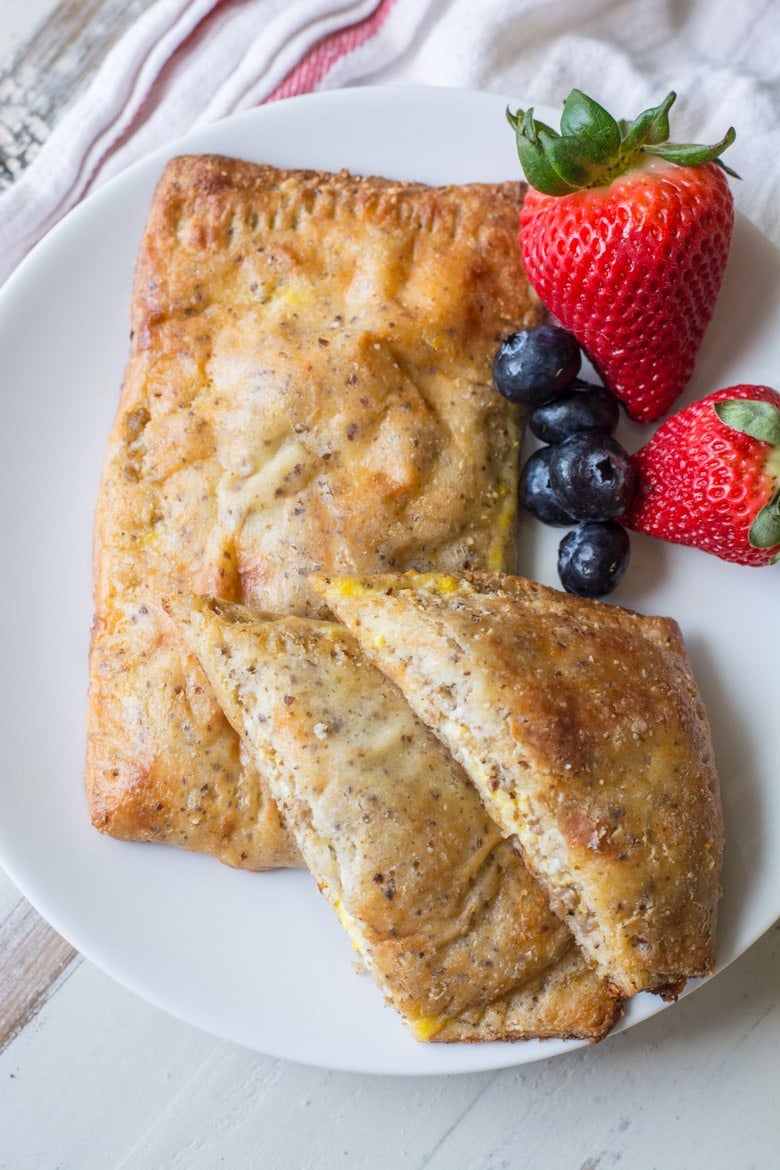 Tips for Making Fathead Keto Dough
The most important tip is to work quickly. If the cheese cools, the dough becomes less pliable and will be hard to work with. If this happens, reheat your dough in 20-second increments until it becomes easy to work with again.
This dough is cheese-based, so it does brown easily. If you find your dough is browning too much, just cover it with foil.
Note that this recipe calls for almond flour and NOT almond meal. They're two different products, so read the labels carefully.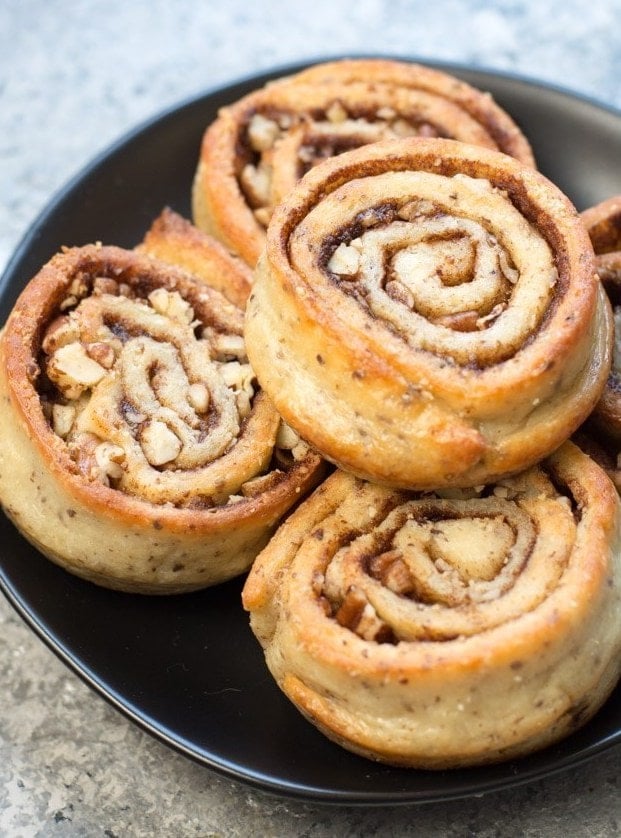 Recipes Using Fathead Dough
I have found that this keto fathead dough is so versatile that you really can make just about anything you would with a normal crust.
My favorite use is to make pinwheels. These Sausage Cream Cheese Rolls and Pizza Rolls are incredibly delicious and come to about 2 net carbs each. They also reheat well so it makes them a great meal prep option.
Some other recipes include: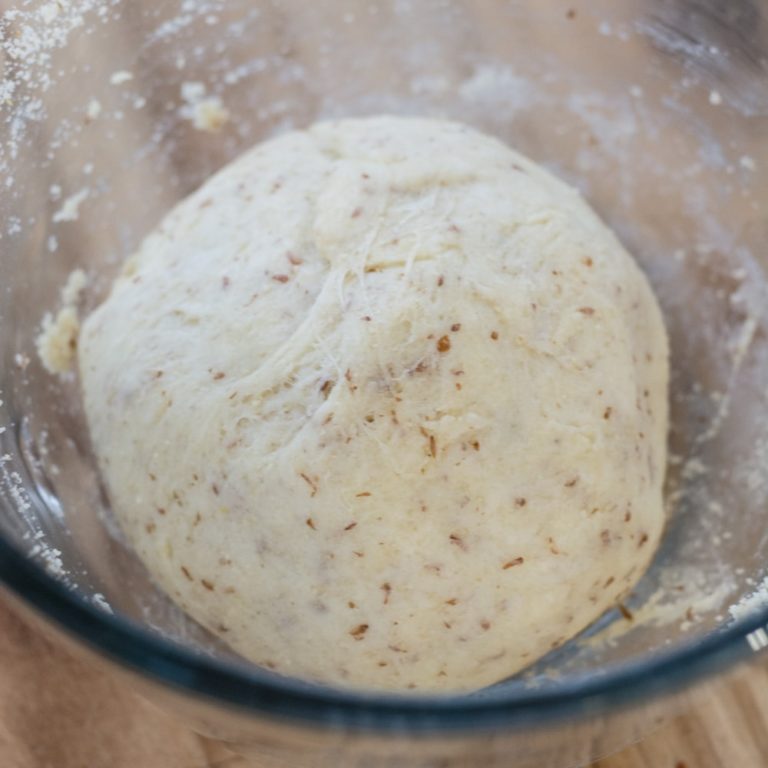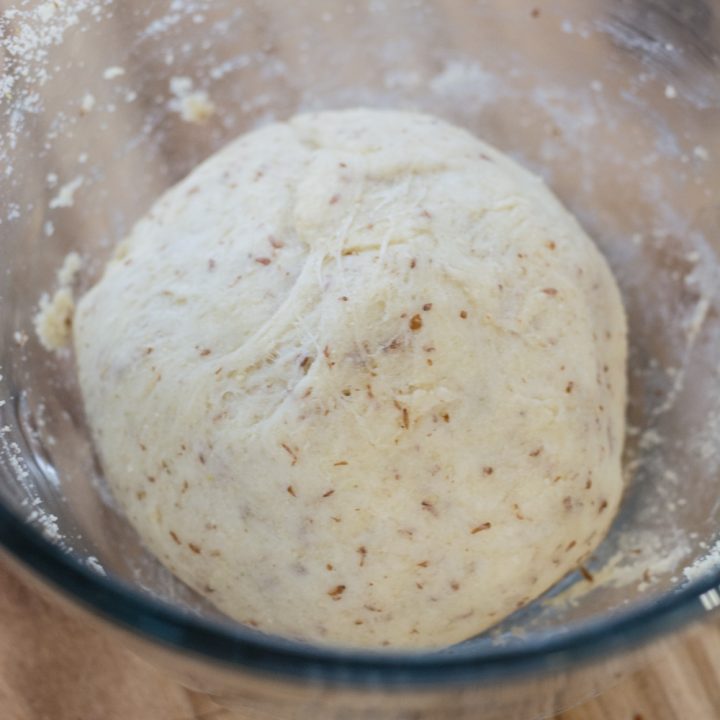 How to make Keto Fat Head Dough + Video
Learn how to make Keto Fat Head Dough that's perfect for keto pizzas, cinnamon rolls and more! This step-by-step tutorial will show you exactly how to make a delicious low-carb dough! 
Ingredients
2 cups shredded mozzarealla cheese
2 ounces cream cheese
3/4 cup almond flour
1 teaspoon baking powder
2 tablespoons ground flax meal
Instructions
Make the dough:

Preheat oven to 400F.
In a microwave-safe mixing bowl, combine the shredded mozzarella cheese and cream cheese. Heat in 30-second increments, stirring in between, until completely melted.
Add the almond flour, baking powder and ground flax meal.
Mix the dough well until you have a soft ball.
Between two silicone baking mats or parchment paper, roll the dough into the shape you need.
Use in whatever recipe you need! (see notes below for baking times).

To bake the dough:

If using as a pizza crust: pre-bake 7 minutes add toppings and bake an additional 7-10 minutes.
If using as rolls: fill dough, roll and slice. Bake 12-15 minutes.
If using in muffin tins: Silicone muffin pan cooking time is 15-18 minutes. Metal muffin pans cook faster and the cooking time is 12-15 minutes.
Recommended Products
As an Amazon Associate and member of other affiliate programs, I earn from qualifying purchases.
Nutrition Information:
Amount Per Serving:
Calories:

134
Total Fat:

5.1g
Carbohydrates:

3.8g
Fiber:

1.4g
Protein:

11.2g

Other Easy Keto Recipes
If you are new to Keto try my favorite Sausage Egg and Cheese Bites, they contain less than one net carb per bite and they are perfect for meal prep! One of my favorite easy low carb dinners is this One Pan Cabbage Casserole. It is so easy, cheesy and delicious and it has less than 9 net carbs per serving. Some other favorites, Keto Chocolate Cookies, Pimento Cheese and Bacon Stuffed Peppers and Sausage and Cream Cheese Pinwheels!