These ultra crispy and totally delicious fried tomatoes are a Southern classic! This post walks you through how to make fried green tomatoes and also explains how to freeze them correctly.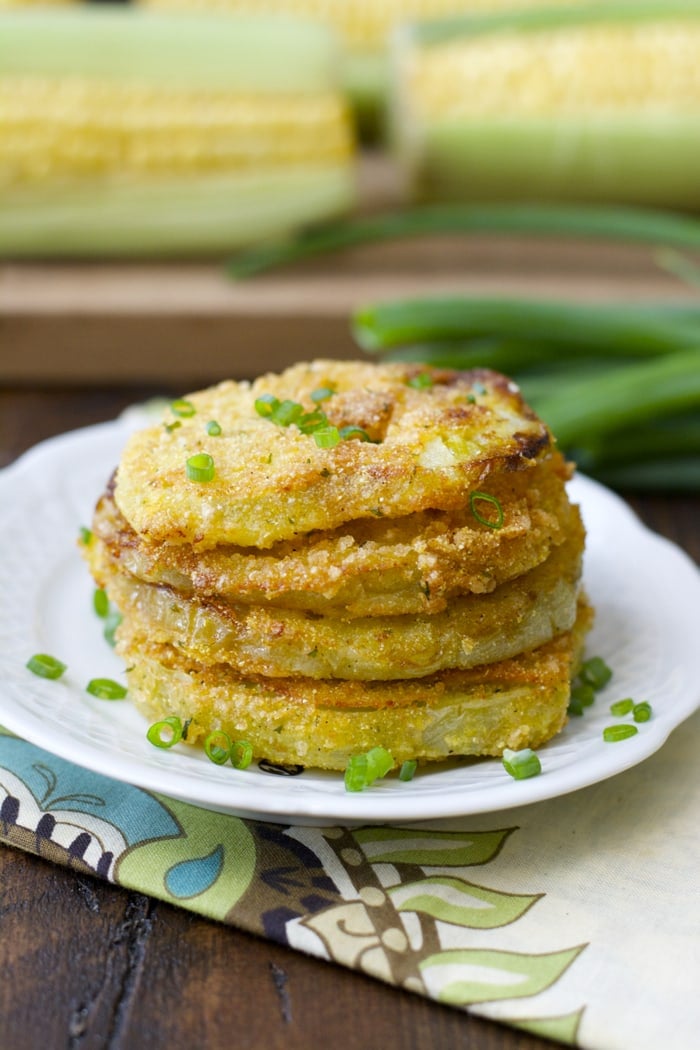 Last October we went to NYC for a few days and on our very last day we stood in line (in the pouring rain) for two hours to eat at a restaurant for my birthday brunch. The restaurant had great reviews and a huge gluten-free menu. I had very high hopes, but the longer we stood in the rain with wet shoes and cold feet my expectations sunk lower and lower.
How would any meal ever be worth that? Um, it was.
It was not just worth standing in the rain, it would have been worth wading through flood waters. It was amazing! We had gluten-free Fried Chicken and Cheddar Waffles with Honey Tabasco Syrup and, you guessed it, Fried Green Tomatoes!
It was the most authentically Southern meal I have ever had in a restaurant and we just had to leave TN and go to NYC to get it. How weird!!
When my Dad decided to plant a big garden for the Summer I had one goal in mind, get as many green tomatoes as possible! Fortunately, he obliged.
I wanted to preserve as many of those precious green tomatoes as possible, so today I am showing you step by step how to make ultra crispy and totally delicious Southern fried green tomatoes that you can freeze and eat throughout the year!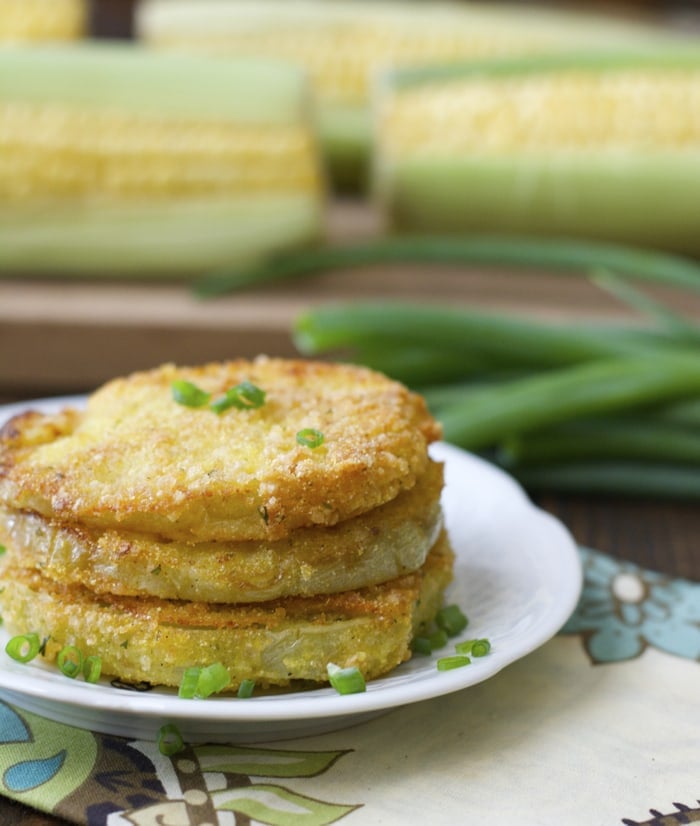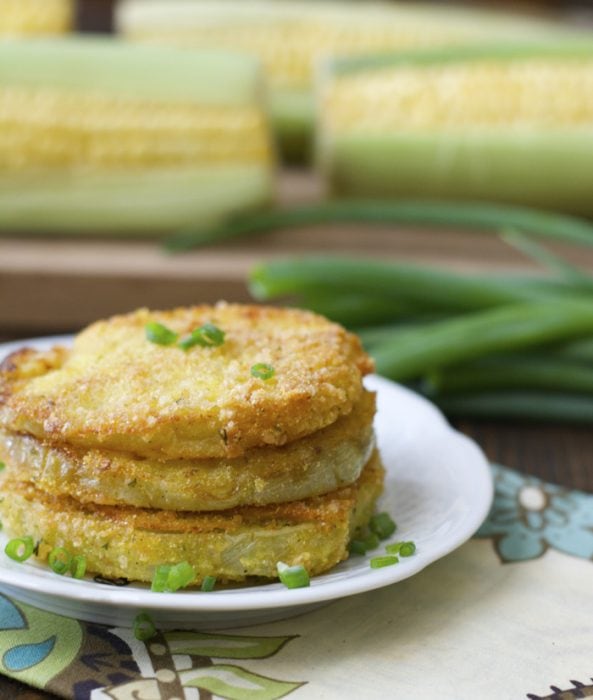 Ingredients in Fried Green Tomatoes
You don't need much to make this delicious southern fried green tomatoes recipe. Here's what goes into making these easy fried green tomatoes:
Green tomatoes
Oil (for frying)
Gluten-free flour
Cornmeal
Salt and pepper
Garlic powder
Eggs
Gluten-free breadcrumbs
Are Tomatillos the Same as Green Tomatoes?
No! You need to use green tomatoes for this recipe, NOT tomatillos. They look very similar in appearance, but tomatillos are actually a different plant altogether.
You can tell the difference between the two at the grocery store by being mindful of the husks — tomatillos are covered with a sticky, papery husk whereas green tomatoes are not.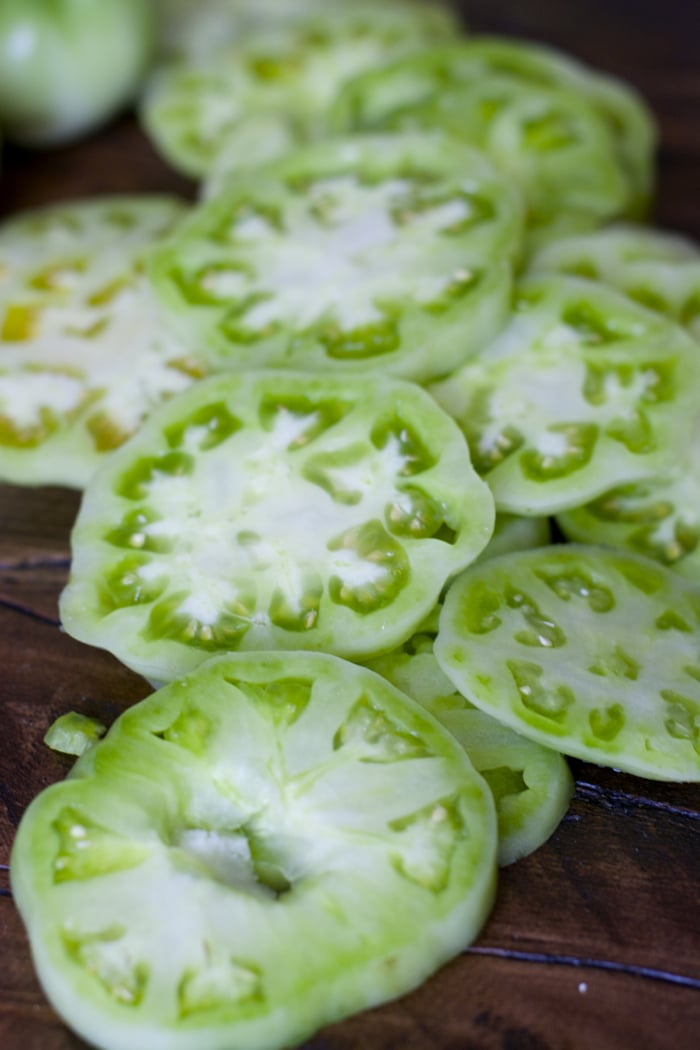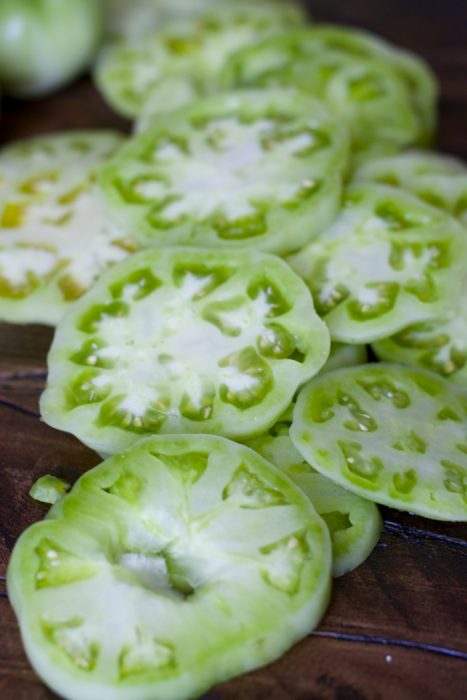 How to Make Fried Green Tomatoes
If you're unsure whether you'll be able to master southern fried green tomatoes, don't fret, it's easy! Here we go!
Slice your tomatoes fairy thick and discard the ends. Now, I do a double layer of breading rather than make a batter for the fried green tomatoes because I want them to be nice and crispy.
The first layer of breading is a mixture of (gluten-free) flour, cornmeal and spices. You are going to dredge your slices in the mixture and place them on a great big baking sheet. Just like this.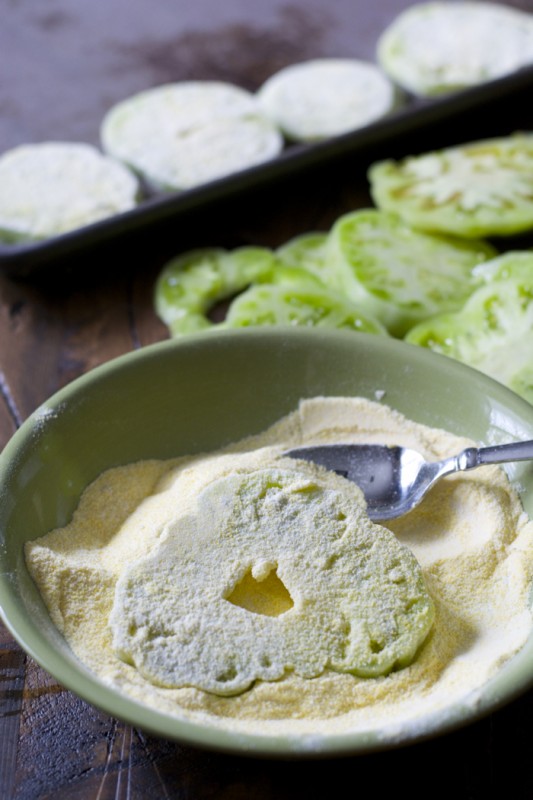 After you have finished with the first layer you are going to put the whole pan of tomatoes in the freezer. Freeze them for 15-20 minutes just long enough that the first layer has time to set and they are nice and chilled.
Now onto the next layer! Your going to prep two shallow bowls, one with a beaten egg, and another with (gluten-free) flour, breadcrumbs and cornmeal. Dip each slice in the egg, then in the breading mixture.
Place the doubled crusted tomato slices on the baking sheet again and place them in the freezer.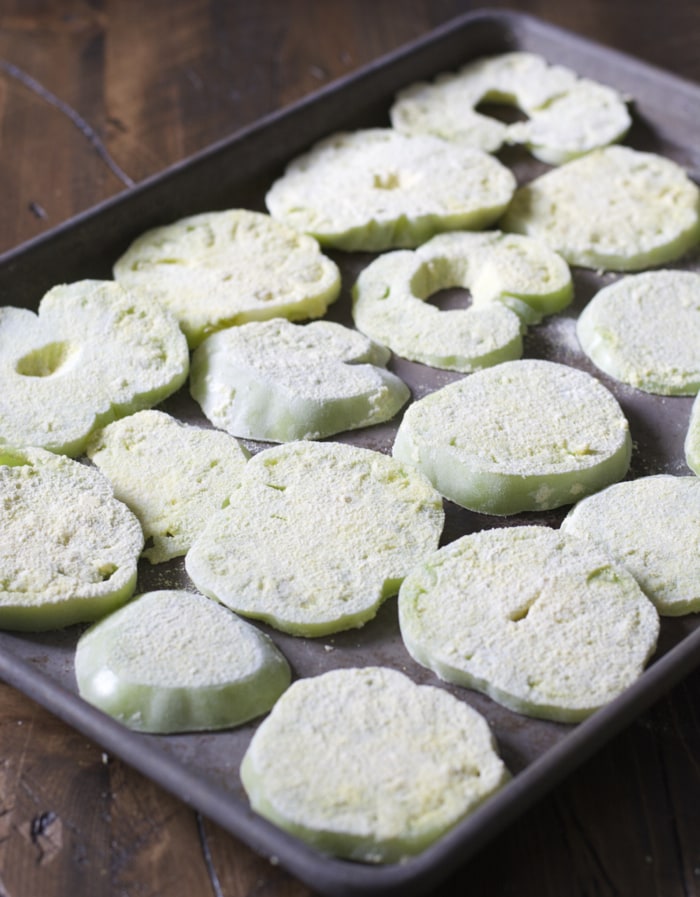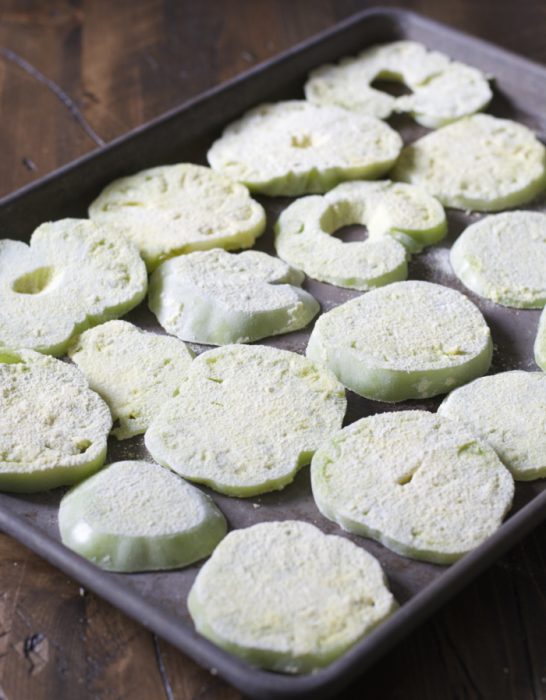 At this point you can freeze them for 15-20 minutes and then cook in a large skillet with hot oil for 1-2 minutes on each side.
Or, you can freeze them overnight in a single layer. Then, carefully stack them in a large Ziplock bag so you can pull out however many you need.
Then try as hard as you possibly can not to eat all of those perfect, ultra crispy keto fried green tomatoes in one sitting!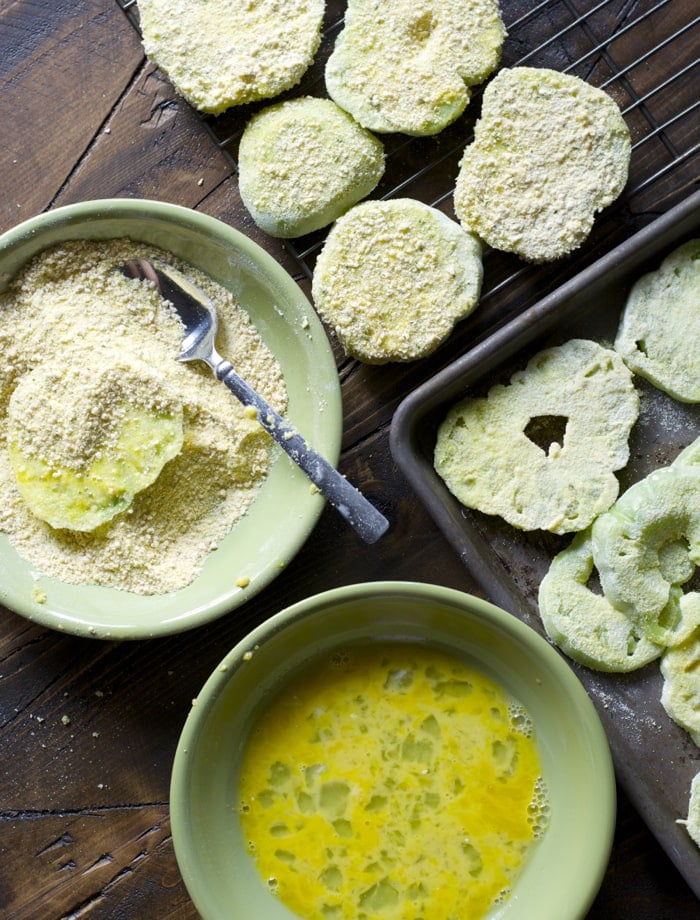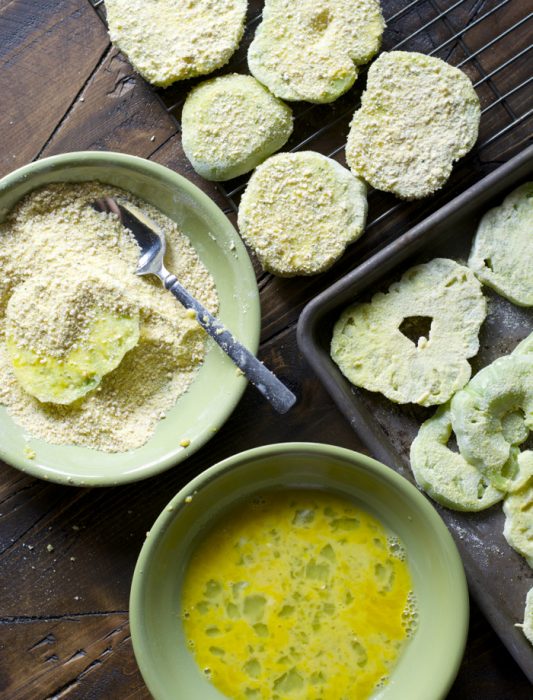 How to Store Fried Tomatoes
Once they've been fried, I recommend eating the tomatoes immediately. However, if you wind up with leftovers you can store them in the fridge for up to three days.
To reheat, place an oiled skillet over medium heat. You can shallow fry the tomatoes to reheat them.
How to Freeze Fried Green Tomatoes
To freeze these southern fried green tomatoes, follow the recipe all the way up until you're supposed to fry the tomatoes. Instead of frying them, lay them out on a baking tray and freeze. Once hardened, transfer the breaded tomato slices to a Ziplock bag.
When ready to fry the tomatoes, there's no need to thaw them first.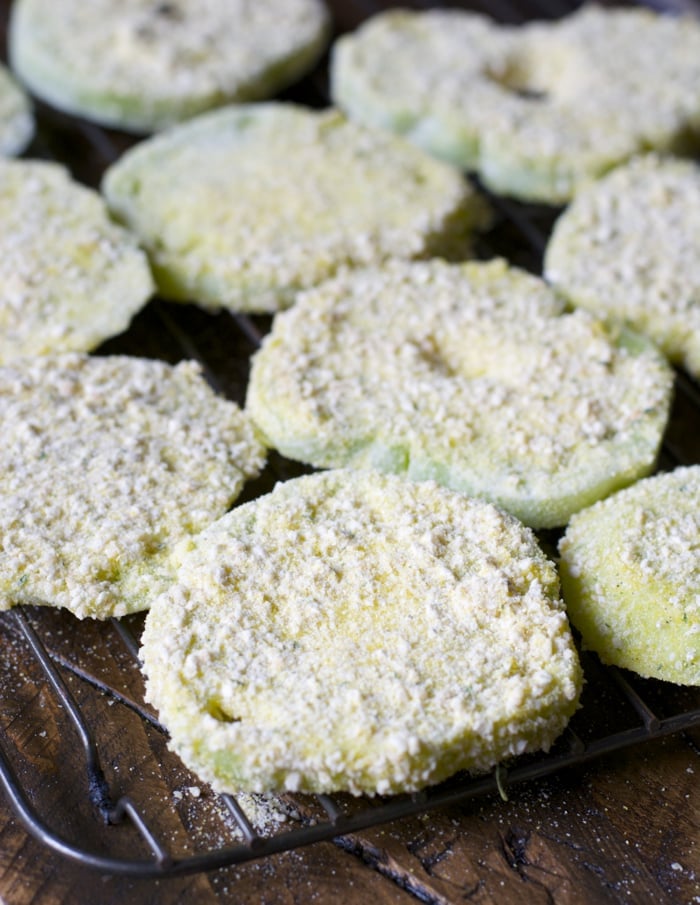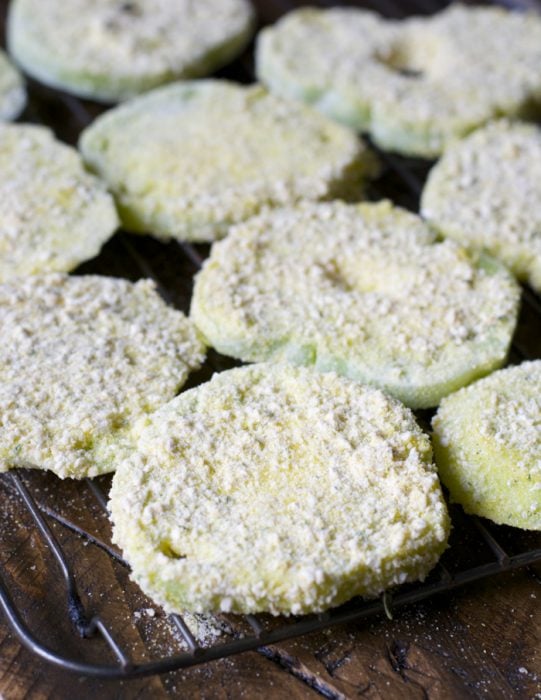 Can This Recipe Be Made in an Air Fryer?
Most likely, yes! I haven't tried frying green tomatoes in an air fryer before though. If you give it a try, leave me a comment below letting me know how it turned out!
What to Serve with Fried Green Tomatoes
Now that you know how to fry green tomatoes, I can guarantee you'll want to pair them with all of your favorite Southern dishes! Here are some entrees that pair nicely with fried tomatoes: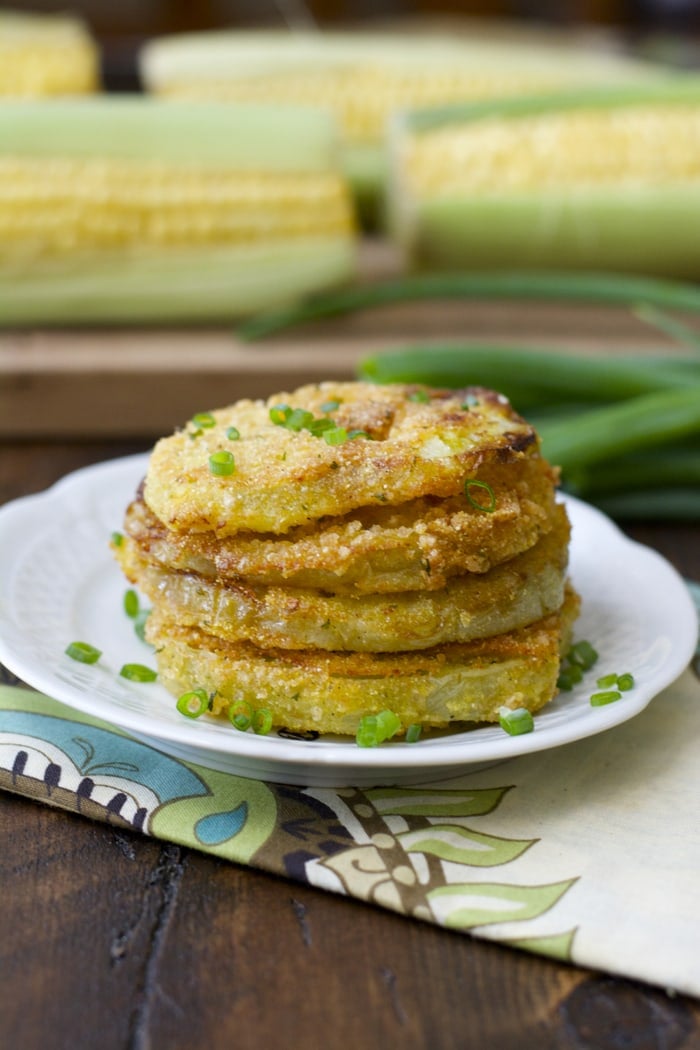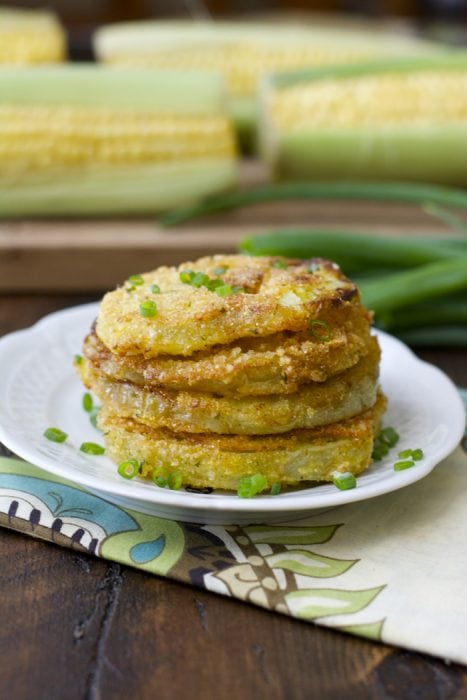 Tips for the Best Fried Green Tomatoes
You want to use totally green tomatoes for this recipe. Not green with a little red or mostly red but a little green. You want super green tomatoes.
If there is any red at all, it means they have started to ripen. There is much more moisture in ripe tomatoes, than in unripe. You will have a much harder time getting a good crispy crust if you use anything other than a good, firm bright green tomato.
Note that I used gluten-free Bisquick to make the fried tomato breading, but you can use any flour you'd like.
More Southern Side Dish Recipes: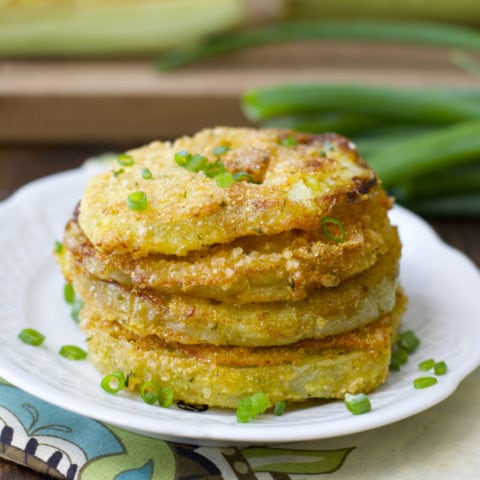 Fried Green Tomatoes
Fried Green Tomatoes and how to freeze them! These ultra crispy and totally delicious tomatoes are a Southern classic!
Ingredients
5 green tomatoes
Oil for frying (use a neutral oil like canola or vegetable oil)
First Layer
1/3 cup gluten free flour (I used GF Bisquick)
1/3 cup cornmeal
1/4 teaspoon salt
1/4 teaspoon pepper
1/4 teaspoon garlic powder
Egg Wash
Second Layer
1 cup gluten free breadcrumbs (I love C4 GF breadcrumbs)
1/3 cup gluten free flour (I used GF Bisquick)
1/3 cup cornmeal
Instructions
Slice the tomatoes in fairly thick slices
Mix the flour, cornmeal and spices listed for the first layer and dip each tomato slice in it making sure it is completely coated.
Lay the slices on a large baking sheet and freeze for 30 minutes.
Crack eggs into a shallow bowl and blend with a fork.
In a second bowl combine the breadcrumbs, flour and cornmeal.
Dip each tomato slice in the egg and in the breadcrumb mixture. Make sure to completely coat the tomato and lay back on the baking sheet in a single layer.
At this point you can freeze the tomatoes in a single layer overnight and then place in a large ziplock bag.
Add oil to a cast iron skillet. The oil should be about 1-inch deep. Heat until shimmering (careful, it will be very hot!).
Fry until golden brown, about 1 to 2 minutes per side.
Nutrition Information:
Yield:

10
Serving Size:

1
Amount Per Serving:
Calories:

150
Total Fat:

4g
Saturated Fat:

1g
Trans Fat:

0g
Unsaturated Fat:

3g
Cholesterol:

56mg
Sodium:

164mg
Carbohydrates:

24g
Fiber:

2g
Sugar:

3g
Protein:

6g
To avoid any confusion I remove erythritol from the final carb count and net carb count, as it is not known to affect blood glucose levels. To calculate Keto recipes listed on this site carbs - fiber = net carbs. I use Nutrifox as my nutrition calculator. This nutrition information is an estimate based on the information provided by Nutrifox and the specific ingredients I used.