This homemade Vanilla Bean Frappuccino has no ice cream and is the perfect Starbucks copycat. Options for low-carb, dairy-free and gluten-free included!
A while ago, I was at Starbucks with a friend. I ordered my usual caffeine-filled macchiato and she ordered a Vanilla Bean Frappuccino.
I can honestly say it had never crossed my mind to order something at Starbucks that didn't have any coffee! But I was intrigued because it looked delicious! I tasted it and knew I had to recreate this creamy vanilla drink at home.
This is my version of a copycat Starbucks vanilla bean frappuccino. It's not too sweet, full of pure vanilla flavor, and is SO easy to make!
Ingredients for a Vanilla Bean Frappuccino
Generally, most homemade recipes for a vanilla bean crème frappuccino call for ice cream. It gives you the ultra creamy texture and the sweet vanilla kick.
However, I really wanted this drink to be something that I could enjoy anytime, not just a dessert. I also wanted to create a low-carb version so this vanilla frappuccino recipe contains no ice cream! Instead, you will need:
Milk or almond milk
Frozen whipped cream (fat free, low fat or frozen coconut whipped cream all work)
Sweetener: such as honey, sugar, or sugar free alternatives like swerve or monkfruit
Ice
Vanilla beans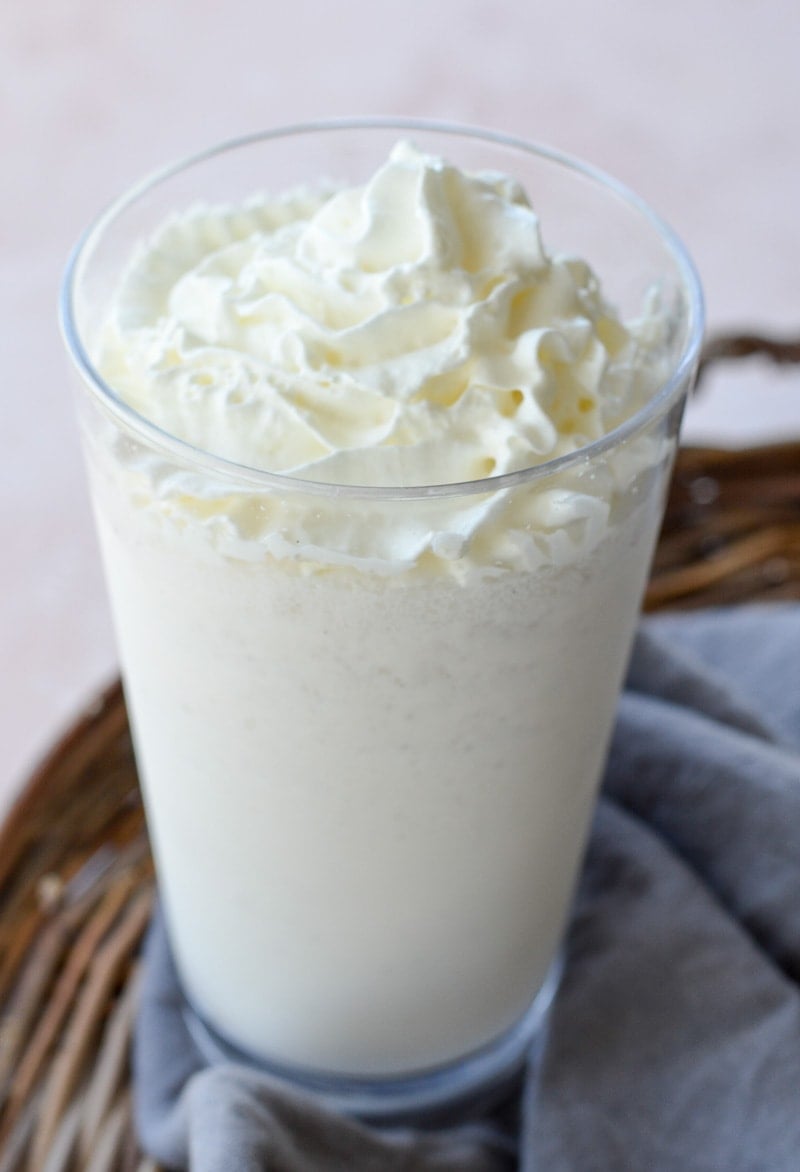 How to Make a Vanilla Bean Frappuccino
This recipe is super simple and can be whipped up in a matter of minutes. All you need are the 5 ingredients listed above and a good blender.
To make this Vanilla Bean Frappuccino:
Add the milk, frozen whipped cream, sweetener, ice and vanilla bean "seeds" to a blender and blend until smooth. The mixture will be thick and creamy.
If you want to make it just like the coffee shop version, top with whipped cream!
How to Make This Frappuccino Low-Carb
This recipe is so easy to adapt for a low-carb diet. Simply use unsweetened almond milk, a sugar-free or low-fat frozen whipped cream option, and choose a sugar-free sweetener.
I have many keto and low-carb recipes on this site and I like using Swerve and Monkfruit as my sweeteners because they have no artificial aftertaste.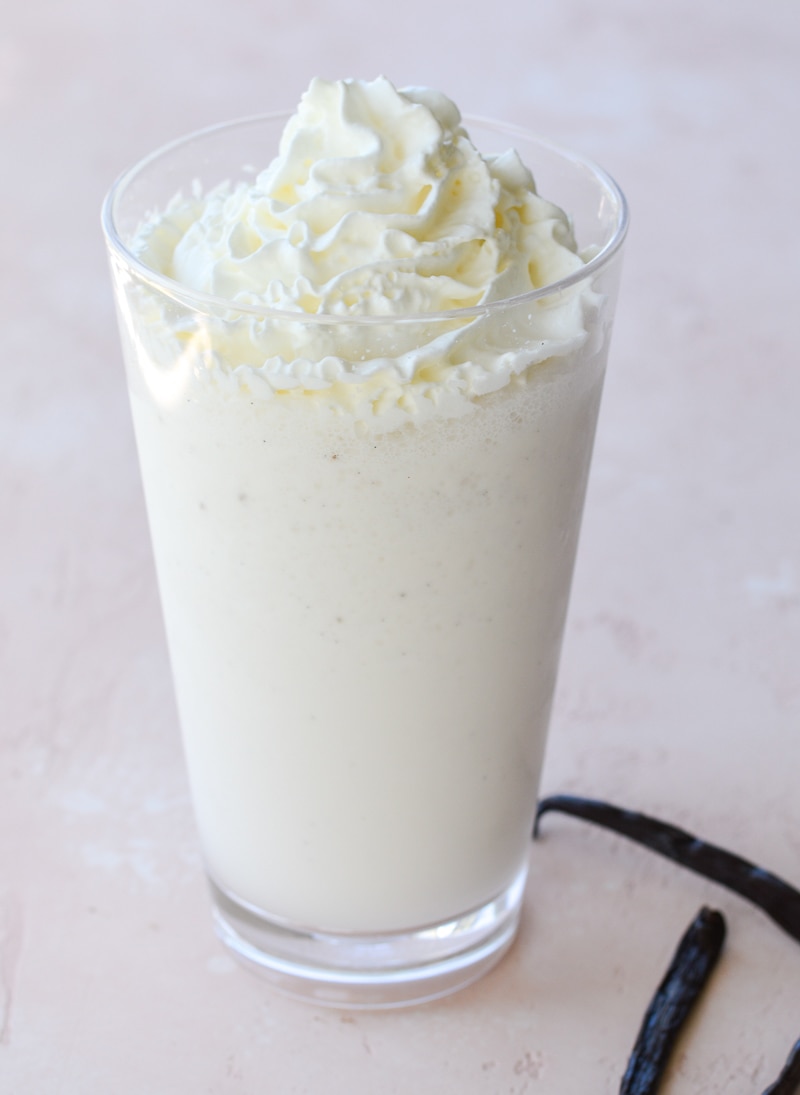 Tips for Making a Vanilla Frappuccino at Home
The only thing even slightly tricky about this recipe is the vanilla bean. If you haven't ever used them before, just slice the vanilla bean lengthwise and you will see tiny black seeds. Use a sharp knife to scrape them out.
You'll want to use a high powered blender for this recipe. If your blender isn't high powered, use crushed ice instead of regular ice.
If desired, you can add a shot of espresso (or brewed coffee) to this recipe for a boost of caffeine and coffee flavor.
More Easy Coffee Drinks: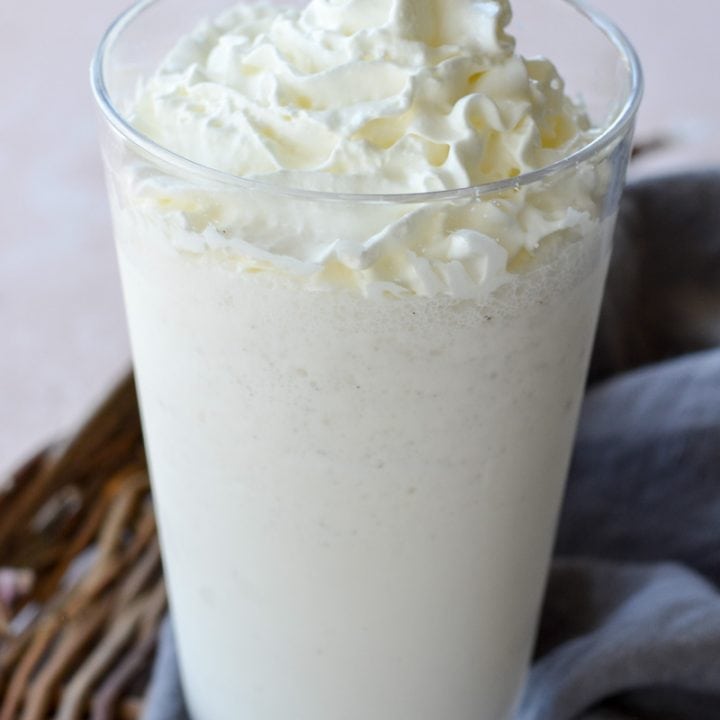 Vanilla Bean Frappuccino
This homemade Vanilla Bean Frappuccino has no ice cream and is the perfect Starbucks copycat. Options for low-carb, dairy-free and gluten-free included!
Ingredients
2 cups milk (or almond milk)
2 cups ice
1 1/2 cup frozen whipped cream (low-carb or coconut whipped cream work too)
1 vanilla bean, split lengthwise and inside scooped out
1 teaspoon vanilla extract
2 tablespoons sweetener (honey, swerve, monkfruit, sugar)
Instructions
Place all ingredients in a bender and blend for 1 minute or until ice is totally crushed.
This makes 2 large cups or 4 small cups
Recommended Products
As an Amazon Associate and member of other affiliate programs, I earn from qualifying purchases.
Nutrition Information:
Serving Size:

2
Amount Per Serving:
Calories:

155
Total Fat:

12.9g
Cholesterol:

34mg
Sodium:

189mg
Carbohydrates:

7g
Fiber:

0g
Sugar:

3g
Protein:

3g