This Bacon Asparagus Quiche is packed with perfectly tender asparagus, salty bacon and sharp cheddar cheese. This easy quiche recipe has options for a low-carb, keto-friendly crust. Perfect for a Spring brunch!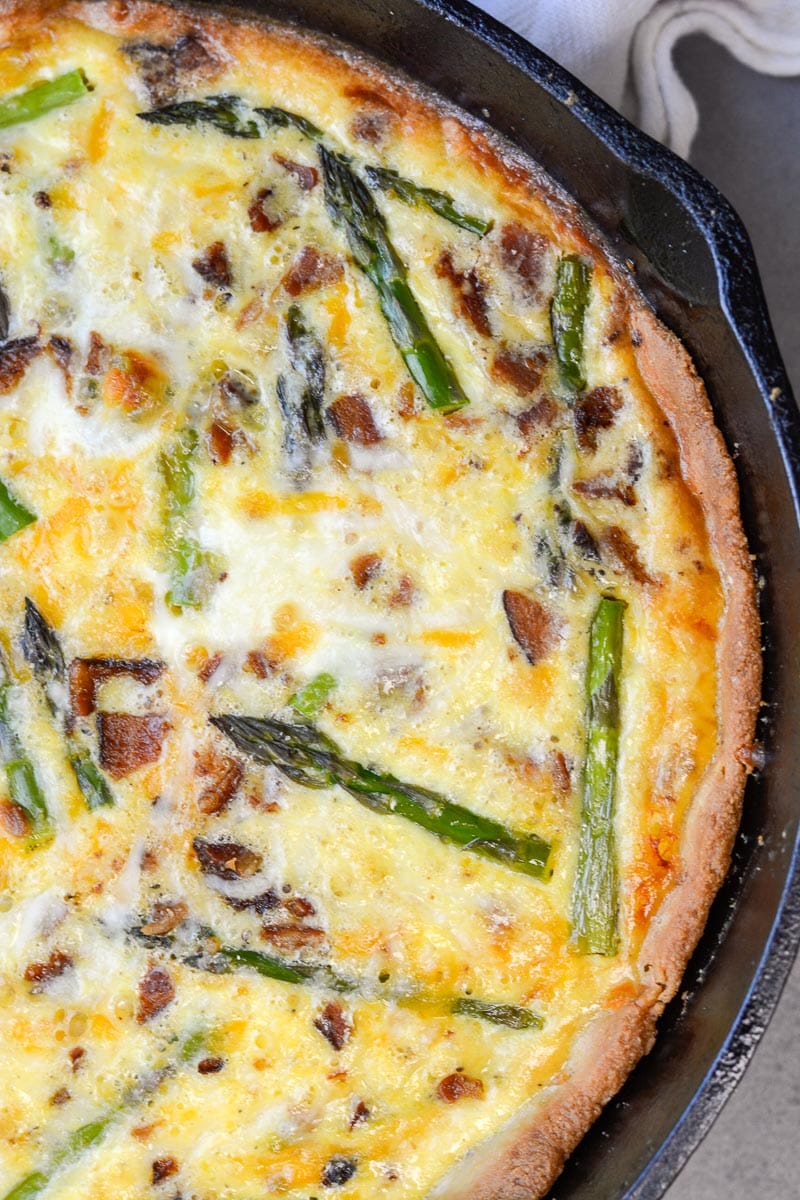 I think quiches are miracle foods. You just add miscellaneous ingredients in a pie crust, pour some beaten eggs over the top, bake, and voila, a dish that is bound to impress anyone.
Quiches are one of my go to dishes for when I am feeling particularly uninspired, or my favorite way to use a plethora of random ingredients. Have some ham? Throw it in there. Random vegetables? Sure, why not! I don't think I have ever had a bad flavor combination.
Ingredients in Bacon Asparagus Quiche
This asparagus and bacon quiche comes together with a handful of ingredients. You can either purchase a store-bought pie crust or make your own low-carb pie crust. I've included detailed instructions for both methods in the recipe card below.
Here's what you'll need to make this asparagus, bacon and cheddar quiche:
Eggs
Asparagus
Cheddar
Bacon
Heavy Cream
Salt and pepper
Pie Crust: store bought, homemade or keto friendly (recipe included below)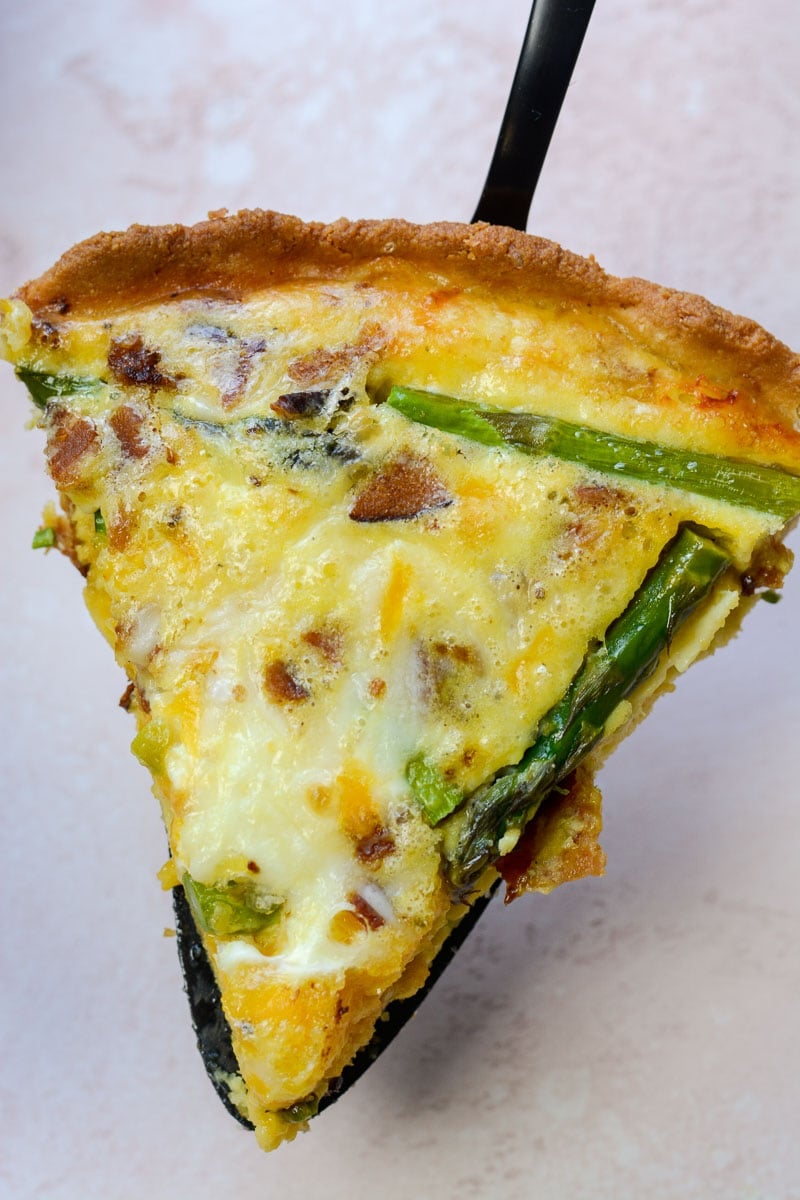 How to Make a Keto Pie Crust
Quiche is a great option for a keto diet because you can fill it with eggs, cheese, breakfast meats and low-carb vegetables of your choice. The tricky part is the crust.
Traditional pie crusts are loaded with carbs because they use traditional wheat flour. However, I have come up with a wonderfully flaky almond flour version.
To make a keto pie crust you will need to:
Combine almond flour, salt, butter and cream cheese in a food processor or mixer and mix until it resembles course crumbs.
Add in one egg and apple cider vinegar (this helps to achieve a crisp, flaky crust) and mix again until well combined.
Roll the dough into a ball and wrap in plastic wrap. Chill in the fridge for at least 30 minutes to allow the butter time to harden again. (I like to prepare the dough the day before)
When ready to use the dough press it into the prepared pan (you can roll the dough, but it is sticky and I find it easier to press the dough into the pan)
Pre-bake the crust for 10-12 minutes before filling it will the quiche fillings.
I've listed the exact ingredient measurements for my homemade keto pie crust in the recipe card below!
How to Make a Bacon Asparagus Quiche
In a deep dish pie plate, lightly spray the pan and press the pie crust (store-bought or homemade) into the pan and up the edges of the pan.
In a mixing bowl, combine the eggs, heavy cream, salt and pepper. Whisk vigorously until completely combined.
Layer the chopped asparagus, cooked bacon and cheese over the crust.
Pour the beaten egg mixture over the crust.
Bake 20-23 minutes, or until the quiche has set.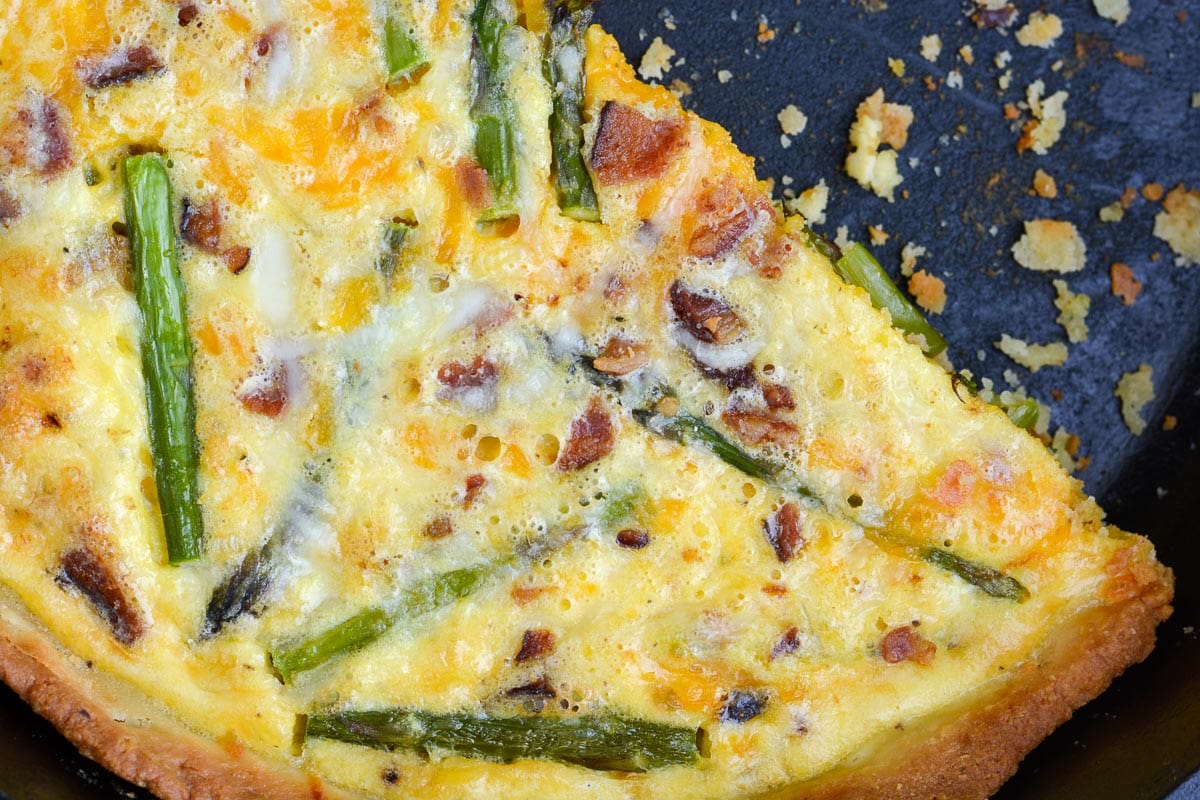 How Many Net Carbs Are in This Quiche?
For the keto pie crust alone, the crust comes to 3.3 net carbs per slice. This is a very handy recipe so you can make other classic favorites. We have made many different quiches with this and it turns out excellent each time.
For one slice of the prepared Asparagus and Bacon Quiche with the keto crust, it is 4.3 net carbs per slice. You can find the complete nutrition information listed below the recipe.
Can I Prepare This Recipe in Advance?
Yes! You can either bake off the entire quiche a day in advance, or you can make the keto pie dough a day in advance and assemble the quiche later. Quiche also freezes well and can be reheated from frozen or thawed overnight in the fridge first.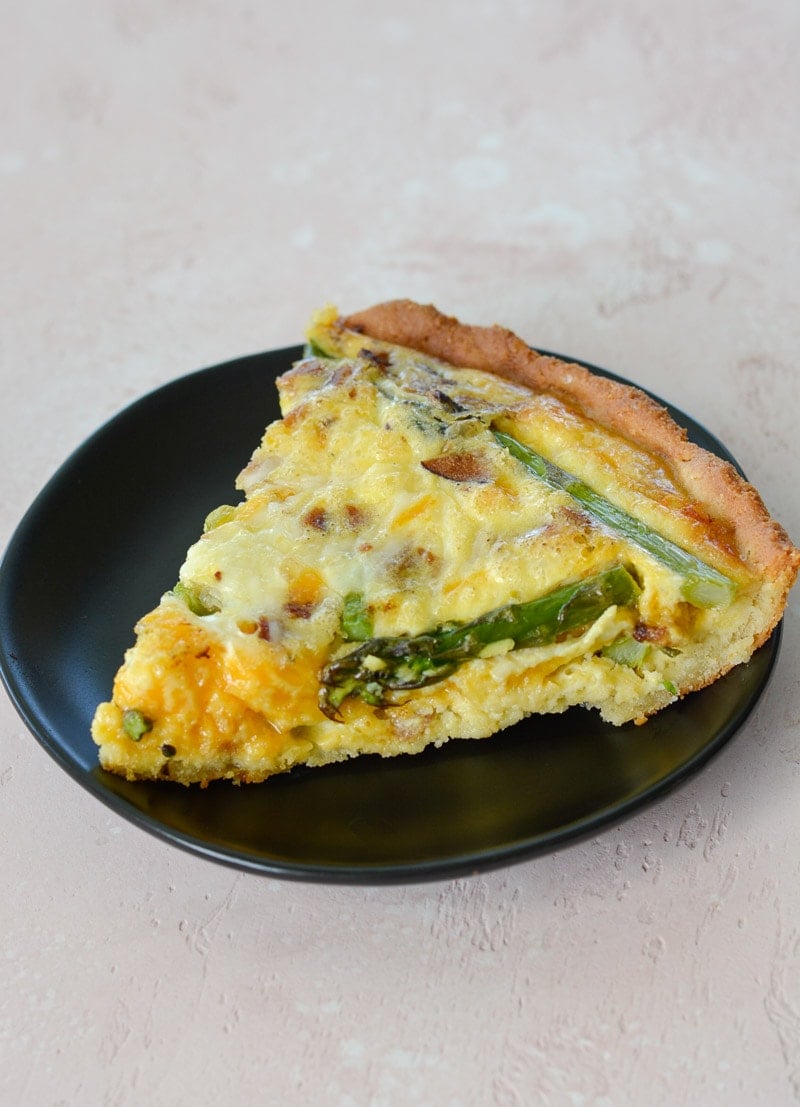 Tips for Making an Asparagus and Bacon Quiche
If you do not have a deep dish pie pan, you can also use a cast iron skillet.
If you don't have asparagus on hand, try using spinach or another green vegetable instead.
I love the combination of bacon and asparagus, but cooked and crumbled sausage would also work well here.
More Keto Breakfast Recipes:
If you are on the hunt for some keto or gluten-free breakfast recipes, I have some great options for you.