Jerk Shrimp and Andouille Sausage are cooked to perfection and laid on a bed of ultra creamy cheddar grits for the ultimate Southern meal!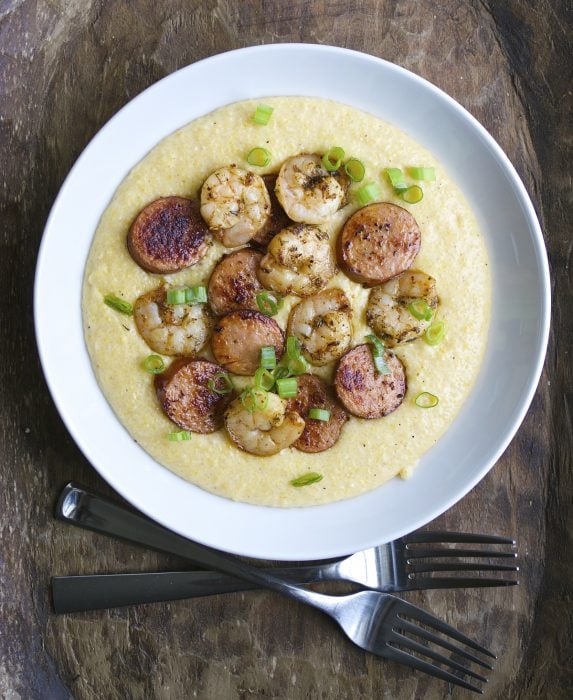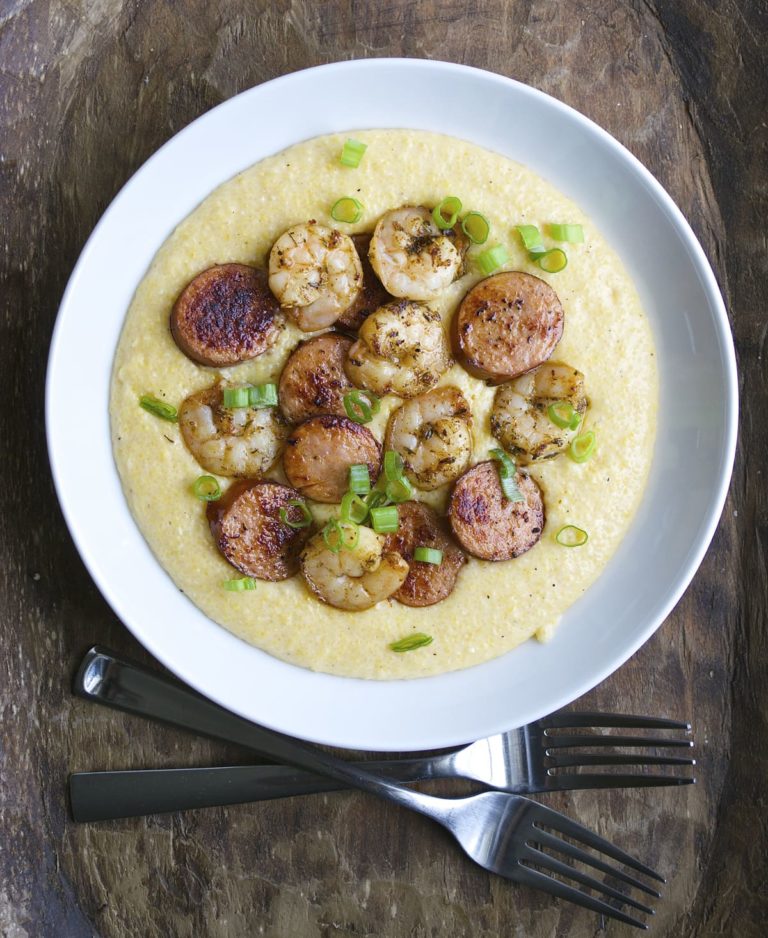 Today is my birthday!I love birthdays, love love love them. Not just mine, but anyone's!
When people say they don't celebrate their birthday I think about how super sad that is. Why wouldn't you celebrate?! The fact that you were born, the fact that you are still here on this Earth, growing, learning, loving, why in the world wouldn't you celebrate that?!
So because I am off celebrating I am going to share a revamped version of my classic Shrimp and Creamy Cheesy Grits recipe. If you have never had Shrimp and Grits, YOU ARE MISSING OUT! Sorry to yell at you, but I need you to understand the importance of going out right now and buying all of the ingredients.
This Andouille Sausage Jerk Shrimp & Cheddar Grits is so so good! My traditional recipe has shrimp coated in spices, pan seared then laid on a bed of cheese grits and topped with bacon and chopped green onions. It is fantastic.
But because one good recipe is never enough this variation has the shrimp tossed in Jerk spices and I threw in some sausage for good measure. Both are amazing, you will love them! I'm off to blow out some birthday candles! Happy Saturday my friends!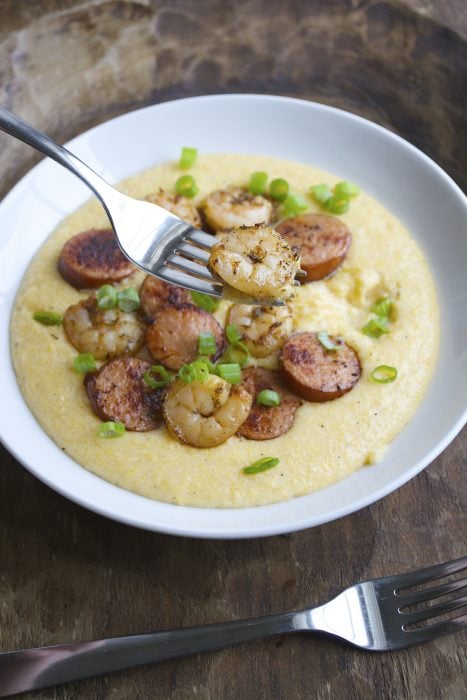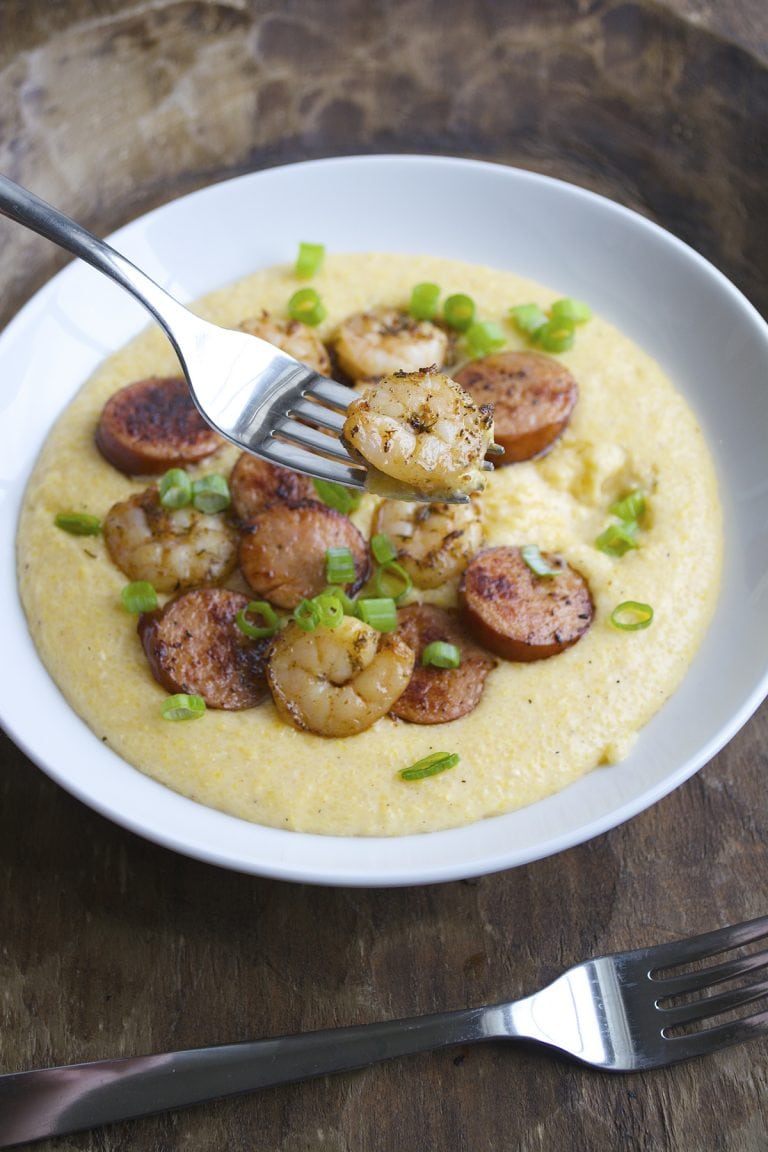 Ingredients for Southern Sausage Shrimp and Grits
Here's a quick overview of the ingredients you'll need for this dish. Keep scrolling down to the recipe card for specific measurements and instructions!
Raw shrimp- Deveined and shelled
McCormick Jerk seasoning
Johnsonville Andouille Sausage- sliced
Olive oil
Chicken broth
Yellow corn grits- not instant
Cream cheese- I used reduced fat
Cheddar cheese- Sharp, shredded
Green onion stalks- chopped
Salt and pepper to taste
How do I make Cheddar Grits with Sausage and Shrimp?
For this dish, we'll be cooking the sausage and shrimp in a large pan while the grits are cooking in a medium-sized pot. I like to bring the broth for the grits to a boil before starting my shrimp and sausage so that they finish near the same time.
As the grits cook in the broth, make sure to occasionally stir so that the grits cook evenly and don't stick together. Once the liquid is absorbed, you'll add the cream cheese, cheddar, and seasoning. Evenly coat the shrimp in seasoning and cook in a large pan for 3 minutes on each side (or until all shrimp are pink and tender).
Remove from skillet and add sliced sausage, cooking about 2 minutes on each side. To serve, add a heaping spoonful of the grits to two bowls and top with half of the shrimp and sausage. Top with sliced green onions for garnish!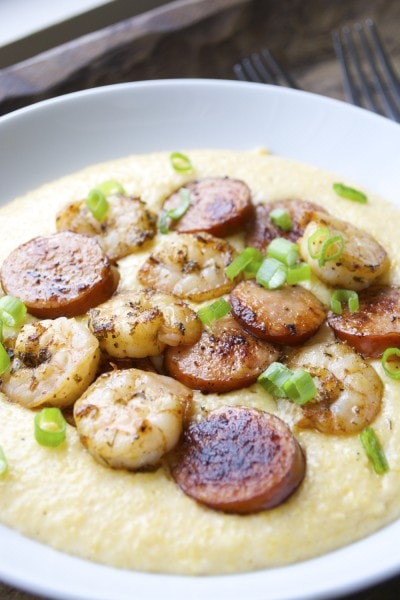 Why add Cream Cheese to the Grits?
Y'all. Adding cream cheese to your grits is a GAME CHANGER. By adding cream cheese, you're adding a velvety texture to, in my opinion, the best thing corn has ever given us (mhm, grits!). Trust me, add the cream cheese!
Can I make Sausage, Shrimp and Grits Keto?
Yes, sort of… With one big change! While grits are not Keto (we can't have it all), I do have a great alternative with some delicious Cauliflower Grits–Just under 5 net carbs per serving!
Can Andouille Sausage and Jerk Shrimp Cheddar Grits be made ahead of time?
Absolutely! Feel free to prepare the Sausage and Jerk Shrimp ahead of time, just store them in their own container. For the grits, you can make these ahead of time as well, just store them in a separate container in the fridge.
When reheating grits, I recommend adding a little bit of extra liquid to thin them out, as they will thicken in the fridge. I usually use milk, water or chicken broth.
To reheat the sausage and shrimp, just toss those in a skillet on medium heat until warmed throughout! All of these ingredients should stay good in the fridge for 2-3 days.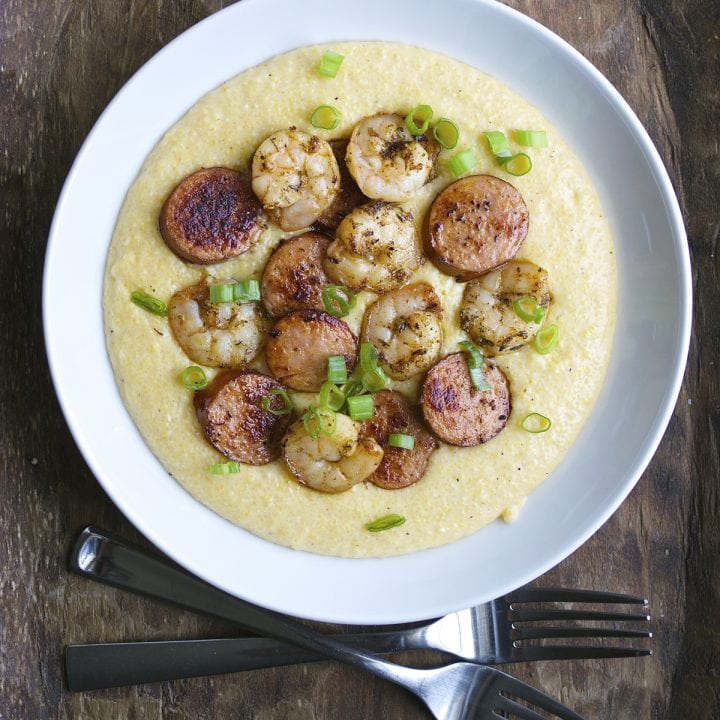 Andouille Sausage + Jerk Shrimp and Cheddar Grits
Jerk Shrimp and Andouille Sausage are cooked to perfection and laid on a bed of ultra creamy cheddar grits for the ultimate Southern meal!
Ingredients
1/2 pound deveined and shelled shrimp
2 teaspoons McCormick Jerk seasoning
1/2 package of Johnsonville Andouille Sausage, sliced
2 teaspoons olive oil
2 cups chicken broth
1/2 cup yellow corn grits
2 ounces reduced fat cream cheese
1 cup shredded sharp cheddar cheese
2 green onion stalks, chopped
salt and pepper to taste
Instructions
For the Cheddar Grits
In a medium to large sauce pan bring chicken broth to a boil, add grits and reduce heat to low.
Cover and let grits simmer for 7 minutes, stirring occasionally.
When grits have absorbed the liquid add cream cheese, shredded cheese and salt and pepper to taste.
Stir mixture well, cover and remove from heat.
For the Sausage and Jerk Shrimp
Place shrimp in a large plastic bag or mixing bowl and toss with the Jerk seasoning, making sure it is evenly coated.
Heat olive oil in a large pan over medium high heat. Add shrimp and cook 3 minutes on each side or until shrimp is pink and tender.
Remove shrimp from skillet.
Add sliced sausage and let cook approximately 2 minute on each side.
Remove sausage from skillet.
To assemble the shrimp and grits add a heaping serving of grits to two shallow bowls. Top with shrimp, sausage, chopped green onions, and additional salt and pepper.
Nutrition Information:
Yield:

2
Serving Size:

1
Amount Per Serving:
Calories:

623
Total Fat:

33g
Cholesterol:

241.7mg
Sodium:

2032.5mg
Carbohydrates:

35.6g
Net Carbohydrates:

34.4g
Fiber:

1.2g
Sugar:

0.4g
Protein:

36g
Looking for more Southern dishes? Look below!