This Steak and Feta Power Omelet is a protein-packed keto breakfast that is sure to keep you full for hours!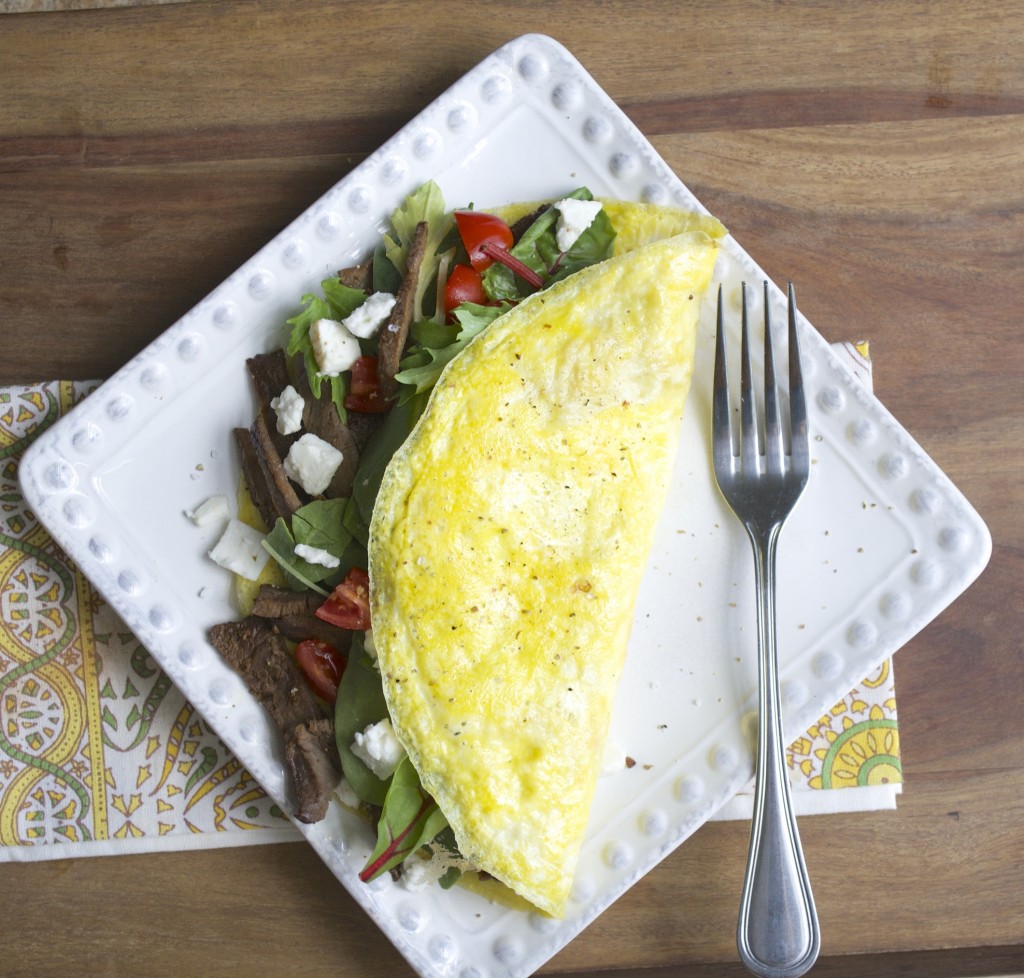 We have been all over the place for a full week, and now that I am home and not eating out, I need a hearty and healthy breakfast! Enter: the most amazing omelet of all time.
This Steak & Feta Power Omelet is one of our favorite breakfasts! It is filling, healthy, and completely customizable to each person or what's in your fridge. I usually add more vegetables while Mr. Maebell likes a big meat and cheese omelet, but no matter what your preference is, I can guarantee you will love this steak and feta omelet just as much as I do!
Keto Steak & Feta Power Omelet Ingredients
This omelet is so simple to customize to your personal preferences or whatever you have on hand. Here's how I did mine!
Feta
Spinach or salad mix
Cherry tomatoes
Steak
Eggs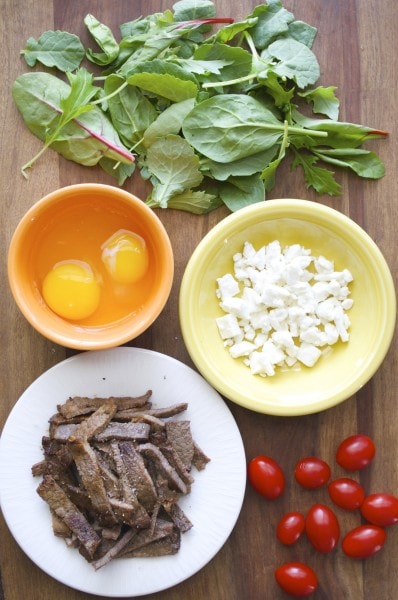 How to make a Keto Steak Omelet
I seasoned some round steaks with salt, pepper, and our favorite steak sauce. Once the steak is cooked, remove it from the pan and add your beaten eggs and cover with a lid. I don't like to flip my omelets because I will always ruin them, so instead, I put a lid on the skillet to trap the heat and fully cook the egg.
When the egg is mostly set, you can add your fillings. Add in the steak, feta, greens, and tomatoes and fold the other side of the egg over the top and let it cook about 30 seconds more. And that's it! Now you can start your day with a big, beautiful Steak + Feta Power Omelet!
Tips and variations
This recipe is pretty fail-proof since we aren't even flipping the omelet! Here are my best tips for the perfect omelet and some of our favorite filling ideas
A 3 egg omelet works best in a 10-inch skillet. If you prefer a 2 egg omelet, I suggest using a 5-7 inch skillet.
Don't forget to spray your skillet with oil! Otherwise, your egg will stick to the skillet, and half your breakfast will be left behind.
Remember, the measurements for the fillings are meant more as a guide. Adjust them according to your own personal preferences.
Filling options: sausage, gruyere cheese, Italian Baked Mushrooms, and bell peppers
Ham, cheese, and leftover vegetables from supper
Caramelized onions, mushrooms, avocado, and bacon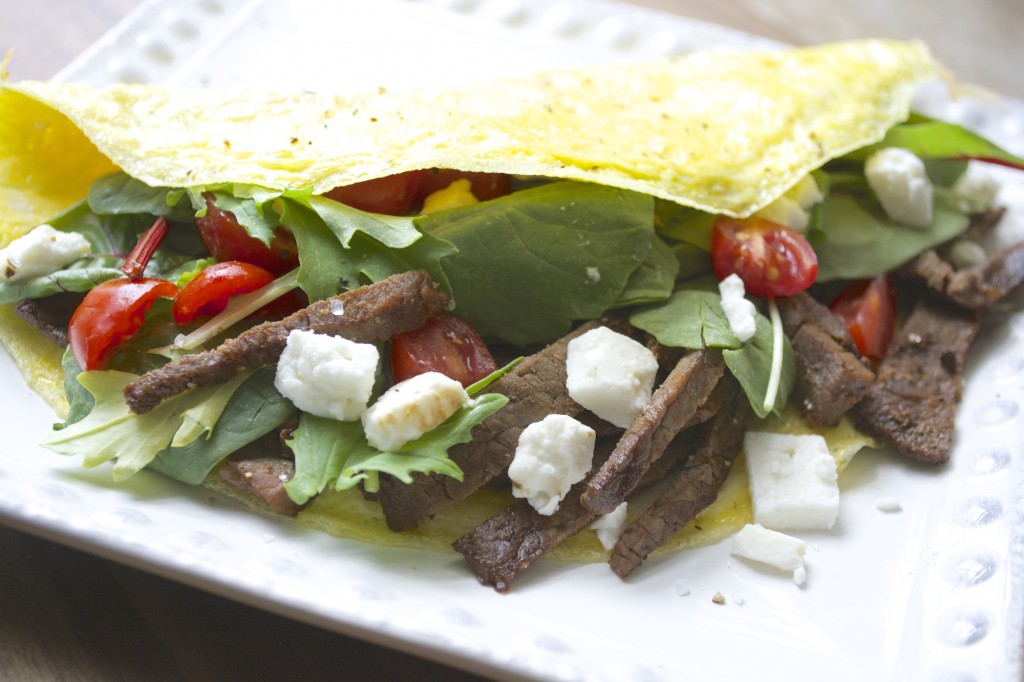 More delicious and easy keto breakfast recipes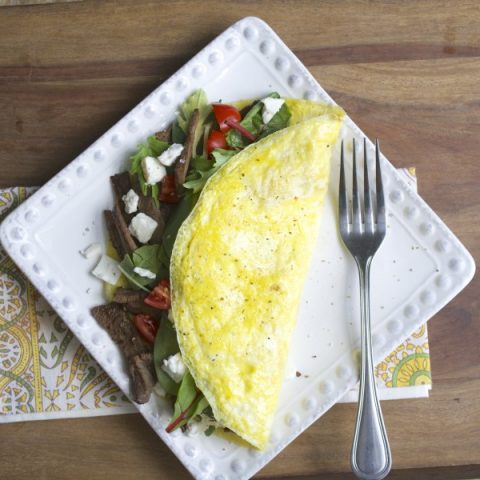 Steak & Feta Power Omelet (Keto)
A major power breakfast! Juicy steak, big chunks of feta cheese, and a mix of veggies make this the ultimate breakfast!
Ingredients
3 eggs, beaten
1/2 cup cooked and sliced steak
1/2 cup baby spinach or other greens
2 tablespoons feta cheese
2 tablespoons diced cherry tomatoes
salt and pepper
Instructions
To cook the steak
I threw 1 pound of thinly sliced round steaks in 1 tablespoon of Dale's reduced-sodium marinade. I heated a large skillet with two tablespoons of olive oil to medium heat. I cooked the steak for approximately 2 minutes on each side. I removed the cooked steak from the skillet and sprinkled it with salt and pepper.


To assemble the Steak and Feta Power Omelet
Heat a large skillet to medium heat. Spray well with cooking spray.
Pour in the beaten eggs and cover with a lid. You do not want your eggs to bubble up. If they are reduce the heat to medium-low.
Cook eggs with the lid on for 2 minutes
Eggs should be mostly set. (If they are not set, give it another 30 seconds to one minute covered.
Add the steak, greens, feta, and tomatoes to one side of the omelet and fold the other side over the toppings.
Let it cook for approximately 20 more seconds, carefully remove it from the skillet.