This Cold Asparagus Salad is made with cherry tomatoes, avocado, mozzarella, and fresh basil. All drizzled in a creamy lemon vinaigrette! The perfect low-carb summer salad!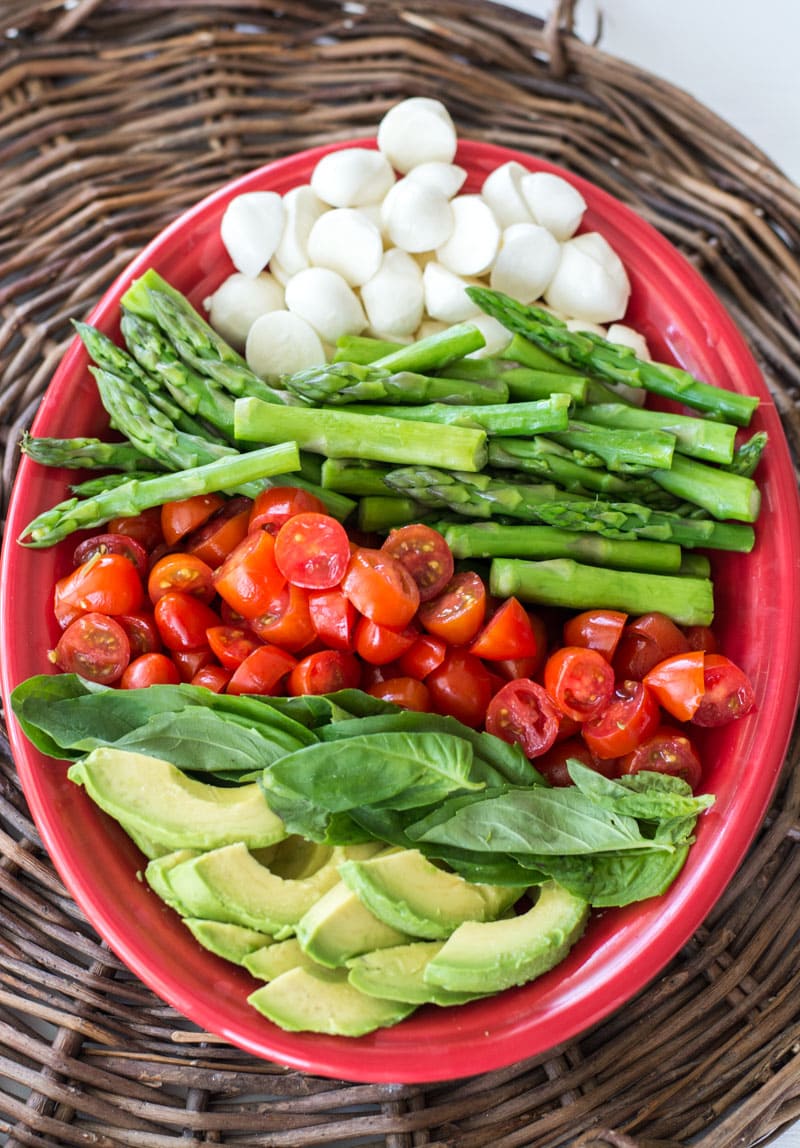 I don't post many salad recipes, mainly because my salads are very boring. I generally just toss in some spinach, cucumber, tomatoes, feta, and top it with oil and vinegar. So, to prevent from boring you to death, I just don't share them. However, this asparagus tomato salad is a game changer.
My mom came across this recipe back in the summer and we fell in love. Steamed asparagus is combined with avocado and tomatoes, and then tossed in a lemon vinaigrette. It is the weirdest, most fantastic combination of ingredients! It also happens to be perfect for a keto diet!
Since trying this a couple months ago I just can't seem to get enough. The salad is a cinch to prepare. It all starts with simply steaming freshly trimmed asparagus until tender. Then add in some chopped tomatoes and avocados, along with a load of fresh basil, the lemon vinaigrette and a good dose of mozzarella for good measure.
And there you have it! And if you are counting carbs, one serving is under 4 net carbs!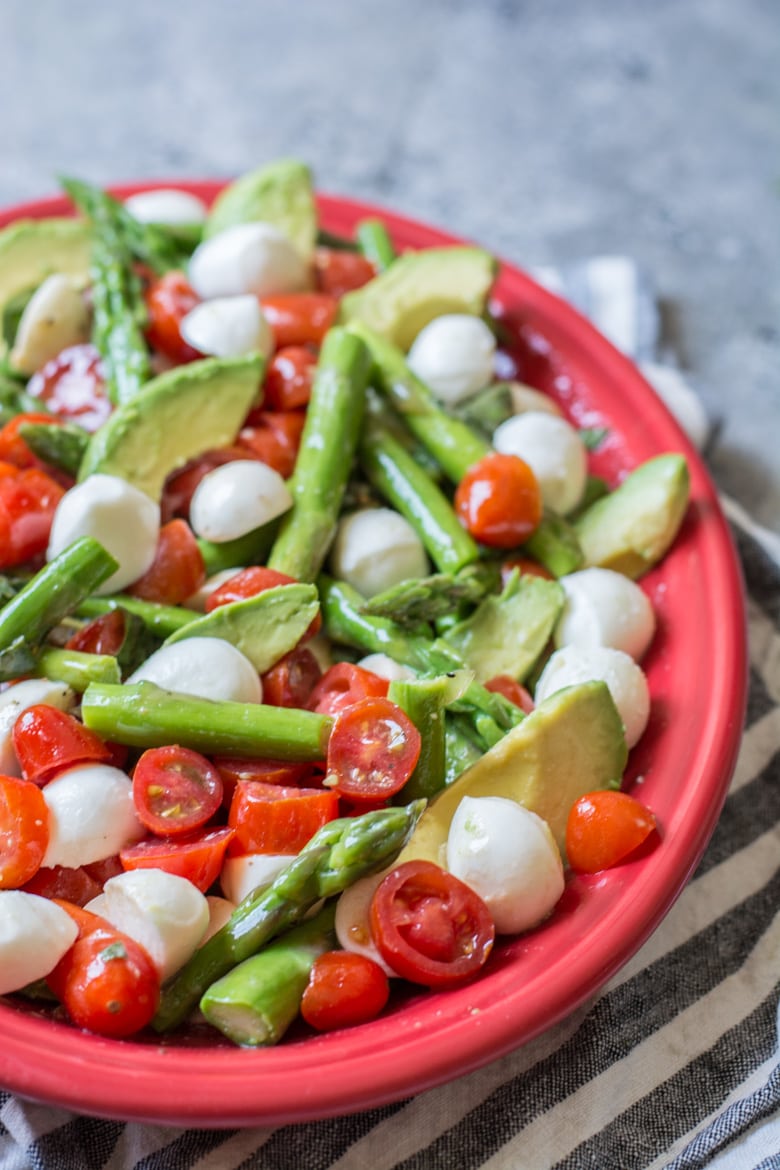 Ingredients for a Cold Asparagus Salad
To make the keto asparagus tomato salad, you'll need the following ingredients:
Asparagus
Cherry tomatoes
Avocado
Bocconcini mozzarella
Basil leaves
Olive oil
Lemon juice
Dijon mustard
Salt and pepper
How to Make a Cold Asparagus Salad
Boil asparagus in a large pot of salted water for 1 1/2 minutes, or until fork tender. Be careful not to overcook!
Drain and rinse with cold water.
Add the asparagus, tomatoes, avocados and mozzarella into a large bowl.
In a small bowl or mixing cup combine the basil, oil, lemon juice, mustard and salt and pepper. Mix well until everything is combined and pour over salad ingredients.
Toss to coat.
Can I Prep This Salad in Advance?
This salad is, of course, best when it is fresh, but it does store fairly well. I like to make a batch on Sunday nights and take it to work for the first part of the week. It is healthy and filling and I love the mix of flavors and textures.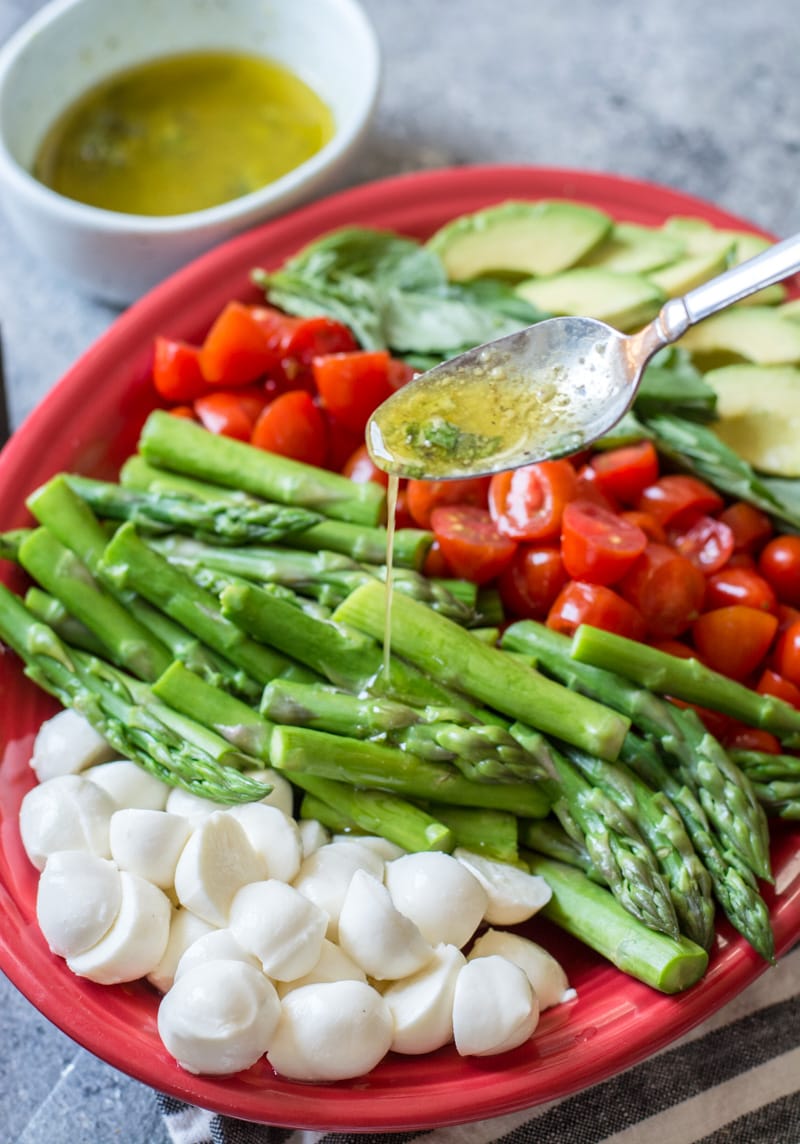 Tips for Making the Asparagus Tomato Salad
Be careful not to overcook the asparagus, otherwise it will be mushy and you really want it to have a nice crunch to it.
If making this asparagus avocado tomato salad in advance, note that the avocado will brown in the fridge. It'll still be safe to eat, but the color will look less appealing.
Is asparagus keto? Yes! Asparagus is a fantastic low-carb veggie to add to your diet.
More Low-Carb Lunch Recipes: