When you need some low carb comfort food try this Keto Broccoli Cheddar Chicken! A one pan, low carb dinner under 7 net carbs per serving.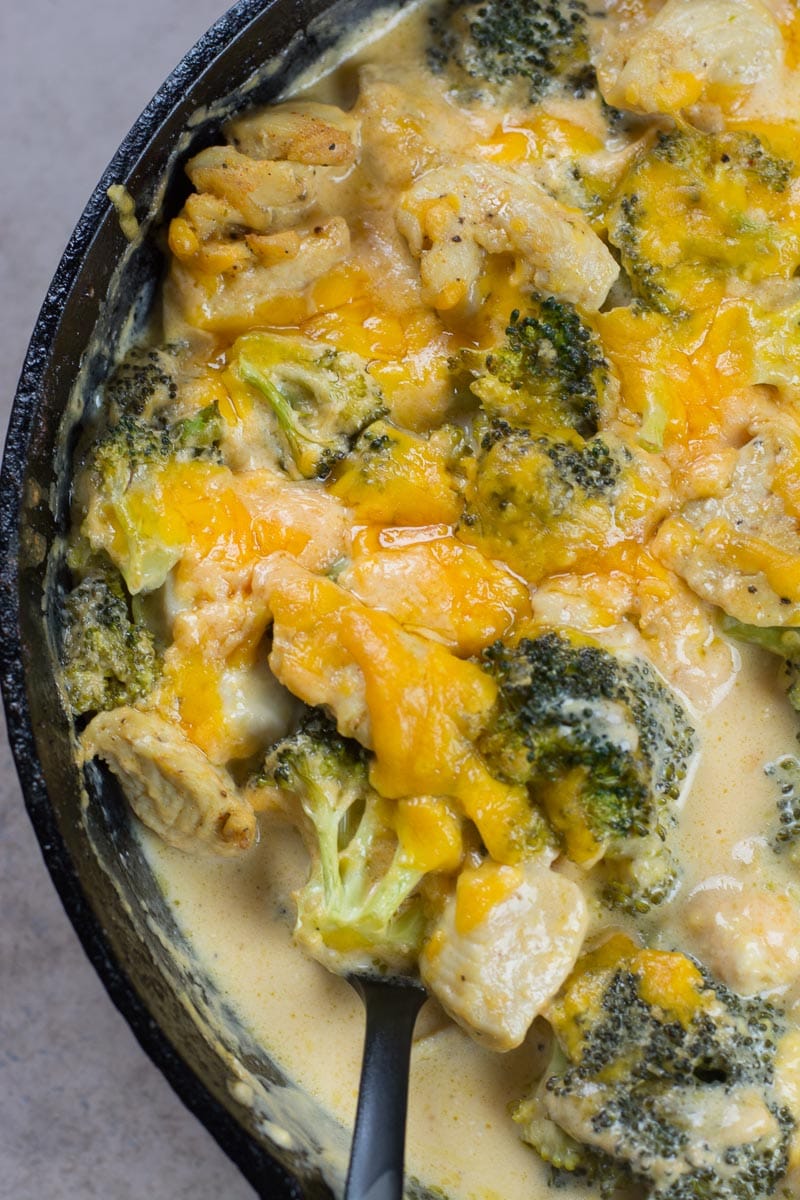 These rainy, cold days have me longing for spring and craving good old comfort foods. One of my favorite dishes has always been a Broccoli Cheddar Chicken and Rice Casserole. There is just something so comforting about a good cheesy casserole. I recently created this Keto Broccoli Cheddar Chicken that is a low carb version of that classic dish. It is hearty, easy and perfect for busy nights!
What ingredients do you need for Keto Broccoli Cheddar Chicken?
For this recipe I use the same cheese sauce that I use in my Keto Taco Zoodle Casserole. It is a rich creamy cheese sauce that is made on the stove top. To make things really easy I cook the chicken and the cheese sauce in the same pan to keep this an easy one pan meal. The ingredients you will need are:
Chicken
Broccoli
Butter
Garlic
Spices: Onion powder, garlic powder, salt, pepper, paprika
Almond milk
Heavy Cream
Cream Cheese
Cheddar Cheese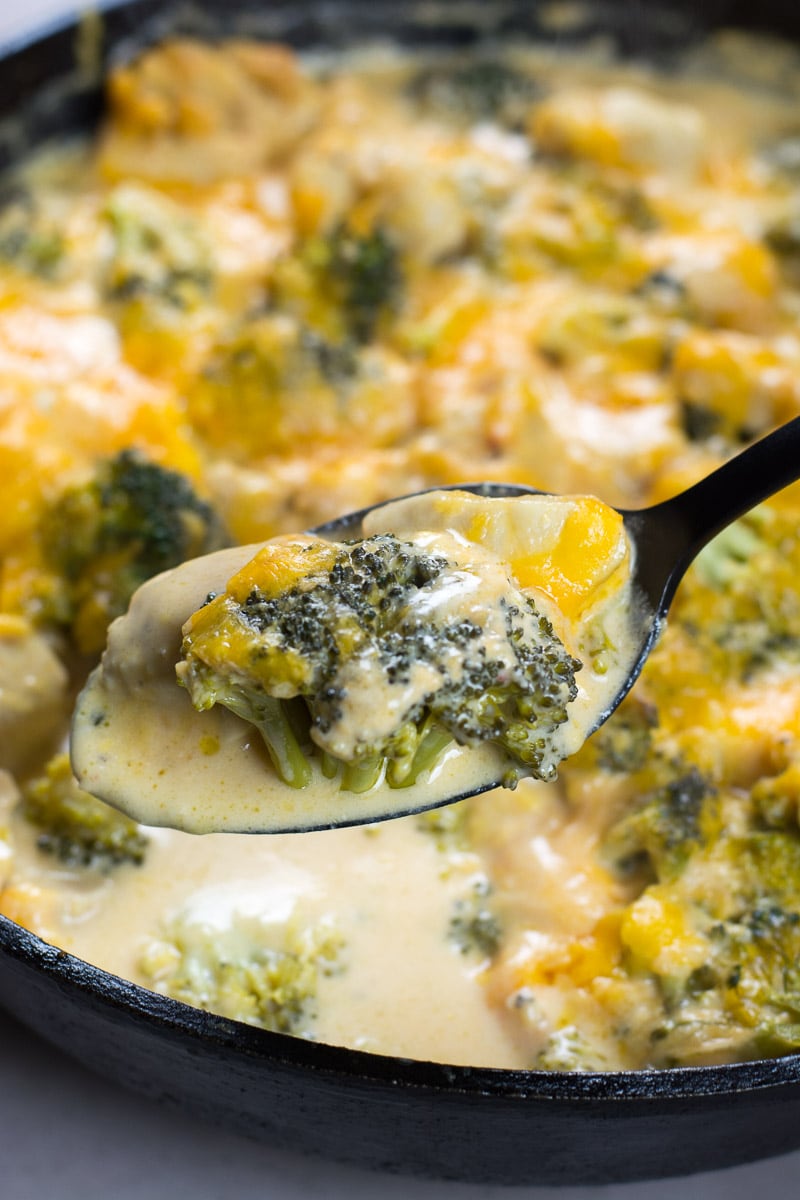 How do you make Broccoli Cheddar Chicken Casserole?
This recipe begins with a large oven safe skillet. Heat to medium heat add butter, cubed chicken and spices, stir so the chicken is coated with the spices. Cook the chicken for 5-6 minutes or until it has browned on all sides. Remove the chicken from the skillet and set aside.
In the same skillet add the additional butter, garlic, almond milk, cream cheese and part of the cheddar cheese. Heat over medium heat stirring occasionally. When the cream cheese has broken up whisk the mixture so it is completely smooth. A thick cheese sauce will form.
Add the cooked chicken and broccoli to the skillet. Carefully stir so the mixture coats the chicken and broccoli well. Top with the remaining cheddar cheese. Bake for 20-25 minutes. Remove the skillet from the oven and allow it to cool for 10 minutes. This is important because the cheese sauce thickens as it cools.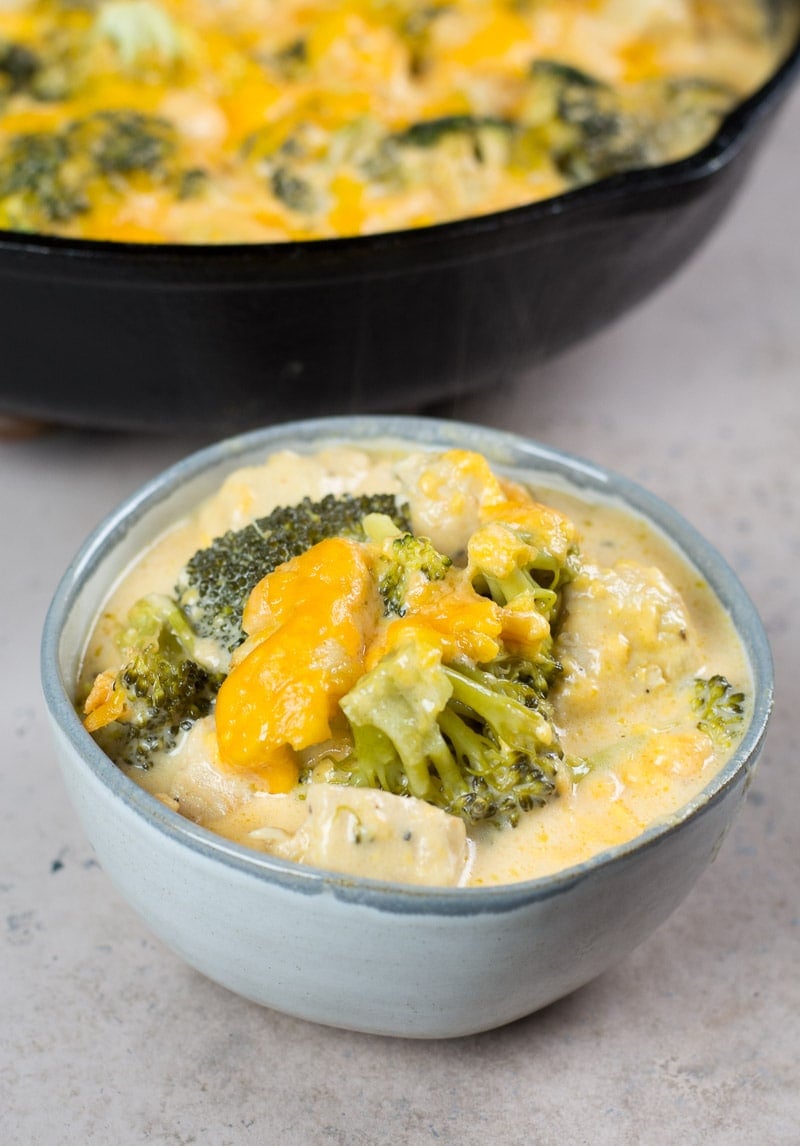 What are some other one pan keto recipes?
One pan recipes have always been my favorite. I have a ton of easy one pan keto recipes you will love. One of my favorites is this One Pan Bacon Cheeseburger Skillet, it has less than 4 net carbs and is done in under 30 minutes. Another one I love is this Cheesy Sausage and Cabbage Skillet. It is the perfect comfort food and great for busy nights. Some other favorites are:

Other Easy Keto Recipes
If you are new to Keto try my favorite Sausage Egg and Cheese Bites, they contain less than one net carb per bite and they are perfect for meal prep! One of my favorite easy low carb dinners is this One Pan Cabbage Casserole. It is so easy, cheesy and delicious and it has less than 9 net carbs per serving. Some other favorites, Keto Chocolate Cookies, Pimento Cheese and Bacon Stuffed Peppers and Sausage and Cream Cheese Pinwheels!