Made with freshly squeezed lemon juice and a homemade blueberry syrup, this easy Blueberry Lemonade is the ultimate summer refresher!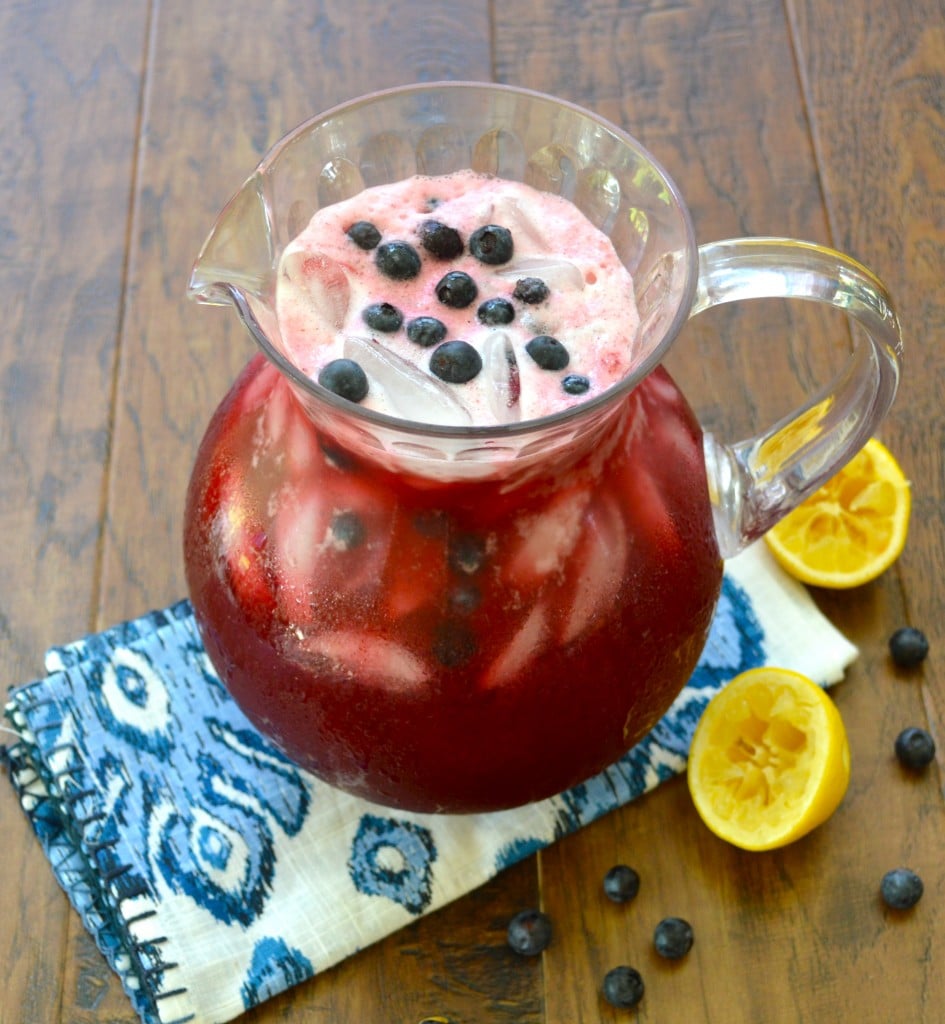 My summer has had painfully little pool time and absolutely no beach time. I haven't had a sunburn all summer. A weekend or two ago I had two missions, get some serious tan lines and make some killer lemonade.
Let me just tell you, mission accomplished.
I sported my wide brim sun hat and my Audrey Hepburn sunglasses for two days straight. I didn't get anything accomplished except a tan. And of course, this easy lemonade recipe.
At first I planned to make regular old lemonade. Why mess with something so perfect? But leave it to me to trash up a classic. I ended up making a blueberry syrup infused with lemon zest, then added it to freshly squeezed lemon juice and ice cold water. The result? A super refreshing summertime drink.
The next time you're planning to spend a day pool side, whip up a pitcher of this fresh Blueberry Lemonade. You won't be sorry!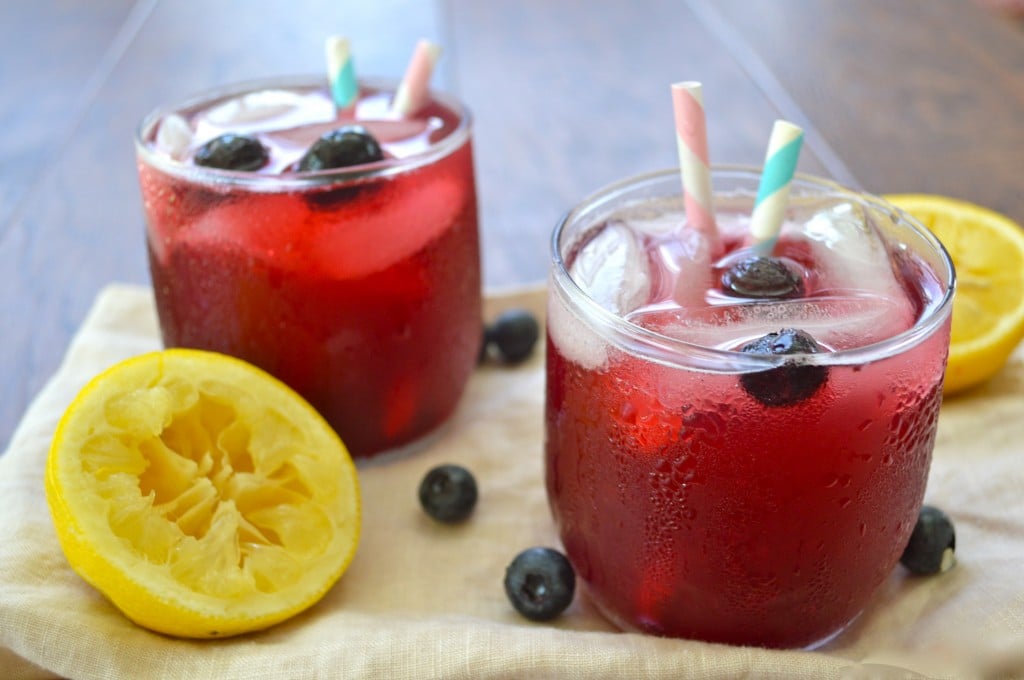 Ingredients in Blueberry Lemonade
This blueberry lemonade recipe comes together with minimal ingredients, which is just one more reason I love this recipe! Here's what you'll need:
Lemon juice
Blueberries
Water
Granulated sugar
Lemon zest
Can I Use Frozen Blueberries?
Yes, the blueberry syrup can be made with fresh or frozen blueberries. However, I prefer adding fresh berries to my pitcher of lemonade as garnish rather than frozen.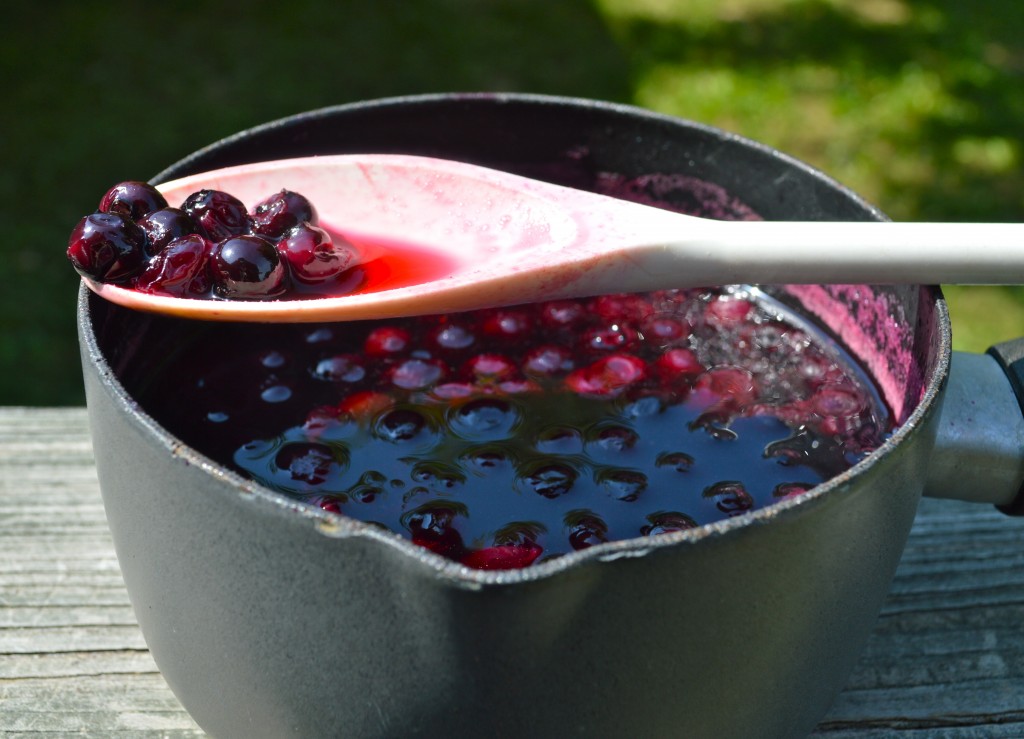 How to Make Blueberry Lemonade
If you glance at the directions, they may seem like this blueberry lemonade is complicated. It really isn't. It just has a couple different steps!
You start by juicing about a half dozen lemons.
Then, combine water, blueberries, sugar, and lemon zest in a small skillet. Let the blueberry mixture simmer until your blueberries fall apart.
Let your blueberry syrup cool and pour it in your blender and blend until everything is a smooth consistency.
You can strain the blueberry syrup through a small mesh strainer at this point (this is what I did).
Combine the blueberry syrup and lemon juice in a 1 gallon container. Fill the container to the top with ice water.
When ready to serve, stir in 1 cup of fresh blueberries.
Can I Prep This Recipe in Advance?
Yes! You can make the homemade blueberry syrup up to 3 days in advance, or prepare the entire batch of lemonade up to 4 days in advance. However, I recommend waiting to add the fresh blueberries until you're ready to pour the lemonade (they can become mushy over time).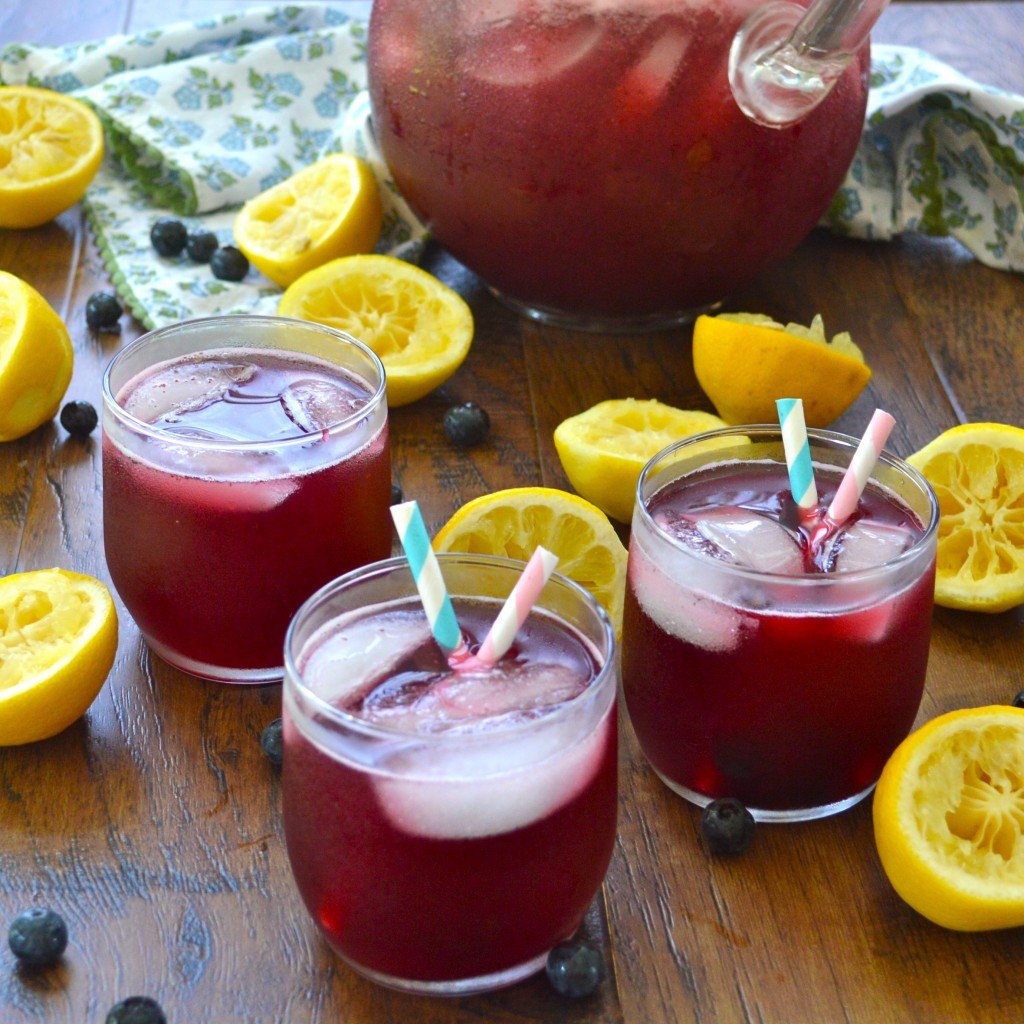 Tips for Making the Best Lemonade
The lemon juice is the star of this drink, so please use freshly squeezed! You'll need about 6 lemons to make 3/4 cup juice.
I recommend making the blueberry lemonade a few hours before you plan on serving it so it has time to chill in the fridge before being poured.
Instead of adding fresh blueberries straight to the pitcher of lemonade, you could try freezing them in the ice cubes. I think that'd look really cute!
More Summer Drink Recipes: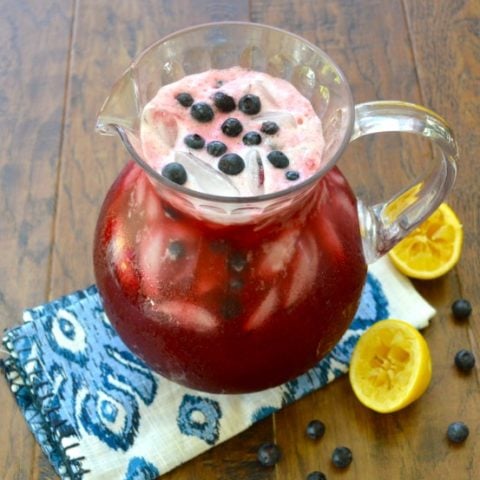 Blueberry Lemonade
Made with freshly squeezed lemon juice and a homemade blueberry syrup, this easy Blueberry Lemonade is the ultimate summer refresher!
Ingredients
3/4 cup lemon juice (from approx. 6 lemons)
2 cups blueberries (divided)
2 cups water
3/4 cup granulated sugar
Zest from 2 lemons
Additional water (see directions)
Instructions
In a small sauce pan, combine the water, sugar, 1 cup blueberries, and the lemon zest over medium to medium high heat.
Bring the mixture to a simmer and let cook until the blueberries begin to fall apart. (I let this simmer about 10 minutes).
Remove mixture from heat and let cool.
When the blueberry syrup is cool, pour into a blender and blend approximately 30 seconds. At this point you can strain the blueberry mixture with a fine mesh strainer if you wish.
Juice the lemons until you have 3/4 cup of juice, being sure to remove any seeds.
Grab a 1 gallon container. Pour in the lemon juice, blueberry syrup and fill the pitcher the rest of the way with water and ice.
Add the reserved 1 cup of blueberries.
Notes
Sweetness level: If you like really sweet lemonade, increase the sugar to 1 cup.
Nutrition Information:
Yield:

12
Serving Size:

1
Amount Per Serving:
Calories:

69
Total Fat:

0g
Saturated Fat:

0g
Trans Fat:

0g
Unsaturated Fat:

0g
Cholesterol:

0mg
Sodium:

7mg
Carbohydrates:

18g
Fiber:

1g
Sugar:

16g
Protein:

0g
To avoid any confusion I remove erythritol from the final carb count and net carb count, as it is not known to affect blood glucose levels. To calculate Keto recipes listed on this site carbs - fiber = net carbs. I use Nutrifox as my nutrition calculator. This nutrition information is an estimate based on the information provided by Nutrifox and the specific ingredients I used.