This Bacon Wrapped Pork Tenderloin is perfect for an impressive keto meal! This low carb dinner has under 1 net carb per serving and is perfect for meal prepping.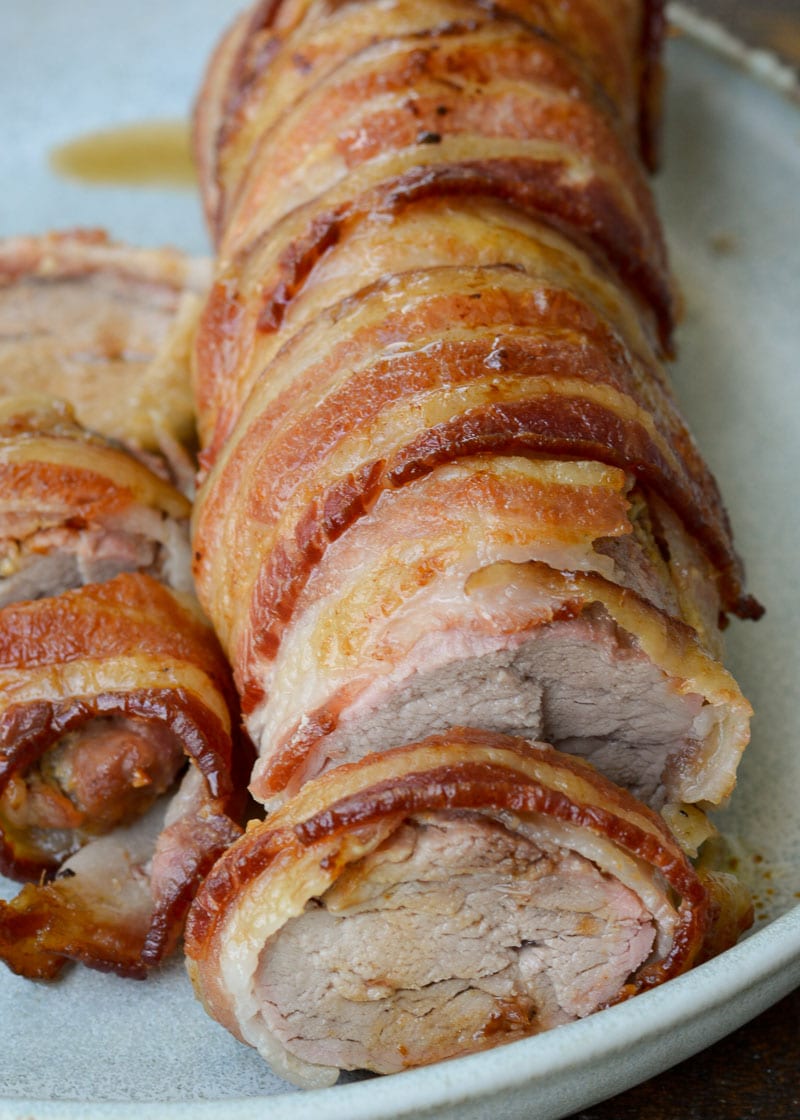 Bacon Wrapped Pork Tenderloin
Super juicy and unbelievably tender–You will absolutely LOVE this Bacon Wrapped Pork Tenderloin! When you need an impressive low-carb meal for company, this will be your go-to keto recipe. It's incredibly flavorful–You won't believe that it only requires six ingredients!
Before wrapping the tenderloin in bacon, it's covered in a flavorful mixture of tangy Dijon mustard, keto-friendly sweetener, minced garlic, and Old Bay or all purpose seasoning. If you're not a mustard fan, don't worry! There is just enough to help the seasonings stick and to complement the natural flavors of the pork. The sweetener balances this out so you don't have a strong mustard flavor.
This is a great dish for a beginner cook as well — The bacon adds a wonderful amount of juice, making it very difficult to overcook and dry out the tenderloin. You can add the mustard mixture and wrap the tenderloin ahead of time, then store in the fridge for a day, making it a great meal prep dish that will make you proud! It's so low in carbs (only 0.9 per serving), you'll be able to pair it with many different side dish options!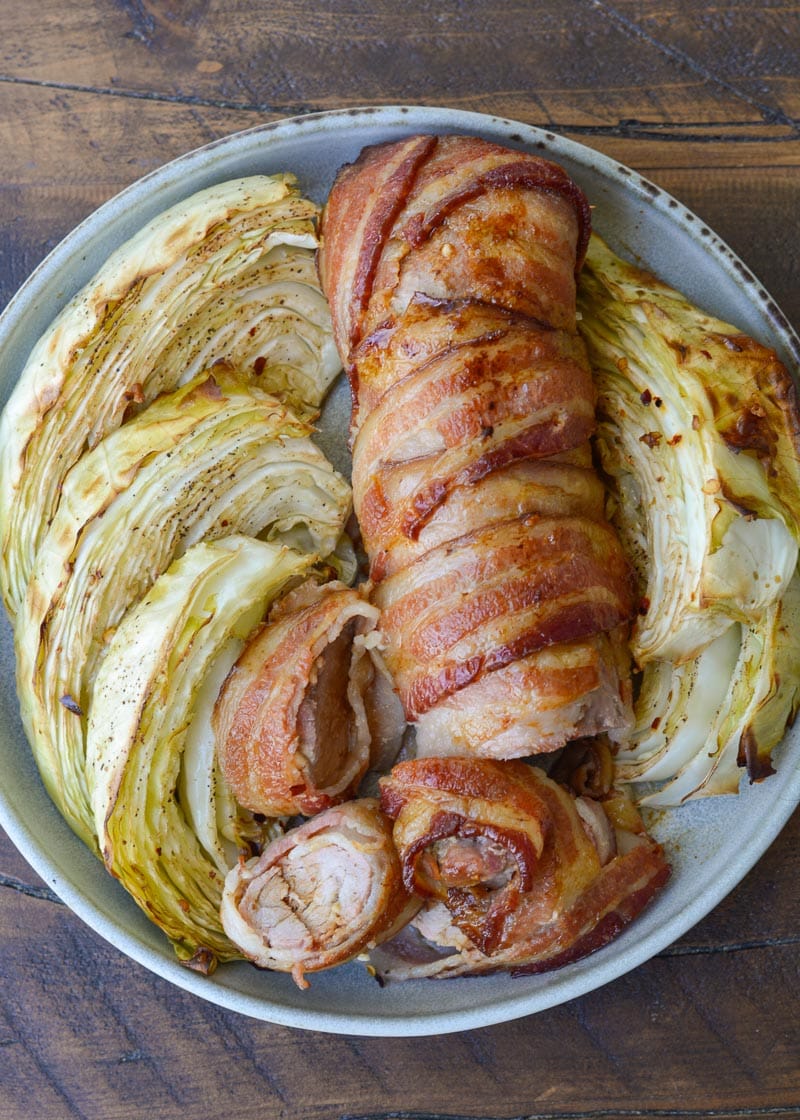 Ingredients for Bacon-Wrapped Pork Tenderloin
Here's a quick overview of what you'll need. For exact measurements and specific instructions, keep scrolling down to the printable recipe card!
Pork tenderloin: Mine was 1 1/2 pounds.
Bacon: Thin-sliced is best because it cooks quicker and won't shrink too much.
Spice mixture: Dijon mustard, Golden monk fruit or Brown sugar Swerve, Minced garlic, and Old Bay seasoning



How to Cook Bacon Wrapped Pork Tenderloin
This meal looks so impressive, but it's actually incredibly easy! While the oven is preheating, mix up your mustard, sweetener, garlic, and seasoning in a bowl and set it aside. Take your bacon and gently stretch it and lay it on a cutting board. Stretching it helps prevent the bacon from shrinking too much while it cooks, so don't skip this step!
Rub in mustard mixture all over the pork tenderloin, then lay it on the row of bacon (pictured below). Wrap the bacon around the pork tenderloin — Not too tightly; leave some slack so that the meat can expand as it cooks. You can stick a few toothpicks into the bacon wrapped tenderloin if your bacon has a tendency to curl and come apart.
Place the pork down on a roasting rack (seam-side down) and bake until the pork reaches 145 degrees F. If your bacon looks like it's cooking too quickly, you can loosely cover it with foil. This hasn't been an issue for me, but some ovens or bacons may react differently!
Allow it to rest about 10 minutes before slicing for perfectly juicy, amazing pork tenderloin!


Is Pork Tenderloin with Bacon good for keto meal prep?
Yes, this Bacon Wrapped Pork Tenderloin is fantastic for meal prepping! You can cover the tenderloin in the mustard mixture and wrap it in bacon, then store it in the fridge until you're ready to bake! You could freeze this dish before or after cooking as well, so prep several at once, then store for future meals!
If freezing, double wrap in aluminum foil, then store in a freezer bag to avoid freezer burn. Allow it to thaw in the fridge before cooking or reheating.
How to reheat Bacon-Wrapped Pork Tenderloin
Pork tenderloin is pretty lean, so sometimes it can be difficult to reheat it without drying out the meat. However, the bacon in this recipe helps keep the pork beautifully juicy! My favorite way to reheat this is to heat up a skillet (with a tight fitting lid) to medium and add a bit of oil. Add the tenderloin, cover with a lid, and allow it to warm up.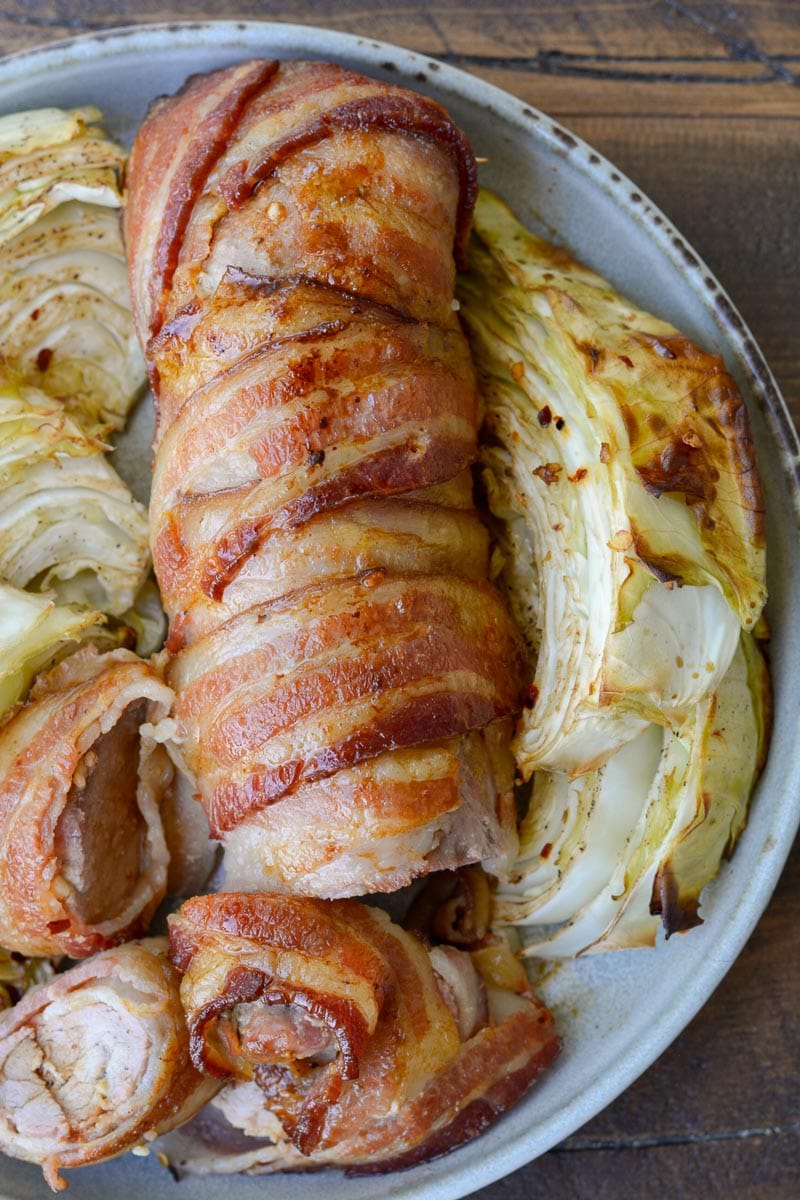 This works with a full pork tenderloin or pork that has already been cut into medallions. You will want to turn the pork a few times, making sure all sides get warmed up in the skillet. You could also do this in a pan in the oven on 350 degrees F, just make sure to add a bit of water and cover it tightly. This helps trap all the moisture in, preventing the pork from drying out.
What to serve with Bacon Wrapped Pork Tenderloin
This keto meal pairs perfectly with SO many different types of side dishes! If you have some guests who don't eat pork, you could have these Bacon Wrapped Chicken Breasts available as well. You could serve it with this Garlic Butter Mashed Cauliflower and a Simple Arugula Salad with Parmesan for a very classic keto meal. Try adding Cheesy Cauliflower Casserole or these Keto Three Cheese Biscuits for cheesy side dishes!
For quick side dishes that can be made in the air fryer, add Air Fryer Asparagus or Air Fryer Broccoli! Consider making these Keto Mint Juleps for a great cocktail– 0 carbs, and the salty bacon perfectly balances out the sugar-free minty sweetness!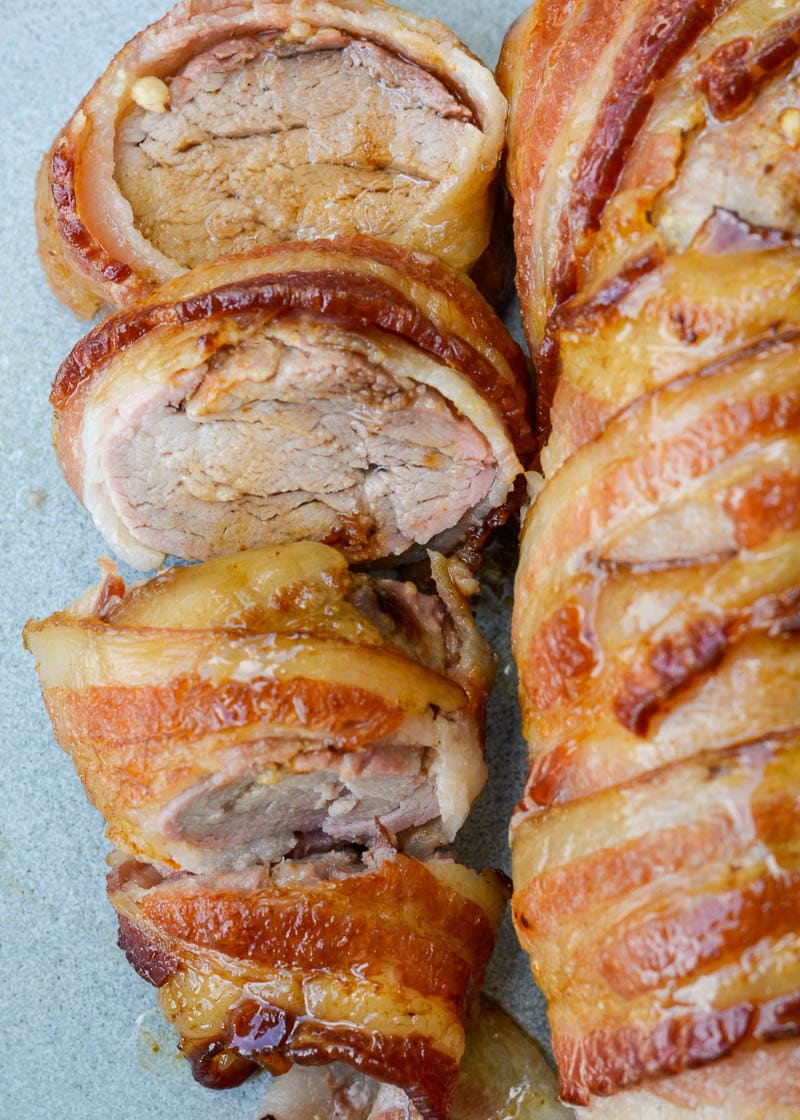 More Easy Dinner Recipes
Need more keto dinner ideas? Check out this list of 50+ Easy Keto Dinners!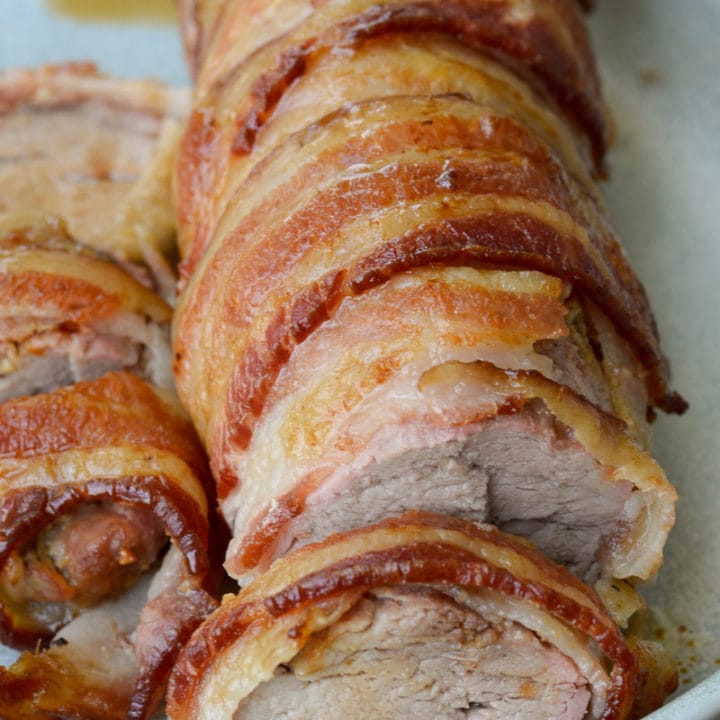 Bacon Wrapped Pork Tenderloin
Ingredients
1 1/2 pound pork tenderloin
6 slices bacon
2 tablespoons dijon mustard
2 tablespoons brown sugar monkfruit (regular if not low carb)
1 teaspoon minced garlic
1 teaspoon Old Bay seasoning (or your favorite all purpose)
Instructions
Preheat the oven to 450 degrees F.
Combine the Dijon mustard, sweetener, garlic and seasoning in a bowl, set aside.
On a cutting board lay out 6 strips of thin cut bacon, gently stretch the bacon, this will help prevent it from shrinking a ton while cooking.
Rub the dijon mixture all over the pork tenderloin and lay it on the row of bacon (see pictures).
Gently roll the bacon over the pork tenderloin. Do not wrap it too tightly, leave some slack for the meat to exand as it cooks. If needed secure a few toothpicks in the pork tenderloin. Place the pork seam side down on a roasting rack.
Bake 35-40 minutes or until the pork tenderloin reaches an internal temperature of 145 degrees F. Allow the pork to rest on the roasting rack for 10 minutes before slicing.
Note: if you feel the bacon is cooking too quickly loosely cover with foil. However, this has not been an issue for me.
Notes
Use Brown Sugar Monkfruit or Swerve if keto. If not, use regular brown sugar or coconut sugar.
For a different flavor combo you can swap the Dijon mustard for spicy brown.
Recommended Products
As an Amazon Associate and member of other affiliate programs, I earn from qualifying purchases.
Nutrition Information:
Yield:

4
Serving Size:

1/4 of recipe
Amount Per Serving:
Calories:

369
Total Fat:

20g
Cholesterol:

138mg
Sodium:

564mg
Carbohydrates:

0.9g
Net Carbohydrates:

0.9g
Fiber:

0g
Sugar:

0.4g
Protein:

41g