Enjoy this indulgent Salted Caramel Mocha Frappuccino for about 3 net carbs! This sugar free iced coffee is the perfect sweet treat!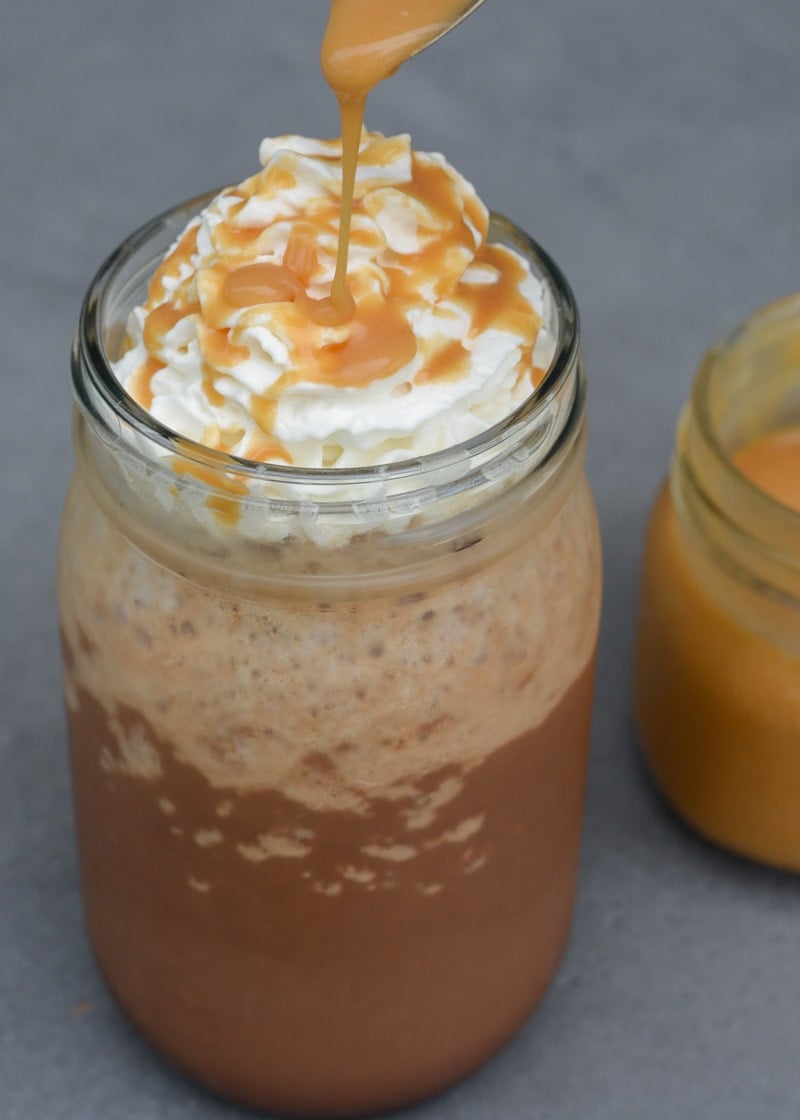 Salted Caramel Mocha Frappuccino
This is the ultimate keto coffee drink! Strong chilled coffee is combined with smooth almond milk, fresh heavy cream, ice, chocolatey cocoa powder and a keto caramel sauce! Trust me, after making this, you'll never wait in line at Starbucks again! This amazing keto coffee drink is only 3.5 net carbs, making it a great way to start your morning! For more yummy ways to use this keto caramel, check out Everything You Need to Know about Keto Caramel Sauce!
This Salted Caramel Mocha Frappuccino is the perfect keto coffee recipe. It tastes just like the store bought version, but at a fraction of the carbs! This frappuccino recipe is also much healthier. My recipe has way fewer calories, much less sodium and of course, much lower carbs. By making this drink at home, you're saving yourself money and keeping to your keto diet! As a bonus, this drink is also gluten free!
Ingredients in this Frappuccino recipe
As always, here is a quick overview of the ingredients used in our Salted Caramel Mocha Frappuccino. For the complete recipe, just scroll to the bottom of the page.
Chilled coffee, ice
Almond milk, heavy cream, cocoa powder
For the keto caramel sauce:
Butter, heavy cream
Vanilla extract, sea salt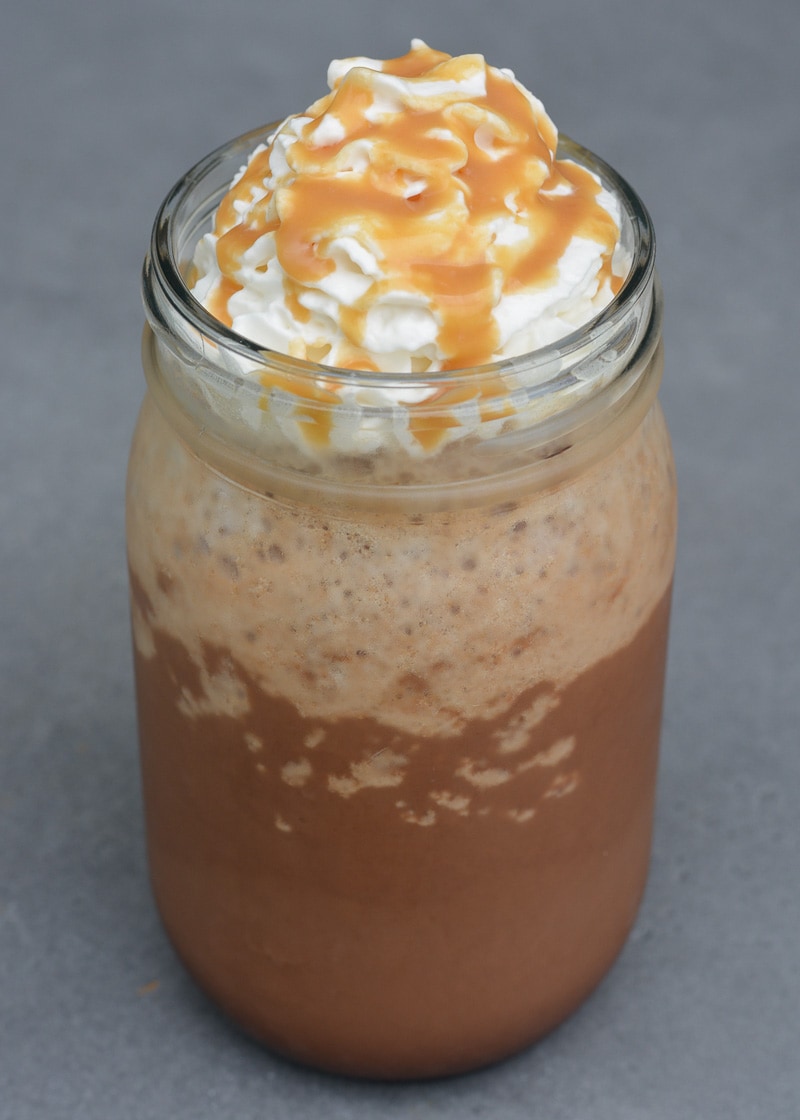 How do I make this Caramel Frappuccino recipe?
This recipe could not be any easier! Just add all of your ingredients to your blender and blend until smooth! For a topping, try sugar free whipped cream or more caramel sauce!
Keto Caramel Sauce
I made this keto frappuccino with my favorite Keto Caramel Sauce. This delicious caramel sauce has only 1 net carb per serving! I have used this sauce on keto cheesecakes, bars, candy and brownies! I love this sauce because it is so decadent while being so low in carbs!


How many carbs are in this frappuccino recipe?
This Caramel Frappuccino is only 3.5 net carbs a serving and 151 calories! The Starbucks version has 55 grams of carbs and 380 calories, so this is a much healthier option!
Do I have to use heavy cream for this keto coffee?
You can use more almond milk, half and half or whole milk instead of the heavy cream, but be advised that your frappuccino won't come out as creamy or thick. I have only calculated the carb count for the ingredients listed, so the carbs may change with any substitutions.
Can I make this keto frappuccino recipe ahead of time?
Unfortunately, I don't recommend it. The ice will melt and you'll lose that signature consistency of the perfect frappuccino. You can certainly assemble everything ahead of time, and then add ice and blend when ready to enjoy.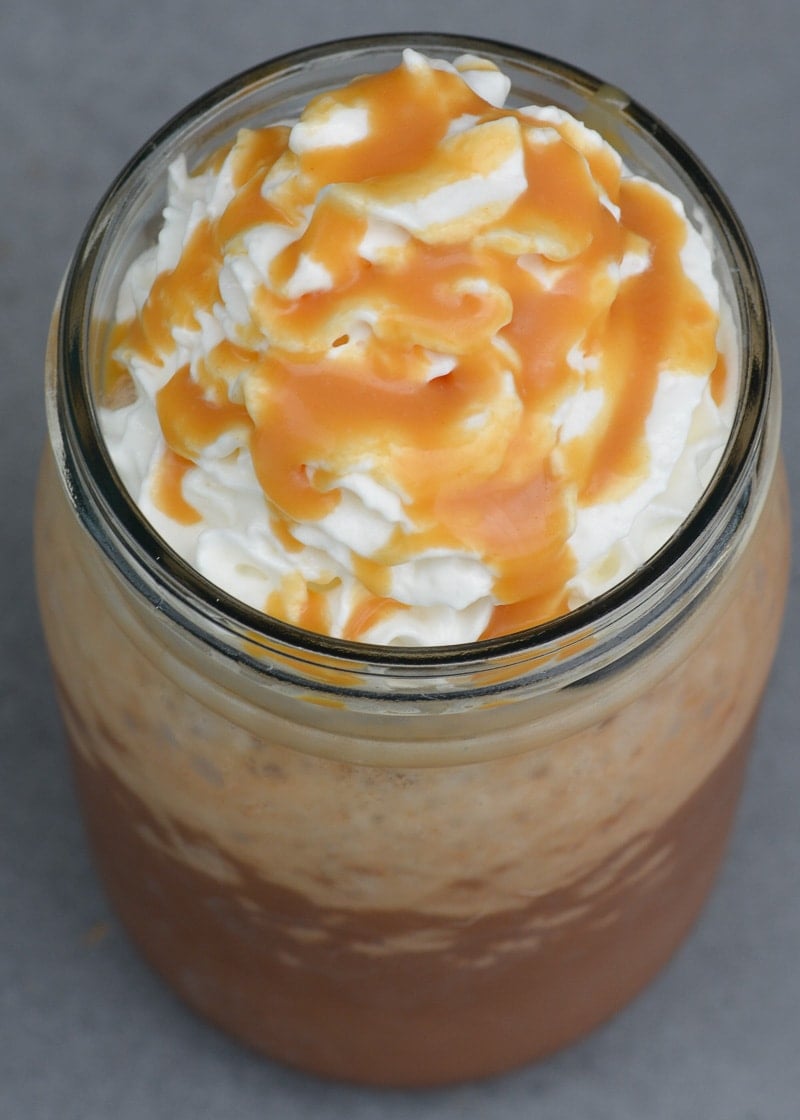 What type of coffee should I use?
You can use any type you like! Flavored beans, decaf or a really strong type of coffee will all work!
Tips for the best Caramel Frappuccino
You want to be sure that your coffee is very chilled, so it doesn't melt your ice. You could also use cold brew coffee
If you want more of a chocolate flavor, you can add more cocoa powder, but bear in mind that the carb count could change
If you prefer your coffee to be a little bit sweeter, feel free to add some monkfruit or swerve to your blender!
Enjoy immediately! This drink doesn't tend to keep very well in the freezer
If you wanted to add more fat to this recipe, you can add 1-2 tablespoons of MCT oil before you blend
Keto Breakfast recipes
Try this recipe with Cream Cheese Chaffles or Keto Lemon Raspberry Bread for a sweet start to your day! I also love these Coconut Flour Muffins or Strawberry Pancakes. If you prefer something more savory, try this Asparagus and Cheddar Quiche, Keto Bacon Egg and Cheese Rolls or Sausage Jalapeno Chaffles!
More keto coffee recipes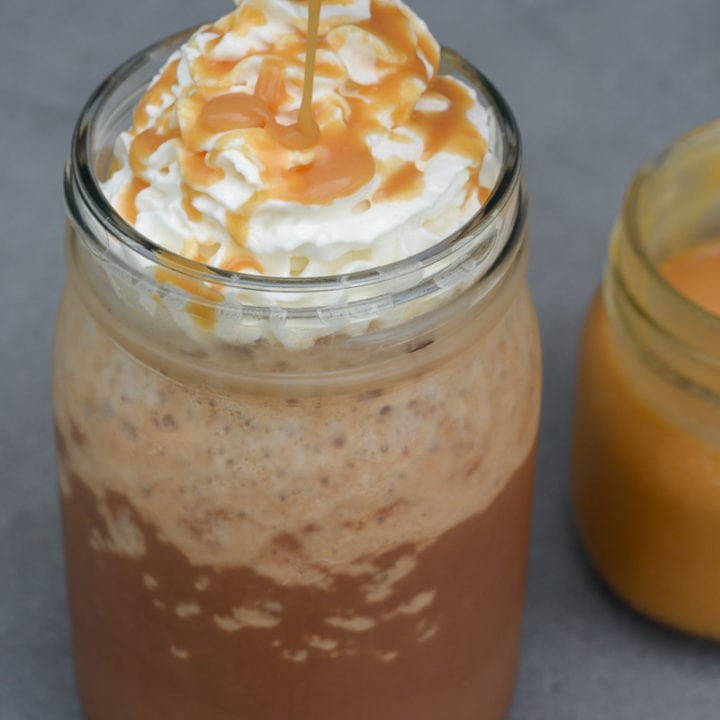 Salted Caramel Mocha Frappuccino (keto + low carb)
Enjoy this indulgent Salted Caramel Mocha Frappuccino for about 3 net carbs! This sugar free iced coffee is the perfect sweet treat!
Ingredients
2/3 cup strongly brewed coffee, chilled
1/4 cup unsweetened almond milk
1/4 cup heavy cream
1 cup ice
1 1/2 tablespoon unsweetened cocoa powder
2 tablespoons keto caramel sauce (linked below)
Pinch of sea salt (optional)
Instructions
Put all the ingredients in a blender and blend until smooth.
Top with sugar free whipped cream and additional keto caramel if desired.
Recommended Products
As an Amazon Associate and member of other affiliate programs, I earn from qualifying purchases.
Nutrition Information:
Yield:

1
Serving Size:

1 drink
Amount Per Serving:
Calories:

151
Total Fat:

13.7g
Cholesterol:

36mg
Sodium:

60mg
Carbohydrates:

5.9g
Net Carbohydrates:

3.5g
Fiber:

2.4g
Sugar:

1g
Protein:

3g