Cinnamon raisin bread is packed with cheesecake spread, jam, and berries for the perfect breakfast!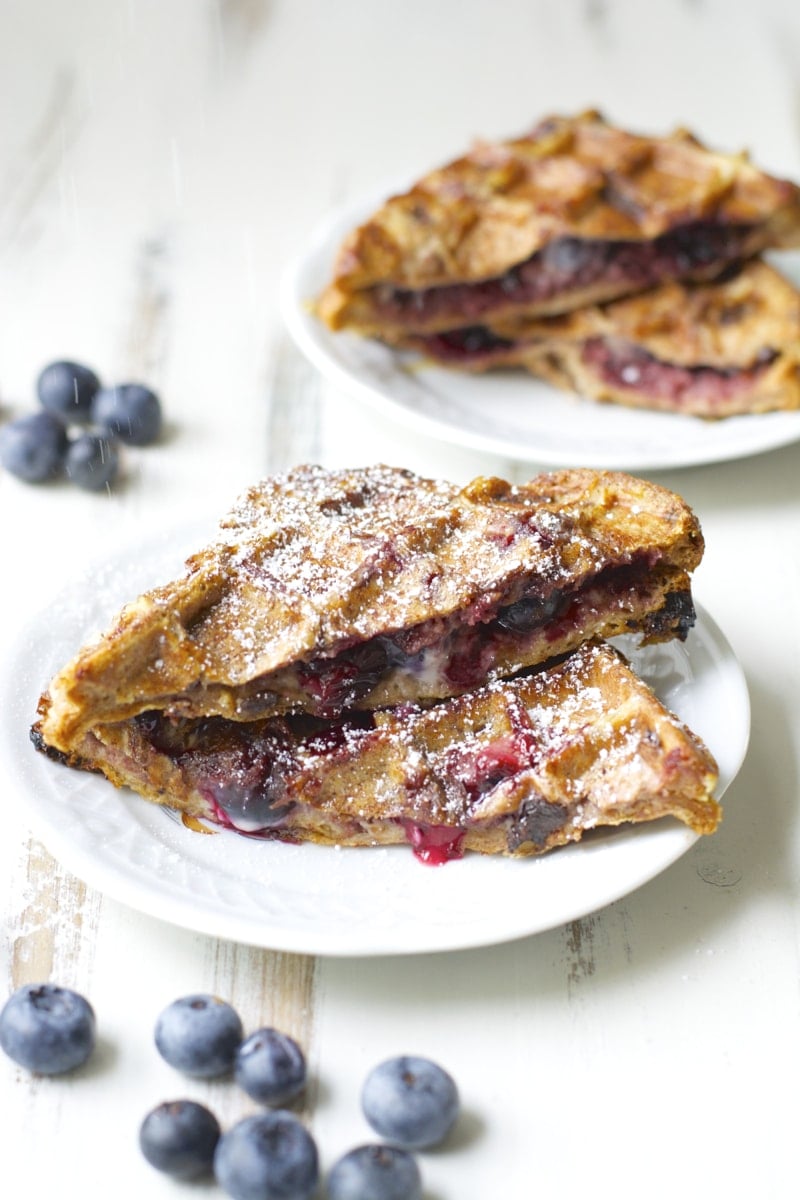 These. Waffles.
Picture this: A sweet cheesecake spread, blueberry jam, and fresh berries sandwiched between two slices of perfect cinnamon raisin bread… Then the whole thing is dunked in an egg and vanilla mixture and placed in a piping hot waffle maker.
Hello Heaven!
I have said it about a billion times before, but breakfast is my favorite thing to cook. I especially love lazy weekend mornings when you have time to add a little extra love to whatever you cook.
This past weekend I knew I wanted to do something special with this Canyon Bakehouse Cinnamon Raisin bread. After a lot of brainstorming, I settled on Blueberry Cheesecake Stuffed French Toast Waffles. What a mouthful!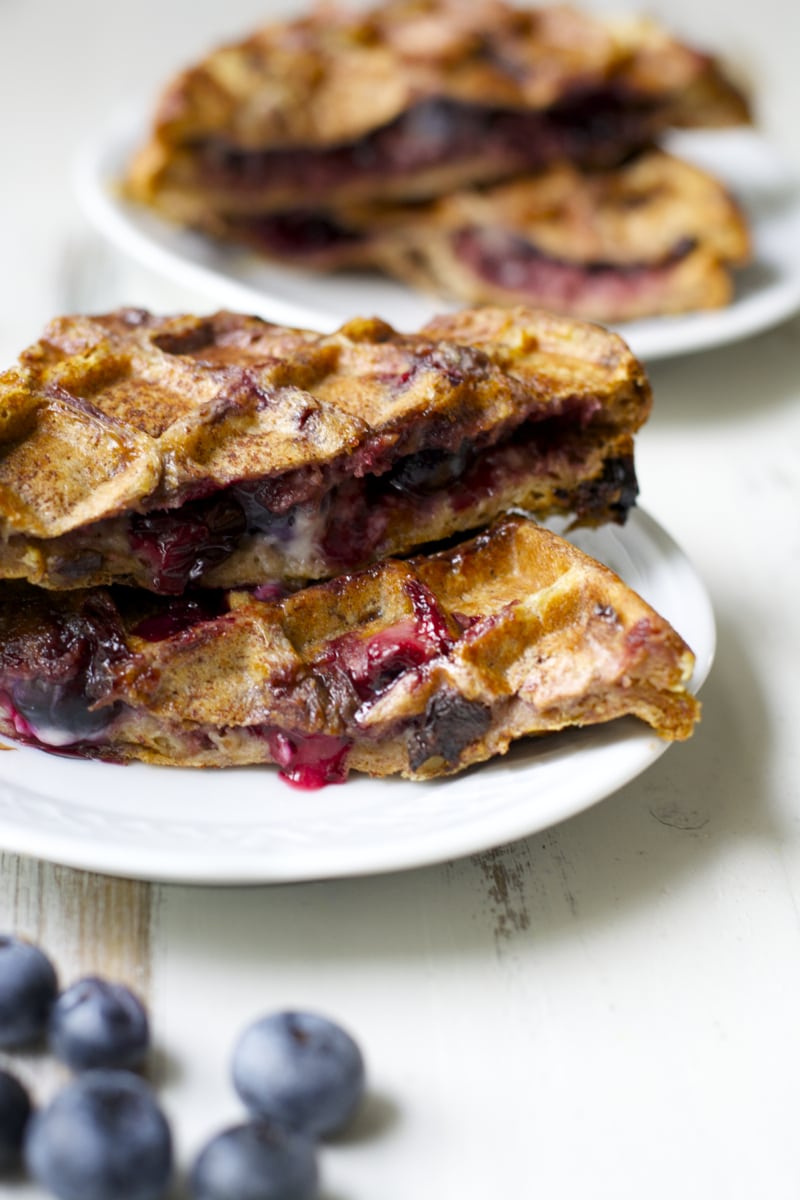 Ingredients for Blueberry Cheesecake Stuffed French Toast Waffles:
As always, this is a quick overview of what you'll need for this recipe. For exact measurements and instructions, scroll to the recipe card at the bottom!
Gluten free Cinnamon Raisin Bread (You could use a different bread, but I loved the added flavor)
Egg: large
Milk: dairy, almond, or other dairy alternatives will work as well
Filling:

Reduced fat cream cheese
Powdered sugar
Vanilla Extract
Blueberry jam
Blueberries
How do you make Stuffed French Toast Waffles?
Even though these sound like a lot of work, they really aren't. There are multiple steps, but each one is super easy.
The first step is to make the cream cheese spread. I combine (reduced fat) cream cheese, powdered sugar and vanilla into a sweet spread that tastes like cheesecake. Then I just spread one slice with the cheesecake spread and one slice with blueberry jam and sprinkle a few fresh berries over the top.
Finally, put your sandwiches together and dip them into an egg, milk, and vanilla mixture to give you the nice French toast effect. Last, throw it in the waffle maker!
In just a few minutes you will have piping hot cheesecake stuffed waffles oozing with jam! It is the perfect way to kick off Summer break!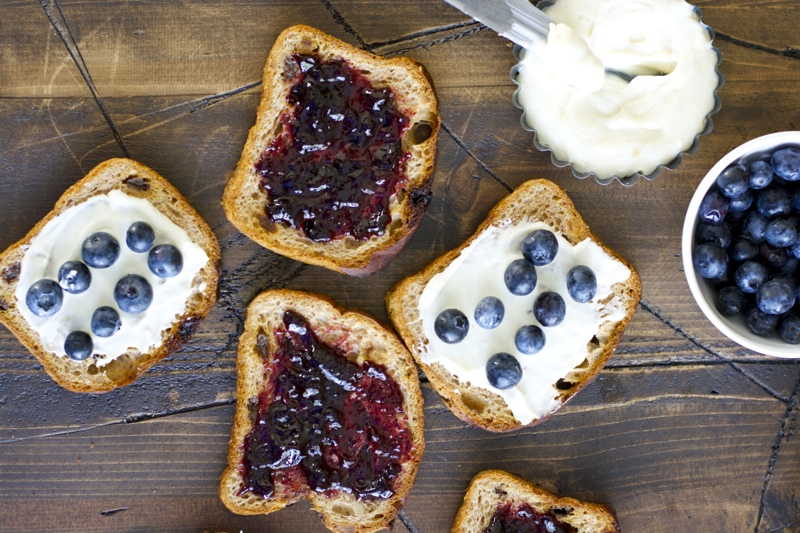 Can I make these ahead of time?
Yes, these can be prepared ahead of time and frozen for later. You may choose to freeze these before dipping and cooking in the waffle maker OR after you cook.
To freeze before cooking, put together the sandwiches with the cheesecake mixture, jam, and fresh blueberries. Wrap each sandwich individually in multiple layers of plastic, then place all the wrapped sandwiches in a freezer bag to avoid freezer burn.
To freeze after cooking, assemble the sandwiches, dip them into the French toast dip, and cook them as directed in the waffle maker. Allow the sandwiches to cool completely before wrapping each individual sandwich in multiple layers of plastic and storing in a freezer bag.
You can prepare the cheesecake spread up to a week ahead of time–You could even go ahead and mix that with your blueberry jam if you'd like! This by itself would be amazing smeared on bagels!
How should I store and reheat stuffed waffle leftovers?
If you have leftovers, store them in an air-tight container in the fridge up to 2 days. You may also freeze them up to two months as directed above.
If you froze the uncooked sandwiches, allow these to thaw for 30 minutes on the counter before dipping and cooking these as directed. If you froze these after cooking, you do not need to thaw them–Just add a bit more time to whichever reheating method you choose.
Microwave: This is the quickest method, but it can result in soggy waffles. Just microwave in 30-45 second intervals until the waffles are warmed throughout.
Skillet: This method is decently quick and crisps up some of the waffle. Heat a skillet on medium heat, then place the leftover waffles in the pan. Warm the waffles for 4 minutes on each side or until warmed throughout. You may want to cover the skillet with a lid so that the inside of the waffle gets warm quicker.
Oven: This method takes the longest, but it results in crispy waffles and is perfect when serving a crowd. Place waffles on a baking sheet and put in the oven (325 degrees F) for 10-15 minutes or until warmed throughout.
Air Fryer: I haven't tried this method, but I've been told that cooking stuffed waffles in the Air Fryer (350 degrees F) for 2-3 minutes results in crispy outsides. Be careful to not cook too long, though, or the stuffing can start oozing out!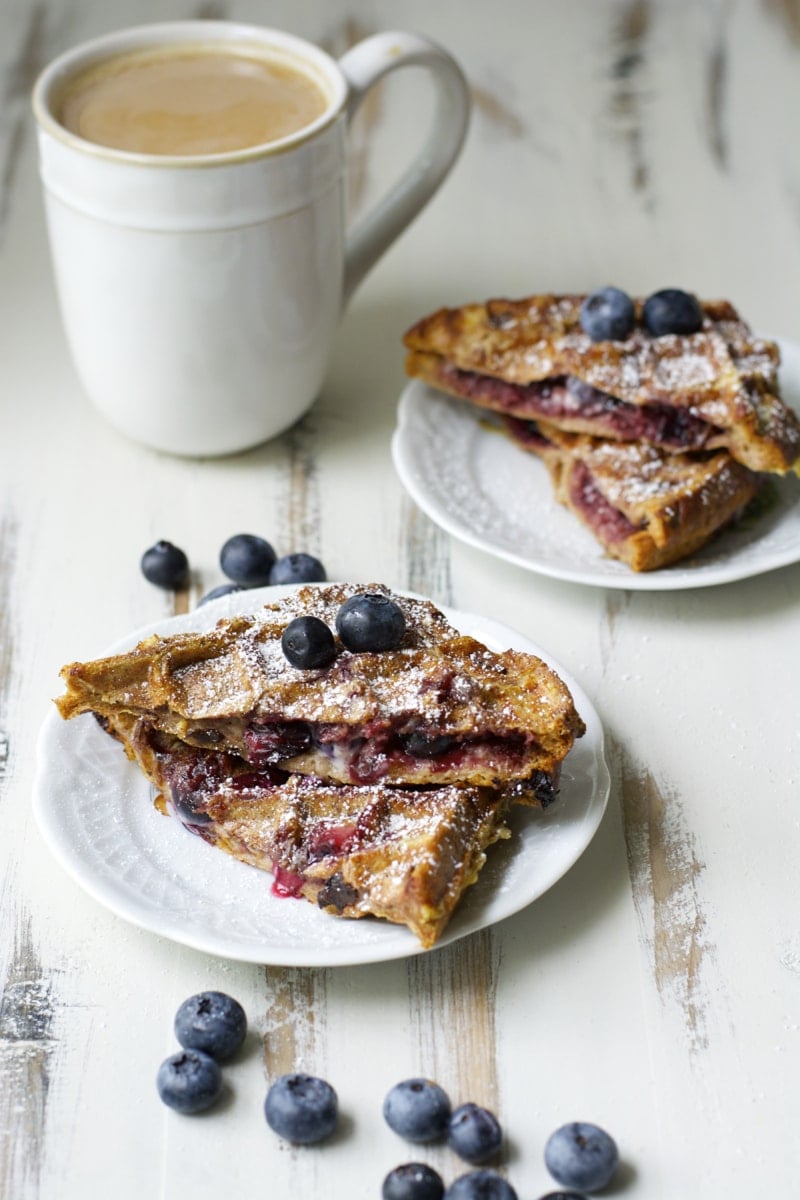 Tips and Tricks for the BEST Stuffed French Toast Waffles:
Don't overstuff with filling. If you try to put too much filling inside the sandwiches, it leaks out in the waffle maker and makes a huge mess! If you end up with unused filling, try it on bagels or thin it out and make a delicious cream cheese glaze!
Switch things up to fit your own preferences. Feel free to try different flavor jams or a different fruit! Maybe an apple butter/sliced apple version, or a combination with strawberries!
Try different breads for different flavors! Lemon poppy seed bread would add a great citrus flavor, or a thinly sliced banana bread would add a delicious nutritious punch!
More Gluten Free Waffle Recipes: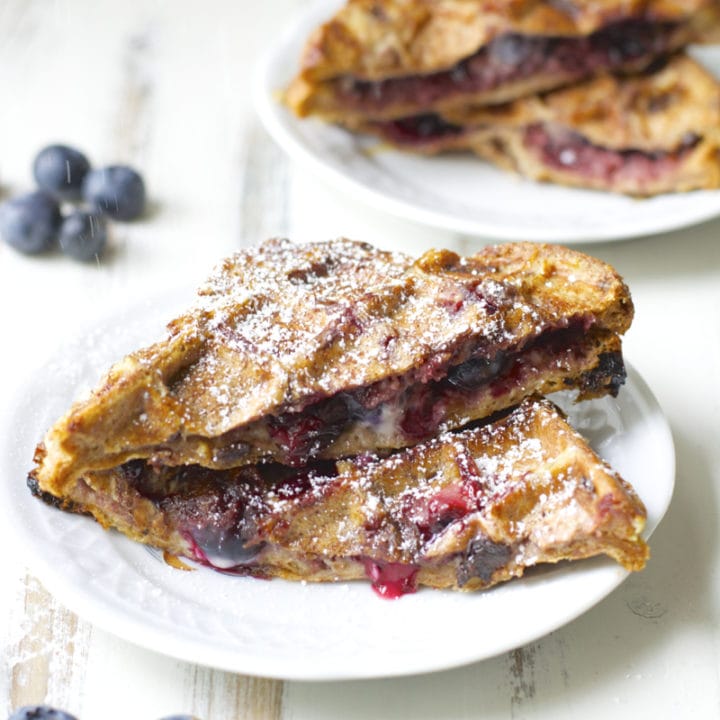 Blueberry Cheesecake Stuffed French Toast Waffles
Cinnamon raisin bread is packed with cheesecake spread, jam, and berries for the perfect breakfast!  You're going to love these Blueberry Cheesecake Stuffed French Toast Waffles!
Ingredients
Cheesecake Spread
4 ounces reduced fat cream cheese
1/3 cup powdered sugar
1/2 teaspoon vanilla extract
The Filling
1/3 cup blueberry jam or preserves
1/2 cup blueberries
French Toast Dip
8 slices Canyon Bakehouse Cinnamon Raisin Bread
1 egg
1/3 cup milk
1/2 teaspoon vanilla extract
Instructions
Combine the cream cheese, powdered sugar and vanilla in a small bowl.
Lay out the slices of bread and spread the cream cheese mixture on four slices of bread.
Spread the other four slices with the jam and blueberries.
Combine one slice of bread with the cream cheese mixture with one slice with the blueberry mixture.
In a small bowl combine the egg, milk and vanilla for the french toast dip
Heat a waffle maker according to the manufactures directions, spray lightly with cooking oil if needed,
Working quickly dip each sandwich into the french toast dip mixture--Be sure to coat each side well! Place dipped sandwich into waffle maker and cook according to the directions. (Mine were ready in 3-4 minutes)
Remove from waffle maker when outsides are crisp and sprinkle with powdered sugar.
Notes
**Be sure not to overfill your sandwiches or the filling will ooze out into your waffle maker. Less is more**
Nutrition Information:
Yield:

4
Serving Size:

1 Stuffed Waffle
Amount Per Serving:
Calories:

381
Total Fat:

9.6g
Cholesterol:

92.2mg
Sodium:

378.6mg
Carbohydrates:

65.5g
Fiber:

2.4g
Sugar:

39.8g
Protein:

8.6g