These delicious gluten-free Blueberry Oatmeal Waffles are perfect for meal prepping a great, healthy on-the-go breakfast!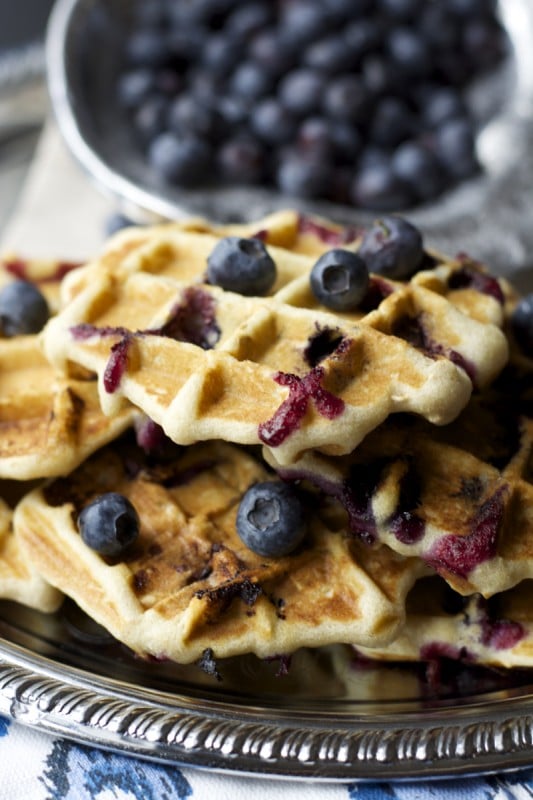 Growing up I never ate waffles. Ever. In fact, up until about a year or so ago I would have told you I didn't like them. Boy, I would have been super wrong.
Turns out, I freaking love waffles. They are one of the easiest things to make when you want a real breakfast but don't really want to cook. No standing over an oven and frying bacon, no scary pancake flipping… Just mix, pour, and eat.
I have these Banana Nut Oatmeal Waffles that we love, but I was looking for something a little different. I wanted a good, hearty waffle that was bursting with berries. These Blueberry Oatmeal Waffles are packed with oats and berries.
It is everything you want out of warm, crispy waffles! I top mine with honey and extra blueberries, but these would be awesome with warm maple syrup, too!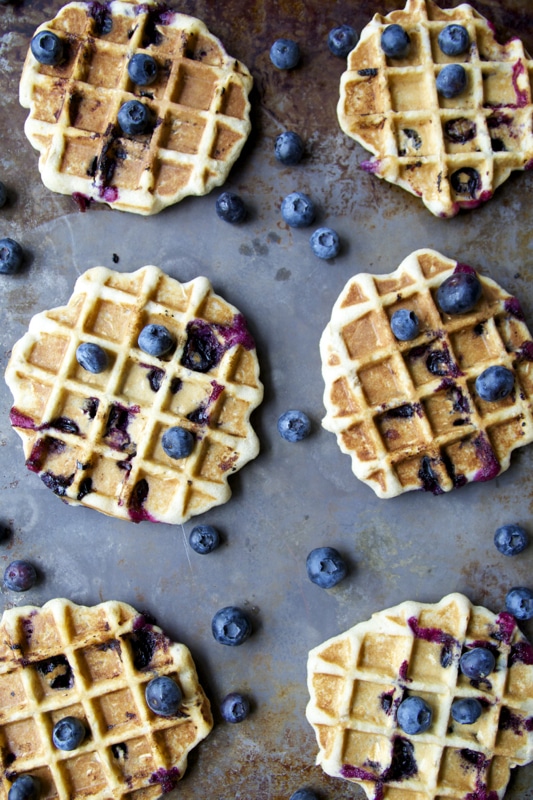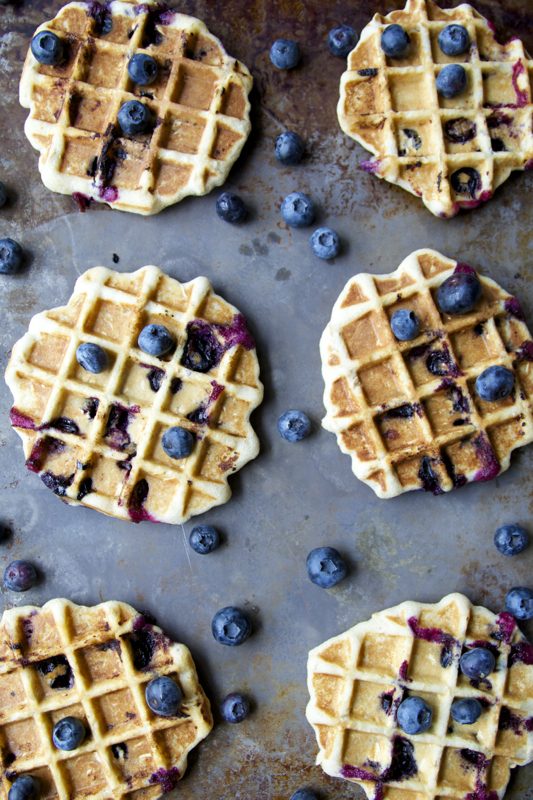 How do I make Blueberry Oatmeal Waffles?
First you'll want to turn on your waffle maker and have it heating while you're making the batter. Combine your dry ingredients–Oat flour, Bisquick, baking powder, salt, sugar, and lemon zest. Next, add your egg, milk, lemon juice, and vanilla extract. Once it looks well mixed, fold the blueberries into the mixture. Try not to overmix.
Because waffle makers come in so many different styles and sizes, it's best if you follow the directions for your own waffle maker. When your waffles are nicely crisp on the outside and fluffy on the inside, serve with syrup, honey, more fruit, or whatever toppings you prefer!
How do I make homemade oat flour?
Oat flour is super easy to make yourself as long as you have Old Fashioned Oats! All you have to do is pour the oats into your blender or food processor and blend until it is the light, powdery consistency of flour.
You can make oat flour using steel cut oats, but I wouldn't use those in this recipe. Because steel cut oats are more dense, they take longer to blend and result in nearly twice as much flour.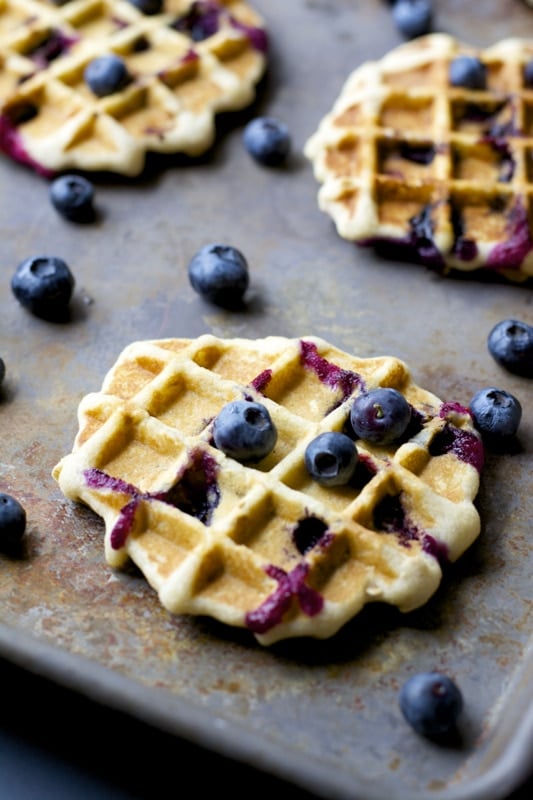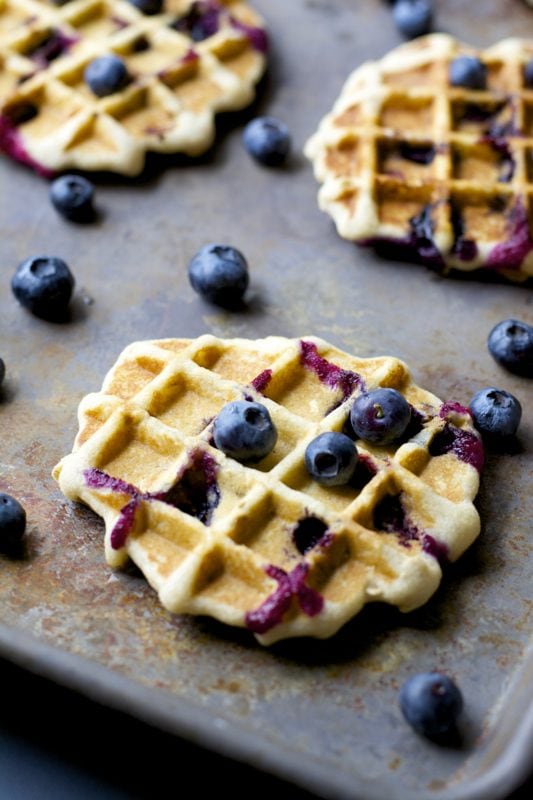 Can you meal prep waffles?
Yes, waffles are perfect for meal prepping! Waffles will keep up to 4 days in the fridge or 3 months in the freezer!
To freeze, place cooked, cooled waffles so that they are not touching one another on a baking sheet. Place the pan in the freezer for at least 2 hours. Then transfer waffles to a freezer-safe air-tight container. You'll be able to pull out what you need, so everyone in the family can make themselves a healthy snack or breakfast!
Reheating can be done in several ways, depending on what is most important to you: Speed, Quantity, or Texture.
Quickest: Microwave — Place waffles in a single layer on a plate and microwave in 45-second intervals until waffles are warm throughout.
Quick-ish & Crispiest: Toaster or Toaster Oven — Place waffles in toaster for 1 minute, then check ever 30 seconds until you reach your desire level of crispiness.
Crispy & Easy for a Crowd: Oven — Place waffles in a single layer on a baking sheet and cook for 10 minutes (15 if frozen) at 300 degrees F.
Substitutions for the Best Gluten-Free Waffles:
Want to branch out and try something new? Have a few picky eaters to please? Thinking about adding a waffle bar to your next brunch? There are tons of ways you can easily customize these!
Try different fruits — All types of berries would work well in this recipe! You could also use banana slices, small chunks of pineapple (maybe with shredded coconut?), peaches, you name it!
Use different toppings — Fresh whipped cream (maybe chocolate?) adds a touch of indulgence while honey adds some simplicity! Maple syrup and fresh fruit are classic. Melted chocolate or peanut butter sauce gives it a dessert twist! You could try this Cream Cheese Glaze or Strawberry Sauce.
Consider adding spices — Cinnamon, nutmeg, clove, ginger, allspice, etc. can all transform the flavors of different fruits!
Go the savory route — Bacon + Maple syrup is a great savory sweet combo! You could even add cheese like an Apple with Cheddar pairing or Pear with Brie!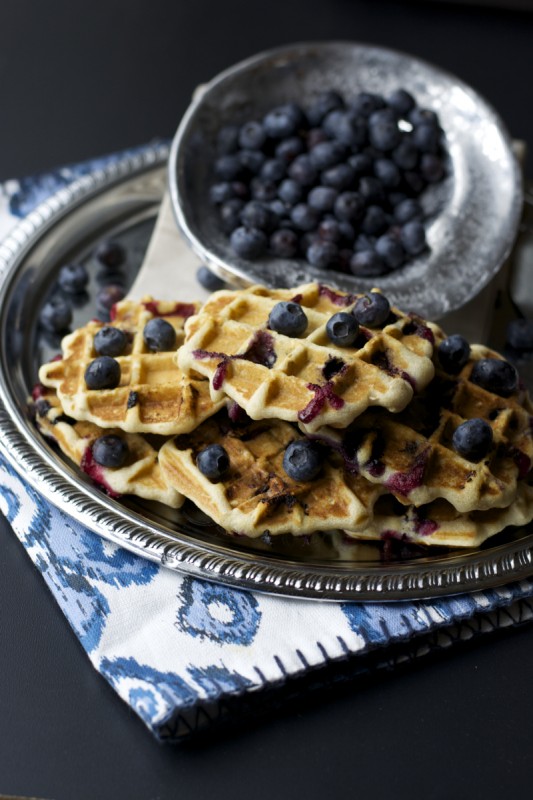 Gluten Free Breakfasts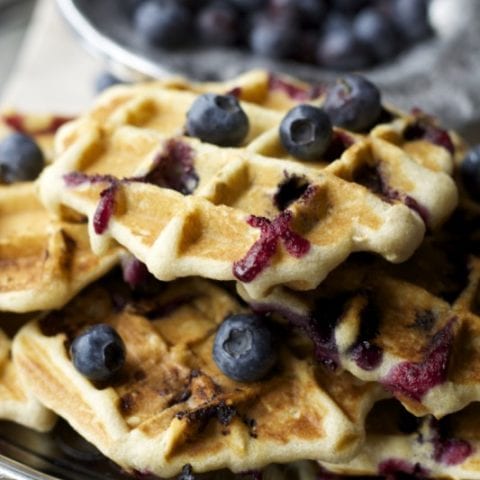 Blueberry Oatmeal Waffles
These delicious gluten-free Blueberry Oatmeal Waffles are perfect for meal prepping a great, healthy on-the-go breakfast!
Ingredients
3/4 cup oat flour*
3/4 cup gluten free Bisquick
2 teaspoons baking powder
1/2 teaspoon salt
1/4 cup brown sugar
zest of one lemon
1 tablespoon lemon juice
1 egg, beaten
1 cup milk
1 tablespoon vanilla
1 cup blueberries
Instructions
Combine oat flour, gluten-free Bisquick, baking powder, salt, sugar, and lemon zest in a bowl and mix thoroughly.
Add egg, lemon juice, and milk into the bowl and mix until well-combined.
Fold in blueberries.
Cook according to your waffle makers directions.
Notes
If you don't have oat flour, place one cup of Old Fashioned Oats (gluten-free) into a blender or food processor. Blend until it is a flour-like consistency.
I blended 1 cup of Bob's Red Mill Gluten-Free Old Fashioned Oats to make my gluten-free oat flour.
You can use fresh or frozen blueberries. Frozen berries do seem to burst and blend into the batter more than fresh berries. This resulted in blue waffles but did not alter the taste.
Nutrition Information:
Yield:

4
Serving Size:

2 waffles
Amount Per Serving:
Calories:

273
Total Fat:

3.8g
Cholesterol:

48.8mg
Sodium:

778.9mg
Carbohydrates:

56.9g
Net Carbohydrates:

56g
Fiber:

0.9g
Sugar:

20g
Protein:

6.8g