Try these quick and easy Jalapeño Cheddar Cornbread Waffles for a savory breakfast. These cornbread waffles are excellent for making hearty breakfast sandwiches, served with bacon and eggs or a scoop of chili on top!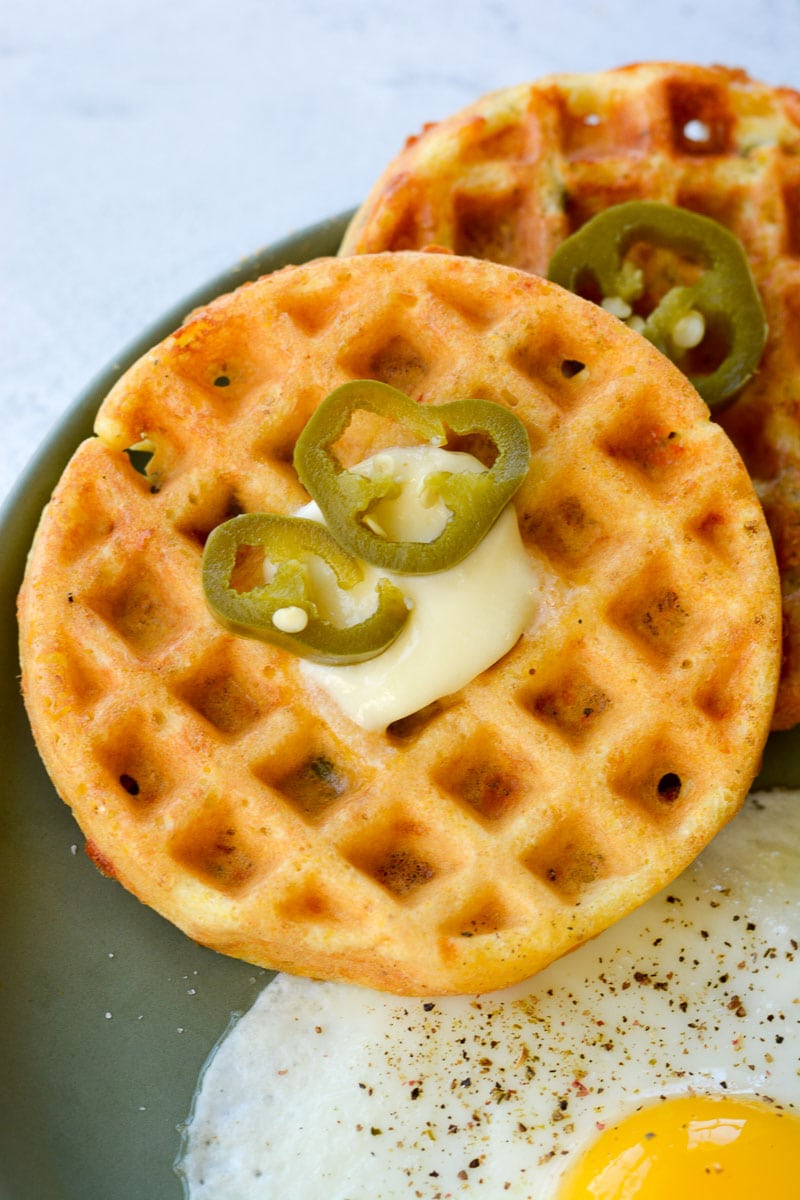 We have been a gluten free family for nearly 15 years now. In that time we have tried many gluten free breads, some much better than others. As time has passed gluten free options have become much easier to find and much tastier. However, back in those early years we had a very difficult time finding bread.
These cornbread waffles became our go to for making breakfast sandwiches. They are easy and inexpensive to make. They reheat wonderfully and are freezer friendly. We would often make a batch and freeze them, then pop them in the toaster to reheat and eat with bacon and eggs for a quick breakfast.
What ingredients do you need to make cornbread waffles?
Cornmeal
Shredded cheddar cheese
Baking powder
Salt, Pepper
Egg
Milk
Jalapeno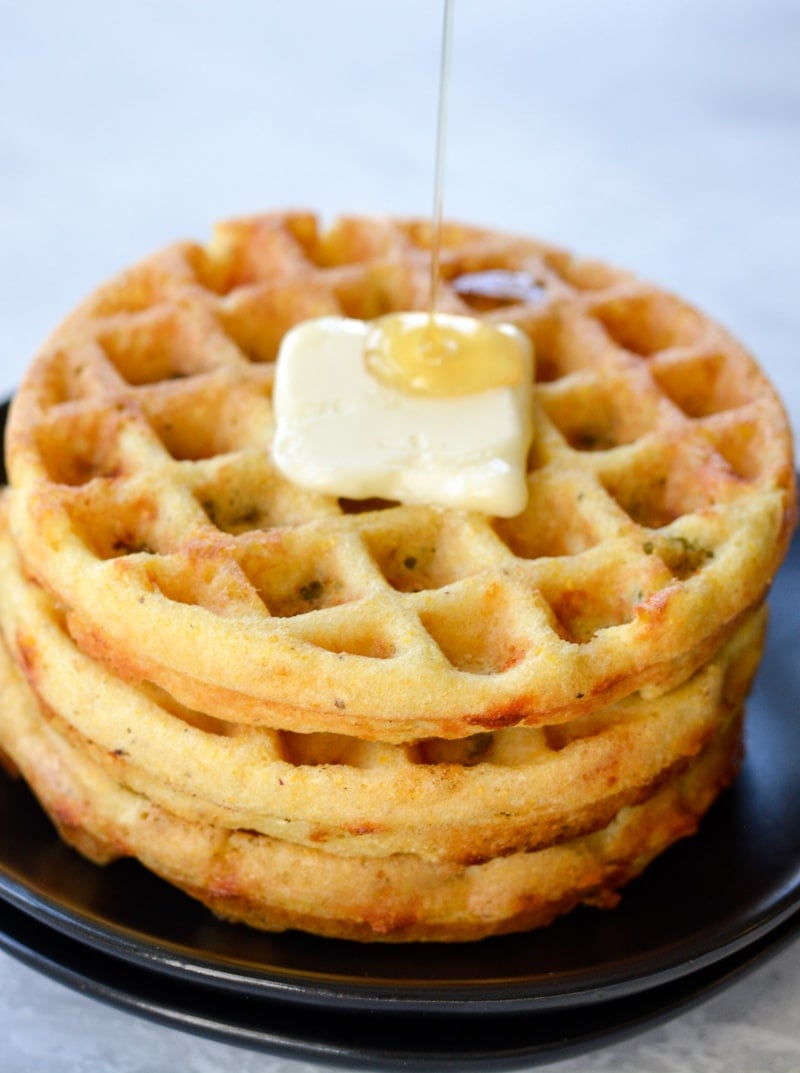 Can you make cornbread in a waffle maker?
Heat the waffle iron to medium heat according to manufactures directions.
Combine the cornmeal, cheese, baking powder, salt and pepper in a medium size mixing bowl. Stir until mixture is well combined.
Add in the beaten egg, milk, and diced jalapeno.
Scoop batter into waffle iron and let it cook according to your waffle makers directions or until steam stops emitting from your waffle maker. (This was about 2 minutes for me)
What should I serve with cornbread waffles?
These are a great breakfast option. If you love a good sweet and savory combination these Jalapeño Cheddar Cornbread Waffles are great served warm with butter and syrup. It adds just the right amount of heat to make it irresistible.
Another option are breakfast sandwiches. I love this waffle maker, it makes the perfect size for sandwiches. Using two waffles add an egg, bacon or ham and cheese for a really hearty breakfast. Also, use these waffles to make BLT's with bacon, lettuce and tomato (and avocado if you'd like) for a really easy dinner. Some of my favorite combinations with these waffles are:
Ham Egg and Cheese
Bacon Egg and Chipotle Mayo
Sausage (like a sausage and biscuit but with waffles)
Lastly, these waffles are really awesome with a big scoop of chili on top. Usually if I make a big pot of chili this is how we enjoy the leftovers. It is always a super satisfying meal and couldn't be easier.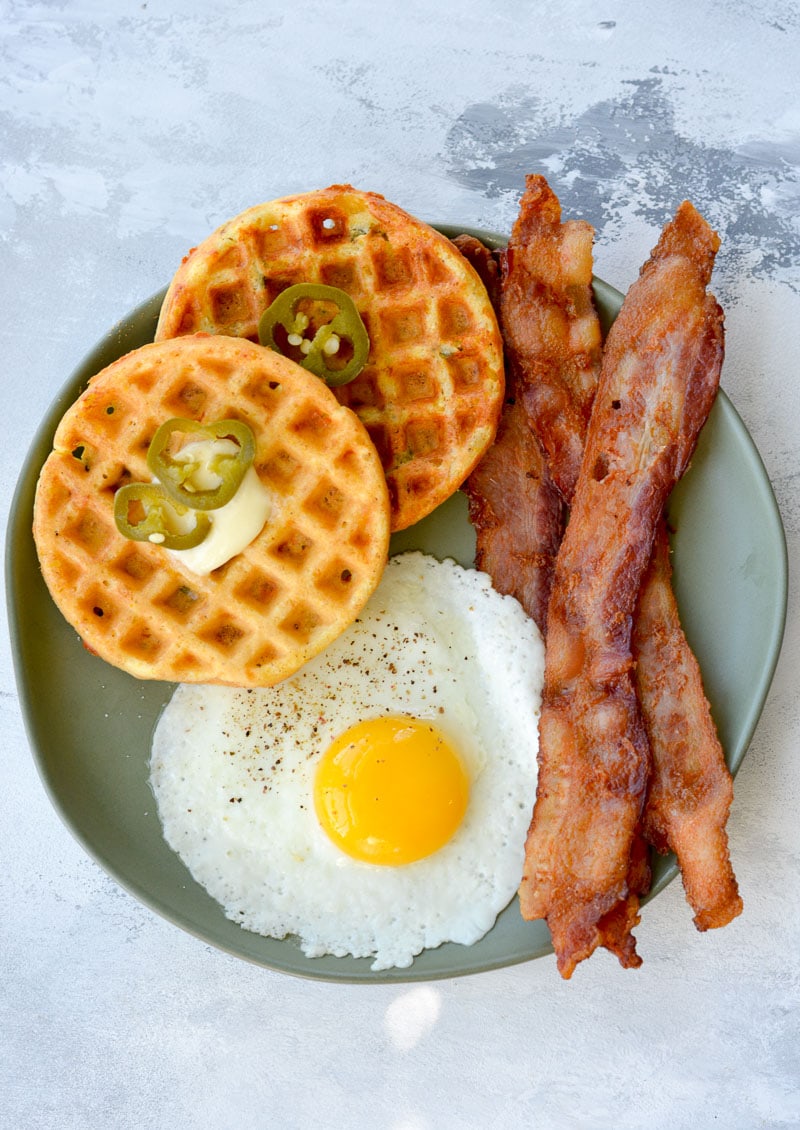 What are some other easy breakfast recipes?
If you are looking for easy breakfast recipes (that all happen to be gluten free) you have come to the right place! One of my favorite savory breakfast dishes is this Bacon and Asparagus Quiche. This is a great breakfast or dinner option and it is quite impressive, making it a great dish for company. Some of my other favorites include: