Add these Flourless Peanut Butter Protein Waffles to your morning routine! These gluten-free waffles are a great easy meal prep option!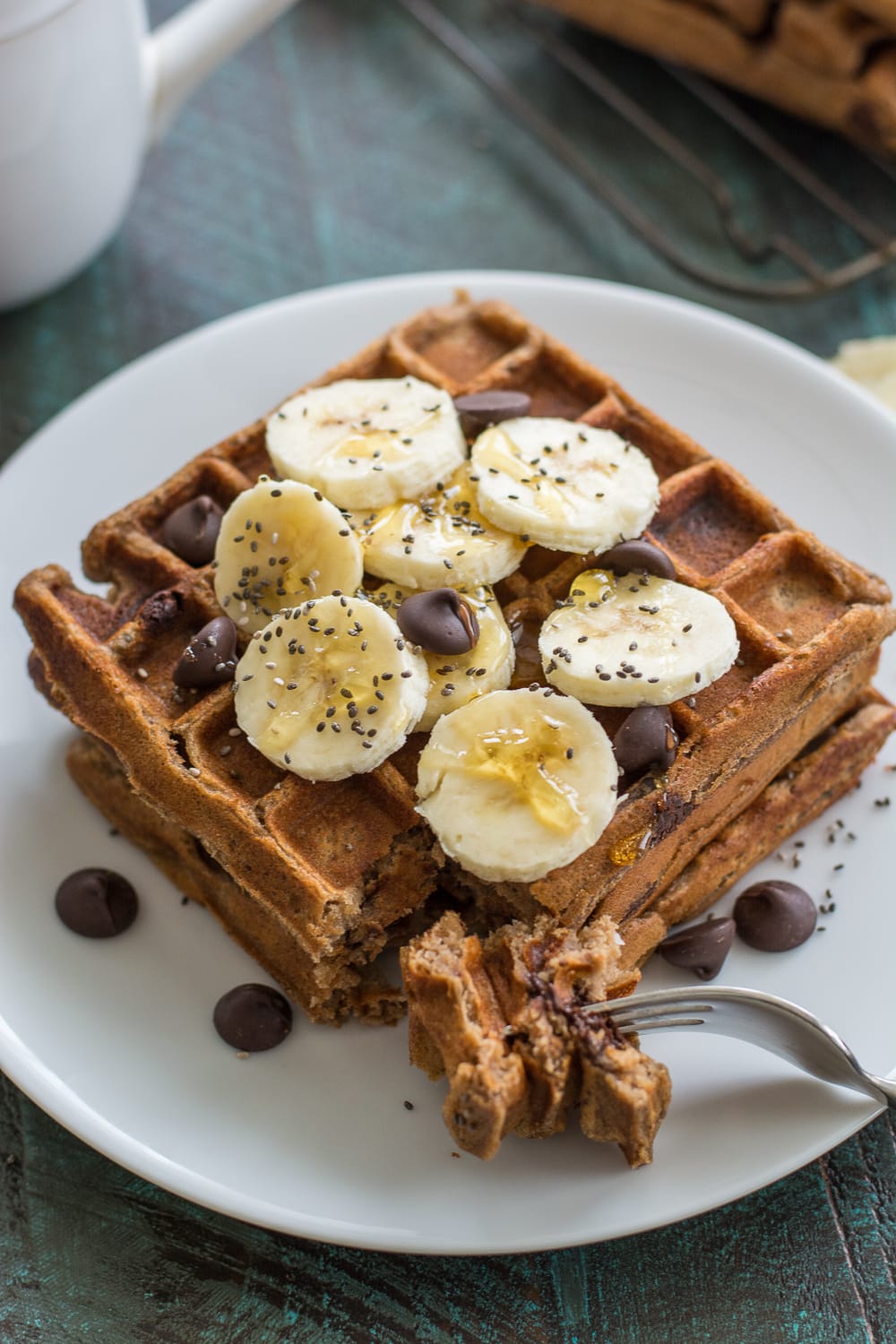 Gluten-Free Breakfast Meal Prep
Do you do meal prep? Since we are a gluten-free family with exactly zero gluten-free restaurants near us I do a bit of meal prep to help with the vast amounts of cooking. Most of my prep centers around breakfast. Since we tend to lean more towards easy one pan, sheet pan, slow cooker type dinners I find those don't really require much prep. But I love having an easy breakfast option to make life easier!
One of my favorites (and reader favorites) are my Flourless Peanut Butter Protein Muffins. They are made in a blender, they come together super quickly and they are great for when you need a good grab-and-go snack. I decided to rework the recipe to make easy and delicious Flourless Peanut Butter Protein Waffles, because come on, every now and then you've gotta get your waffle fix!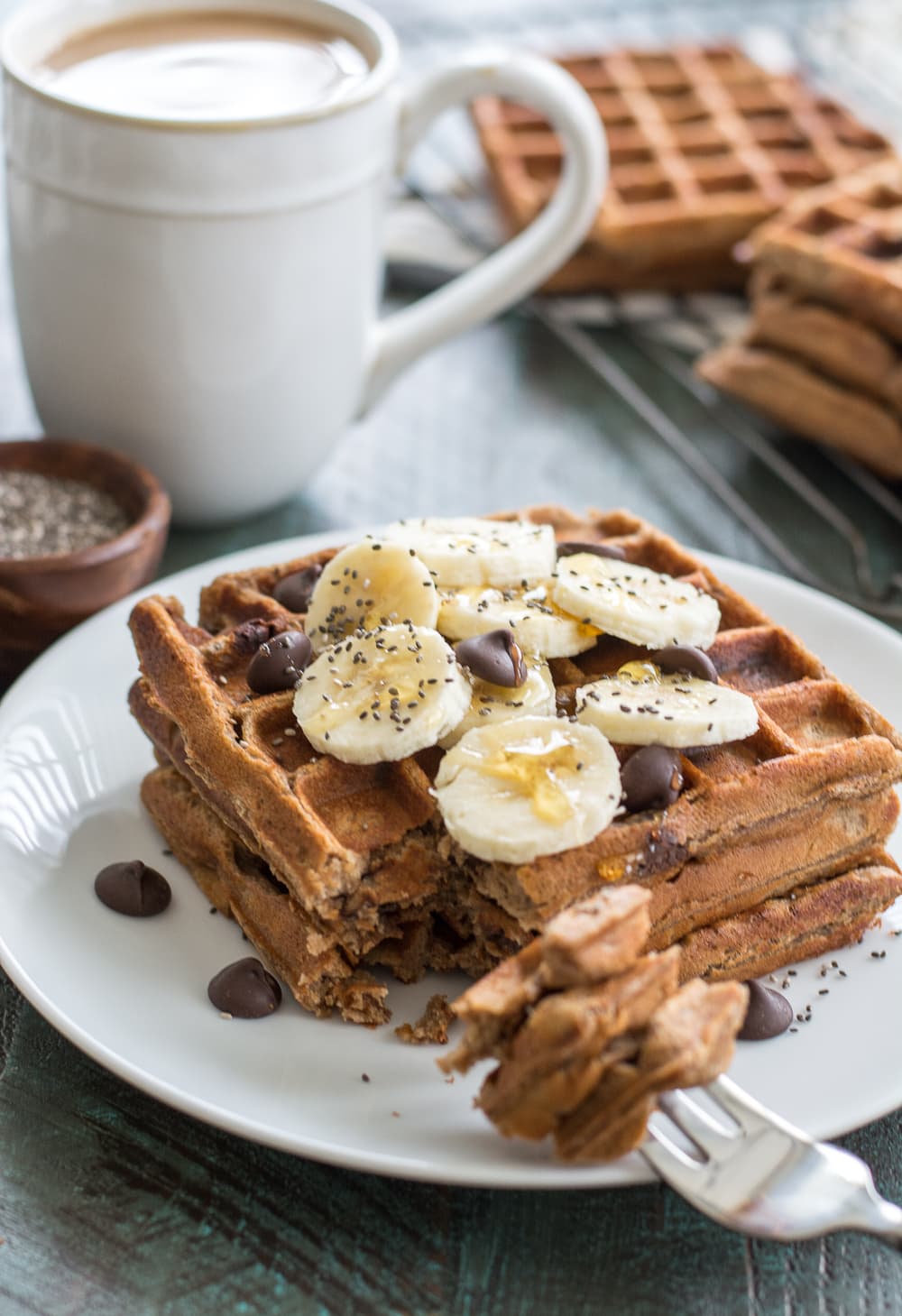 What ingredients do you need to make Flourless Protein Waffles?
Ripe bananas
Creamy peanut butter
Eggs
Milk
Honey
Protein powder
Baking powder
Salt
Chia seeds
Chocolate chips – or mixin of your choice
How do you make Flourless Waffles?
These gluten-free flourless protein waffles are super easy to make and take very little time to prep!
Just combine ripe bananas, peanut butter, egg, baking powder, protein powder salt, a hint of honey, and milk in a blender and blend until it is nice and smooth.
Then stir in a few chocolate chips and chia seeds, or the mixins of your choice.
Carefully spoon your mixture into a hot waffle iron. (For me, this was about one and a half ice cream scoops worth of waffle batter per waffle iron.)
Cook your waffles according to your machine's directions, for me this was about 3 minutes on medium heat.
And that's it! This recipe makes about 8 beautifully crisp waffles!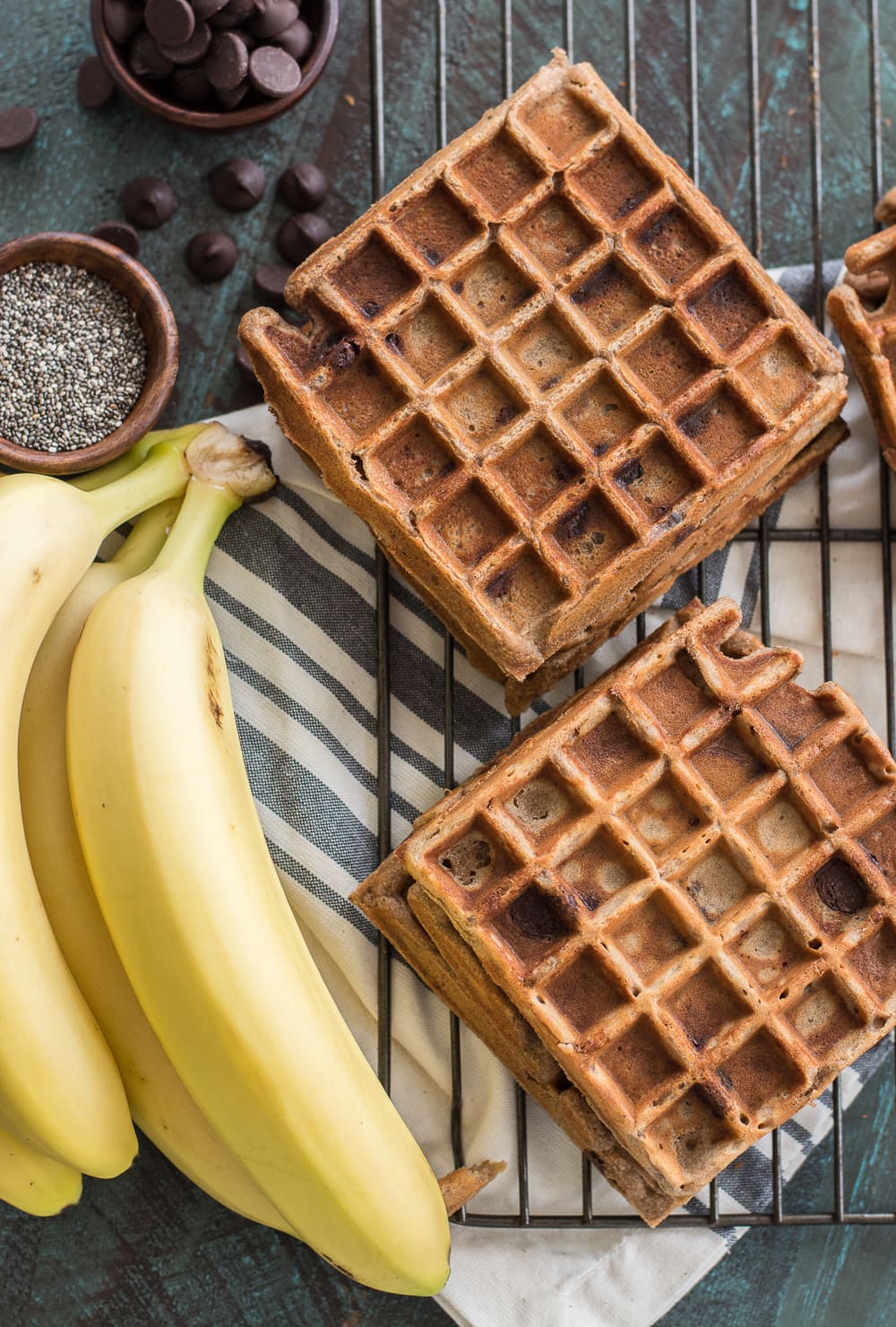 How can I meal prep waffles for breakfast?
I like to freeze the waffles on a sheet pan and when they are frozen I put them in a freezer bag together. I just grab one (or two!) when it is breakfast time and pop in a toaster! If you eat them right away they are pretty soft and fluffy and they bend well. They are great with a little of your favorite spread on them and banana slices, or folded over for a waffle sandwich! This makes for an easy gluten-free breakfast you will love!
What are some other easy meal prep breakfast recipes?
SaveSave
SaveSave