This delicious Cranberry Spritz is the best holiday cocktail recipe! You'll love the citrus and thyme flavor with a refreshing mix of fruit juices, Aperol, and prosecco.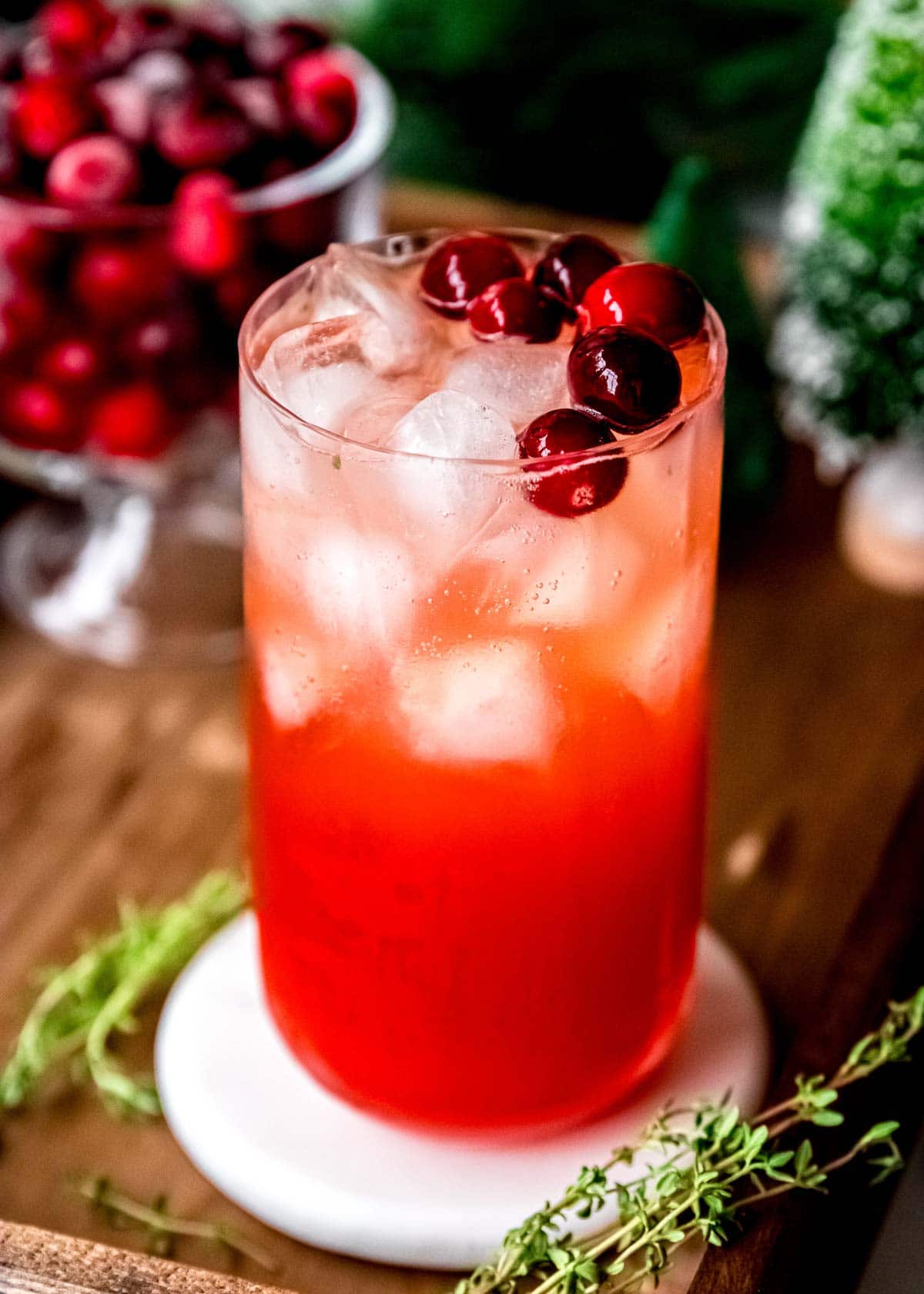 Cranberry Aperol Spritz
Aperol Spritz are so popular these days, but this Cranberry Spritz will be your new favorite version! This refreshing cocktail recipe is perfect for serving at your next holiday get-together. It's bright, festive, delicious, and beautiful! Lightly muddled thyme and tart cranberry juice add the perfect holiday twist to a classic, citrusy Aperol Spritz.
What is Aperol?
Aperol is a liqueur developed in Italy in 1919. It's got a great bittersweet orange citrus flavor with some hints of vanilla, licorice, and herbs. The color is a gorgeous bright orange that lends itself very well to beautiful cocktails that are perfect for parties. It's sweeter than Campari and has about half as much alcohol (11% ABV compared to 24%), so it's a favorite for sippable drinks.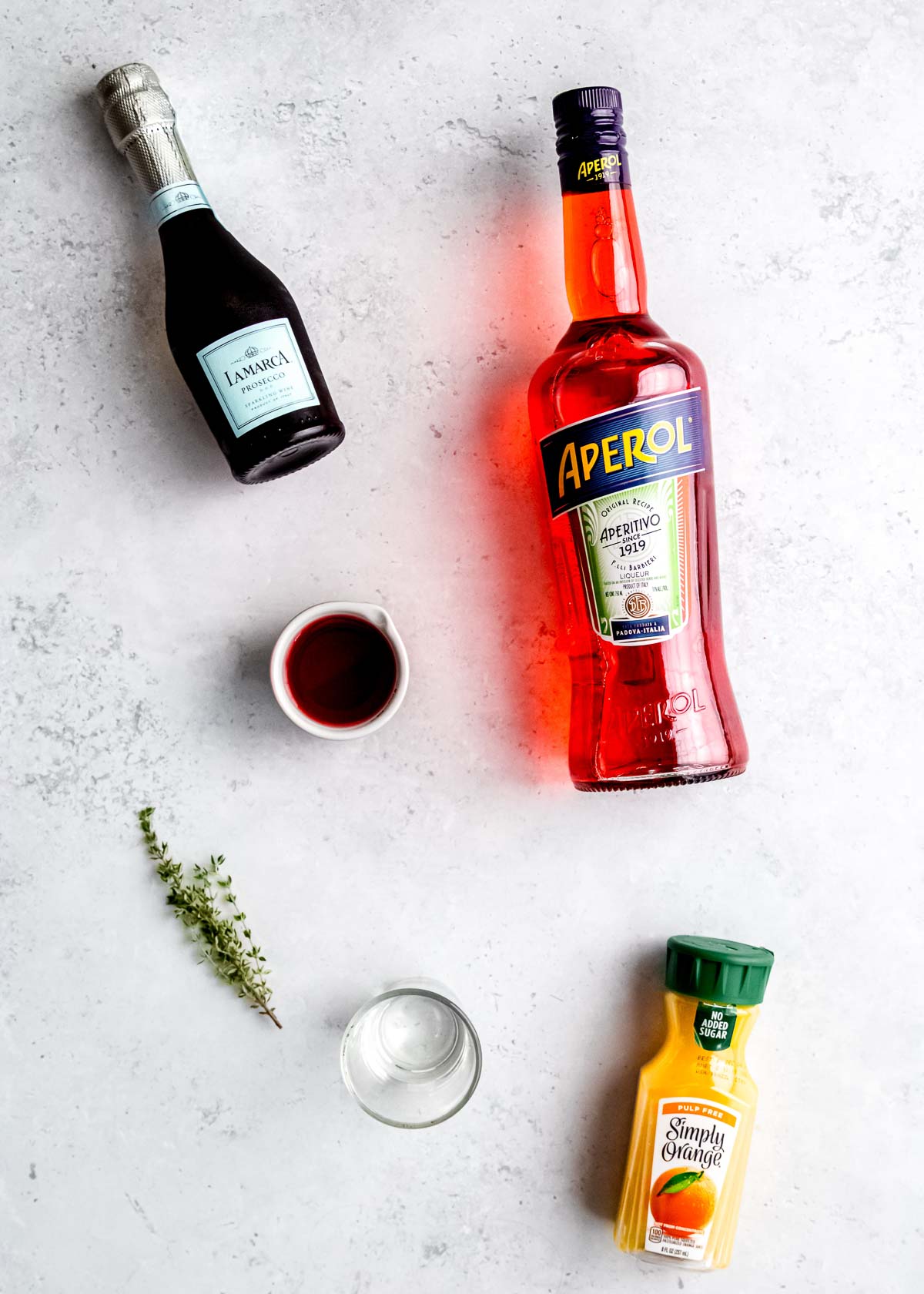 Cranberry Spritz Ingredients
Here's a quick overview of what you'll need for this holiday cocktail. Find exact measurements in the printable recipe card at the bottom of the page.
Cranberry juice & Orange juice – Make sure to use the unsweetened cranberry juice instead of a cocktail beverage. The Aperol and simple syrup will add a lot of sweetener, so 100% juice adds the perfect seasonal tang. Freshly squeezed orange juice will have the most flavor, but you can use a pulp-free version as well.
Simple syrup & Thyme sprigs – You can use a store-bought simple syrup if you'd like, but a simple 1:1 ratio of hot water and sugar will do the trick! The fresh thyme will add so much flavor, and I recommend not skipping this. Don't muddle too hard or use dried thyme… This will lead to a lot of leaves in your drink.
Aperol & Prosecco – The super refreshing combination everyone loves! You could replace the prosecco with club soda to reduce the alcohol content. I recommend having these chilled ahead of time as this drink is best when it's nice and cold!
Ice & Fresh cranberries –  Aperol and prosecco are best when they're super cold, so the ice will ensure you get the best flavor for the entire drink. Cranberries are the perfect festive garnish… And they require no fancy prep or work!
How to make a Cranberry Spritz
A cocktail shaker with muddler will make the recipe easier. If you don't have them, you can shake them in a large jar and muddle the thyme with the back of a spoon. This easy cranberry cocktail is quick and simple! Here's a step-by-step guide for this holiday drink: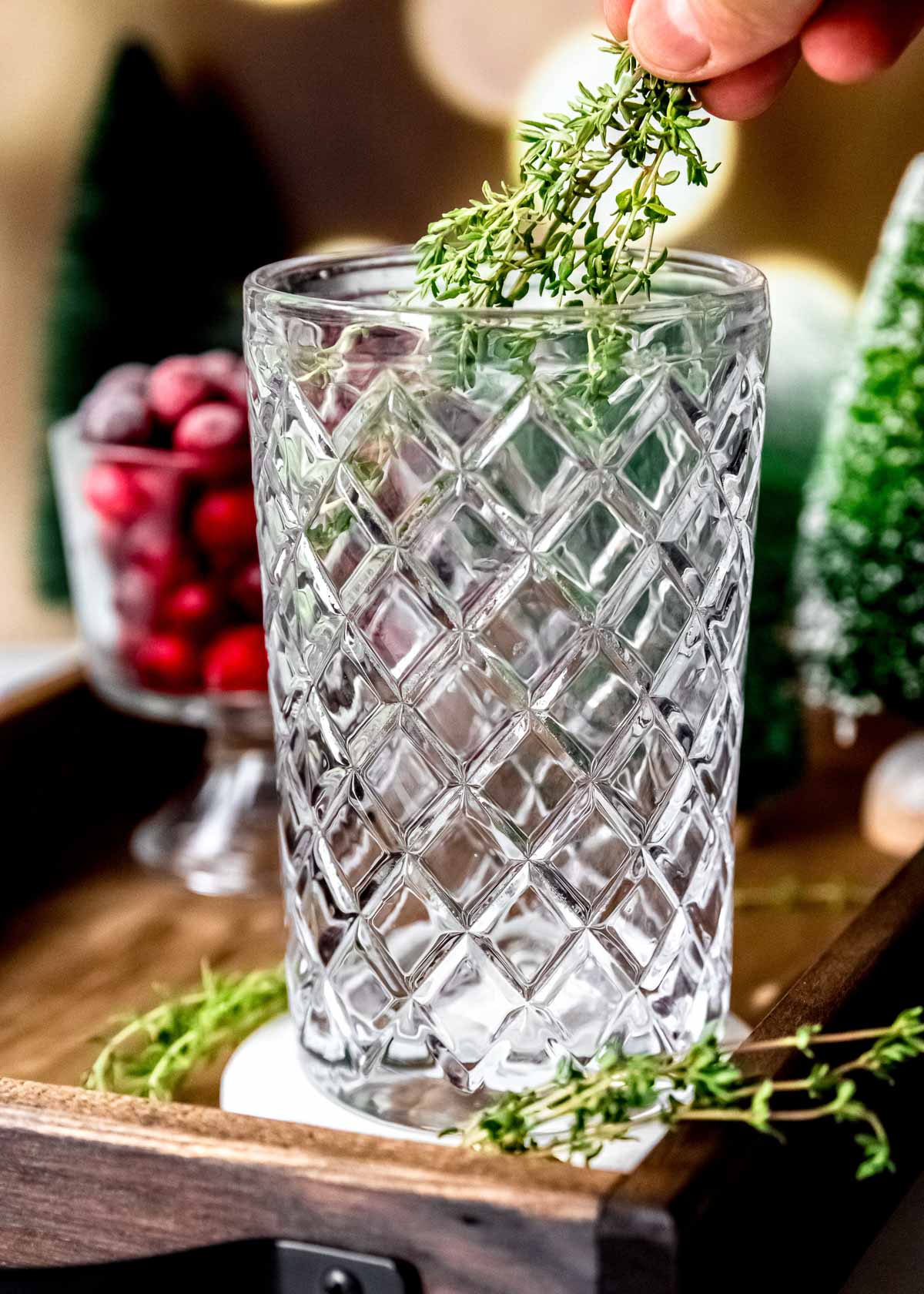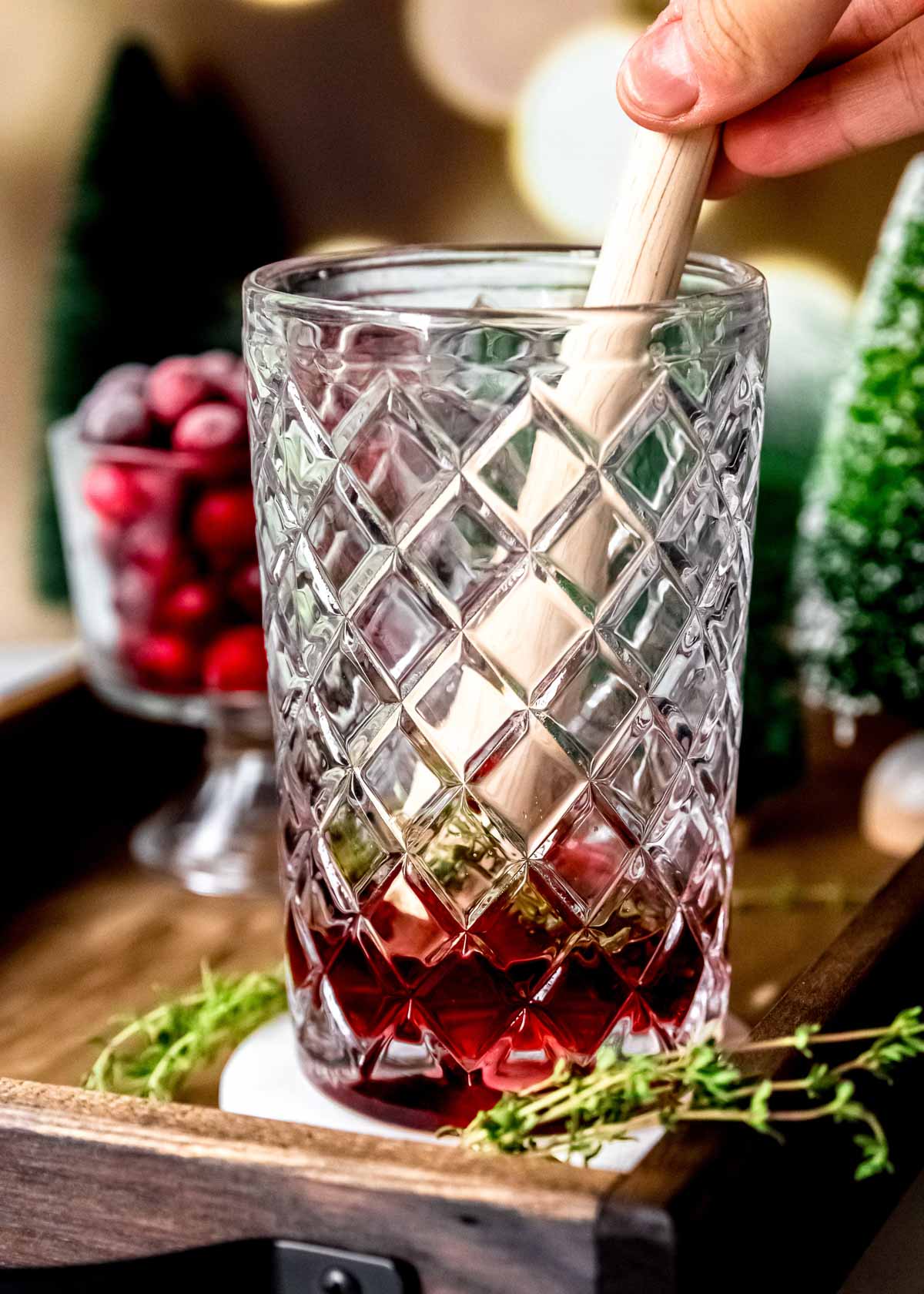 Muddle
Pour the simple syrup, Aperol, and thyme sprigs into a cocktail shaker. Muddle lightly — Don't get too intense or you'll end up with a ton of leaves in your drink, and the oils can get a little bitter if you abuse them too much.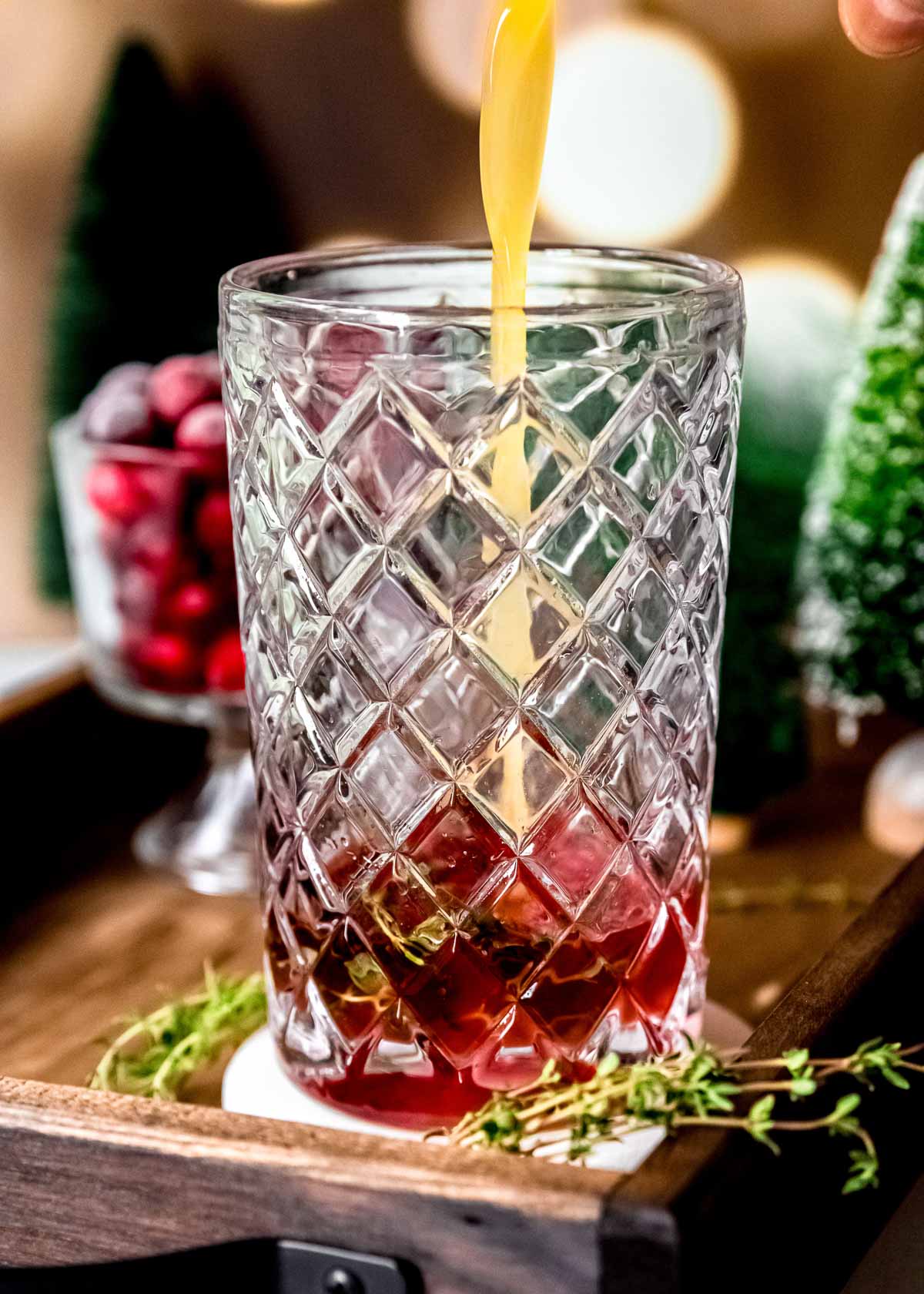 Shake
Pour the cranberry juice and orange juice into the shaker and add ice. Shake 15-20 seconds to ensure all ingredients are super cold and well mixed.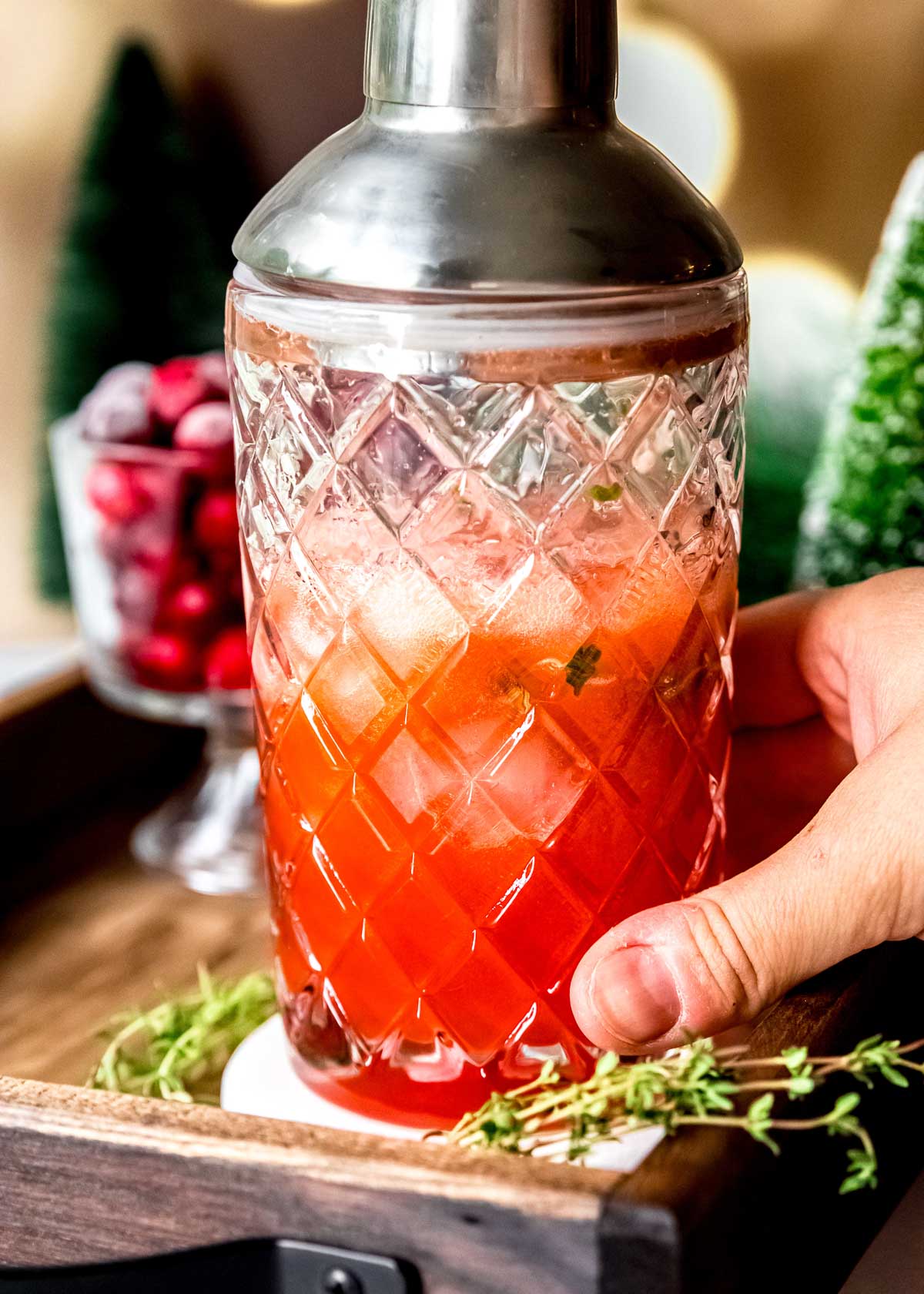 Top & Serve
Grab a glass and fill with ice. Pour the cocktail over the ice, then top with bubbly prosecco. Garnish with fresh cranberries and thyme sprigs, then serve immediately!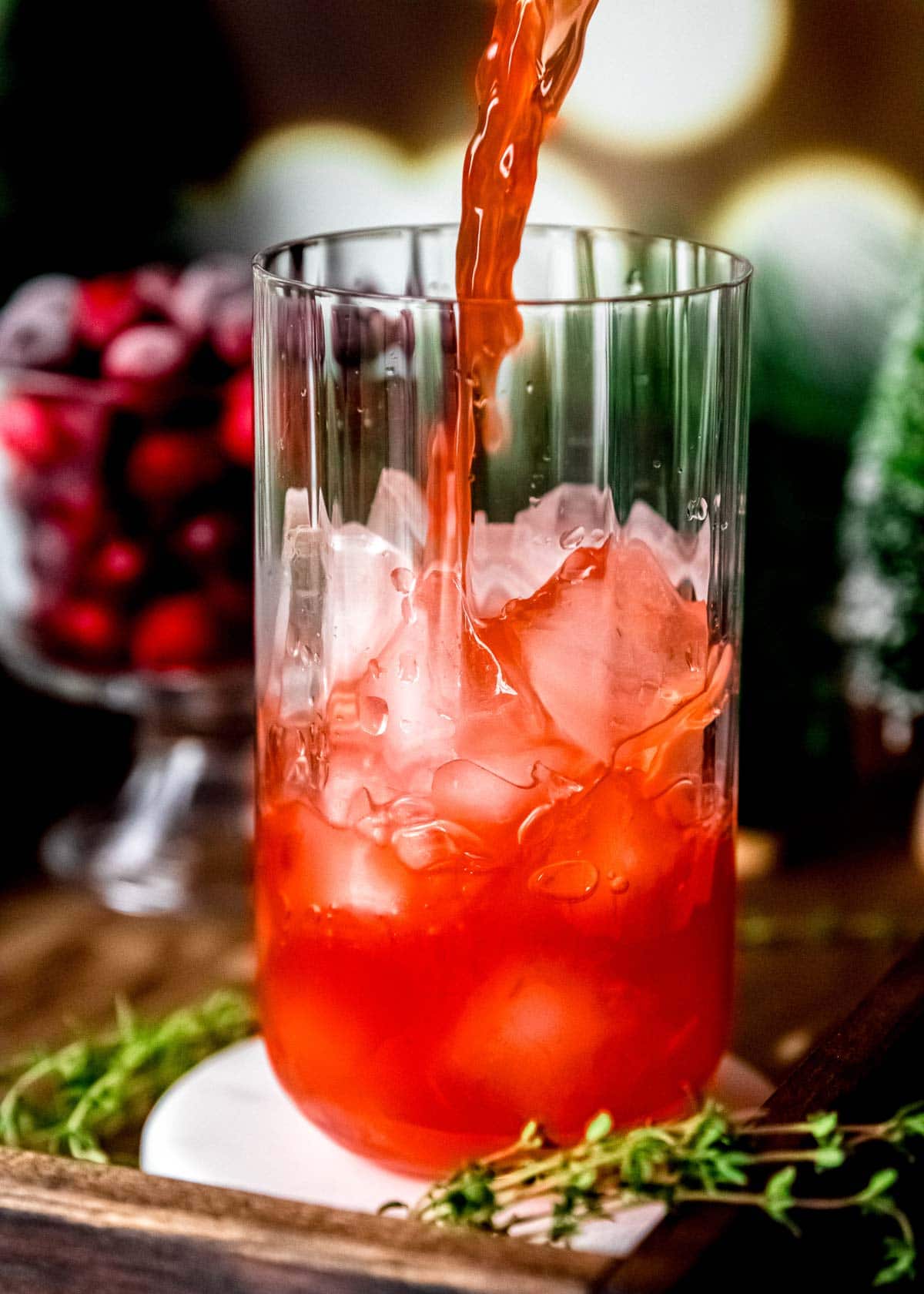 How to Serve an Aperol Spritz
You want to serve these cranberry spritzes nice and chilled–The colder, the better! These would be the perfect cocktail to enjoy with a classic holiday dinner… The flavors perfectly complement a juicy Turkey Breast, herby Sausage Stuffing, or crunchy Green Beans Almondine. If you can't get enough cranberry, add these tasty Cranberry Cheesecake Bars!
You can find more gluten-free Thanksgiving recipes here, or consider offering some of these low-carb keto holiday dishes!
Perfect Holiday Appetizers to Serve with a Cranberry Spritz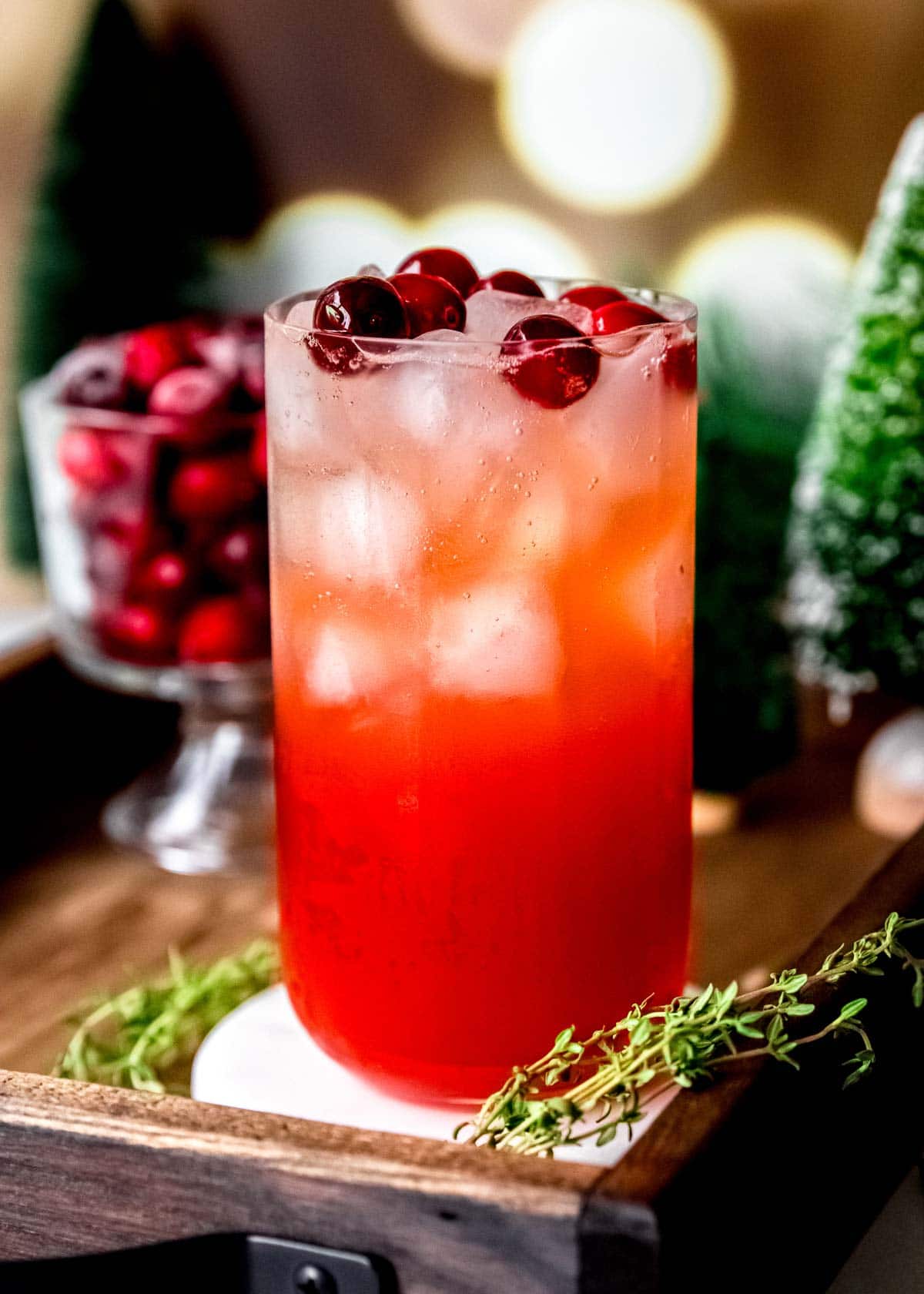 Can I make it ahead of time?
No, this is a cocktail best made fresh. The fresh thyme flavor is strong, and you would lose the enticing aroma if you make it ahead of time. The prosecco would also lose its fizz as the drink sits, waiting to be enjoyed. You could mix your juices ahead of time and keep them stored in an airtight container in the fridge, but otherwise I'd recommend mixing this drink fresh, right when you're ready to serve.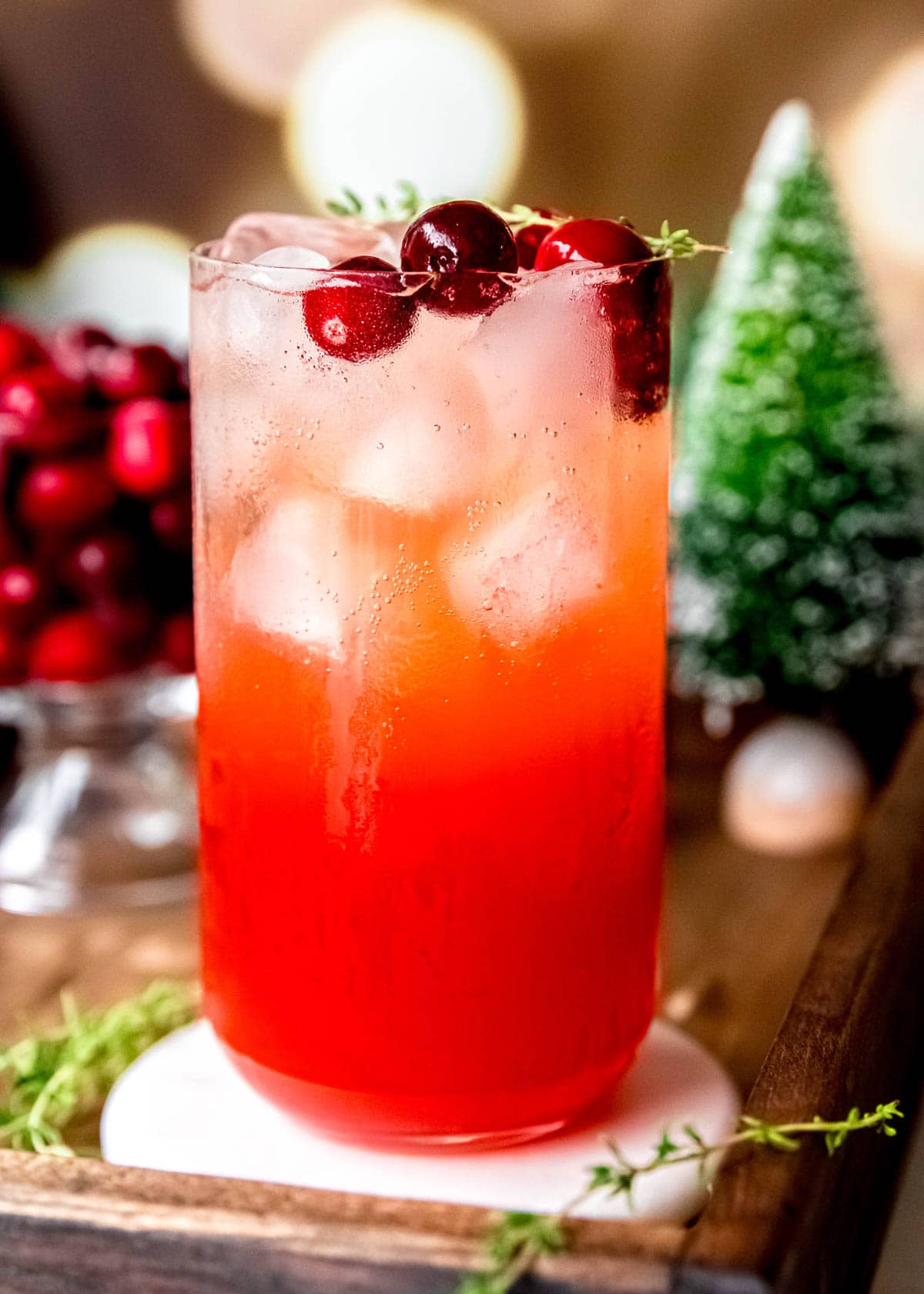 How much alcohol is in a cranberry spritz? How can I reduce the amount of alcohol?
Most prosecco has 12% ABV, and Aperol has 11%. With the added juice and simple syrup, a 9.5 ounce Cranberry Spritz would have about 7.5% ABV. If you'd like to reduce the alcohol for all-day sipping, replace the prosecco with club soda! That would lower the drink to about 2.5% ABV (about half as strong as your average White Claw or Coors).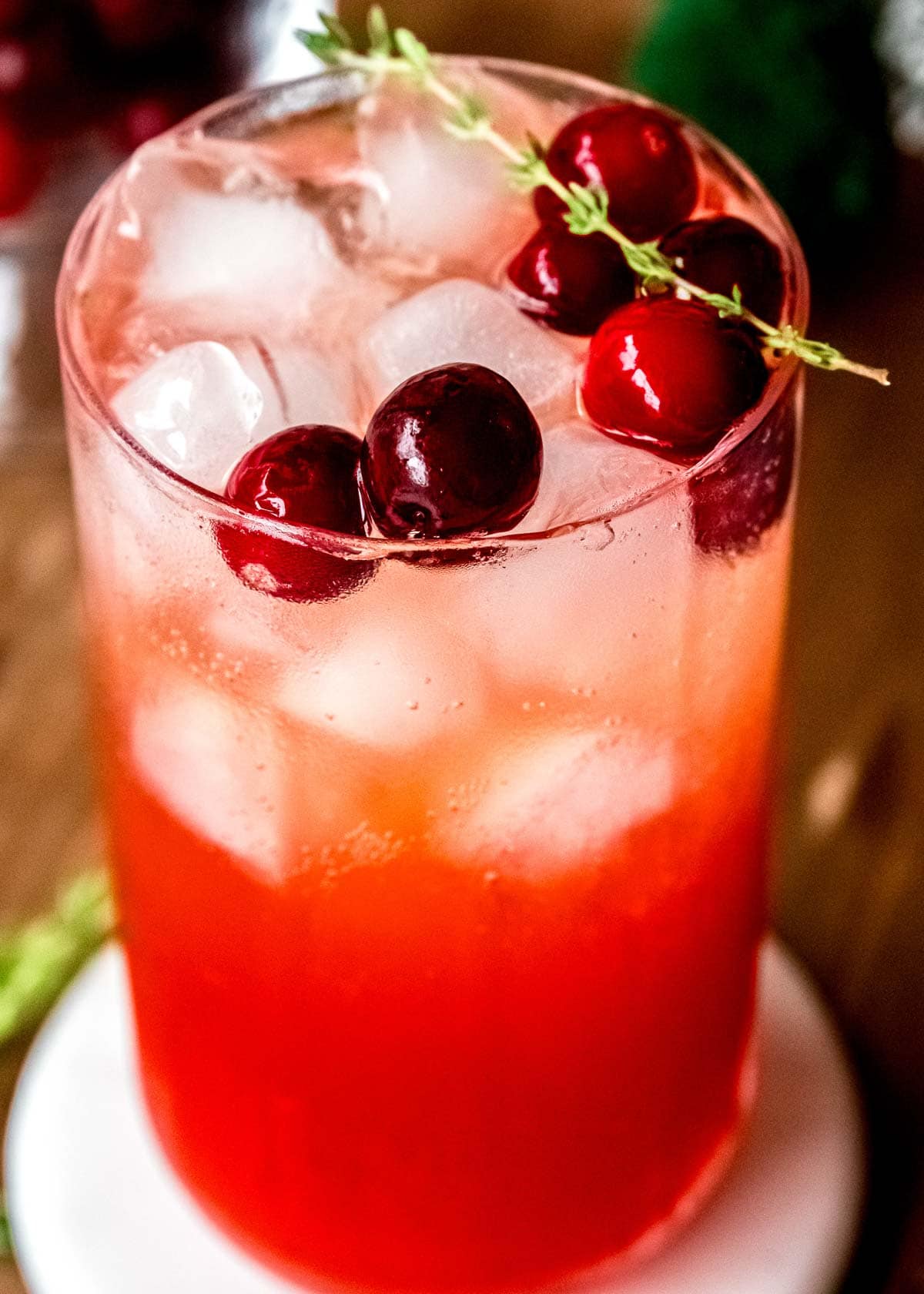 If you like this holiday cocktail, you'll love these winter drinks!
Looking for drinks with less sugar and fewer carbs? Check out this list of the BEST Keto Cocktails.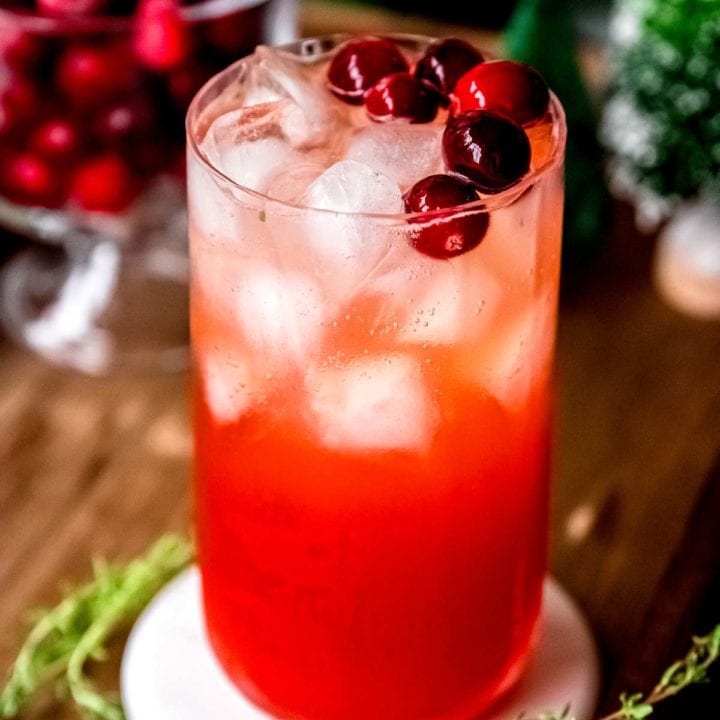 Cranberry Spritz
This delicious Cranberry Spritz is the best holiday cocktail recipe! You'll love the citrus and thyme flavor with a refreshing mix of fruit juices, Aperol, and prosecco.
Ingredients
1 ½ oz cranberry juice
1 oz orange juice
1 oz simple syrup 
2 oz Aperol
4 fresh thyme sprigs
Ice
4 oz prosecco 
Fresh cranberries and thyme sprigs for garnish 
Instructions
Add the cranberry juice, orange juice, Aperol, and 2 thyme sprigs to a cocktail shaker and muddle lightly. Add ice and shake.
Pour over a glass with ice, then top with prosecco.
Garnish with fresh cranberries and thyme sprigs, then serve!
Notes
This is a bubbly drink perfect for the holidays! It's sweet and herby with hints of Christmas spices from the Aperol. 
Muddle lightly to avoid a lot of thyme leaves in your drink. 
For a lower alcohol version, top with club soda instead of prosecco. 
Nutrition Information:
Yield:

1
Serving Size:

1 9-ounce drink
Amount Per Serving:
Calories:

314
Total Fat:

0.1g
Sodium:

8mg
Carbohydrates:

45.5g
Fiber:

0.1g
Sugar:

42.9g
Protein:

0.4g