Entertaining has never been easier with these Instant Pot Stuffed Meatballs. Packed with chunks of cheese, these low carb meatballs are just what your parties need!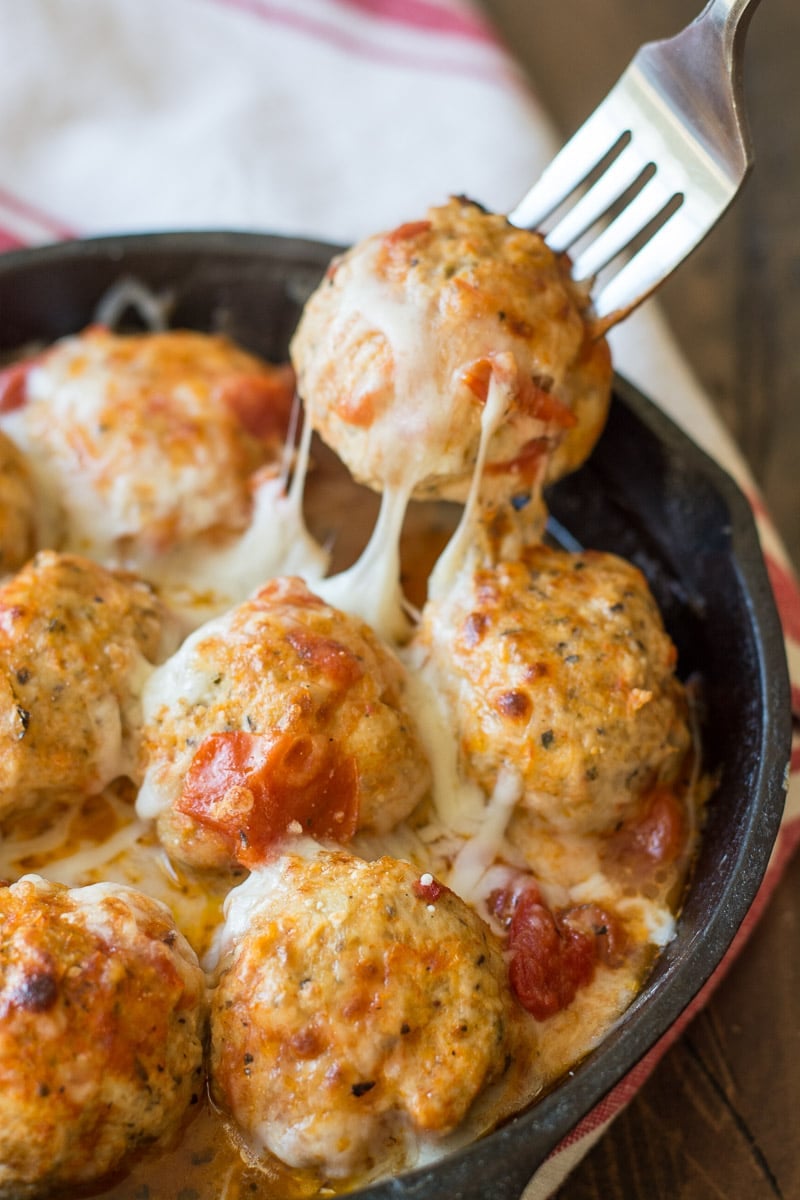 Ingredients Needed for Stuffed Meatballs
Ground beef, turkey or pork
Almond flour
Shredded parmesan
Spices: Italian Seasoning, salt, and pepper
Garlic
Havarti Cheese (mozzarella works too)
Marinara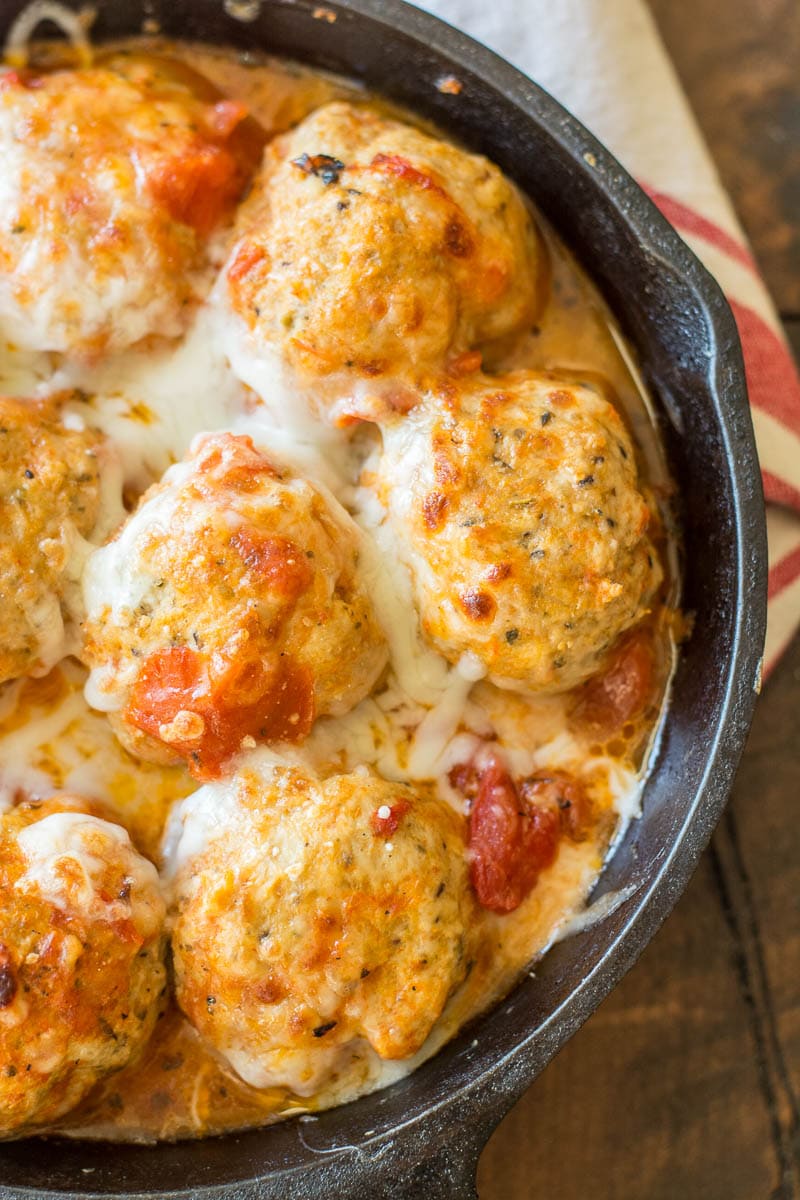 How do you make Instant Pot Havarti Stuffed Meatballs?
These meatballs are so easy. Ground beef, pork, or turkey are combined with parmesan cheese, garlic, Italian seasoning, almond flour and an egg. This simple mixture doesn't require a ton of ingredients, but it creates moist and flavorful meatballs you will love. Once the meatball mixture is made, allow it to chill in the fridge for a few minutes, I find this makes it a lot easier to work with.
Then, it is time for the good stuff, the cheese! The real star of this recipe is the Havarti cheese, which is cut into chunks and stuffed inside each meatball. If you aren't familiar with Havarti cheese, it is a mild, aromatic and creamy cheese with a hint of tanginess. It adds just the right amount of flavor to these meatballs to make them irresistible.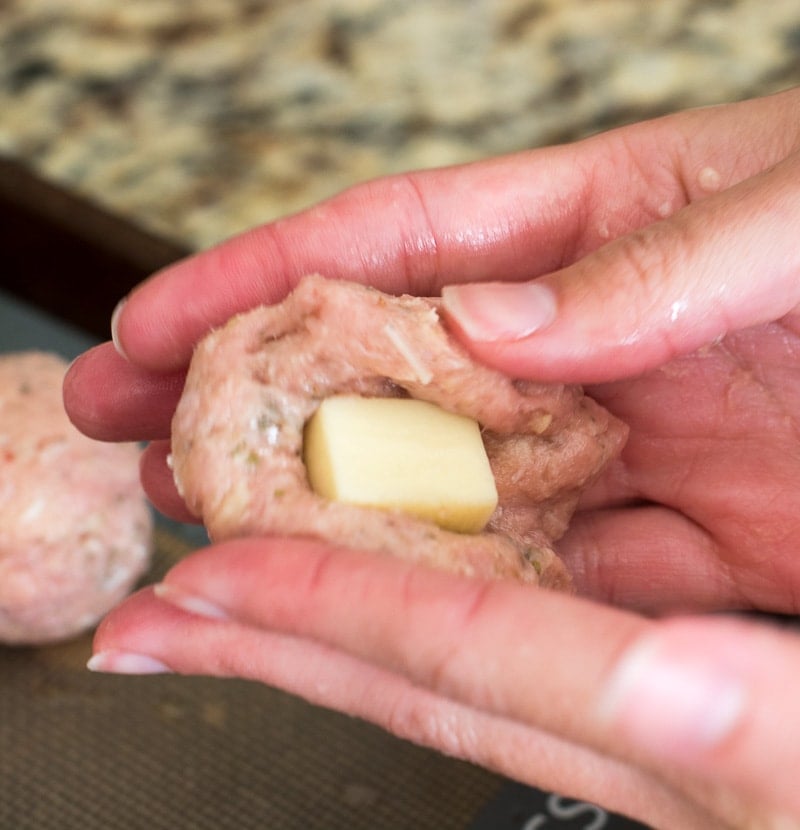 Once the meatballs are assembled, spray the bottom of your Instant Pot with cooking spray, then add the (low carb if keto) marinara and beef broth. Place the meatballs in the Instant Pot in a single layer.
Secure the lid and make sure the steam valve is sealed and not venting, then set your pressure cooker to 8 minutes. When finished, manually vent the steam and remove the lid.
The next step is entirely optional, but I like to add another layer of shredded Castello Havarti and pop the meatballs under the broiler. I love how the bubbly melted cheese adds a little something extra to the dish.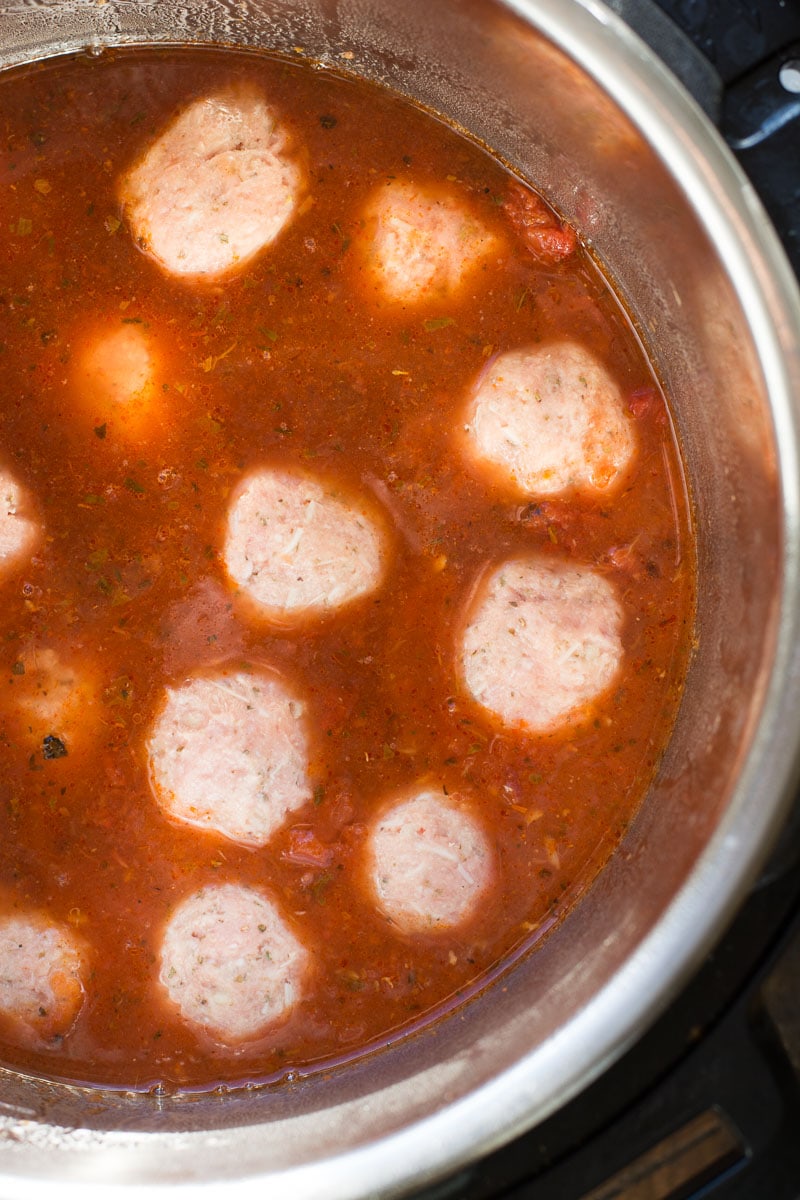 Entertaining made easy with Stuffed Meatballs
For this recipe, I made 16 fairly large golf ball size meatballs. This would be great served with pasta or on subs for a meatball sandwich. But I find this recipe works really well for entertaining, too. They are easy to make, can be prepared ahead of time, and are very filling. These Havarti Stuffed Meatballs would be a great addition to an appetizer spread including an easy cheese board.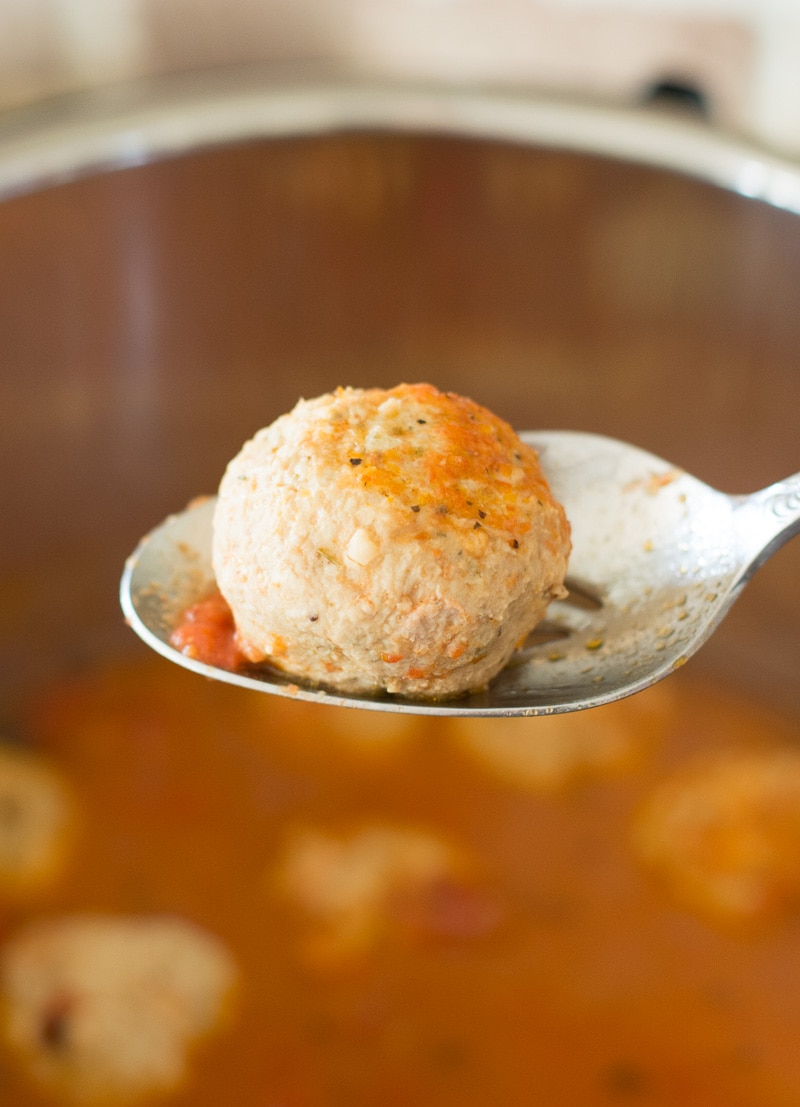 Are Stuffed Meatballs low carb?
Fortunately, these Havarti Stuffed Meatballs are low carb and fit right in with a keto diet. Usually meatballs require breadcrumbs, but this recipe uses almond flour. This adjustment also makes them gluten free and keeps them moist and delicious! As long as you stick to a low carb version of marinara, these Instant Pot Havarti Stuffed Meatballs work perfectly as a low carb meal or appetizer.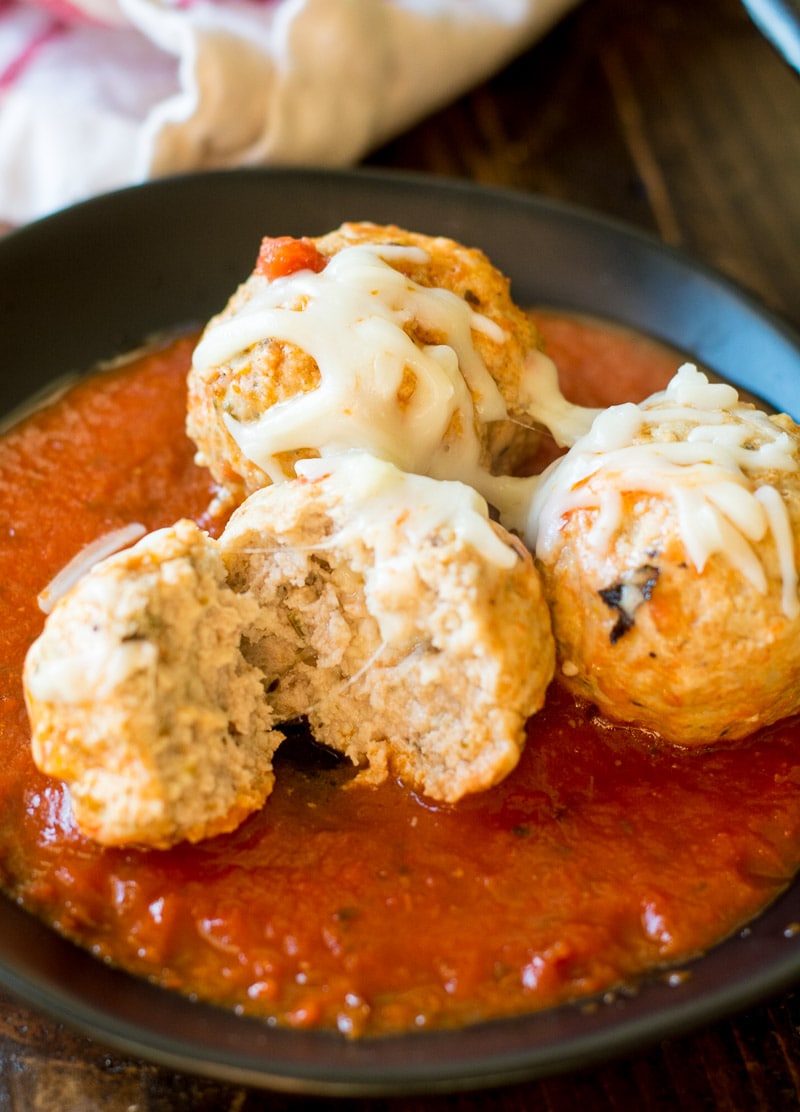 Other Easy Appetizers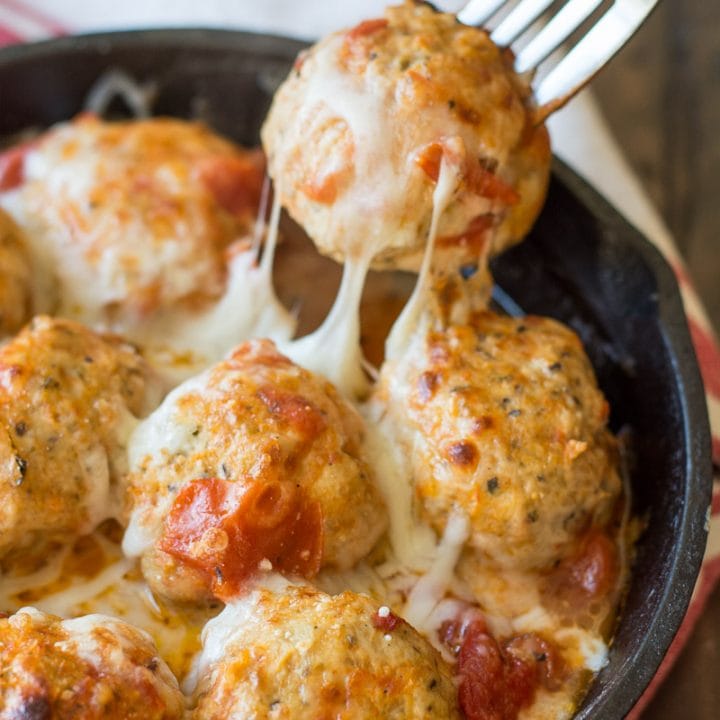 Instant Pot Havarti Stuffed Meatballs (low carb + keto)
Entertaining has never been easier with these Instant Pot Havarti Stuffed Meatballs. Packed with Castello Creamy Havarti cheese, these low carb meatballs are just what your parties need!
Ingredients
1 pound ground beef, turkey or pork
1/2 cup almond flour
1/4 cup shredded parmesan
1 tablespoon Italian Seasoning
1 tablespoon minced garlic
1/2 teaspoon salt
1/2 teaspoon pepper
3 ounces of Havarti Cheese, cut into 16 cubes
4 cups of marinara OR 2 cups of low carb marinara and 2 cups of beef broth for a low carb/keto version.
Instructions
In a medium size mixing bowl combine the meat, almond flour, parmesan, Italian seasoning, minced garlic, salt and pepper.
Chill mixture 10 minutes.
Scoop out the meatball mixture, the amount should be slightly smaller than a golf ball. Fill each meatball with one chunk of Havarti and roll in your hands to tightly close.
Assemble 16 meatballs and set aside.
Spray the inside of the Instant pot with cooking spray.
Pour the marinara into the bottom of the dish.
Top with uncooked meatballs.
Secure the lid and make sure the steam valuve is CLOSED.
Set Instant Pot to pressure cook for 8 minutes.
When pressure cook cycle is complete carefully manually release stem. Then open.
OPTIONAL: You can sprinkle additional shredded cheese on top and close the lid for 3 minutes allowing it to melt. Or you can remove meatballs and place in an oven proof dish, sprinkle with more shredded cheese and broil until bubbly.
Nutrition Information:
Amount Per Serving:
Calories:

86
Total Fat:

3.7g
Carbohydrates:

2g
Fiber:

0.4g
Protein:

8.7g
Other Easy Keto Recipes

If you are new to Keto try my favorite Sausage Egg and Cheese Bites, they contain less than one net carb per bite and they are perfect for meal prep! One of my favorite easy low carb dinners is this One Pan Cabbage Casserole. It is so easy, cheesy and delicious and it has less than 9 net carbs per serving. Some other favorites, Keto Chocolate Cookies, Pimento Cheese and Bacon Stuffed Peppers and Sausage and Cream Cheese Pinwheels!