Light and fluffy Orange Pancakes with Cranberry Syrup make the perfect gluten-free Holiday breakfast!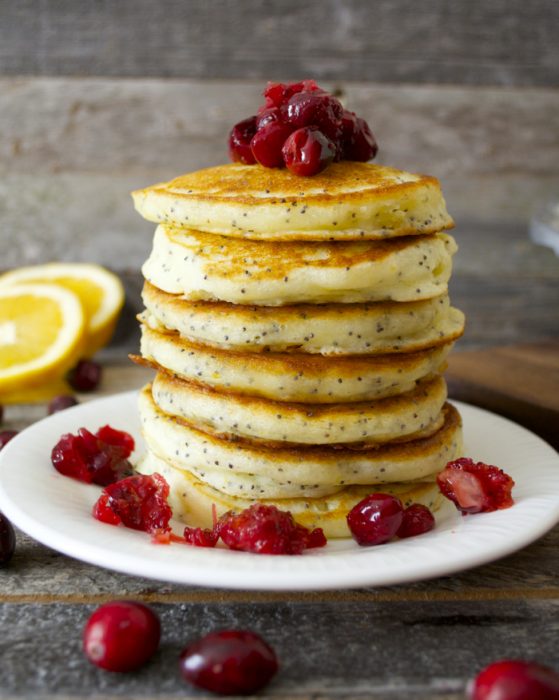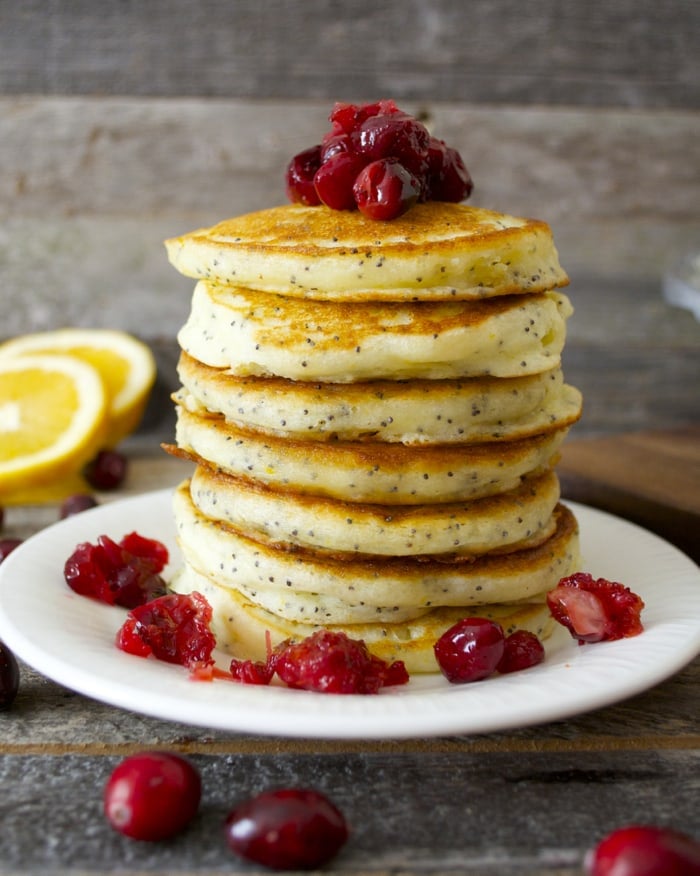 Can I tell you a secret? Don't judge okay?
I hate Thanksgiving food.
There, I said it! Does that make me crazy? Is there something wrong with me because I would rather eat spaghetti or pizza than a roast turkey, stuffing and cranberry sauce? I don't know what it is, it just doesn't do it for me! Basically every Thanksgiving I eat my Mom's Mashed Potatoes and bide my time until dessert so I can get a slice of Pecan Pie.
But that doesn't mean I don't like the flavors of the season! I still love lots of the flavors, just not in the traditional sense. Take these beautiful Orange Poppy Seed Pancakes with Cranberry Syrup for example, they are the perfect breakfast! The sweet and fluffy pancakes are paired with a slightly tangy, yet sweet cranberry infused syrup, it really is magical!
The pancakes are so simple to make, just your basic pancake staples like gluten free flour, eggs and buttermilk but made extra special by adding orange juice and poppy seeds! They have a hint of sweetness and a little kick from the orange juice!
The syrup is made by combining water with sugar, orange zest, and fresh cranberries! By using fresh cranberries it brings out a rich, intense fruit flavor. This is the kind of flavor you cannot just stumble upon; the quality of ingredients really matter.
This is the perfect Fall breakfast to make for all your guest this Holiday season!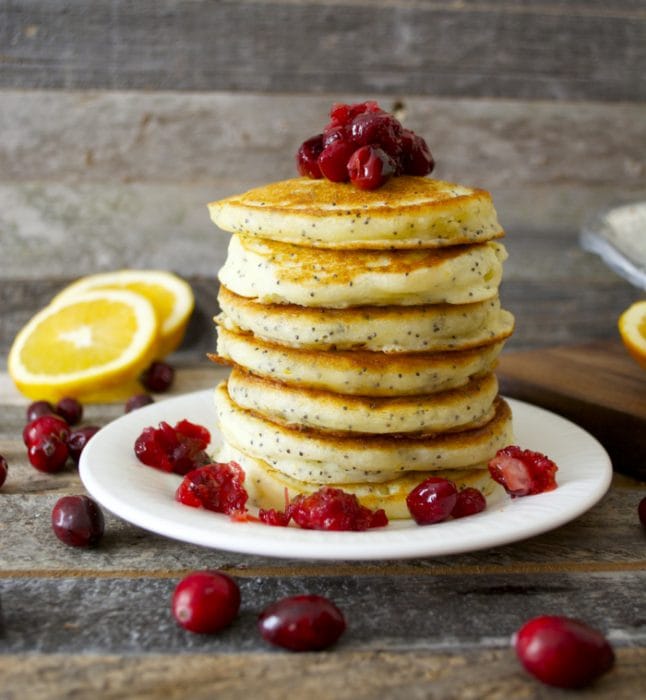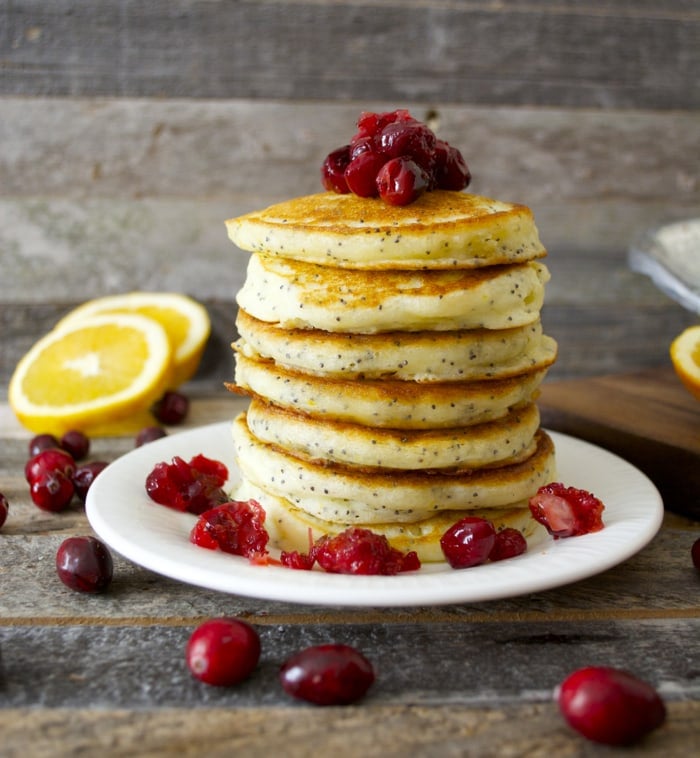 Ingredients for Orange Pancakes
Here's an overview of what you'll need just for the orange pancakes. For the syrup, specific measurements, and instructions, keep scrolling! You can make these pancakes on their own or pair them with the delicious cranberry syrup below!
Orange zest
Poppy seeds (optional but delicious)
Buttermilk
Orange juice
Egg
Coconut oil (for cooking… you can use canola, vegetable, or other oil if you prefer)
Ingredients for Cranberry Syrup
Water
Sugar (can use a sugar substitute)
Cranberries (fresh gives the best burst of flavor)
Orange zest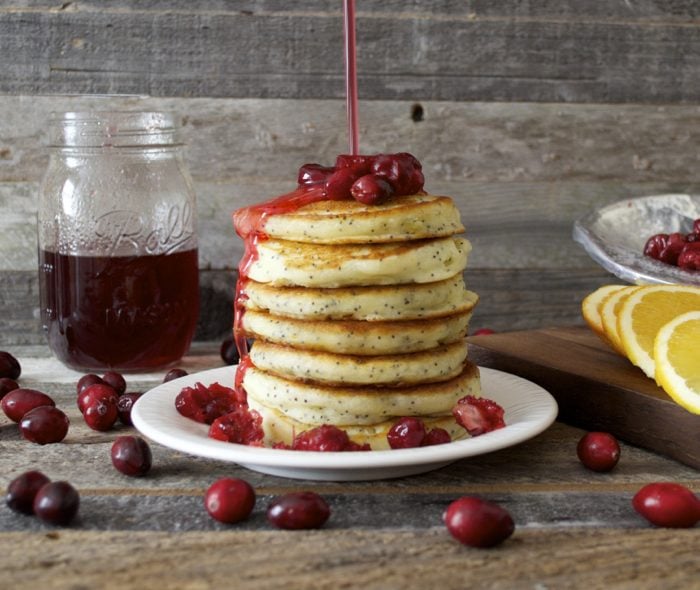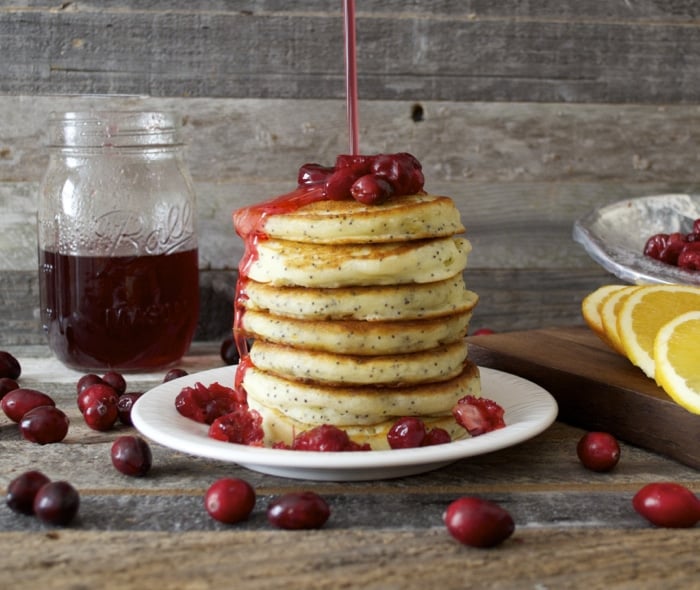 How to make Orange Pancakes
First you'll add all your dry ingredients to a mixing bowl and combine well. Next, stir in your wet ingredients. Once well combined, cook in coconut oil on a skillet or griddle on medium-high heat. When you see bubbles forming in the center of the pancake, you know it's time to flip!
I like to scoop my pancake batter using an ice cream scoop because it always results in nice, uniform pancakes.
How to make Cranberry Syrup
In a sauce pan, combine the water, cranberries, sugar, and orange zest. Bring to a low simmer and allow to cook for 15 minutes or until all the cranberries have burst. Strain the cranberries from the syrup, then bring syrup back to a low simmer and allow to reduce by half (about 20 minutes).
This syrup is delicious served warm or at room temperature! If storing for later, allow syrup to cool completely and store in an air-tight container in the fridge up to 2 weeks.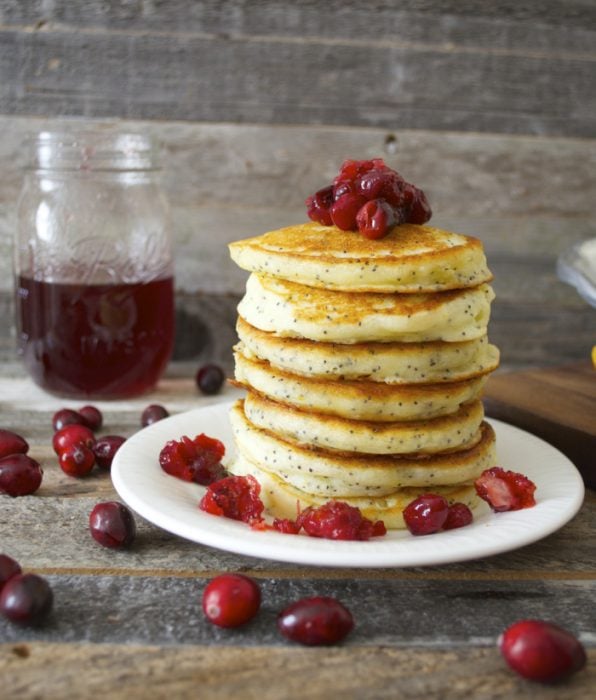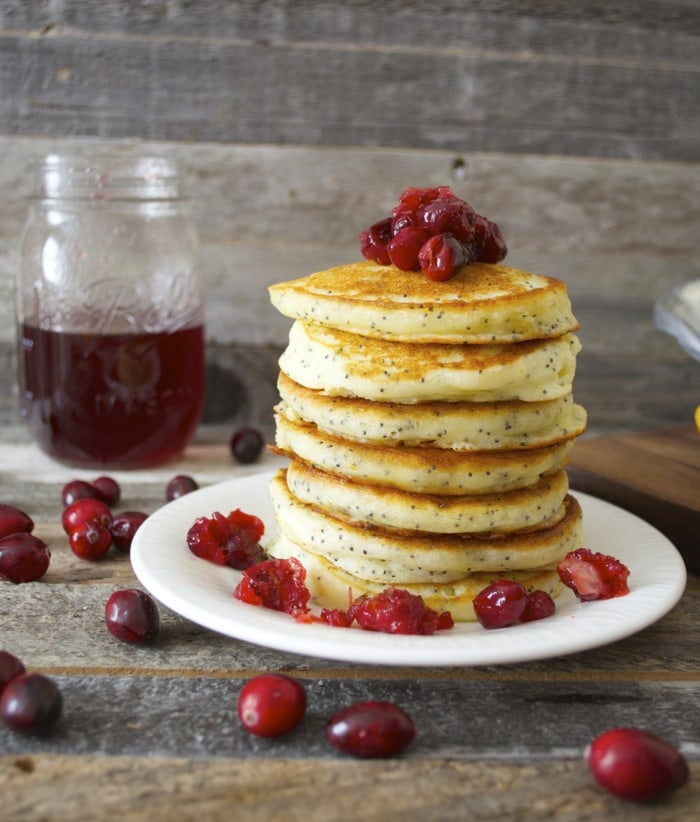 How to reheat pancakes:
Whether you're reheating one pancake or for a crowd, like them soft or crispy, there's a perfect reheating method for you! Here are the top three ways & how to choose:
Quickest: Microwave — Place pancakes in a single layer on a plate and microwave in 45-second intervals until they are warm throughout.
Quick-ish & Crispiest: Toaster or Toaster Oven — Place pancakes in toaster for 1 minute, then check every 30 seconds until you reach your desire level of crispiness.
Crispy & Easy for a Crowd: Oven — Place pancakes in a single layer on a baking sheet and cook for 10 minutes (15 if frozen) at 300 degrees F.
Tips for the best Cranberry Pancakes
Use an ice cream scoop to make uniform pancakes that will generally finish cooking at the same time.
To keep cooked pancakes warm, keep them in a warm oven or toaster oven (heated to about 200 degrees F).
Try fresh-squeezed orange juice for a tasty upgrade! You could even try blood oranges or combine citruses by adding grapefruit or more!
For a super cranberry boost, you could add some of the burst cranberries to your pancakes! If you just add them into the batter, they will turn your beautiful orange pancakes pink. To avoid this, you can sprinkle the burst cranberries over the pancakes once you scoop them into the skillet to cook.
To freeze the pancakes, place them in a single layer on a baking sheet in the freezer. After 2 hours, remove from baking sheet, wrap in plastic (individual or in stacks of 2-3) to prevent freezer burn, and store in a Freezer bag up to 3 months.
Easy Holiday Breakfasts
I love all the food-centered events around the holidays, but I especially love the chill morning breakfasts with the family during the holidays! Whether you have company or need to take a dish to a potluck work breakfasts, here are some ideas that could work: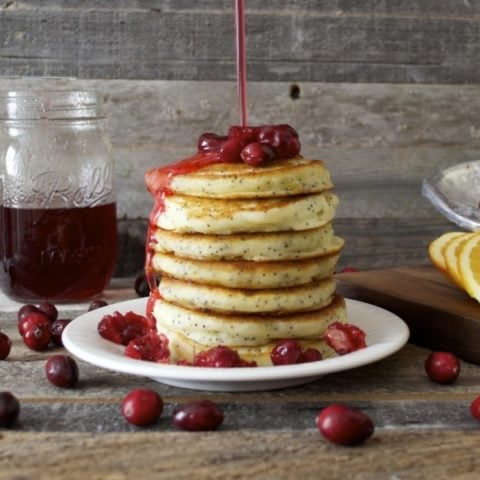 Orange Pancakes with Cranberry Syrup
Yield:
12 pancakes (depending on size)
Light and fluffy Orange Pancakes with Cranberry Syrup make the perfect gluten-free Holiday breakfast! 
Ingredients
Orange Poppy Seed Pancakes
1 cup gluten free Bisquick
zest of one orange
1 tablespoon poppy seeds
1 cup buttermilk
1/4 cup orange juice
1 egg beaten
4-5 tablespoons coconut oil for cooking
Cranberry Syrup
2 1/4 cups water
2 cups white sugar or sweetener of your choice
2 cups fresh cranberries
zest from one orange
Instructions
For the Pancakes:
In a medium size mixing bowl combine the flour, orange zest, and poppy seeds. Add in buttermilk, orange juice, and egg.
Combine mixture well.
Heat a large skillet or griddle over medium to medium high heat.
Melt one tablespoon of coconut oil. Scoop out the pancake batter with an ice cream scoop.
Cook pancakes for approximately 1-2 minutes until you see little bubbles form, flip pancakes, cook for about one more minute or until golden brown.
Add additional oil as needed.
For the Cranberry Syrup
Combine all ingredients in a small sauce pan and bring to a simmer. Simmer at least 15 minutes until the cranberries have burst. Strain the cranberries from the syrup and simmer for 20 minutes until it has reduced by half.
Serve syrup warm or room temperature with pancakes or waffles. Garnish with cranberries if desired.
Notes
To reduce sugar content and calories, you could replace the sugar with a different sweetener. Using Splenda instead of sugar reduces the sugar from 108.6 grams to 18.4 grams per 3 pancakes + about 1/4 cup syrup and the calories from 744 per stack to 398. Monkfruit or other substitutes could also reduce these.
Nutrition Information:
Yield:

4
Serving Size:

3 pancakes + about 1/4 cup syrup
Amount Per Serving:
Calories:

744
Total Fat:

21.4g
Cholesterol:

53.2mg
Sodium:

347.8mg
Carbohydrates:

135.5g
Fiber:

3.2g
Sugar:

108.6g
Protein:

5.8g