Five ingredient gluten free Dark Chocolate Peppermint Cookies are packed with Andes mints for a perfect holiday treat!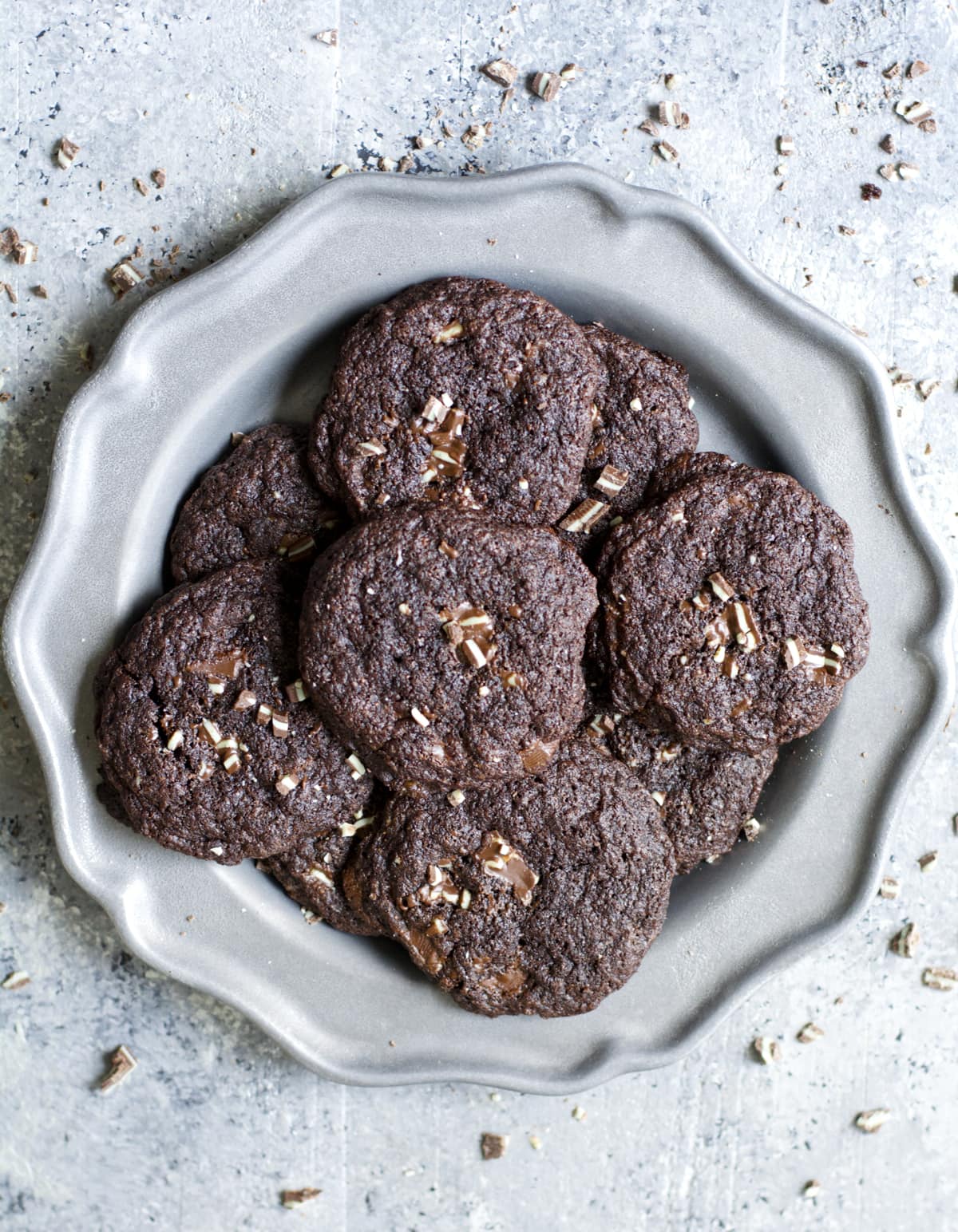 My name is Annie and I am officially a podcast junkie. The first step is admitting you have a problem, right? Previously, I listened to the radio in my office while I worked but about 8 months ago I decided I needed some variety. A friend mentioned some podcast called Serial and thought I would give it a go. I listened to the entire series in two days. (If you haven't listened to it stop reading this and go listen right now!) Like the rest of the world, I was totally hooked on the story and a newfound love for Sarah Koenig (I could listen to her read the phonebook I swear!)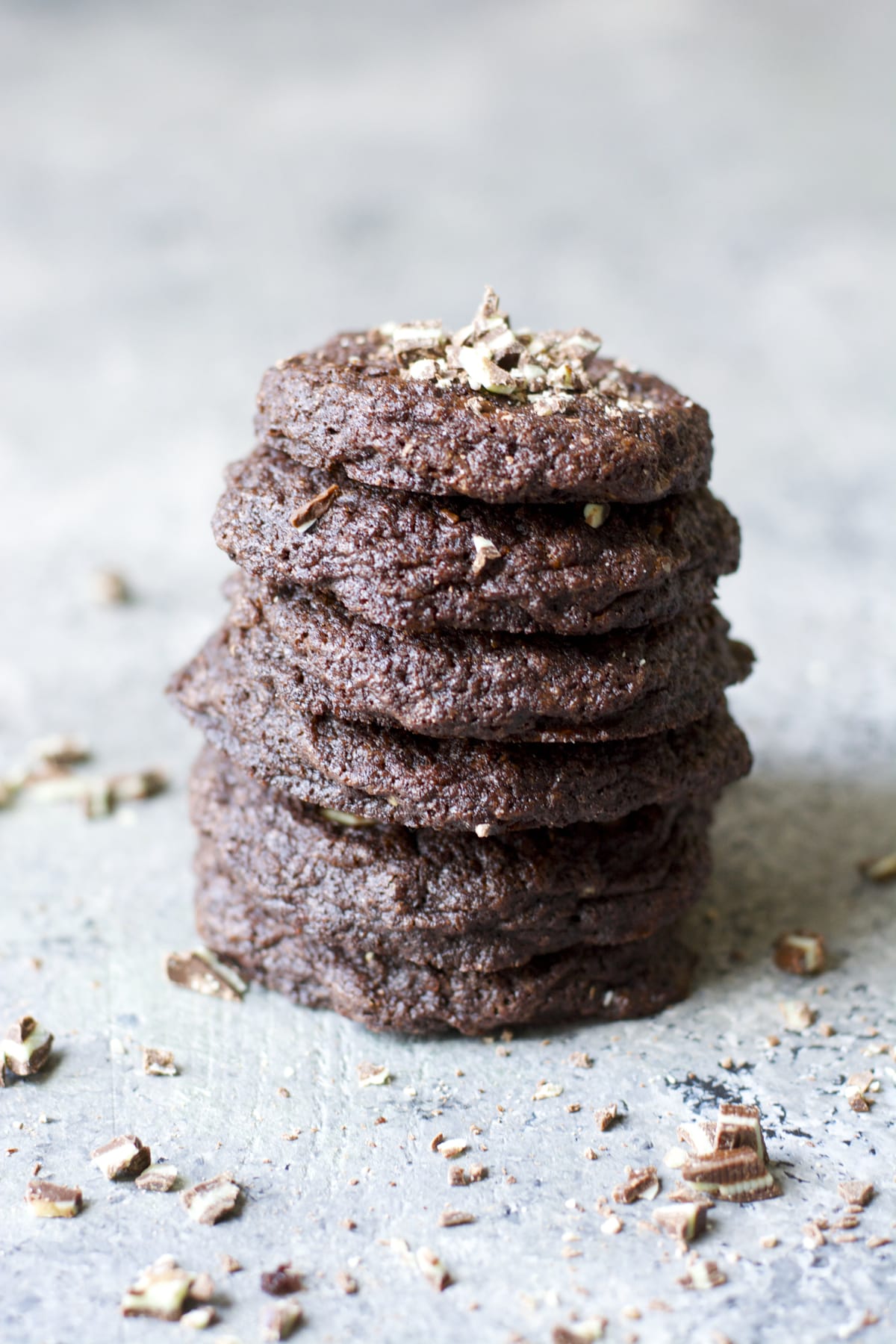 I started binge listening to all sorts of other podcasts and now it is the only way I can work. I really like This American Life because they cover so many topics. I love that I can listen to one that is kind of funny, one that makes me cry, and then one that totally opens my eyes to something I didn't really know about. I have them on when I am writing, photographing, cooking, basically all the time. I have always loved a good story so it is really easy for me to get engrossed in something.That is just what I was doing when I made these Dark Chocolate Peppermint Cookies!
What ingredients do you need for Dark Chocolate Peppermint Cookies?
This recipe only required five simple ingredients. We choose a gluten free base since we have dietary restrictions, but you can easily make them with gluten if you wish. The ingredients you need are:
1 (15 ounce box) chocolate gluten free cake mix
Eggs
Canola oil
Butter
Andes mints
How do you make cake mix cookies?
You may have heard of cake mix cookies, but if you have never made them they are the perfect shortcut for easy homemade cookies. The flour, sugar, baking powder, etc are already measured out so all you have to add are eggs, fat and whatever add ins you like. In this case, I am using chocolate cake mix and Andes mints.
The possibilities are endless with the flavor combinations for these cookies. You could use dark chocolate chips, white chocolate, peanut butter chips or even a different kind of candy to add your own twist.
These cookies only require a bowl and a spatula, no electric mixer! I do prefer to bake them on my favorite silicone baking sheets because I think it prevents over baking and assures the cookies never stick.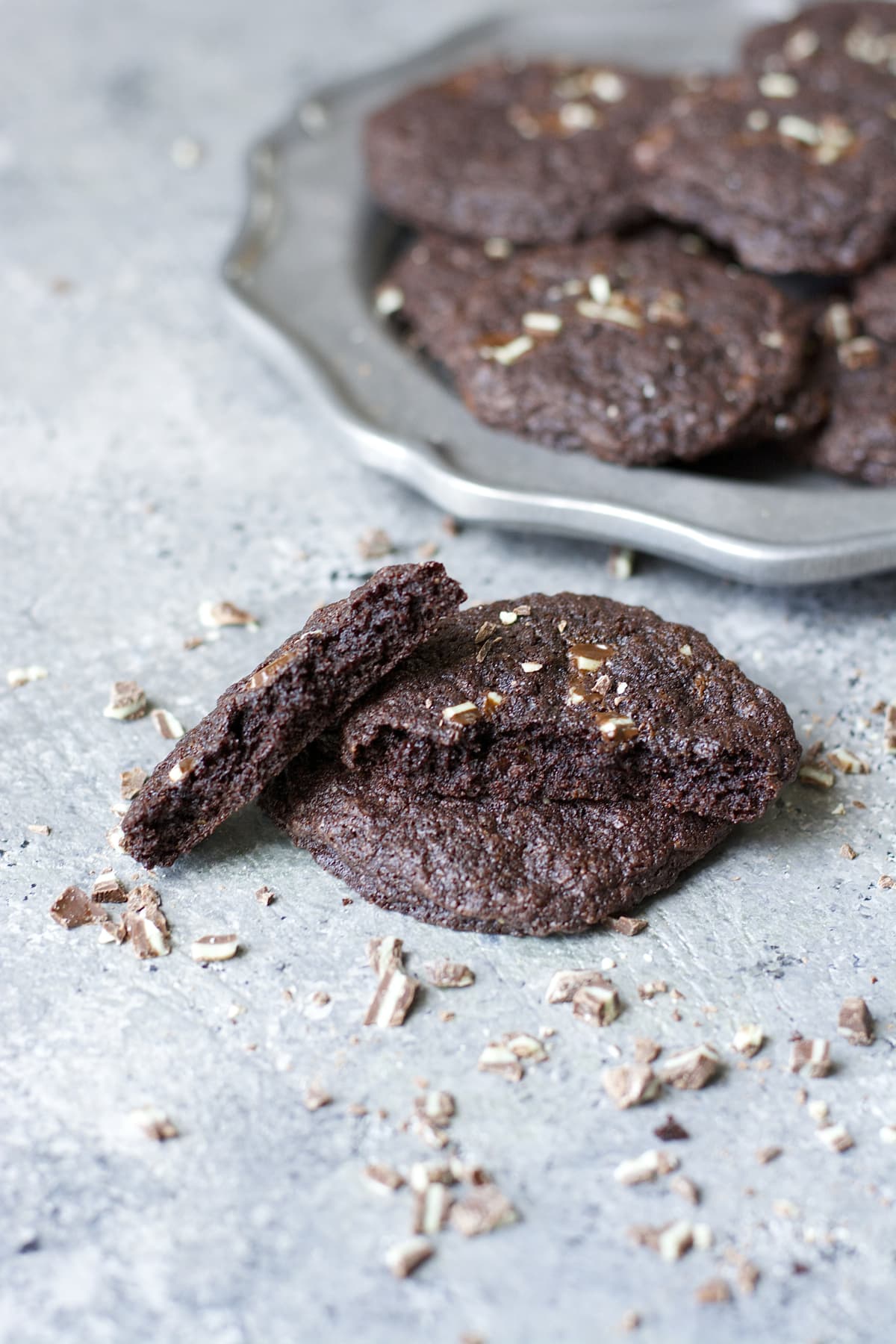 Other easy dessert recipes:
Other Easy Keto Recipes
While this recipe is not keto, I have tons that are! If you are new to Keto try my favorite Sausage Egg and Cheese Bites, they contain less than one net carb per bite and they are perfect for meal prep! One of my favorite easy low carb dinners is this One Pan Cabbage Casserole. It is so easy, cheesy and delicious and it has less than 9 net carbs per serving. Some other favorites, Keto Chocolate Cookies, Pimento Cheese and Bacon Stuffed Peppers and Sausage and Cream Cheese Pinwheels!