These Cheesy Scalloped Potatoes feature thinly sliced potatoes, a creamy cheddar sauce and chunks of smoked ham!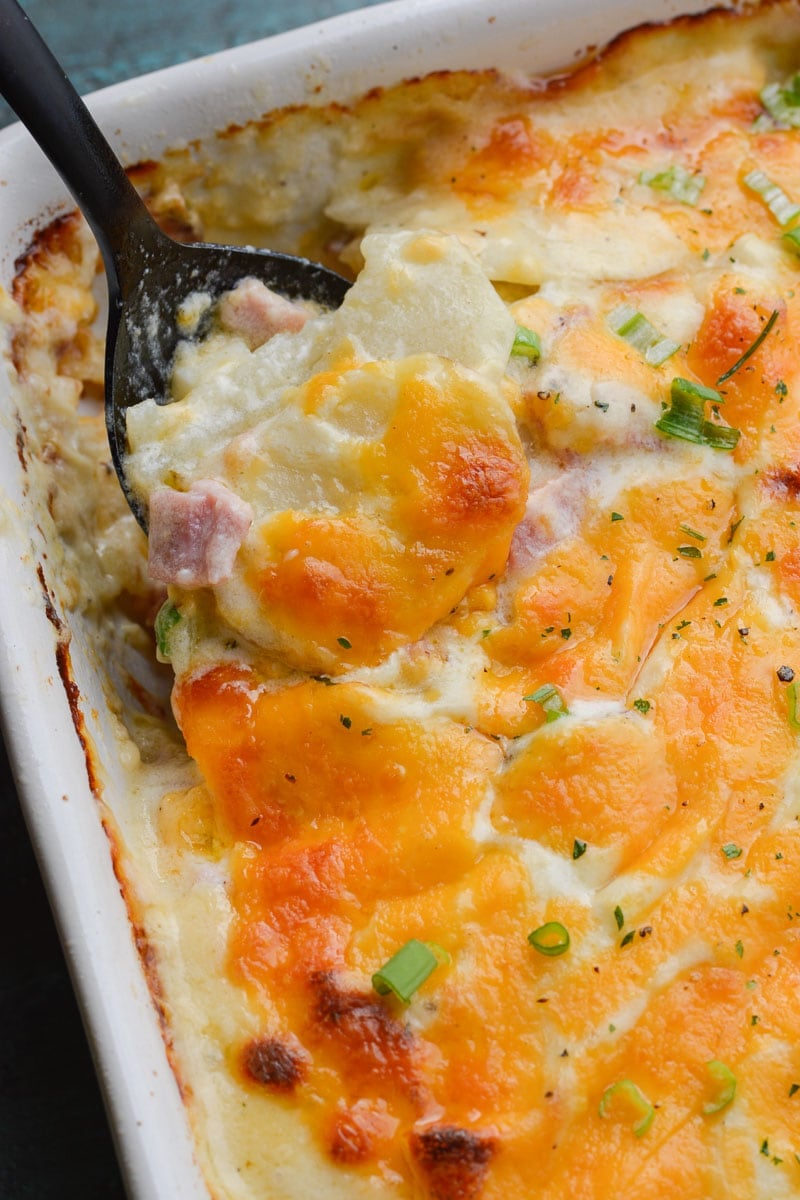 If there is one food I absolutely could not live without it is potatoes. If I were stranded on a deserted island and could only take three things you better believe potatoes would be one of them. I'll take them anyway I can get them, mashed, baked, smashed or in soup.
You name it, I'll eat it! I think my deep love for potatoes probably comes from my days as a vegetarian.
I didn't eat meat for nearly 10 years so during that time I lived off side dishes. If Mom made something like pork chops, mashed potatoes and corn I just ate loads of potatoes and corn so to me I guess they aren't side dishes, they are meals in themselves!
Ingredients for Cheesy Scalloped Potatoes
As always, this is a quick overview of the ingredients you will need. You will find the full recipe and instructions below, just keep scrolling.
Potatoes: I use Yukon Gold, Idaho or Russet potatoes, the key is to very thinly slice them. I use a madoline slicer to make them perfectly uniform.
Butter
Shallot or Onion
Garlic
Milk and Heavy cream: using both gives the best creamy texture.
Cheddar and Gouda: I love the combination, it gives an amazing depth of flavor, but if you only want to use one you can.
Ham: chopped smoked ham or "Sunday" ham works perfectly. This is a great way to use up leftovers.
What are Scalloped Potatoes?
Scalloped Potatoes are a popular side dish consisting of layered potatoes with a cream sauce. It is a hearty comfort food that you often see around the holidays.
Scalloped potatoes actually don't make an appearance at our house much. It's not that we don't love them, it's just in terms of potato dishes this is one of the more time consuming dishes. It isn't hard to make but it involves slicing your potatoes very thin, layering, making the creamy cheese sauce, layering some more and then baking. It is a labor of love, but totally worth it!



How should I store and reheat these Cheesy Scalloped Potatoes?
This is one of the best recipes to reheat because the cheese sauce is absolutely lovely. Once made, leftovers should be stored in an air-tight container in the refrigerator up to four days.
To reheat, you can microwave in 45-second intervals until heated throughout. If reheating the full casserole dish, you can cover with foil and bake for 15-20 minutes at 325 degrees F. Then finish by baking with 5-10 minutes uncovered.
Can I meal prep Scalloped Potatoes?
Yes, you can meal prep scalloped potatoes in two different ways to make your evening easier! First, you can make and bake this dish 1-3 days before you need it, and it will still reheat beautifully (Personally, I think the sauce might even be a little better the second day!).
If you choose this first method, you can reheat it by baking (covered in foil) at 325 degrees F for 20 minutes, then remove the foil and bake another 5-10 minutes to get the top nice and melty.
The second option is completing several prep steps so that you can throw this together much quicker when you're ready to eat. You can make the cheese sauce and slice the potatoes a day ahead of time. However, if you slice the potatoes more than an hour before cooking, you must keep them submerged in water and in the fridge. The sauce can be stored in an air-tight container for up to two days.
More Delicious Potato Dishes: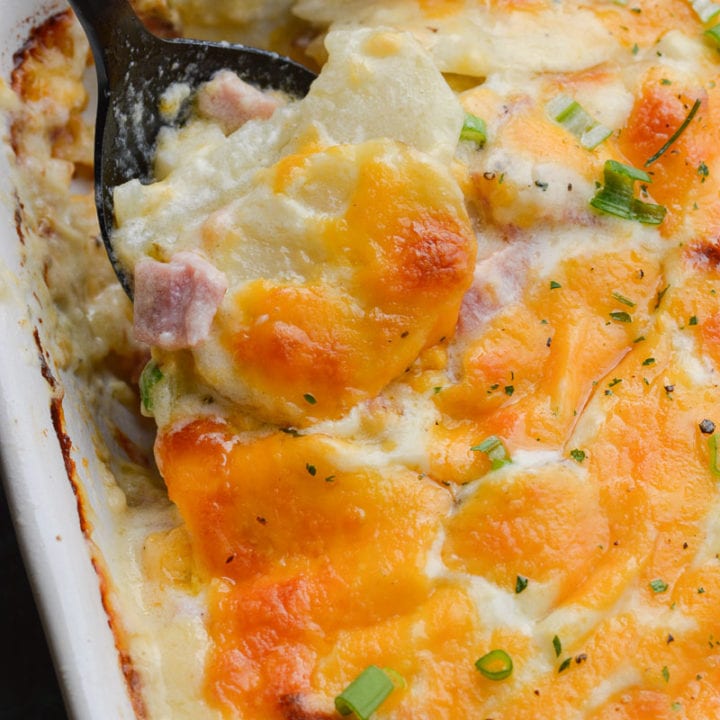 Cheesy Scalloped Potatoes
Thinly sliced red potatoes are smothered in a creamy white cheddar sauce and baked with a crispy buttery topping!
Ingredients
2 pounds potatoes, peeled and very thinly sliced
1 1/2 cups smoked ham, chopped
For the Cheese Sauce
1 tablespoon butter
1/2 cup onion or 1 shallot chopped
3 garlic cloves, minced
1 1/2 cups whole milk
1/2 cup heavy cream
1 cup shredded cheddar cheese
1/2 cup shredded gouda cheese
1/2 teaspoon each of salt and pepper
For the Topping
1 cup shredded cheddar cheese
Instructions
Preheat oven to 400 degrees F. Spray an 11 x 7-inch baking dish with cooking spray and set aside.
In a deep skillet or sauce pan combine the butter over medium heat, add the shallot and garlic and sauté until fragarant. Stir in the milk, heavy cream, shredded cheddar, gouda, salt and pepper. Bring the mixture to a simmer, stirring occasionally. When the mixture has thickened remove from the heat and set aside.
Layer half the thinly sliced potatoes in the casserole dish, top with chopped ham and half of the cheese mixture.
Layer the rest of the potatoes, ham and cheese sauce in the casserole dish.
Top with shredded cheddar cheese and bake 20-25 minutes until the potatoes are cooked through (check with a fork)
Allow the dish to rest at least 10 minutes before serving.
Recommended Products
As an Amazon Associate and member of other affiliate programs, I earn from qualifying purchases.
Nutrition Information:
Yield:

8
Serving Size:

1/2
Amount Per Serving:
Calories:

388
Total Fat:

22g
Saturated Fat:

12g
Unsaturated Fat:

7g
Cholesterol:

75mg
Sodium:

707mg
Carbohydrates:

31g
Fiber:

3g
Sugar:

5g
Protein:

17g
To avoid any confusion I remove erythritol from the final carb count and net carb count, as it is not known to affect blood glucose levels. To calculate Keto recipes listed on this site carbs - fiber = net carbs. I use Nutrifox as my nutrition calculator. This nutrition information is an estimate based on the information provided by Nutrifox and the specific ingredients I used.