Each week this easy keto meal plan includes 5 simple keto family dinners, a bonus meal prep recipe, and a printable shopping list! Stay on track with your low-carb lifestyle with these delicious simple meals!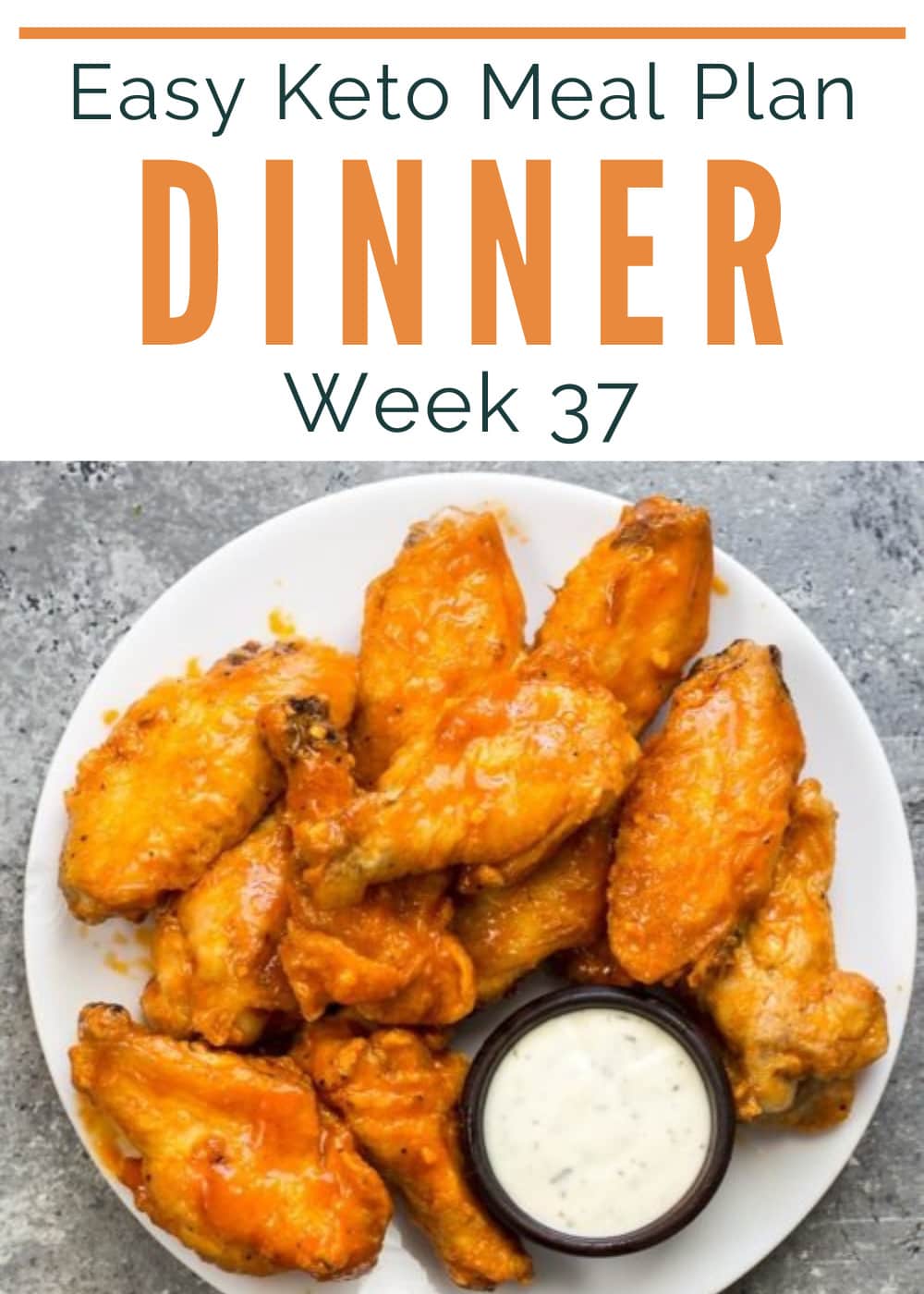 Enjoy 5 tasty keto dinners plus a simple, delicious sweet treat to satisfy that sweet tooth! Save time grocery shopping with the printable shopping list, then easily meal prep with the included tips for each meal! When you click through to each individual recipe, it'll take you to the full, detailed, step-by-step instructions. This includes a printable recipe card that includes nutrition information, too (right at the bottom of the card). To figure out the net carb count, I subtract the amount of fiber from the amount of carbs.
At the bottom of this post, you'll find a printable meal plan (with space to fill in your own needs & weekend plans) as well as an organized grocery list to help make things even easier. I also included meal prep tips for each meal so you can easily organize a "prep day" to make your week easier or find time during the week to make sure your evenings run smoothly!
(Tip: If you're having trouble downloading the meal plan, try turning off your ad blocker.)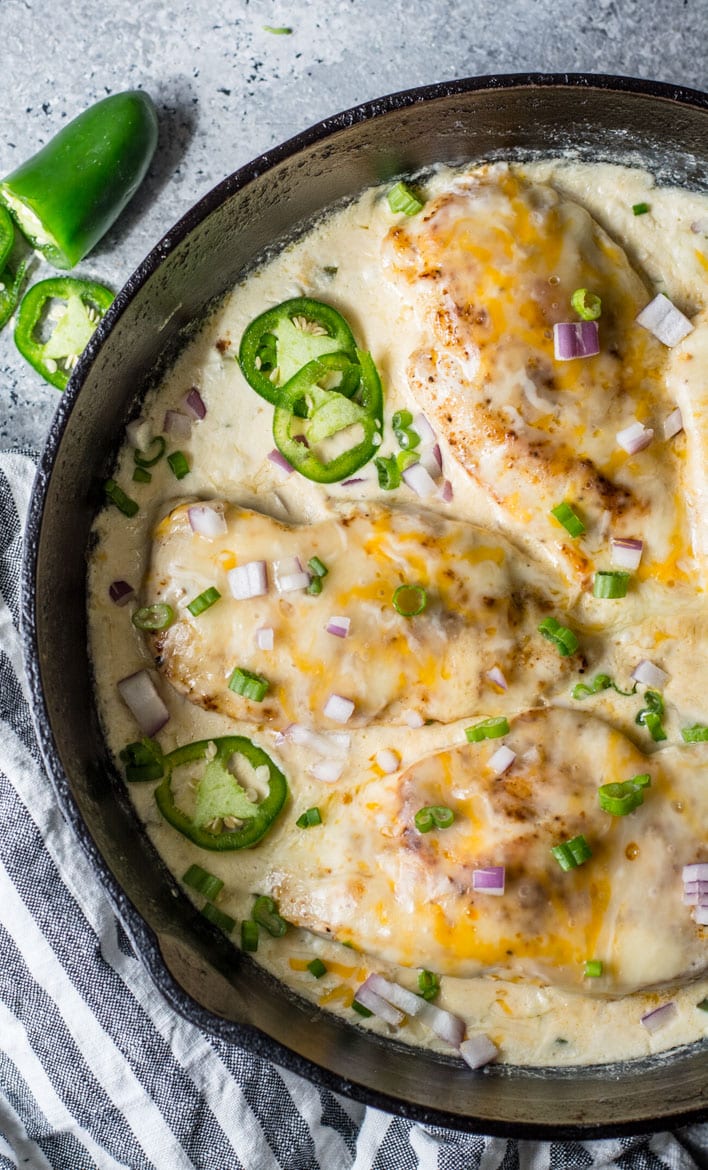 This Cheesy Jalapeno Chicken makes an appearance often because it's so easy, quick, and flavorful! If you're not big on spice, swap out the jalapeno with 1/2 a package of bacon (you'll use the other half for tomorrow's soup). If you love a LOT of flavor, add both the jalapeno AND the bacon! This recipe makes 4 servings of 4.3 net carbs each.
Side suggestion: Roasted Radishes – 2 servings, 1.3 net carbs; I love how roasting these mellows out the flavor, turning them into an amazing crispy-yet-tender side dish!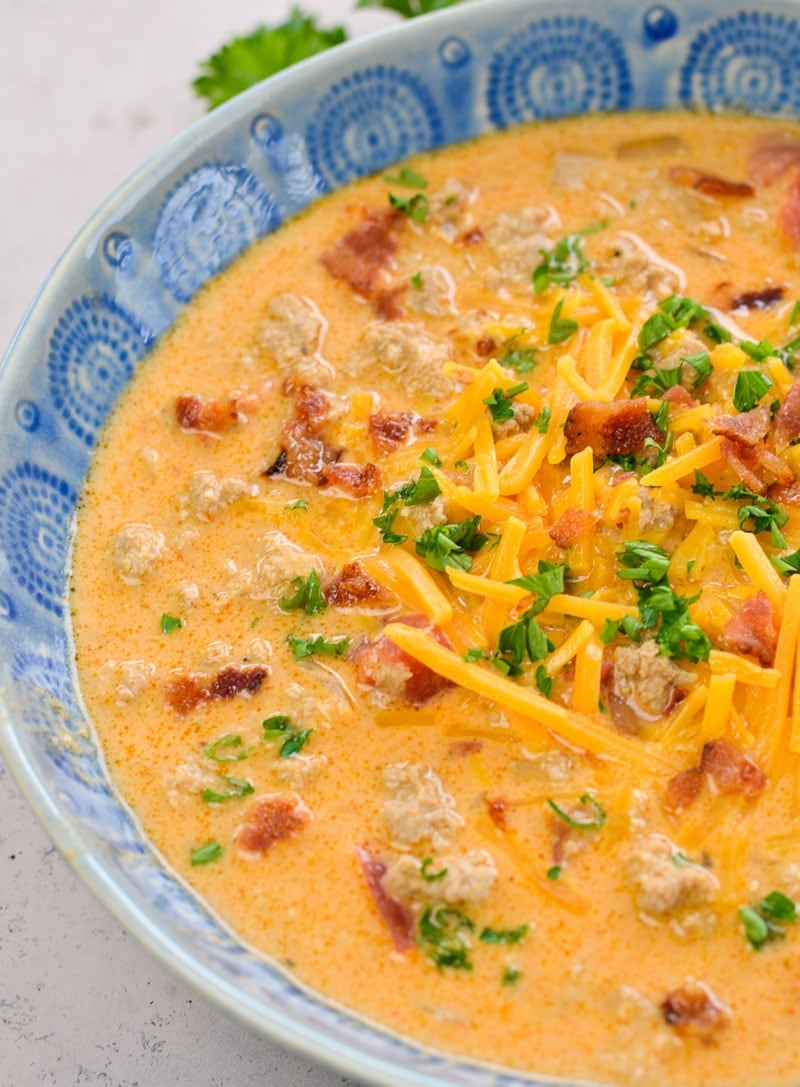 This Bacon Cheeseburger Soup has all the great flavors you love without a ton of carbs (and less hands-on work than this Keto Bacon Cheeseburger). This recipe makes 8 servings of 5.9 net carbs each.
Side suggestion: Jalapeno Cheddar Chaffles – 6 chaffles, 1.5 net carbs; I love to cut these into breadsticks and dip into soup! You could even cut into squares and toast for croutons.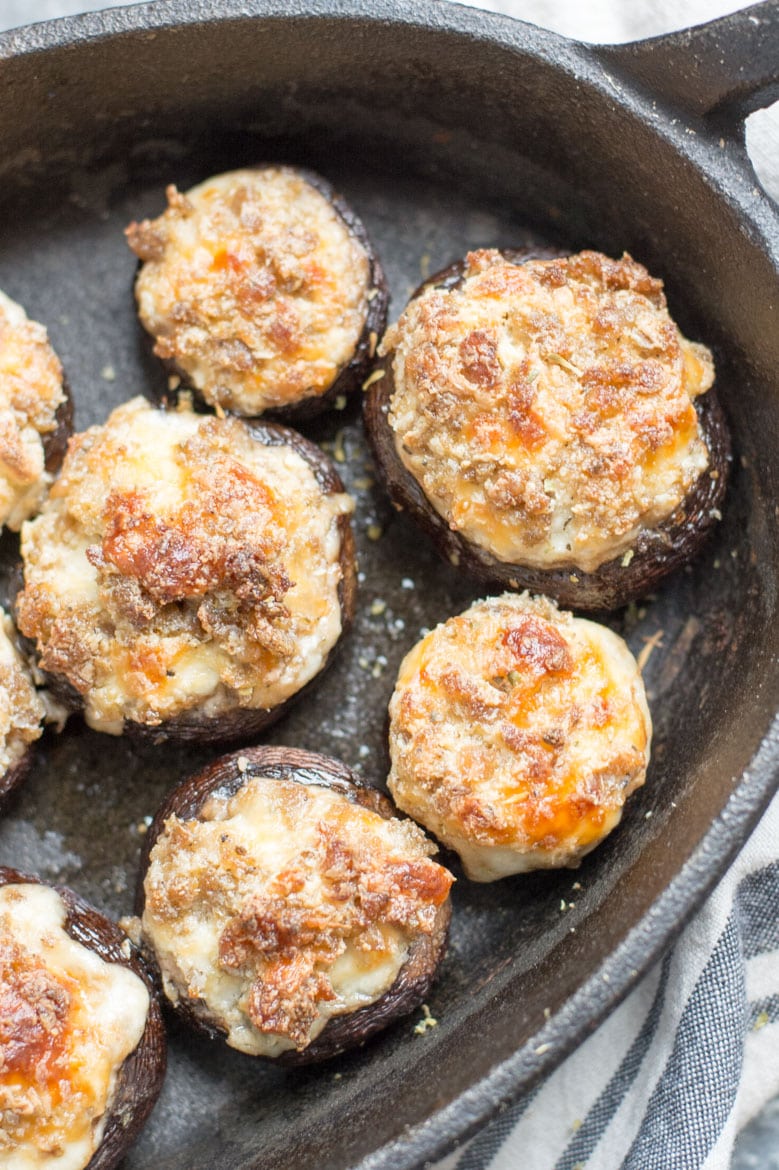 These Sausage Stuffed Mushrooms are perfectly tender and full of flavor! If you prefer some spice, add 2 chopped jalapenos to the cream cheese mixture. These might go quickly if not serving with a side dish, so feel free to double (just buy another package of cream cheese, another pound of mushrooms, and increase sausage to 1 full pound). This recipe makes 4 small servings for 5 net carbs each.
Side suggestion: Green Beans Almondine – 4 servings, 3.5 net carbs; We love the crunch of the almonds and slight sweetness of the sauce!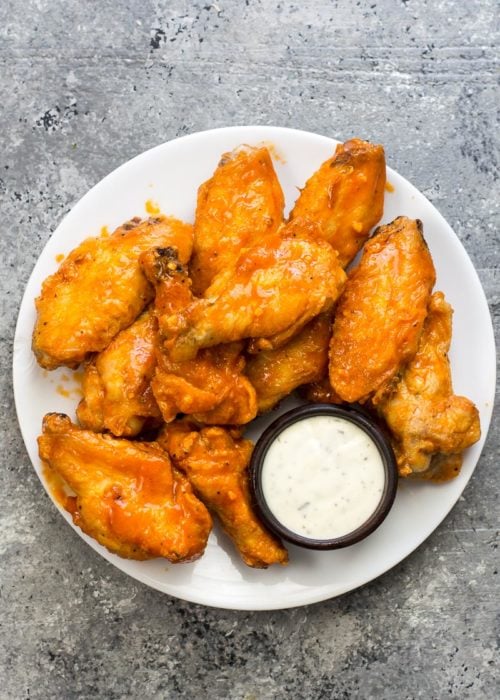 These Baked Buffalo Wings are SO delicious and perfect for a movie night or game night! Dip in a low-carb blue cheese or ranch dressing. This recipe makes 2 servings of 5.6 net carbs. If you need to serve more people, just add 1 pound of wings per person. If you prefer to air fry your wings, this post has great instructions for that, too.
Side suggestion: Crispy Zucchini Fries – 4 servings, 3.2 net carbs; Both the wings and fries bake at 400, so you can simply add the zucchini to the oven in the last 20-25 minutes of cooking time!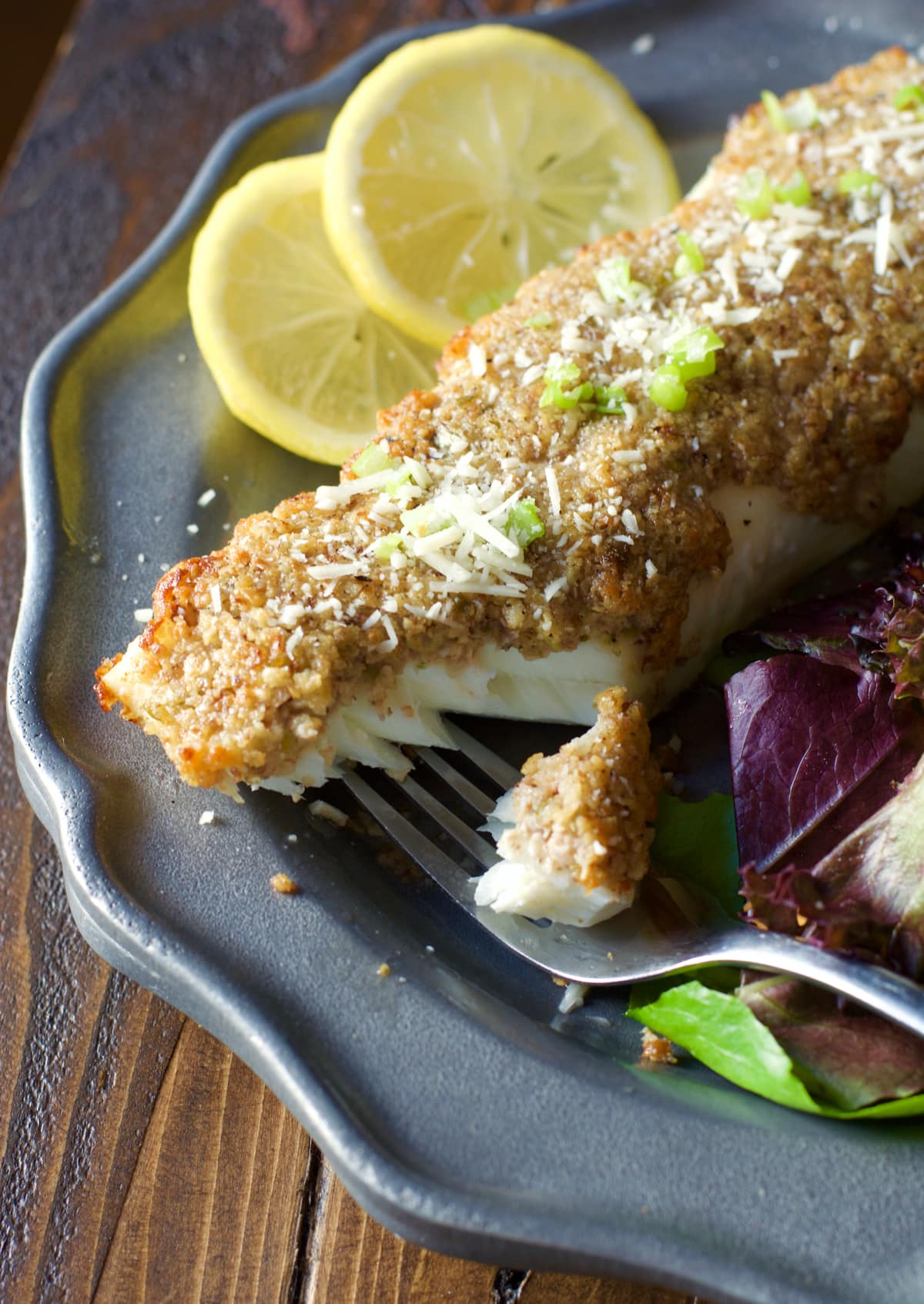 We love this tender Baked Parmesan Halibut! It cooks quickly and has an amazing crunchy topping without a ton of work! This recipe makes 2 servings of 3 net carbs each. If you need to serve more people, just add 1 8-ounce filet per person.
Side suggestion: Air Fryer Roasted Broccoli – 4 servings, 3.1 net carbs; These take just 8 minutes of cooking, so the full dinner is ready super fast!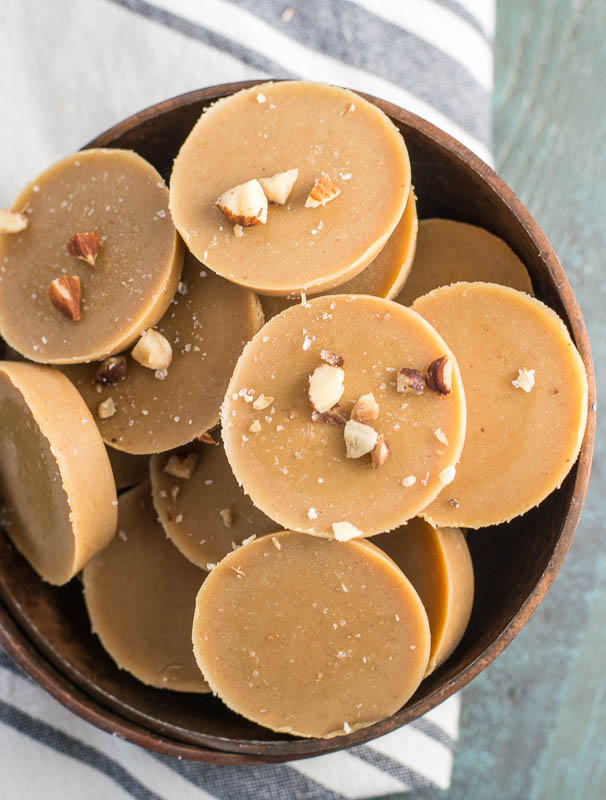 These Peanut Butter Fudge Fat Bombs are perfect when you need to add a dose of fat! They're a tasty dessert that is SO easy to meal prep. This recipe makes 30 peanut butter cups, just 1.5 net carbs each. Store in the fridge (or freezer if keeping longer than a week or so) and pull out when you need a sweet treat!
Keto Meal Prep Tips
Chicken –
This is the easiest meal prep recipe! You can easily cook this up to 3 days ahead of time then store in the fridge until you're ready to serve. To reheat, allow it to simmer in a pan on the stove or cover and bake until warmed throughout.
Soup –
Another easy meal prep recipe. Make ahead of time and store in the fridge up to 3 days. To reheat, simmer on the stove, microwave individual servings, or pour into a slow cooker on low until warmed throughout.
Mushrooms –
I don't love cooking these ahead of time, but I do meal prep by making the filling ahead of time and refrigerating up to 3 days in an air-tight container. You can also scoop out the mushroom insides and store those in the fridge as well. When ready to serve, I fill the mushrooms and bake fresh! To reheat leftovers, microwave in 30-second increments or bake covered until warmed throughout.
Wings –
These wings are great meal prepped! Simply bake and store in the fridge up to 3 days or in the freezer up to 6 months. To reheat, thaw and microwave, air fry, or bake until warmed throughout.
Halibut –
I don't meal prep this recipe, but that's never a problem because it cooks so quickly! If you needed to shave off a little more time, you could make the crispy topping and store in an air-tight container in the fridge up to a week. When ready to serve, place on the halibut and cook.