These Air Fryer Buffalo Wings are ultra crispy with no breading! These wings are the perfect low-carb appetizer complete with a spicy, buttery buffalo sauce!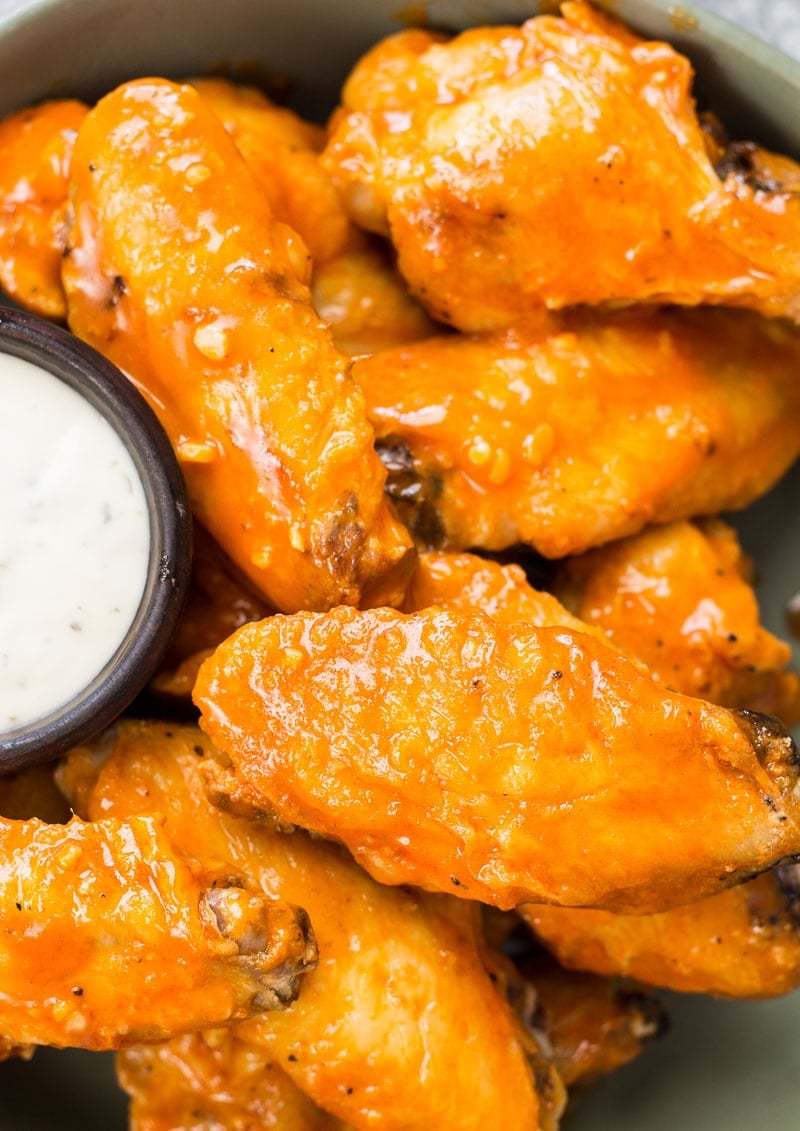 Have you jumped on the air fryer bandwagon yet? I purchased one a few months ago and it didn't take long for me to get hooked. Now me, Mom, and Sister have purchased their own and they are hooked too!
In the beginning, I really didn't think we would use it that much, I had read that they do so great with freezer-type meals like chicken tenders, pizza rolls, etc and we just don't really cook like that much. However, I have found a ton of uses for it. And it also reheats leftovers so well!
One of the recipes we have been making weekly is Air Fryer Buffalo Wings. They are ultra crispy and have absolutely no breading, instead you toss them with spices and a little baking powder.
Yes, that is right. Baking powder! I know it sounds like the strangest thing, but my Mom shared the tip with me and it really works. The baking powder (only a little bit!) doesn't add any flavor but it does help to try to skin out which allows the air fryer to really create the perfect crispy wings. Crispy on the outside, juicy on the inside!
This is the air fryer I use and I love how easy it is and how quickly it heats up! The 4-quart is a great size for a small family, but if you cook for a crowd you might want to size up.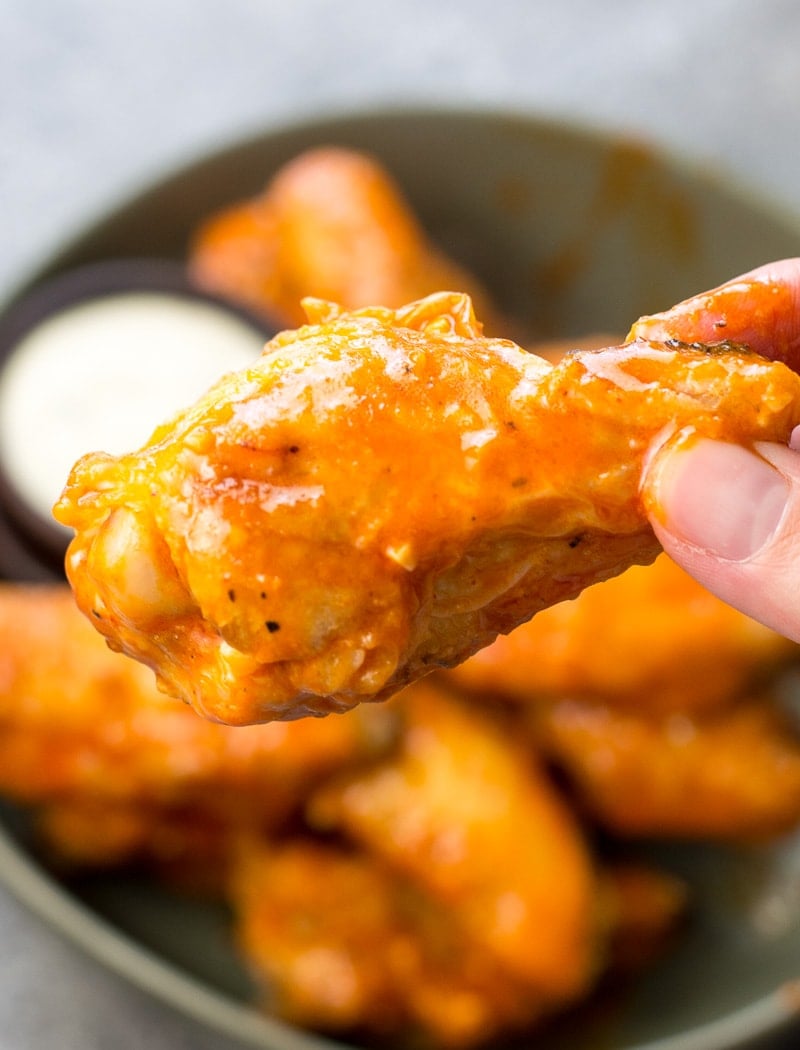 Ingredients for Air Fryer Buffalo Wings
These air fryer wings require very few ingredients, but pack in tons of flavor! Here's what you'll need for the air fryer chicken wings:
Chicken wings
Baking powder
Salt and pepper
Garlic powder
Buffalo sauce
Butter
Apple cider vinegar
Should I Use Bone-In or Boneless Wings?
Either will work for these air fryer buffalo wings! I prefer bone-in as they have more flavor (in my opinion).
Can I Use Frozen Chicken Wings?
Technically, yes, but I always make this recipe with fresh chicken wings. If using frozen chicken wings in the air fryer, they'll need to cook for roughly 30 to 35 minutes.
How to Cook Chicken Wings in an Air Fryer
Preheat your air fryer to 375 degrees F for 3 minutes.
Meanwhile, in a medium size bowl or plastic bag, toss the wings, baking powder and spices until coated.
Transfer the wings to the air fryer and place in a single layer.
Lightly spray with cooking spray.
Cook until the internal temp reaches 165 degrees F, shaking the basket halfway through.
Once the wings are cooked you can serve them anyway you like! I make a simple buttery buffalo sauce that simmers on the stovetop while the wings cook. Once they are done I just dunk them in the buffalo sauce and serve with a low carb ranch or bleu cheese.
How Long to Cook Chicken Wings in an Air Fryer?
These crispy air fryer wings are cooked at 390 degrees F for 20-25 minutes. I have seen air fryer wing recipes where the cooking time is much longer, but we have made 10+ batches and this cooking time has consistently worked for me.
However, I highly suggest using your meat thermometer to make sure they have reached an internal temp of 165 degrees F at the thickest part of the wing.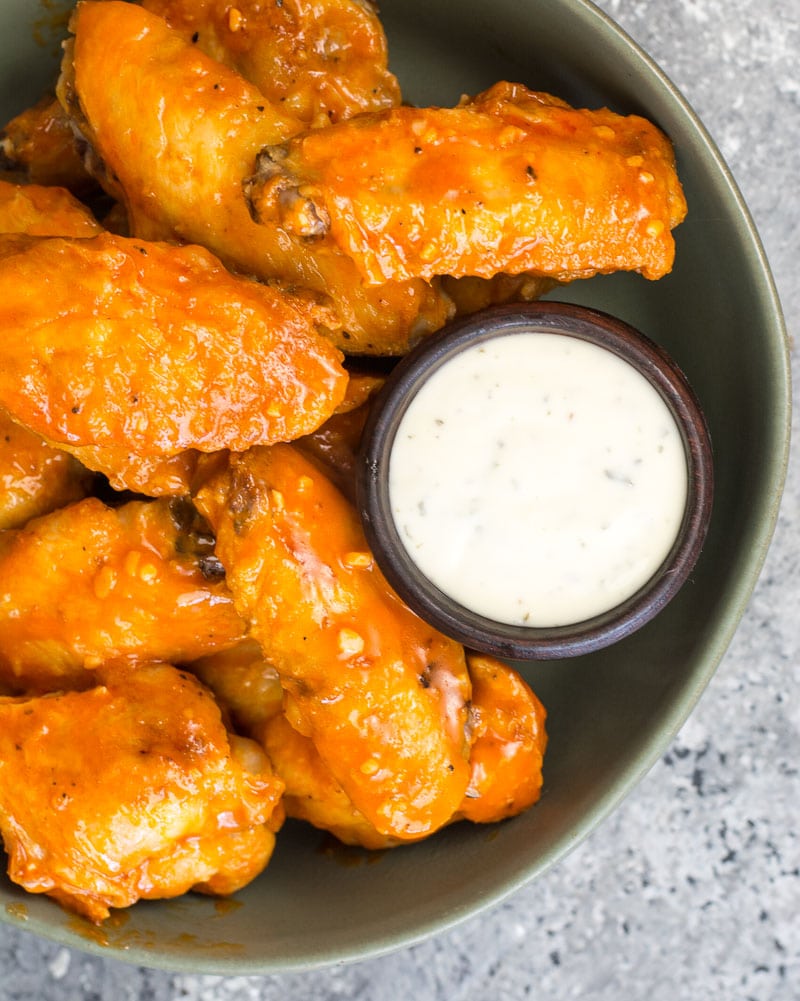 What to Serve with Chicken Wings
You can enjoy these keto air fryer buffalo wings as an appetizer or main dish. Here are some recipes you can serve alongside the wings to make a full spread:
If serving these wings as a main dish, a simple side salad or roasted veggies would round out the meal nicely!
Tips for Making Air Fryer Chicken Wings
Depending on the size of your air fryer, you may need to cook the wings in two batches.
Be sure to shake the basket or flip the wings halfway through cooking to ensure they cook evenly and are crispy on all sides.
Recipe would serve two as a meal (1 pound each), which comes to about 4 net carbs OR four as an appetizer (1/2 pound each), which comes to about 2 net carbs.
More Easy Air Fryer Recipes:
Other Easy Keto Recipes
If you are new to Keto try my favorite Sausage Egg and Cheese Bites, they contain less than one net carb per bite and they are perfect for meal prep! One of my favorite easy low carb dinners is this One Pan Cabbage Casserole. It is so easy, cheesy and delicious and it has less than 9 net carbs per serving. Some other favorites, Keto Chocolate Cookies, Pimento Cheese and Bacon Stuffed Peppers and Sausage and Cream Cheese Pinwheels!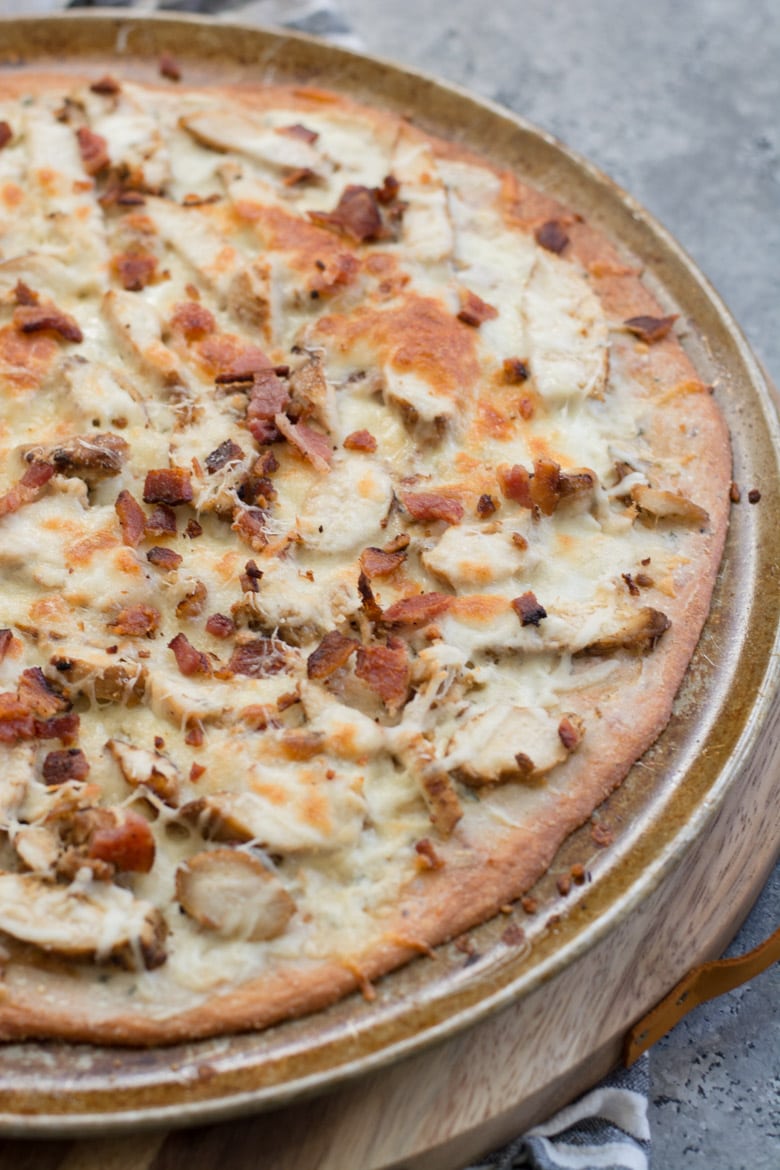 Keto Chicken Bacon Ranch Pizza