Raise your hand if you don't like cooking.
Don't be shy, I know your out there. Truth be told, I don't like to cook sometimes. Sometimes, I would give my right arm to be able to call Pizza Hut and have them deliver an extra cheese stuffed crust pizza right to my door step. Unfortunately, that is just not the world I live in. Since Mr. Maebell has Celiac we just had to give up some of those conveniences. On the bright side, it has given me the opportunity to really get creative with "fake" dinners.
In honor of all of my no-cook-cooks out there I am sharing an entire weeks worth of effortless dinner ideas. Meals that require 15 minutes or less of cooking or prep. Yes, you heard me right. We are bringing quick, easy, and healthy weeknight meals back in a big way.
To get things started off I am sharing one of my favorite vegetarian sandwiches with you. This is probably too simple to even call a recipe, but I am going to share it anyway. This is inspired by the Tomato Mozzarella Panini at Panera. I have never actually tasted it, so I am not sure how it compares, but just because we can't go eat there doesn't mean I can't admire their menu. That is actually one of my favorite ways to get dinner ideas and recipe inspiration.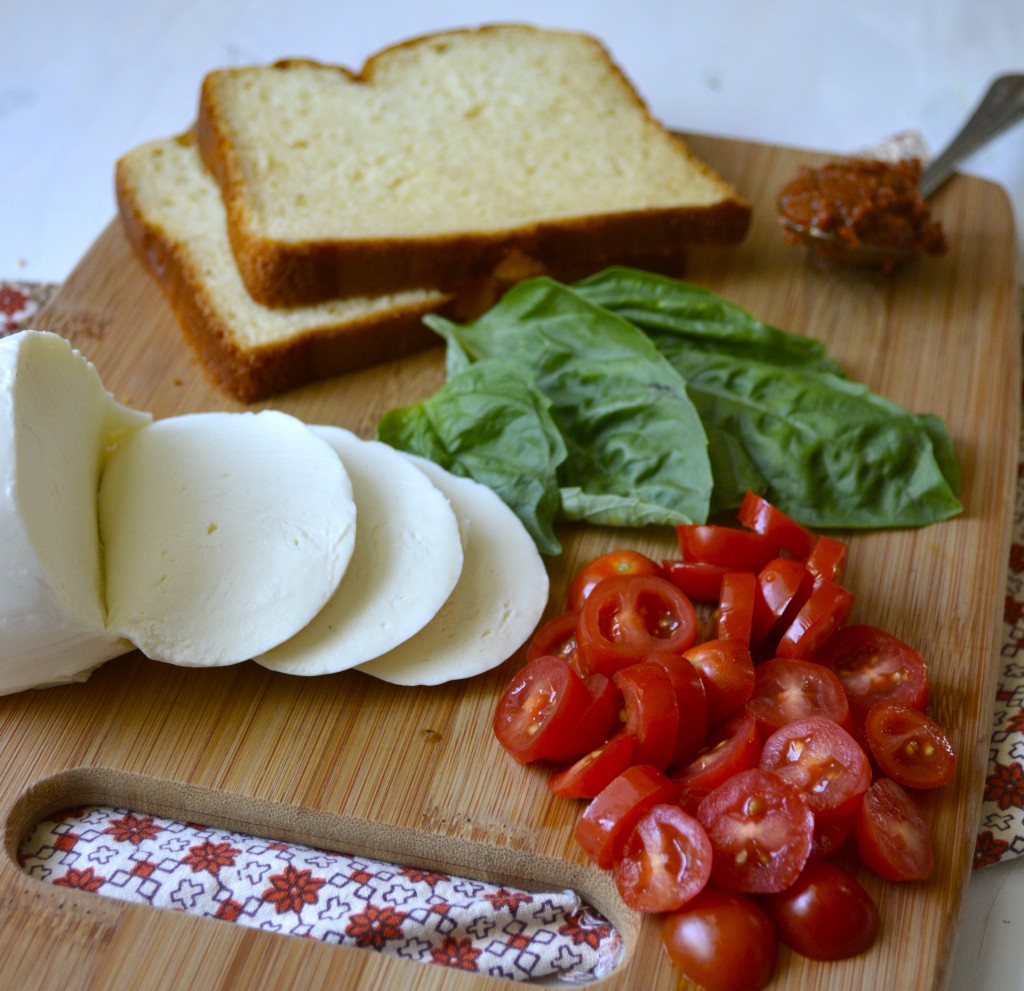 Anyhoo, all you need to do is grab some good thick bread, this is gluten free bread, but you could use something like ciabatta or a good crusty baguette. Just slather a good dose of Roasted Red Pepper Pesto on one side, pile it high with tomato slices, and a good dose of salt and pepper. Then slice some fresh mozzarella and fresh basil leaves, and throw them on too.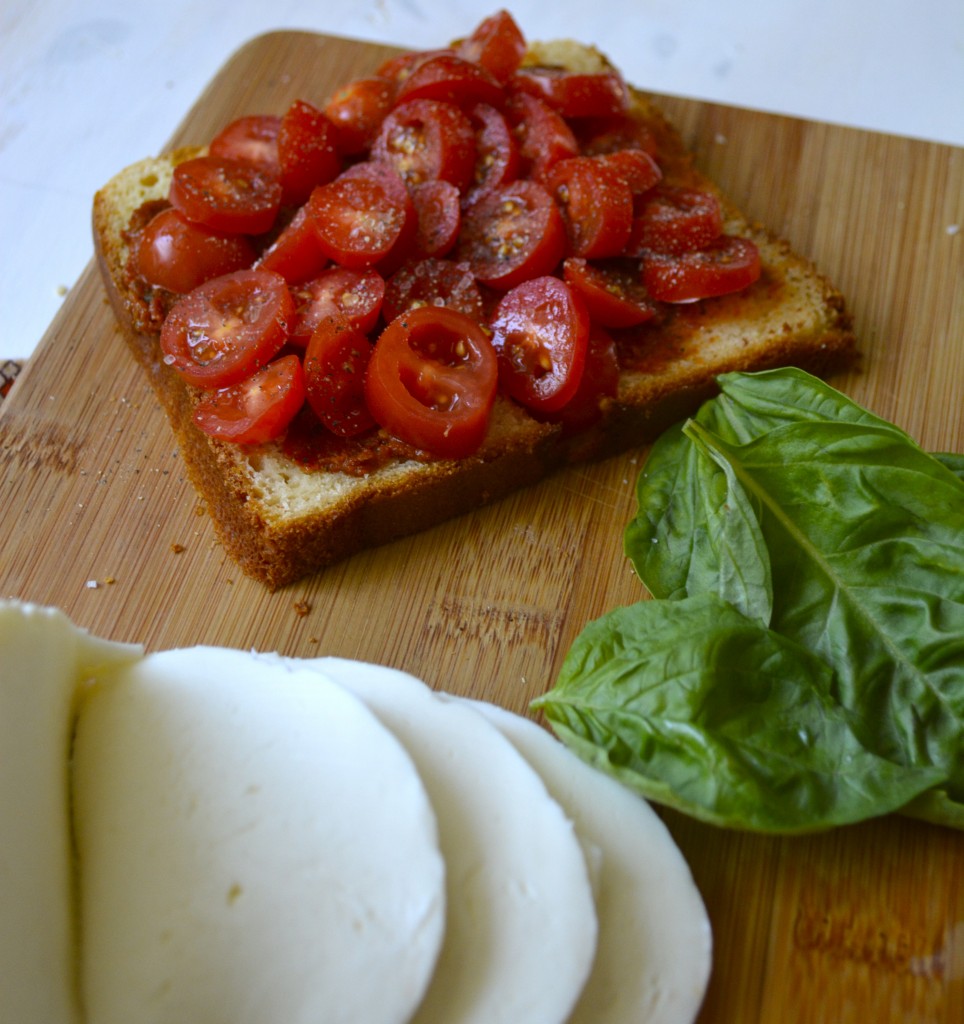 Look at that! Beautiful! At this point you have probably put 5 minutes of effort into the prep work.
Now time to grill! If your fancy you have a Panini press. I am not fancy but I do have a griddle that has a smooth side on one side and a grill side on the other, so that is what I used. Heat the surface to medium heat, butter the outside of your bread and sprinkle on a pinch of garlic salt. This gives it a garlic bread like flavor.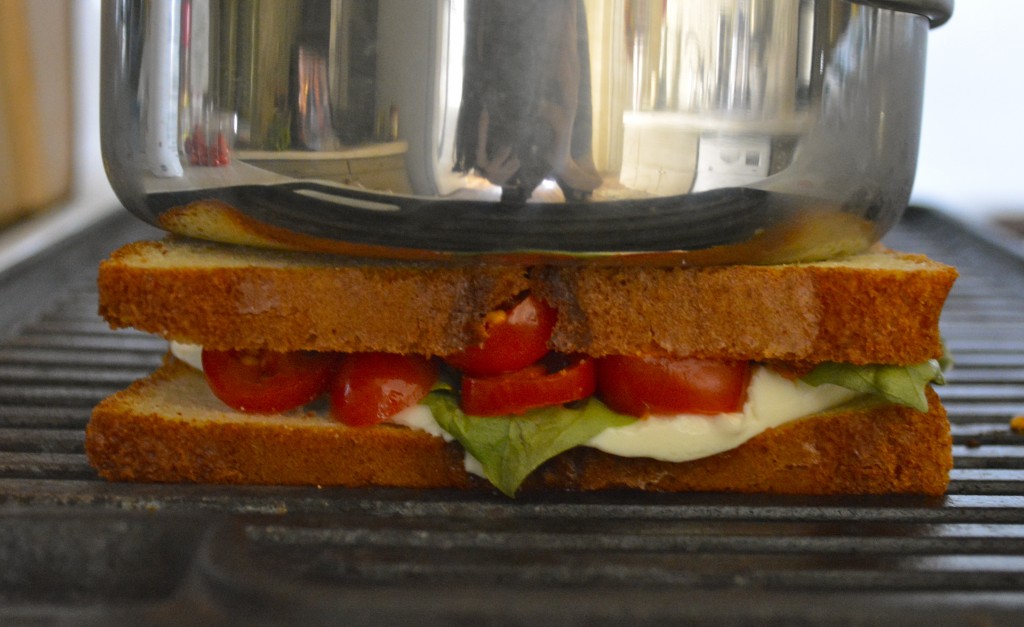 Carefully set your sandwich on your grill. Now, if you don't have a Panini press like me but you want to "fake it" just do what I do. Set a small sauce pan on top and stick a canned good onside.
Yes, how redneck can I get?
Whatever, it works. Let your sandwich set for a minute or two until your bread reaches the desired toastyness, then flip. When both sides are toasted nicely and the cheese has melted a bit, remove from your grill and chow down!
This is really good with a soup or salad, or you could keep it simple and just steam a bag of veggies and call it a day, or be like me and just eat it all by itself.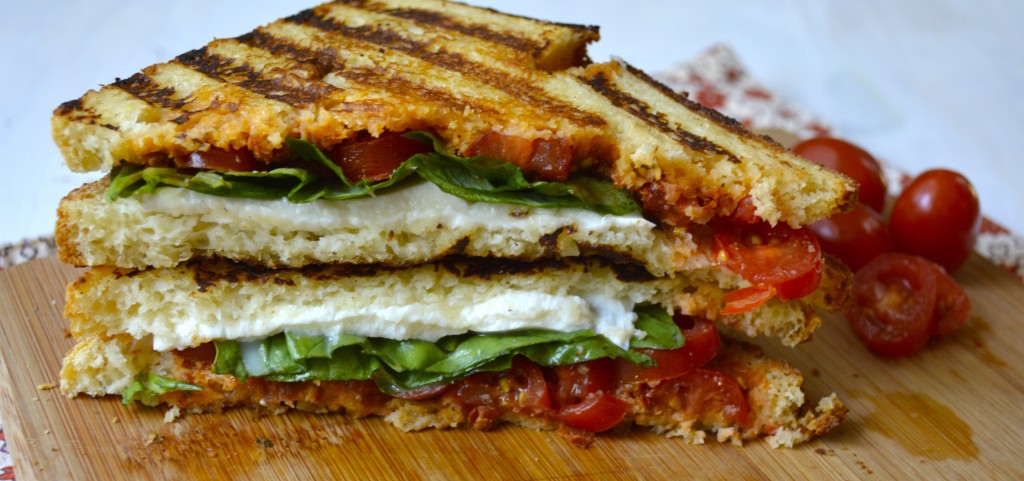 There you have it! A nearly no cook dinner that is quick, easy, and healthy!

Looking for another quick and easy vegetarian dinner?
Try these Spicy Spinach and Avocado Quesadillas. So very good, and so little effort!