This easy Homemade Hamburger Helper recipe makes the best weeknight meal! This one pan meal is ready in about 20 minutes and a huge fan favorite.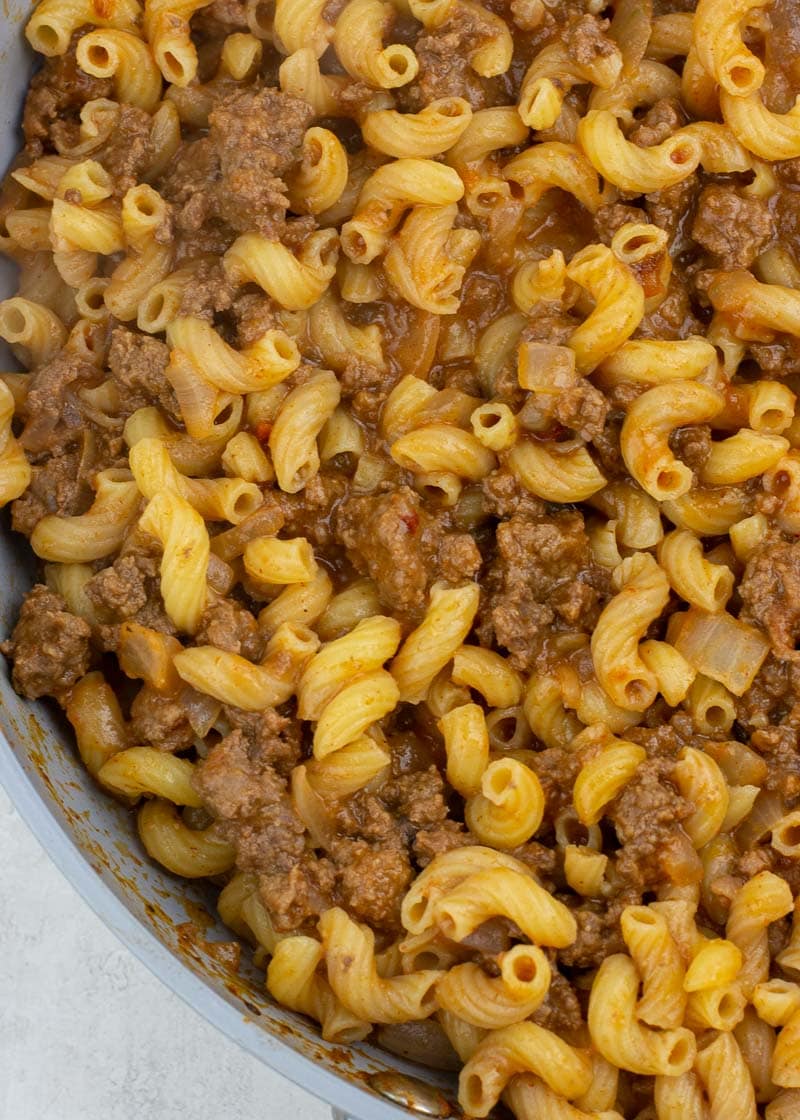 Busy weeknights call for easy meals, and this Homemade Hamburger Helper is exactly what you need! Cheesy, comforting, all with that nostalgic taste you got from the box as a kid. It's ready in about 20 minutes and can even be made ahead of time for an easier evening!
This one pan pasta recipe is kid-friendly, quick, and leaves everyone at the table feeling full. You can freeze it, making it a great option for helping out sick family members or new parents!
Ingredients for Hamburger Helper
Here's a quick overview of what you'll need. For exact measurements, keep scrolling down to the printable recipe card.
Ground beef – You could also use ground turkey if you prefer to avoid red meat.
Chopped onion – White or yellow would be fine. I used a white onion.
Spices: Paprika, onion powder, garlic powder
Tomato sauce – This makes for a super flavorful sauce, just like that classic hamburger helper taste!
Milk – If you need a dairy-free substitute, unsweetened almond milk is the best choice for taste. It might result in a slightly runnier sauce, but you can cook it down another 30 seconds or so to fix that.
Beef broth – This helps those noodles soak up way more flavor than water would. You could use chicken or vegetable broth, but it won't have the same flavor.
Elbow noodles – I used Barilla gluten free, but you could use another brand. If you use a different noodle type, the cooking time may need to be adjusted.
Shredded cheddar cheese – You can easily use other cheeses if you prefer! This is added at the end for a deliciously cheesy layer on top!
How to make Homemade Hamburger Helper
This easy pasta recipe is made in just one pan with a handful of very basic ingredients you probably already have on hand. Below is a step by step guide to walk you through the process. If you love this Homemade Hamburger Helper recipe try this easy Taco Mac and Chili Mac, you will love them too!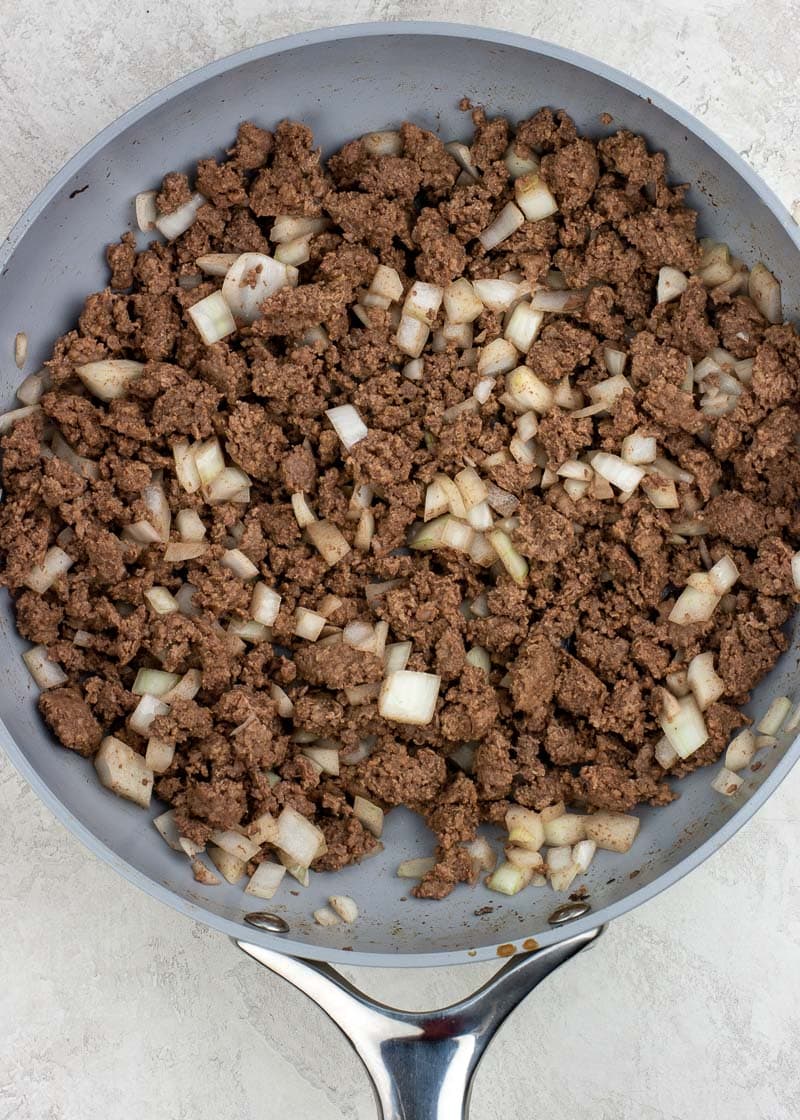 Brown the beef and onions
Warm a large skillet to medium heat and brown the ground beef or turkey. Drain off the grease, then leave the beef in the pan. Add your chopped onions into the pan and sauté them until they're translucent.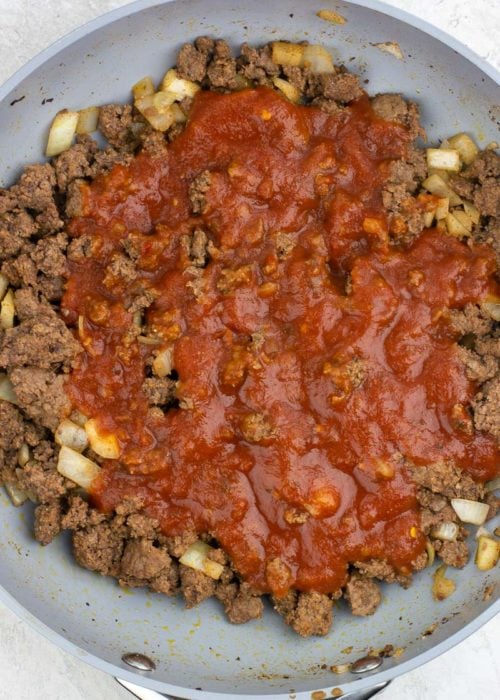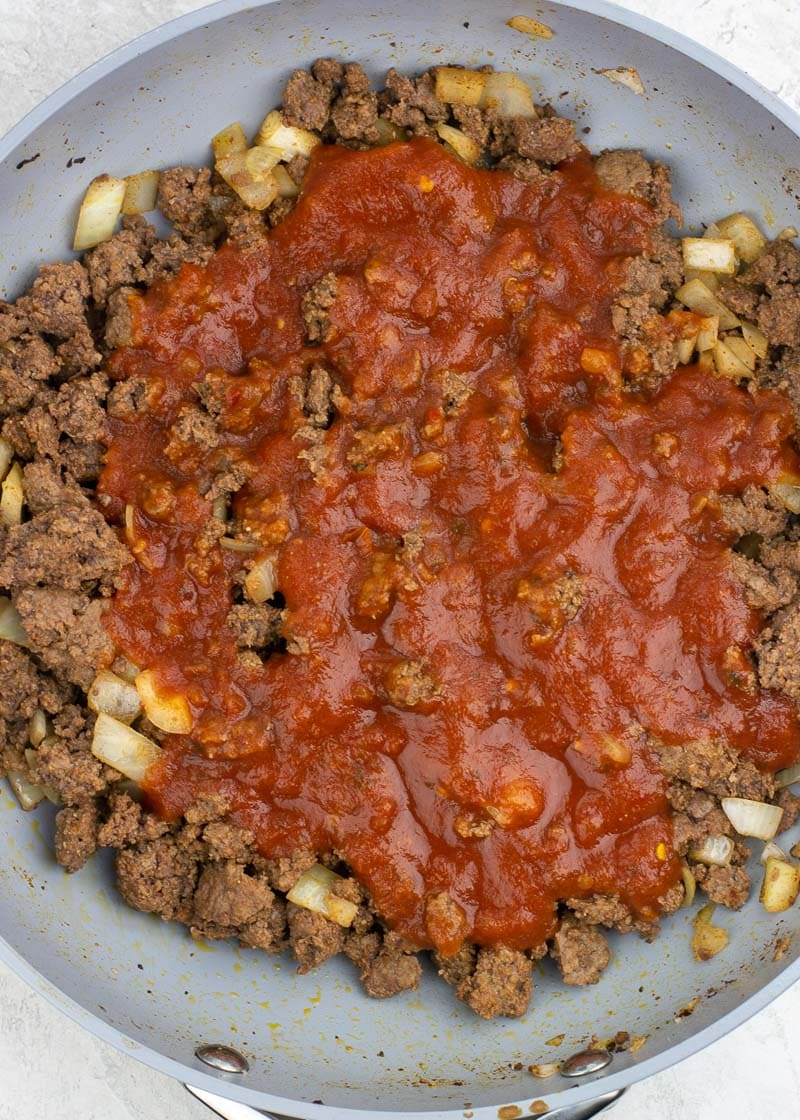 Add Spices and Liquid Ingredients
Add tomato sauce, beef broth, milk, and spices into the pan with beef and onions. If there are any crispy bits on the bottom of the pan, make sure to scrape those up — They add amazing flavor! Stir until well combined, then bring to a simmer.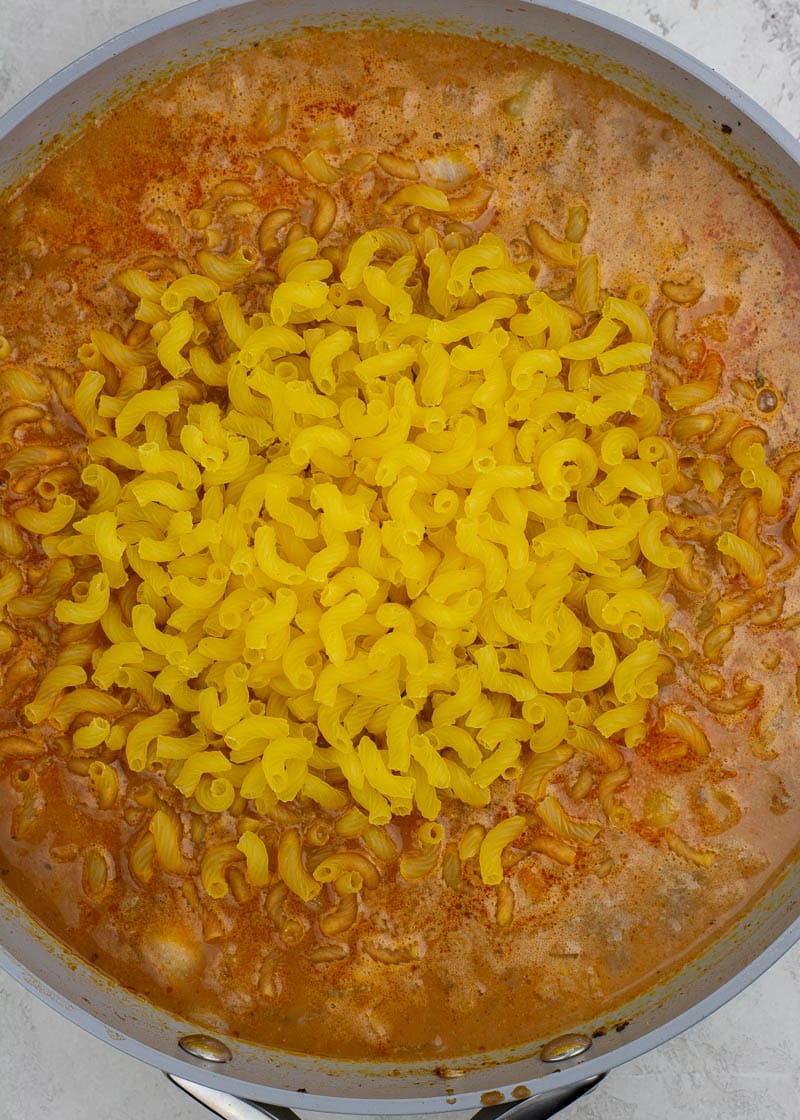 Add Noodles
Once the mixture is simmering, pour in the noodles as well as salt and pepper. Cover the skillet with a lid, turn the heat down to low, and cook for 7-8 minutes or until the noodles are tender.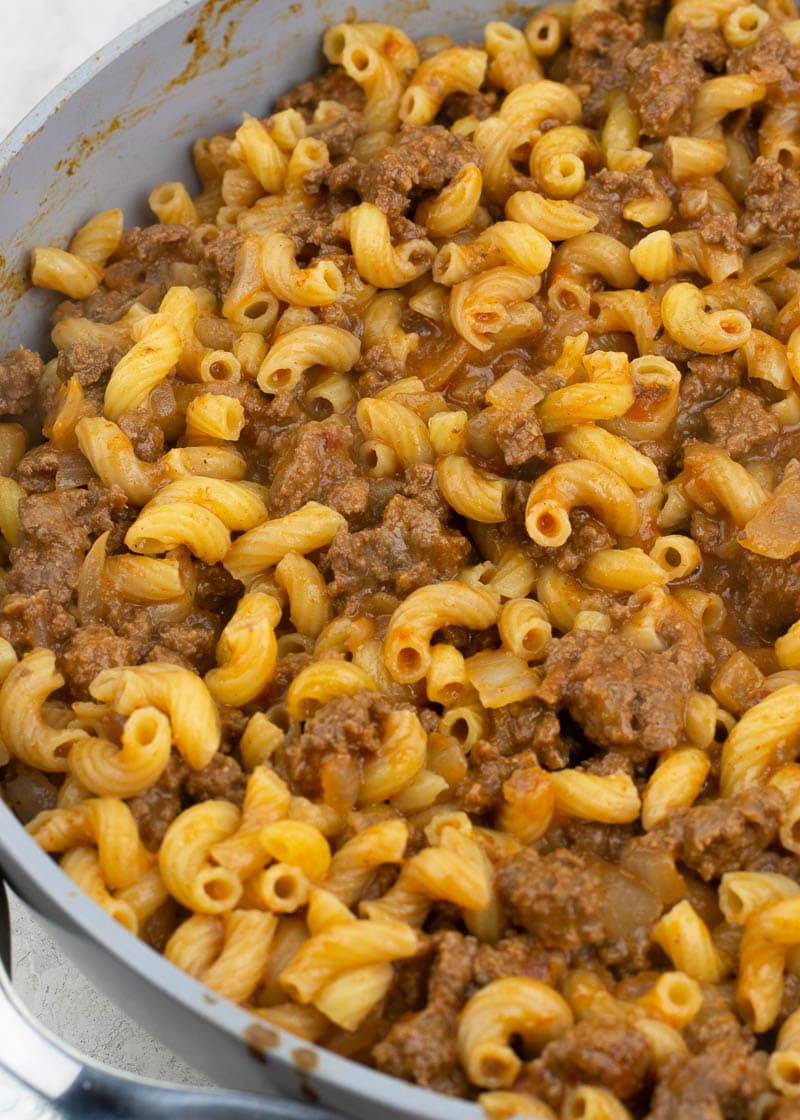 Top with Cheese
Stir, sprinkle cheese on top, and cover again. Once the cheese is melted, it's ready to serve! If you prefer to skip the cheese that is totally fine. This easy pasta recipe is loaded with flavor, you will love it with or without cheese!
Serve
A Simple Arugula Salad with Parmesan or small Wedge Salad would be an easy side dish or appetizer with this gluten free ground beef dinner! You could also add a bread like Rosemary Garlic Keto Dinner Rolls or Jalapeno Cornbread.
To add in some vegetables, these Air Fryer Green Beans are super quick. Enjoy with a Basil Whiskey Sour and a Low Carb Blueberry Bar for the perfect dinner!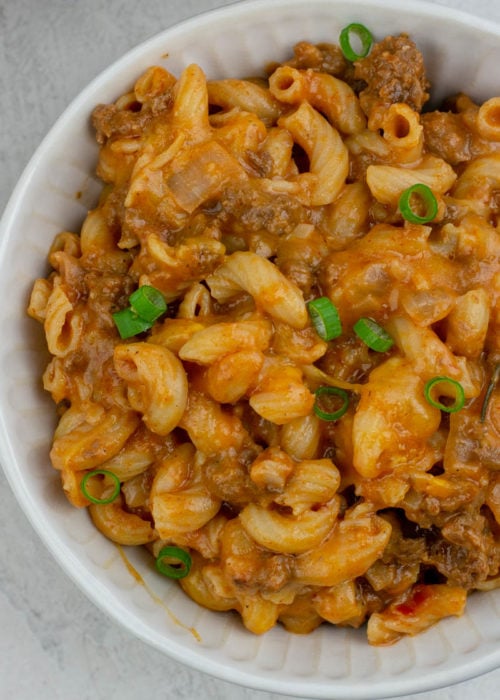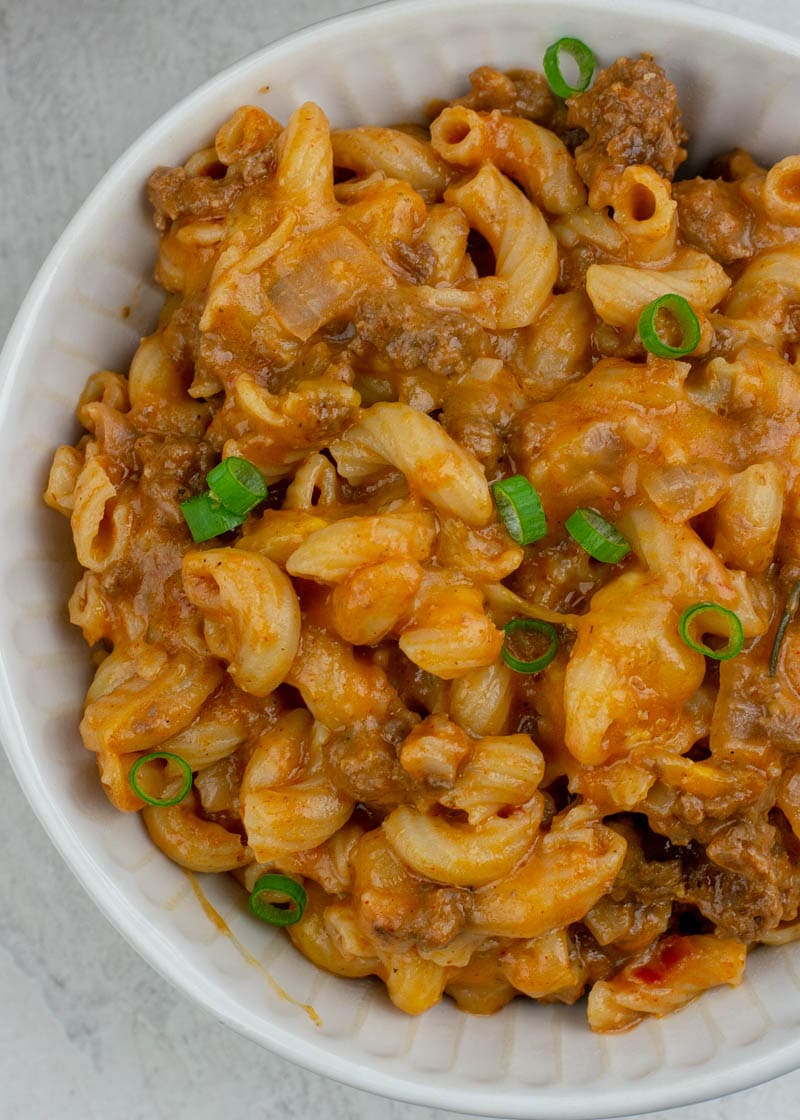 Store
This homemade hamburger helper can be stored in an airtight container in the fridge up to 3-4 days. It's easy to transfer to individual-sized containers to use for leftover lunches.
Freeze
Hamburger helper actually freezes and reheats very well! Allow it to completely cool (to prevent freezer burn), then place in a freezer-safe container up to 3-4 months. Beyond this, it would be safe to eat, but the texture would be altered. To reheat, thaw in the fridge overnight and reheat according to directions below.
Reheat
To reheat, simply microwave individual-sized portions in the microwave in 30 second bursts, stirring between each blast.
To reheat the full meal or a large portion, preheat the oven to 350 degrees F. Place the pasta dish into an oven-safe pan or skillet with a lid. Add 1-2 tablespoons of water to the pasta, cover with lid, and then warm in the oven for 10-20 minutes. Timing depends on the amount you're reheating and
If you love Hamburger Helper, you will love these recipes:
One Pan Sausage Cheese Pasta – This easy, 20-minute meal is perfect for a busy weeknight.
Easy Taco Mac – Beloved by adults and kids alike! If you add some chips and salsa, it makes a full taco night without spending a ton of money!
Sausage and Butternut Squash Pasta – The amazing depth of flavor that a slightly sweet squash adds is both unique and amazing!
Cheesy Pasta – Packed full of vegetables but everything still manages to cook in the same pan with the meat and noodles!
Chicken Spinach Pasta – It's like a delicious chicken alfredo except it can be made quickly in one pan AND includes nutritious, delicious spinach!
10+ One Pan Pasta Recipes – These easy recipes require very little cleanup and can usually be cooked in 30 minutes or less!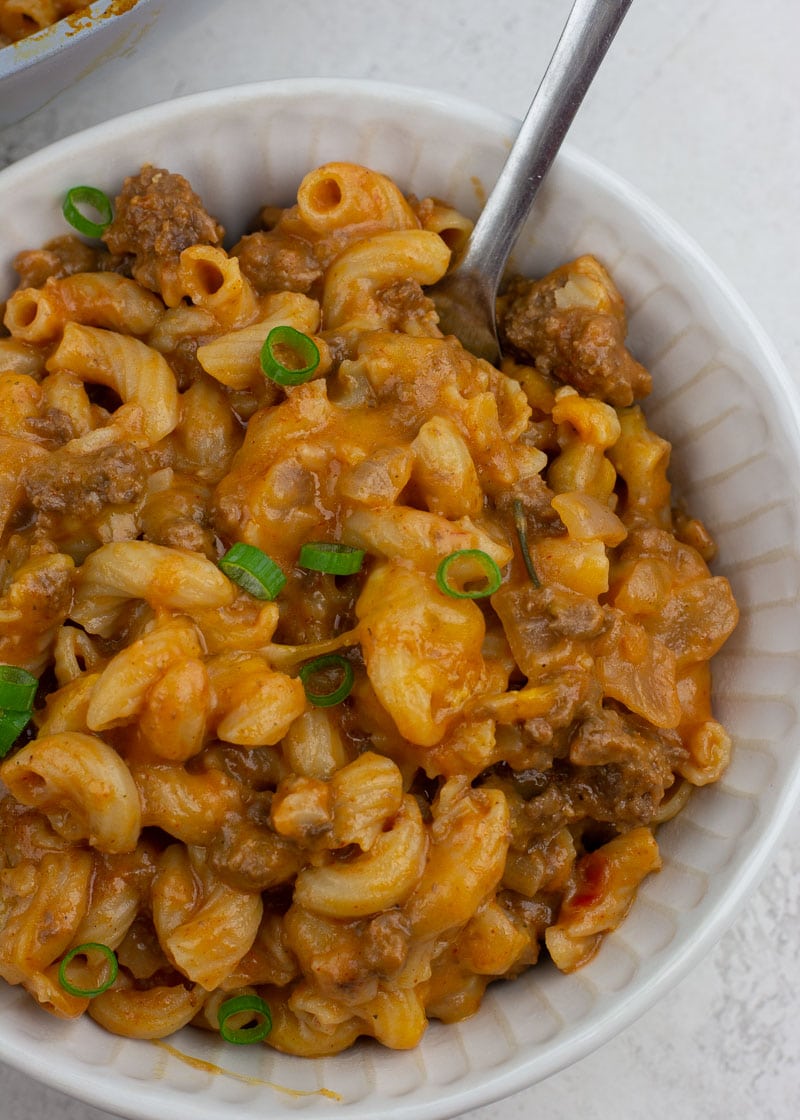 FAQ's about Homemade Hamburger Helper
What is Hamburger Helper?
In America, there is a dry boxed meal called Hamburger Helper. It includes pasta and a spice mix, then the buyer is supposed to supply ground meat, water, and milk to cook the dish. This recipe uses the same method, but it's less expensive and allows you to skip out on the preservatives that are in the store-bought version.
How do you make Hamburger Helper better?
This recipe is better than the boxed original because we use real cheese and cook the pasta in broth, not water. Also, you can easily adjust your seasonings to best fit your preference — Make it spicy, add Italian seasoning, do whatever you like!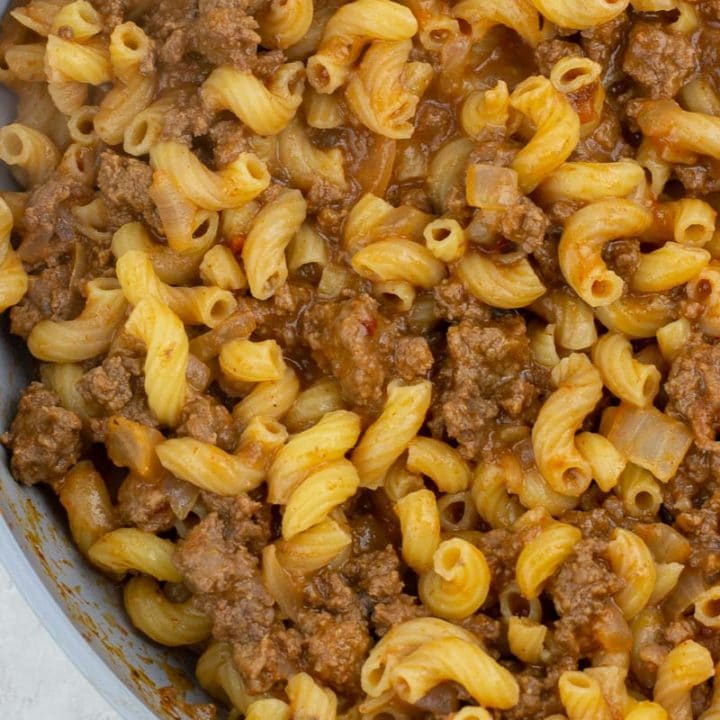 Homemade Hamburger Helper
This easy Homemade Hamburger Helper recipe makes the best weeknight meal! This one pan meal is ready in about 20 minutes and a huge fan favorite.
Ingredients
1 pound ground beef or turkey
1/2 cup chopped onion
2 teaspoons EACH: paprika, onion powder and garlic powder
1 (8 ounce) can tomato sauce
1 cup milk
1 cup beef broth
2 cups elbow noodles (I used Barilla gluten free)
salt and pepper to taste
1 1/2 cups shredded cheddar cheese
Instructions
In a large skillet brown the ground beef, drain off any grease.
Add the onion and sauté until translucent. Add spices, tomato sauce, milk and beef broth. Bring to a simmer.
Stir in the noodles, salt and pepper and cover. Reduce the heat to low and cook 7-10 minutes until the noodles are tender.
Top with cheese and place the lid back on the pan until melted.
Recommended Products
As an Amazon Associate and member of other affiliate programs, I earn from qualifying purchases.
Nutrition Information:
Yield:

6
Amount Per Serving:
Calories:

463
Total Fat:

20.2g
Cholesterol:

84.9mg
Sodium:

375.8mg
Carbohydrates:

38.6g
Net Carbohydrates:

36g
Fiber:

2.6g
Sugar:

5.6g
Protein:

30.7g