These easy Glazed Carrots require just 4 ingredients and are ready in about 15 minutes! This is the perfect holiday side dish that can be made ahead of time.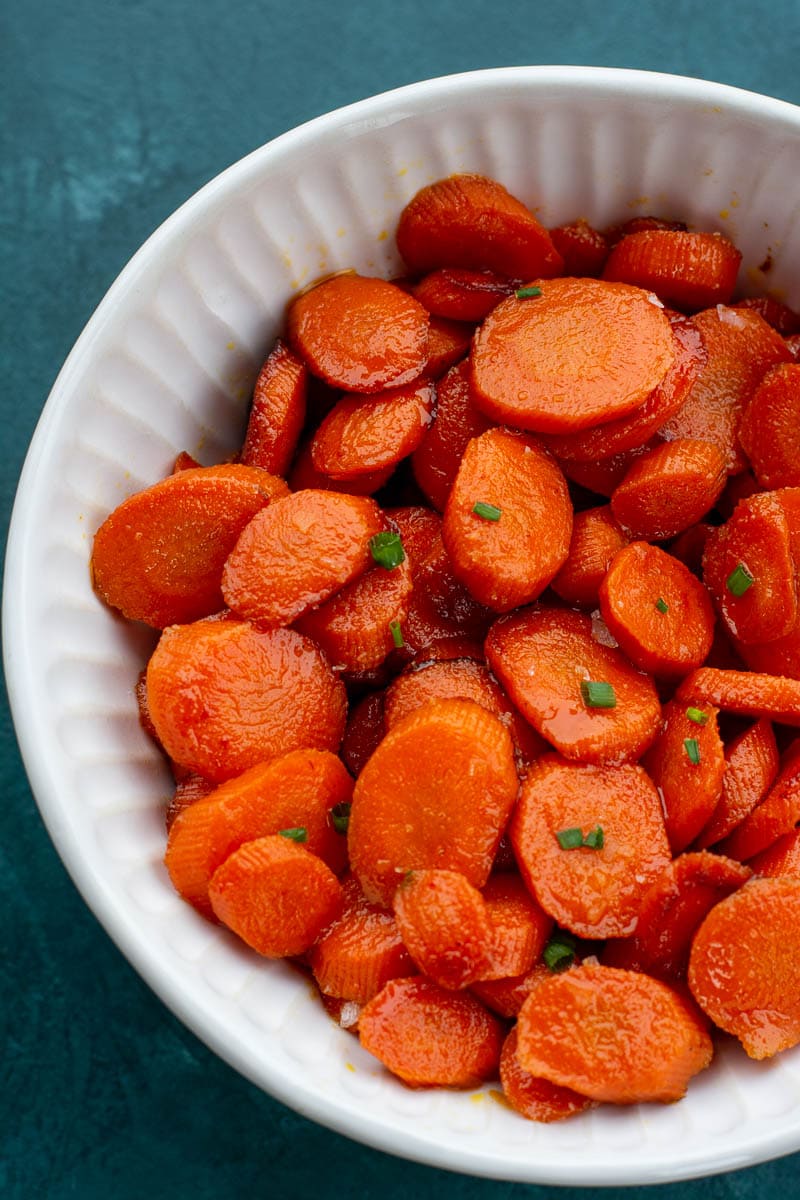 Glazed Carrots
The holidays can be a stressful time- especially if you're the one hosting and cooking! But these Glazed Carrots are the perfect easy holiday side dish. You only need 4 ingredients for this simple dish and it's full of flavor. The key to this recipe is to take it slow- while the actual cooking time is only 15 minutes, you need to be sure to give your carrots that full amount of time. Why? Because you want all of the delicious natural sugars in those carrots to meld and caramelize with the butter and brown sugar. The result is a melt in your mouth vegetable that will be devoured within minutes!
One of the best things about this vegetable side dish is that you only need 4 ingredients and you probably already have most of them on hand! You can easily prepare these carrots in advance- they travel very well and are easy to reheat. You can warm them in almost anything and they'll come out absolutely delicious. This recipe is kid-friendly, but everyone at the table will be impressed!
Ingredients in Candied Carrots
As always, here is a quick overview of the ingredients used in our sweet carrots. For the complete recipe, just scroll to the bottom of the page.
Carrots- peeled and sliced to 1/2 inch thickness- see photos for details
Butter- I used salted butter in this recipe
Brown Sugar- if you are watching your carb intake, Brown Sugar Monkfruit is a good alternative
Paprika- I used regular paprika, not smoked
How do I make this vegetable side dish?
First, bring a medium or large skillet to medium heat. Add your butter and allow it to melt. When your butter has begun to boil, add your prepared carrots. Toss your veggies to ensure that they are coated in the butter. I recommend trying to get your carrots in a single layer- it will help everything to cook together evenly. Lower the heat to medium low and cook the carrots for 10 minutes. Stir 3-4 times while cooking, but no more than that. This step is essential- this is where the natural sugars will caramelize, giving you that wonderful flavor. After 10 minutes, sprinkle the brown sugar and paprika over your carrots and toss. Stir your carrots until a glaze forms, about 5 minutes. When your carrots are tender and your glaze is thick, add salt and serve!
How to Cut Carrots
To ensure that all of your carrots cook evenly, you need to make sure that you are cutting your veggies equally. After you have peeled your carrots, cut off the head of the carrot at an angle. Continue to diagonally cut your carrot in 1/2 thick pieces all the way down. Taking extra care during this step will help your dish to finish cooking all at the same time and will also give you the best texture.
How to Store and Reheat Sweet Carrots
To store these carrots, keep in a plastic or glass container with an airtight lid and keep in the fridge. These carrots will stay fresh for up to five days. One of my favorite things about these carrots is how easy they are to transport (just bring them in whatever dish you stored them in) and to reheat. You can warm in the Slow Cooker, on the stove top or in the oven. The key is to simply warm slowly and allow the glaze to soften up and the carrots to become warm.
Tips for the best Caramelized Carrots
If you are trying to keep your carb count low, you can substitute the brown sugar for brown sugar monkfruit. This is a 1:1 substitution so you do not need to reduce or add the amount of sugar substitute that you use.
For extra flavor, you can top with your favorite fresh herbs. I think sage, thyme or parsley would all be nice.
If your kids prefer baby carrots, you can make this dish with them as well. I would up the initial cooking time to 12 minutes instead of 10 and the second cooking time to 7-10 minutes, or whenever your carrots are soft.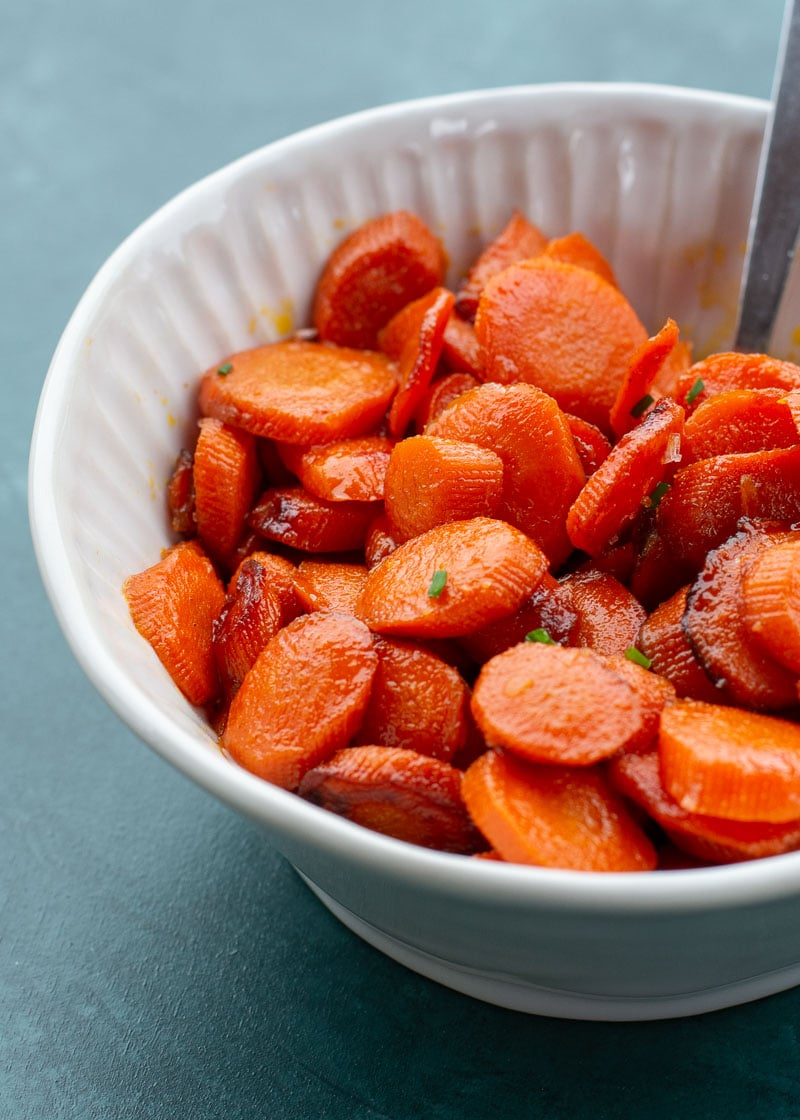 Are carrots keto?
You can enjoy carrots on a keto diet, but in moderation. There are natural sugars in carrots, which contributes to their carb count. In two medium sized carrots there are about 6-7 grams of net carbs. Carrots are low in calories and fat and have many health benefits, including benefiting eye health and containing high amounts of fiber, potassium and antioxidants.
What should I serve with this Glazed Carrot recipe?
These carrots really go great with anything, from a simple weeknight dinner to a full holiday table! Pair with Low Carb Vegetable Beef Soup, Blackened Chicken and Brussels Sprouts Skillet or Creamy Chicken Soup for an easy weekday side dish. During the holidays, try Roasted Turkey Breast, Roasted Chicken, Smoked Turkey Breast, Bacon Wrapped Pork Tenderloin, Instant Pot Chicken or Slow Cooker Turkey Breast!
More holiday side dishes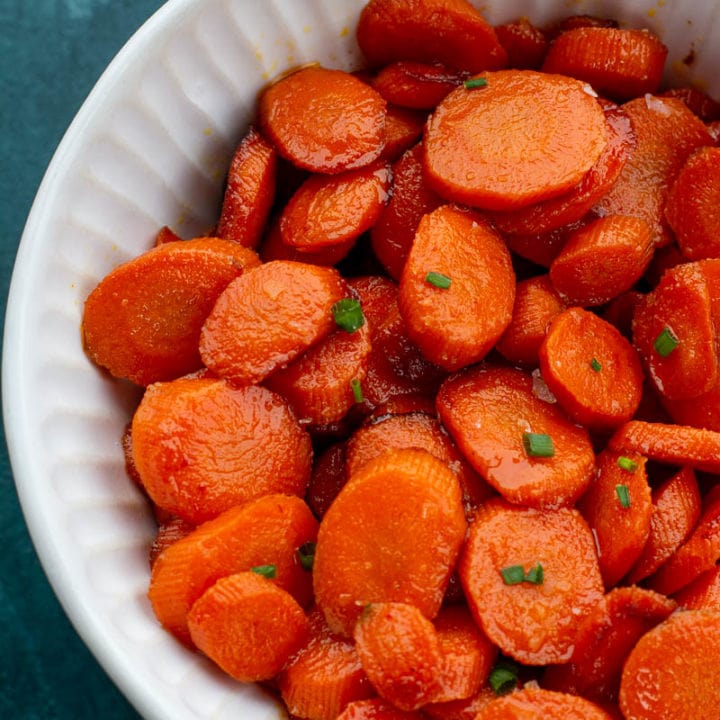 Glazed Carrots (4 Ingredients)
These easy Glazed Carrots require just 4 ingredients and are ready in about 15 minutes! This is the perfect holiday side dish that can be made ahead of time.
Ingredients
4 cups peeled and sliced 1/2 inch thick carrots
3 tablespoons salted butter
3 tablespoon brown sugar or brown sugar monkfruit if watching carbs
1/2 teaspoon paprika
salt to taste (don't skip!)
Instructions
Heat a large skillet to medium heat. Add the butter and allow it to melt completely.
When the butter is bubbling add the peeled and sliced carrots, toss to coat in the butter. Do your best to get the carrots into a single layer. Reduce the heat to medium low and set a timer for 10 minutes, only stir the carrots 3-4 times during the 10 minutes. You want to give the natural sugar in the carrots a chance to caramelize.
After 10 minutes sprinkle the brown sugar and paprika in the skillet and toss to coat. Stir the carrots until a brown sugar glaze forms. This will take about 5 minutes.
The carrots are done when they are tender and the brown sugar glaze is thick. Add salt to taste.
Recommended Products
As an Amazon Associate and member of other affiliate programs, I earn from qualifying purchases.
Nutrition Information:
Yield:

4
Serving Size:

3/4 cup (nutrition calculated with monkfruit sweetener)
Amount Per Serving:
Calories:

130
Total Fat:

9g
Cholesterol:

22.9mg
Sodium:

300mg
Carbohydrates:

12.4g
Net Carbohydrates:

8.7g
Fiber:

3.7g
Sugar:

6.1g
Protein:

1.3g