This Instant Pot No Bean Chili is loaded with ground beef, tomatoes and spices! This keto-friendly chili recipe has just 15 minutes cooking time and about 8 net carbs per serving!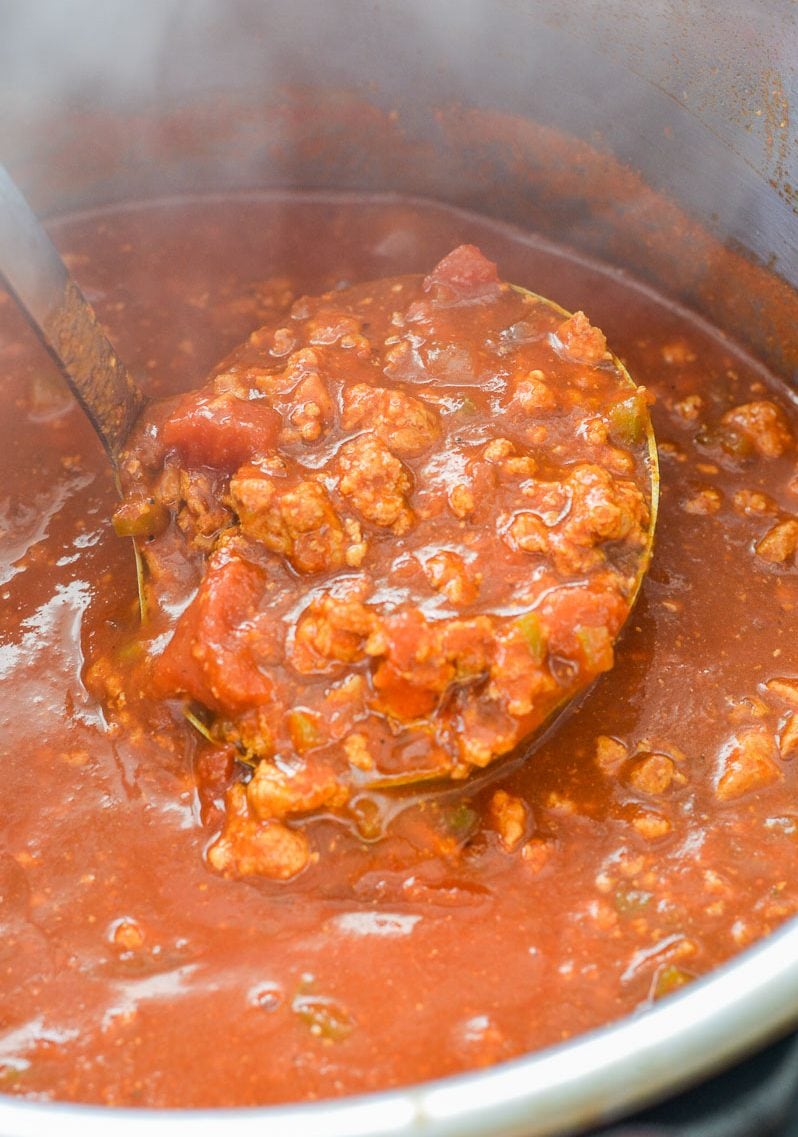 One of the most loved recipes on Maebells is my Easy Keto Chili. Often people are so surprised that a no bean chili recipe can be just as satisfying as a classic chili recipe!
I have to admit, I was surprised too! My favorite chili has always been my Turkey Chili, but that just doesn't fit within a low-carb or keto lifestyle.
Today I'm sharing how to make my favorite keto chili in the Instant Pot! If you love the ease of an Instant Pot, you are not alone!
Instead of standing over a stove top and letting the chili simmer until perfection, this recipe allows you to be more hands-off. This is the perfect easy dinner to make on a busy weeknight when you need a little comfort food!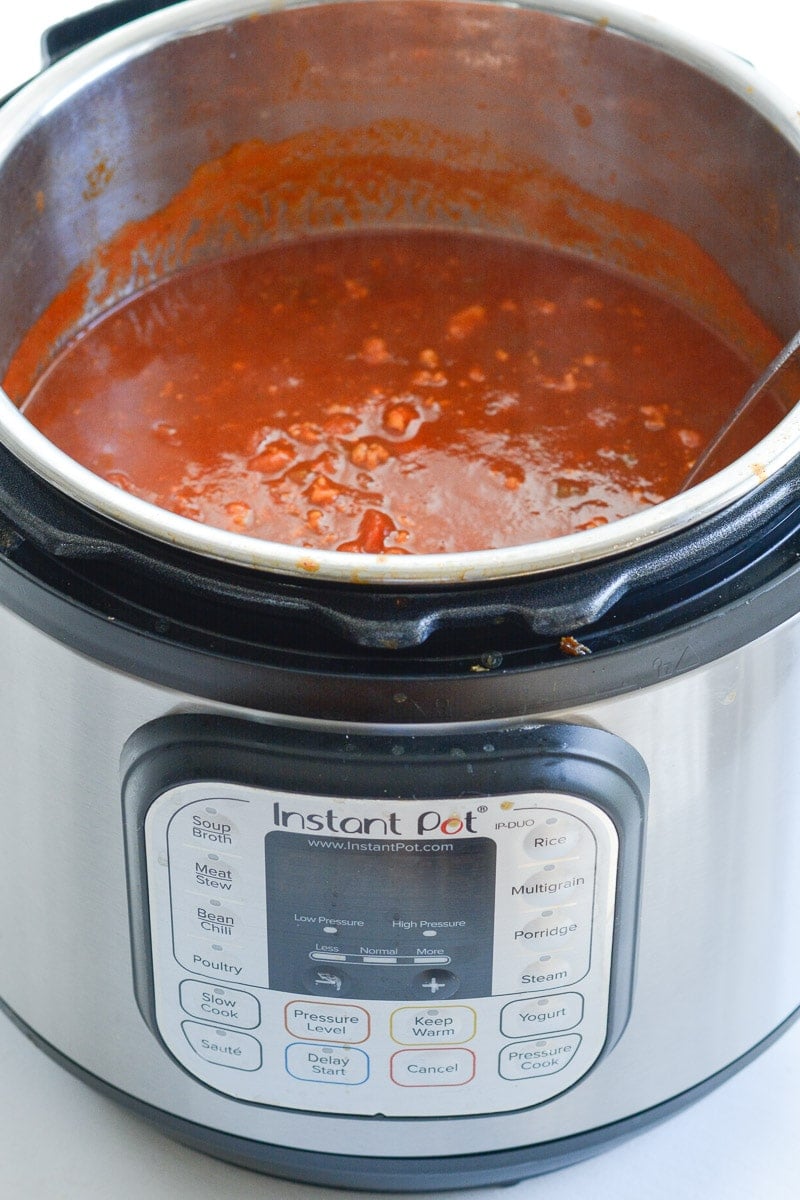 Ingredients for No Bean Chili
To make the Instant Pot chili recipe with no beans, you'll need the following ingredients:
Ground beef (or turkey)
Bell pepper
Jalapeno
Garlic
Canned tomatoes with green chilies
Canned tomato sauce
Beef broth
Tomato paste
Spices (chili powder, oregano, cumin, salt and pepper)
How to Make No Bean Chili
This low carb chili recipe is a cinch to make! Here are the basic steps to making a no-bean chili in the Instant Pot:
Turn the Instant Pot on and press the sauté button. Lightly spray the bottom of the pan and brown the meat over medium heat. When cooked through, drain off any grease.
Add the chopped bell pepper, jalapeño, and garlic. Stir well and allow the vegetables to cook 4-5 minutes. Turn the sauté function off.
Add the tomatoes, tomato sauce, beef broth, tomato paste and spices. Stir well.
Secure the lid on the Instant Pot and seal the steam valve. Press the Pressure Cooker function and set the time to 15 minutes.
When cooking cycle is over place a towel over the steam valve and manually release the pressure.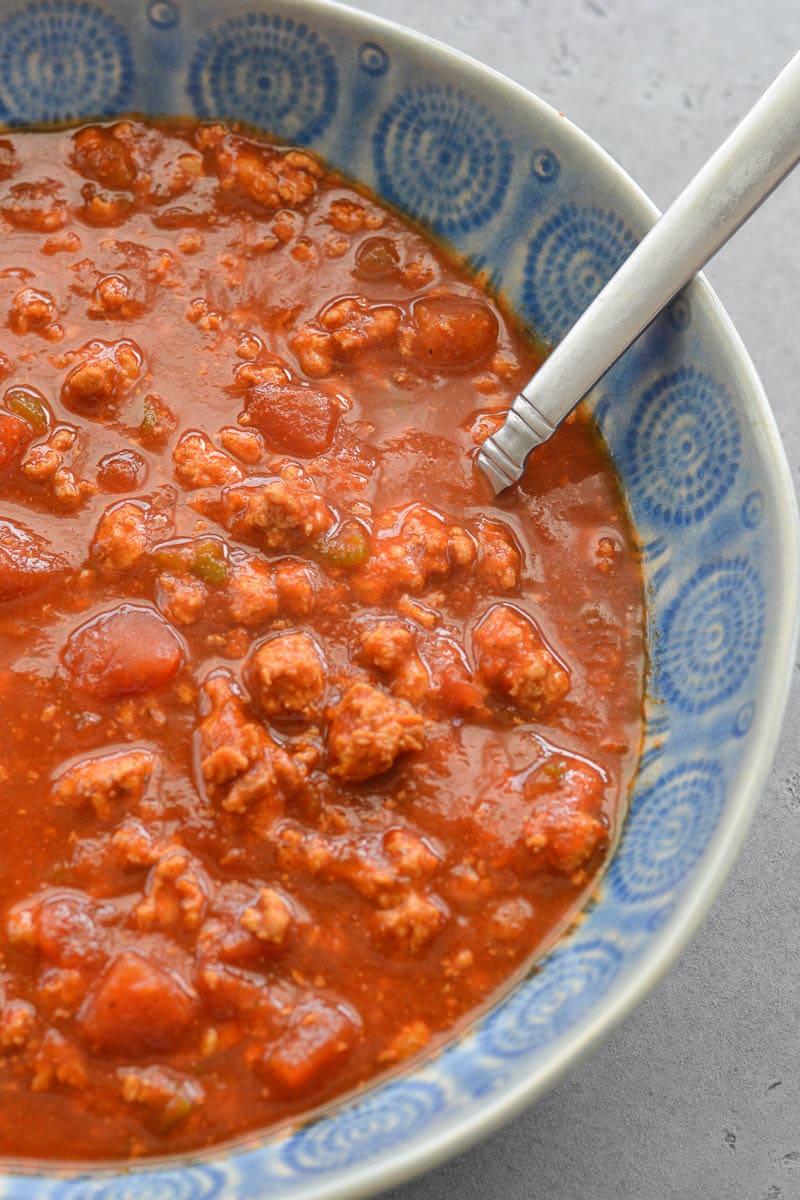 Can This Recipe Be Made Without an Instant Pot?
Yes! If you'd like to make a classic no bean chili on the stovetop, I recommend following my Keto Chili Recipe instead.
Can I Meal Prep this Chili Recipe with No Beans?
Yes, this is a great meal for prepping ahead of time. If you're trying to make the day run a little smoother, you could easily cook the meat and sauté the vegetables on your prep day, then store those in an air-tight container in the fridge up to 3 days. When you're ready to eat, you can skip straight to Step 3!
Alternatively, you could prepare this chili and store it long-term in the freezer.
Can Instant Pot Chili Be Frozen?
Yes! This chili with no beans freezes and reheats perfectly, so consider making a big batch of it and freezing leftovers in individual portions.
How Many Carbs Are in No Bean Chili?
This chili recipe with no beans comes to just 8.5 net carbs per 1 1/2 cups. This is higher in carbs than some of my dinner recipes, but the serving size is very generous.
As long as you plan your other meals well, you can easily fit this carb count into your low-carb lifestyle.
What to Serve with No Bean Chili
Enjoy this Instant Pot Chili with No Beans as is, or serve alongside one of the following:
You can also use this recipe to make Keto Chili Cheese Dogs!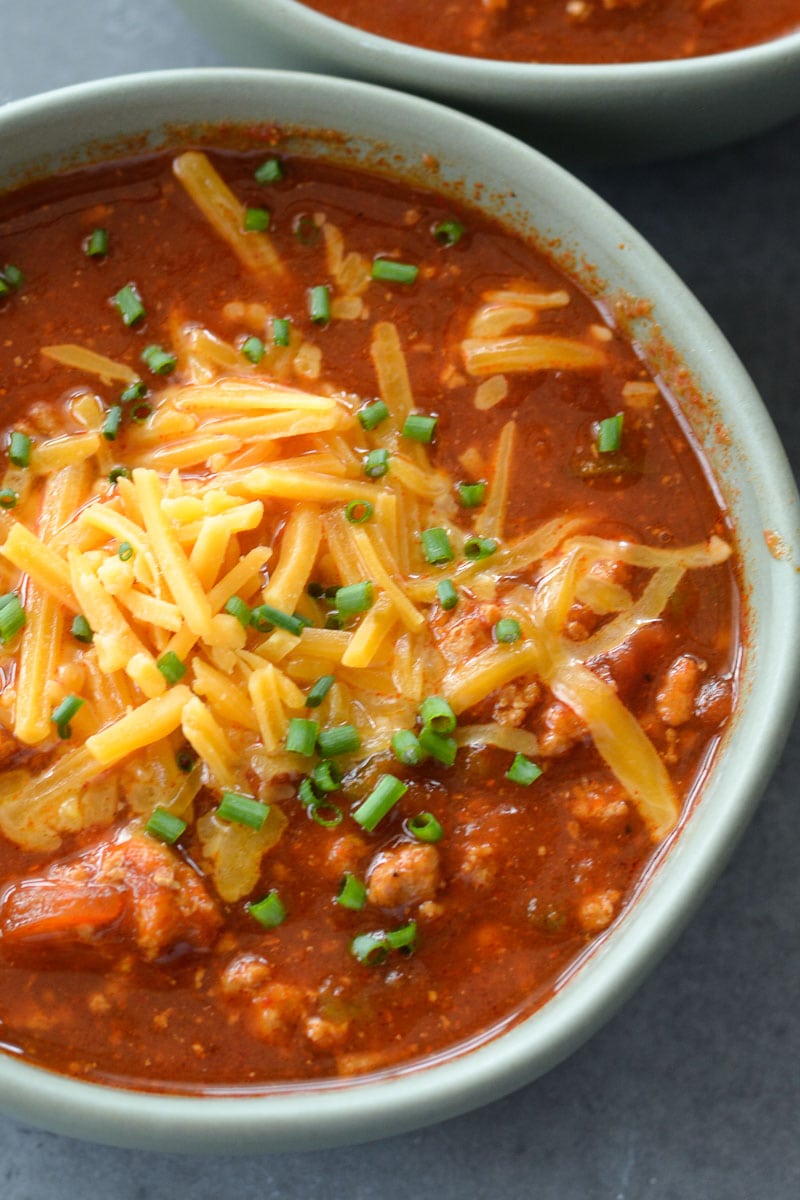 Tips for Making Keto Chili in the Instant Pot
To make turkey chili with no beans, simply swap out the ground beef for ground turkey.
As with any soup or chili in an Instant Pot, if you would like to thicken it, simply turn the sauté function back on after the cooking cycle has finished and allow the soup or chili to simmer uncovered until it reaches your desired consistency.
If you enjoy spicy chili, I would increase the amount of chili powder to 3 tablespoons.
Other Keto Instant Pot Recipes:
Other Low-Carb Soup Recipes: