Try this Keto Sausage and Biscuit Recipe for an easy low carb breakfast! These Keto Almond Flour Biscuits are stuffed with cooked sausage patties for a high-protein, low-carb breakfast!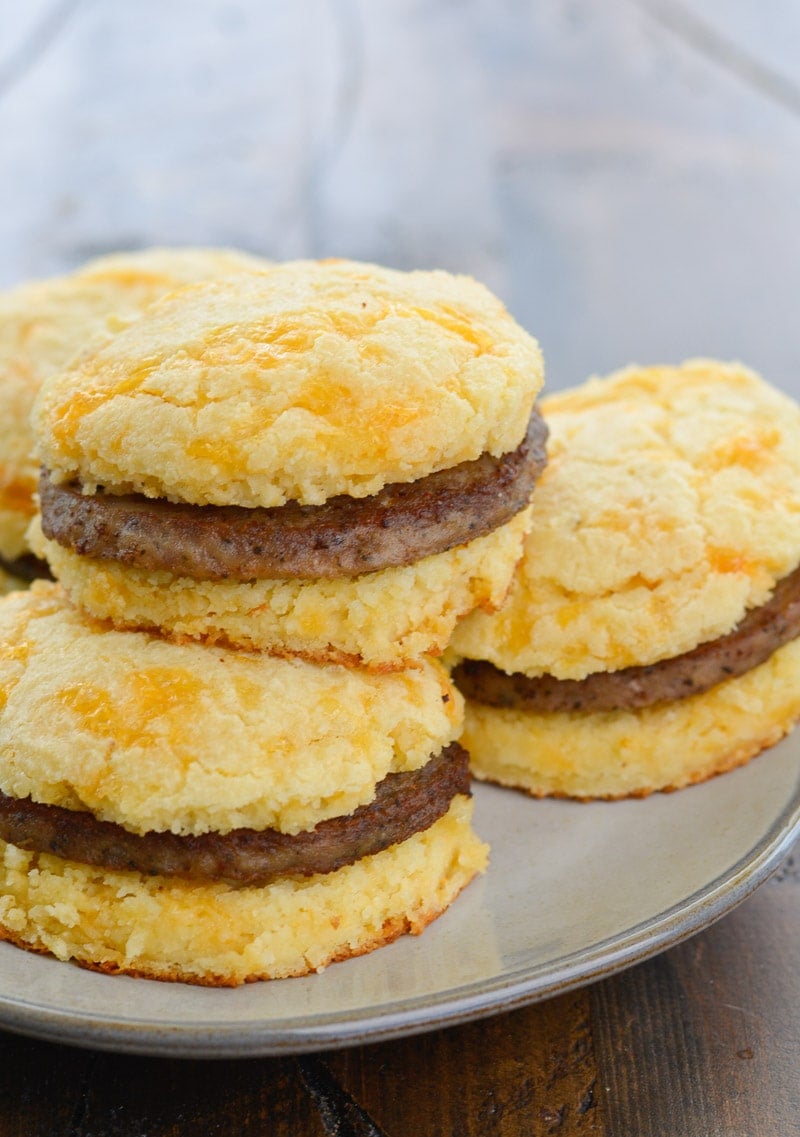 When my husband was diagnosed with Celiac, nearly 17 years ago, one of the foods he missed most was Sausage and Biscuits. It was his favorite breakfast and it took a long time to come up with a tasty gluten free biscuit. When we switched to a low carb, keto-friendly lifestyle, we were once again, missing our favorite breakfast comfort food!
Fortunately, these Keto Sausage and Biscuits are the perfect keto friendly breakfast! These keto biscuits are loaded with cheese and are perfectly soft and fluffy. They are paired with cooked sausage patties to make an easy low carb breakfast (save some time and cleanup by cooking the sausage in the air fryer). These delicious breakfast sandwiches also happen to be an easy keto meal prep option!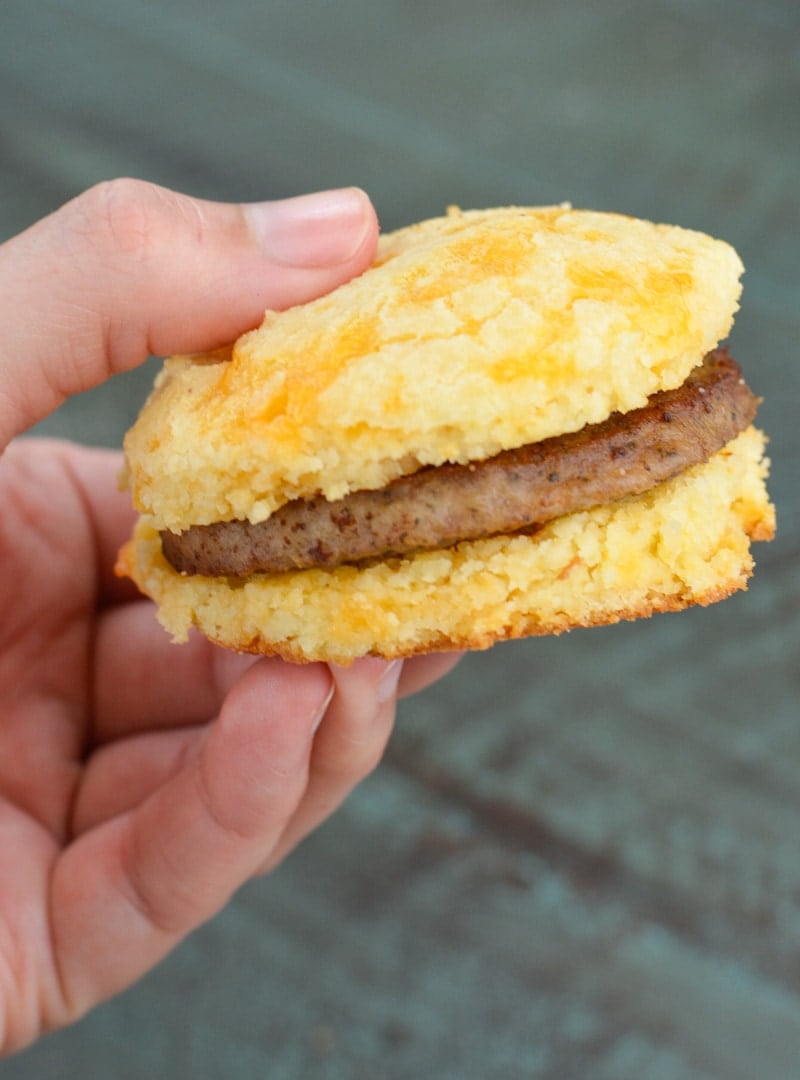 Ingredients Needed for Keto Biscuits
As always, this is a quick overview of the ingredients you will need. To get the complete recipe just keep scrolling to the printable recipe at the bottom of the page.
Almond flour – I only recommend almond flour in this recipe. If you're nut free, I recommend trying these Sausage & Egg Cheese Bites using coconut flour instead.
Softened Cream Cheese and Shredded Cheddar Cheese – You can use low- or full-fat cream cheese, but the keto diet usually aims to add more fat for energy. Just make sure it's softened as this will save you time while mixing! I've not used any other types of cheeses, but I imagine you likely could choose a pepper jack, colby, or other shredded cheese if you wanted.
Eggs – Size large. I've not tried using any egg substitutes.
Baking Powder and Salt – This provides some lift to help get these gluten-free biscuits to rise.
Heavy Cream – The high fat content in this makes it the perfect choice for keto biscuits. If you're not keto and simply looking to lower the carbs, feel free to use plain, unsweetened almond milk instead.
Butter – Unsalted and melted. I've not tried this using any butter substitutes.
Sausage – Any cooked sausage patties will do.
You'll need a mixing bowl, a spoon or spatula, biscuit cutter, a baking sheet, and either parchment paper or a silicone liner.
How to Make Keto Biscuits with Sausage
These Keto Sausage Biscuits are super easy to make! Here's a step-by-step guide to making these sausage biscuits.
Make keto biscuit dough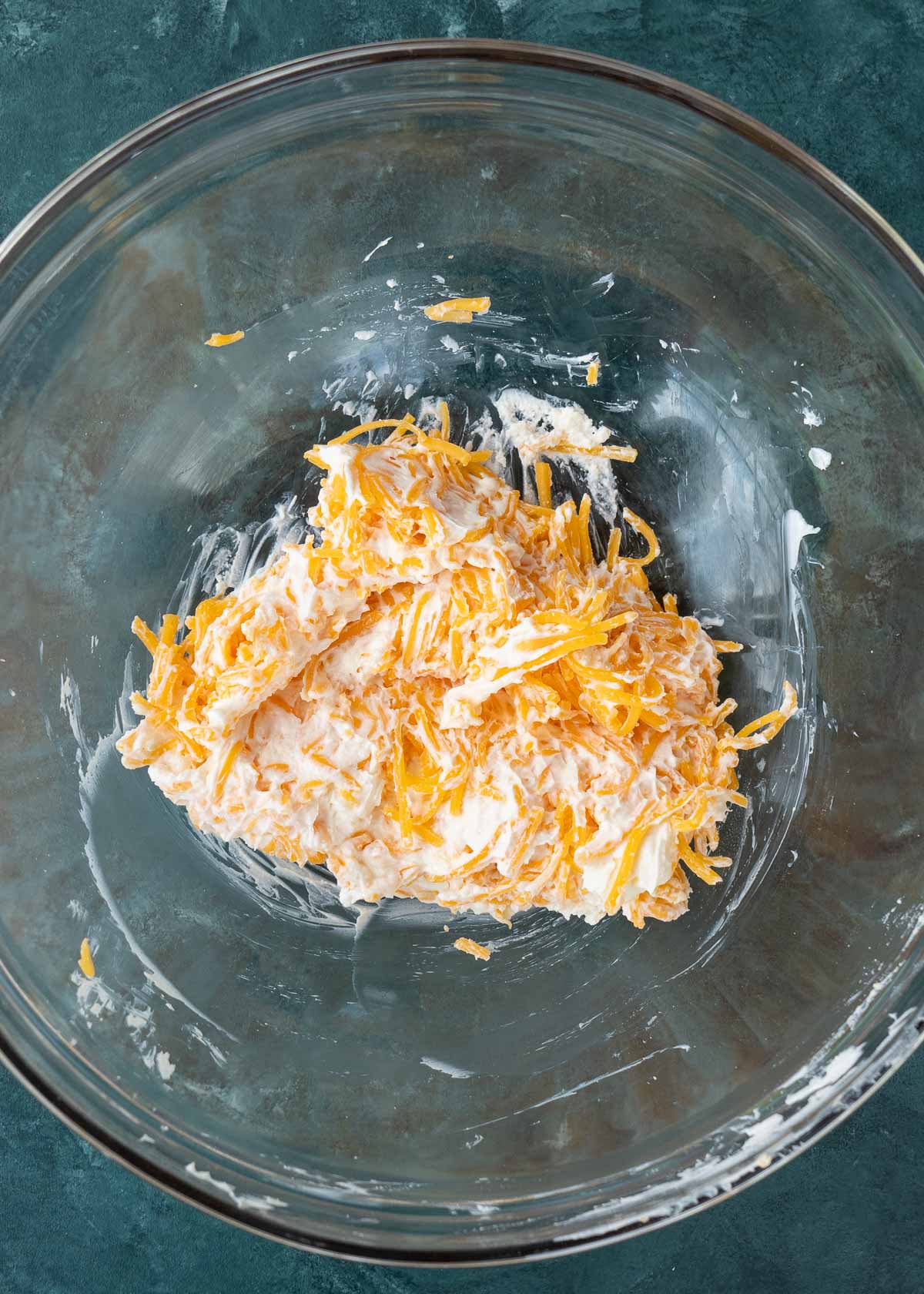 You'll want to start by mixing softened cream cheese, shredded cheddar, and eggs. Stir this together until the cream cheese is smooth. Then add almond flour, baking powder, salt, heavy cream, and melted butter.
Stir the mixture until well combined, but don't overmix — This will lead to tough, dry biscuits instead of the fluffy, delicious biscuits you want.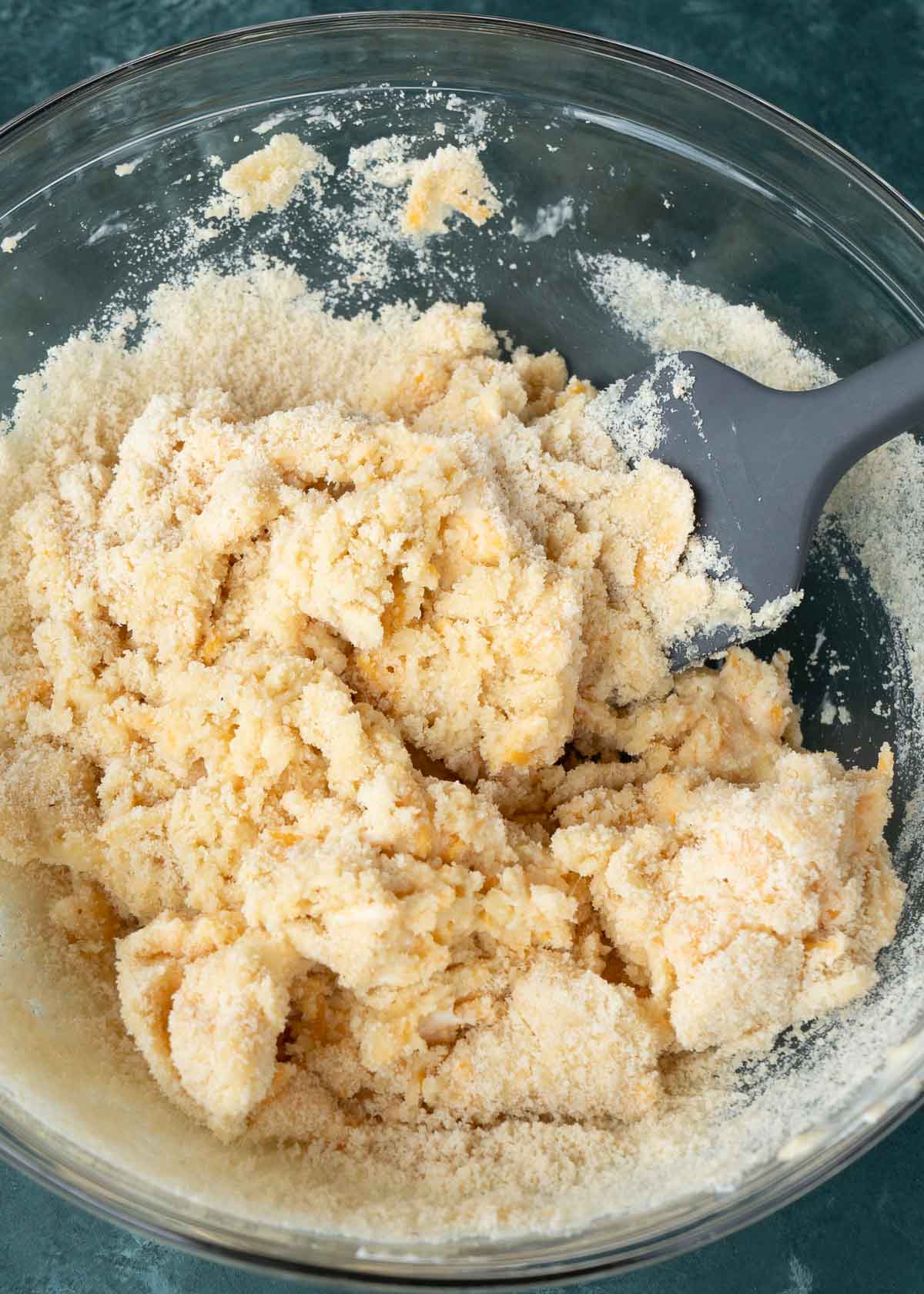 Chill the dough
Chill the dough for 10-15 minutes. If you are meal prepping this, you could chill this dough for up to one full day before baking (just cover with plastic wrap or a lid).
Cut biscuits
When ready to cook, sprinkle almond flour onto a cutting board or clean countertop and turn the dough out onto the floured surface. Pat the biscuits to be about 1/2″ thick and use a biscuit cutter to cut your biscuits (don't have one? Use the lid of a mason jar instead).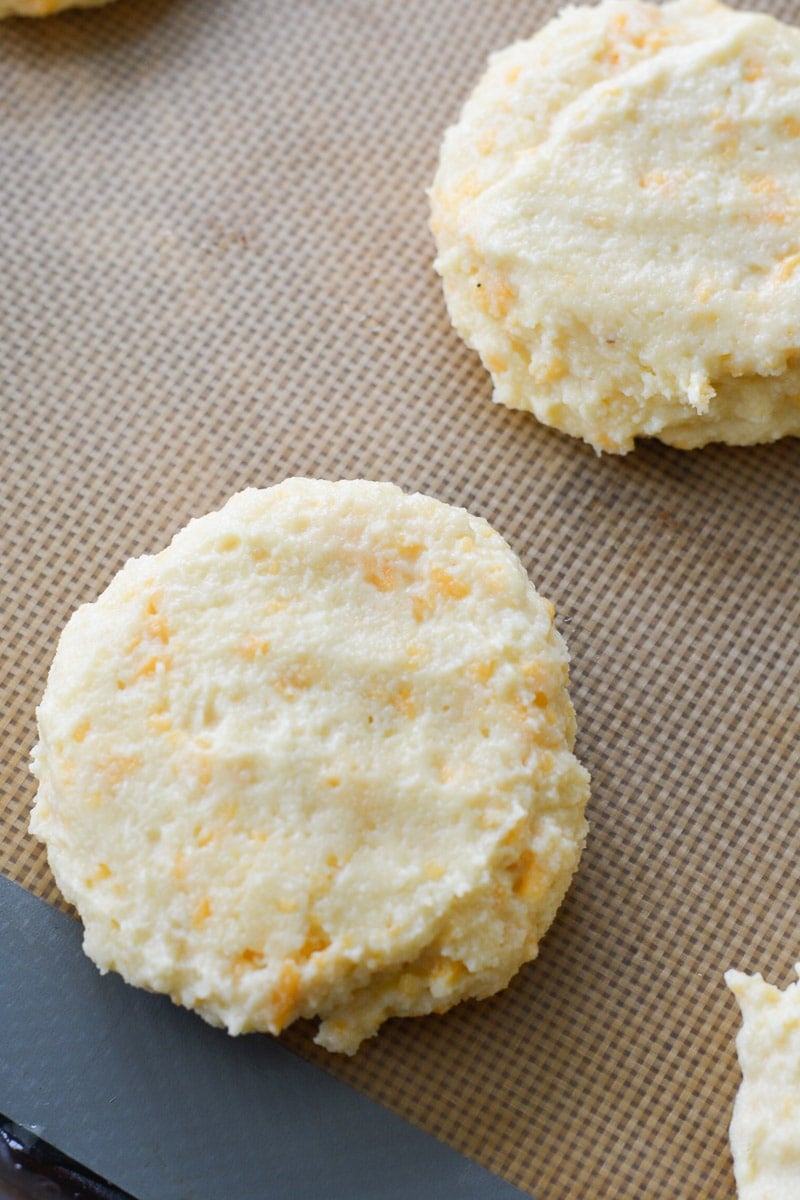 Bake
Place the biscuits onto a greased or silicone-lined baking sheet and bake until golden. While those are cooking, cook your sausage (store-bought patties are fine, or you could make your own… I like this breakfast sausage recipe for that, or this Air Fryer Sausage recipe). Once golden and cooked through, remove from oven and let cool for at least 5 minutes.
Assemble biscuit sandwiches
Slice the warm, cooked biscuits and add your sausage patty for delicious keto sausage biscuits! Serve immediately or wrap in aluminum foil and place in a slow cooker on "warm" if serving at a potluck breakfast.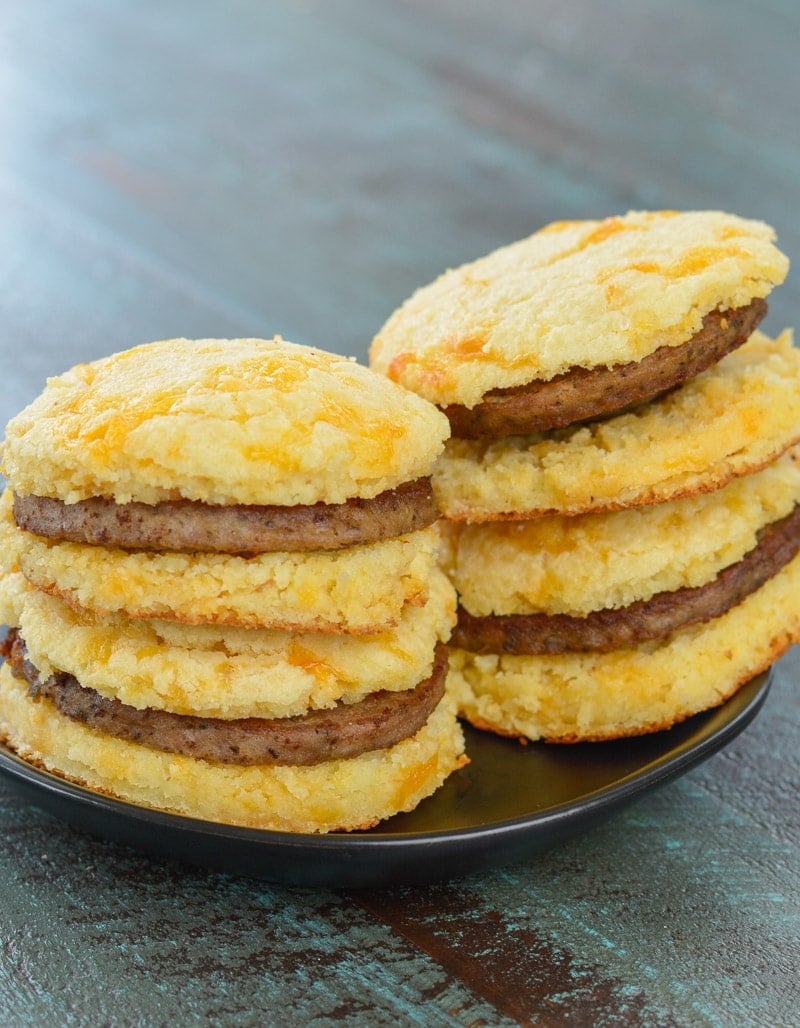 What to serve with Keto Sausage Biscuits
This sandwich has enough fat and protein to keep you full for a while, but you can always stretch it further with a delicious Coffee Frappuccino! You could also have Breakfast Chaffle Bowls, a healthy Egg Scramble, or Oven-Baked Eggs without adding a ton of extra carbs.
More Grab-and-Go Keto Breakfast Ideas: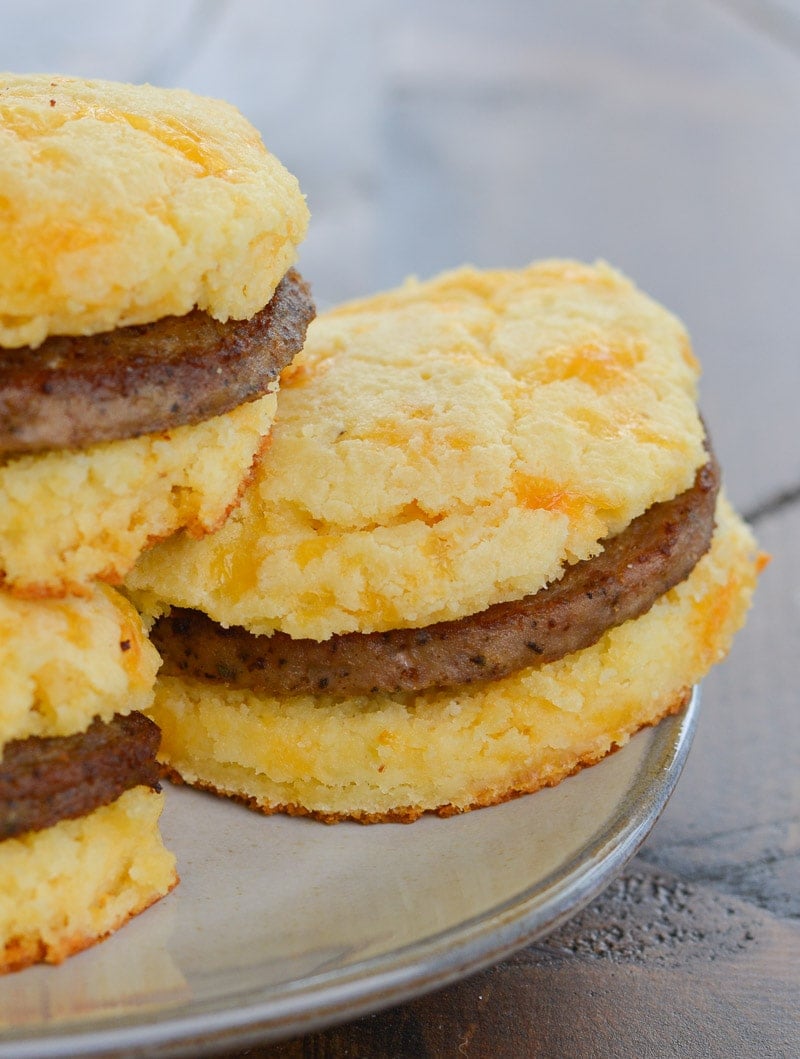 Can You Meal Prep Keto Biscuits with Sausage?
This recipe is great for meal prep. There are several different ways you can prep this recipe for an easy grab and go breakfast!
If you plan to eat all within 4-5 days, simply cook and assemble the sandwiches as directed. Store in an airtight container in the fridge and heat in the microwave in 30 second increments until warm. If you plan to eat on the go, I like to wrap the sandwiches in a paper towel and then plastic wrap–Then you can just toss it into your bag and reheat at work.
If you plan on storing these longer than 5 days, cook the biscuits and sausage and assemble the biscuits according to the recipe directions. Allow the sandwiches to cool completely and wrap tightly in foil and place in a freezer bag. Remove the sandwich when ready to eat and heat in the microwave in 30 second increments until warm.
Net Carbs in Keto Biscuit Sandwiches
This recipe makes 12 Keto Sausage and Biscuits. Each low carb breakfast sandwich comes to 3.9 net carbs.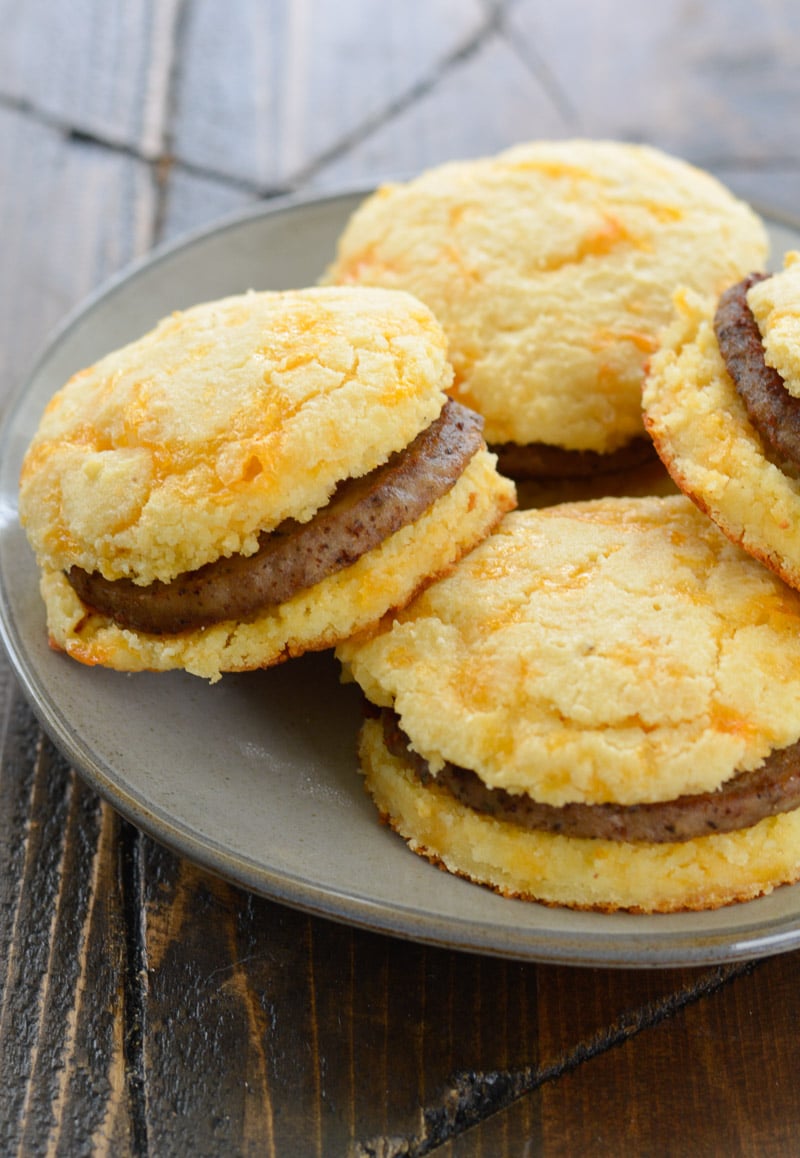 How to store sausage and biscuits
If you plan to eat these within 4-ish days, you can store these in the fridge. You can store them separately or assembled as sandwiches–I haven't noticed any difference. You can also freeze these up to six months (assembled or separately). Allow the biscuits and sausage to cool completely before freezing.
If freezing these assembled, I find it best to wrap the sandwiches tightly in foil (multiple times if you plan on storing them longer than 3 months… This better protects your food from freezer burn). Then store all the sandwiches in a freezer bag.
Tips and Tricks for Keto Sausage and Biscuit Recipe
You can use unsweetened almond milk instead of heavy cream, if you want, but the fat content decreases. That's great if you're just low-carb, but you want a high fat content if you are keto.
The dough will be thick; be careful not to over-mix.
Use traditional, sage or spicy breakfast sausage to mix up the flavors. You could even fill these biscuits with chicken tenders for chicken biscuit sandwiches instead!
You can also add a cooked egg to make a heartier breakfast sandwich if you wish.
If you love these sausage biscuits, you'll love these keto breakfast recipes!
Cheddar Ranch Keto Sausage Balls – These are filled with tons of flavor but without all the carbs you're used to in this classic potluck recipe!
Sausage and Cream Cheese Pinwheels – These are super popular for holidays, potlucks, and brunches! The fathead dough can be used for so many different recipes.
Keto Ham & Swiss Biscuits – If you don't want to assemble the sandwiches, skip that step and mix in the meat before baking!
Keto Bacon Cheddar Chive Biscuits – These are perfect for a low-carb breakfast or a tasty side dish! Make a double batch for tons of keto meals.
Bagel Breakfast Sandwiches – These cheesy keto bagels are perfect for little low-carb sandwiches! Load them with veggies, eggs, sausage, or bacon for a delicious on-the-go meal.
Check out this list for the BEST keto breakfast recipes under 5 net carbs per serving!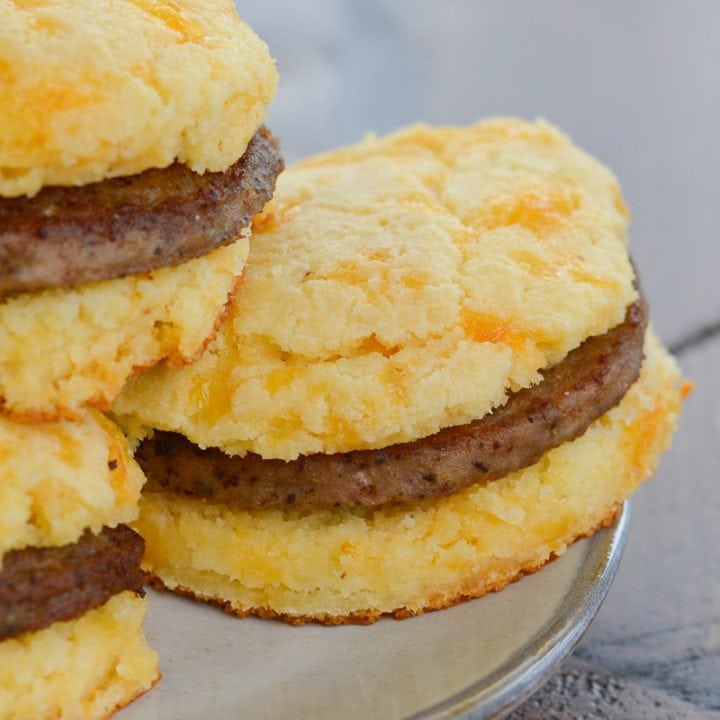 Keto Sausage and Biscuits
Yield:
12 Breakfast Sandwiches
Try this Keto Sausage and Biscuit Recipe for an easy low carb breakfast! These Keto Almond Flour Biscuits are stuffed with cooked sausage patties for a high protein low carb breakfast!
Ingredients
For the Keto Almond Flour Biscuits
3 ounces cream cheese, SOFTENED
1 cup shredded cheddar cheese
2 eggs
2 cups almond flour
1 teaspoon baking powder
1/4 teaspoon salt
1/4 cup heavy cream (scrape the measuring cup out since it is thick, make sure you get ALL of the liquid)
1 tablespoon melted butter
Sausage Patties
12 cooked sausage patties (about 1 1/2 pounds breakfast sausage if cooking your own)
Instructions
Preheat the oven to 350 degrees.
In a mixing bowl combine the softened cream cheese, cheddar cheese and eggs. Stir until cream cheese is smooth with no clumps.
Add almond flour, baking powder, salt, heavy cream and melted butter.
Stir until combined. Do not overmix or biscuits will be tough.
Chill the dough 10-15 minutes.
Lightly sprinkle almond flour onto a cutting board and turn the dough onto the floured surface. Pat the biscuits to about 1/2 inch thick and use a biscuit cutter or the top of a mason jar to cut out your biscuits.
Place the biscuits onto a greased or silicone lined baking sheet.
Bake 15-18 minutes until golden. While this is happening, you can reheat your cooked sausage patties.
To assemble slice the warm biscuits in half and add the cooked sausage patty.
Notes
If you'd like to make your own breakfast sausage this recipe is great!
Recommended Products
As an Amazon Associate and member of other affiliate programs, I earn from qualifying purchases.
Nutrition Information:
Yield:

12
Serving Size:

1 Sausage and Biscuits
Amount Per Serving:
Calories:

357
Total Fat:

23.6g
Cholesterol:

110mg
Sodium:

462mg
Carbohydrates:

4.6g
Net Carbohydrates:

3.9g
Fiber:

0.7g
Sugar:

1.1g
Protein:

18g