Try this Keto Sausage and Biscuit Recipe for an easy low carb breakfast! These Keto Almond Flour Biscuits are stuffed with cooked sausage patties for a high protein low carb breakfast!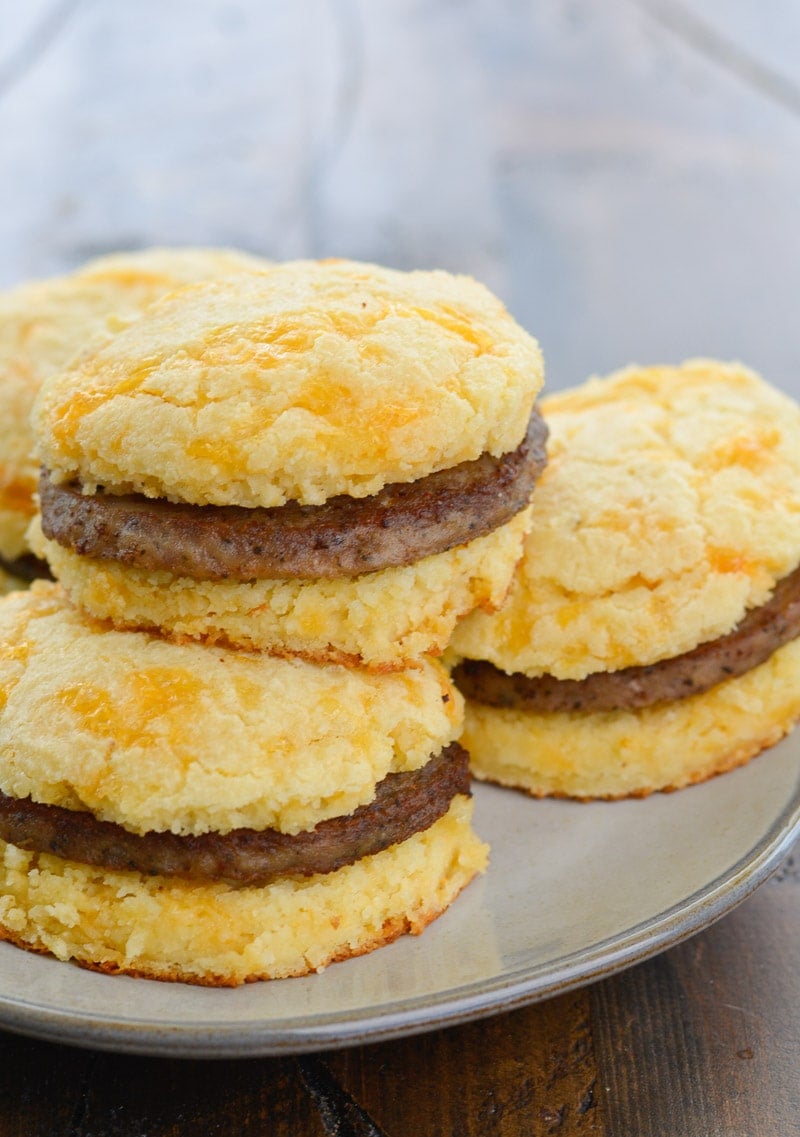 When my husband was diagnosed with Celiac, nearly 14 years ago, one of the foods he missed most was Sausage and Biscuits. It was his favorite breakfast and it took a long time to come up with a tasty gluten free biscuit. When we switched to a low carb, keto-friendly lifestyle, we were once again, missing our favorite breakfast comfort food!
Fortunately, these Keto Sausage and Biscuits are the perfect keto friendly breakfast! These almond flour biscuits are loaded with cheese and are perfectly soft and fluffy. They are paired with cooked sausage patties to make an easy low carb breakfast. These delicious breakfast sandwiches also happen to be an easy keto meal prep option!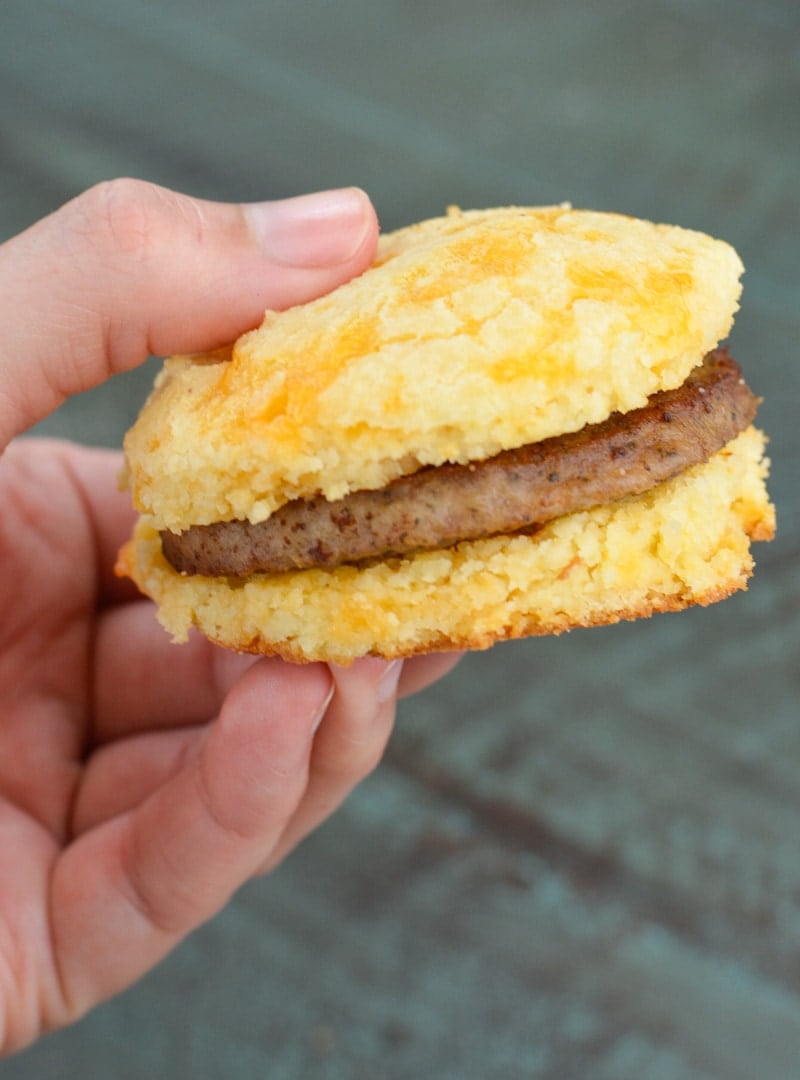 Ingredients Needed for Keto Biscuits
As always, this is a quick overview of the ingredients you will need. To get the complete recipe just keep scrolling.
Almond flour
Shredded Cream Cheese and Cheddar Cheese
Eggs
Baking Powder and Salt
Heavy Cream
Butter
Sausage
How to Make Keto Biscuits with Sausage
Preheat the oven to 350 degrees.
In a mixing bowl combine the softened cream cheese, cheddar cheese and eggs. Stir until cream cheese is smooth with no clumps.
Add almond flour, baking powder, salt, heavy cream and melted butter.
Stir until combined. Do not overmix or biscuits will be tough.
Chill the dough for 10-15 minutes.
Lightly sprinkle almond flour onto a cutting board and turn the dough onto the floured surface. Pat the biscuits to about 1/2 inch thick and use a biscuit cutter, or the top of a mason jar, to cut out your biscuits.
Place the biscuits onto a greased or silicone lined baking sheet.
Bake 15-18 minutes until golden.
Cook the sausage patties in a skillet over medium heat, until cooked through.
To assemble slice the warm biscuits in half and add the cooked sausage patty.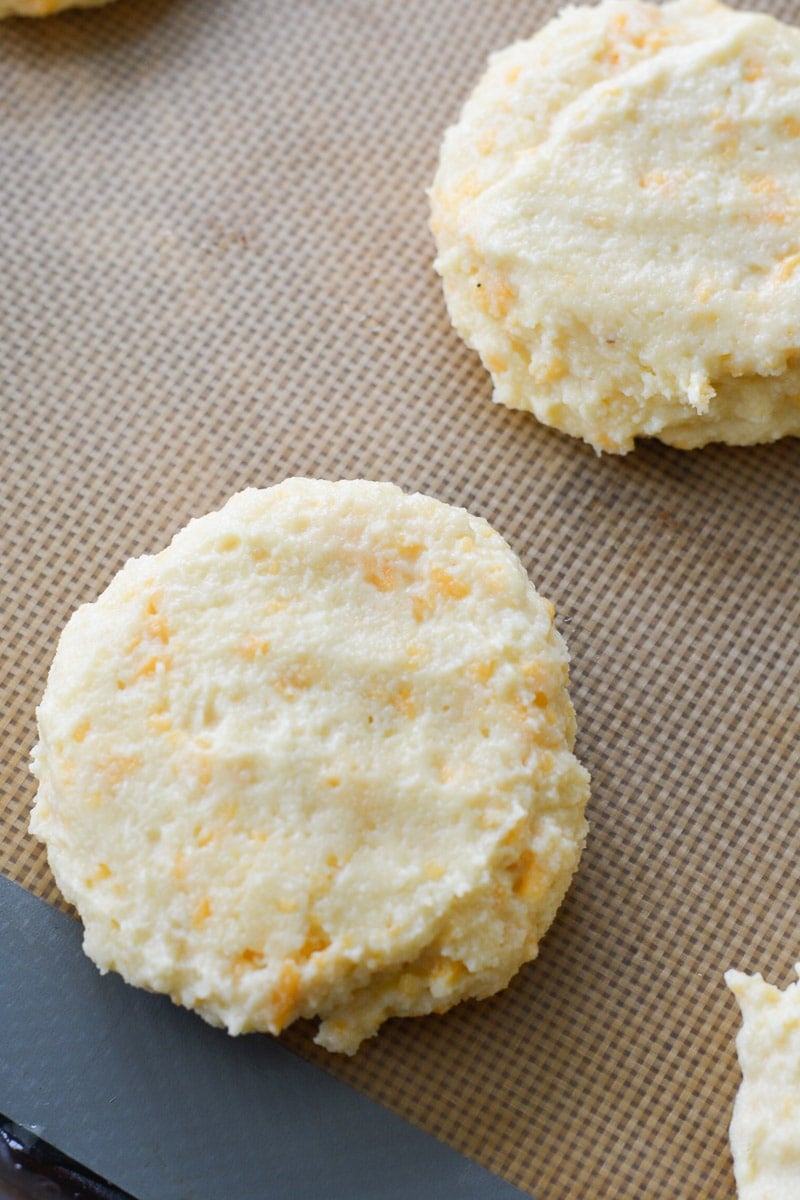 How to Meal Prep Keto Biscuits with Sausage?
This recipe is great for meal prep. There are several different ways you can prep this recipe for an easy grab and go breakfast!
If you plan to eat all within 4-5 days, simply cook and assemble the sandwiches as directed. Store in an airtight container in the fridge and heat in the microwave in 30 second increments until warm.
Cook the biscuits and sausage and assemble the biscuits according to the recipe directions. Allow the sandwiches to cool completely and wrap tightly in foil and place in a freezer bag. Remove the sandwich when ready to eat and heat in the microwave in 30 second increments until warm.
Tips and Tricks for Keto Sausage and Biscuit Recipe
You can use unsweetened almond milk instead of heavy cream, if you want, but the fat content decreases.
The dough will be thick, be careful not to over-mix.
Use traditional, sage or spicy breakfast sausage to mix up the flavors.
You can also add a cooked egg to make a heartier breakfast sandwich if you wish.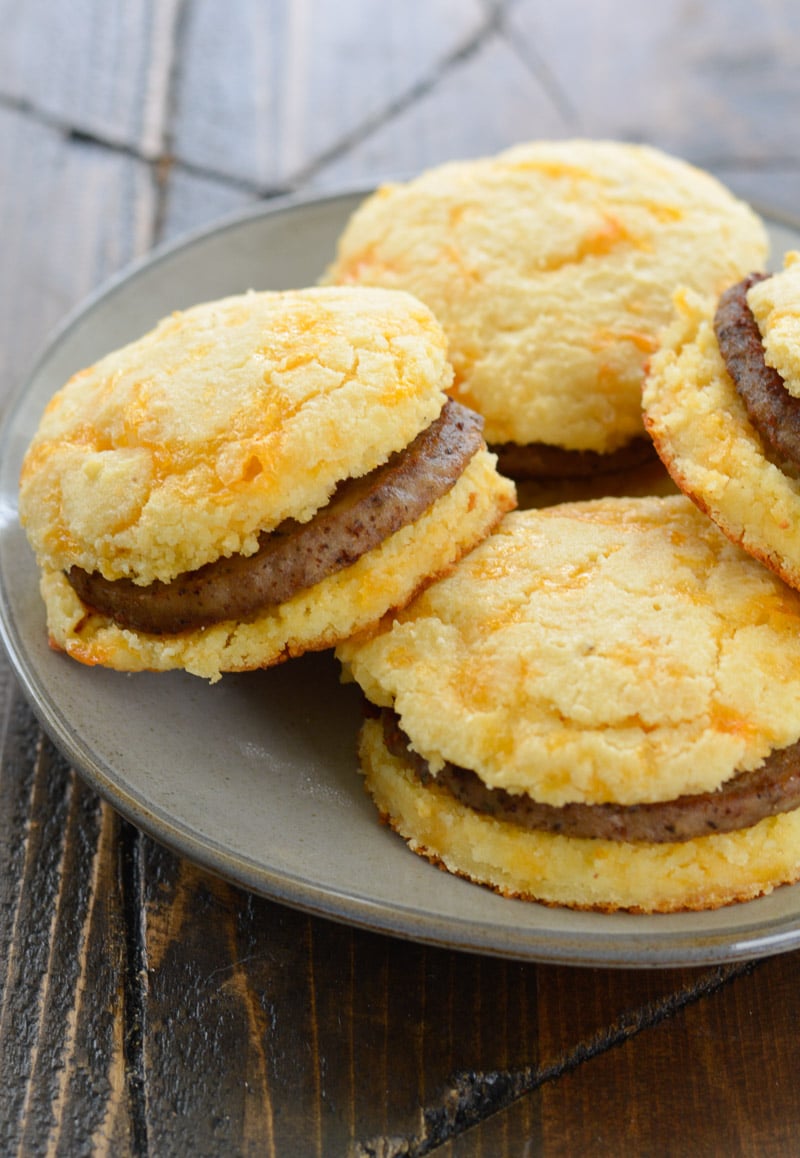 Net Carbs in Keto Breakfast Biscuits
This recipe makes 12 Keto Sausage and Biscuits. Each low carb breakfast sandwich comes to 3.9 net carbs.
More Keto-Friendly Breakfast Recipes