These delightful Keto Key Lime Bars feature a shortbread cookie crust, tangy lime bar layer topped with creamy lime whipped cream! At about 3 net carbs per bar this is a sweet treat that fits within your keto diet!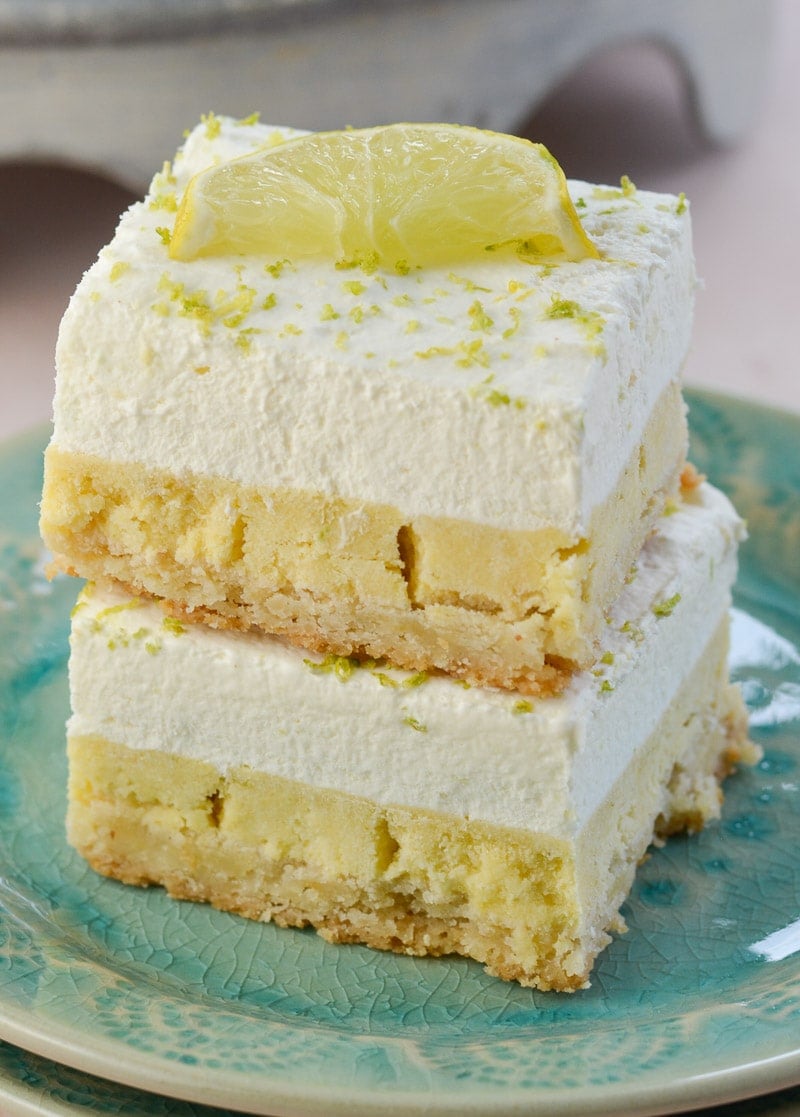 Last summer my husband and I got hooked on my Keto Lemon Bars. We have always been a sucker for citrus, so much so that our wedding cake was lemon! So naturally, this summer I wanted to create an equally delicious lime bar! These Keto Key Lime Bars have everything that you love about traditional lemon bars like the shortbread crust and creamy citrus filling. These are taken one step further with a lime whipped cream that is divine!
What ingredients do you need for Key Lime Bars?
Eggs
Limes or Key limes
Confectioners Sweetener (Keto friendly such as monk fruit or Swerve)
Coconut Flour
Almond Flour
Butter
Heavy Cream
Vanilla Extract
How do you make Keto Key Lime Bars?
For the Filling: Combine all filling ingredients: eggs, sweetener, coconut flour, lime juice, and lime zest in a blender or food processor. Blend for 30 seconds until completely smooth.
Refrigerate for 20 minutes to allow the filling to thicken.
For the Crust: Preheat oven to 350 degrees. Line an 8×8 pan with foil or parchment paper.
Combine the melted butter, almond flour and sweetener in a small bowl and press into the foil lined pan.
Prebake crust for 7 minutes, it should not be firm just slightly beginning to brown around the edges.
Remove crust and allow it to cool COMPLETELY
Pour in filling and bake 18-20 minutes until the center is set. Allow bars to cool completely.
For the Lime Whipped Cream: Using a mixer combine the heavy cream, lime juice, lime zest and sweetener and beat until stiff peeks form. Spread over the cooled lime bars.
Place in the freezer for at least 20 minutes before slicing if you want to get nice clean slices.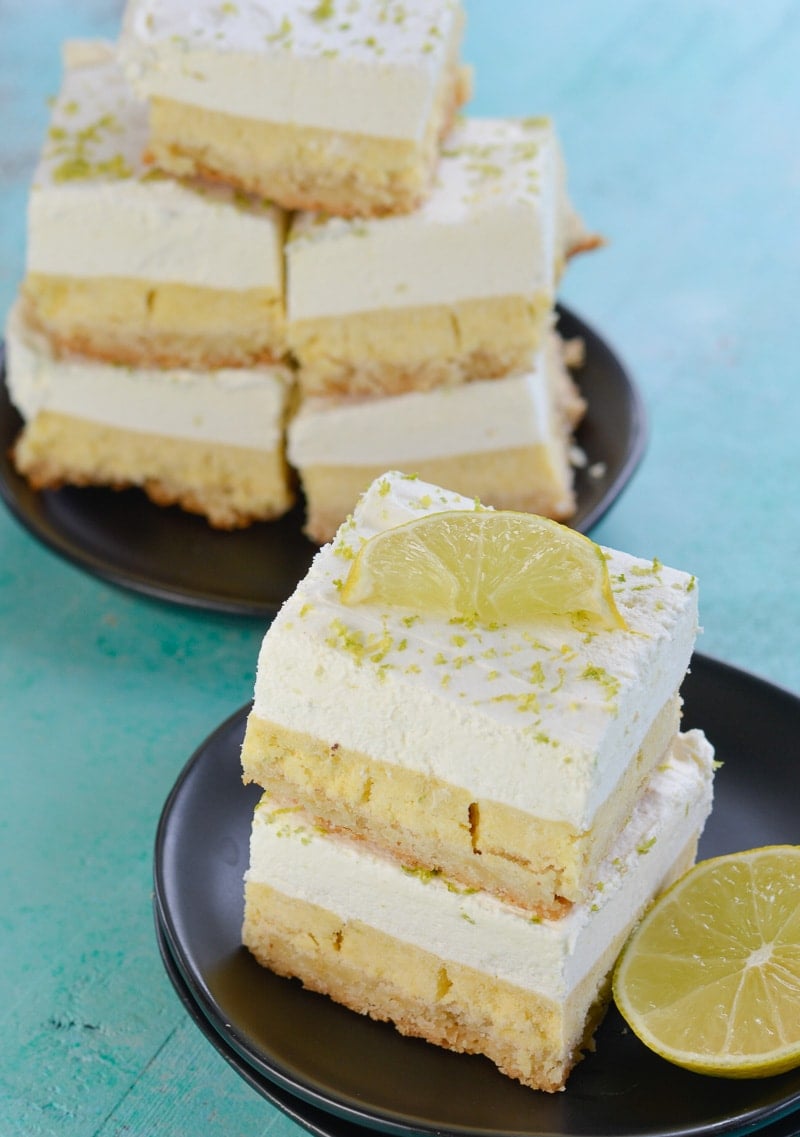 How many net carbs are in Keto Key Lime Bars?
These delicious bars come to 3.1 net carbs if sliced into 12 equal pieces. I prefer to cut these small since you can see how thick they are. Even a small portion will satisfy your sweet tooth! However, if you prefer to cut them into 9 equal portions it will come to 4.2 net carbs per bar.
How long can you store Key Lime Bars?
I find these bars are best stored in the refrigerator and eaten within 4 days. However, you can also slice into serving sizes and freeze. Simply pull out a portion at a time and allow it to defrost for about 30 minutes. Stored in an air tight container these will last about 3 months in the freezer.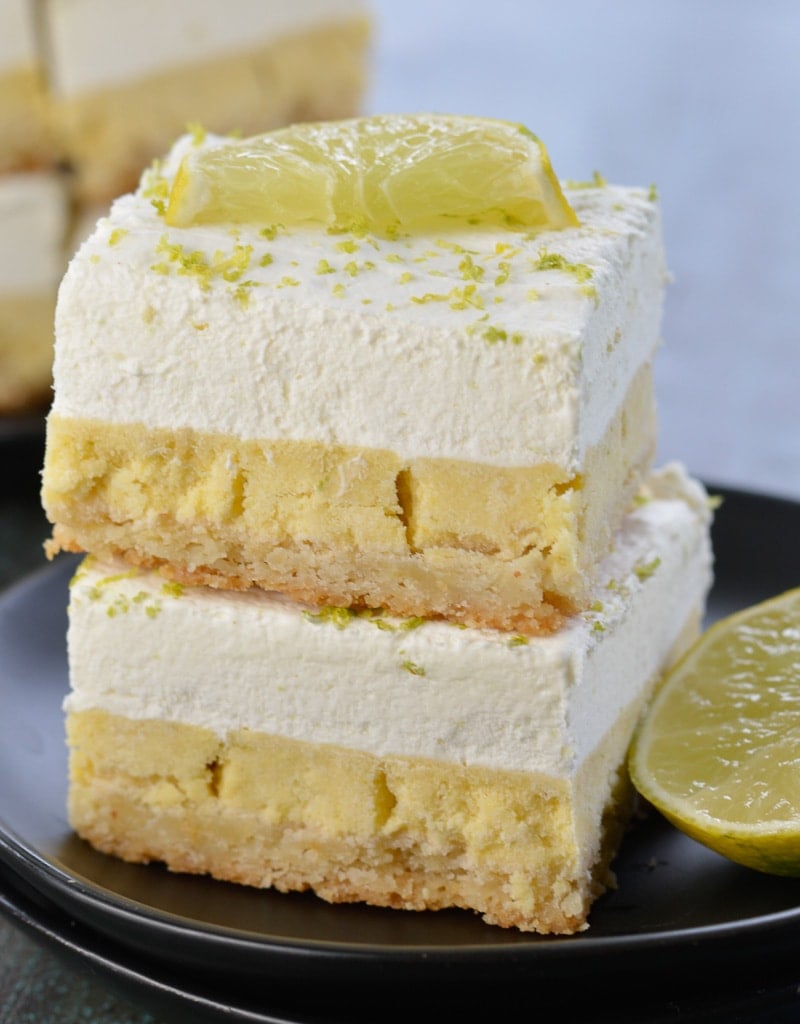 What are some easy keto desserts?
Often people think a low carb or keto diet means you have to give up all your favorite sweets. While it does mean you have to make some adjustments you certainly don't have to do without! I have been able to recreate most of my favorite pre-keto desserts to keto friendly options.
For example, this Keto French Silk Pie has all of the hallmarks of the classic, including a flakey crust, but only comes to about 5 net carbs a slice! Some other favorites include: