These Keto Pumpkin Muffins are packed with pumpkin spice flavor and topped with a pecan crumble topping! At just 5 net carbs, this is a low carb treat you will enjoy all fall long!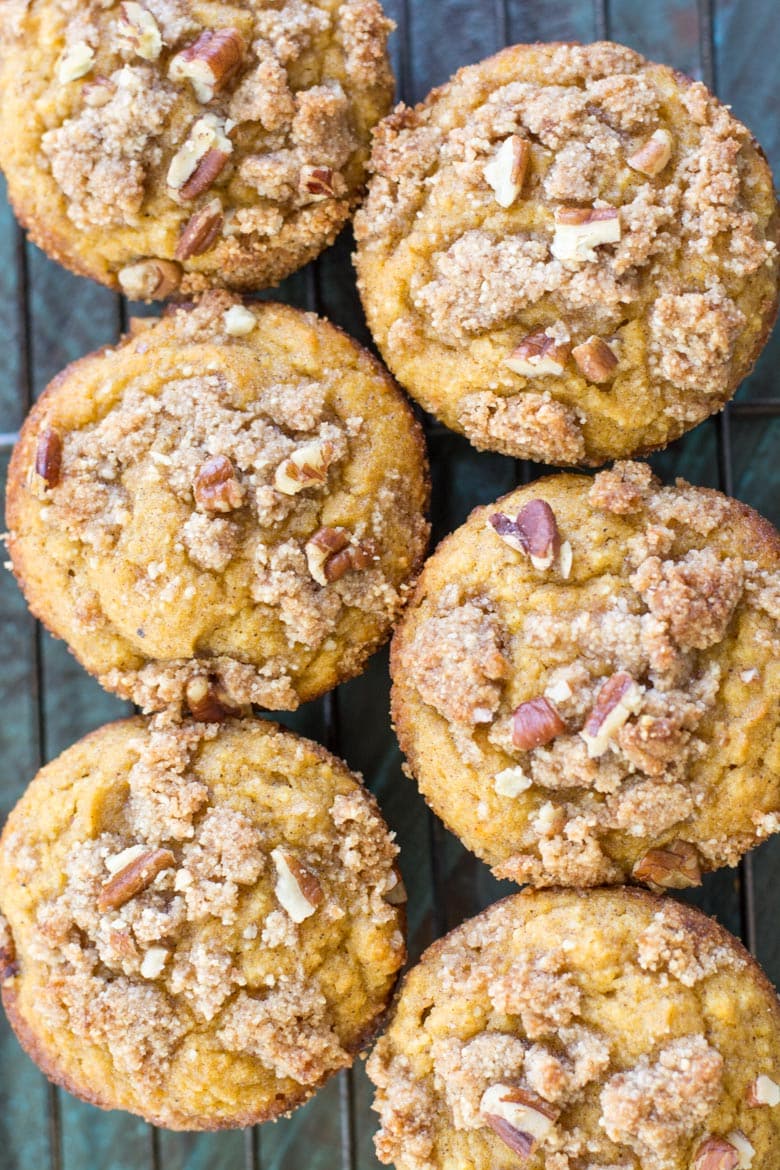 Mr. Maebell and I have always had a bit of a tradition. Fall is our favorite season and on the first cool, crisp weekend we make pumpkin muffins for breakfast and then start a big pot of chili to simmer all day. We usually open the windows and embrace the change in seasons.
Although it is still close to 90 degrees here, I have been working on a great low carb pumpkin muffin for a few weeks and I believe I've finally nailed it. I hope you enjoy this low carb, keto friendly Pumpkin Muffin as much as we do!
These almond flour pumpkin muffins are packed with pumpkin spice, super moist, and have just the texture you would expect! If you're looking for more fun fall desserts, check out this list of 20+ Easy Fall Desserts!
But the very best part is the cinnamon pecan crumble on top! The crumble uses butter, almond flour, cinnamon, pecans and brown sugar swerve. This adds a touch of crunch and the perfect amount of sweetness. This is a great afternoon pick me up when those hunger pains start calling or perfect for breakfast with a warm cup of coffee.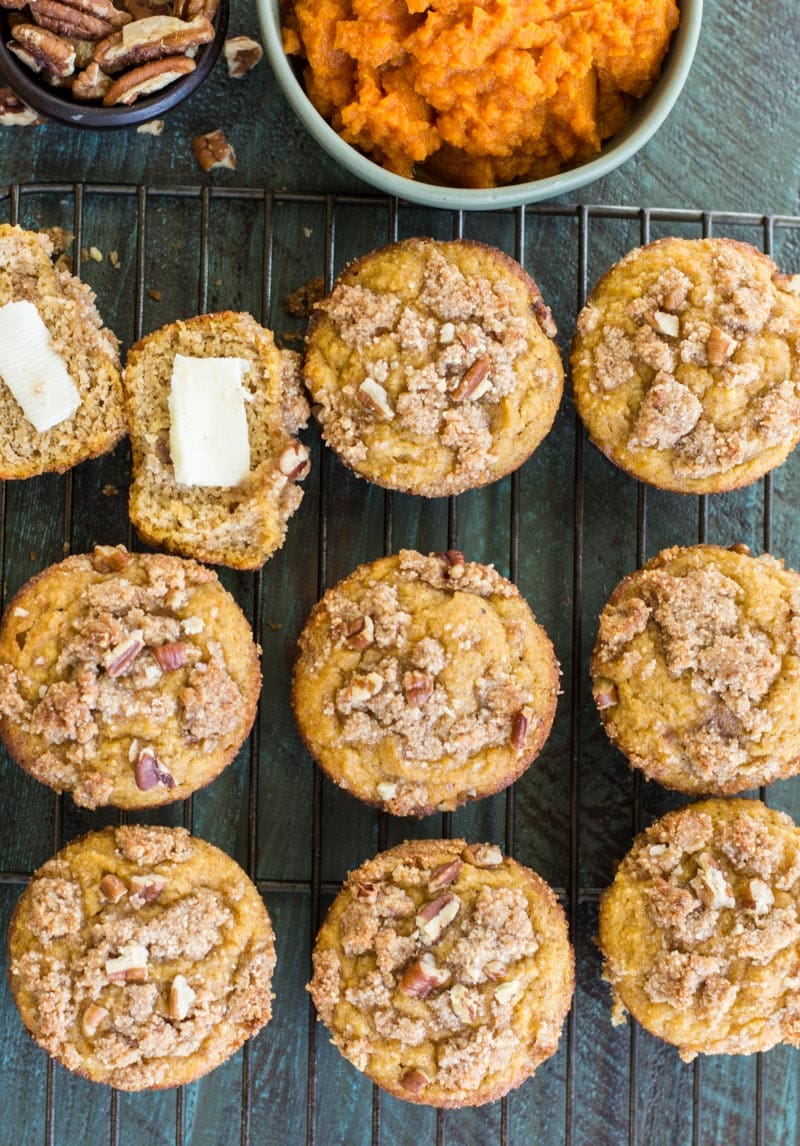 Ingredients in Keto Pumpkin Muffins
To make this keto muffin recipe, you'll need the following:
Almond flour and Coconut flour: you will need both for this recipe.
Brown sugar Swerve sweetener or Brown Sugar Monkfruit
Baking powder and salt
Pumpkin pie spice and Cinnamon
Pumpkin puree
Eggs
Unsweetened almond milk
Crushed pecans
Butter
How to Make Keto Pumpkin Muffins
Combine the keto muffin ingredients in a large bowl.
Divide the muffin batter between 12 greased muffins cups.
Make the pecan crumble topping, then sprinkle over the muffins.
Bake until done.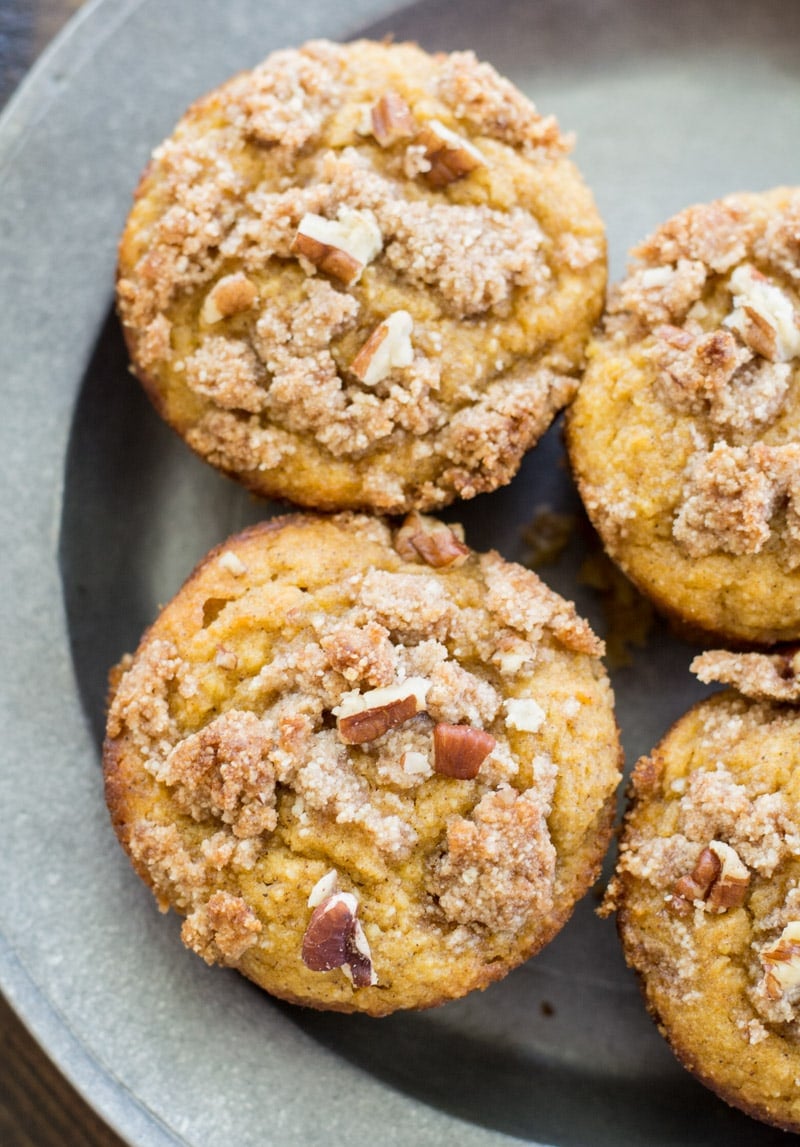 How Many Carbs Are in These Keto Muffins?
Hold on to your hats my friends, you won't believe how low in carbs these amazing muffins are. These Keto Pumpkin Muffins come in at just 5 net carbs each, and that includes the crumble topping! The total number of carbs based on my nutrition calculator is 7.4 grams with 2.4 grams of fiber.
For comparison, the Pumpkin Muffin from Starbucks has 52 net carbs each. This is a huge difference from traditional baked goods!
Can I Use a Gluten-Free Flour Blend?
No, I recommend using the blend of almond flour and coconut flour listed in the recipe card below rather than an all-purpose gluten free flour blend.
Tips for Making Keto Muffins
These almond flour pumpkin muffins freeze incredibly well and can be reheated in the oven or microwave for a quick grab and go snack.
Make sure to buy pure pumpkin puree and not canned pumpkin pie filling, which is loaded with sugar and spices.
If you don't have pecans on hand, the crumble topping can also be made with walnuts.
More Keto Breakfast Recipes: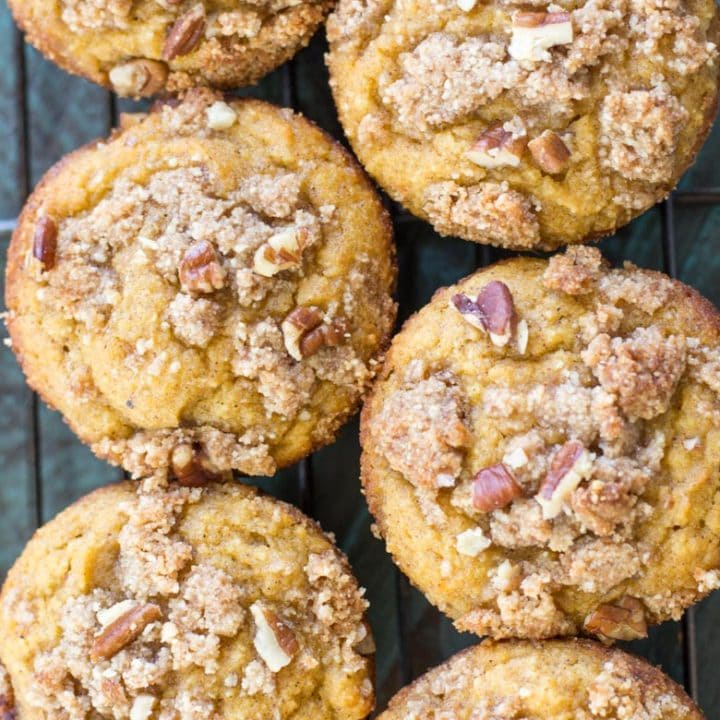 Keto Pumpkin Muffins
These Keto Pumpkin Muffins are packed with pumpkin spice flavor and topped with a pecan crumble topping! At just 5 net carbs this is a low carb treat you will enjoy all fall long!
Ingredients
Pumpkin Spice Muffins
2 cups almond flour
1/2 cup Brown Sugar Swerve Sweetener
2 tablespoons coconut flour
1 tablespoons baking powder
2 teaspoons pumpkin pie spice
1/2 teaspoon salt
1 cup pure pumpkin puree
4 large eggs
1/2 cup unsweetened almond milk
Pecan Crumb Topping
1/3 cup almond flour
1/4 cup Brown Sugar Swerve
2 tablespoons coconut flour
3 tablespoons crushed pecans
1 teaspoon cinnamon
3 tablespoons butter, cold
Instructions
Preheat the oven to 325 degrees F.
In a medium size mixing bowl, combine all of the pumpkin muffin ingredients until well combined.
Spray a muffin tin or line with paper liners.
Spoon the pumpkin mixture into the muffin tin until 3/4 full, set aside.
In a small bowl, combine the pecan crumb topping and mash with a fork until the butter is incorporated and it resembeles course crumbs.
Sprinkle the topping on the muffins.
Bake 20-22 minutes, or until a toothpick comes out clean.
Nutrition Information:
Amount Per Serving:
Calories:

204
Total Fat:

10g
Carbohydrates:

7.4g
Net Carbohydrates:

5g
Fiber:

2.4g
Protein:

6.2g