These Keto Pepperoni Pizza Bites are bursting with pepperoni and mozzarella cheese! At one net carb each, these make the perfect low-carb lunch!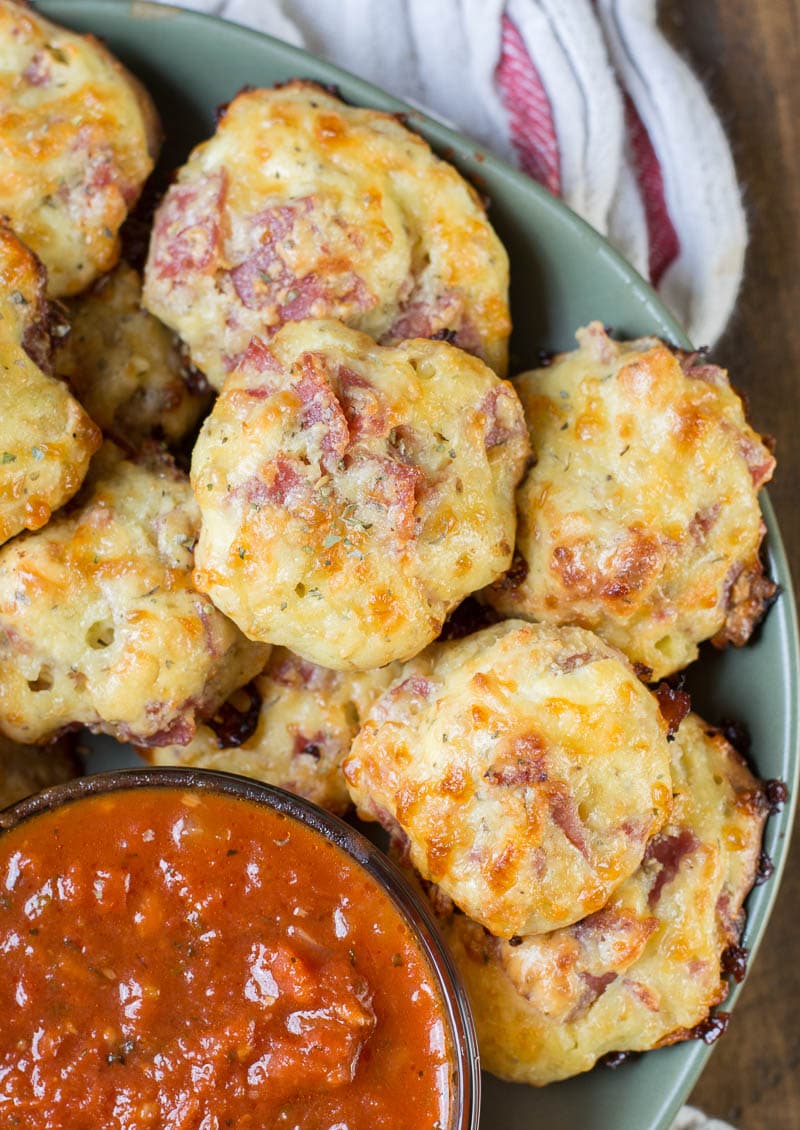 I've got another super easy keto recipe for you today! One of the most popular recipes on this site are my Keto Sausage Pizza Bites. They are loaded with mozzarella cheese, Italian sausage and have less than one net carb each!
These Keto Pepperoni Pizza Bites are very similar but absolutely loaded to the brim with pepperoni. I love to dip them in low-carb marinara but they are perfectly delicious on their own!
Ingredients for Pepperoni Pizza Bites
This mini pizza bites recipe is very simple and only required a handful of ingredients. I use the same base recipe I use for Easy Keto Pizza Bites, Keto Ham and Cheese Bites, and Sausage Egg and Cheese Bites, which includes: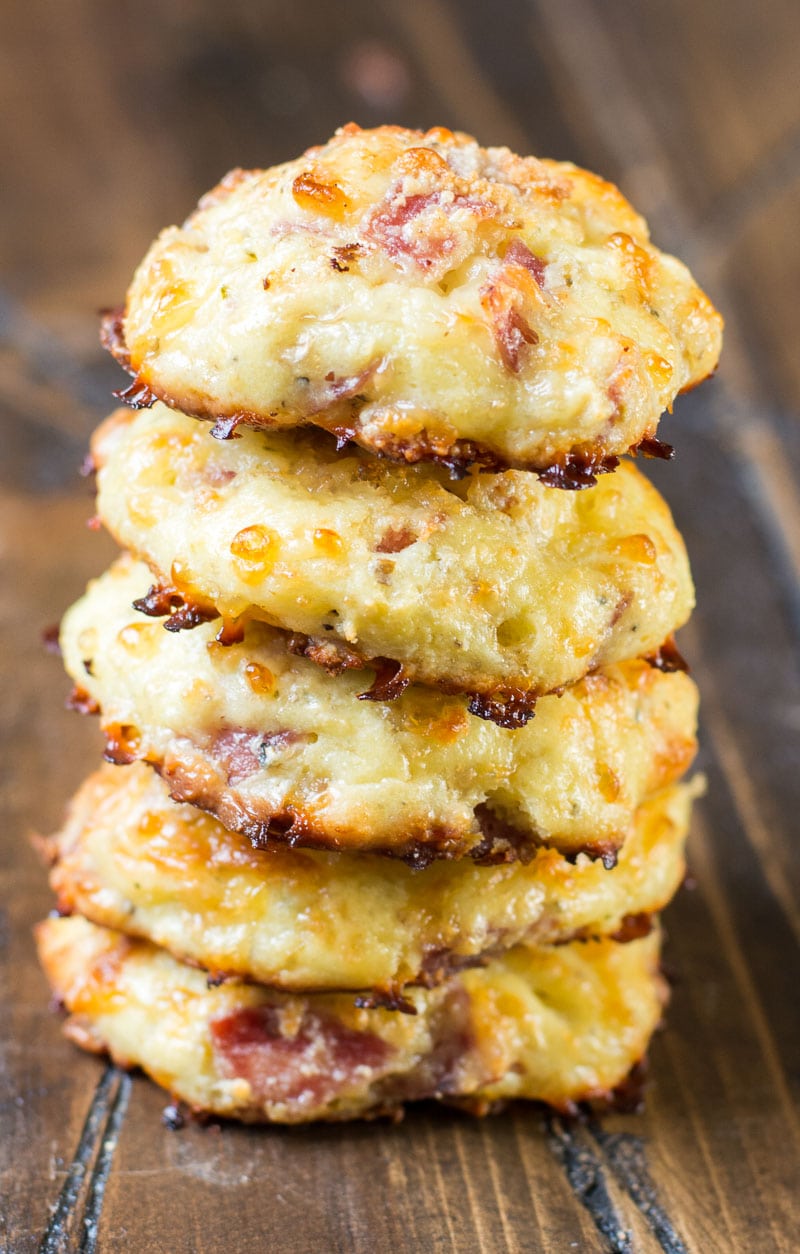 How to Make Keto Pepperoni Pizza Bites
No special equipment or mixer is needed for this recipe! Just a bowl and a spatula! All you need to do is:
Combine softened cream cheese, with eggs, coconut flour, baking powder until the mixture is smooth.
Fold in sliced or chopped pepperoni and mozzarella cheese.
Then chill the dough at least 10 minutes to allow the moisture to absorb.
Then, drop the dough onto a lined baking sheet and bake until golden (about 30 minutes).
Once they are done, serve right away with warm low-carb marinara or let them chill and store in an airtight container for up to 5 days.
These cheesy pizza bites are great on their own, but if you want a real pizza flavor I highly suggest dunking them in a warm low-carb marinara sauce. My favorite low-carb sauce is Rao's Marinara, which has 4 net carbs per 1/2 cup. Considering dipping sauces are usually only 1-2 tablespoons this will fit just fine into a keto diet as long as you keep your portions light.
Can I Substitute the Coconut Flour?
Yes! As with my other keto bite recipes you can use coconut flour OR almond flour in equal amounts in this recipe. However, I believe the coconut flour produces a better product.
The coconut flour absorbs moisture in a way that almond flour doesn't and is a very light flour. The bites are soft and fluffy, where almond flour is more dense. Both options do work so if you can't have or do not like coconut flour, almond flour is a good alternative. But I do suggest the coconut flour.
Is Pepperoni Keto?
Yes it is! Most cured meats are acceptable on the keto diet. You can use any type of pepperoni you'd like in this recipe.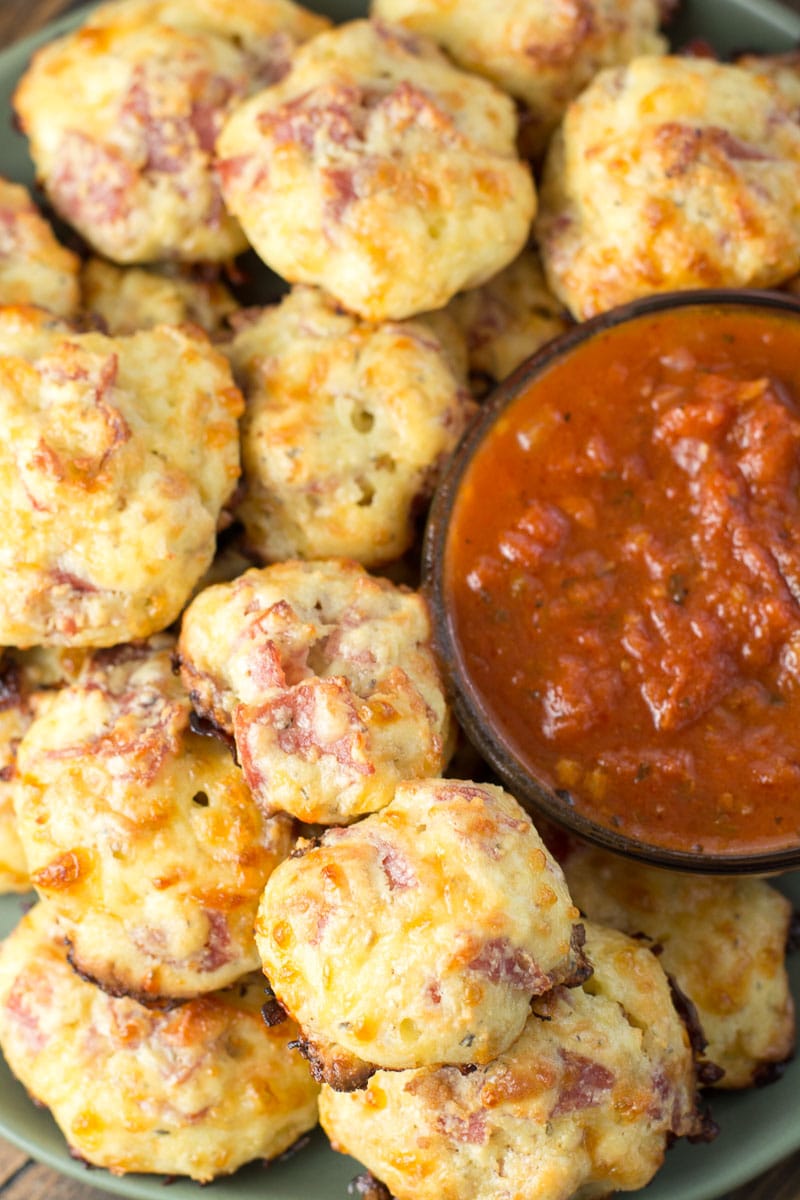 Tips for Making Keto Pizza Bites
More Keto Pizza Recipes:
Other Keto Bite Recipes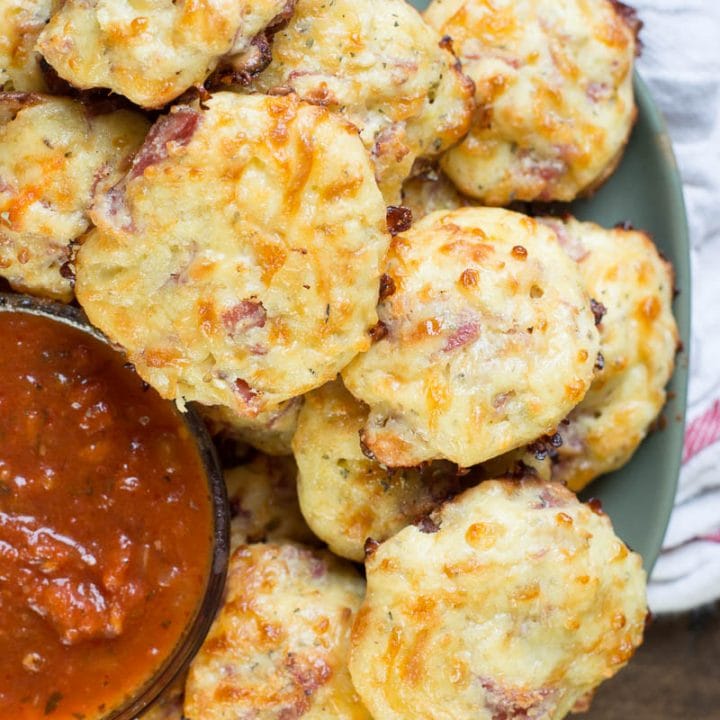 Keto Pepperoni Pizza Bites
These Keto Pepperoni Pizza Bites are bursting with pepperoni and mozzarella cheese! At one net carb each, these make the perfect low-carb lunch!
Ingredients
2 cups chopped or sliced pepperoni
4 ounces cream cheese, softened
1/3 cup coconut flour
1/2 teaspoon baking powder
1 teaspoon minced garlic
1 teaspoon Italian seasoning
3 large eggs, beaten
1 1/4 cups shredded mozzarella
Instructions
Preheat oven to 350 degrees F.
Combine cream cheese, pepperoni, shredded cheese and eggs until completely combined.
Add in remaining ingredients until well combined and chill 10 minutes to allow the flour time to absorb the moisture. If after 10 minutes there is still a considerable amount of moisture, chill another 10 minutes.
Drop onto a greased baking sheet (I like to use the silicone baking mats) using a small cookie scoop.
Bake 18-20 minutes until golden brown.
Notes
Chill time: If you skip chilling the dough they will flatten as they cook and not be nice round balls.
Coconut flour: Almond flour can be used in place of coconut flour, but the bites wil not be as light and fluffy.
Servings: This recipe made 30 pizza bites for me, but that will depend on the size scoop you use and how tightly you pack them.
Recommended Products
As an Amazon Associate and member of other affiliate programs, I earn from qualifying purchases.
Nutrition Information:
Yield:

Makes 30 Bites
Serving Size:

nutrition calculated per pizza bite
Amount Per Serving:
Calories:

109
Total Fat:

8.9g
Cholesterol:

37.9mg
Sodium:

294mg
Carbohydrates:

1.5g
Net Carbohydrates:

1g
Fiber:

0.5g
Protein:

5.5g