Start your day with a nutritious Peach and Mango Smoothie! This smoothie is loaded with frozen fruit and greens for a wholesome drink!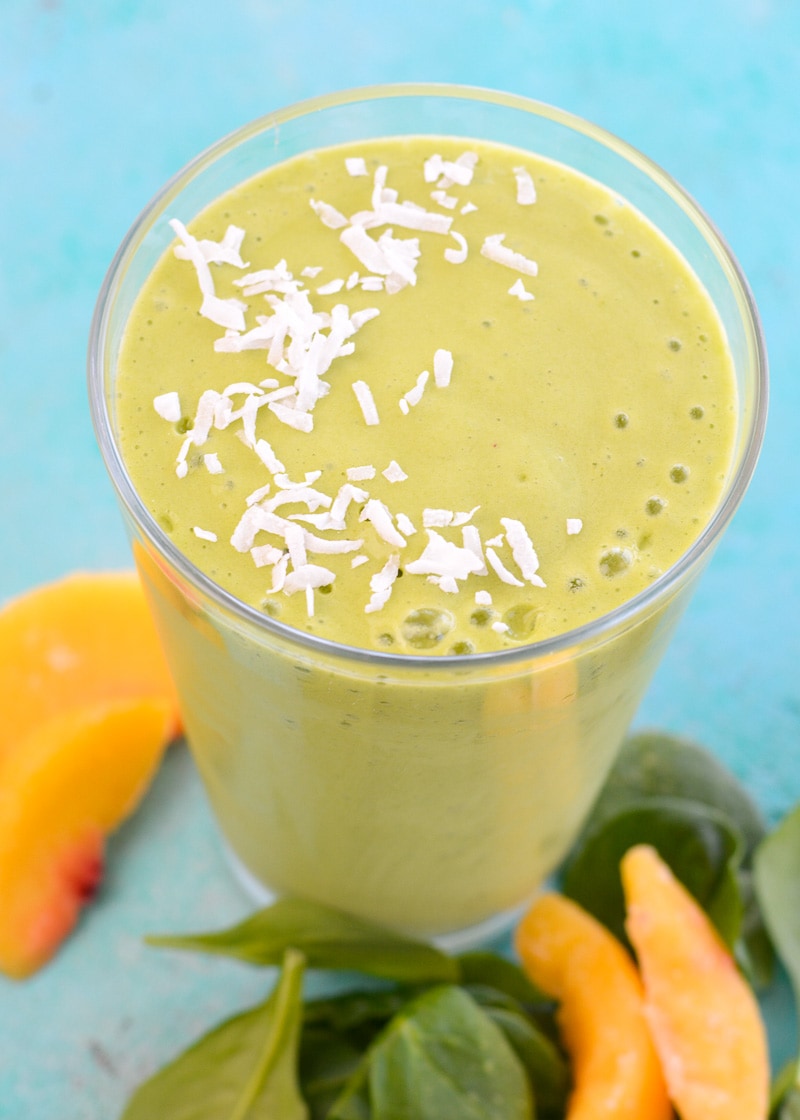 I've often been the person who has a smoothie as an excuse to consume chocolate in the morning (that's why I love this
Banana Almond Butter Smoothie
so much)! But hear me out. Even if you aren't into green juices or smoothies, this mango and peach green smoothie might just change your mind.
Green smoothies might not be the most appealing food, but I've grown to appreciate them. Most green smoothies truly don't taste green at all! Typically, the smoothies take on the flavor of whatever fruits and juices you put in them.
In this case, the smoothie has notes of vanilla with juicy peaches and fresh mango. This peach and mango smoothie tastes perfectly tropical and is great for a delicious breakfast or healthy snack.
Ingredients in the Peach and Mango Smoothie
As always, you will find the complete recipe below, this is just a quick overview of what you will need to make this healthy peach smoothie:
Frozen peaches
Frozen mango
Baby spinach
Vanilla extract
Liquid of your choice (i.e. juice, coconut milk, almond milk, milk, or a mixture)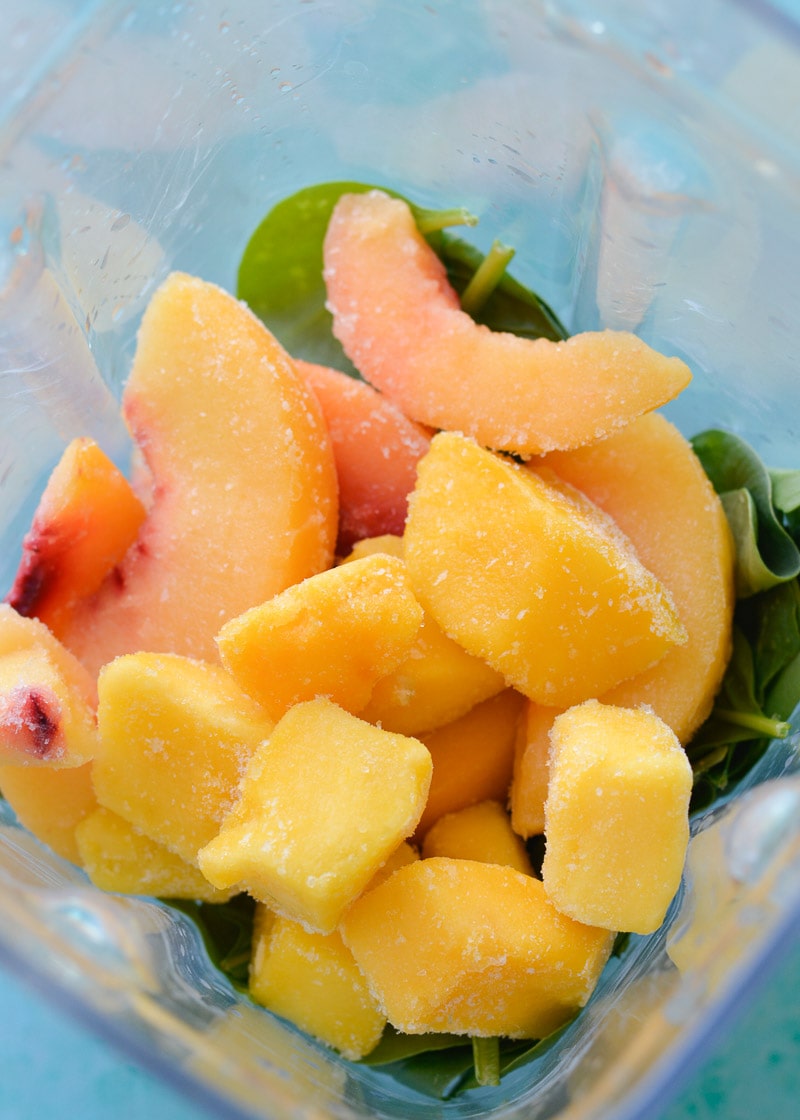 What Liquid Should I Add to My Peach Smoothie?
There are a lot of options for smoothies, so this is a versatile drink you can make with whatever you happen to have on hand!
Try using one of more of the following liquids to make this peach mango smoothie:
Juice — Orange or pineapple juice would give a delicious boost of tropical vibe of this one. Other juices like mango, apple, grapefruit, or your favorite go-to juice will work as well.
Milk — You can increase the protein content with dairy or soy milk, but oat, almond, or coconut milk are all viable options. This can be tailored to your dietary needs without affecting the flavor too much.
Combination — Depending on your preferences, a mixture of multiple liquids might be for you! Juices keep the peach green smoothie sweeter, so if you're concerned about the sugar content, feel free to use part juice, part milk.
What Greens Should I Add to Smoothies?
I like to add spinach because it has a nice, mild flavor, and I find that it blends in easily.
If you wish, you could instead substitute kale, arugula, collard greens, or any other leafy greens you have on hand (even carrot tops and beet greens will work). Just keep in mind that the "green" flavor tends to be much stronger with these other choices.
How to Get Your Smoothie to Blend Well
If you don't have a great blender, I've found that greens can become a texture issue in smoothies. If this is a problem for you, there is a solution that doesn't require breaking the bank!
Instead of adding all the ingredients into the blender, add just your greens and your liquid. Blend this well until all the greens are nicely mixed in, then add the mango and peach slices. This helps incorporate all the ingredients and turn it into a silkier, luscious drink!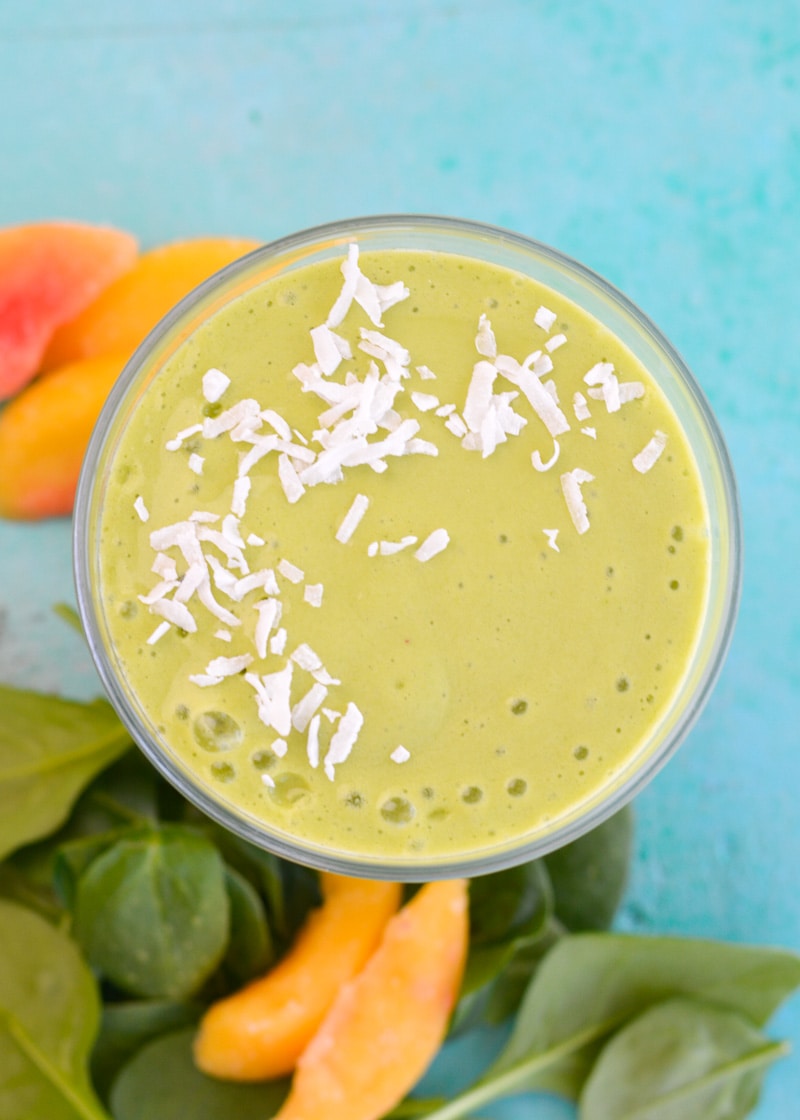 Nutritious Smoothie Add-Ins:
One of the greatest things about smoothies is how easy it is to add ingredients to meet your nutritional goals. Here are some options you can consider adding to this peach and mango smoothie:
Chia seeds — Chia seeds are high in fiber, protein, and omega 3, and you can add them two different ways. People who like some 'crunch' add the seeds after blending, then simply stir them in. Alternatively, if you prefer a smooth texture (or have braces), you'll want to let the chia seeds soak in the liquid a few minutes so that it forms a gel, then add all the other ingredients and blend.
Ground flaxseed — Flax seed adds a good amount of fiber and omega 3, keeping you full and healthy. For the best texture, I recommend buying ground flaxseed or grinding your own to then add with the liquid and greens (before the fruit).
Protein powder — Most protein powders add 15-30 grams of protein, meaning that your smoothie will keep you fuller and satisfied for longer!
Avocado — Avocados pack a huge punch! They make the smoothie even richer, don't overpower the other flavors, and contain a ton of potassium, fiber, and omega 3.
Yogurt — I made this peach smoothie without yogurt, but you're welcome to add in a spoonful or two. Use your favorite dairy or non-dairy yogurt.
Adding these additional ingredients may mean that you need to add more liquid to you smoothie (especially ingredients that thicken the smoothie like chia seeds, flax seeds, or avocado).
More Healthy Smoothie Recipes: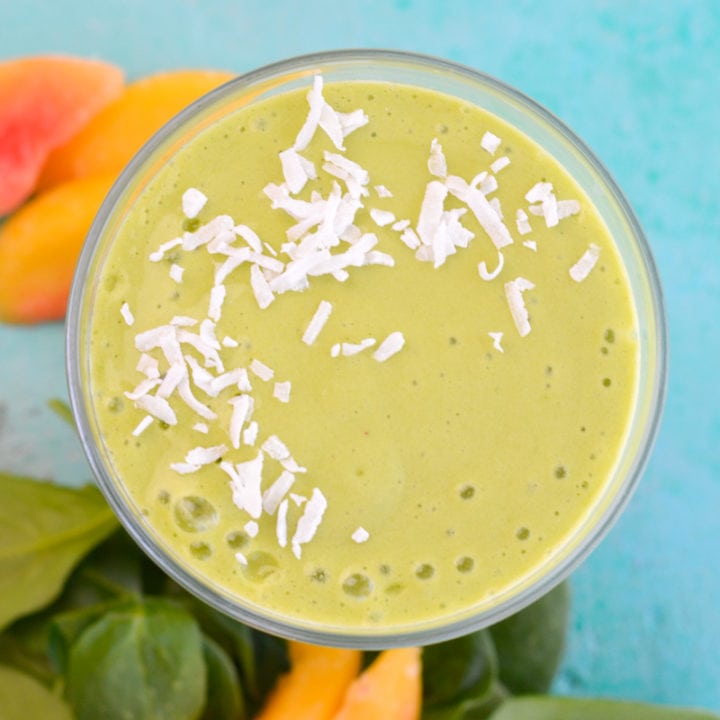 Peach and Mango Smoothie
Start your day with a nutritious Peach and Mango Smoothie! This smoothie is loaded with frozen fruit and greens for a wholesome drink!
Ingredients
1 cup frozen mango
1 cup frozen peaches
1 cup baby spinach
1 teaspoon vanilla extract
1 1/2 cup liquid (your favorite juice, coconut milk, milk, etc)*
Instructions
Place all the ingredients in a blender and blend until smooth.
Notes
*My favorite liquid to use is a combination of half white grape juice and half coconut milk.
If you don't have a great blender, add the spinach and liquid to the blender first, blend well. Then add the fruit and blend until smooth.
Recommended Products
As an Amazon Associate and member of other affiliate programs, I earn from qualifying purchases.
Nutrition Information:
Yield:

2
Amount Per Serving:
Calories:

175
Total Fat:

0.8g
Sodium:

20mg
Carbohydrates:

41g
Fiber:

3.2g
Sugar:

36g
Protein:

2g