Sausage and Spinach Quiche
Super cheesy, creamy grits are paired with eggs, bacon and jalapeno for the ultimate hearty breakfast!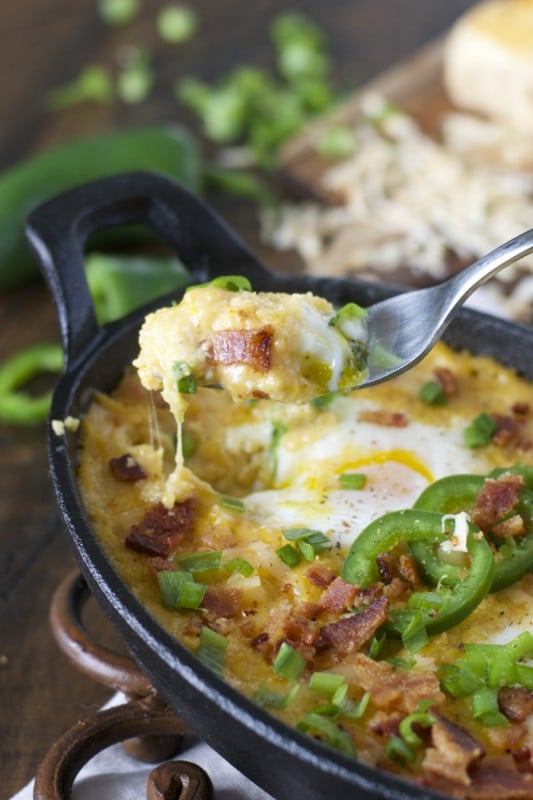 If I had to pick my favorite meal to cook it is breakfast, hands down. I love bacon, sausage, and eggs, or a big plate of pancakes or waffles. A hearty breakfast has to include grits and this Baked Eggs and Cheese Grits dish does not disappoint! It is soup food first thing in the morning and it is super easy to make.
This is one of those recipes that eluded me for a while. I had this idea to make a dish that included grits and baked eggs. In theory, it was a simple idea. But every single time I tried I messed it up! Either the eggs sank to the bottom, the texture was a bit off, or the eggs were way overcooked. I went through a carton of eggs and half a box of grits before I realized my mistake. The grits have to be cold! Which kind of makes this recipe even better because you can make a big batch of cheesy grits the night before, then just assemble and bake in the morning.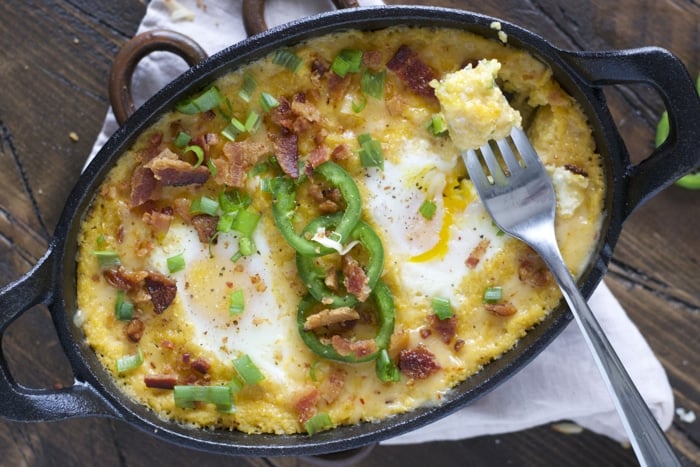 Ingredients for Baked Eggs and Cheese Grits Breakfast Bake
This breakfast bake has a simple ingredients list. Here's all you'll need to make this recipe:
Chicken broth
Cream cheese
Shredded sharp cheddar cheese
Eggs
Bacon
Jalapeño
Chopped green onions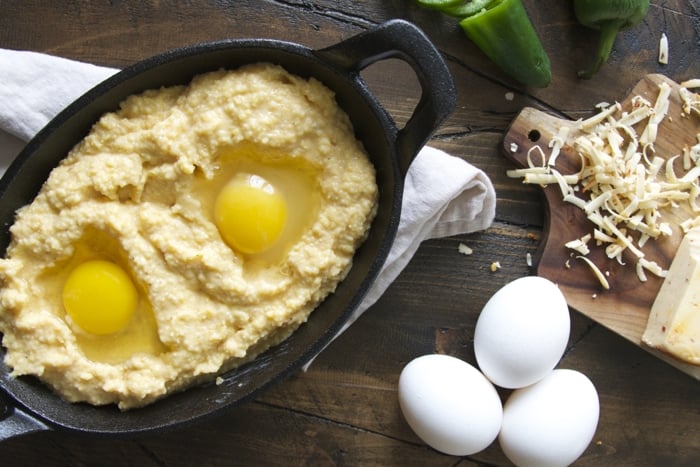 How to make Baked Eggs with Cheese Grits
Place your cold grits in a dish of your choice, I used a small oblong cast iron skillet so we each had our own dish. Create some nice "wells" and crack your egg right in the holes. Carefully place your dish in the oven.
Now, the baking time can be a little tricky depending on how you like your eggs. I baked mine for 30 minutes, the egg whites were done but the yolk was runny. But I would suggest checking every ten minutes, as every oven bakes a little differently and you might like your eggs more or less done than me.
Then top your Baked Eggs and Cheesy Grits with chopped bacon, green onions, jalapenos, and a little extra cheese if you feel like living on the wild side!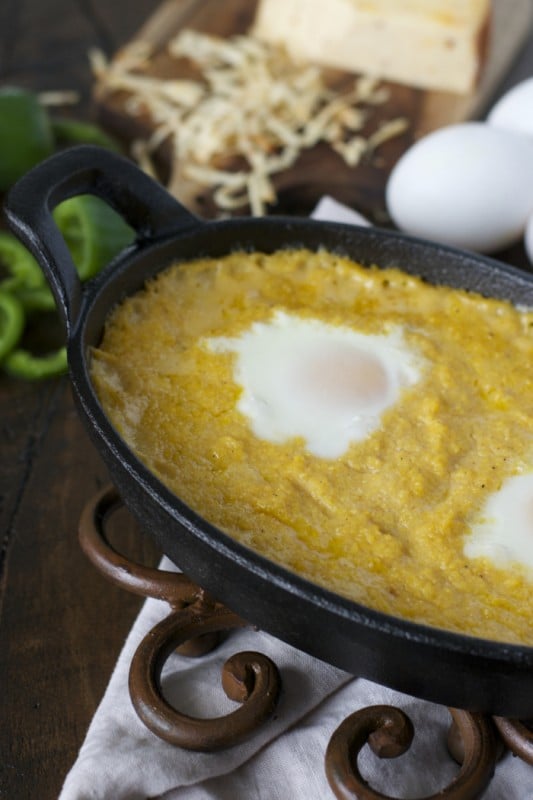 Tips for the Best Baked Eggs with Cheese Grits
The grits need to be cold for this recipe so make them the night before and refrigerate them overnight.
For the best texture, buy a block of cheddar cheese and shred it yourself.
Use a heavy-bottomed casserole dish or a cast-iron skillet for the best results.
More Cheesy Grit Recipes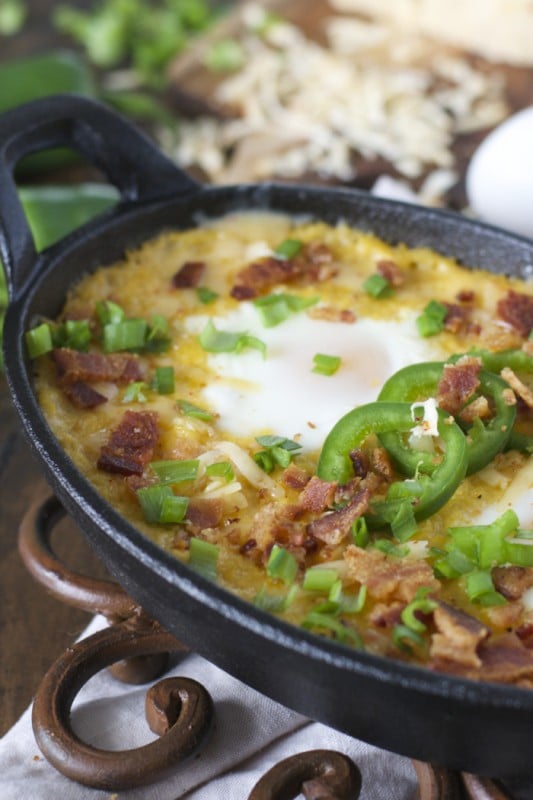 More Breakfast Recipes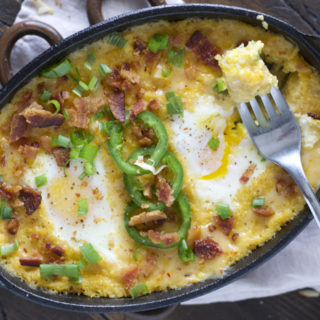 Baked Eggs with Cheese Grits
Super cheesy, creamy grits are paired with eggs, bacon, and jalapeno for the ultimate hearty breakfast!
Ingredients
For the Creamy Cheesy Grits
2 cups chicken broth
1/2 cup yellow corn grits (Arrowhead Mills is my favorite brand)
2 ounces cream cheese (I used reduced fat)
1 cup shredded sharp cheddar cheese
For the Baked Eggs with Cheese Grits
4 eggs
4 slices bacon, cooked and chopped
1 fresh jalapeño, seeded and diced
2 tablespoons chopped green onions
Instructions
For the Creamy Cheesy Grits:
In a medium to large saucepan, bring chicken broth to a boil, add grits and reduce heat to low. Cover and let grits simmer for 7 minutes, stirring occasionally.
When grits have absorbed the liquid, add cream cheese, shredded cheese and salt, and pepper to taste.
Stir the mixture well, cover, and remove from heat.
Refrigerate grits overnight.
For the Baked Eggs and Cheese Grits
Preheat the oven to 350
Spray a small baking dish with cooking spray.
Place the grits in the baking dish and create small wells, carefully crack the eggs into the wells.
Bake, checking every 10 minutes until the egg reaches the desired consistency.
In my oven, I baked them for 30 minutes and the whites were solid and the yolk was runny.
Garnish with bacon, jalapeño, and green onions.
To make larger servings you need one cup of cold grits for each egg. Multiply as needed.