This Sesame Pork Stir-Fry is a healthy, hearty meal ready that's in under 30 minutes! Serve with rice or cauliflower rice for a full meal.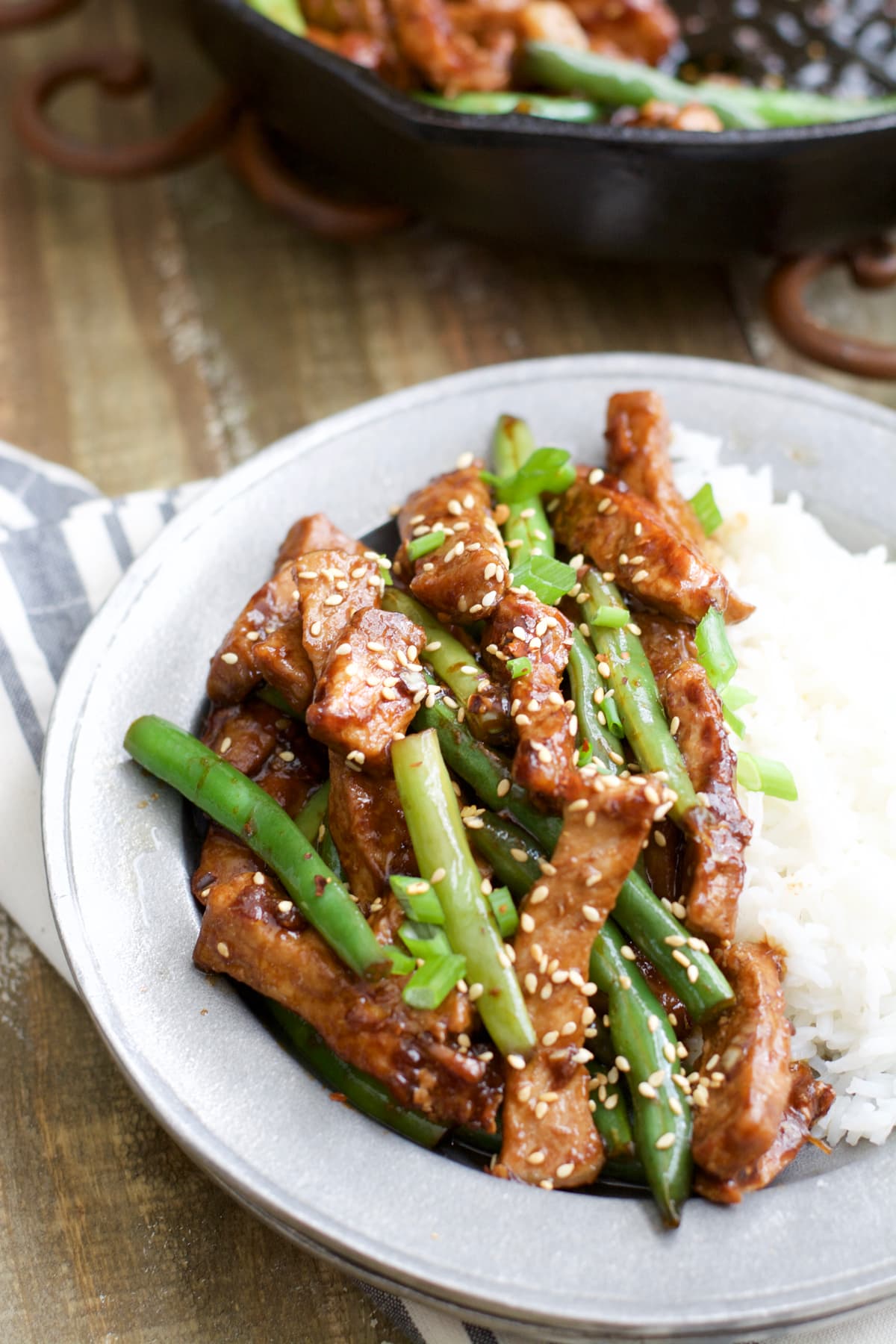 Let me just set the scene for you. You just walked in the door, exhausted. Maybe you shuffled kids from place to place, all day. Maybe you've been at the office. Maybe you have done a bit of both.
As you're corralling your family into the house, kids are yelling, homework is flying, and you hear the dreaded question — "what's for dinner?"
"Dinner?" you think. "Oh dear, I haven't gotten that far yet!"
If this is you, I have a solution. This sesame pork chop stir-fry! This dish is simple, wholesome, ready in under 30 minutes, and requires only one pan. It is the ultimate solution for a busy night!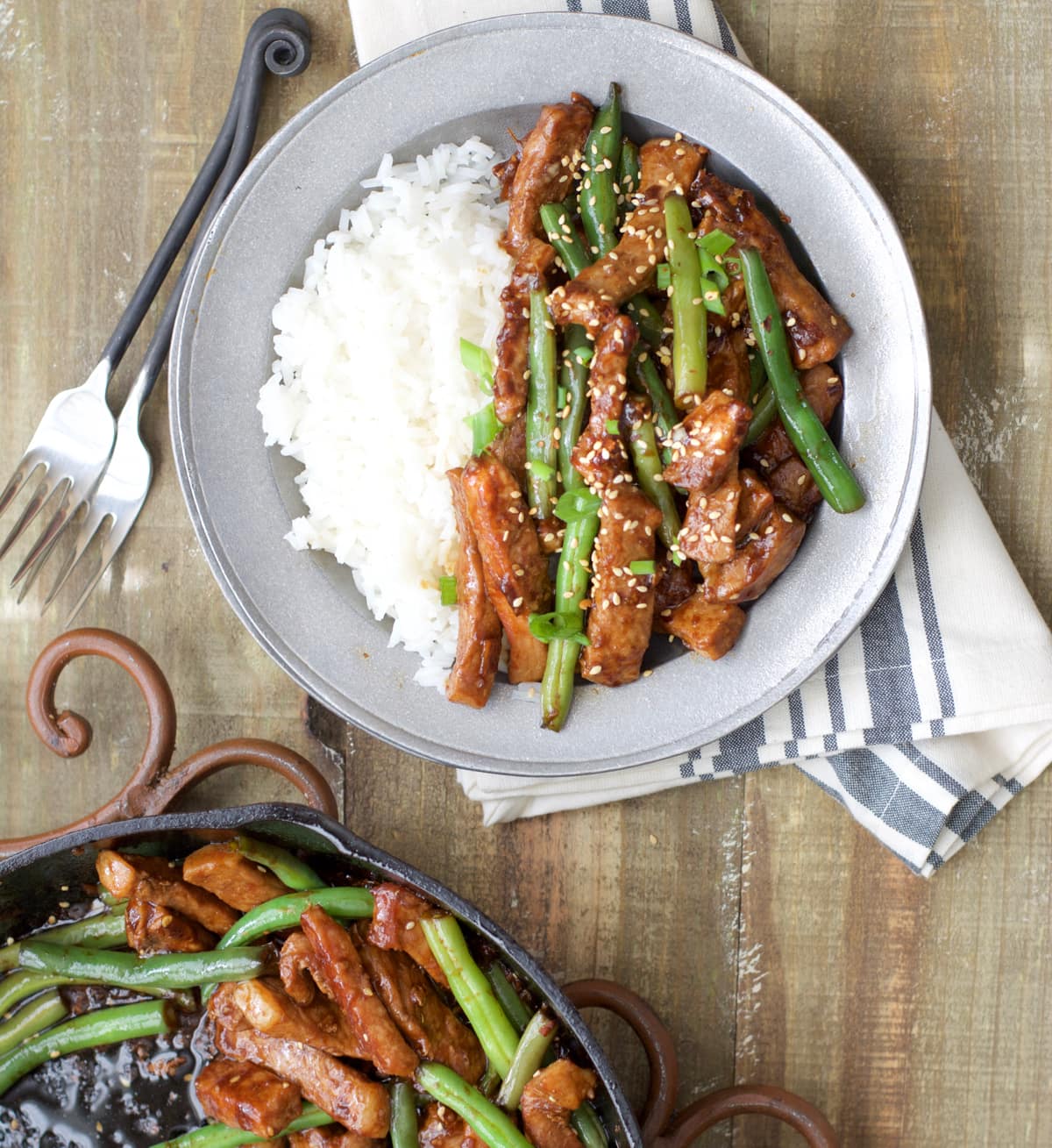 What's in the Sesame Pork Stir-Fry?
For the pork chop stir-fry itself, you'll need:
Olive oil
Sesame oil
Boneless pork chops
Fresh green beans
And for the homemade pork stir-fry sauce, you'll need:
Soy sauce
Brown sugar
Rice vinegar
Sesame oil
Garlic
Fresh ginger
Sriracha (optional)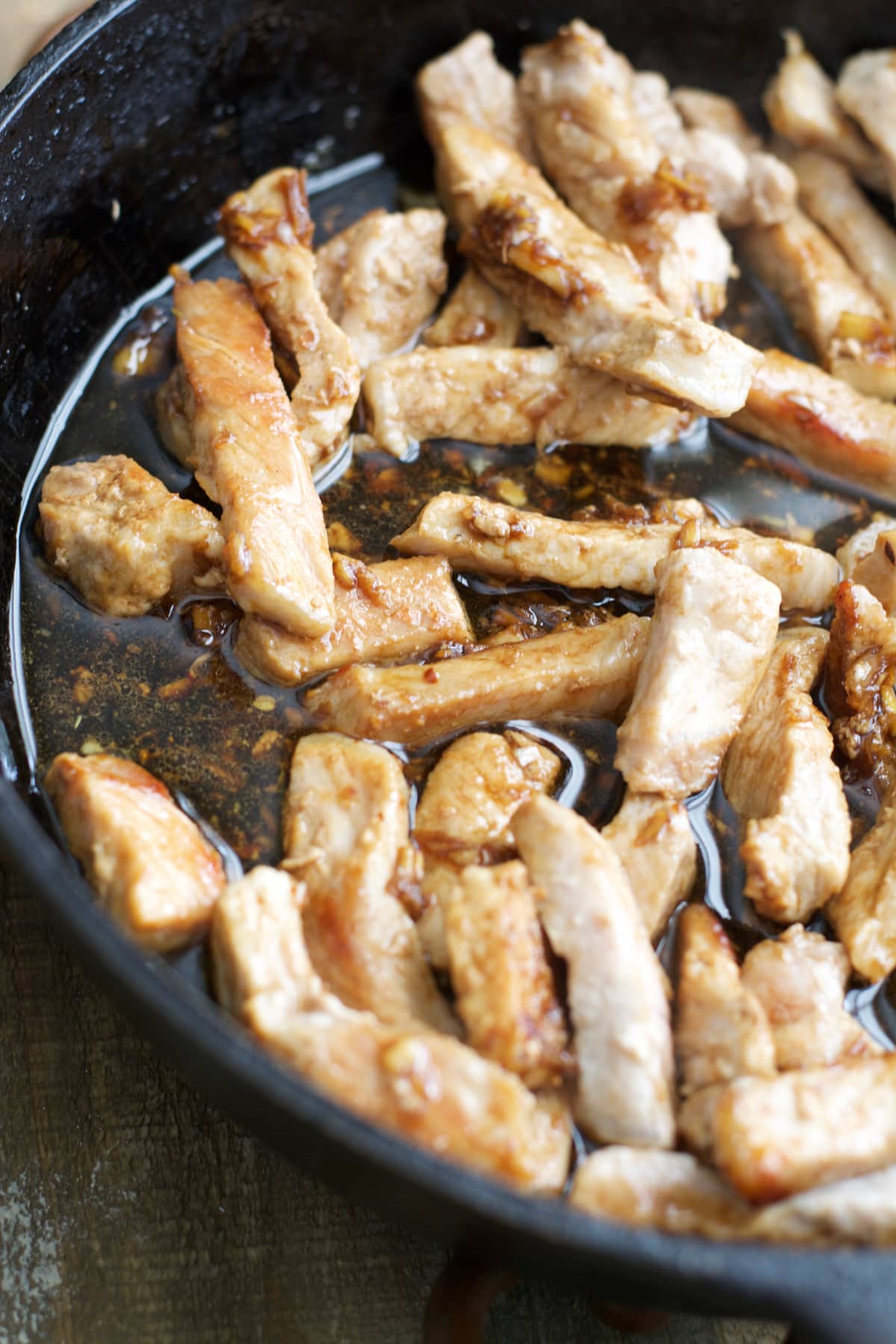 How to Make Sesame Pork Stir-Fry
This is such an easy pork stir-fry recipe. Here's how it's made:
Slicing the boneless pork chops into nice, slim pieces. You want to make sure you slice them fairly evenly and not too thick so they cook quickly.
Sauté the pork in a large skillet for 3-4 minutes on each side until they have a nice gold color.
Once the meat is cooked, pour in the homemade sesame sauce.
Add several handfuls of fresh green beans.
Stir the mixture well so the sauce coats the pork and beans, then cover and reduce the heat to low and allow the mixture to cook for 5 minutes.
Voila! There you go! A healthy, hearty delicious dinner ready in under 30 minutes! Serve this over rice for a perfectly well rounded meal.
Can This Recipe Be Made Keto-Friendly?
Yes, to make the pork stir-fry sauce keto-friendly simply substitute the brown sugar with brown sugar swerve.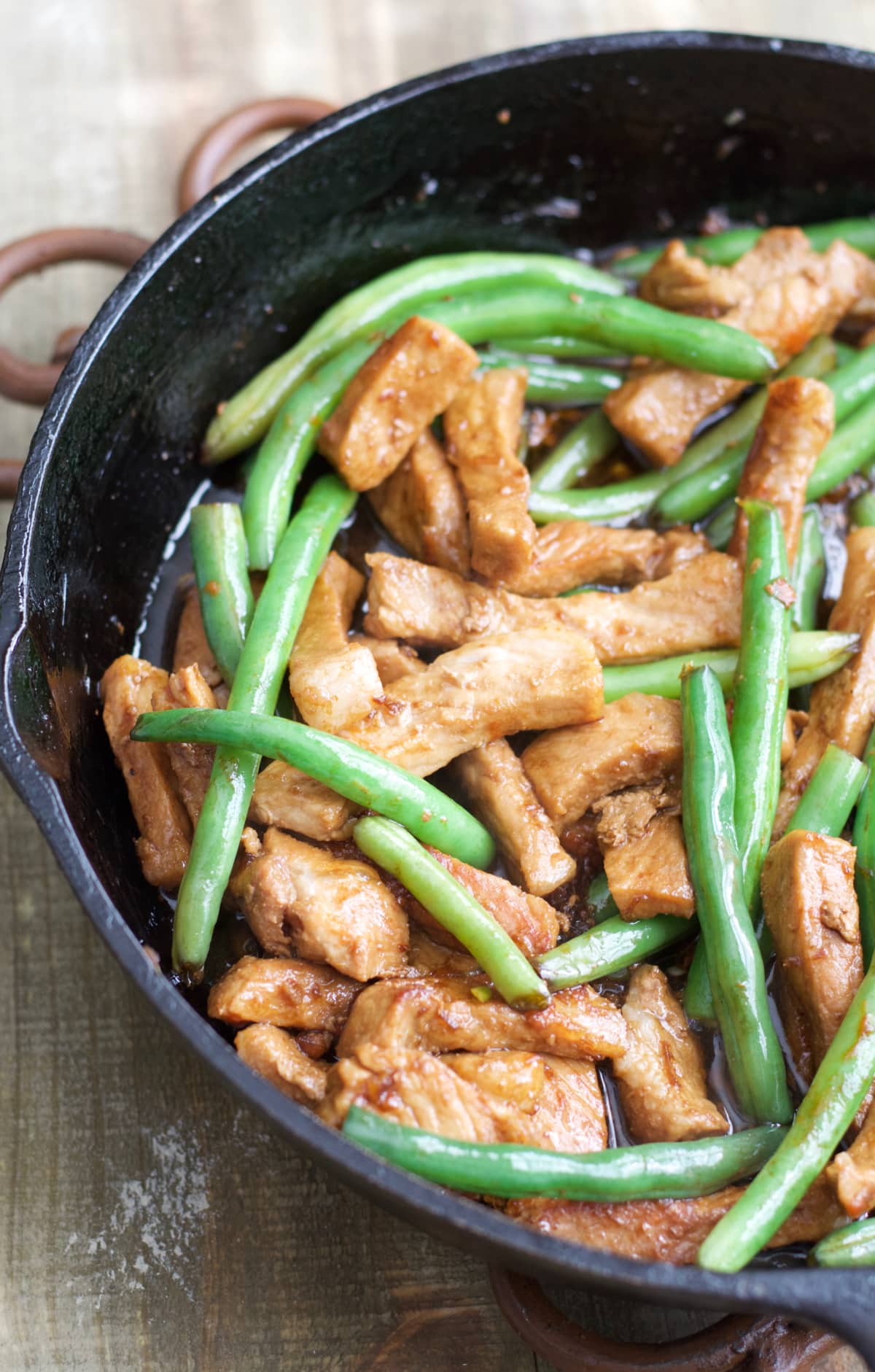 Tips for Making Pork Chop Stir-Fry
Slice the boneless pork chops evenly so that each piece cooks at an even rate.
I added fresh green beans to my sesame pork stir-fry, but you're welcome to add another vegetable, if desired.
You can whisk together the pork stir-fry sauce in advance and keep it in the fridge for a few days until you're ready to quickly cook up the stir-fry.
More Asian Keto Recipes: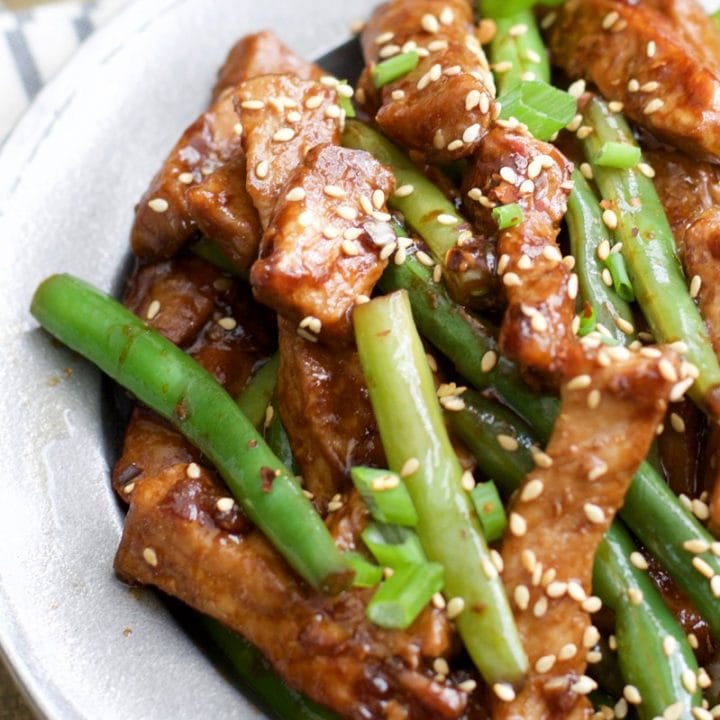 Sesame Pork and Green Beans
This Sesame Pork Stir-Fry is a healthy, hearty meal ready that's in under 30 minutes! Serve with rice or cauliflower rice for a full meal.
Ingredients
For the stir-fry:
1 tablespoon olive oil
1 tablespoon sesame oil
1.5 pounds boneless pork chops
3 cups green beans
For the sesame sauce:
1/4 cup gluten-free soy sauce
1 tablespoon brown sugar (or Swerve brown sugar for a keto option)
1 tablespoon rice vinegar
3 tablespoons sesame oil
2 teaspoons minced ginger
2 teaspoons minced garlic
1 teaspoon sriracha (optional)
1 tablespoon corn starch dissolved in 1 tablespoon hot water (optional)
Instructions
Heat the olive oil and sesame oil in a large skillet to medium heat.
Carefully slice the boneless pork chops into thin slices.
Allow the meat to cook 3-4 minutes, without stirring, to give the meat a chance to brown.
Stir and cook 3-4 additional minutes until pork is cooked though.
In a small measuring cup, add the sesame sauce ingredients and stir well.
Pour the sauce into the skillet, add the green beans and stir well.
Reduce heat to medium low and cover, cook 5 more minutes.
Optional: If you would like to thicken the sauce, combine 1 tablespoon corn starch with 1 tablespoon hot water until it is dissolved completely. Add to the skillet the last minute of cooking and stir well.
Nutrition Information:
Yield:

4
Amount Per Serving:
Calories:

621
Total Fat:

41g
Saturated Fat:

11g
Trans Fat:

0g
Unsaturated Fat:

28g
Cholesterol:

128mg
Sodium:

1203mg
Carbohydrates:

16g
Fiber:

4g
Sugar:

8g
Protein:

49g
To avoid any confusion I remove erythritol from the final carb count and net carb count, as it is not known to affect blood glucose levels. To calculate Keto recipes listed on this site carbs - fiber = net carbs. I use Nutrifox as my nutrition calculator. This nutrition information is an estimate based on the information provided by Nutrifox and the specific ingredients I used.
SaveSave