My easy Spicy Kung Pao Chicken recipe is way better than take out! This recipe includes traditional as well as low carb, keto friendly instructions! Your family will love this flavorful kung pao chicken.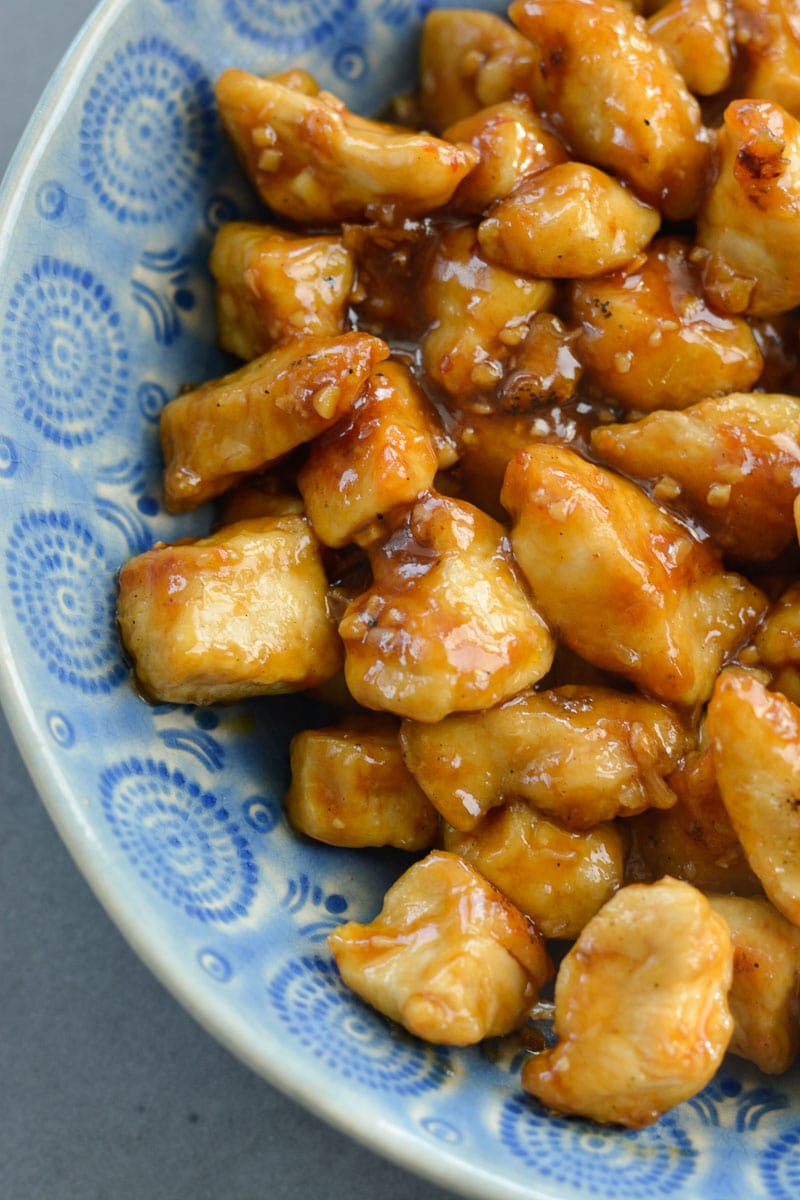 Do you remember anything from the speeches said at your graduation? Probably not. Most people don't. However, Mr. Maebell and I remember one thing very clearly from our high school graduation. Chinese food makes you smarter.
Our class Valedictorian was the daughter of the couple that ran the very best Chinese restaurant in town. When speaking to her success, she said it was actually very simple. Chinese food makes you smarter so everyone should go eat at Hong Kong Chinese Buffet.
Of course, this got a big laugh from the crowd and years later it still proves to be one of the most memorable moments of the night. However, now anytime I make anything even remotely Asian inspired, we always joke we are getting smarter by the bite.
So make this and see what happens!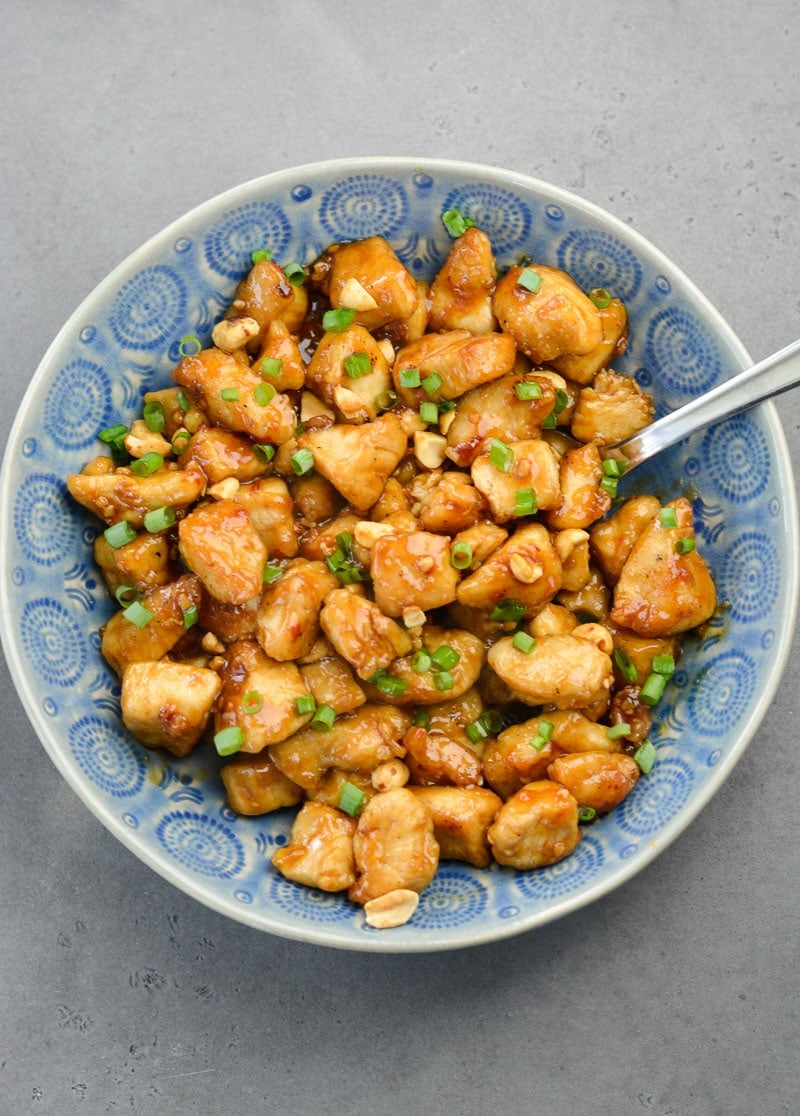 Easy Spicy Kung Pao Chicken
This has become the most requested meal in our house. I absolutely crave Spicy Kung Pao Chicken! It has a bit of spice to it and a rich flavor from the sesame oil. It is really a guest-worthy dinner. The flavor is spot on to Pei Wei's Kung Pao chicken, and it is gluten free!
Don't shutter when you see the ingredient list. It does call for a couple things you may not keep in your pantry, however if you like Asian food I highly recommend taking the plunge and keeping these spicy kung pao ingredients around. They aren't expensive and you only need a couple tablespoons so they last forever. You can use this sauce for anything!
How to Make Gluten Free Spicy Kung Pao Chicken
If you enjoy delivery or take out Chinese food, you will definitely love this easy Spicy Kung Pao Chicken. It might not be quite as fast as your favorite restaurant, but it will be surprisingly simple to make at home with healthy, wholesome, and gluten free ingredients!
What You Need:
Chicken breasts
Cornstarch
Canola oil
Soy sauce – La Choy is gluten free!
Sriracha
Rice vinegar
Sesame oil
Brown sugar
Minced garlic
Water
Sesame seeds
Green onions – sliced
Crushed red pepper – optional
Tip: Normally you can find sesame seed oil in the global food section and in the baking section next to the regular oils – check both places. Chances are one is much cheaper than the other!
Steps to Make Spicy Kung Pao Chicken:
Because this dish is so easy to make and flavorful, I guarantee it is better than take out!
1. First, cut up the chicken breasts into bite-sized chunks. Toss them in cornstarch – naturally gluten free! – and fry over medium high heat using sesame oil in a dutch oven or deep skillet. I find that by breading them you get that crunch and the sauce tends to stick to it a bit better. However, if you want to lighten it up you can definitely do grilled or baked chicken or shrimp. The possibilities are endless!
2. Next, make the sauce. Simply mix your main ingredients together in a small bowl, then in another bowl mix one tablespoon of cornstarch with one tablespoon of water.
3. Finally, when you're ready to coat your chicken with the spicy sauce to serve, you just mix the two together and the spicy kung pao chicken sauce thickens up beautifully.
4. To serve, garnish with sesame seeds, sliced green onions, and crushed red pepper if you want even more spice.
This Spicy Kung Pao chicken recipe is just like what you find in a restaurant, but hot and fresh from the comfort of home!
So, the next time you have a hankering for Kung Pao skip the take out and try this version! My family is sure that it'll be a regular favorite in your household, too.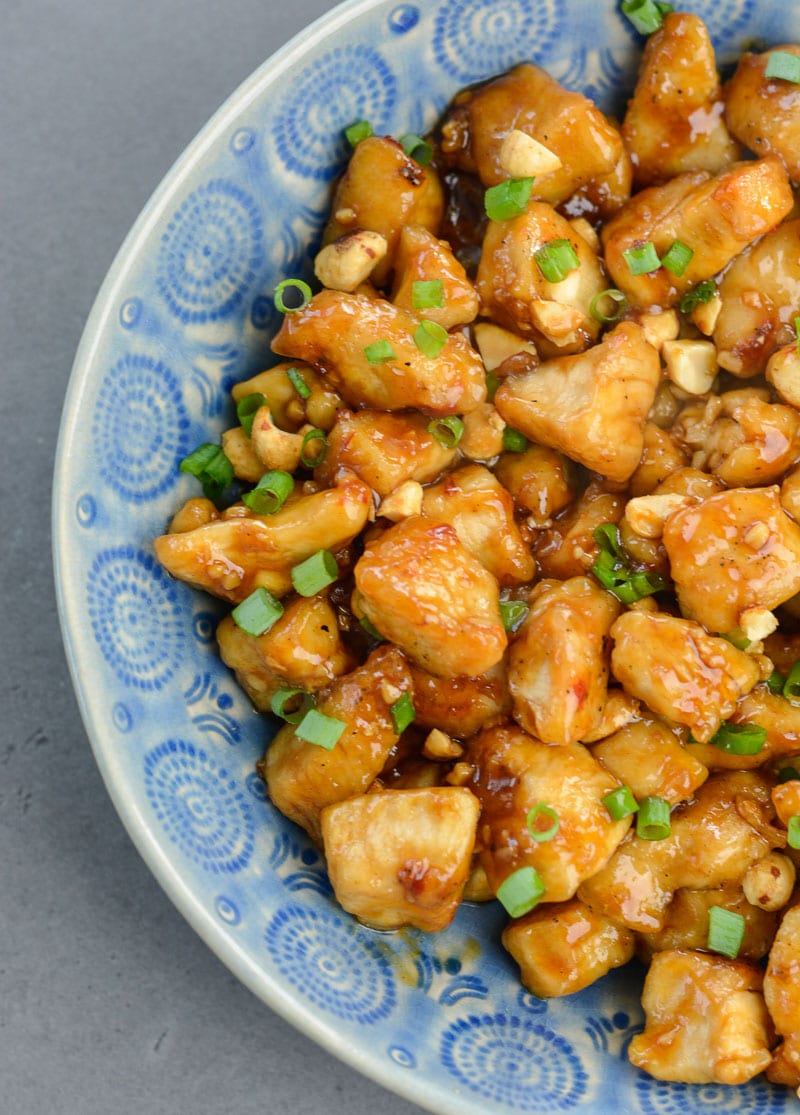 How do you make Keto Kung Pao Chicken?
Just below the ingredients and instructions you will find a notes section. There you will find instructions on how to make Keto Kung Pao Chicken! You only need to make two small adjustments to make this recipe low carb. This recipe makes 4 servings and with the keto adjustments written below it comes to 4.3 net carbs per serving!
Looking for More Quick and Delicious Dinners?
Other Easy Dinner Recipes: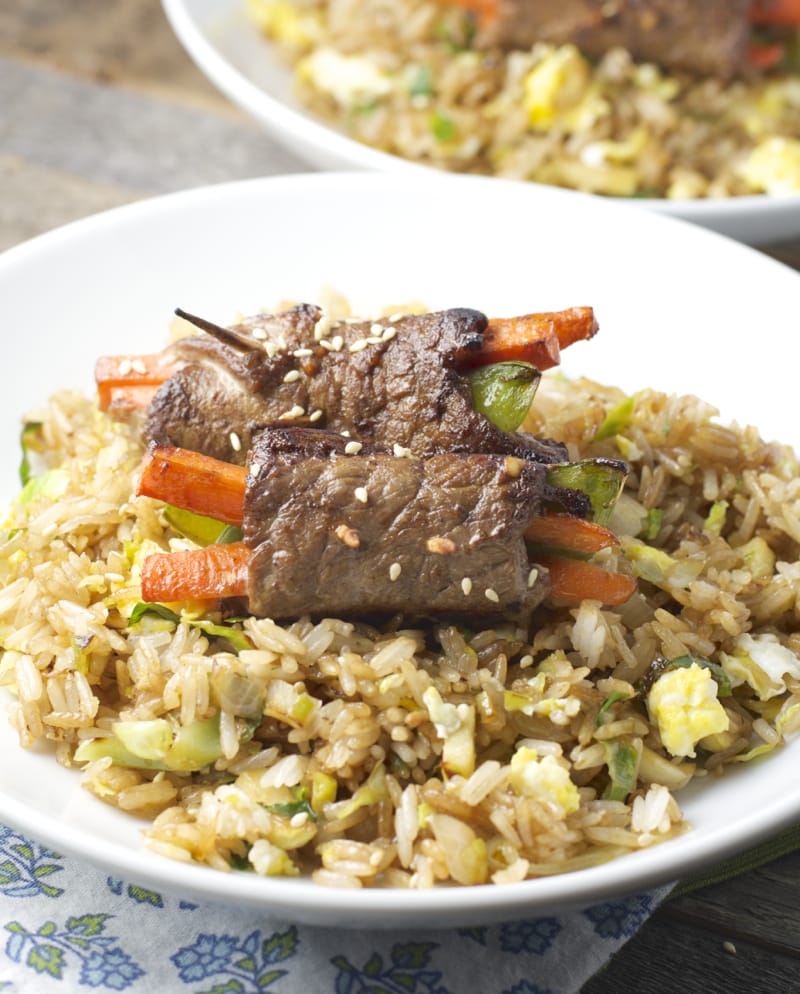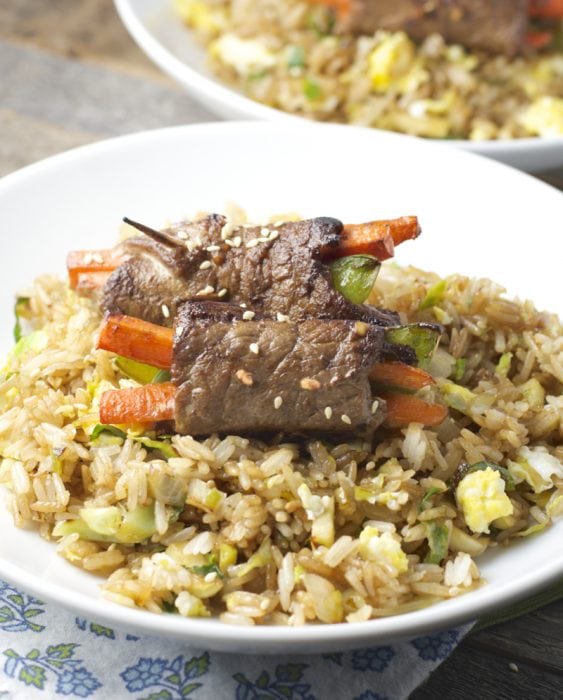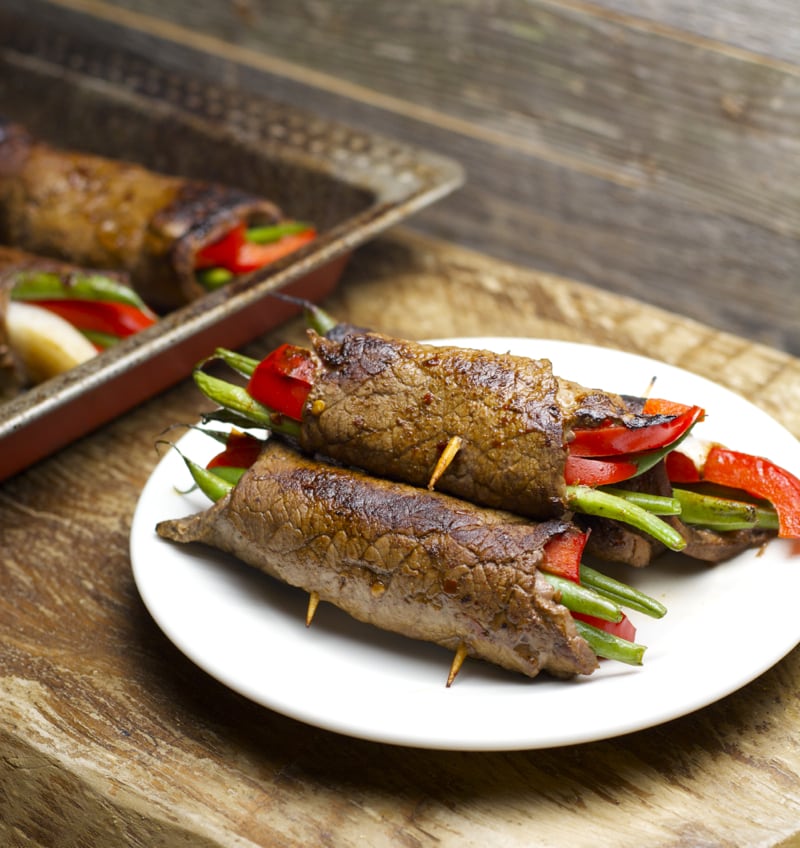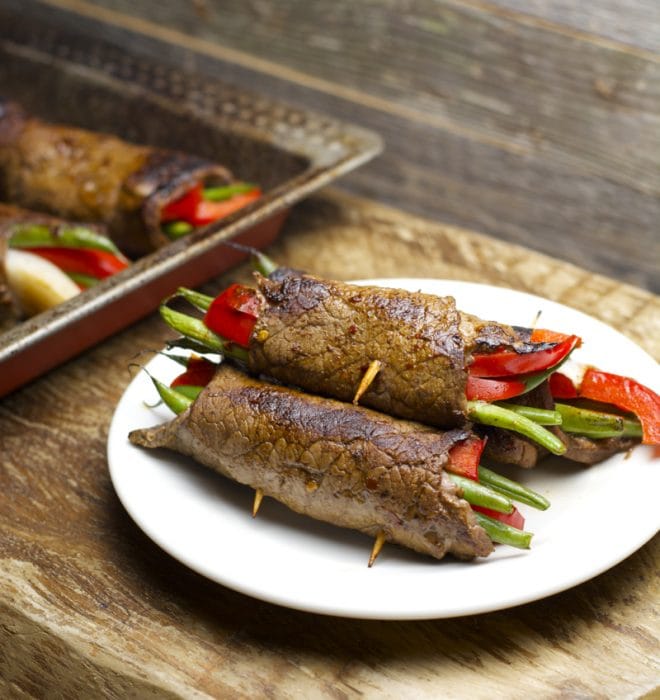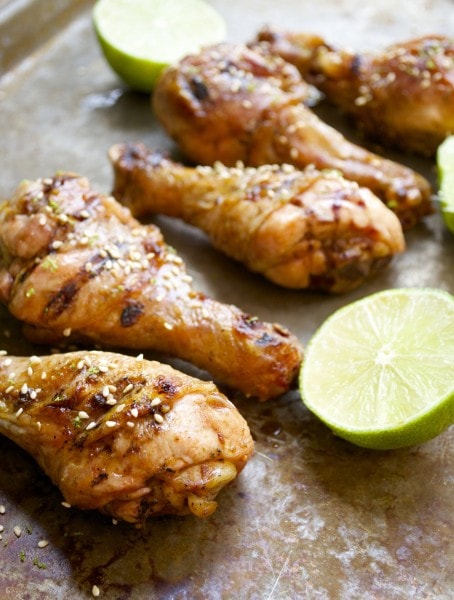 Drumsticks with Sriracha Honey Lime Sauce