Slow Cooker Bean Dip, only FOUR ingredients and gluten free!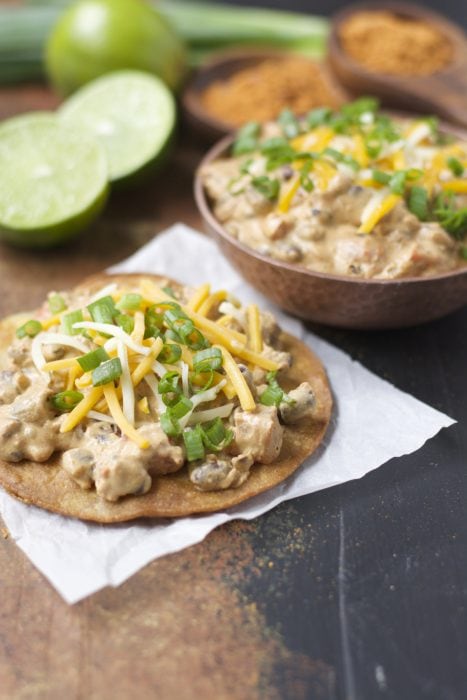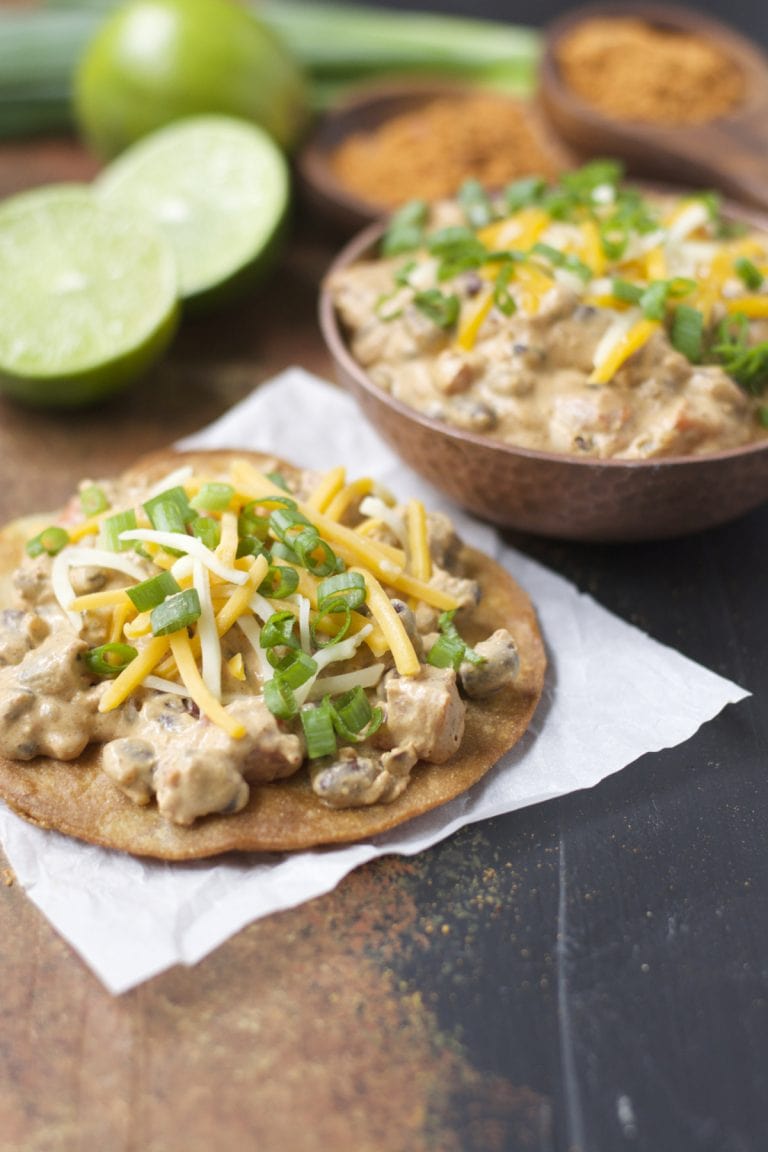 Growing up, I didn't eat meat. Actually, for almost 10 years I didn't eat meat. If it wasn't for my husband, I probably still wouldn't be eating meat today!
When I finally started eating it again, I was in college and Mr. Maebell had only been diagnosed with Celiac for about a year and the going gluten free was just really hard. It was exhausting to go to class, go to work, do home work and then cook two separate meals.Eventually, I caved and started eating meat again, and that was about 8 years ago. But the truth is, I still really prefer vegetarian meals. I really like a good veggie wrap, a hearty pasta dish, or a big bowl of soup!
I can totally leave the meat out and be fine. Mr. Maebell on the other hand, not so much. He is a meat and potatoes man if I have ever met one! But sometimes, every now and then I can get him to eat meatless dishes without complaint, this Slow Cooker Bean Dip just happens to be one of them!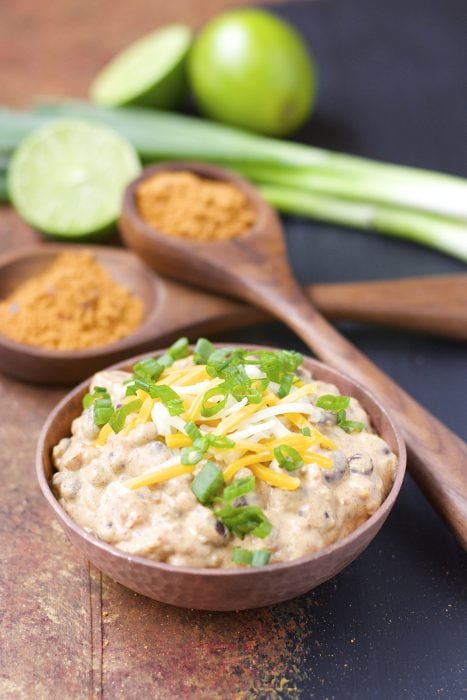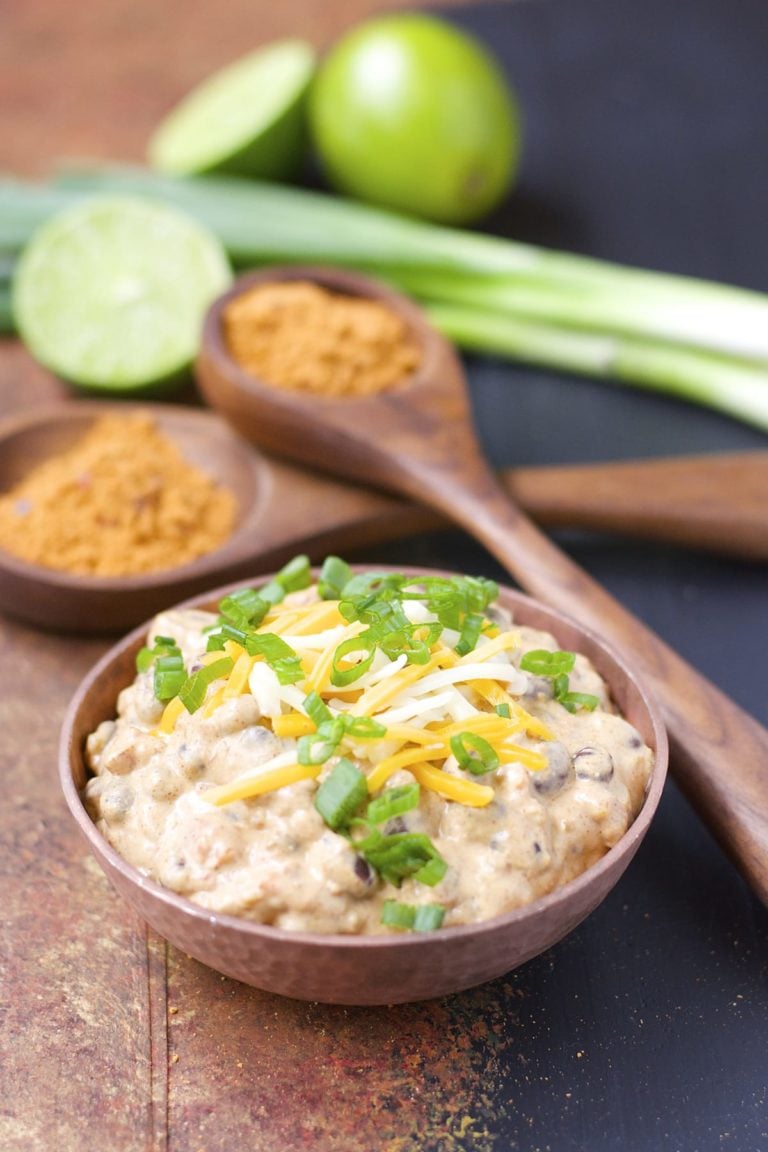 Ingredients for Slow Cooker Bean Dip
This easy dip has just four ingredients! And it's made in the slow cooker. Seriously, does it get any easier?
Black beans- canned
Tomatoes with green chilies- canned
Taco seasoning- homemade or the store bought packet both work
Cream cheese- I used reduced fat
I've served this Crock Pot Bean Dip at a Superbowl party, and it was a huge hit! We've also just eaten it at home as a casual dinner. Sometimes, a big ole bowl of dip and some chips is just the perfect meal.
So whatever your needs are, this dip will be sure to please! Whether you're feeding a crowd or just your family, everyone loves this dip. In our house, bowls are regularly cleared when this is on the table.
One of the best things about this dip if you probably don't even have to hit the store for it! With only four ingredients, and ingredients that are so commonly used, you may be able to give this a go tonight without ever having to take off your slippers! The dream, am I right?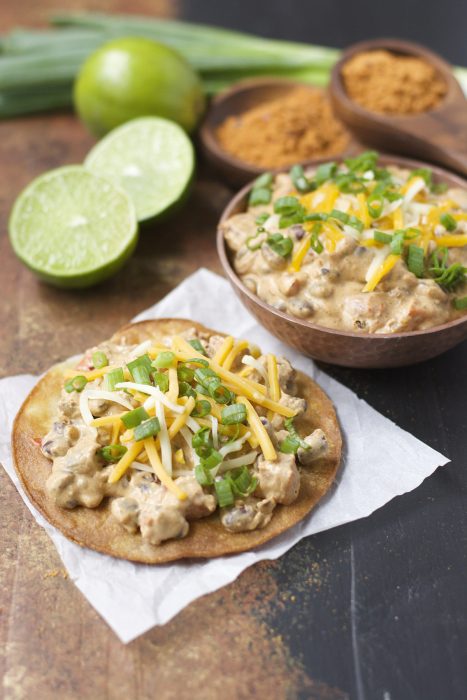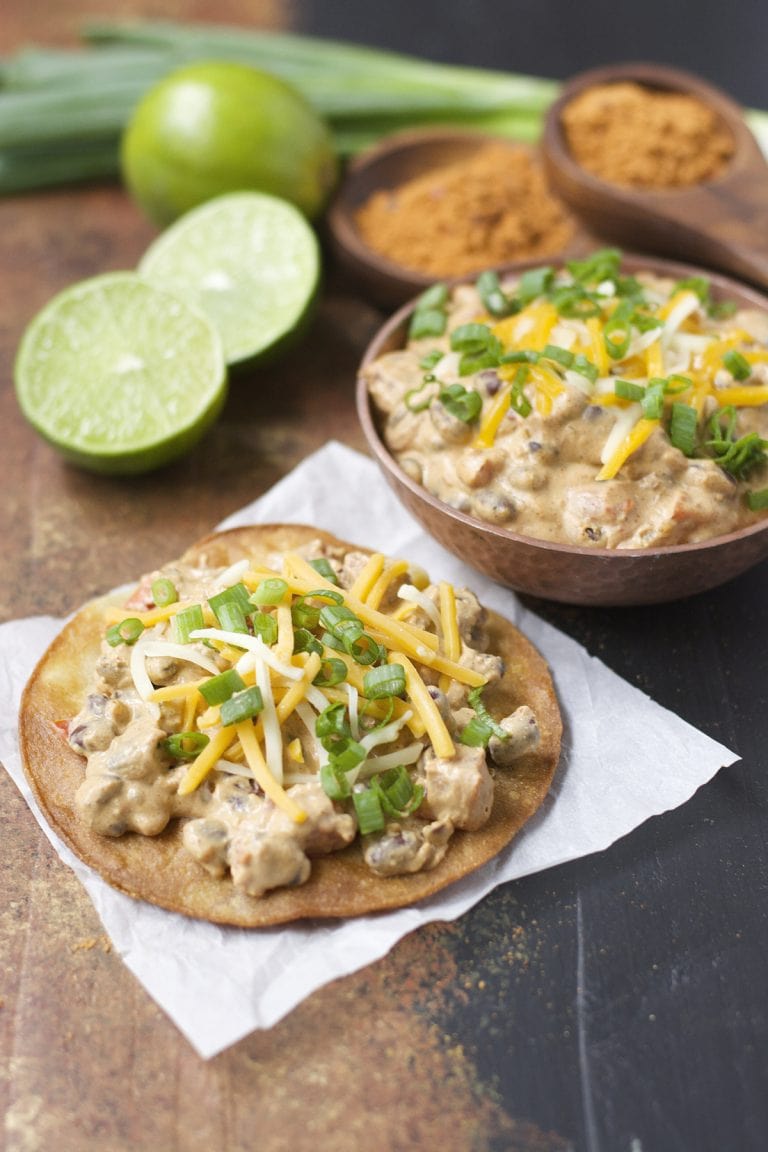 How do you make Crock Pot Bean Dip?
Y'all, this dip is a dream. So, so, so easy and so delicious. If I had to pick a prized possession, it may be my slow cooker.
First, all you'll do is place the black beans, tomatoes with green chilies, taco seasoning and cream cheese into your slow cooker. Next, turn the crock pot on the 'Low' setting and cook for three hours, stirring occasionally. Thirdly, place the heat to 'Warm' and enjoy!
This dip is so easy you can throw it together anytime for an afternoon snack or an effortless appetizer to a party. It is similar to my Sweet Corn and Roasted Poblano Dip in that it has a cheesy base and it is one of those set it and forget it recipes.
We had these on toastadas and then had the left overs spread on ground beef tacos, and both were amazing! The hearty black beans paired with the spicy tomatoes and creamy cheese makes it an irresistible snack!
How to Store and Reheat Slow Cooker Bean Dip
To store this dip, simply place into a plastic or glass container with an airtight lid and put into the fridge. The dip will stay fresh for 3-4 days.
To warm up, I just portioned out some Slow Cooker Bean Dip into a bowl and put in the microwave. I warmed it in 30 second increments until it was all warm and gooey again!
For More Healthy Treats Follow me on Pinterest!
Easy Vegetarian Recipes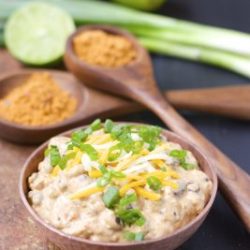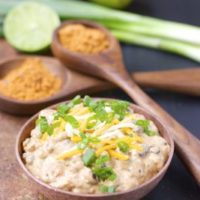 Slow Cooker Bean Dip
Slow Cooker Bean Dip, only FOUR ingredients and gluten free!
Ingredients
1 (15 ounce) can black beans, drained and rinsed well
1 (10 ounce) can tomatoes with green chilies, undrained
1 package of taco seasoning
1 (8 ounce) block of reduced fat cream cheese
Instructions
Place all ingredients in the slow cooker and let cook on low for 3 hours stirring occasionally.
Reduce the slow cooker to warm and serve with chips or on tacos
Nutrition Information:
Yield:

4
Serving Size:

1
Amount Per Serving:
Calories:

115
Total Fat:

0.9g
Cholesterol:

2mg
Sodium:

716.5mg
Carbohydrates:

20.4g
Net Carbohydrates:

12.9g
Fiber:

7.5g
Sugar:

0.6g
Protein:

7.1g